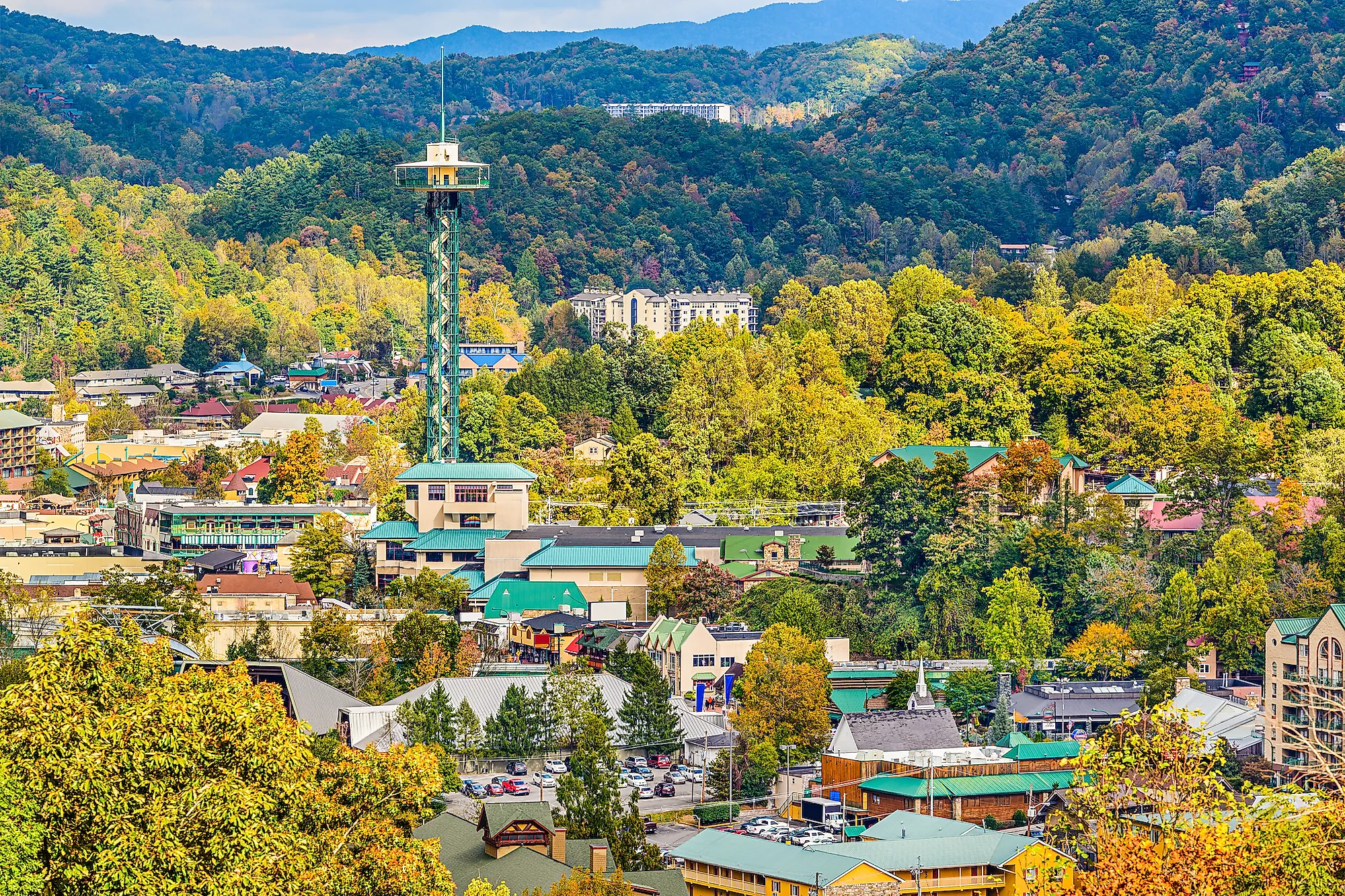 The 13 Best Small Towns in America
Getting away from the hustle and bustle of a big city and stepping into the quiet charm of a small town is an ideal way to experience somewhere new. But with so many charming small towns across America it can be hard to know where to start. Here is a list of 13 of the best small towns in the United States, each with its own unique feel, style, and attractions. From mountain towns to sea-side villages, there is so much to see and discover across the United States.
Sitka, Alaska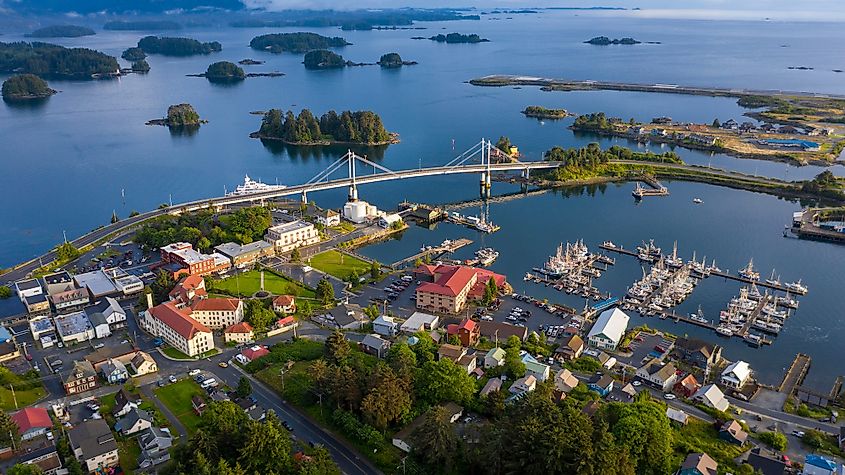 The small town of Sitka is the epitome of remote small towns with charm. Located just outside Juneau, Alaska, this town is only accessible by boat or plane. The town has a population of roughly 8,500 people, and was owned by Russia until 1867. Because of this, prominent Russian-style buildings can still be found here including the 1842 Russian Bishop's House, St. Michael's Orthodox Cathedral, and the Sitka National Historical Park. The park commemorates the place where Russia was defeated by the indigenous Tlingit people, and bright totem poles mark the area. Though the population is small, Sitka is a gorgeous place to take in the beauty of Alaska, from the snowy mountain peaks to Crescent Harbour. Wildlife is also very common here, and one of the main attractions. Everything from whales, puffins and other seabirds, sea otters, deer and wolves can be found in the open wilderness of the Alaskan wilds.
Taos, New Mexico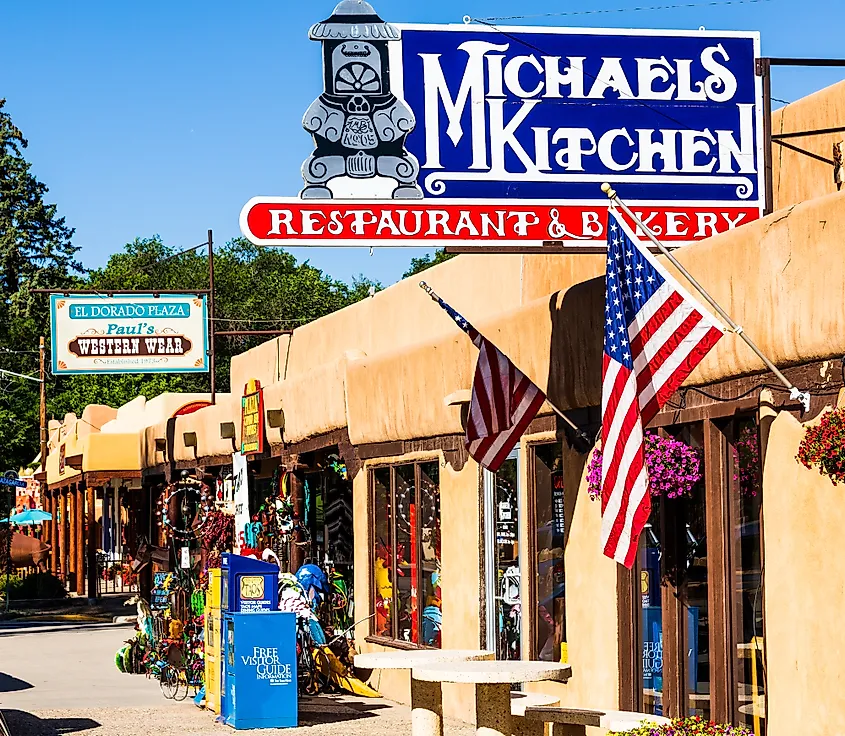 Taos is a very unique small town in New Mexico, overlooked by the Sangre de Cristo Mountains. With a population of only around 5,500, it is distinct for having pueblo houses which are red-clay traditional Mexican homes. These buildings were designated as a UNESCO World Heritage Site and a National Historic Landmark. The town is also known for having a strong art scene, and has three different art museums including Taos Art Museum and Harwood Museum of Art. In addition to these, there are also nearly 80 galleries and performing art venues in the town. 
Stowe, Vermont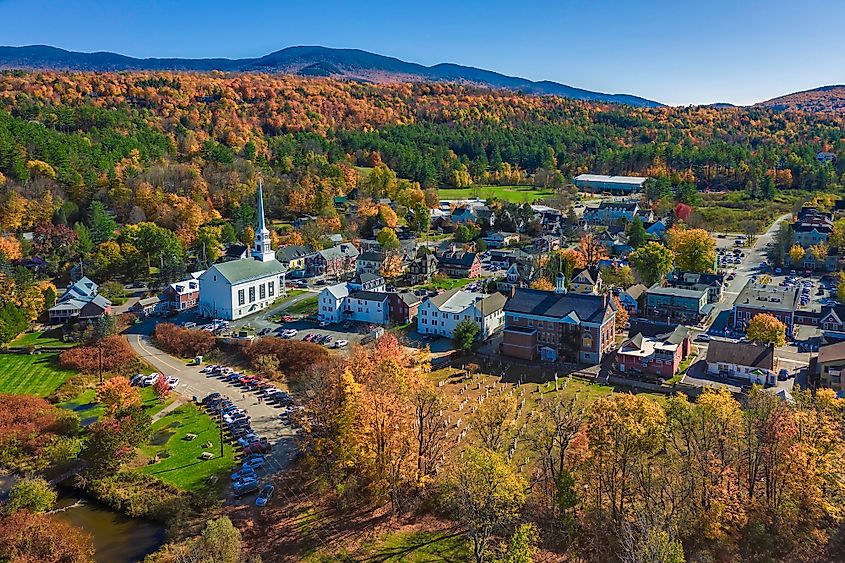 Stowe is a small skiing village of roughly 4,500 people that is full of mountain town charm. The town is overlooked by Mount Mansfield, which is popular for skiers and snowboarders. In fact, the Vermont Ski and Snowboard Museum is located in the village. In summer months, visitors can enjoy Smugglers' Notch State Park, and other outdoor activities like zip lining and rock climbing. Additionally, for the small size, the area has a lot of great shops and restaurants, and is also home to the famous Trapp Family Lodge.
Cooperstown, New York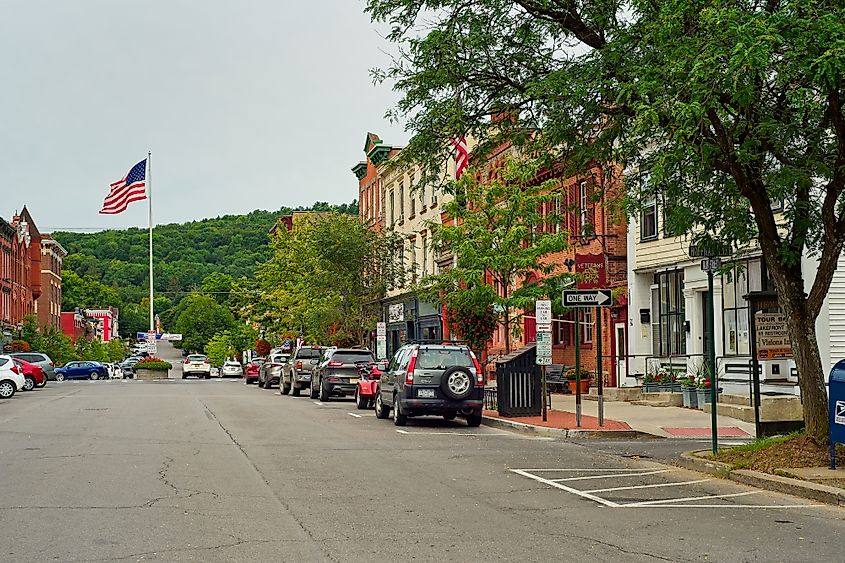 Another small town hidden gem is Cooperstown, New York. This quaint town is located in the foothills of the Catskills Mountain, along the edge of Lake Oregon. With a population of just under 2,000, Cooperstown has a true small town feel, while being home to some interesting attractions. Cooperstown is best known for hosting the Baseball Hall of Fame, which brings travelling sports enthusiasts from all over the country. Aside from sport, Cooperstown has the Fenimore Art Museum, full of American folk art and traditional indegiouneous art. Travellers can also still stay at the historic Otesaga Hotel, built in 1909, which serves as a loved local landmark. 
Camden, Maine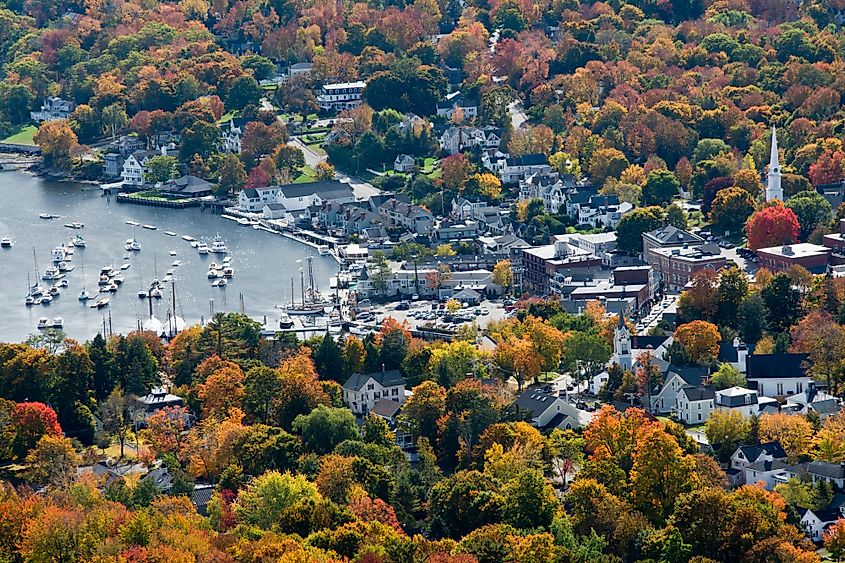 Camden has a population of just under 5,000, and is a beautiful coastal town. Camden sits between Bar Harbour and Portland, and like its larger neighbours, has an ideal mix of seaside and lush Maine forests and landscapes in the Camden Hills State Park. The town is particularly popular during the warm summer months when visitors flock to the beaches, but fall is beautiful with its rich foliage and array of hiking trails. The most notable attraction in Camden is the Camden Opera House, which was built in 1893 and is still used today for music and theatrical performances. 
Berlin, Maryland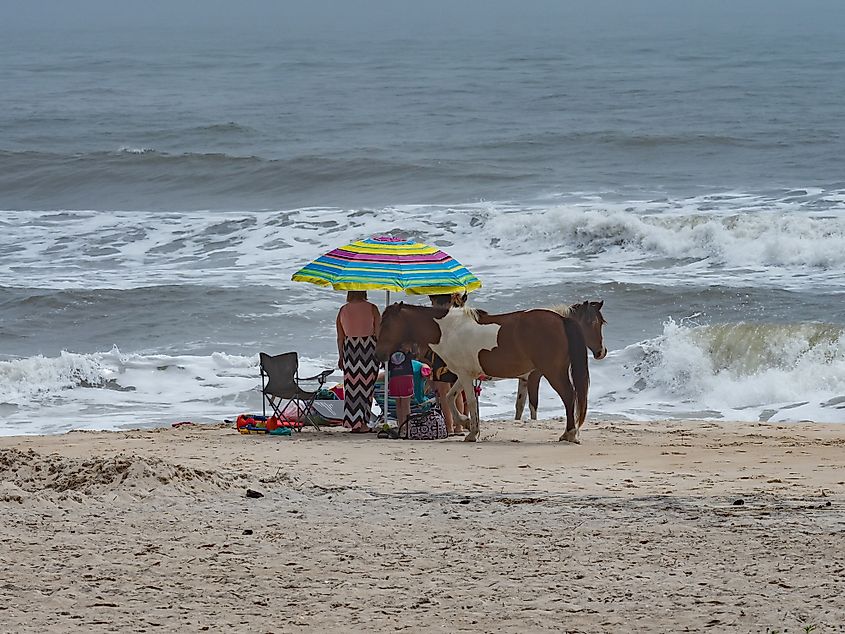 Berlin is an old, historical small town in the state of Maryland. It has 47 different buildings that are listed on the National Historic Register, packing a lot of history into a small place. It has a population of a little over 4,600 people, and has therefore maintained much of its old quaint charm over the years. The town has an impressive main street, and in fact has made the Top 10 Great American Main Street list twice. Cute shops, galleries and restaurants fill the streets with local charm and warmth all year round. Visitors can also experience the wild horses which live in the National Park in Assateague Island, a long strip of seashore just outside of town. 
Gatlinburg, Tennessee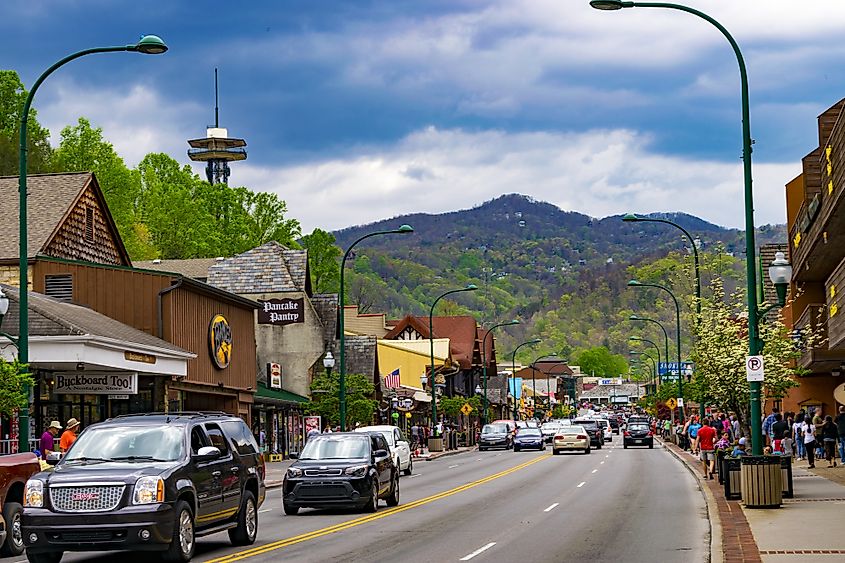 Gatlinburg, Tennessee sits right next door to the ever popular Great Smoky Mountains National Park. This favourite attraction brings visitors from all over the nation who wish to experience the stunning views and impressive landscapes of the Great Smoky Mountain. Due to its location, Gatlinburg is an excellent lookout point with amazing scenic views. The Space Needle observation tower allows for a panoramic view of the mountains and forest, while the Sky Lift cable car runs from downtown to Ober Gatlinburg above. Ober Gatlinburg is a popular ski resort and amusement park, full of skiing and snowboarding runs, as well as rock climbing, a wildlife park, mini golf and an amusement park. From natural beauty to fun-filled attractions, Gatlinburg is a great destination for visitors.
Ketchum, Idaho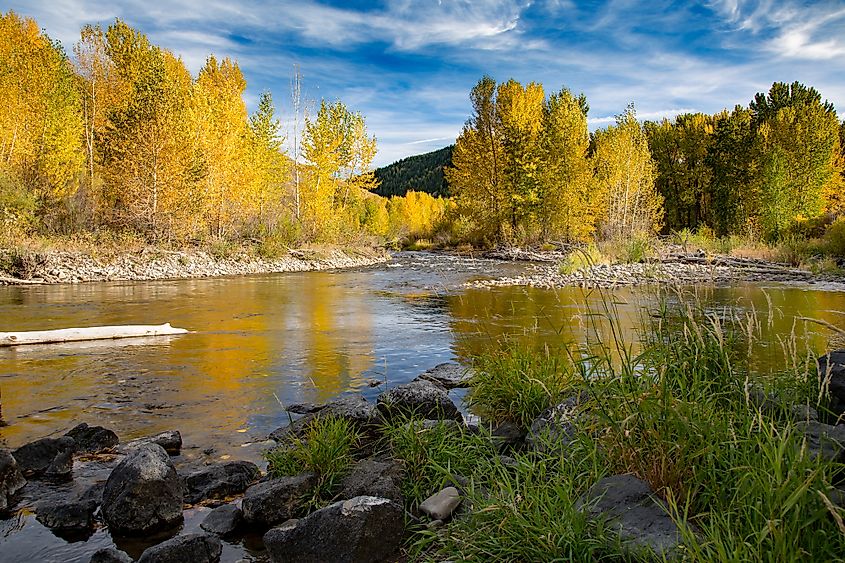 Ketchum, Idaho is a small mining town of less than 3,000 people. It is a small town with big views, featuring the nearby peaks of Bald Mountain, Boyle Mountain and Fox Peak. Nature enthusiasts and skiers are drawn to this out-of-the-way town to experience the great outdoors with hiking, camping, mountain biking and skiing. Ketchum is also famous for being frequented by Ernest Hemingway, and in fact he is buried there.
Grand Marais, Minnesota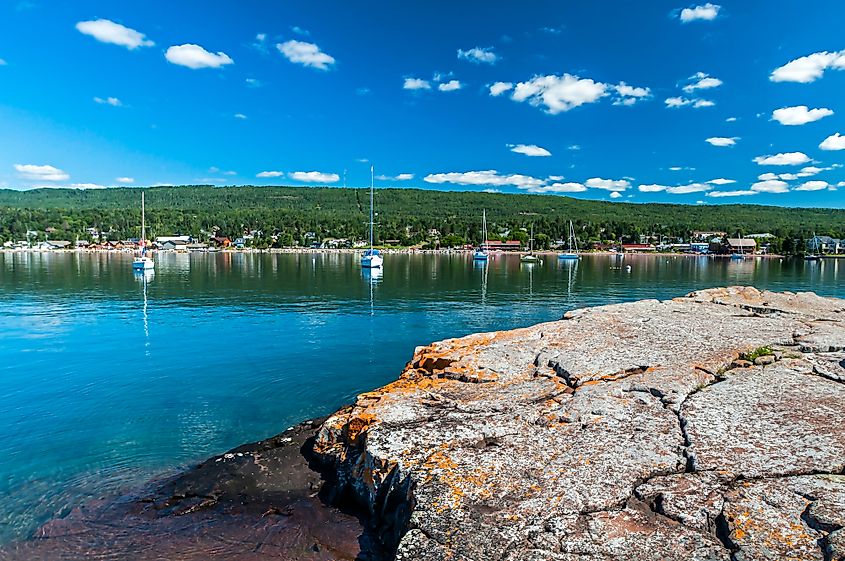 Grand Marais truly is a small town, with a population of roughly 1,300 people. The town sits along the shore of the impressive Lake Superior, with the Pincushion Mountain trail System behind it. Grand Marais still has a strong fishing and logging community, which have been its main industries for decades. Additionally, the town also boasts a strong art community and hosts the Grand Marais Arts Festival, as well as several other seasonal festivals each year.
Carmel-by-the-Sea, California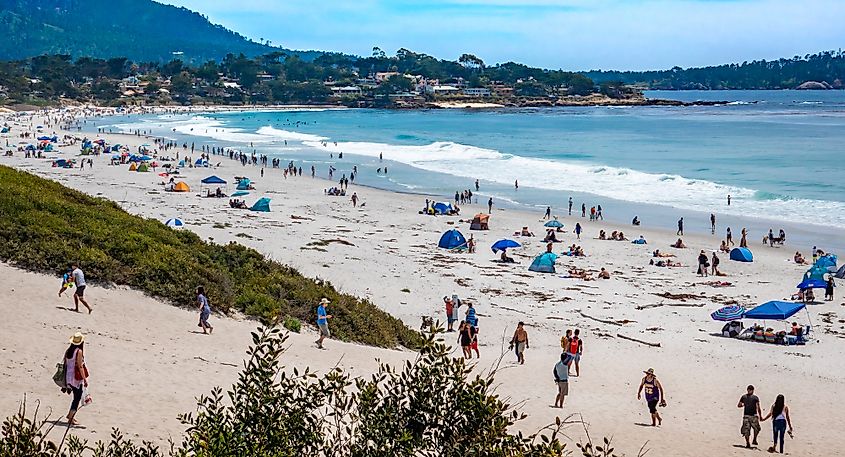 Carmel-by-the-sea is home to just under 4,000 residents and is over 100 years old. Its most striking feature is the Basilica Church, a registered National Historic Landmark, and a beautiful example of architecture from 1797. The town has an old world charm about it which has made it popular with artists and writers for many years. Famously, Carmel-by-the-sea had actor Clint Eastwood as a mayor, adding to its allure and charm. If the rich artistic culture wasn't enough, the town is also perched on the pacific shore, with beautiful California beaches and a warm, inviting climate.
Mystic, Connecticut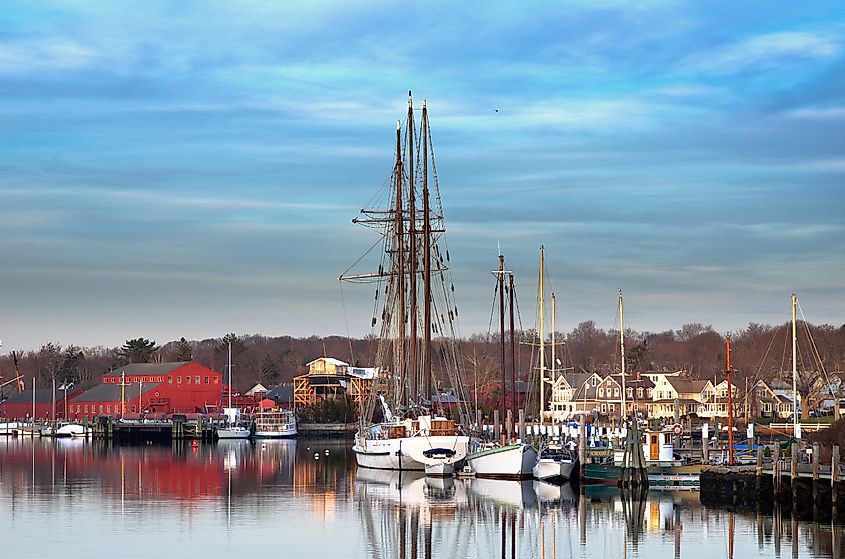 Mystic is a small coastal town in Connecticut with a population of just over 4,000. In the past, it was a significant seaport and ship building town, with its location between the Mystic River and open ocean. It is now home to the Mystic Seaport Museum which honors this history, as well as the Mystic Aquarium. Though ship building is no longer the main vocation, the town is still known for its New England charm and harbour-village atmosphere.
Eureka Springs, Arkansas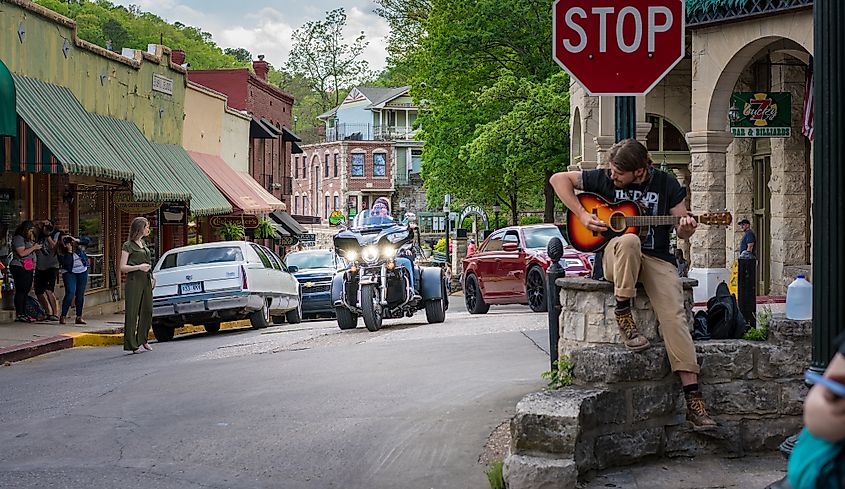 Eureka Springs is a small town located in the Ozark Mountains of Arkansas. It has a small population of roughly 2,000 people, and is a secluded, yet unique place. Eureka Springs is special for being the ​​only town or city in the United States whose entire downtown is listed on the National Register of Historic Places. Palace Bath House, Basin Park Hotel, and Crescent Hotel are all in the Victorian style and were built around the natural springs for which the town was named. Also of note are the Thorncrown Chapel on the hill overlooking the center of town, and the Turpentine Creek Wildlife Refuge. Selected as one of America's Distinctive Destinations by the National Trust for Historic Preservation, Eureka Springs blends old Victorian architecture with carefree eclectic charm for an atmosphere that is like nowhere else.
Breckenridge, Colorado
Like many places in Colorado, Breckenridge is popular for its scenic views and skiing opportunities. Breckenridge, however, is much smaller than many popular destinations in the state, and has a population of just under 5,000. The town sprung up during the time of the gold rush, and remnants of this era - including mines - can be seen in town today, especially in the Breckenridge National Historic District. It sits nestled against the Rocky Mountains' Tenmile Range, which provides a spectacular visual background to the quaint town. Aside from skiing and snowboarding, other activities such as dogsledding, biking, hiking and white water rafting bring tourists to the area seasonally. Year round, a steady art community inspires creatives and adds culture to the town center.
Across America, there is every style of town or village, from mining towns to victorian villes, and all types inbetween. Small towns exist in every state, and all clomates throughout the nation, offering a distinct and lovley escape from big city living. Explore some of these charming small towns, or discover somewhere new by getting off the beaten path and stepping into the quaint and friendly world of small towns.