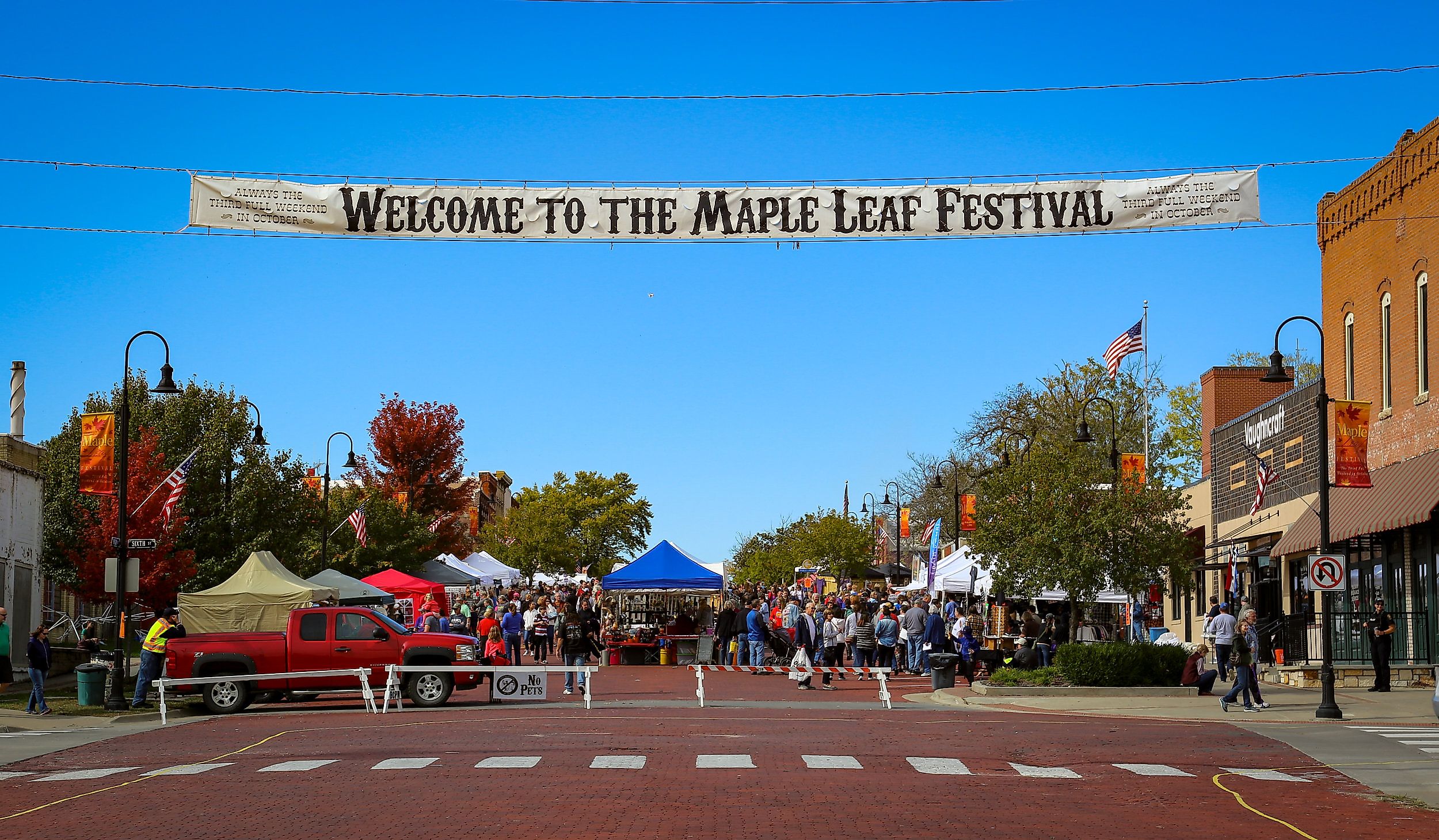 Best Places To Visit In Kansas In The Fall
Kansas in the fall is nothing short of visionary splendor. With rich, colorful sights, vibrant natural beauty and crisp autumn air - there is arguably no better place to enjoy this transitional time of year. The late summer and early fall months are known as one of the best times to visit Kansas, and there are countless ways for visitors and locals alike to enjoy and take in this unique season. This is our list of the best places in Kansas to visit during the fall - sights and experiences that are sure to give fall-goers of all ages the seasonal fix they are looking for.  
Cider Hill Family Orchard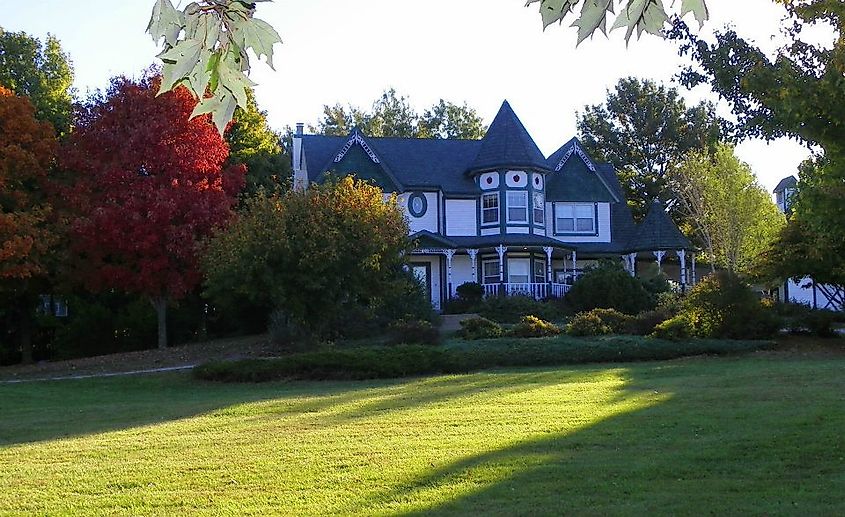 This family owned orchard is a must-visit for any fan of fall. It boasts over 6,000 apple trees on over 30 acres of land, and features attractions and activities such as hayrides, train rides, apple picking and a pumpkin patch. Enter for free, and pick your own apples on this expansive yet very cozy fall orchard. Cider Hill also offers specialty treats such as homemade kettle corn and cider donuts. Enjoy the crisp air and vibrant colors of fall with your loved ones at this beautiful, classic autumn site.
Maple Leaf Festival, Baldwin City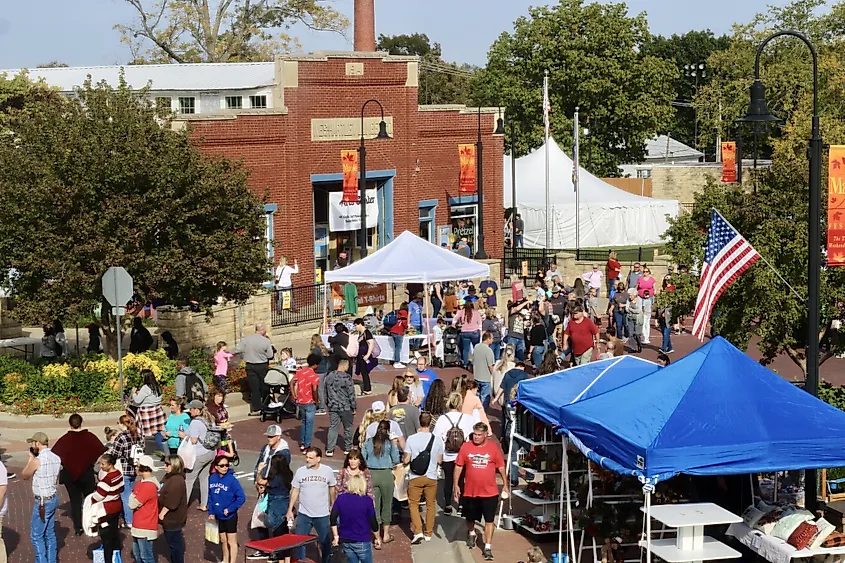 This signature community event has been running on the third weekend of October every year since 1958. It serves as a beautiful opportunity to take the changing colors of fall, and to celebrate the season's successful harvest. The festival offers over 300 craft exhibits, performing arts and live music, activities for children, a 5k run, quilt shows and displays, unique food and drink options, and so much more. It also serves as an opportunity for local non-profit organizations to raise funds for their causes. The festival is a family tradition, and unites the community of Baldwin City and visitors from afar in celebration of this bountiful season.
Riverside Park, Wichita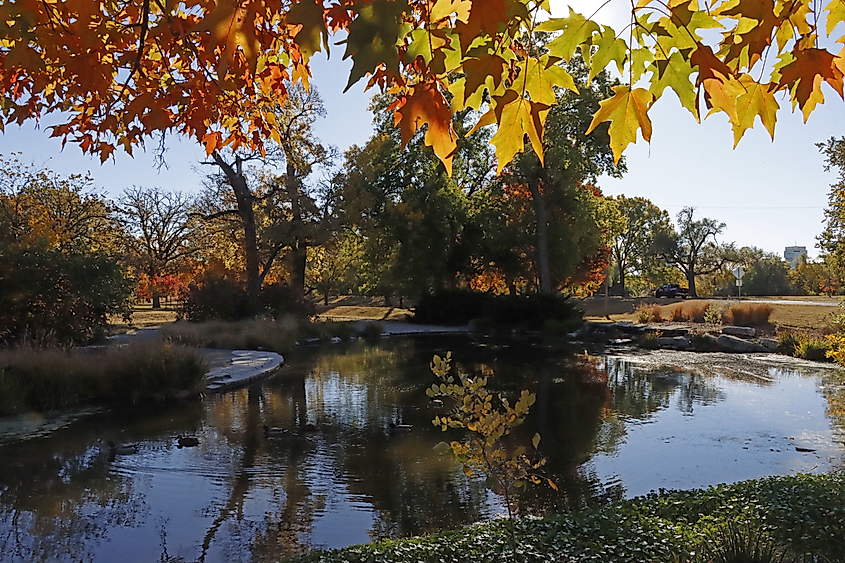 This vast park boasts 50 acres of natural community splendor, and is made up of north, south, and central Riverside Park. Enjoy both open areas and tree groves, which offer beautiful places to wander and enjoy the colors of autumn. The park is also home to the Kansas Wildlife Exhibit, which is free to visit 365 days a year. The exhibit is an exciting experience for visitors of all ages, especially if you visit during feeding time! The park also displays several historical artifacts, playgrounds for children, and picnic areas. There is no shortage of fun to be found in this beautiful park - enjoy it while it's at its peak!
Cedar Crest Lodge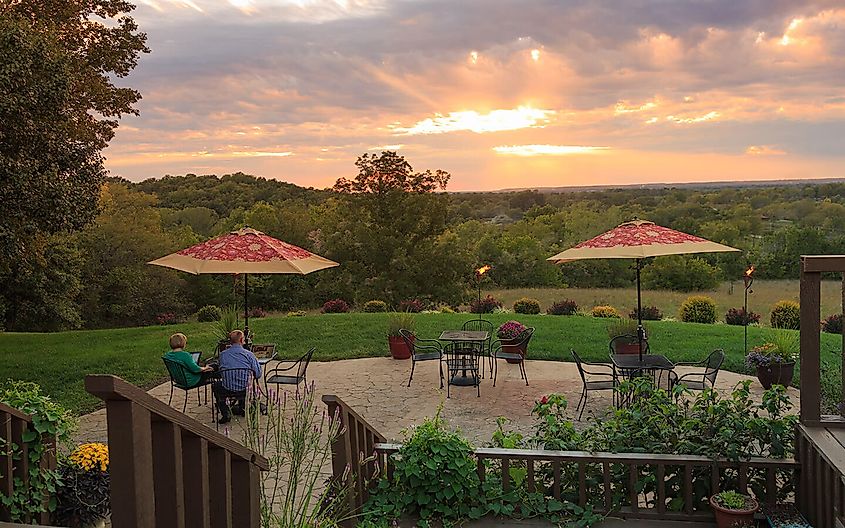 For the ultimate restorative fall getaway, book yourself into the classic Kansas Bed and Breakfast at Cedar Crest Lodge. The lodge offers a homey, relaxed and cozy atmosphere, perfect for taking a step back and enjoying the natural splendors of the fall season. It is the midwests only award-winning B&B, and offers several on-site activities such as hiking, spa experiences, and 'field to face' dining. This 100+ acre property provides unmatched visuals, and serene trails that lead you through trees and ponds for the ultimate natural fall experience. 
Rees Fruit Farm, Topeka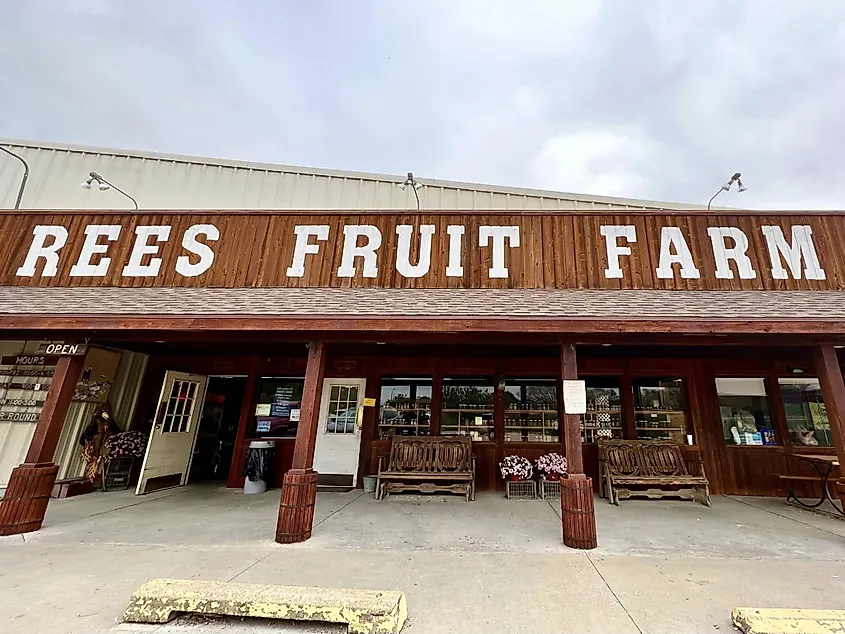 This wholesome natural gem offers autumnal fun for the whole family. Enjoy getting your boots muddy in the pumpkin patch, as well as fresh apple cider and apple cider donuts. The farm is open year-round with free entry, but is especially bountiful for the fall season. Rees have been active for over 100 years in the fruit business, and pride themselves on growing the highest quality fruit in the area. For old-fashioned and rustic charm, don't miss this friendly and visually appealing fall highlight!
Tallgrass Prairie National Preserve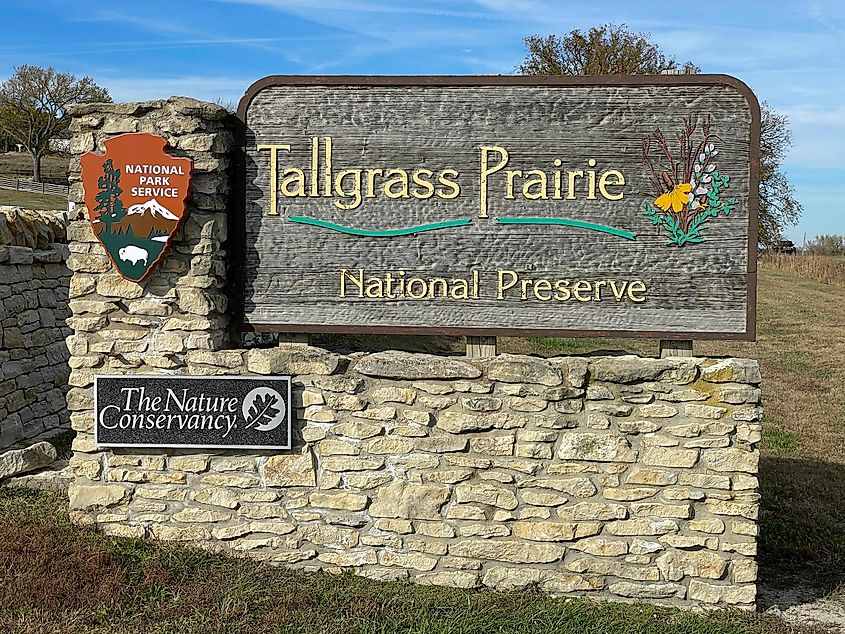 This National Preserve acts as the last remaining piece of what used to be a prairie that covered over 170 million acres of North America. Nationally and historically significant, this now 11,000 acre prairie offers countless ways to be explored, enjoyed, and cherished. The preserve offers over 40 miles of hiking and adventure trails, as well as tours of the historic buildings. Come here to enjoy different exciting educational activities, spot some wild bison (at a safe distance of course) and take in this impressive natural wonder at its most beautiful. 
Sunny Side Pumpkin Patch, Assaria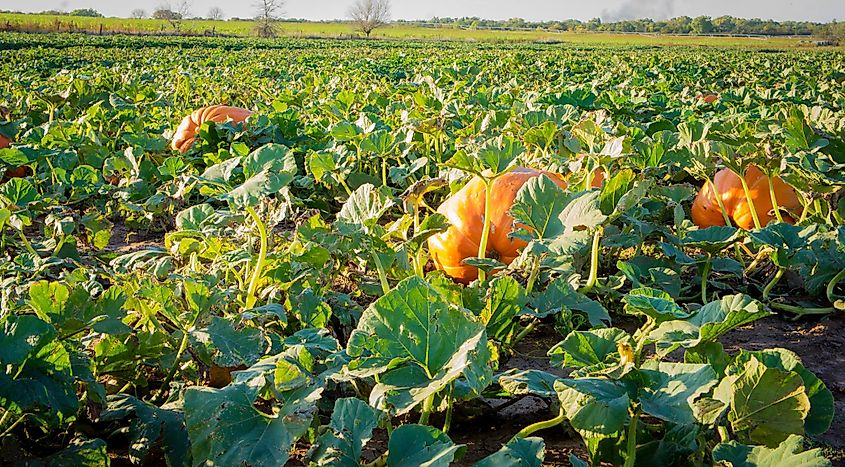 This charming, family owned farm offers fun for all ages with various crop mazes, hayrack rides, a petting zoo, a pumpkin slingshot, and much more. An affordable entry fee covers all fall festival activities, making this an accessible and festive place to be for all your fall celebrations. Family-owned Sunny Side offers a rustic and relaxed atmosphere on a rural farm setting. There are horse drawn hay rides on weekends, and even a night maze! Don't miss this golden fall treasure and all the seasonal delights it has to offer. 
Lake Scott State Park
This historic and striking state park has been included in National Geographic's list as one of America's 50 must-see state parks. It is tucked in the depths of a canyon in the Western Kansas Prairie, and offers a splendor of natural springs, a gorgeously rugged landscape of canyons and bluffs, and a plethora of early-American history. Over 26 archaeological sites have been recorded in and around the park. Visitors can enjoy boating on the 100 acres of Scott Lake, camping, hunting, hiking, swimming, fishing and observing wildlife. The park and what it offers comes alive in the fall - not to be missed by any nature lover. 
GEHA Field at Arrowhead Stadium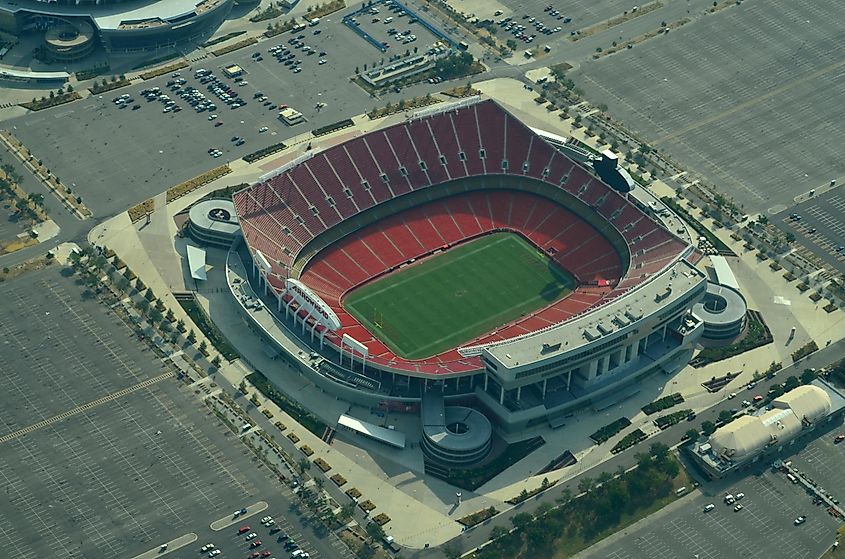 While the fall season may just seem like pumpkins and falling leaves to some, it also means football season for NFL fans in Kansas City. The GEHA Field at Arrowhead Stadium is the home of the Kansas City Chiefs, and their fall season offers an electric environment whether you're a football fan or not. Going to a game here is an exciting, celebratory, and classic Kansas event, and signals the beginnings of fall. Come here to enjoy all the timeless football traditions surrounded by the fresh, crisp autumn air!
Overland Park Arboretum and Botanical Gardens
Visiting the Arboretum and Botanical Gardens in Overland Park is a beautiful, rejuvenating fall experience that offers something for everyone. The park is home to several lush ponds and tree groves, and is dedicated to restoring and preserving 8 different natural ecosystems. There are always countless different activities and events happening in the park. Don't miss Quixotic's 'Terra Luna', an iconic and unique light and soundscape performance that only happens once a year here, exclusively in September and October.
From Pumpkin Patches to State Parks, Kansas in the fall surely has something for everyone. Whether you call this state home or are just passing through, we hope this list offered you something new to explore and discover. Be sure to add one of these experiences to your upcoming Kansas fall adventures, and enjoy not only the natural, colorful brilliance of the season, but also the special memories that will stay with you and your loved ones for a long time. No matter your age or your style, treat yourself to autumnal splendor in America's Sunflower State!