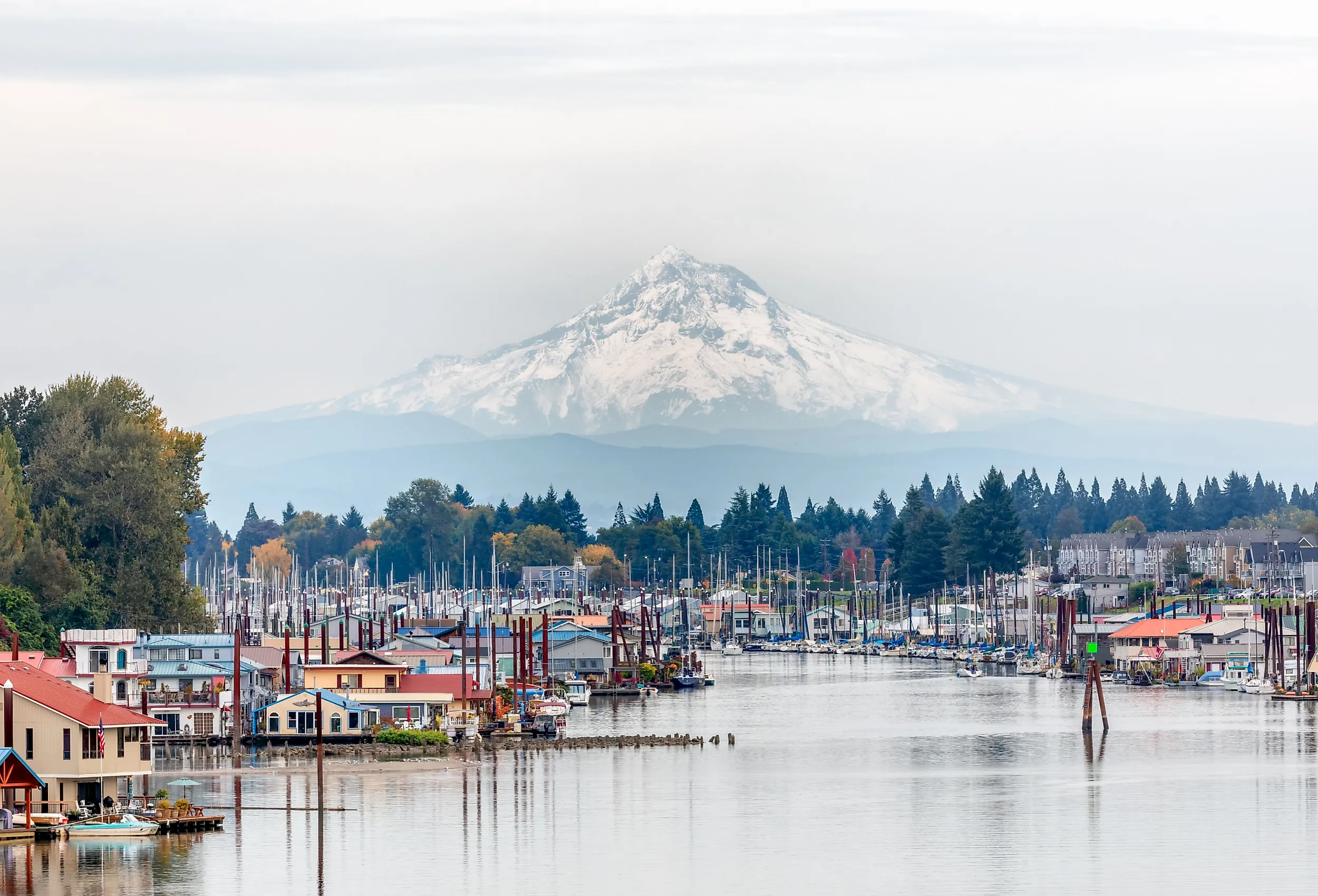 7 Ideal Destinations For A 3-Day Weekend In Oregon
Oregon beckons with its sandy beaches, looming mountains, charming towns, and exciting city life. Offering an array of experiences for an unforgettable long weekend vacation. Indulge in Portland's iconic Powell's Books bookstore, hike at the base of Mount Hood, and soak in Astoria's ocean-side architecture.This Pacific Northwest wonderland caters to every taste, from the nature lover to the city enthusiast. Don't miss out on the perfect weekend getaway!
Cannon Beach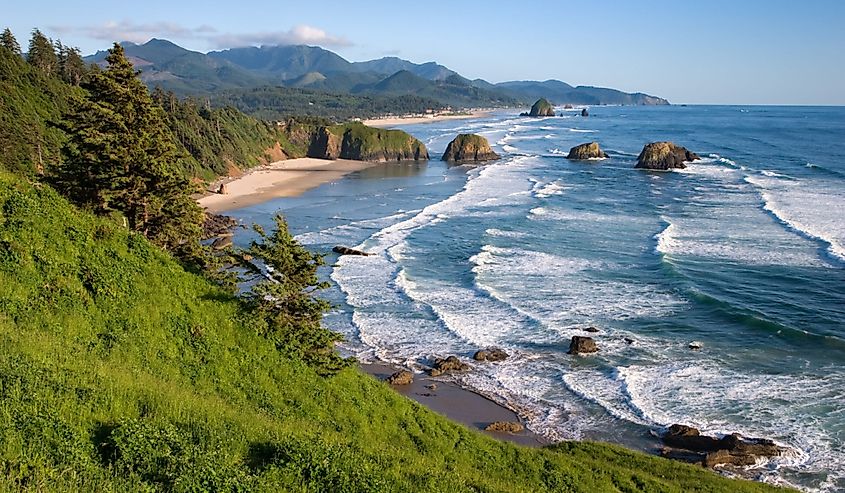 Picture lake houses with wooden balconies and expansive shores that border the Pacific Ocean. With ocean views for days, unfold a towel or set up a chair and watch the warm glow of a sunset or sunrise in Astoria. On top of relaxing on the beach, there is a recreation area. This quaint town has four beaches which all allow public swimming, boating, and fishing. One of the most popular beach areas to walk along is Haystack Rock, with stone structures jutting 235 feet out of the water. Aside from this, ice cream stores, unique shops, and restaurants fill the streets. For a taste of seaside luxury, book a stay through Haystack Luxury Vacation Rentals. Their vacation rentals are beach houses, with some boasting modern flare and others a cozy charm. Whichever room visitors choose, they will have access to Pacific Ocean views! Additionally, there are two state parks to explore in the area: Ecola State Park and Oswald West State Park. At Ecola State Park, take in the rocky seashore and historical lighthouse. At Oswald West State Park, view Neahkahnie Mountain and walk 1.3 miles on the forest trails.
Portland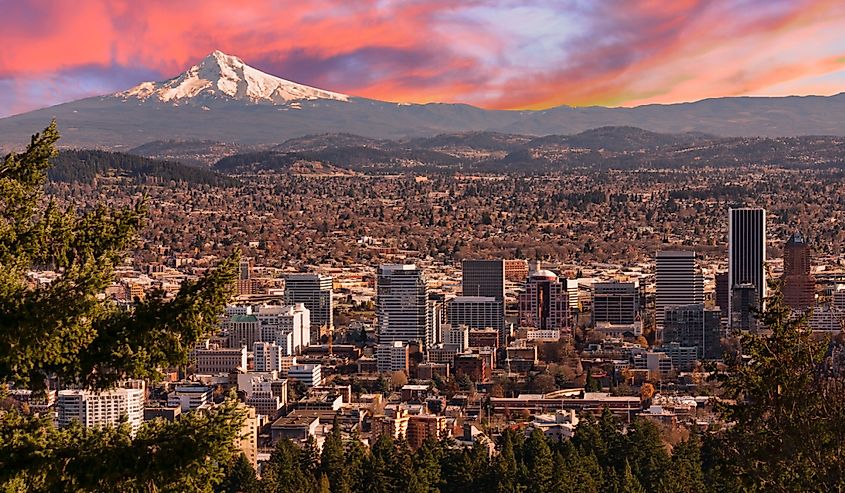 In Oregon, Portland is a city that never sleeps. With a booming population of about 641,000 and hip stores and eateries, it has a thriving city scene. Top attractions in this city include the Portland Japanese Garden, Powell's Books, and the Portland Art Museum. At the Portland Japanese Garden, visitors can walk around and explore the abundance of plants as well as its bustling ecosystem. There is a café, a gift shop, as well as art exhibitions. Some gardens to view are the Tea Garden, Flat Garden, and Strolling Pond Garden, all boasting lush Japanese greenery and designs. Book lovers will want to visit the largest independent bookstore in the world: Powell's Books. Try not to get lost in the maze of shelves while exploring used and collector's-edition titles. The current collection in this store is over 1 million books, with the store itself spanning an entire city block. For a taste of nature, get a mountainous pond view by visiting Mt. Tabor Park. It spans 176 acres with a collection of walking trails!
Astoria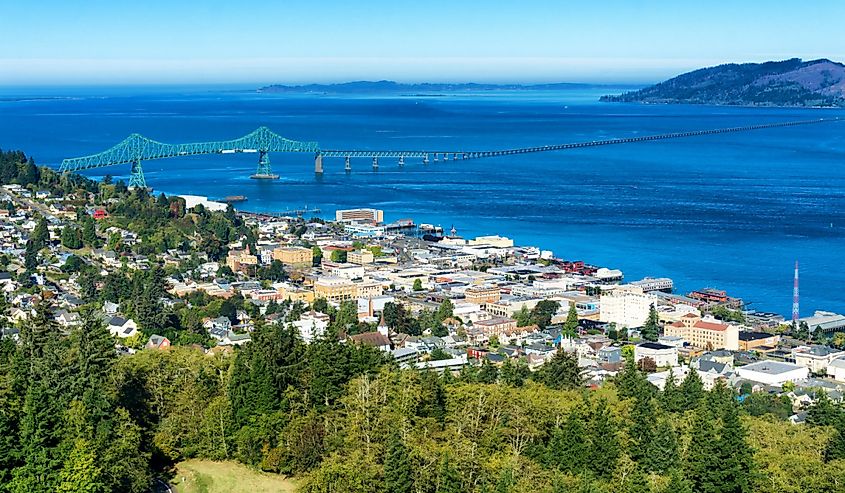 Astoria is also a seaside town with the Columbia River running throughout the area, eventually meeting the Pacific Ocean. It holds much charm and history and is a hot spot for anglers. It is such a cute town that even its lodging experiences make for a weekend adventure in their own right! A popular bed and breakfast is Benjamin Young Inn – B&B. Located in an 1888 Victorian mansion, wake up to fresh breakfasts and relaxing rooms, complete views of the Columbia River. Another option is a stay at the Rosebriar Mansion, containing seven bedrooms and a dining room, as well as a spacious outdoor garden. For an outdoor adventure, head to Columbia River Kayaking. They offer guided tours down the Columbia River, and they will teach you the basics needed to become an experienced kayaker. For on-land activities, Astoria's main streets have beautiful shops such as  Astoria Vintage hardware where shoppers can find the best antiques. Additionally, there is Forsythia which has artisan home décor. Movie buff in your crew? Dive into some fun history at the Oregon Film Museum, which outlines the history of Oregon's TV shows and movies. Oregon has housed more than 400 productions, with some feature flicks being Twilight and One Flew Over the Cuckoo's Nest.
Mount Hood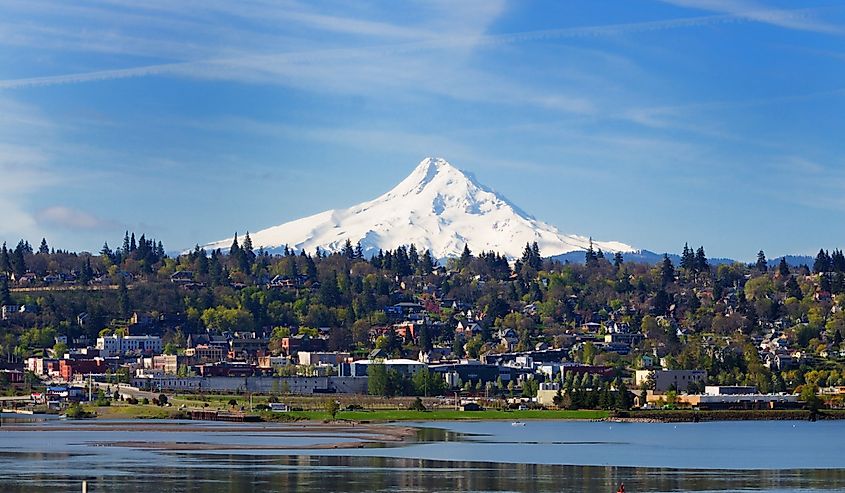 Mount Hood is a nature spectacle travelers will not want to miss when taking a weekend trip in Oregon. Mount Hood is the tallest peak in the state, standing at 3,429 meters. It is also the second most climbed mountain globally! Mount Hood is unique because it is actually a sleeping stratovolcano. Stratovolcanoes tend to have steeper walls and they resemble a cone, compared to flatter shield volcanoes. It last erupted in 1865 and is now a beautiful recreation oasis with campsites, hiking trails, fishing areas, and skiing opportunities in the winter. The best way to travel here is to stay in Portland, which is a mere 50 miles away, and take a quick day trip via vehicle on Interstate 84 or Highway 26. The drive to Mount Hood itself is beautiful, featuring expansive and gorgeous nature views.
Columbia River Gorge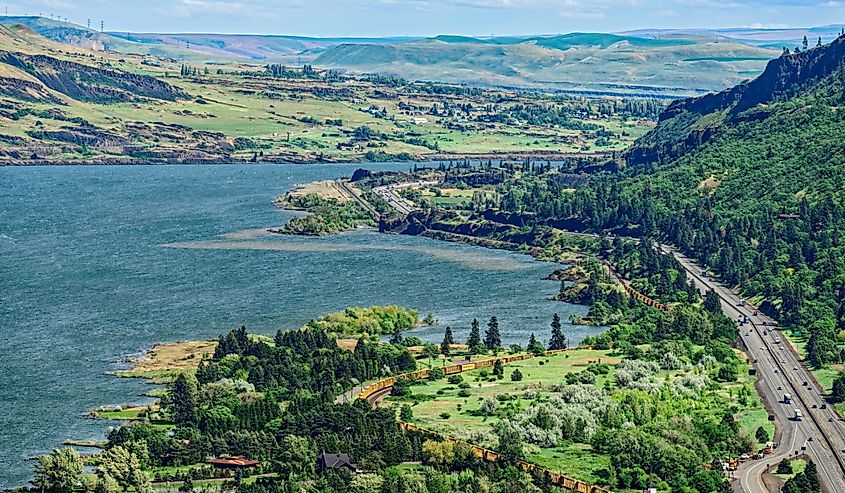 Another stunning destination that will make Oregon hard to depart is the Columbia River Gorge. Stand on the surrounding mountains and get an overhead view of the Columbia River as it flows through the gorge. This gorge separates Oregon and Washington. Along the gorge are over 90 striking waterfalls, spanning for 80 miles. One of the most impressive waterfalls is Multnomah Falls at 620 feet tall. Campsites as well as hiking and biking trails are open to the public. Alternatively, visitors may wish to stay in Portland, which is 30 miles away. This gorge is also a famous kiteboarding and windsurfing hub, so maybe give these thrilling water sports a try while visiting!
Eugene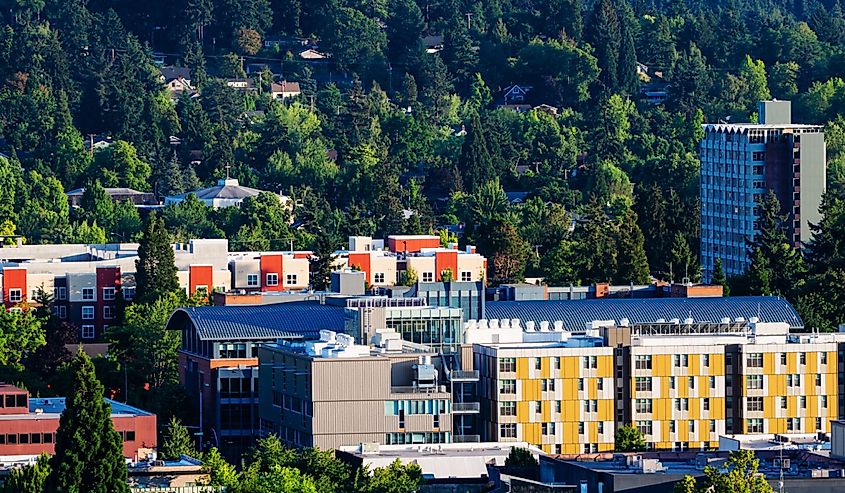 Getting back into the charming town scene, Eugene is in Willamette Valley and its streets have stores, restaurants, gardens, markets, and city parks. Prominent waterways in the area are Amazon Creek, Spring Creek, Flat Creek, and the Willamette River. Some parks to explore include Golden Gardens Park and Walnut Grove Park. Eugene is an artsy location, boasting art galleries, theater performances, and live performances at night. The Jazz Station constantly hosts local artists and at the Asian Night Market attendees can view cultural dances. Something unique to try is the Central Coast Food Trail, a food tour containing more than 30 eateries, varying from seafood to bakery goods to beer brews.
Newport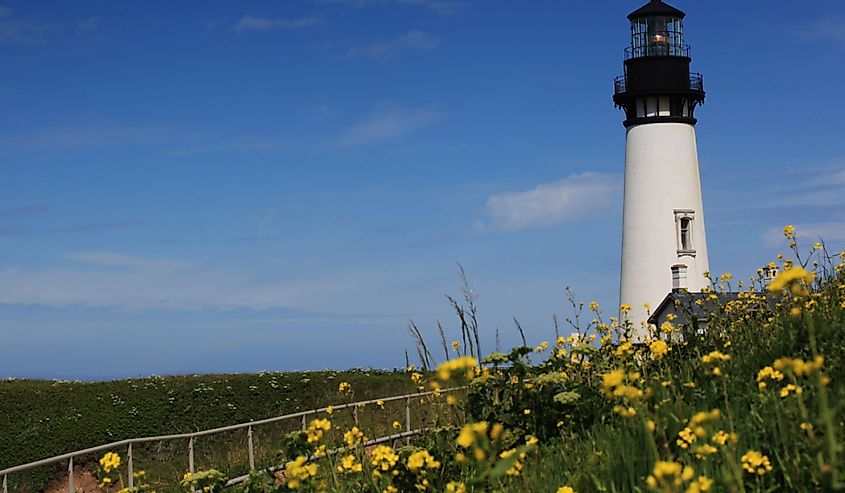 Newport, Oregon boasts its own seaside weekend adventure with a unique flare. It sits on Yaquina Bay, which flows from the Pacific Ocean. While Newport boasts beaches, like Nye Beach, it also has aquariums and nature areas. Yaquina Head Outstanding Natural Area is a hot spot for cliff jumping and getting a dose of adrenaline. The Oregon Coast Aquarium houses aquatic life, birds, and other sea creatures. Expect to see sharks that lurk deep in the ocean, as well as friendly otters floating on their backs. They also offer tickets to a seabird aviary where people can view birds such as tufted puffins and horned puffins. Additionally, Newport's streets have unique stores and delectable eateries.
Conclusion
All these destinations in the state of Oregon make for the most superb weekend expedition. Whether visitors want a peaceful stay at a seaside bed and breakfast, or thrilling excursions such as traversing the walls of a mountain, there are attractions for every mood. Visit one (or all!) of these small towns and make the most of an extended weekend!