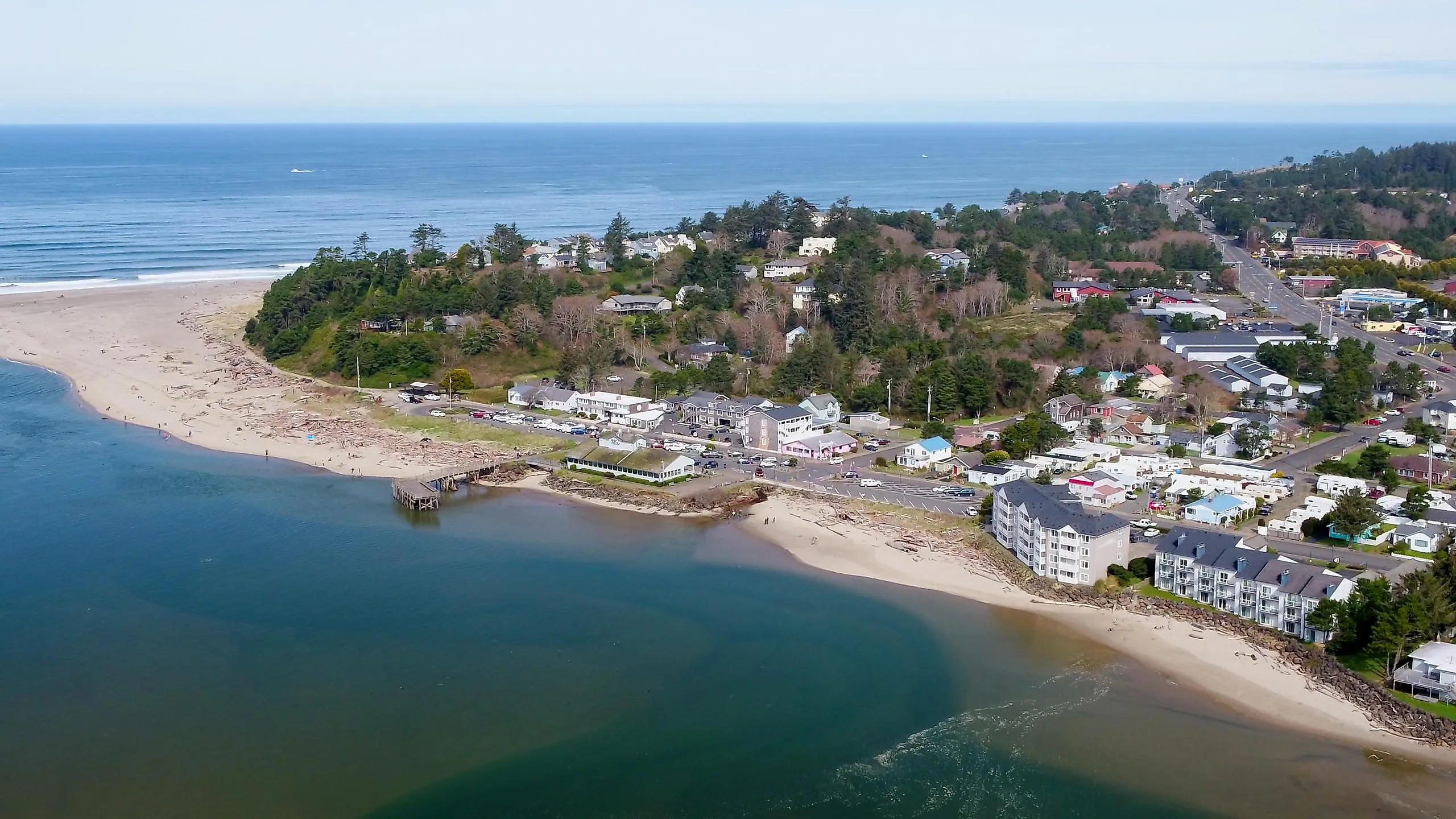 Oregon's Most Charming Beach Towns
Oregon is full of natural beauty, blessed with clear lakes, long mountain ranges, and lush forests of ancient trees. If this diverse geography were not enough, Oregon is home to 360 miles of Pacific coastline. The cold and often moody waters are a marine sanctuary for diverse flora and fauna, notably large sea mammals and birds.
The Oregon Coast features many charming beach towns. Visitors love its secluded beaches, rocky cliffs, and breathtaking ocean views. Boy, was it challenging to select the best beach towns in Oregon! While I could only choose seven, each one is worth the visit!
Seaside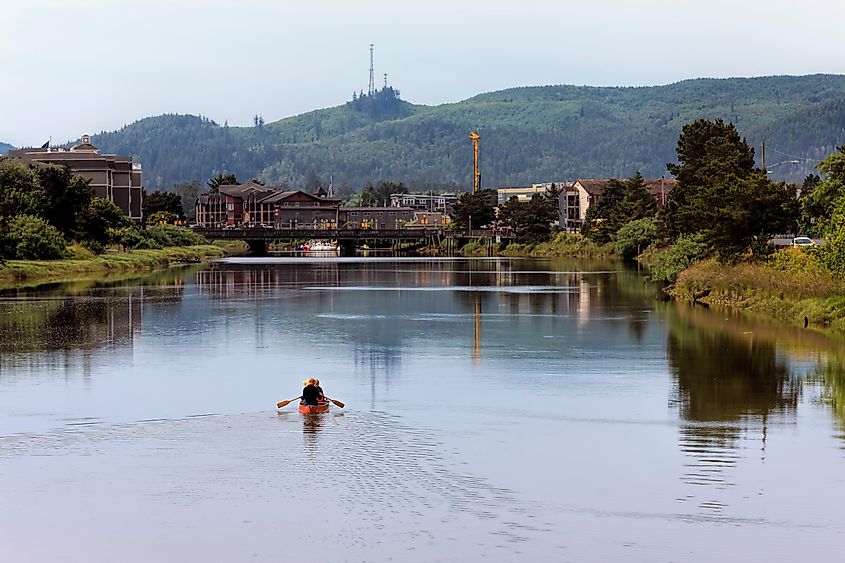 Seaside sits halfway up Clatsop County's coast, about 79 miles northwest of Portland. Walkable, bikeable, even kayak-able, Seaside is the place for family fun! Seaside's famous Promenade is a stunning  1.5-mile oceanfront window to the Pacific. Built during the roaring '20s, it is one of Oregon's most iconic landmarks.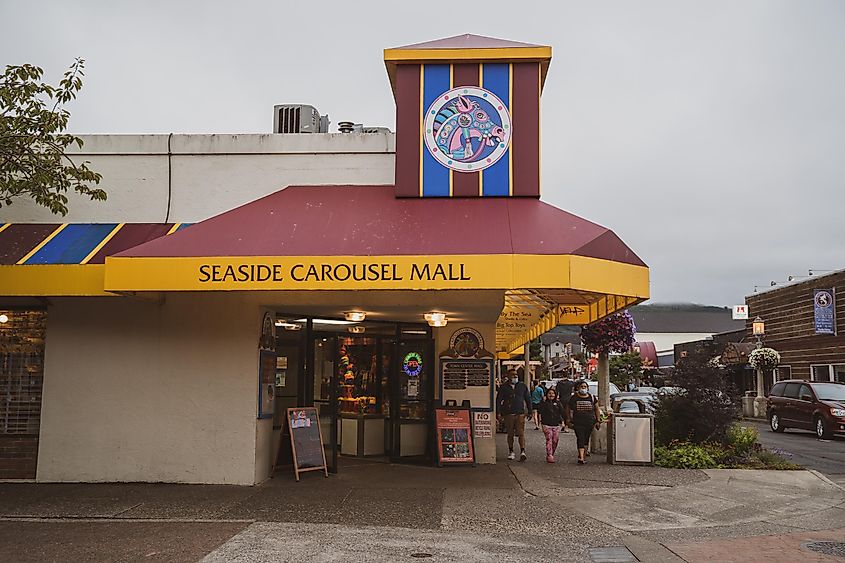 For another glimpse back to the past, visit Seaside's Carousel Mall. It is home to a historic carousel with a modern arcade and shopping. Or see Seaside Aquarium's friendly seals, underwater plants, crustaceans, and fish. Seaside Beach is right within the town limits. It is a laid-back beach for collecting seashells or kiteboard and surf lessons. Tillamook Head is eight miles south for a more challenging trek. The challenging climb leads up a 1,000-foot moss-covered cliff overlooking the ocean. 
Lincoln City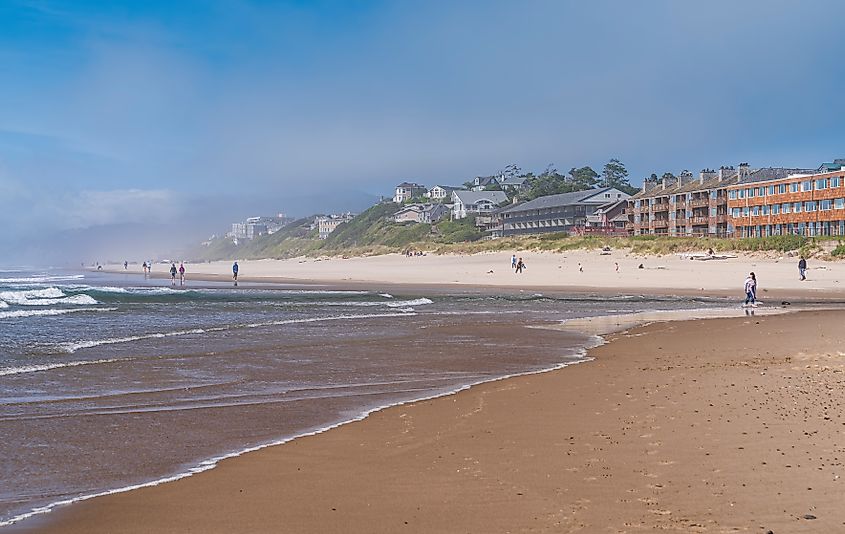 Located in Oregon's Lincoln County is a town dubbed the "Kite Capital of the World." Home to two annual kite festivals, onlookers watch colorful octopus and squid kites soar on Pacific winds. Love hunting for lost treasure? Lincoln City has a program for you: Finders Keepers. It is an ongoing event in which local glass blowers create colorful orbs that "float" on water. Secretive "Float Fairies" hide the floats along city beaches. Anyone who finds a glass float gets to keep the treasure.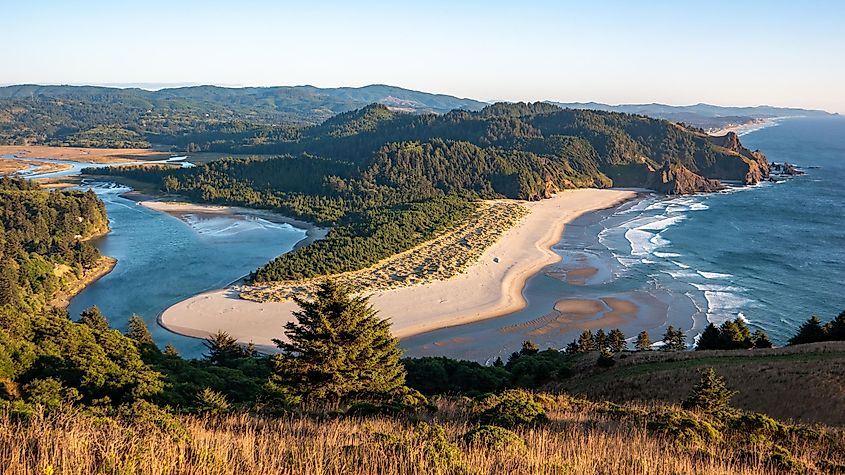 Ten miles north is Cascade Head nature reserve. The reserve is a haven for protecting rare plants, wildlife, and grasslands. Hikers can trek the 1,200-foot climb for a lookout well above the trees. Devil's Lake is located just north of town and is a recreation area for camping, boating, and fishing.
Cannon Beach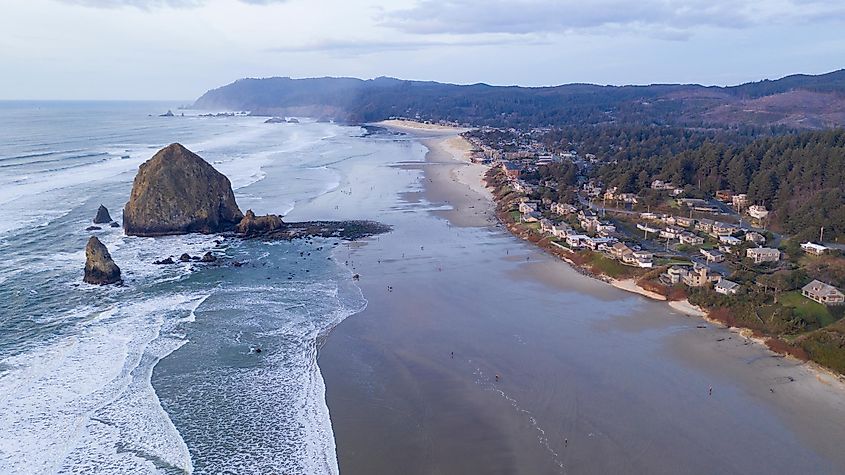 Located in Clatsop County, Oregon, is Cannon Beach. A shipwrecked naval cannon washed ashore in the 1840s, gifting the town its name. Picturesque, Cannon Beach is the ocean backdrop in many Hollywood films, including Twilight and Free Willy. Popular with tourists during summertime, the town maintains a small-town vibe.Sandy Cannon Beach spans eight miles and is home to Haystack Rock. The famous sea stack juts out from the coast and is accessible at low tide. The area is home to the largest breeding population of puffins, and visitors often spot them nearby.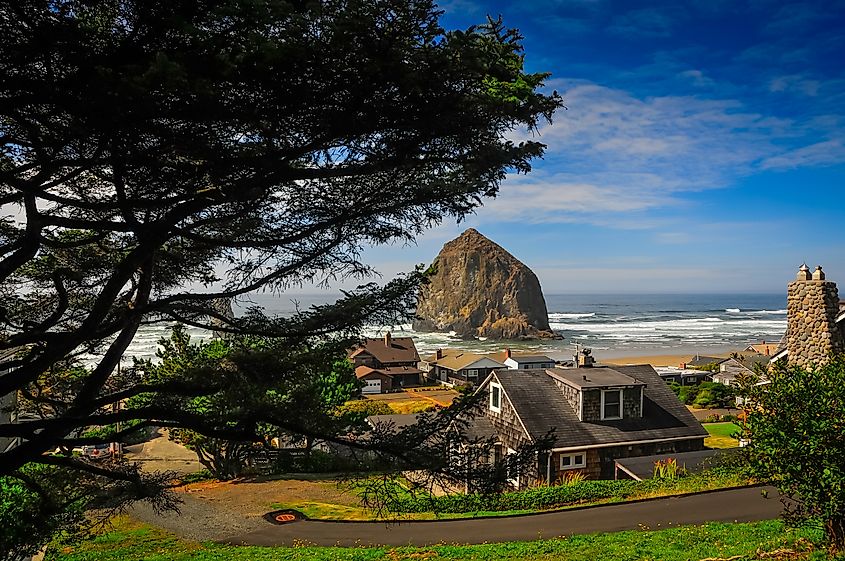 John Yeon State Natural Site is situated on the northern tip of town, featuring two stunning and secluded waterfalls. Approximately three miles north of town is Ecola State Park, a scenic forest with grassy bluff and clear views of Haystack Rock. Visitors can hike through park trials or observe sea life caught inside tidepools during the low tide.
Depoe Bay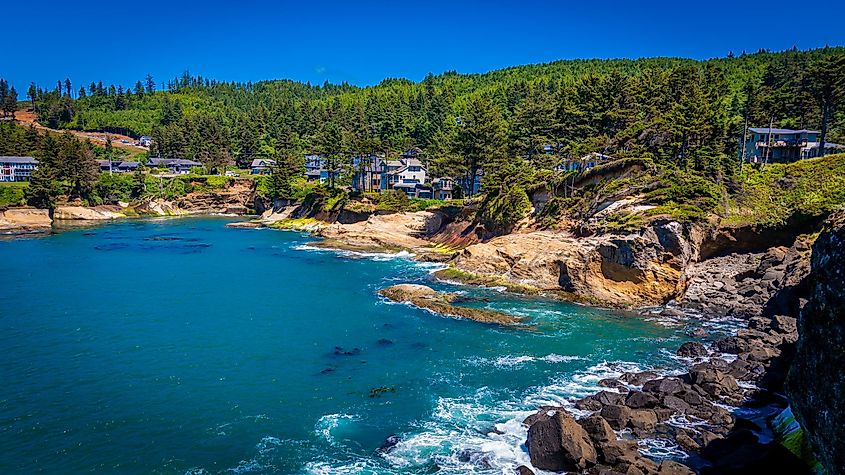 Depoe Bay is a small town in Lincoln County, Oregon. The city has under 2,000 residents and stretches just two miles. If you like small things, Depoe Bay is tiny with a capital T. Its bay harbor is the world's smallest navigable harbor, spanning just six acres. Depoe Bay is the Whale Watching Capital of the Oregon Coast and offers the best grey whale watching. The area's cold waters have about forty part-time resident whales between June and October.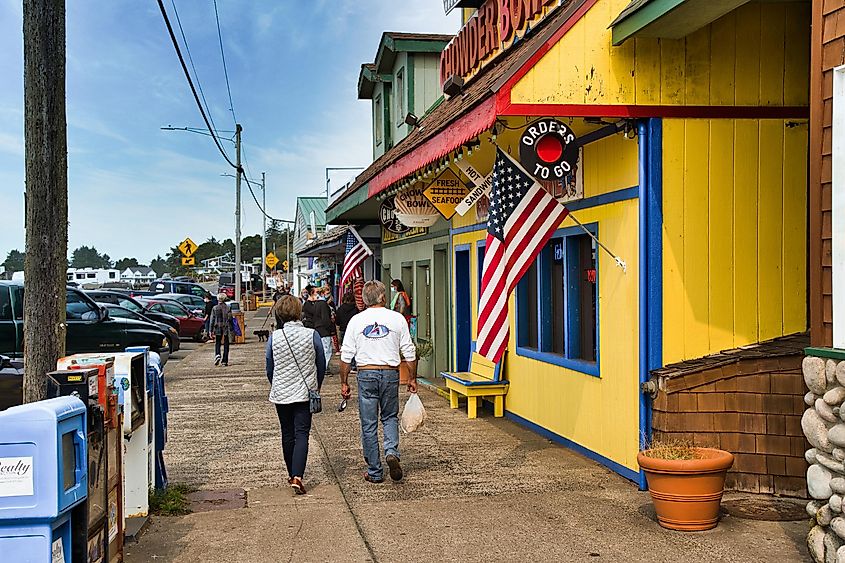 Visit the town's Whale Watching Center to glimpse these mammoth mammals, or book a charter boat. Other popular viewpoints are at Boiler Bay and Otter Crest viewpoint. A protective seawall runs the length of downtown, where visitors can witness a rare natural phenomenon. The phenomenon, known as a "spouting horn," causes waves to splash upward as if blown from a whale's blowhole.
Newport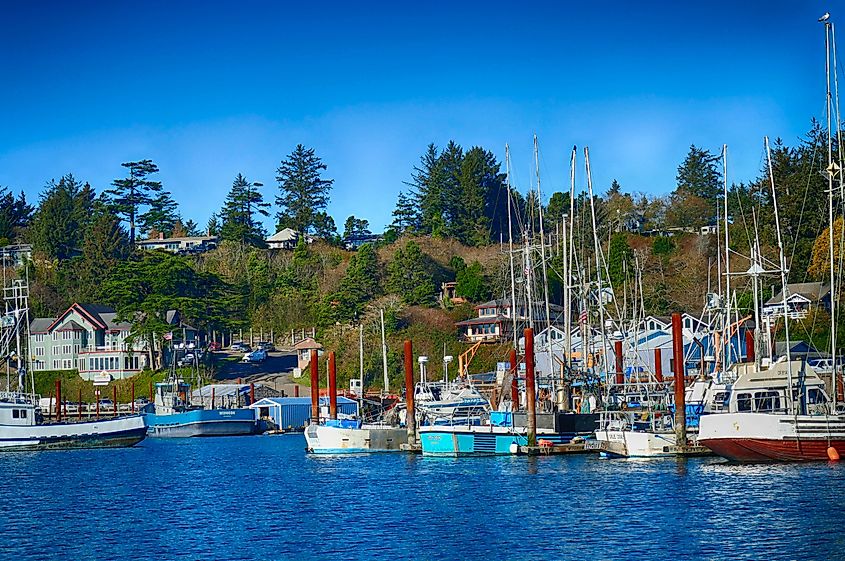 In the county seat of Lincoln County, Oregon, is Newport. Named after Newport, Rhode Island, the town is famous for its Gilded Age mansions. Built as summer homes by wealthy New Englanders, the town has eleven mansions, some of which offer tours. Newport beaches are rife with wildlife and help make it the Dungeness Crab Capital of the World. This sweet, succulent crab makes King Crab taste bland. 
Newport is the biggest town on Yaquina Bay, a semi-enclosed bay connecting to the Pacific. The bay is home to a historic bayfront and two historic lighthouses. The Oregon Coast aquarium focuses on flora and fauna native to the coast. The aquarium hosts an impressive array of sea life and birds. At one time, Keiko, the orca who starred in Free Willy, was a short-term resident. South Beach State Park begins in south Newport and stretches several miles down the Oregon coast. Eight miles north on the coastline is the Devil's Punch Bowl, a unique rock formation that looks like a giant bowl.
Florence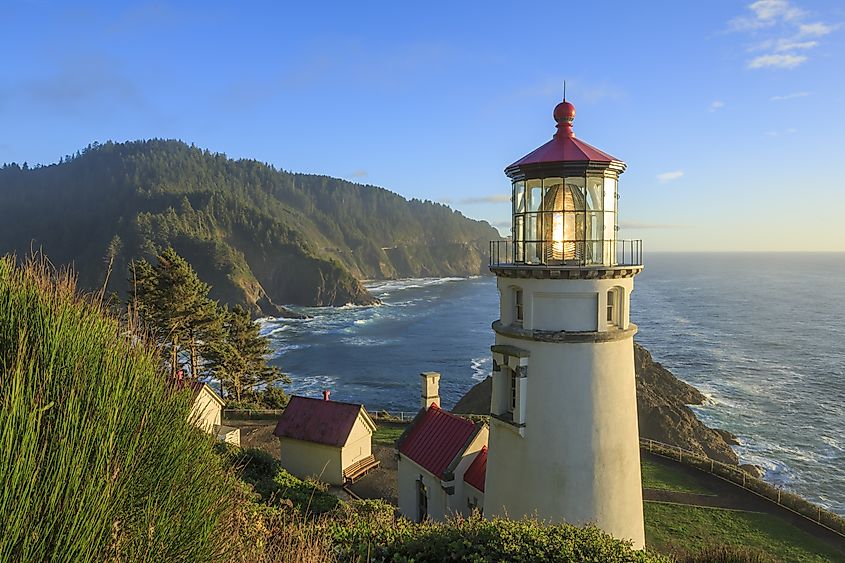 Florence is a charming historic town in Oregon's Lane County, at the mouth of the Siuslaw River. The river flows through the town's south portion and enters the Pacific. Named after the Siuslaw indigenous people that inhabited the area and used by explorers and traders, a river port was established in 1909. Today, its waterfront features a scenic boardwalk and downtown lined with historic landmarks, public art displays, and delicious coastal dining. Florence is warmly known for its annual Rhododendron Festival. The festival honors the beauty and resilience of this coastal flower. The festival features a carnival, short road race, and car show. 
Florence is also home to the famed Sea Lion Caves. Standing twelve-stories high, the cave is America's largest naturally formed rock sea cave. Do not miss seeing hundreds of barking sea lions frolicking in their natural habitat! Less than two miles north of the Sea Lion Caves is Oregon's most photographed lighthouse, Heceta Head. Visitors can take a short hike through the scenic viewpoint park and end on a beautiful beach and wildlife refuge.
Manzanita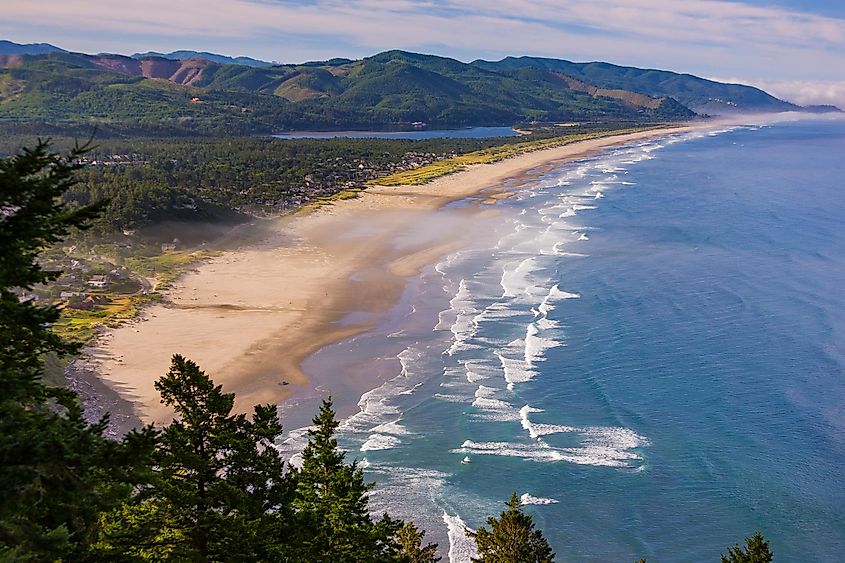 Perched on Tillamook County's coast is little Manzanita. It is a lovely, walkable town that is home to less than 1,000 people. Despite the small population, Manzanita makes for an excellent weekend escape. Visitors enjoy boutique shopping, golfing, horseback riding, and water sports. Particularly of note is Manzanita's food. Along its coastline, you can successfully forage for food. The Nehalem River and Bay, on the town's southeastern border, is famous for salmon fishing and crabbing. Its fertile lands are ideal for agriculture, making it ideal for its many local food makers, growers, and farmers. Naturally, the town has a fabulous farmers market. 
Manzanita's beaches are a breath of cold Pacific air, with temperatures rarely reaching sixty degrees fahrenheit. Located near a major shipping route, freighters and fishing vessels are seen along its coastline. Approximately three miles south of Manzanita is Nehalem Bay State Park. The park features a four-mile sandspit ideal for beach-going, crabbing, fishing, and clamming.
There is something wild and mysterious about Oregon's rugged coast. Could it be the crashing waves? Towering cliffs? Or is it the seaswept treasure found ashore? In contrast with the developed Atlantic coast, Oregon's untouched beauty charms its many visitors. Oregon's Pacific coast truly has something for everyone. Outdoor lovers get to choose from a wide variety of sea and land activities. Wildlife sightings are commonplace, and history buffs can marvel at the coast's many exciting historical landmarks. No wonder so many fall in love with these charming little towns dotting the Oregon coastline!