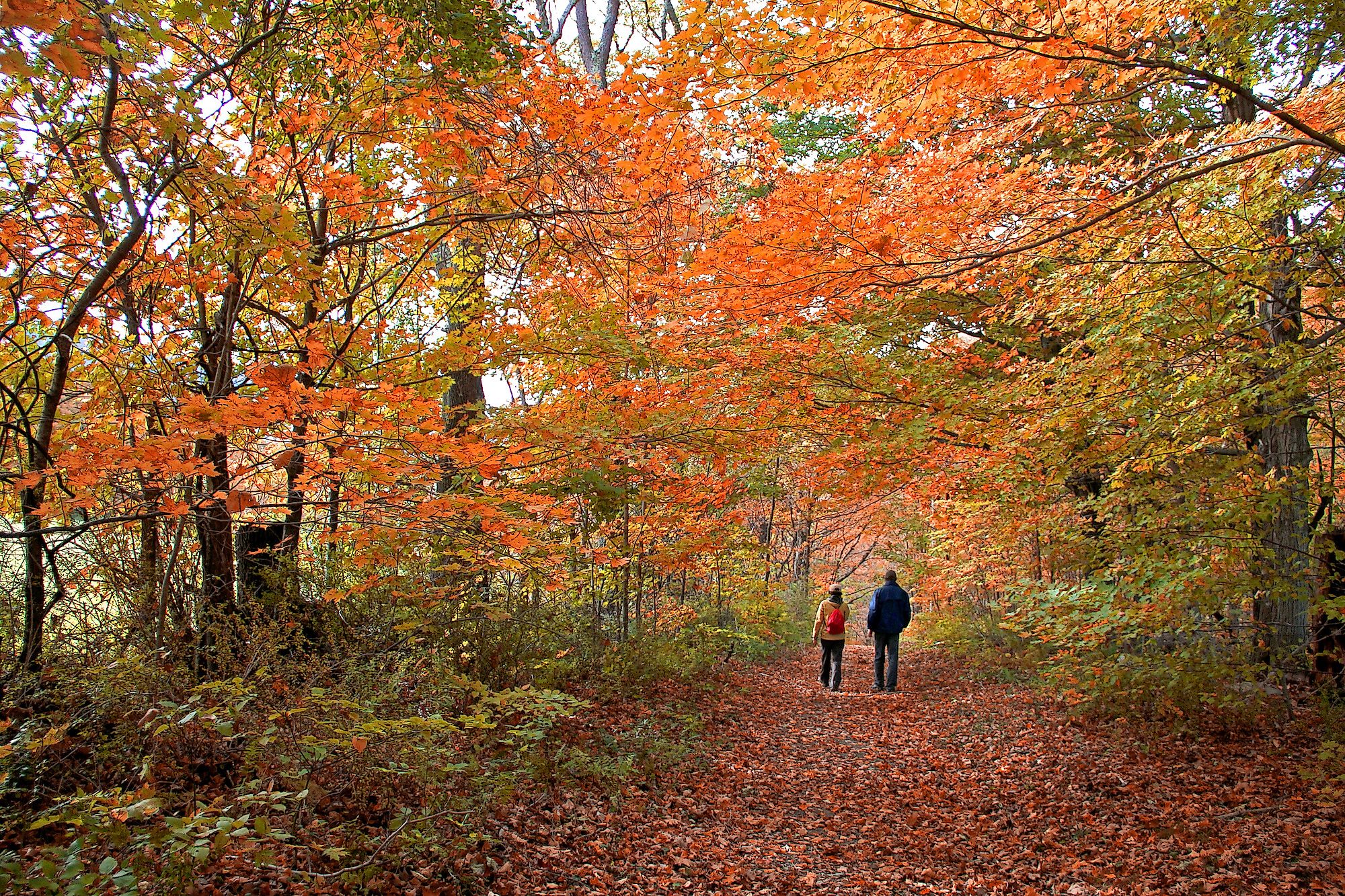 10 Top Places To Visit In Massachusetts In The Fall
Massachusetts is a fantastic place to visit in the fall, as there are plenty of things to see and do during this season. When it comes to leaf peeping, the state offers some of the top spots to get the best views, and that's not all. Fall is a great time to explore the interesting history of Massachusetts without dealing with the summer crowds. With places like Salem in the state, those who want some spooky adventures will also be satisfied. So, here are some of the best places in the state waiting to welcome you this fall.
New Bedford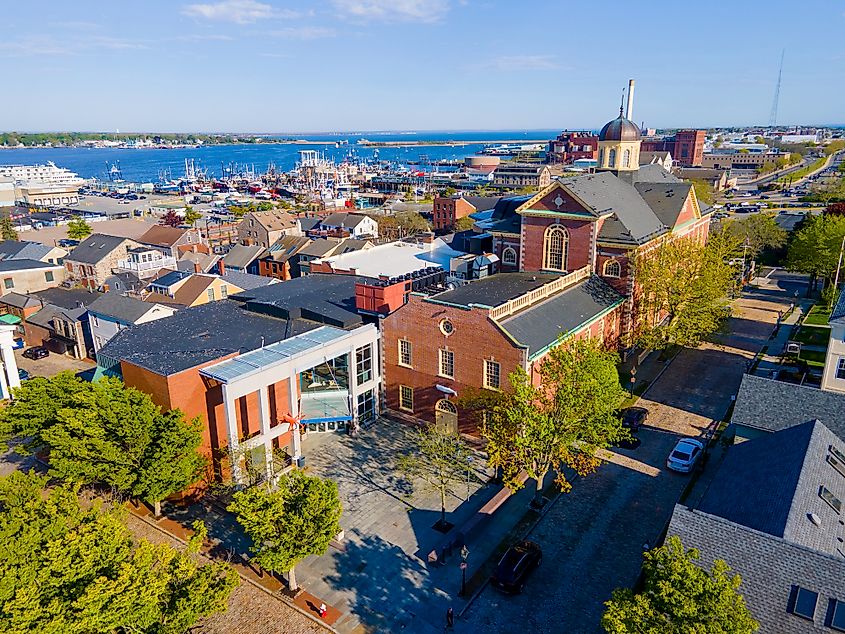 Fall in New Bedford is a relaxing experience as the beaches are uncrowded, the gardens are gorgeous, and the weather is excellent during this period. Enjoy an exciting fall vacation here by visiting the Candy Apple Farm to taste some delicious apple treats and coffee, and then head over to the Dartmouth Orchards to pick some apples. Next, check out the New Bedford Whaling Museum to see interesting whale exhibits on display. For more adventures, get on a whale-watching tour, as these majestic creatures can still be seen in the waters around the town in the fall. For those around in mid-October, New Bedford has its own Oktoberfest, featuring an abundance of craft beer and live entertainment. 
Salem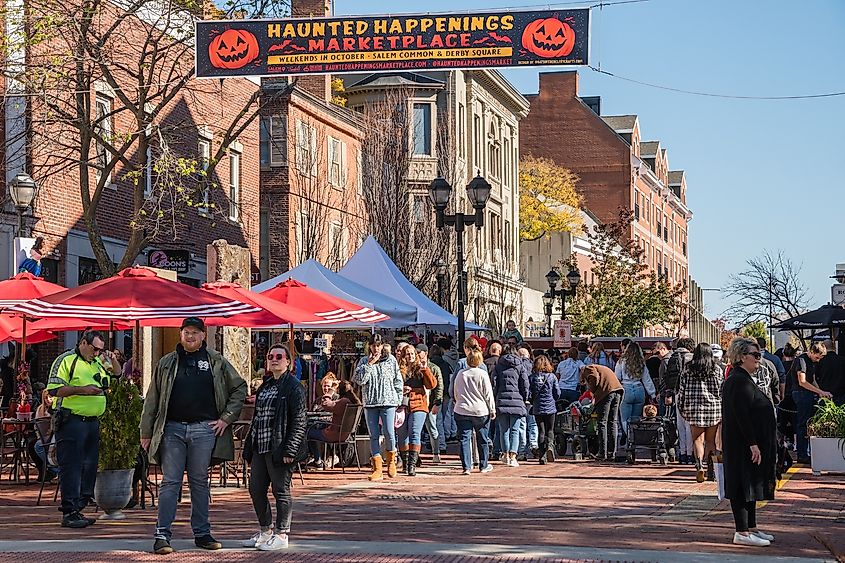 Salem is an ideal spot for an unforgettable fall vacation. In addition to the beautiful fall foliage that can be witnessed across its streets, Salem also offers one of the most exciting Halloween experiences one can have anywhere in the world. Thanks to its history full of chilling events, plenty of haunted places spread out across the city will scare the bravest ghost hunters. For an exciting experience, visitors can take a self-guided tour of all the locations used in the filming of Hocus Pocus and also check out some haunted places such as - the Hawthorne Hotel, the Salem jail, and the Turner house. Do not miss out on the Proctor's Ledge, which is believed to be the exact location where the alleged Salem witches wehre hanged. 
Lower Berkshires Waterfalls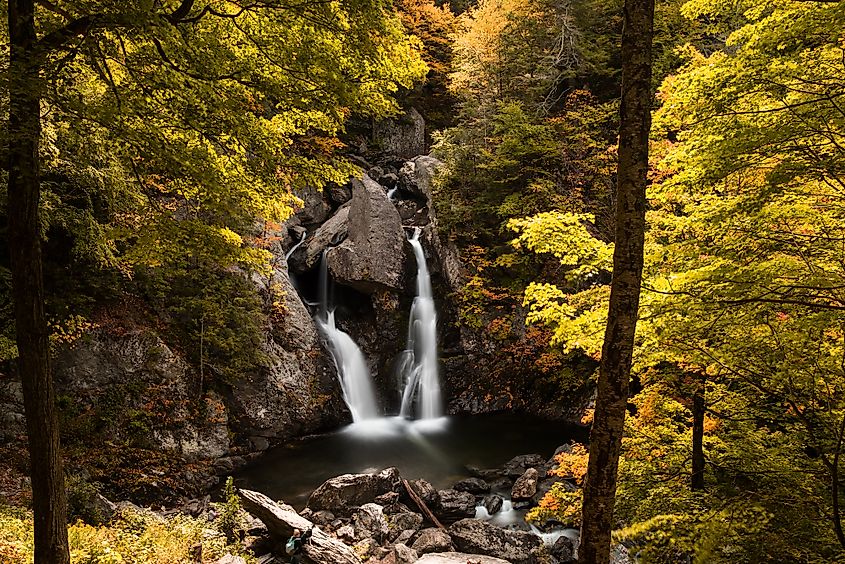 There are many waterfalls in Massachusetts with breathtaking views of the changing leaves. However, Race Brook Falls in Sheffield, Campbell Falls in New Marlborough, and Bash Bish Falls in Mount Washington are the most gorgeous worth visiting in the fall. These waterfalls are near each other, and the trails to access them are incredibly beautiful and rated as moderate, making them safe and convenient for all hiking levels. Bash Bish Falls is particularly stunning and worth visiting year-round as it is the highest single-drop waterfall in the state, with a height of 60 feet (18 m). 
Cape Cod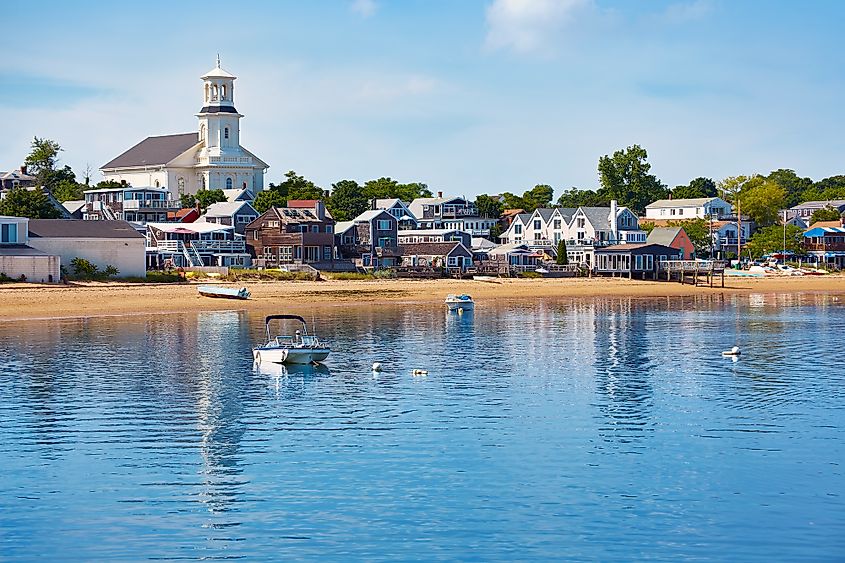 Cape Cod is the easternmost peninsula of Massachusetts, famous for its unusual shape, which looks like an arm flexing its muscles. Besides its unique formation, this peninsula has grown to be among Massachusetts's most well-liked vacation destinations. In addition to the changing scenery that can be witnessed here in fall, the peninsula is home to many attractions like the Cape Cod National Seashore, which houses lighthouses, swimming beaches, cranberry bogs, and trails for hiking and biking. Regarding history, Cape Cod is home to the resort town of Provincetown, which is famous for being the initial landing place of the Pilgrims in the US. Cape Cod also has several other towns and villages that promise incredible adventures and scenery, and visiting them in fall is a great way to escape the crowds and take advantage of low prices and the great weather. 
The Mohawk Trail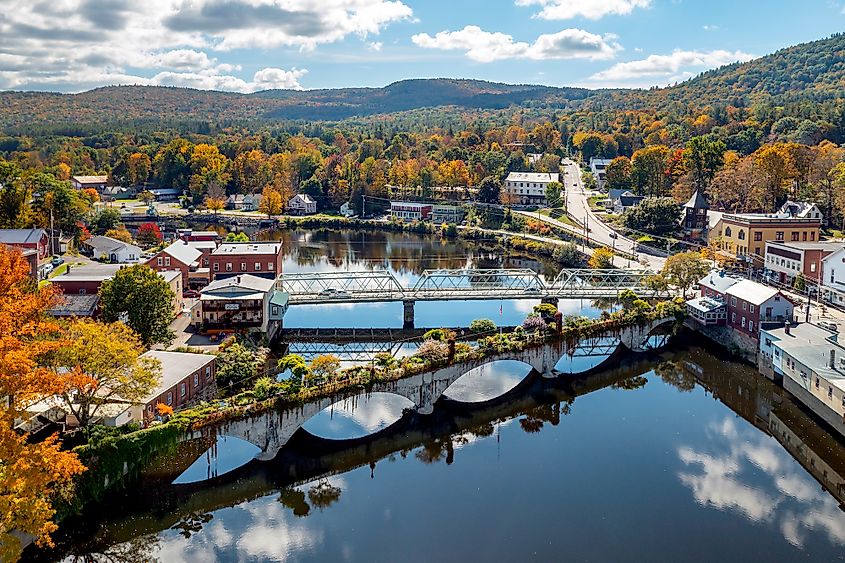 The Mohawk Trail is an iconic path in the Northern Berkshires, and it is a must-see during the peak fall season. The road stretches for over 60 miles and winds through charming towns and villages surrounded by forest-covered mountains and valleys. Part of the trail also runs alongside the picturesque Deerfield River, adding to its beauty. During fall, riding on this road feels magical, and in addition to the scenery, there are plenty of side trips that will make the experience even more unforgettable. For some ideas, check out the Bridge of Flowers in Shelburne Falls, which is an old trolley bridge transformed into a walkthrough flower garden. For the more daring, visit the Zoar Outdoor Ziplining found in Charlemont, where one can see the fall foliage from a whole new perspective while soaring above the trees. 
Mount Sugarloaf State Reservation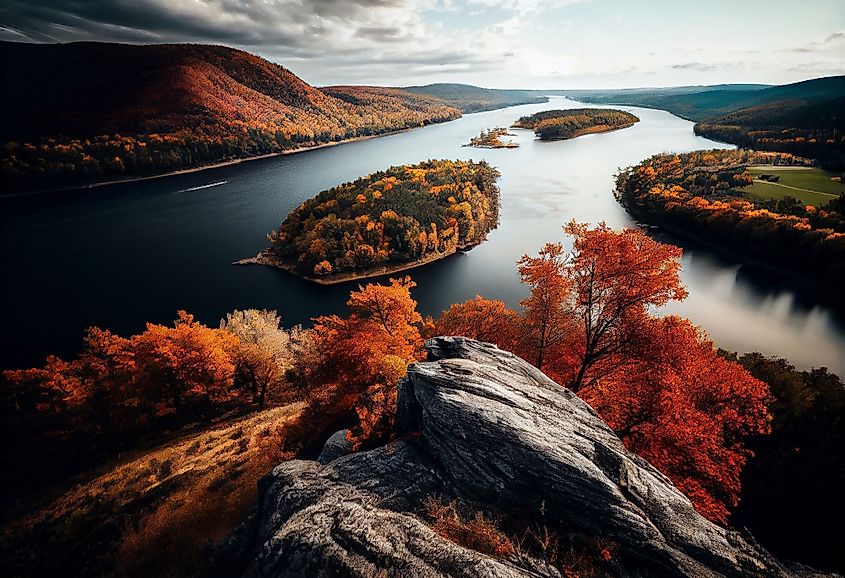 Mount Sugarloaf State Reservation is a gorgeous area in South Deerfield that offers expansive views of the Connecticut River Valley, the Pioneer Valley, and the Berkshire Mountains. While the views are beautiful year-round, fall is, without doubt, the most beautiful time to be here. During this season, guests hiking on one of the trails will be spoiled with views of the Connecticut River surrounded by typical New England farms and an abundance of trees flaunting all kinds of fall colors. Besides hiking, visitors to Mount Sugarloaf State Reservation can engage in mountain biking and picnicking, as they also offer great views.  
Boston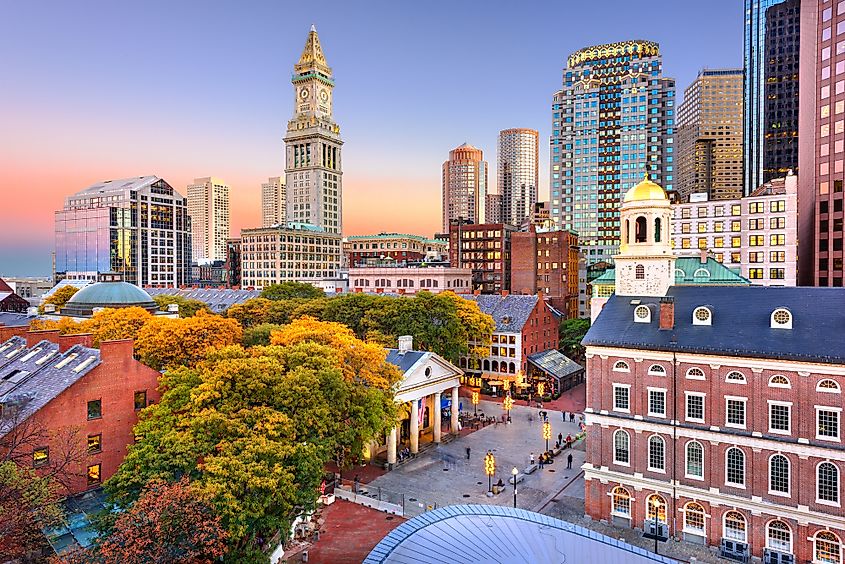 Boston is among the oldest cities in the country and a great place for an unforgettable fall vacation in Massachusetts. This city is particularly famous for its history, which can be seen in its numerous historic attractions, one of which is the Freedom Trail. This trail is a 2.5-mile walk that goes through some of the most important colonial and revolutionary sites in American history. Some of these sites include the Paul Revere House, which is the oldest house in Boston, and the USS Constitution, which is the oldest commissioned US Navy Ship. 
Besides its historical appeal, Boston also has amazing natural scenery, exciting ghost tours, and outdoor activities that will make a fall vacation memorable. To witness the best fall scenery in the city, take a stroll around the Boston Public Garden or head over to Franklin Park to combine wildlife watching and leaf peeping. 
Pleasant Valley Sanctuary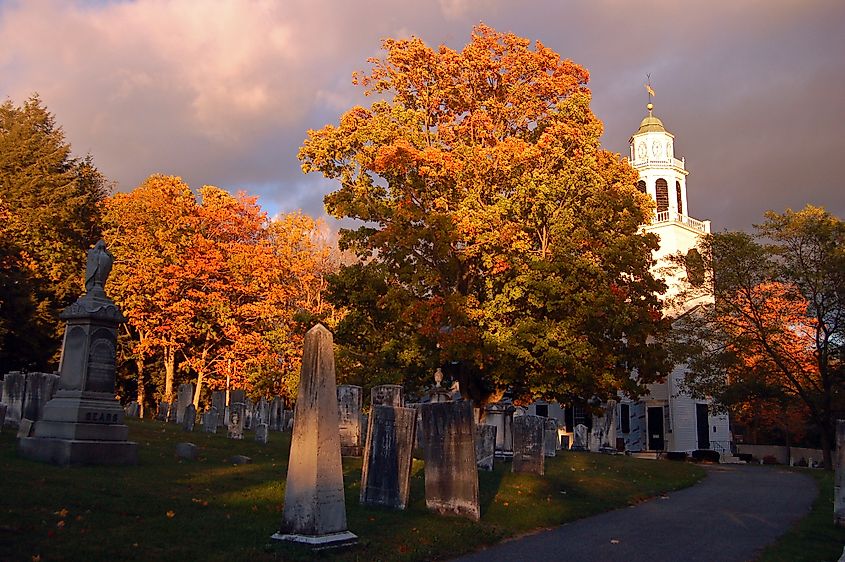 Pleasant Valley Sanctuary is a wildlife sanctuary positioned at the foot of Lenox Mountain in the quaint town of Lenox. The wildlife sanctuary covers an area of about 1,405 acres, and it is home to miles of trails, a large pond, camping sites, and incredible wildlife. However, the most amazing feature this sanctuary offers in fall is the diverse colors that can be witnessed in its lush forest areas. Red, yellow, orange, green, and gold colors are all displayed in the sanctuary during this season, creating amazing photo opportunities. Visitors can pick from various hiking trails to get up close to the rich fauna and flora in this sanctuary. For more things to do around, head over to the town of Lenox to see some of its attractions like - The Mount, which is the magnificent mansion of early 20th-century author Edith Wharton. Also, check out Tanglewood, the legendary music theater that hosts summer concerts for the Boston Symphony Orchestra.
Maudslay State Park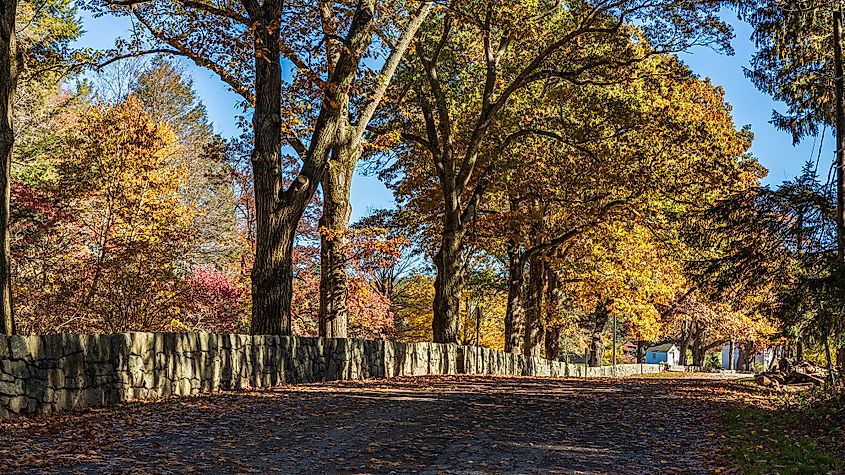 Maudslay State Park is a historic landmark in Newburyport that was once a private estate later adopted by the state. The park is situated on the Merrimack River and is characterized by well-designed gardens, rolling meadows, charming lakes, white pine, and historic stone bridges. The park is also a nesting site for bald eagles. All these make the park a paradise for exciting outdoor activities and nature photography, especially in the fall. There are miles of easily navigable trails in this park, which allows visitors to fully explore its amazing scenery and history. Other activities like biking, horseback riding, and picnicking can be done here as well.
Mount Greylock State Reservation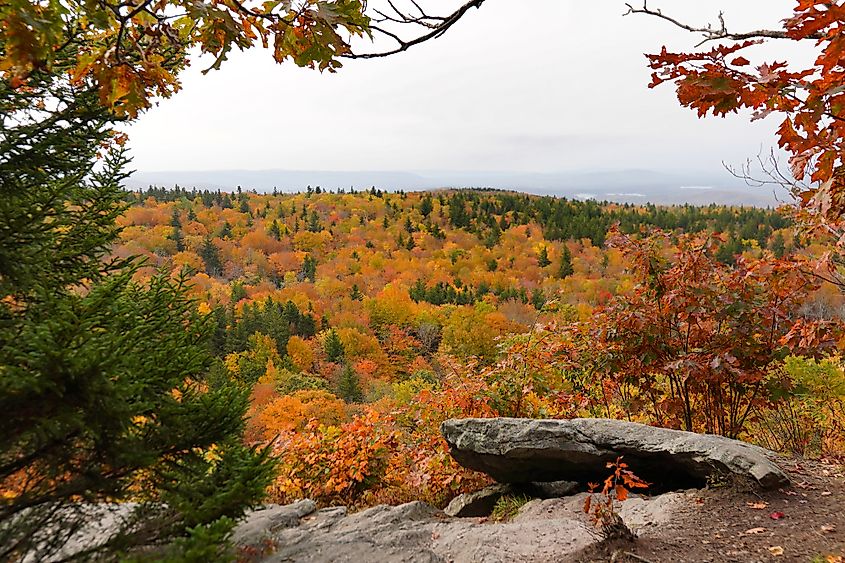 Mount Greylock State Reservation is a 12,000-acre area that protects Mount Greylock - Massachusetts' highest point, a height of 3,491 feet. The mountain is the main attraction here, and on a clear day, it offers uninterrupted views of parts of four states and five mountain ranges from more than 70 miles away. In fall, the views are simply breathtaking, making it one of the best times to visit. Also on a part of the mountain is the striking 92-foot-tall granite Veterans War Memorial observation tower and the Bascom Lodge, which serves food and accommodations to visitors who wish to spend the night on the summit. 
Fall is an amazing time in Massachusetts. It is arguably the best time to visit this state for a more laid-back experience combined with scenery. While the list of vacation destinations in Massachusetts is endless, these places are the best for those seeking an unforgettable fall vacation. This is because they all come with gorgeous fall foliage, interesting history, and opportunities for outdoor adventures. Some like Pleasant Valley Sanctuary even offer opportunities to see wildlife roaming in the foliage, creating views that can only be described as magical.