The Pencil of the Future is Not Made From Trees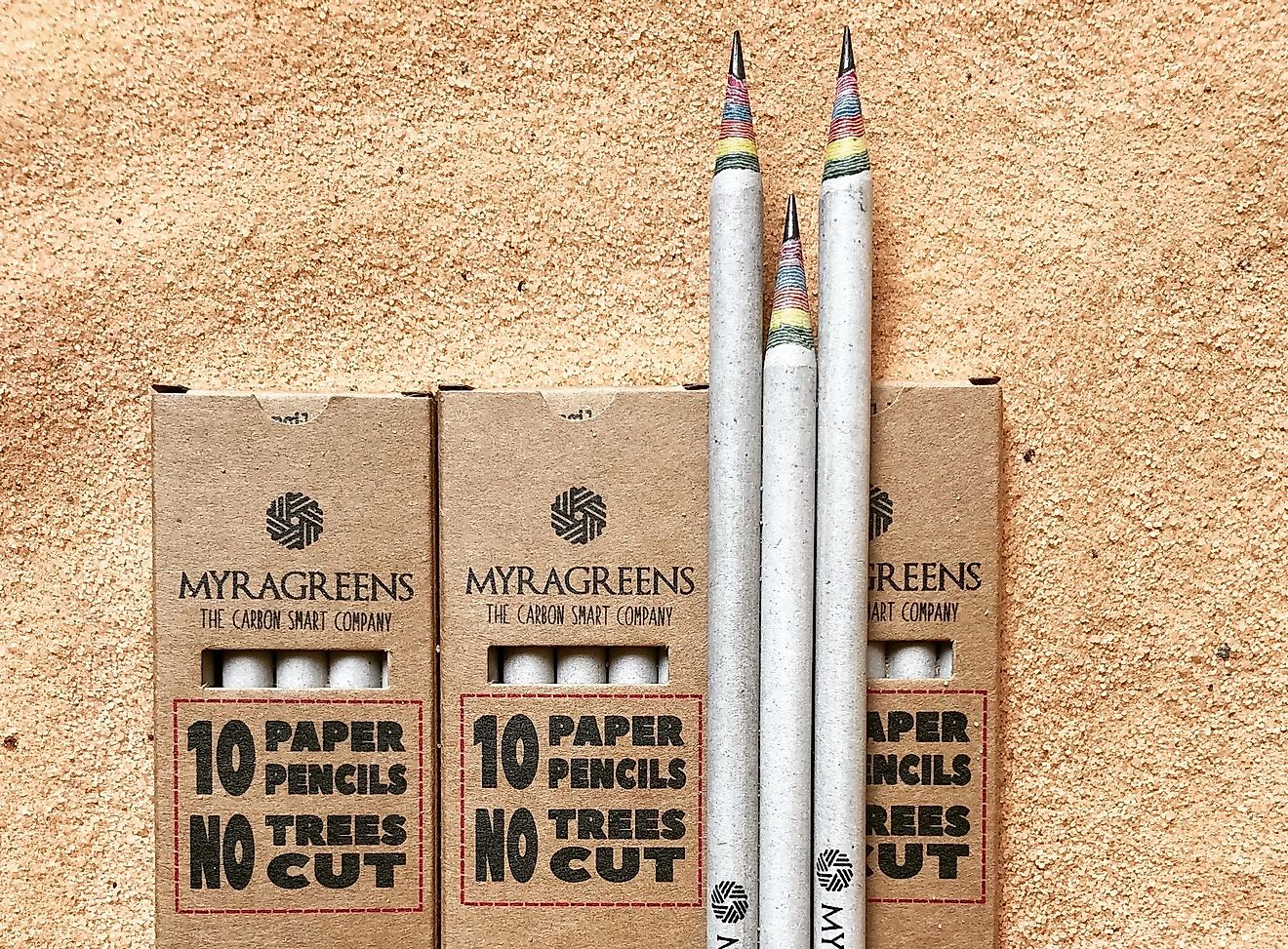 In today's world, every step taken towards ensuring a sustainable future is of vital importance. For centuries, humans have extracted benefits from nature without giving much back. Across the world, natural resources have been heavily exploited to meet the growing demands of the human population. Often, objects as inconspicuous as the wooden pencil used by children to do their homework can have an adverse impact on the environment. In this article, we learn about how innovative solutions can dampen such impacts.
Even in this digital age, pencils are the loyal companions of many schoolchildren, writers, and artists alike. It is estimated that about 15 to 20 billion pencils are used annually. Most pencils have a graphite or charcoal core encased in wood. The core material helps to make impressions on paper while the wooden encasing protects the core material. The wood used for these pencils comes from trees and it is estimated that at least 400,000 trees are cut down every year to supply enough wood to produce a sufficient number of pencils to meet the thriving market demand for the commodity.
Recycled Paper Pencils To the Rescue
In an effort to save the planet, those green at heart have come up with many innovative solutions to replace unsustainable practices with sustainable ones. A few companies now produce pencils made of recycled paper instead of wood. World Atlas spoke to the founder of one such company, called MyraGreens, to learn more about these pencils that set out to prevent thousands of trees from being cut down.
Mr. Bhavanishankar Degolia, the founder of MyraGreens spoke to us about what first inspired him to establish a carbon smart company that manufactures green pencils.
Mr. Degolia said, "In spite of having an amazing career in software, I always felt a missing chord in the corner of my heart. While it was heart-wrenching to see the depletion of natural resources around us; I could never really figure out ways of meaningful contribution, other than planting few trees, saving a few, minimizing plastic consumption, doing terrace farming and being a self-critic."
It was this desire to do something for nature that pushed Mr. Degolia to establish MyraGreens, a company that aims to make sustainable living affordable and creates alternatives to plastic and wood consumables.
Mr. Degolia said, "While my daughter Myra was growing up I realized that I was frequently buying wood pencils. After doing a rough calculation of pencils being consumed annually globally, it was shocking to know that thousands of trees were being cut down every year just to make wood pencils. I immediately started researching and figured out that it was indeed possible to use recycled/upcycled waste paper to make a pencil. That was when I decided to plunge full time into sustainable living as the impact of these daily little things on our environment was simply huge. Time had arrived for me to form MyraGreens and do my bit to reduce carbon footprint in little possible ways."
Advantages Of Using Recycled Paper Pencils
The pencils produced by MyraGreens are made of 100% recycled paper. No trees were cut in the process. They can be easily sharpened and produce smooth writing. Sweaty hands are not a deterrent to using these pencils. The pencils are also water resistant and non-toxic in nature. In addition, they are quite affordable.
Mr. Degolia informs us of the advantages associated with using recycled paper pencils. He explained:
"Pencils made from recycled paper is not only an excellent way of upcycling what we have trashed, but our action also leads to inclusively saving trees being cut to make these pencils. Recycled pencils are also an excellent medium to empower our younger generation. It can be considered as a stepping stone for the little ones to practice sustainable living. We need to educate them about the current global scenario and encourage them to demonstrate their actions and choices for a green future. Let them choose and they shall choose wisely."
**
Dr. Oishimaya Sen Nag is a freelance writer and editor from Kolkata, India. She loves to participate in wildlife conservation activities and to explore new places and cultures.