What States Do Not Allow Self Service Gas?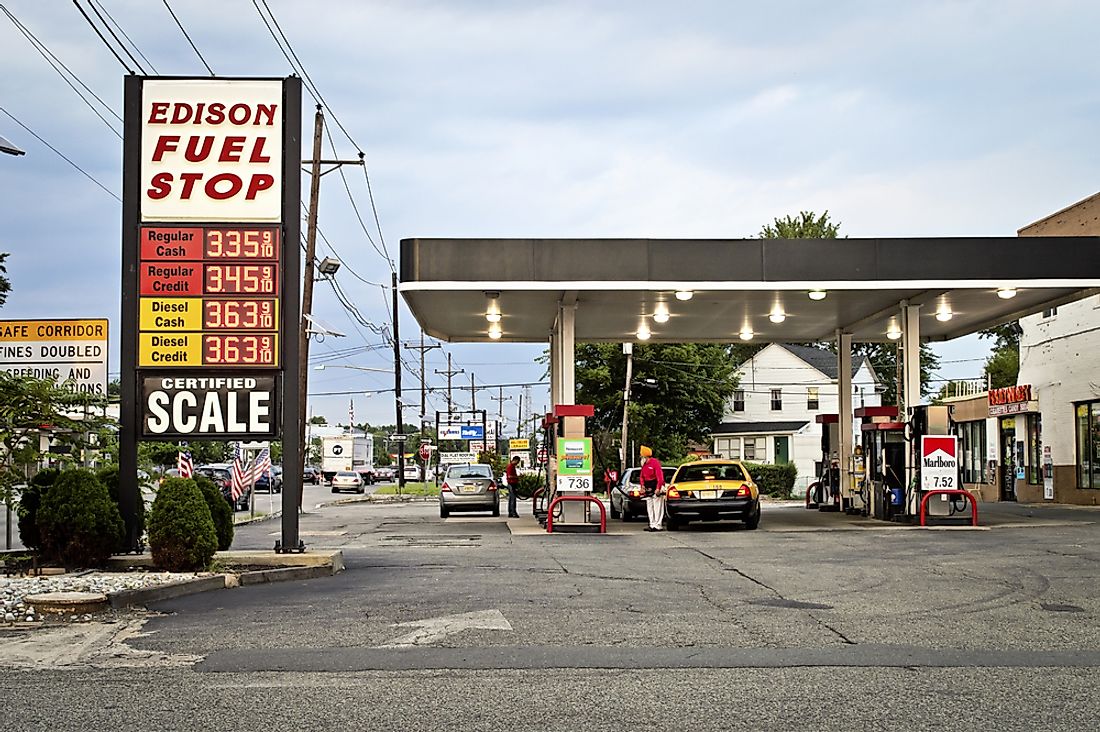 There are three types of gas filling stations. The most popular one is the full-service station. In this station, there is an attendant that will help do the filling for you. The attendant sometimes can check the oil level of your vehicle as well as tire pressure, after which he/she comes for the payment (which might include a tip if you are the kind-hearted ones). There is also the minimum service filling station in which legislation prohibits vehicle-owners from operating the pumps. As a requirement, there is an attendant whose work is mainly to operate the pump. The last type of a filling station is the self-service station. Here, the customer does all that should be done, following instructions that are pinned around informing them the filling process, before going to make payment to a person.
New Jersey and Oregon: Where Drivers Can't Pump Their Own Gas
Filling stations in the past gave one a choice between full service and self-service. However, self-service was rare until after the 1970s. In the US, all stations give their customers full-service and self-service. In New Jersey and Oregon, however, all stations only offer mini-service and full-service. In these states, customers are prohibited by law from pumping the gas. There are a few exceptions though, filling stations that are opposite Joint Base McGuire-Dix-Lakehurst at Wrightstown, New Jersey and two in Oregon (Pendleton and Grand Ronde).
Self-service gas was prohibited in New Jersey in the year 1949. This followed lobbying that had been done by service station owners. Those who supported the ban outlined loss of jobs as well as safety as the reasons behind their lobbying.
The state of Oregon followed suit, and in 1951, it listed 17 justifications as to why it was also prohibiting self-service gas. The justifications included the risk of crime when customers left their vehicles to pump gas, the gas' flammability, jobs that would be created if customers required a mini-service as well as the harmfulness of fumes emanated by gasoline.
The ban on self-service gas was seen as a part of Oregon culture. This stand might be changing if polls in the recent years are anything to go by.
Public Opinion on Self-Serve Gas
A public policy poll carried out in 2014, many people in Oregon, especially those below the age of 45 were in favor of self-service gas by 53%. This shows change because in 1982, service station owners sponsored a ballot measure that was to legalize self-service gas that Oregonians rejected. In May 2017, the Oregon governor signed into law a bill that had been passed by Oregon legislators in which counties that had a population of fewer than 40,001 residents would be allowed to serve themselves gas. This law was to take effect as from January 2018.
It, however, is legal for clients to pump their diesel in these two states although this is not permitted in every station.
Some other towns, like Huntington, New York prohibits self-service of gas to save jobs, a prohibition that began early in the 1970s. These bans have been disputed before both in Oregon and New Jersey to no avail.