London's first earth-friendly and human-powered gym, Terra Hale, teaches us how the health and fitness of both the human body and the surrounding environment can be ensured synchronously. With a variety of environment-friendly features, Terra Hale has developed a distinct identity of its own. Here, gym-goers have the unique opportunity of giving back to the environment while breaking a sweat.
The Founding Of Terra Hale
Terra Hale is the brainchild of Michal Homola, a former professional snowboarder who made his first entry into the world of competitive sports at the age of 16. By establishing Terra Hale, he transformed his dreams of taking fitness to Earth-friendly heights into a reality. His belief that Mother Nature deserves the best from every single individual motivated him in this endeavor.
"Terra Hale means 'Strong Earth' because our belief is that our health and wellbeing is highly correlated with that of Planet Earth," Michal Homola informed World Atlas.
"At Terra Hale, we see ourselves as part of a movement that aims to create a more sustainable, healthier, and brighter future for all in spite of the daunting challenges facing the world today."
Currently, there are three existing branches of Terra Hale - in Fulham, Notting Hill, and the Shepherd's Bush. The last one was inaugurated on April 12th of this year.
Eco-Friendly Features At Terra Hale
Recycled or eco-friendly materials and reclaimed furniture decorate the interiors at Terra Hale. The flooring is made from recycled rubber. Walls are made from reclaimed wood and are covered with air-filtering plants. What's more? The newest unit of Terra Hale, the Shepherd's Bush studio, is actually built into a repurposed railway arch.
Terra Hale's eco-friendly features are not just limited to the interior design of its studios. All units of the gym operate as single-use plastic-free environments. The use of plastic bottles is discouraged here. Customers can bring their own eco-friendly bottles or purchase such bottles from Terra Hale. All-natural refreshments and green body products are also used here. Even gym equipment like water rowers is made of hardwoods that come from sustainably-managed forests.
Cycling To Recycle Energy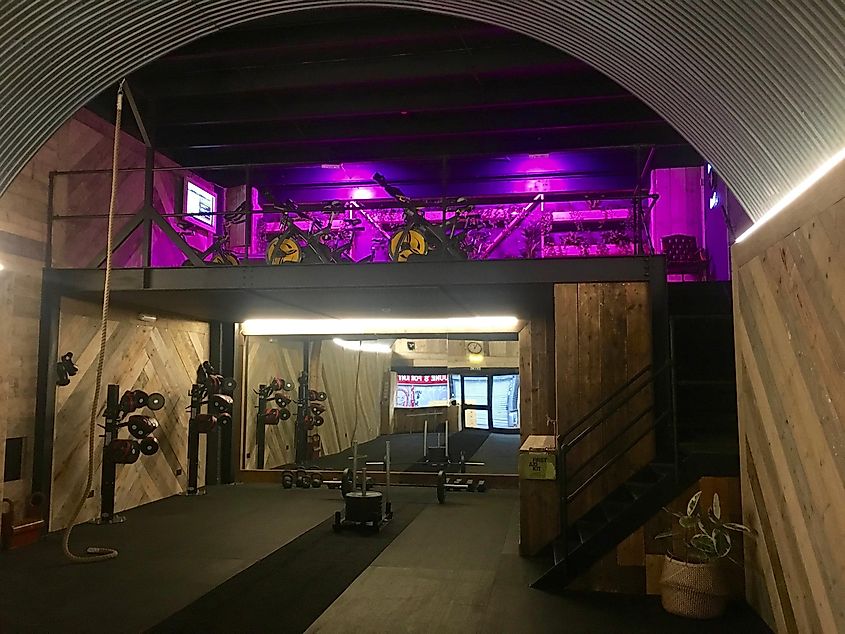 One of the most striking features of Terra Hale is that it is London's first gym to harness the human power to generate watts. Terra Hale is in fact a "human-powered gym". Spin bikes, the first of their kind, are used by the gym members during workout sessions known as "eco-spinning". Each time an individual works out on a spin-bike, the energy released during the session is converted into watts. The watts that are generated are stored to be used during the off-peak hours of the gym. Extra watts are directed to the Grid. Each Eco-spinning class yields about 1500 to 3300 watts that can possibly power a laptop for more than half a day, support the use of a hairdryer for an hour or help an incandescent light bulb glow the entire day.
The utility of such workout sessions is not measured in terms of calories burnt but by watts produced. The positive outcome of the workout session also motivates the members to work harder to contribute more to the environment by saving more energy. So, both the environment and the individual benefits from this arrangement.
"We want people to come to Terra Hale to feel happier and healthier and to connect with oneself and with people having shared values. We also want them to appreciate our beautiful planet. Each and every one of us can, and ought to, make a difference. It is about harnessing the human energy in the right form for the common good," said Mr. Homola.
**
Dr. Oishimaya Sen Nag is a freelance writer and editor from Kolkata, India. She loves to participate in wildlife conservation activities and to explore new places and cultures.