Air pollution is on the rise in cities all around the globe. A study by the World Health Organization that examined air pollution in almost 3,000 settlements across 103 countries found that only 1 in 10 people live in cities that meet WHO air quality guidelines. Outdoor and household air pollution is responsible for 1 in every 9 deaths annually, with three million deaths alone caused by outdoor air pollution. Although cities try to combat air pollution with green spaces, many lack the space to adequately do so.
This is where the CityTree comes in. To combat the issue of rising urban air pollution, one company's solution was to combine Internet of Things (IoT) technology with plants.
Urban Green Space Compacted: The CityTree
Green City Solutions boasts of creating the first bio-tech filter in the world that quantifiably improves air quality. By combining IoT technology with air-purifying mosses, the CityTree is able to provide a natural and independent air filter. Solar panels generate energy which is stored in integrated batteries and facilitates automatic watering through the integrated watering tank making the CityTree fully self-sufficient.
Before installation, analysis determines the ideal location for optimal performance, and the CityTree can be assembled in just a few hours. At just under 4 meters tall, the CityTree provides a stunning natural visual display in largely urban environments. The slim-line CityTree takes up just 1.5 m2 of floor space while the bench version takes up 3.5 m2.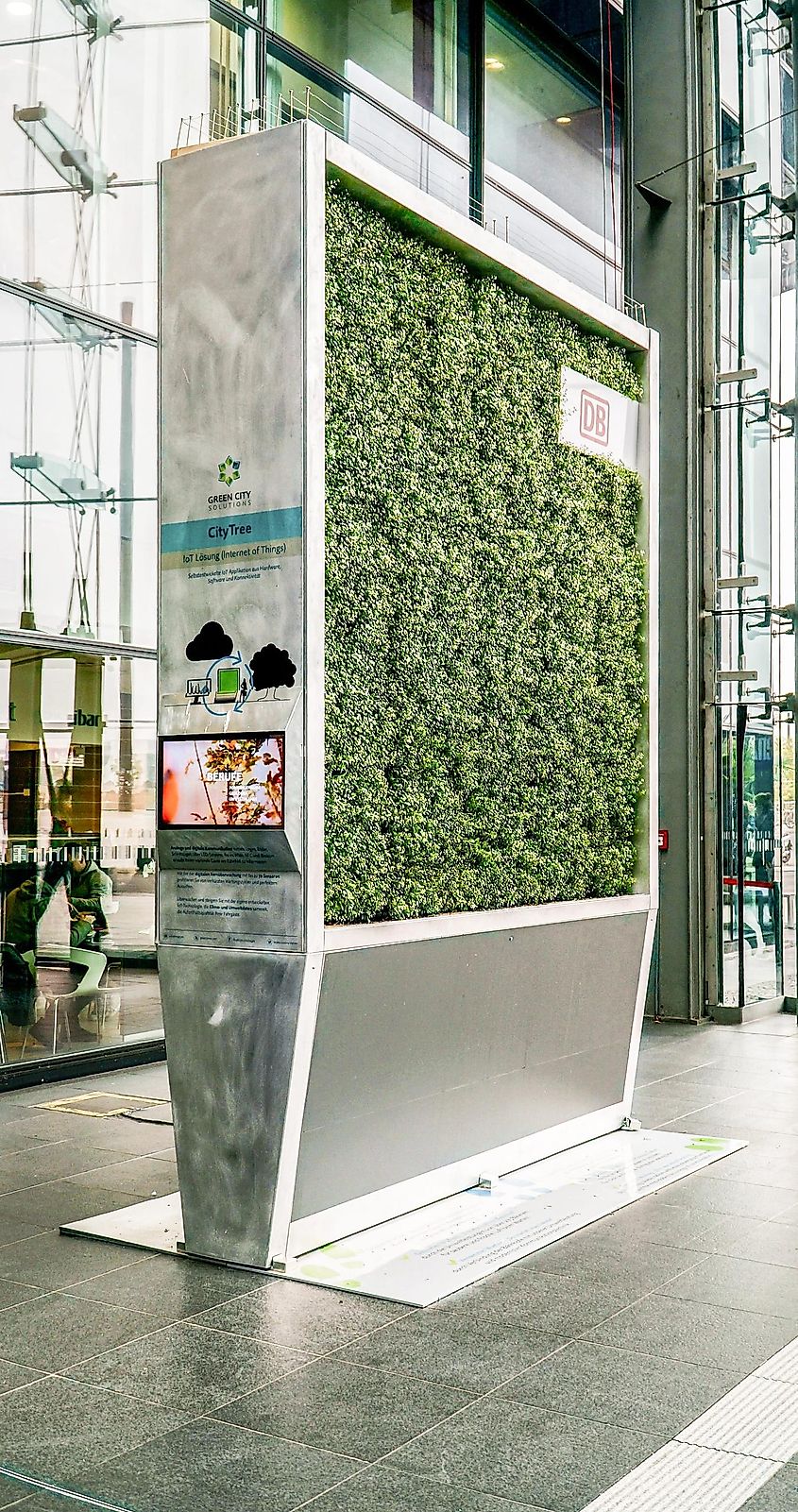 The CityTree slim version takes up just 1.5 m2 of floor space for more compact environments.
Composed of mosses and protective shade-giving plants, the CityTree's vertical garden filter air-borne pollutants such as particulate matter, soot, dirt, and CO2 from the air. The CityTree holds 1,682 pots of moss per square meter, and each CityTree is touted as providing the same environmental effect as 275 trees in just 1 percent of the space, absorbing about 240 metric tons of carbon dioxide every year. CityTree also combats noise pollution as well as the urban heat island effect by cooling the surrounding air through water evaporation.
The CityTree in Action
The CityTree prototypes were presented at Hannober Messe in 2014, a trade fair to exhibit industrial technology. Within a year, the first CityTrees were purchased and installed by AOK Plus in the German city of Jena. In September 2015, Oslo in Norway became the first city outside Germany to purchase and install a CityTree. CityTrees have now been purchased and installed in cities across Germany, as well as in Glasgow (Scotland), Amsterdam (The Netherlands), Bern (Switzerland), Brussels (Belgium), Budapest (Hungary), Paris (France), and Skopje (Republic of Macedonia). Hong Kong became the first city in Asia to install a CityTree in July 2016.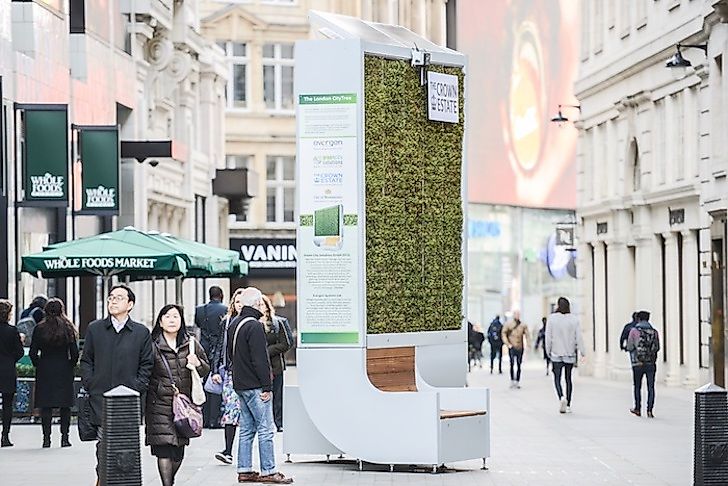 CityTree in Piccadilly Circus, London.
As of March 2018, London became the most recent city to install a CityTree. The CityTree was installed on Glasshouse Street, near Piccadilly Circus, in the city's West End. Piccadilly Circus is known for being a major traffic junction. At a cost of €22,000 each, the CityTree does much to combat the £20 billion cost of air pollution on the UK economy each year. In the UK alone, outdoor air pollution is thought to be responsible for the deaths of about 40,000 people.
With CityTree, Green City Solutions is helping urban cities provide green areas in public spaces. To learn more about Green City Solutions and the CityTree, click here.
**
Kelly Bergevin is a writer and editor based in Montreal, Canada. She has a background in education, history, and English. She is an avid reader, coffee-drinker, and learner, and has recently turned her focus towards environmental issues and wildlife conservation efforts.