Cartoons for a Cause: How One Artist is Fighting for Wildlife Conservation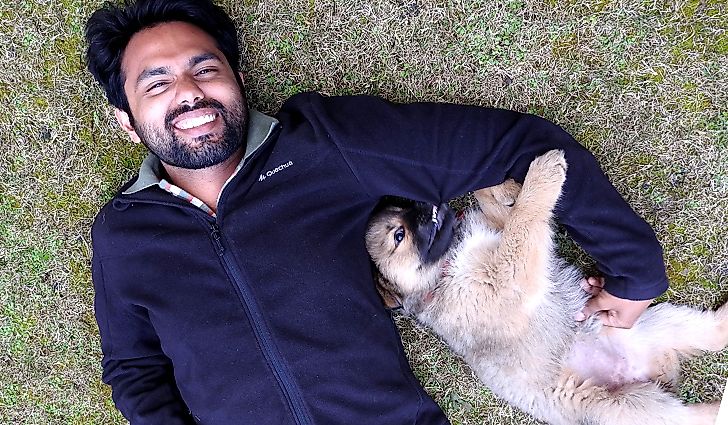 The world of wildlife conservation can be grim. For the engaged reader, it seems there is no end of stories about animals being poached, habitats being destroyed, and species moving towards the brink of extinction. These stories can often leave a reader heavy-hearted. One of the challenges that activists face is how to get their important messages across without intimidating their audience, which could have the result of leaving them feeling alienated, helpless, or at worse, apathetic.
This predicament demands an innovative idea that can draw the attention of people both young and the old towards wildlife conservation. Dr. Rohan Chakravarty, a dentist turned cartoonist, has found a way to engage audiences that is informative without preaching, and that is thoughtful without a reliance on ambiguity. World Atlas had the opportunity to speak with Rohan, who filled us in on how he captivates the attention of the masses towards the need to save wildlife, one humor-infused cartoon at a time.
A Life-Changing Decision
For Rohan, his path to animal activism started with a change of career paths. With any career change, there is a certain element of risk involved. However, for Rohan, who is originally from the city of Nagpur in central India where strong emphasis is put on on academic pursuits, the risk was magnified. In a brave move, Rohan left a career in dentistry, for which he had received extensive formal training, for the creative arts. As harrowing as the move may have been, the artist's motivation was simple: he wanted to do it for the animals.
Rohan spoke to World Atlas about his lifelong muse.
"It is quite difficult for an artist of any kind to find a muse that will keep him infatuated for a lifetime. I always knew that human beings weren't capable of doing that to me! The day I met my first wild tigress and her magical feline gaze met my eyes, I knew who I would spend my life drawing."
The gorgeous tigress, bathing in a waterhole, was spotted by Rohan at the Nagzira Tiger Reserve in Maharashtra in 2005. Captivated by the beauty of the tigress, Rohan decided to dedicate his life to the conservation of the species and other species no less beautiful than the Panthera tigris tigris. For his sense of humor, which is regularly deployed in his cartoons, there was also an inspiration in animal form. Rohan thanks his late pet dog Natwarprakash, more lovingly referred to as "Naughty", whose antics always made him laugh heartily. Fast forward five years from when the inspiration first hit, and Rohan bid a final adieu to dentistry to become a full-time illustrator, animator, cartoonist, and wildlife conservationist.
The Unique Cartoons of Rohan Chakravarty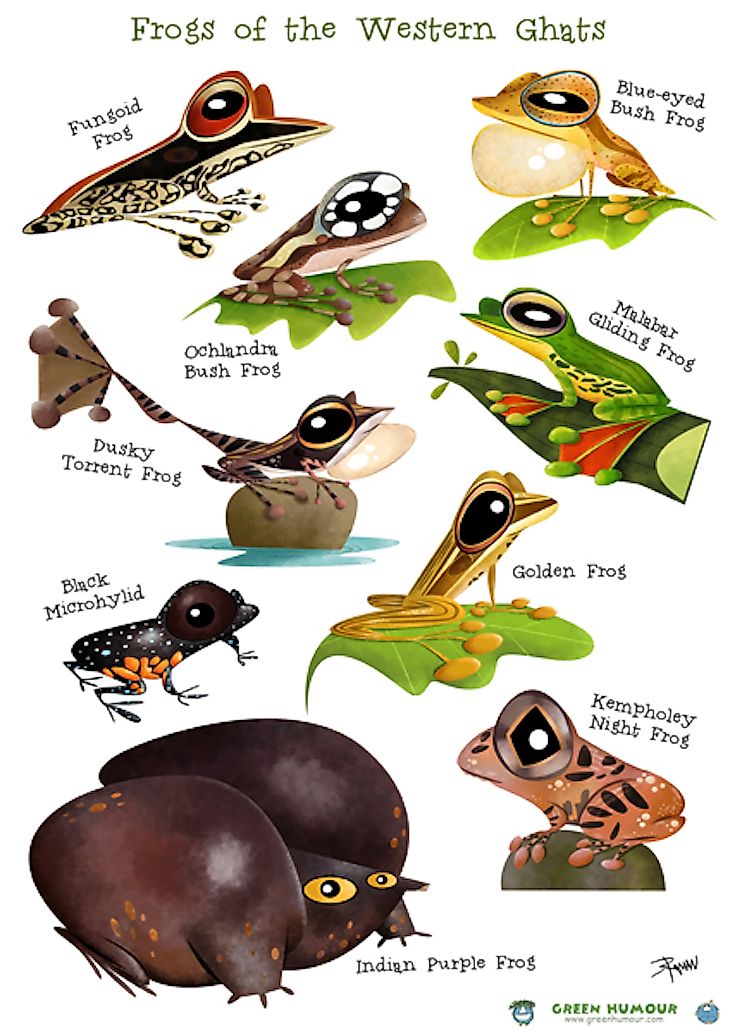 A cartoon drawn by Rohan Chakravarty depicted the frogs of the Western Ghats. Courtesy of Green Humour.
Rohan's sketches address issues ranging from poaching to climate change, as well as other pressing environmental issues. Many of his wildlife cartoons also reveal interesting and rarely known details about the behavior of different wild species. He also draws cartoons that occasionally draw controversy, whose subject matter targets things like environmentally irresponsible religious practices like the burning of firecrackers during the Hindu festival of Diwali. He delivers the bitter truth to his readers using humor as his aid. Rohan's cartoons cover a wide range of species of the Animal Kingdom ranging from the majestic big cats to the minuscule invertebrates. He also enjoys drawing birds as he believes that birds are "full of character and mischief". He has made illustrated wildlife maps of India, Bhutan, and Hong Kong. These vibrant maps feature caricatures depicting the iconic and also the unsung species found in different parts of the region depicted in the maps.
So, from where does this illustrious artist derive inspiration for his creations?
"Inspiration is like a fat gecko on the wall. When you're chasing it, it hides behind the clock. When you least expect it, it drops on to your lap. My sources of inspiration could be anything from meeting a critter on a nature trail, reading about animals in books or on the web, or documentaries on wild animals," says Rohan.
Today, there is no doubt that Rohan has made a mark in the field of wildlife conservation. With more than 500 cartoons drawn, he possibly has the world's largest online repository of cartoons on wildlife and environment under the banner of Green Humour. The cartoons have appeared on a number of prestigious national and international publications including Sanctuary Asia, National Geographic Traveller, Current Conservation, Saevus, The Hindu BLink, and others. Green Humour is also the first series of comic strips and cartoons from India to be distributed internationally. It debuted on "Gocomics", an international comics platform, in December 2013. Organizations like the WWF, The Humane Society International, Birdlife International, the International Crane Foundation, and others have also used Rohan's cartoons in their publications and conservation campaigns.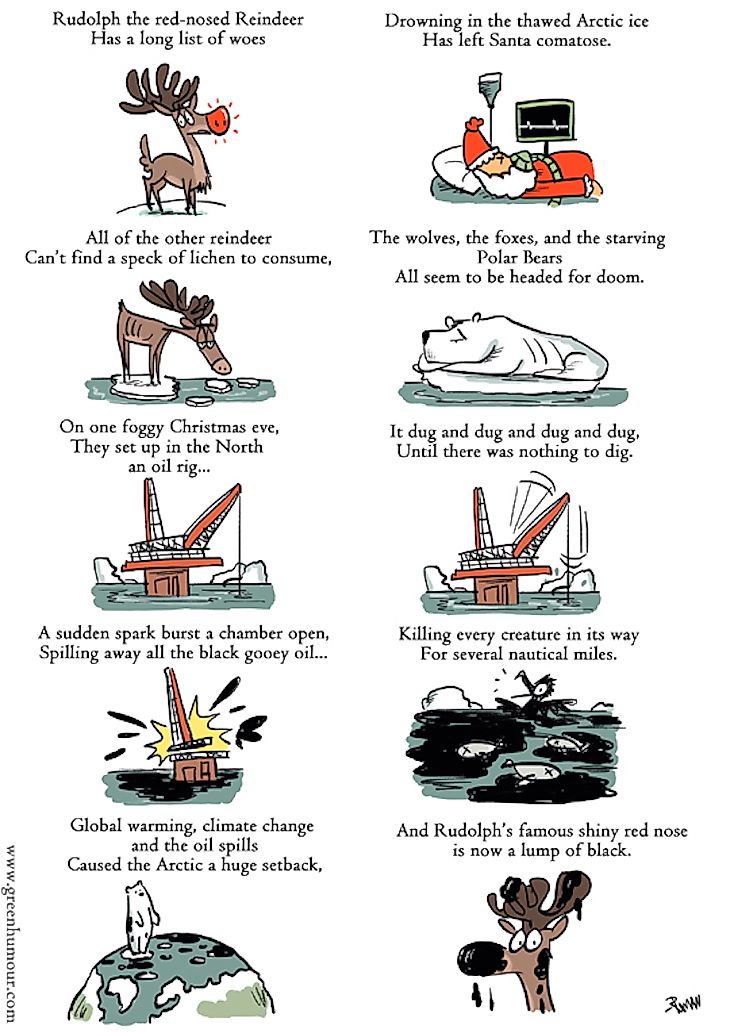 A cartoon drawn by Rohan Chakravarty for the holiday season, depicting climate change. Image courtesy of Green Humour.
Rohan received the coveted WWF International President's Award in May 2017 in Manado, Indonesia. The award is a top international accolade recognizing leadership skills in young conservationists below the age of 30. He has participated and won several national and international cartoon contests.

Rohan has also received positive and warm responses to his work from his readers who are spread worldwide.
He says, "Several people from various parts of the world have offered encouraging remarks, one that stands out was a mail from a Peruvian reader, who said that he was considering buying a Pygmy Marmoset as a pet but refrained from doing so after reading my comic on the illegal pet trade of marmoset monkeys. I aspire to achieve more such tangible impacts of the medium of communication that I have chosen - cartoons!"
The Secret To Success
Rohan's work is unique in that he uses visual humor, trivia, and jokes as vehicles to get a serious message across. He believes that the human mind responds better to information presented through humor rather than plain information. In fact, scientific research studies claim that humor is a powerful communication tool. The use of heavy terms and jargons often discourage the laymen from reading wildlife conservation stories. Cartoons are a short, sweet, and effective way to spread a message across. They present the reality in a less gruesome manner. Even children and those with shorter attention spans find such information palatable. Rohan wishes to bridge the gap between the scientific and the non-scientific worlds with the help of his cartoons on the natural world. He believes that it is important that the mainstream population learn about the dying species. Only if awareness exists among the masses, will it be possible to save a species.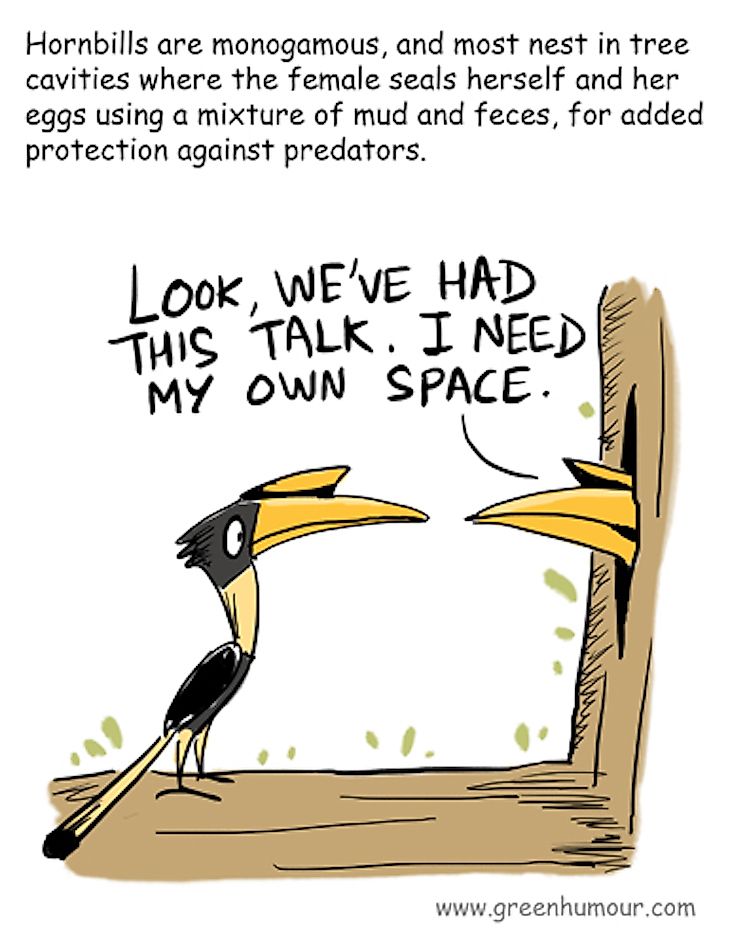 The cartoons of Rohan often use humor to share important information about wildlife. Cartoon courtesy of Green Humour.
So what does the future hold for one of the world's most creative wildlife cartoonists? Rohan had this to say:
"Planning for the future is for cubicle-based jobs. I take assignments as and when they come, with only two motives in mind. One is that the assignment should have some value in terms of conservation and awareness, and two, that I should have a blast doing it! I do hope to focus more of my efforts in the coming years to get compilations of my comics out as printed publications, something I've been too lazy about for a long time now!"
To see Rohan's collection of conservation cartoons, head over to Green Humour.
To purchase merchandise illustrated by Rohan, head over to his shop at Redbubble.
**
Dr. Oishimaya Sen Nag is a freelance writer and editor from Kolkata, India. She loves to participate in wildlife conservation activities and to explore new places and cultures.