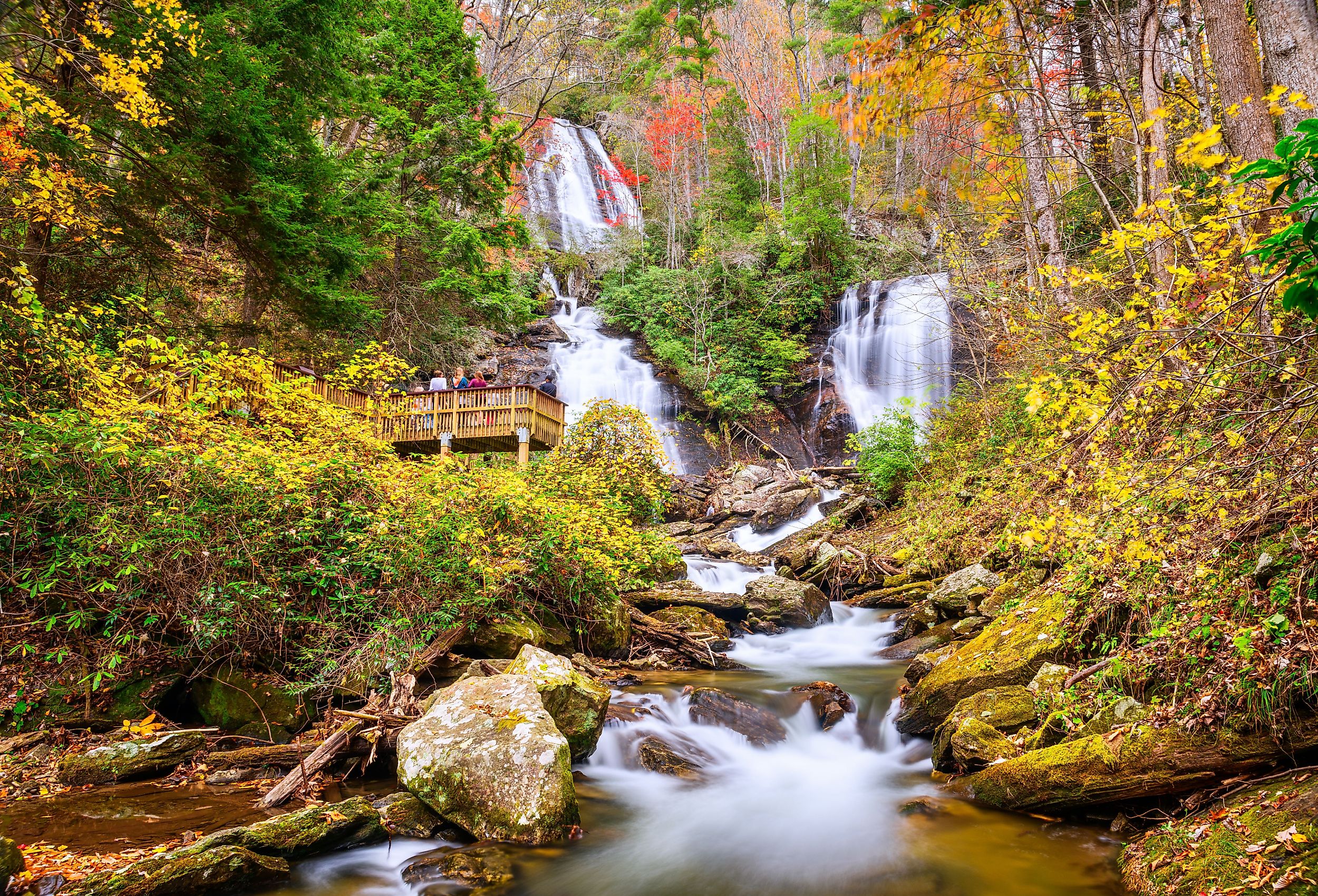 8 Best Fall Hikes In Georgia
Georgia, a beautiful state in the southeastern United States, is a wellspring of stunning hikes. Boasting endless landscapes such as coastal beaches, farmland, and mountains, the possibilities are endless. Amicalola Falls, Blood Mountain, and Talulah Gorge are just some of the amazing features spread throughout the state. Moreover, as the rustic season of fall rolls in, many hikes transform with a completely new appeal. Changing colors, cool weather, and endless leaves abound, and each Georgian hike feels like an outdoor wonderland. With so much to see, let this be a guide to the best fall hikes!
Mount Yonah Trail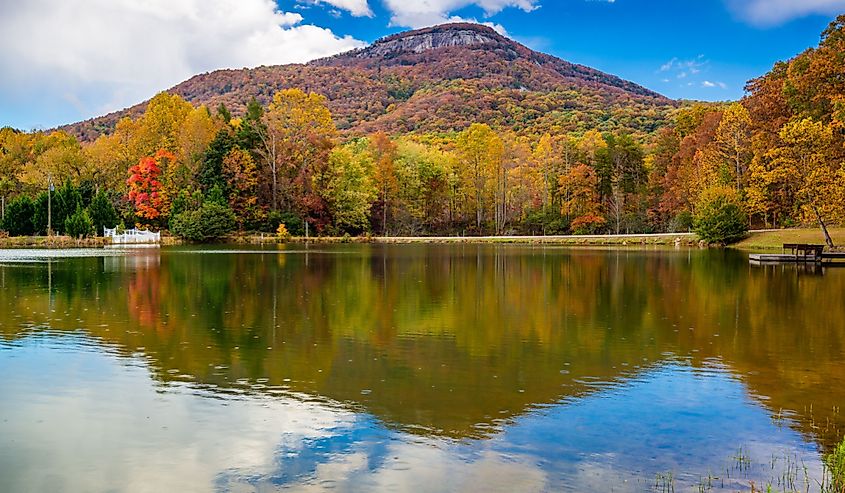 Starting with a bang, the Mount Yonah Trail is a short but challenging route along Georgia's stunning Appalachian Mountains. Spanning a total of 2.2 miles (3.5 km), this trail features panoramic views and rocky paths from start to finish. Hikers can begin their journey near Helen straight into a thick patch of hardwood forests. Gradually climbing in elevation, hikers will notice the vibrant yellow, gold, and orange flowers thanks to autumn's charm. While continuing along the trail, it changes from thick forests to open grasslands and gravel trails, all while gaining rapidly in height. At the 2-mile mark, the trail makes a final left turn into the Yonah Mountain Summit. Reaching 3,000 feet (915 m), hikers are rewarded with a grassy mountaintop after their tedious 1,400-foot (426 m) climb. Set up a tent and relax while adorning the views of Georgia's landscape. That said, don't take too long as the hike back is just as difficult and not ideal in the dark!
Anna Ruby Falls Trail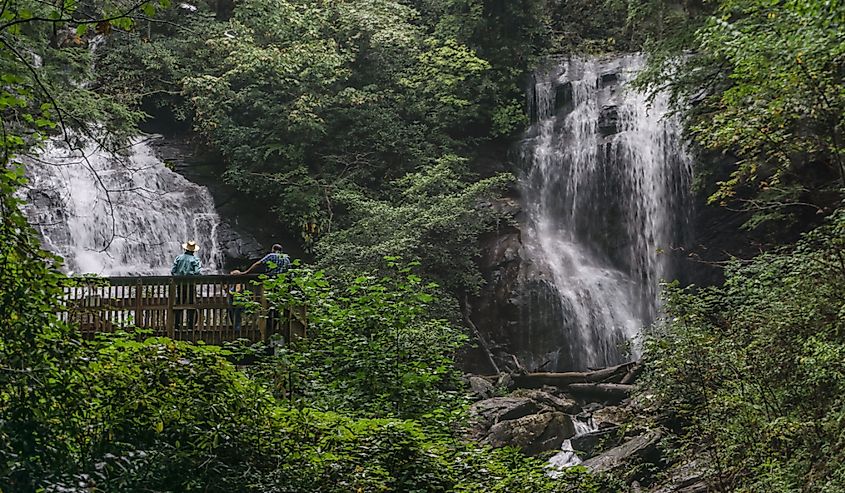 From the perilous height of Mount Yonah, head down to the verdant beauty of the Anna Ruby Falls. A 30-minute drive north, the 0.4-mile (0.6 km) Anna Ruby Falls Trail is a lovely escape from urban hustle and bustle. Taking less than 20 minutes to complete and featuring paved trails throughout, it is the perfect route for beginners. So, pay the $5 entry fee and hop on the trail to enter nature's abode. Running parallel to a small river, one will be engulfed by tall trees complimented by the sound of running water. Moreover, the cool autumn breeze creates a captivating atmosphere that will make the hike feel even shorter than it already is.
Upon reaching the end, visitors will notice the sound of cascading water from Anna Ruby Falls. Home to Curtis Creek and York Creek with a drop of 153 feet (46m) and 50 feet (15 m) respectively, it is a picturesque location everyone will adore. So, spend some time taking pictures and admiring the view before beginning the quick trip back. The best part about this hike is that it is kid and dog-friendly so the whole family can enjoy the sights.
Three Forks to Springer Mountain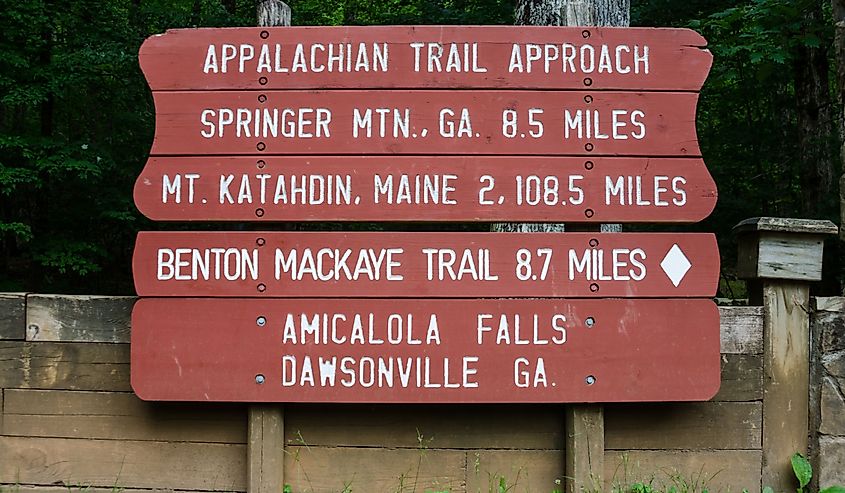 Anyone interested in hiking in the US has probably heard of the 2,200-mile (3,540 km) Appalachian Trail that runs from South to North United States. Well, Georgia is home to an alluring segment where hikers can find the Three Forks to Springer Mountain out-and-back tail. Covering a total distance of 8.6 miles (14 km), it is a perfect fall hike showcasing thick foliage, calm waters, and jagged rocks. Beginning at Three Forks, hikers will start on a gravel paved road that quickly enters deep forests. Stover Creek and thick pine trees keep travelers company through the rocky trail while gaining in height. This climb continues until the 2.5 mile (4 km) mark where one will find themselves at the peak of Rich Mountain. After witnessing the sights from 3,300 feet (1,005 m), continue the hike as it descends into a less challenging section.
Engulfed with autumn colors and jumping along the fallen branches, it will not take long to reach the final climb at Springer Mountain. Drink some water and get that final burst of energy to complete this uphill. Upon reaching the top, the woes of your journey will be replaced by fascination thanks to the panoramic views from the 3,800-foot (853 m) summit. Take it all in before retracing your steps back to Three Forks. Keep a steady pace and you should complete the trail within 5 hours.
Indian Seats Loop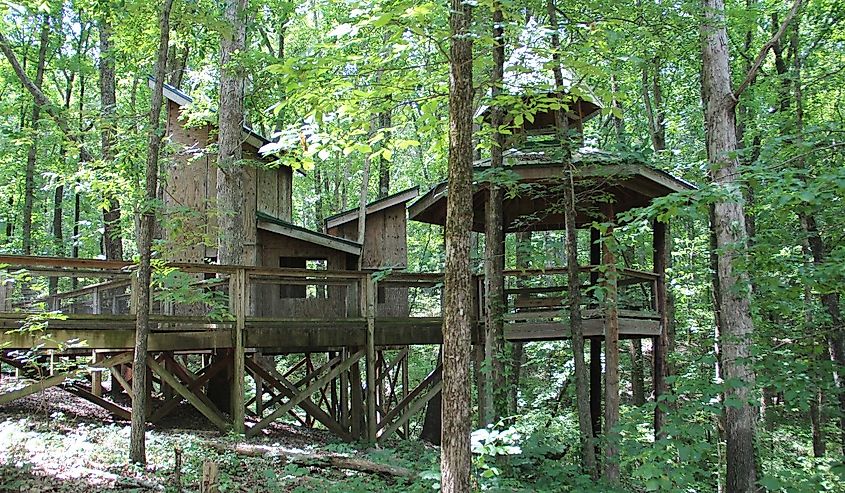 Indian Seats Loop is located in Sawnee Mountain Preserve, one of the most scenic areas in Georgia. It is a moderate loop with a total elevation gain of about 500 feet (152 m) along a well-maintained trail. To this end, flora and fauna are plentiful with animals such as squirrels, deer, raccoons, and even turkeys coming up to the trail. Moreover, the trail is popular during fall thanks to the abundant tree cover which changes to beautiful colors for a picturesque environment. The loop itself measures 4 miles (6.4 km) starting at the preserve's visitor center. Follow the clear trail and you'll have no trouble at all enjoying the sights such as abandoned gold mines, tunnels, and flowers. Endless scenery abounds, you'll be done with the loop in no time and find yourself back at the visitor center with memories to last a lifetime.
Dukes Creek Falls Trail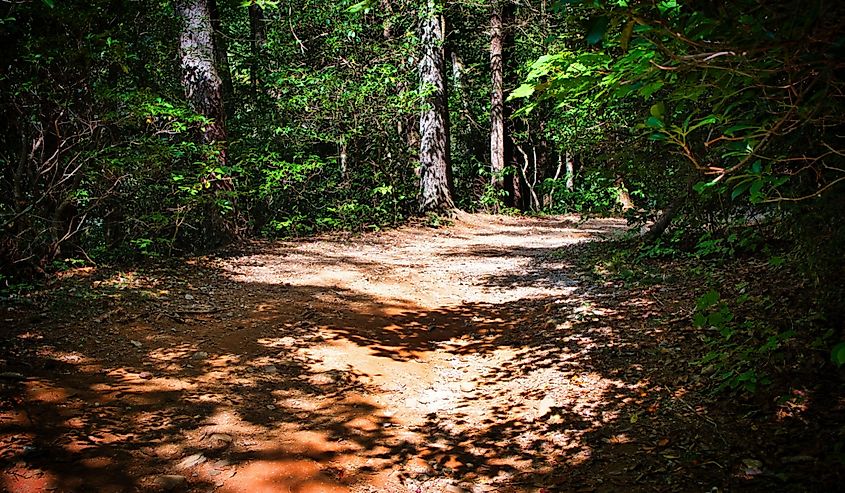 Beautiful mountains, mossy streams, and cute wildlife are a few of the amazing things you can enjoy on the Dukes Creek Falls Trail. Another great hike that flourishes during fall, there are several wooden viewing areas to stop and take in the sights. The trailhead is located south of Hiawassee and runs for about 2 miles (3.2 km) for the round trip. So, it is a moderate trail that you don't need too much experience for. Bring the entire family as you traverse through the quiet fall environment with fewer people and more wildlife. Keep your eye on the treeline and you might spot forest residents such as raccoons, foxes, and squirrels. At a steady pace, it won't take long to reach the magnificent Dukes Creek Falls, a 150-foot (46 m) waterfall. Here, one can witness rushing water cascade onto layers of jagged rocks all while surrounded by verdant greenery. After relishing the moment, head back and complete the 2-mile (3.2 km) journey. The route is also dog-friendly so you can bring your canine friend along with you!
Blood Mountain and Freeman Loop Trail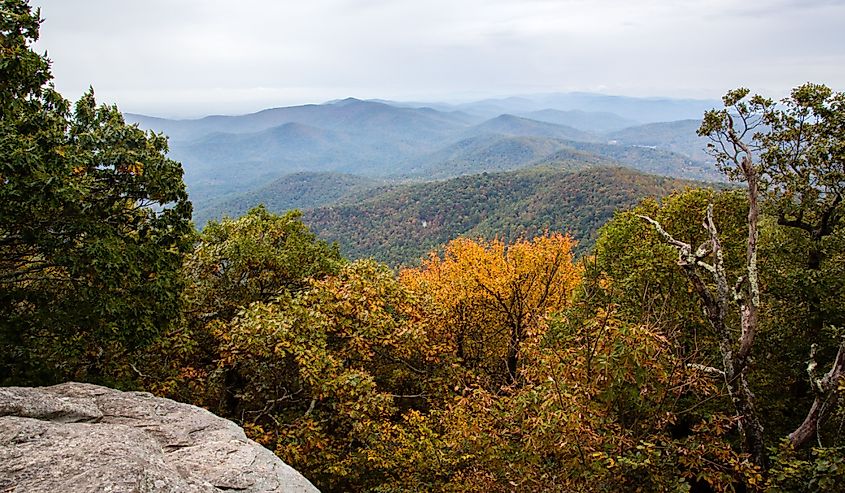 From the calming surroundings of the Dukes Creek Falls Trail head over to the Blood Mountain and Freeman Loop Trail. This 6-mile (9.6 km) loop is intertwined with the Appalachian Trail and Georgia's scenic southern Appalachian Mountains. Specifically, hikers up for the challenge can conquer the menacing Blood Mountain while enjoying the state's autumn beauty. Exploring some of the quieter areas up the mountains, this loop is popular with hikers from across the country. So, head out from Neels Gap straight into a mystical stream valley with endless greenery. That said, the ground under your feet quickly shifts from dirt to jagged rocks as the trail begins its steep 1558 feet (475 m) ascent. Thankfully, you'll be accompanied by a canopy of mountain pine and a soothing fall breeze that'll make the hike much less strenuous.
At the 2.15 mile (3.5 km) mark, you'll suddenly notice an outcropping amongst the rocks as you have reached your destination, Blood Mountain Summit. Appreciate the bird-eye-view from atop Georgia's sixth-tallest mountain and grab a bite to recharge your batteries. That said, don't get too lethargic as there is still a long way back. Following along the Appalachian Trail, the rest of the hike is a concoction of rocks, pine forests, deciduous forests, creeks, and other trails. So, there is plenty of fresh scenery to adore before returning to Neels Gap.
Blood Mountain via Byron Reece Trail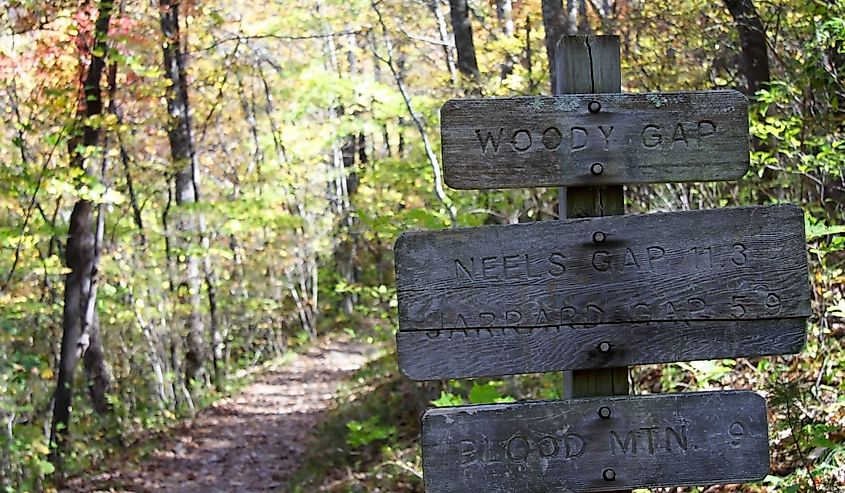 If you want to reach Blood Mountain's summit in a short amount of time, opt for Blood Mountain via Byron Reece Trail instead. Much shorter at 4.3 miles (6.9 km) for the round trip, this trail is a fan favorite for fall hikers. Combining the stunning Byron Reece Trail, Appalachian Trail, and Blood Mountain Summit, it is an amalgam of Georgia's iconic sights. That said, while it may be shorter, the path is still quite steep and should not be attempted by beginners. For those ready, the trail begins at the Byron Reece Trailhead near Neels Gap. Follow along this trail's majestic creeks and overhanging trees until visitors meet up with the Appalachian Trail at 0.7 miles (1.1 km). 
Turning onto the Appalachian Trail, the elevation begins to climb and the forest canopy opens up to rocky viewpoints. As it crosses along various parts of the previous Blood Mountain route, they share plenty of jagged rock inclines and sights. Upon reaching the 1.4-mile (2.2 km) mark, visitors will want to take a break as the next stretch is a climb until Blood Mountain Summit. Thankfully, rustic leaves, cool wind, and thick foliage will keep visitors distracted while completing the 1400-foot (426 m) ascent to Blood Mountain Summit. At 4,500 feet (1,372 m), there are few places as rewarding as this so be sure to take your time and a few pictures before heading down. Unlike the previous route, the way down is just retracing your steps so you can enjoy the beauty all over again. Put it all together and this 3-hour route is a great way to adore Blood Mountain's breathtaking views.
Aska Trail System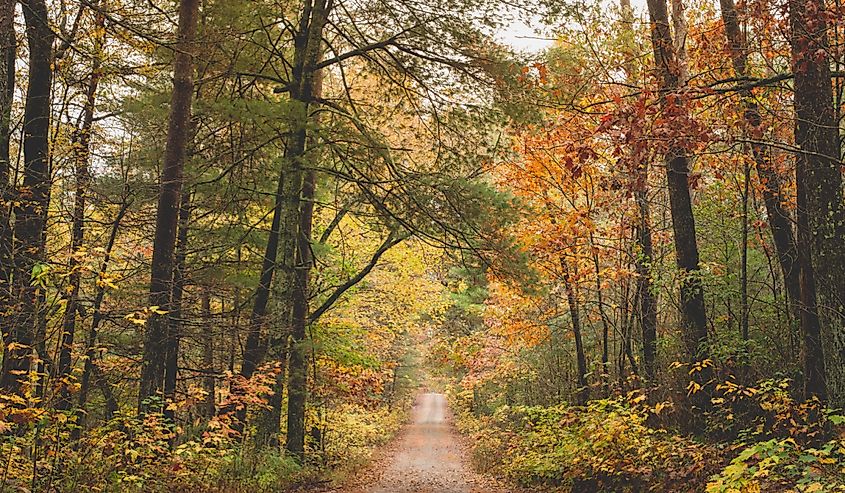 If folks are confused about which fall hike to choose, why not give yourself more options? Head over to the Aska Trail System in the Chattahoochee National Forest which boasts more than 10 miles of hiking trails. Engulfed with scenic autumn foliage, there are various trails for people of all skill levels. For example, beginners can opt for the short and sweet Flat Creek Connector, a 0.2-mile (0.32 km) trail that will take a few minutes to complete. While it may be short, the tall trees and calming environment create a mystic appeal to the route. Once you have your bearings, you can try out a longer trail like the Long Branch Loop Trail. Spanning 2.1 miles (3.4 km) through the forest, fall is the perfect time to relish the trail's relaxing atmosphere. That said, be sure to have the right gear as a 292 feet (89 m) elevation gain can be difficult for some. All in all, the Aska Trail System has loads of options with picturesque views making it a great place for hiking in Georgia.
Whether travelers and hikers want to enjoy the autumn colors or the pleasant weather, these Georgian hikes are perfect for anyone. The possibilities are plentiful, from beginner routes with paved trails to challenging hikes along steep mountains. Moreover, each trail showcases a unique insight into Georgia's expansive wilderness so all who visit can take in the beauty. So, pack up your gear and head on out to one of these fall hikes in Georgia.