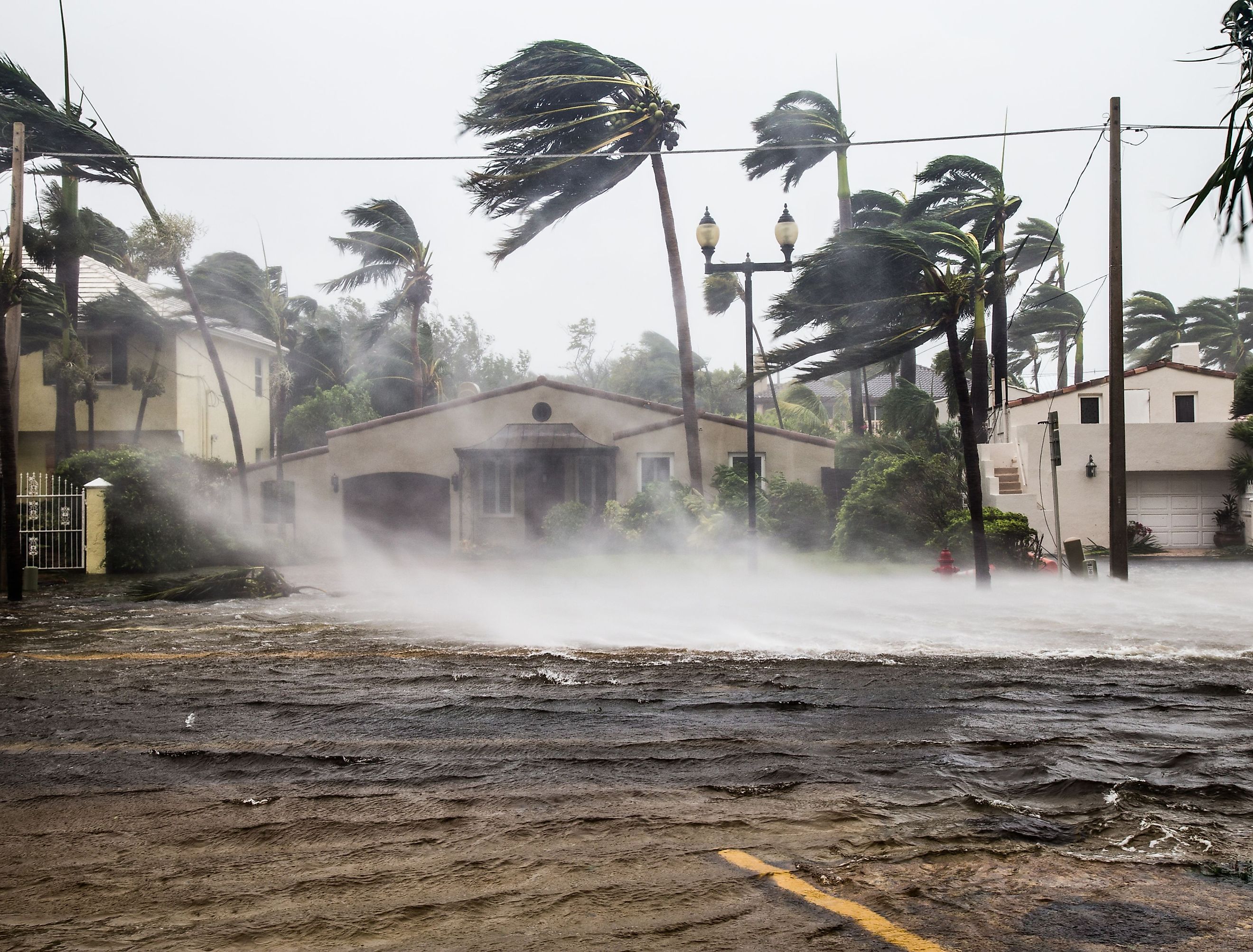 10 Worst Hurricanes in US History
What do you get when you mix warm ocean water and air fed by thunderstorms with a hint of rotation? Hurricanes!
Each year, from June to November, these warm weather events are fuelled by tropical moisture, which starts out as a low-pressure system known as a tropical wave. Thus, it gains strength through the development of thunderstorms and moist air. As for that cyclonic trait, the warm air rises into the low-pressure system drafting rotation, and boom, a hurricane is born.
However, not all storms are alike. Some begin to form as scattered thunderstorms known as invests, while more organized systems with minimal rotation are called tropical storms. When the storms start to churn and grow, the Saffir-Simpson Hurricane Wind Scale assigns a category based on the intensity of sustained winds.
The US is no stranger to hurricanes, and every year it's expected a couple of major storms will cause catastrophic damage. Here's a list of the worst storms in US history, based on wind, total damage, and human casualties.
1. Galveston Hurricane of 1900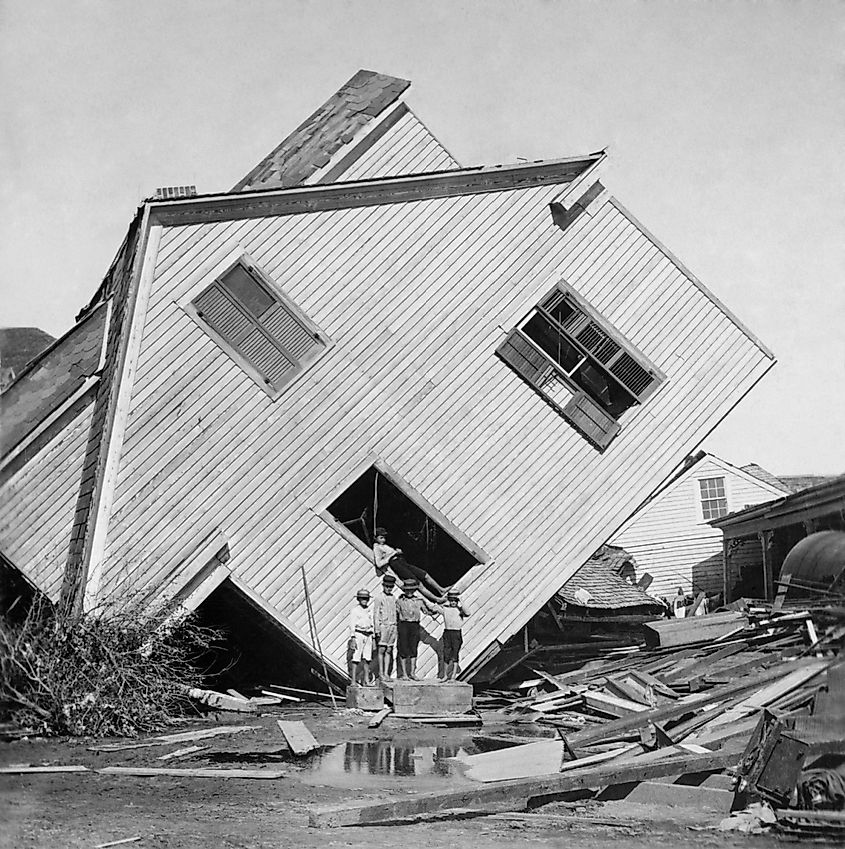 On a scale of deadliest US storms, the Galveston Hurricane of 1900 takes the cake and is the second-deadliest storm in US history, next to Hurricane Mitch for human fatalities. It is estimated that 8,000 people perished, widely brought on by storm surges exceeding 12 feet along the coastline. 
Out of a population of 38,000, 10,000 people were left homeless. But the Hurricane of 1900 just didn't affect human life; it also impacted Galveston's economy. When many investors pulled out of development projects in favor of Houston. Have you ever wondered what killed the golden age of Galveston? It was the Hurricane of 1900.
Furthermore, as a direct result, three engineers drew up plans to amend the Gulf of Mexico shoreline around Galveston Island by raising it 17 feet over 10 miles to prevent disastrous flooding again. 
2. The Great Miami Hurricane of 1926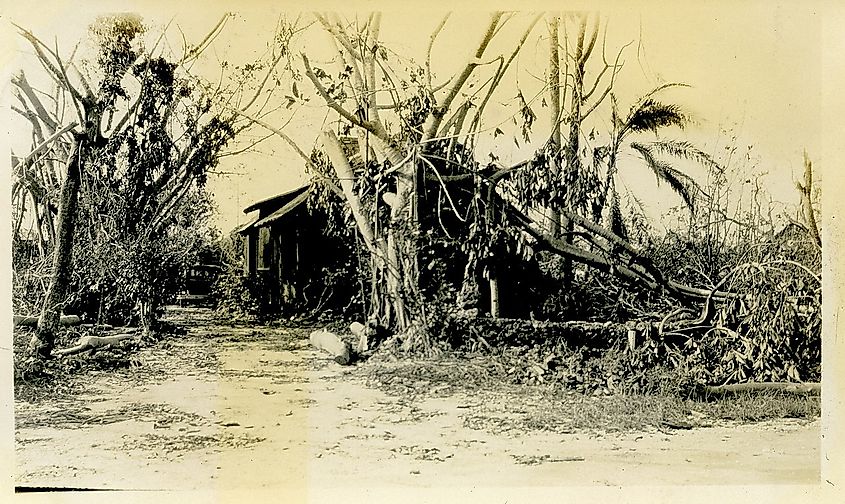 Who knew one storm could end the 1920s land boom in Florida? The Great Hurricane of 1926 impacted most of southern Florida, but most notably the Miami area. 
With a lack of modern-day technologies, storm reporting relied on ship traffic, which had some flaws. The hurricane formed on September 11th; however, no ships had crossed paths with it until September 15th, which at this time it had organized into an estimated category 4. 
Over the next few days, Turks and Caicos and the Bahamas were pummeled before landfall in Miami on September 18th. It traveled from Miami, causing widespread destruction until the storm entered the Gulf of Mexico at Fort Myers. High fatalities and destroyed structures were reported after storm surge broke the levee on Lake Okeechobee, sadly causing hundreds of people to drown. In all, $100 million in damage was recorded, making it one of the most expensive storms to occur in the US.
3. New England Hurricane of 1938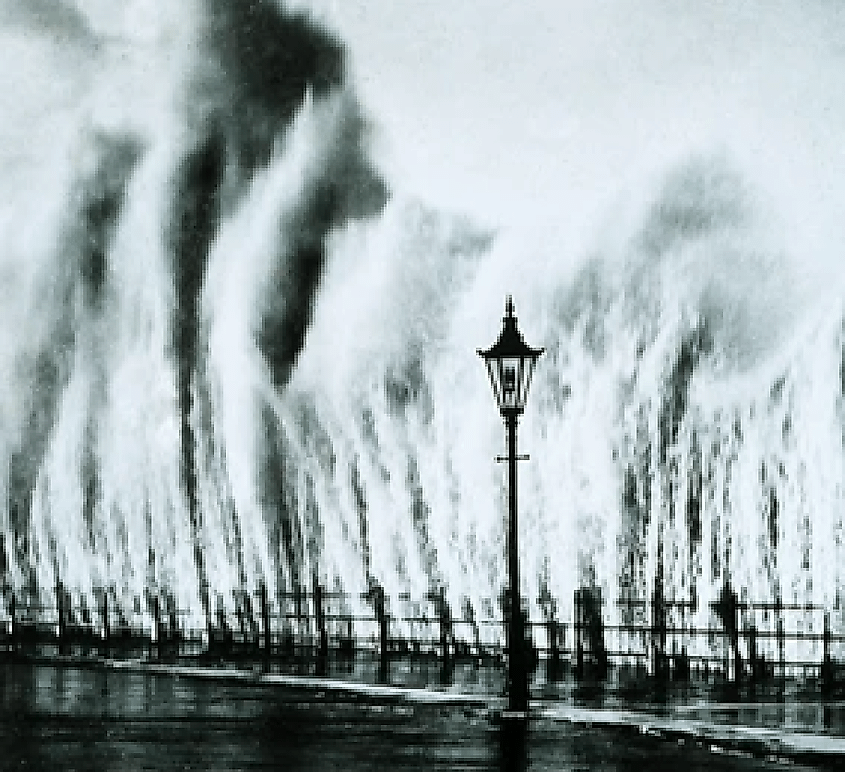 Before the cycle of named hurricanes, these storms were often referred to by years or nicknames. That being said, the New England Hurricane of 1938 is also known to some as the Long Island Express. And not for good reasons.
Another hurricane with an odd track, this storm mainly stayed out at sea, traveling up the eastern seaboard, that is, until it made landfall as a category 3. One of the reasons why this storm got its nickname was how quickly it was moving when it struck New Haven, Connecticut, at 47 mph.
Long Island saw most of the damage, with areas experiencing life-altering storm surges over 12 feet in Connecticut and Boston. All in all, 57,000 homes and 682 lives were lost. As for a price tag, it was estimated to be $620 million in 1938.
4. Hurricane Hazel
The deadliest storm of the 1954 season, Hurricane Hazel made landfall near the border of the Carolinas as a category 4.
Before hitting the US, 469 people were killed in Haiti. And as the system made landfall in Calabash, North Carolina, a further 95 lives were lost. However, when Hurricane Hazel became extratropical, the most significant impact was seen in Ontario, Canada.
After unusually high seasonal rainfall and saturation combined with the rainfall of stalling post-tropical Hurricane Hazel, catastrophic flooding affected the Toronto area. Rivers and streams swelled to levels not seen before, killing 100. A lack of familiarity with severe storms was primarily blamed for the calamity in Canada. Although Hurricane Hazel was post-tropical, it was still at category 1 strength when it passed through Ontario. 
5. Hurricane Donna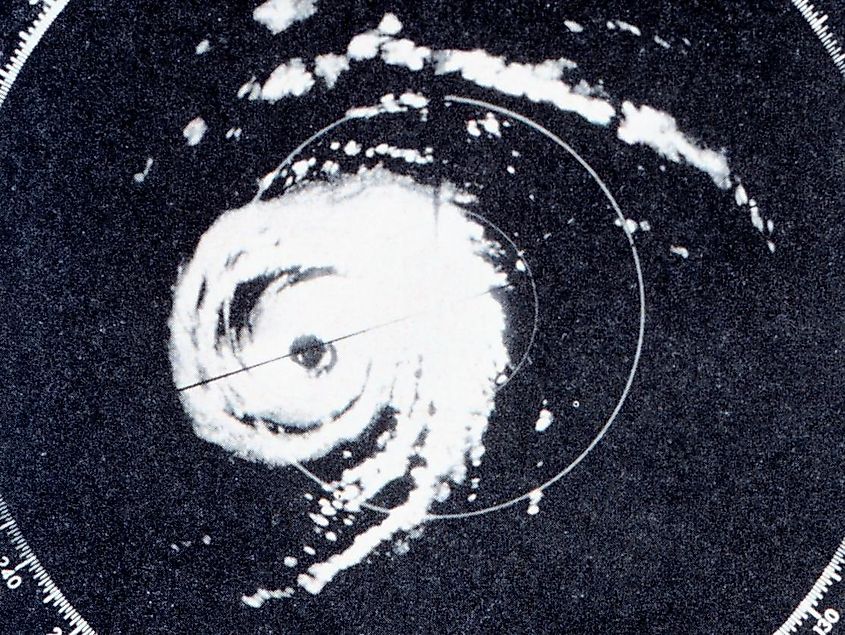 Hurricane Donna, alternatively known as Hurricane Lorenzo in Puerto Rico, had an unusual track making it the only hurricane to directly hit the mid-Atlantic, Florida, and New England, sustaining hurricane-force winds.
It teetered between category 4 and category 3, but ultimately hit the Bahamas as a category 3 with wind gusts of 173 mph over much of the archipelago. A strong enough force for smaller islands in the chain to be flattened.
Nevertheless, the storm struck the Florida Keys before making landfall near Naples. Hurricane Donna re-entered the Atlantic Ocean as a category 1 that wreaked havoc up the eastern seaboard, but not before strengthening to a category 2. It would eventually make landfall in Long Island, New York.
As such, Hurricane Donna caused $980 million in damages, with the Florida Keys agriculture taking a big hit. With grapefruit, tangerine, orange, and avocado crops lost. 
6. Hurricane Andrew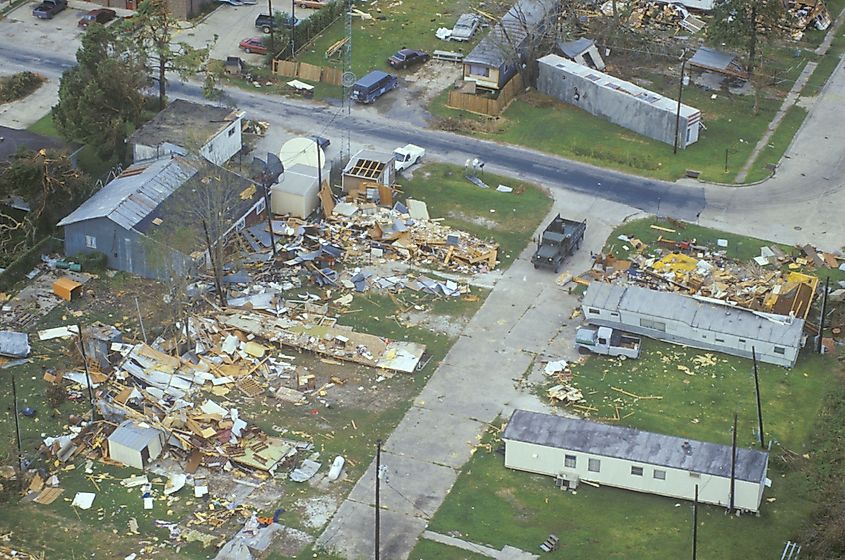 Until Hurricane Irma, Hurricane Andrew in 1992, held the title of the most destructive storm to hit the Bahamas, Florida, and Louisiana for 25 years. It was also the strongest category 5 recorded until Hurricane Katrina. 
The many tornadoes it spawned and wind gusts as high as 174 mph made Hurricane Andrew particularly expensive. Hurricane Andrew made landfall around Homestead, Miami, which had a heavily populated surrounding area. 
Nonetheless, 126,000 homes were leveled, leaving 180,000 people homeless and 65 lives lost. This hurricane inflicted $27.3 billion in destruction. Further, making Hurricane Andrew the seventh most expensive hurricane to hit the United States.
7. Hurricane Katrina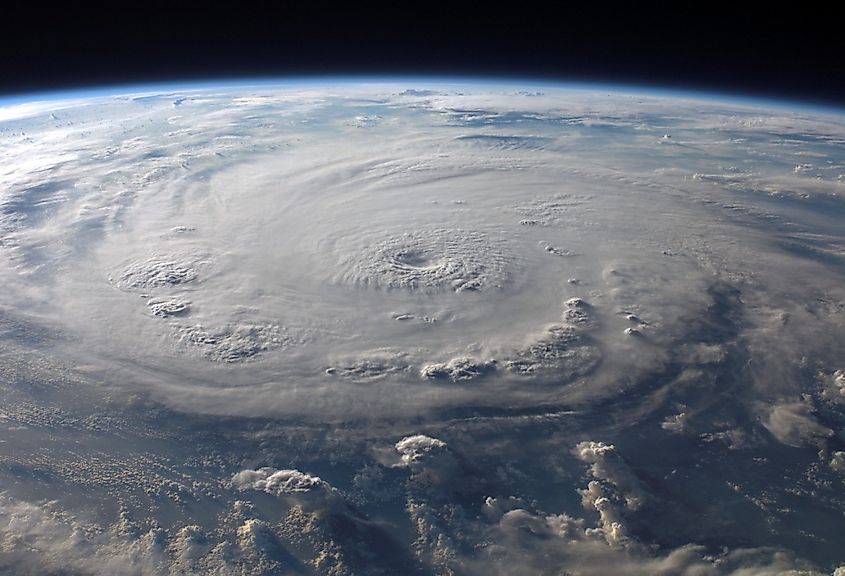 Hurricane Katrina was one for the books. When the levees failed, many casualties happened in New Orleans from flooding and storm surges. Therefore, a total of 1,833 lives were lost as an indirect or direct result. 
For those in the lower parishes, the only way to escape storm surges and flooding was to seek shelter on their roofs. At the same time, the heavy thunderstorms, torrential rain, and wind gusts continued around them until they were fortunate enough to be rescued.
As for the 20,000 who sought shelter in the Louisiana Superdome, a humanitarian crisis brewed. Many emerged to see whole neighborhoods wiped out and were forced to relocate in the aftermath. 
Hurricane Katrina racked $125 billion in damages and was one of the costliest hurricanes in US history.
8. Hurricane Sandy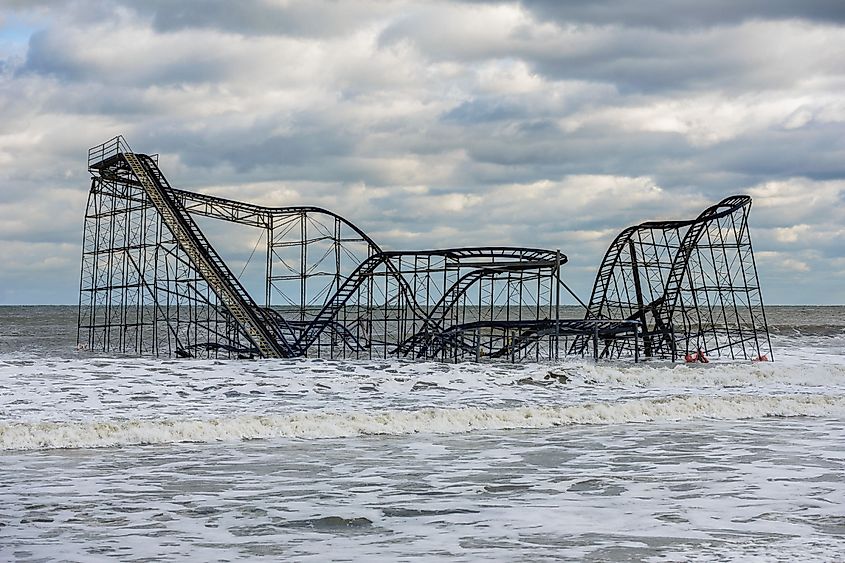 Hurricane Sandy, better known as Superstorm Sandy, resulted from an unusual track in the jet stream and moisture that sat above sea level, which affected most of the eastern seaboard. 
It was so large, in fact, that 24 states were impacted at one point or another, and it stretched from the Caribbean to Canada. Even a decade later, Sandy is still the largest hurricane by diameter, measuring 1,150 miles wide.
Yet, Hurricane Sandy was only a category 2. But it produced $70 billion in damages and killed 233 people. To this date, Hurricane Sandy is the fifth-costliest storm in US history.
9. Hurricane Harvey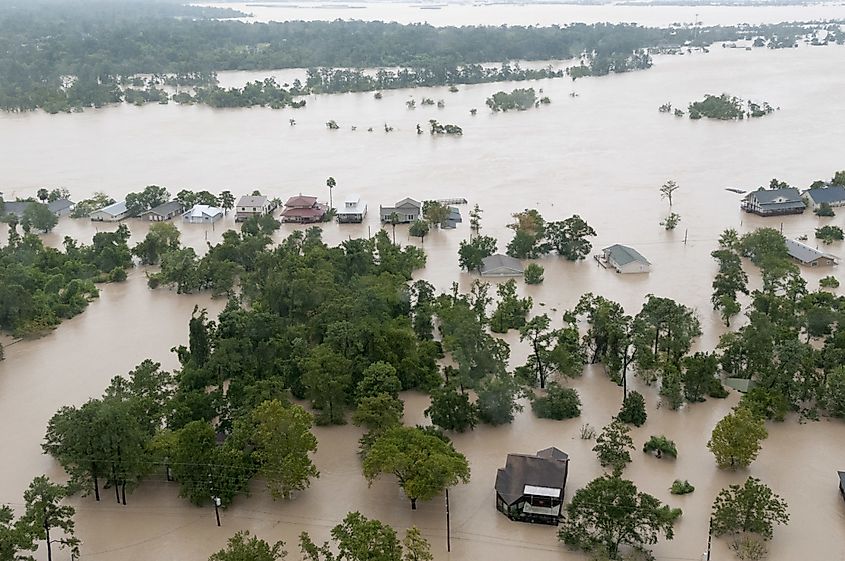 Although Hurricane Harvey was a major category 4 when it made landfall near Port Aransas, it wasn't one of the strongest storms in US history.
Hurricane Harvey's slow movement or stalling was devastating, which saw unbelievable flooding in Texas and Louisiana. So much so, Texas alone saw 60 inches of rain, displacing many from their homes.
It cost about $125 billion in damages, tying it with Hurricane Katrina as the costliest storm in US history. Alas, 107 people were killed, many of which were direct or indirect results of flooding.
10. Hurricane Maria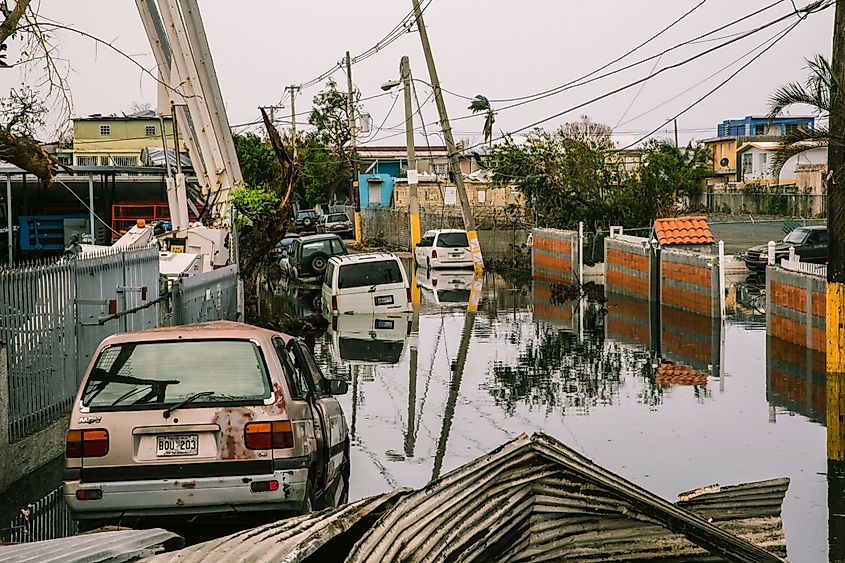 The 2017 hurricane season was particularly active, and fresh off the heels of Hurricane Harvey and Hurricane Irma, a monster category 5 named Hurricane Maria formed. Puerto Rico took a direct hit, becoming the first storm to hit the island in over 80 years. 
This storm also created the worst blackout in US history when the entire power grid was taken down. With wind gusts of 175 mph, it's easy to see why.
Sadly, over 3,000 people lost their lives, and damages were estimated to be $91 billion dollars. Thus, making Hurricane Maria the third-costliest storm in US history, behind Hurricane Katrina and Hurricane Harvey.
In Summary
Hurricanes are a yearly occurrence that impacts millions of lives. It's a natural force of nature that can't be avoided, and if you live along the coast is just a way of life.
These severe weather events should be taken seriously with storm surges, flooding, and tornadoes. Just remember, if told to evacuate, it's for your safety and for emergency personnel who might not be able to get to you, as seen in some of these hurricanes.
More so, all this and more make these hurricanes the worst storms in US history.