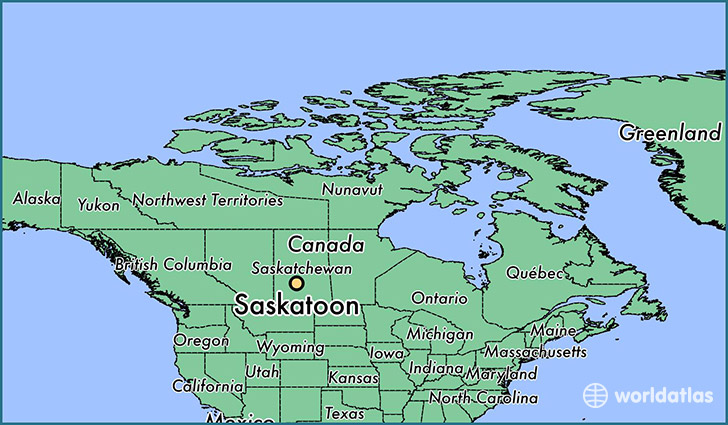 Saskatoon is a city found in Saskatchewan, Canada. It is located 52.12 latitude and -106.63 longitude and it is situated at elevation 501 meters above sea level.
Saskatoon has a population of 198,958 making it the biggest city in Saskatchewan. It operates on the CST time zone.
Quick facts
| | |
| --- | --- |
| Country | Canada |
| Province | Saskatchewan |
| Population | 198,958 |
| Elevation | 501 m over sea level |
| Time Zone | CST |
| Longitude | -106.634520 |
| Latitude | 52.116790 |


Located in central Saskatchewan on the South Saskatchewan River in Canada, Saskatoon retains an unmistakable Western air, with cowboys and horse trails meshed with cultural sophistication and a wealth of Art Nouveau architecture.
The city experiences each of the four seasons, with very warm summers and true winters, and a natural scenic beauty. The park-lined banks of South Saskatchewan River entice residents and tourists to stroll, jog and bike.
Known as the Bridge City for its seven graceful river crossings, Saskatoon has some unforgettable landmarks, such as the Delta Bessborough Hotel and Meewasin Valley Trail. There is also a rich cultural scene, complete with interesting museums and scores of concerts, theatrical events, live performances and festivals. Live theater is a vibrant part of Saskatoon's culture – and the city is home to a number of theatre venues.
ADDITIONAL SASKATCHEWAN CITY PAGES:

The coldest day ever recorded in Saskatoon was -50°C (-58° F) in 1893.
Following the release of the film "Who Framed Roger Rabbit" in 1998, the city became popularly known as "Toontown," after a similarly named location in the movie.
Former Saskatchewan resident and singer/songwriter Joni Mitchell moved to Saskatoon as a young girl.

Check out these great things to on your Saskatoon vacation.
Wanuskewin Heritage Park Located on the west bank of the South Saskatchewan River, Wanuskewin Heritage Park is built around the archaeological discovery of 19 pre-contact Northern Plains Indian sites. Stroll around the park and see archaeological works in progress, stone cairns, habitation sites, tepee rings, bison jumps and other aspects of this ancient culture. Observe summer and winter campsites and artifacts such as pottery fragments, plant seeds, eggshells and animal bones. The First Nations performers present dance, theatre, song and storytelling in the amphitheatre.
Saskatoon Forestry Farm Park & Zoo The Saskatoon Forestry Farm Park & Zoo allows you to discover the beautiful Canadian landscape and explore the many areas contained within, such as the Meditation Garden, the Heritage Rose Garden and the Gazebo Picnic Site, which seats up to 100 people. Visitors can also check out the Fishing Pond, home to Steelhead Trout; the Zoo, with over 80 species of animals; and the Forestry Farm House, a historical farmhouse of Georgian brick design, built in 1913.
Mendel Art Gallery As a major creative cultural center in Saskatoon, the Mendel Art Gallery houses over 5,000 works of art, including paintings, drawings, sculpture and prints of national importance. A premier destination for contemporary and historical art, the gallery features quarterly exhibitions, associated public programs and local, regional and national artifacts. A visit to the Mendel Art Gallery should include a stop in the Gallery Shop and the Civic Conservatory, or take time to relax with friends in the pleasant Museo Cafe.
Maps
This page was last updated on October 2, 2015.