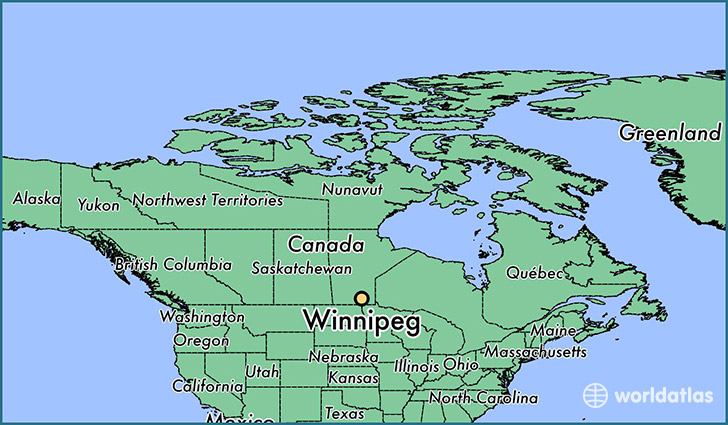 Winnipeg is a city found in Manitoba, Canada. It is located 49.88 latitude and -97.15 longitude and it is situated at elevation 245 meters above sea level.
Winnipeg has a population of 632,063 making it the biggest city in Manitoba. It operates on the CDT time zone.
Quick facts
| | |
| --- | --- |
| Country | Canada |
| Province | Manitoba |
| Population | 632,063 |
| Elevation | 245 m over sea level |
| Time Zone | CDT |
| Longitude | -97.147040 |
| Latitude | 49.884400 |

Winnipeg is a multi-cultural city and the capital of Manitoba, located in south central Canada. Located near the eastern edge of the Canadian prairies, Winnipeg sits at the meeting point of the Red and Assiniboine rivers.
Home to more than 60 percent of Manitoba's population, Winnipeg is the seventh largest municipality in Canada. The city's diversified economy covers finance, manufacturing, transportation, food and beverage production and much more.
Known for its urban forests and parks, as well as its cultural organizations and festivals, Winnipeg is home to many theaters, museums, and festivals making it a great Canadian travel destination.

Winnipeg gets its name from the Cree words meaning 'muddy waters' because of the dark rivers and lakes found in the region.
'Peg' is known for its hand-painted murals, which can be found on downtown buildings, fire hydrants and traffic lights.
Winnipeg has claimed the Guinness World Record for the longest skating rink.

Check out the following great things to do on your Manitoba vacation adventures:
The Manitoba Museum
The Manitoba Museum gets top marks as the best family thing to do in Winnipeg. A science gallery, natural history museum, and a planetarium combine to make this a great place to explore for all interests and ages. Hands on science exhibits include Engineered for Speed, 'Cosmos Corner, and Water World and the planetarium hosts awesome laser shows on summer evenings. A unique highlight is the Ancient Seas exhibit, a diorama portraying ancient, animated marine life from the primordial oceans. Human and natural history collections are impressive, demonstrating how the Manitoba landscape, wildlife, and indigenous peoples evolved in western Canada, with plenty of locally found artifacts for viewing.
The Forks
The Forks is the city's vibrant public meeting space and an absolute must on the Winnipeg itinerary. The Forks is a major shopping and entertainment hub, with an Imax theater and a thriving farmer's market full of Canadian artisan breads, local wines, and organic veggies and fruits. At the center of the space is Prairie Gardens with over 10,000 blooming plants. From there walk on to visit the historic port and river walk, as well as the Oodena Celebration Circle, paying tribute to 6,000 years of Cree heritage, and the Peace Meeting Site which promotes harmony with a blend of European and aboriginal design elements.
Assiniboine Park
This vast park complex is a Winnipeg vacation treasure, home to the lush gardens and green houses of the botanical conservatory and the Assiniboine Zoo where lions, kangaroo and polar bears play. The zoo has a rich collection of wildlife from North and South America, Australia, Asia and beyond, from lemurs to tree frogs to snow leopards. The indoor/outdoor Lyric Theater hosts ballet troupes, the Manitoba symphony, orchestra productions, and jazz festivals. The Pavilion Gallery is a first class art museum featuring the work of three famous Manitoba natives: Ivan Eyre, Clarence Tillenius, and Walter J. Phillips.
Maps
This page was last updated on October 2, 2015.