Portage Lake is a beautiful freshwater source located in the northwestern peninsula of "The Mitten State." A small opening dredged by early settlers connects the lake to Lake Michigan, allowing boats and wildlife to enter Portage Lake. Onekama is the main town on the northern shores of Portage Lake and offers accommodations, restaurants, and boat launches to access the water. Warm Michigan summers provide a perfect atmosphere for water sports and swimming – while in the winter, local anglers can brave the frigid air and enjoy ice fishing.
Geography & Climate of Portage Lake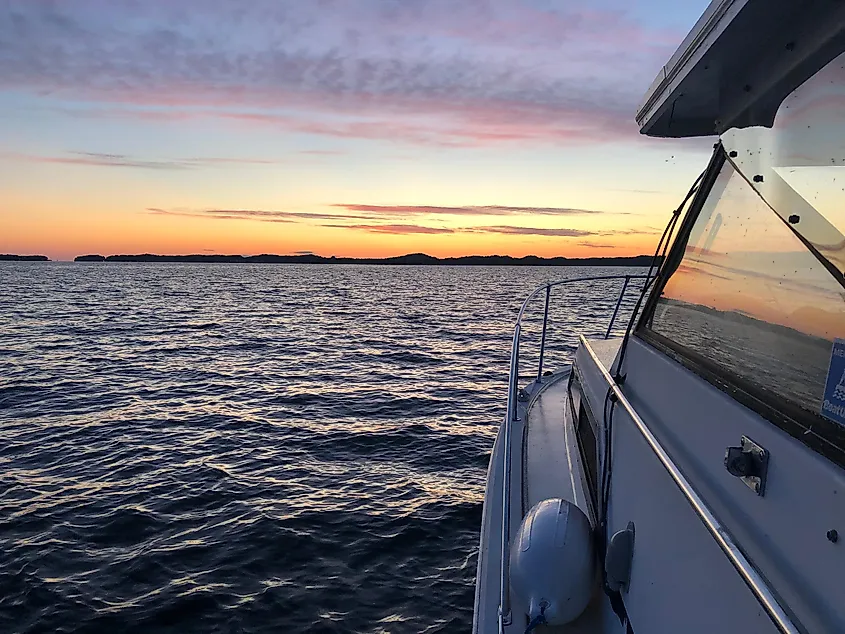 In Manistee County, Michigan, Portage Lake is a natural lagoon that is not entirely landlocked. Formed by glacial movements over ten thousand years ago, the lake now covers an area of 8.5 sq kilometers. The basin's elevation sits one meter higher than Lake Michigan at 177 meters above sea level. Its length is just under 5 kilometers long, has a width of 2.4 kilometers, and has a maximum depth of 18 meters. Lansing, the Great Lakes State's capital, rests roughly 300 kilometers southeast of Portage Lake. Three hundred sixty kilometers northeast of Portage Lake are the historical Soo Locks that divide the U.S. and Canada at the border city Sault Saint Marie, Michigan, and Ontario. Michigan Drive, a road that splits Indiana from Michigan, is two hundred twenty-two kilometers south of Portage Lake. Travelers can get to Green Bay, Wisconsin, via the S.S. Badger, an epic three- and half-hour journey across the mighty Lake Michigan.
Portage Lake goes from one extreme to another regarding its climate. Temperatures hover around -7˚C during the frigid months, but windchills can plummet below -20˚C. Lake effect wind chills and snow squalls hammer the lake and surrounding county from November until March. Over 2.5 meters of snow can fall throughout the winter. Fortunately, the spring weather warms up the lake quickly, and daily highs will rise into the twenties by mid-May.
Ecology of Portage Lake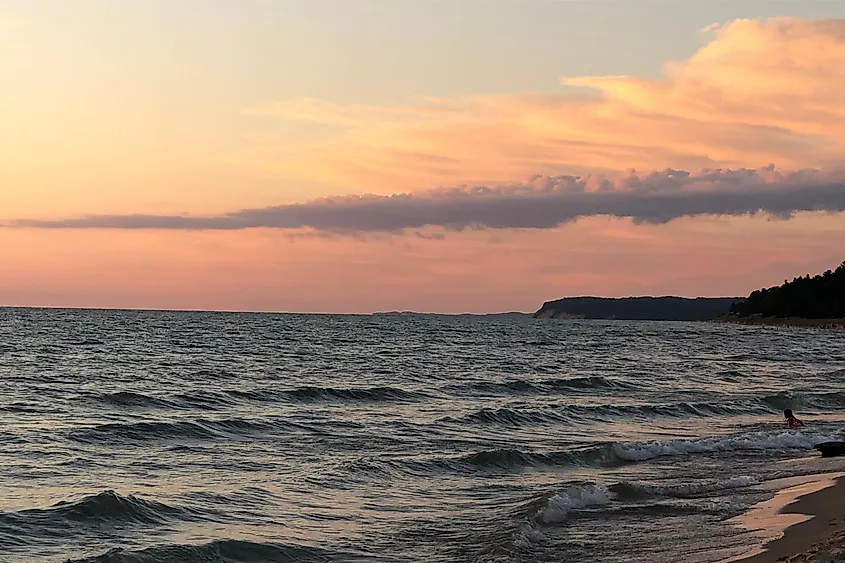 A small waterway connecting Portage Lake to Lake Michigan allows aquatic species to flow freely into Portage Lake. Many types of fish call Portage Lake home, including Black Crappie, Bluegill, and Brown Trout. Smallmouth Bass, Walleye, Yellow Perch, and Steelhead are other types of fish found under the surface. Different turtles nest on the banks of the basin and swim along the shorelines. Amphibians like frogs, toads, and salamanders roam the outskirts of the lake and nearby wetlands. Eagles, hawks, owls, osprey, and turkey vultures soar over the lake in search of prey. Different vegetation types scatter around the lake – small bog shrubs like leatherleaf, steeplebush, and diverse berry bushes. Portage Lake's trees include birches, maples, black spruce, jack pine, white pine, and tamaracks that dominate the area. Poison ivy, oak, and sumac should be on the lookout for hikers circling the lake. Predators such as foxes and coyotes hunt for rodents and rabbits in the surrounding grasslands of the lake. Bear alerts have gone off in Manistee County and surrounding areas of Portage Lake.
History of Portage Lake
In the early years before the arrival of European settlers, the indigenous Ottawa tribe inhabited Portage Lake and some of the northwestern shore of Lake Michigan. Onekama, the town on the northeastern banks of Portage Lake, means "singing water" in the Ottawa band's native language. Before European settlers arrived, Portage Lake was landlocked and not connected to Lake Michigan. In 1871, landowners were unhappy with the operation of the local sawmill and took matters into their own hands. They dug a ditch between Portage Lake and Lake Michigan, creating a channel to lower the basin's level. Water levels dropped over four meters and caused the sawmill to relocate to higher ground. By the late 19th century Portage Lake became a popular tourist destination and could accommodate up to 100 guests at a time. The early 1900s saw an influx of hotels open, and bootlegged alcohol from Canada attracted even more people from nearby states.
Attractions
Manistee County Fair
Located on the eastern edge of Portage Lake, the Manistee County Fairgrounds is full of fun events throughout the year. However, every third week in August, the city of Onekama hosts the county fair, where locals and visitors can enjoy carnival-style food, games, rides, and events. Barrel racing, horse pulls, demolition derbies and more are some of the main events at the county fair. Livestock auctions are also a big hit – ranchers from all over the state bring their prized possession livestock to enter in pageant contests such as poultry, pigs, sheep, cattle, goats, and rabbits. Guests are welcome to camp on the fairgrounds if that means pitching a tent, pulling through in an RV, or dethatching a trailer to relish the weekend's activities.
City of Onekama
The central city supporting Portage Lake is Onekama – a town of fewer than 500 people that welcomes thousands of visitors yearly. Onekama has half a dozen hotels, bars, restaurants, schools, and a hospital. Private lake houses, as well as the town, have easy access to excellent beaches. In Onekama, the sunsets are some of the finest in Michigan – the surrounding beaches, piers, and patios are the best places to enjoy them. Their local marinas and boat launches allow boaters quick access to the waters and docks for frequent sailors during the warm months.
Portage Point Woods Reserve
A wonderful nature reserve that joins Lake Michigan to Portage Lake protects wildlife habitats and is excellent for bird watching. Step away from the lake, the Portage Point Woods Reserve provides an exceptional place to escape into nature. Endless dog walking, mountain biking, and hiking trails can lead visitors to breathtaking views. Trekkers will find steep dunes on the coast of Lake Michigan – climbing these giant hills are not for the faint of heart but offer rewarding views.