The State of Louisiana is home to many stunning lake destinations where activities like fishing, sailing, water sports, and wildlife watching can all be enjoyed. Indeed with a mix of natural water bodies and human-made reservoirs, Louisiana's lakes offer an eclectic range of beauty and fun. In the "Pelican State," visitors and residents alike can expect splendid views of nature and wildlife, and any time spent at or near some of Louisiana's lakes will surely be a memorable experience. This article looks at some of Louisiana's most scenic and beautiful lakes and attractions. 
Lake Pontchartrain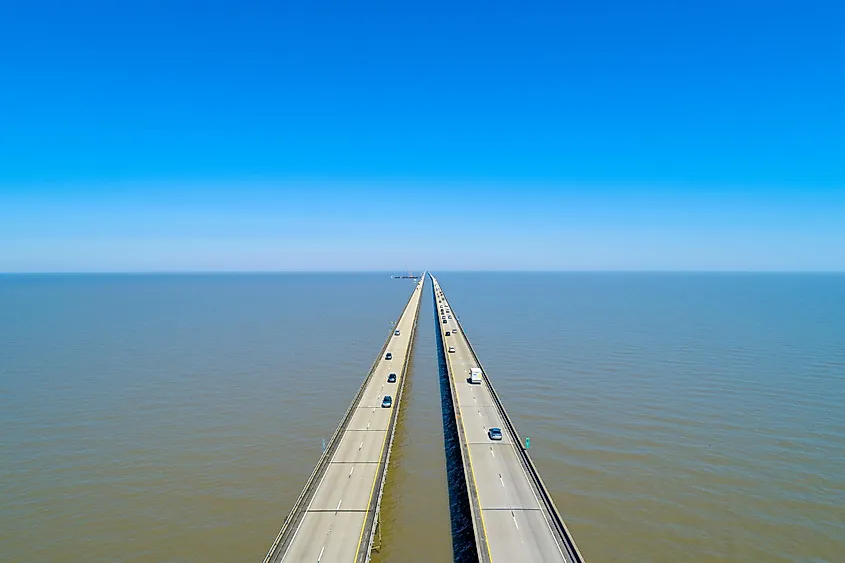 Covering an area of 630 mi2, the beautiful Lake Pontchartrain is situated in the southeastern portion of Louisiana. With a geological history that dates the lake's origins some 4,000 years ago, Lake Pontchartrain currently has a depth of 12 feet and is linked to the Gulf of Mexico. Considered one of the largest wetland areas on the Gulf Coast, a great diversity of wetland species can be found on and around the lake. In addition, Lake Pontchartrain remains a popular destination for tourists, where opportunities for boating, camping, hiking, and swimming are all great ways to enjoy the surroundings. And at day's end, one can partake in a tasty meal at any of the great restaurants located around the lake's shores. 
Henderson Lake 
Henderson Lake is a diverse habitat for upwards of 300 varieties of birds and other diving waterfowl and is also known as a gateway to the Atchafalaya Basin (the United States' largest swamp). Indeed Henderson Lake is a most picturesque place of Southern beauty where open water and stunning cypress swamps come together. Situated in south central Louisiana, slow paddling is amongst the most popular activities on the Lake, and charming vistas of lakeside cottages and houseboats dot this most serene landscape. In addition, the aforementioned wildlife always makes time spent here special, and sightings of cormorants, ospreys and their nests make a most spectacular experience. 
Lake Bistineau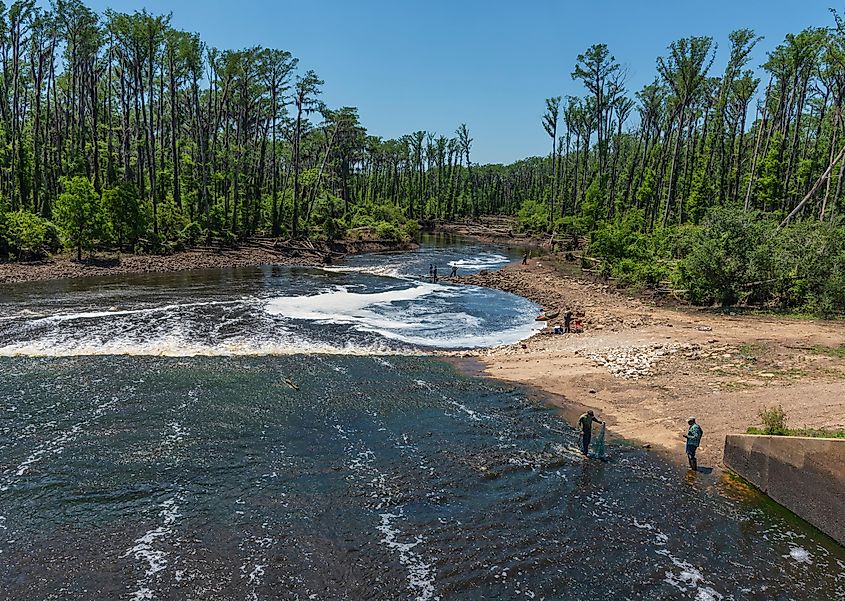 Part of the Lake Bistineau State Park, this reservoir lake was formed in the 1930s and connects to the Red River and, subsequently, the mighty Mississippi River. Covering an area of nearly 750 acres, over 10 miles of hiking and biking trails can be enjoyed here. In addition, opportunities for boating, camping, fishing, and paddling have made the Lake and the surrounding state park a popular destination for decades. Just a half hour's drive from the city of Shreveport in northwest Louisiana, beautiful cypress trees also frames much of the area creating a most spectacular and memorable natural experience for all who descend on the park and Lake. 
Lake Chicot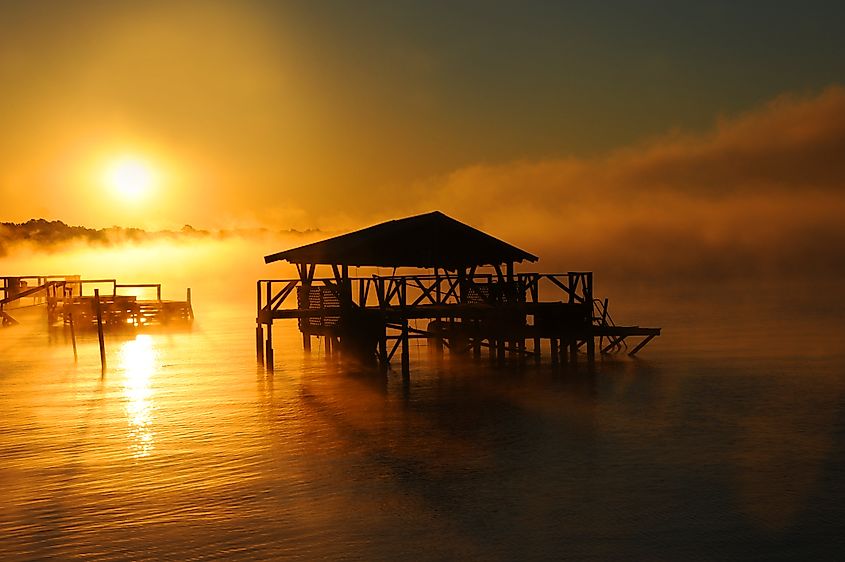 Also situated within a State park, the picturesque Lake Chicot lies within the Chicot State Park, covering some 10 km2. This human-made lake spans nearly 2,000 acres and is surrounded by stunning green rolling hills and loads of fish, including bass, crappie, and bluegill. Near the city of Ville Platte, visitors to this park and Lake can take advantage of plenty of wonderful camp and picnic areas, rental cabins, park pavilions, and even fishing boats for rent. In addition, a sighting of wildlife is more than likely, and animals like deer, raccoons, coyotes and even bobcats can be observed. Just make sure to maintain a safe distance! Meanwhile opportunities for kayaking and canoeing are always a scenic delight, while hiking and biking trails around the Lake's edge are never short on panoramic beauty. Whether as a solo traveler or with family and friends, Lake Chicot and the State park are surely amongst the most serene and stunning places in the "Bayou State." 
Lake D'Arbonne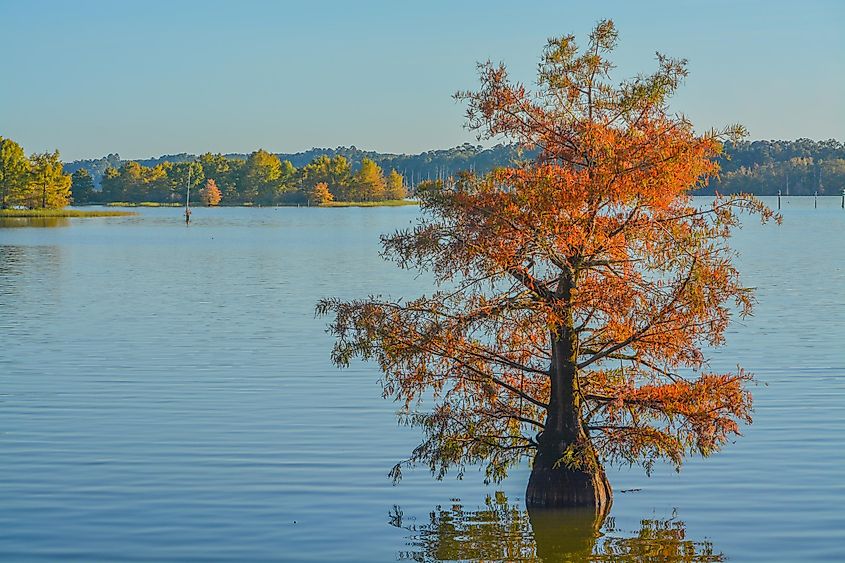 D'Arbonne is a reservoir lake in northern Louisiana, very near the small town of Farmerville. A popular fishing destination, the Lake covers an astonishing area of 23.82 km2 and is surrounded by the same named State park. The Lake and park area, completed in 1963, remains a popular spot for a variety of outdoor activities. Fishing, wildlife watching, hiking, biking, and camping can all be enjoyed here, while cabin, boat, and fishing equipment rentals are offered at reasonable rates. Furthermore, imposing and stunning pine trees and forested surroundings define much of the park and Lake's frame. Many wildlife species, like deer, can be observed in this pristine natural setting. 
Cane River Lake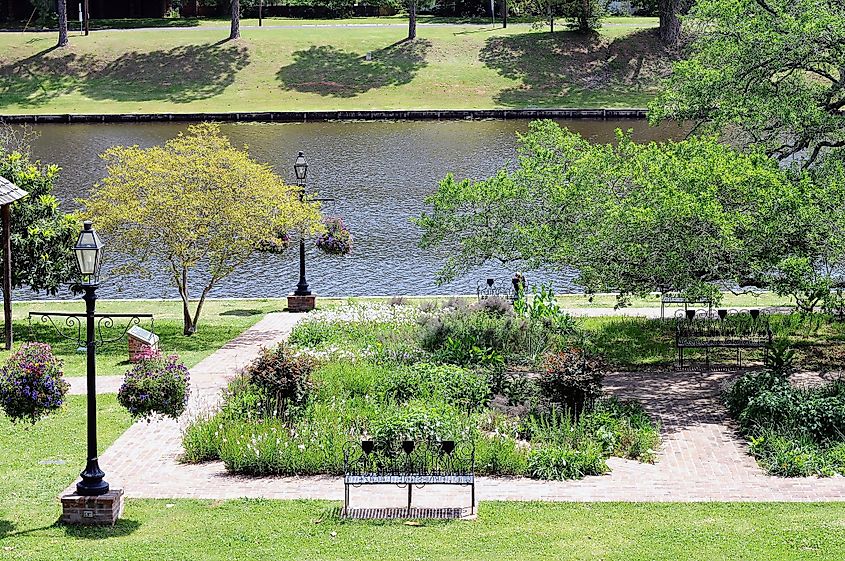 Cane River Lake is a portion of the larger Red River, running for 35 miles and some 250 feet in width. Situated within the parish of Natchitoches, along the lake's course, lie many historic plantations from the 19th century, particularly in the years preceding the Civil War. Known as an oxbow lake, Cane River Lake is a popular spot for fishing and boating, and many visitors can enjoy serene journeys along the water in a canoe or a kayak. And with truly striking water banks lined with lush greenery, imposing trees, a variety of birds and fish always ready for a bit, an afternoon on the charming Cane River Lake is never a bad idea. 
False River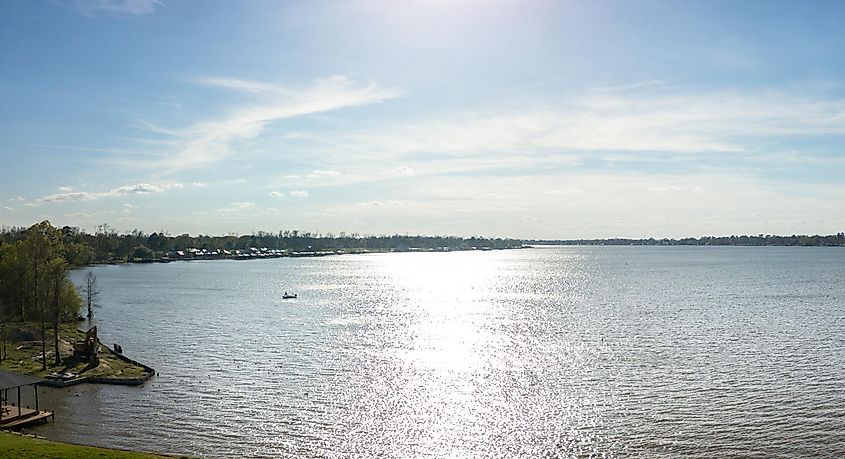 Just some 35 miles from the Louisiana state capital of Baton Rouge, the False River is really another beautiful oxbow lake that is an extension of the famed Mississippi River. With a maximum depth of 65 feet, numerous business, private residences, and campsites can be along the water's banks which runs for about 10 miles. Known as a hub for fishing, hunting, and water sports, many visitors and residents alike enjoy False River and its abundance of fun outdoor activities. Go water skiing, sailing, and swimming, and take advantage of the many great restaurants and shops in the area for a most relaxing and memorable Louisiana vacation. 
Lac Des Allemandes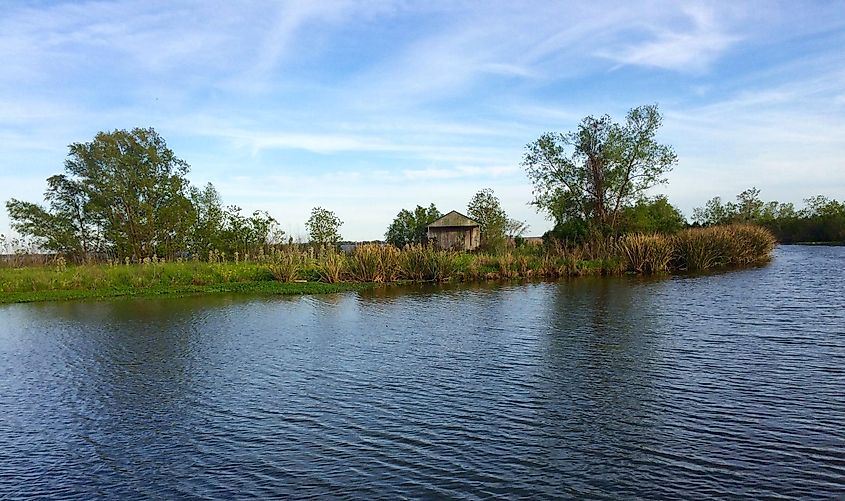 The Lac Des Allemandes covers an area of 18.75 square miles and is just 25 miles from the "Big Easy," New Orleans. Fed by several surrounding bayous, this shallow lake only reaches a maximum depth of 10 feet and spans a distance of only five miles. Yet with its unique bayous, cypress swamps, and canals, the Lac Des Allemandes is one of Louisiana's most unique bodies of water. Known as the "Catfish Capital of the World," the catfish and a variety of other fish species can be found in its waters, and numerous fishing camps are located alongside the lake's shore. In addition, other wildlife species like eagles, herons, frogs, otters, and even alligators can be spotted in the area, while dazzling cypress trees frame this most special natural wonder. 
The "Bayou State" of Louisiana has long been renowned for its natural beauty, and inside the State's borders lie several truly stunning lake areas. From boating, fishing, wildlife watching, and more, these lake attractions continue to prove why they are favorite destinations for visitors and residents. Whether it is an extended stay along the water or a quick afternoon escape, Louisiana's lakes will surely leave an extraordinary impression on all who explore them.