New Hampshire is a gorgeous state in New England known for its lovely, quaint towns, with an abundance of nature and wilderness accompanied by stunning lakes with glistening waters. With a low population of around 1.3 million, lower than many of the large American cities, and a motto of "Live Free or Die," New Hampshire has a closeness with nature and an independent lifestyle. In turn, there is much appreciation for the state's many gorgeous lakes. These lakes are perfect for wilderness enthusiasts looking to take an escape from city life and enjoy the trees and animals situated along sparkling, warm waters. For visitors crossing through New Hampshire, the marvelous lakes on this list are a must-see.
Lake Winnipesaukee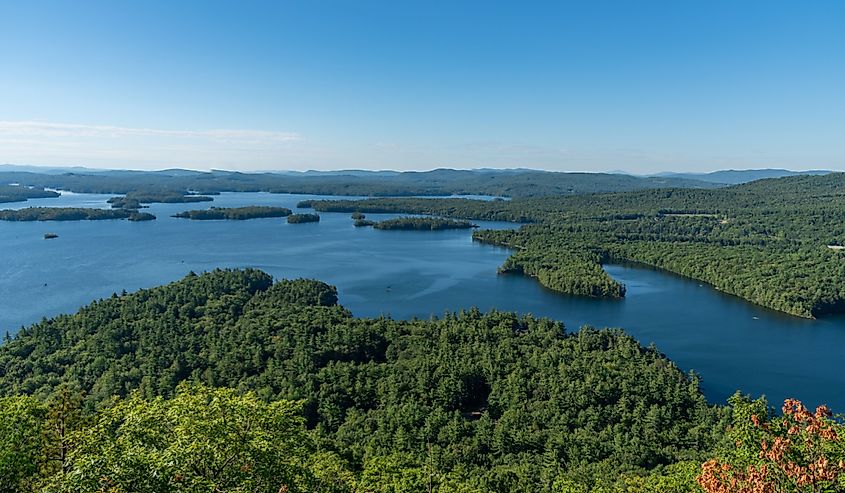 The gorgeous Lake Winnipesaukee has earned its flowers due to the fact it is the state's largest lake at an amazing 70 square miles! The magnificent Lake Winnipesaukee is a staple for fun family vacations and exciting weekend getaways, in the central New Hampshire region! Lake Winnipesaukee is home to a wonderful beach known as Weirs Beach with sandy shores and lifeguarded waters. FunSpot is another excellent destination for anyone looking to play arcade games and explore the world's largest video game museum. While for fishermen, marine life species include salmon, cusk, smelt, rainbow trout, brook trout, yellow perch, lake trout, smallmouth bass, largemouth bass, pickerel, white perch, hornpout, sunfish, and whitefish.
Squam Lake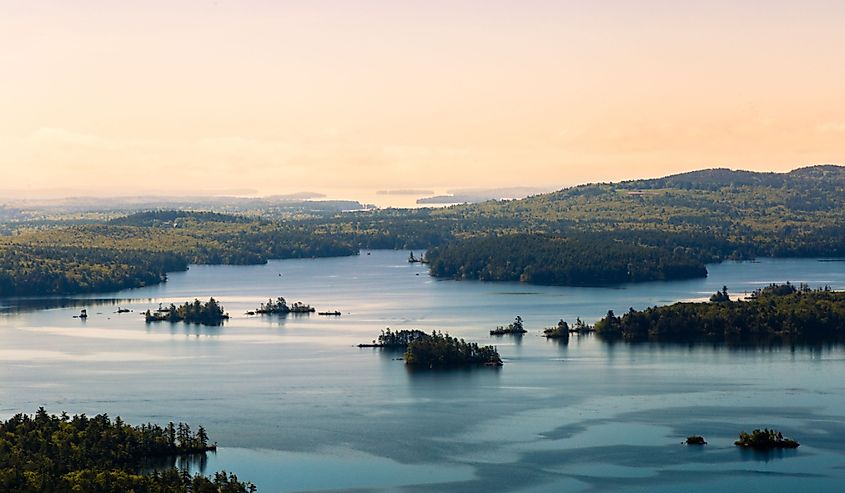 Situated close to Lake Winnipesaukee, but far smaller, Squam Lake is only accompanied by the one small town of Holderness. The rest of the lake includes quaintly scattered cottages nestled within the trees lining the relaxing shoreline of this ravishing body of water. The majority of travelers to this marvelous lake will feel the tranquillity of the wilderness, noticing more animals and marine life than humanity. If visitors prefer to explore the lake through the safety of a tour, the Squam Lakes Natural Science Center offers a wonderful naturalist cruise to educate visitors and locals about the lake. It includes information about the natural biodiversity of the lake and region and the marine species such as smallmouth bass, largemouth bass, and chain pickerel. For those who desire to hike along the smooth waters of Squam Lake, the region offers multiple walking trails perfect for a lovely hike. Or, for those looking for a more challenging adventure, visitors may hike up to the 1067-foot summit of Mt. Fayal for scenic views that tourists will never forget.
Lake Sunapee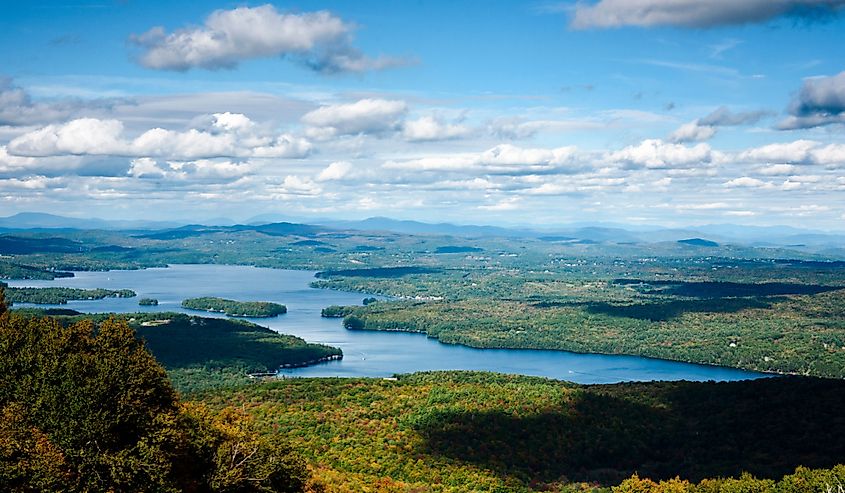 Situated in the beautiful region of western New Hampshire, Lake Sunapee is an astounding lake home to a white sand beach, located near Mt. Sunapee. The location offers opportunities for hiking experiences, skiing, and loads of fun activities to indulge in. Lake Sunapee has an amazing park with lifeguards, a bathhouse, picnic tables for a delicious lunchtime snack, a boat launch, and much more. For visitors looking to paddle through the lovely, refreshing waters of the beautiful Lake Sunapee, the lake offers canoe and kayak rentals! In addition, fishing in this beautiful region is a great experience with species such as lake trout, salmon, smallmouth bass, chain pickerel, yellow perch, and brown bullhead catfish.
Newfound Lake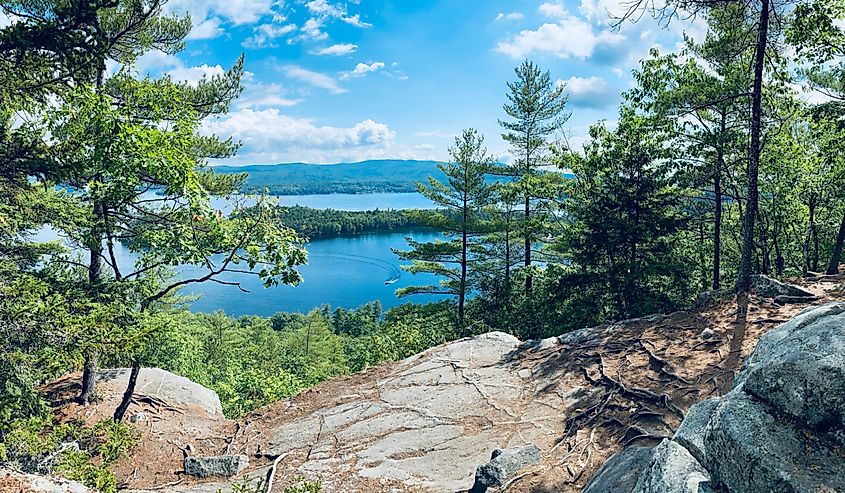 Taking its place as the deepest lake located in New Hampshire, Newfound Lake is great for fishing with many aquatic species such as smallmouth bass, rainbow trout, lake trout, bluegill, rock bass, Atlantic salmon, and chain pickerel! Even better than Newfound Lake's marine diversity, Newfound Lake has some of the cleanest waters in the US. In addition, the area surrounding this alluring lake is largely undeveloped. For visitors looking to spend time on New Hampshire's largest freshwater beach, Wellington State Park is an excellent option as it provides a bathhouse, picnic areas, a small snack bar, lifeguards, and a free public boat launch.
Lake Umbagog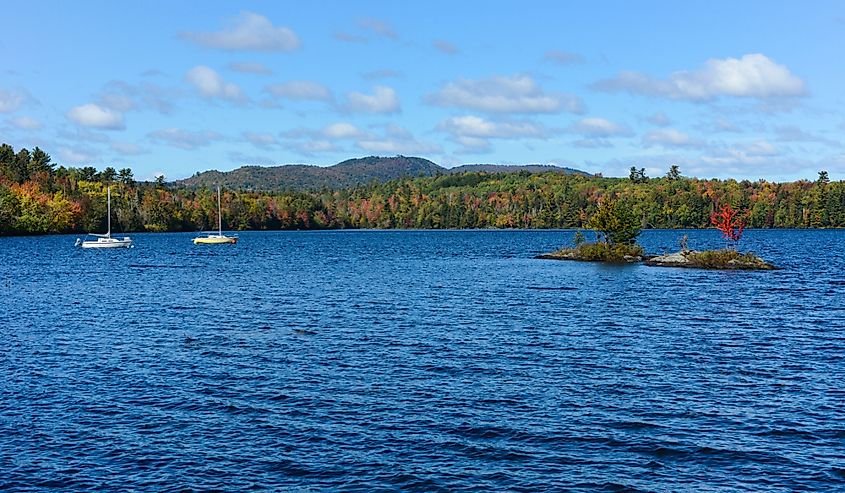 Near the White Mountains in the northeastern part of the state, Lake Umbagog is a gorgeous forested lake home to beautiful loons swimming around the sparkling, pristine waters. Along Lake Umbagog's shores are 33 remote campsites from which you can paddle a canoe or kayak. Except for the sole park campground nestled on the lake's southern shore, this refreshing body of water is largely undeveloped, perfect for a technological getaway. Underneath the pristine surface of Lake Umbagog is a variety of beautiful marine life, perfect for anglers. These species include the stunning largemouth bass, smallmouth bass, brook trout, yellow perch, landlocked salmon, and chain pickerel. Lake Umbagog makes for a perfect tranquil trip out of town.
Pawtuckaway Lake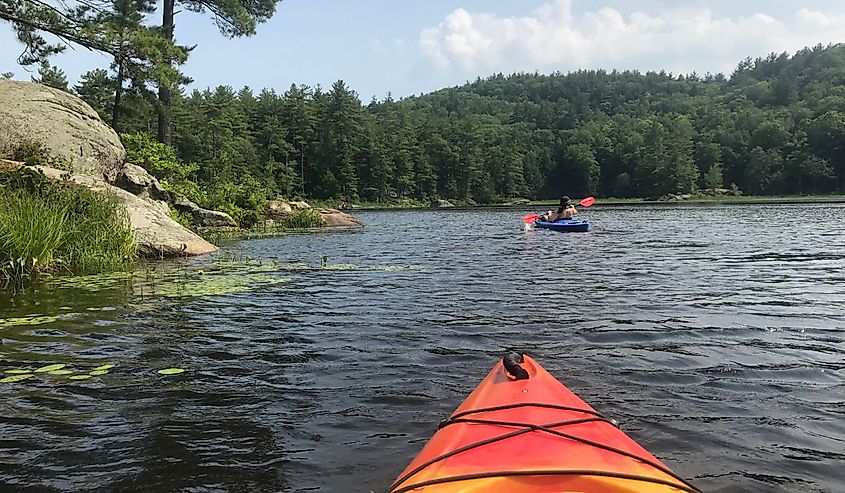 Throughout the incredible state of New Hampshire, you can find the amazing phenomena known as glacial erratics, including in the Pawtuckaway Lake area where you can see these boulder formations. This super interesting site is perfect for science, petrology, and mineralogy. For those looking to visit overnight, there are many sparsely separated campgrounds for tourists looking for a tranquil lake getaway. During the day, campers may rent kayaks and canoes to paddle through the gorgeous waters of the spectacular Pawtuckaway Lake! Underneath those waters, species such as largemouth and smallmouth bass, black crappie, yellow perch, and more swim graciously through the depths of the astounding Pawtuckaway Lake.
Echo Lake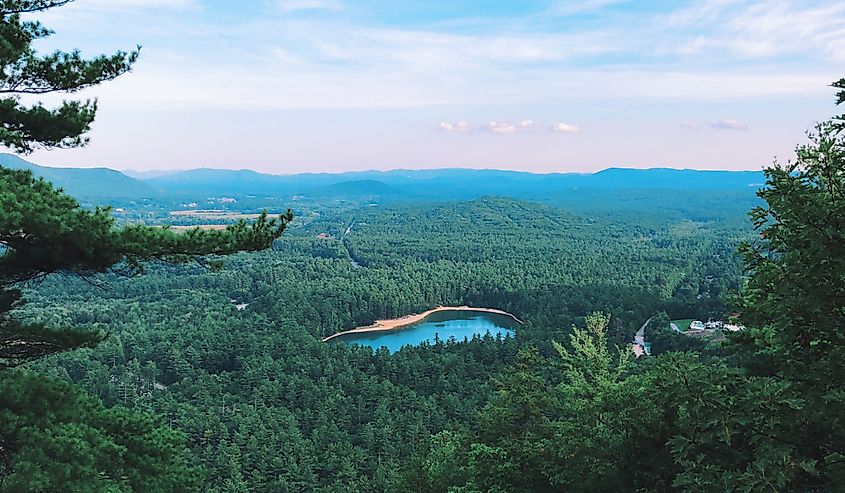 Positioned gracefully at the base of the astonishing White Horse Ledge, the enchanting Echo Lake is a tranquil lake perfect for visitors of all kinds. From fishermen to young families, all people alike will enjoy their time in this pristine body of water. Being only a bit over 17 acres in size, although quaint, Echo Lake offers a wealth of activities and redeeming qualities. East of the lake is the lovely town of North Conway which is home to the International Mountain Climbing School which proudly takes advantage of the nearby Cathedral Ledge which is popular among mountain climbers. For anglers, Echo Lake has lots in store with various fish species such as brook trout, brown trout, and lake trout. For families with small children, Echo lake is host to sandy beaches, with a safe and shallow entry for small children, White Mountain Hotel and Resort, and scenic trails.
New Hampshire is small yet mighty and its population takes pride in its values of freedom and close connections to nature. Whether the duality of Echo Lake with modern as well as natural aspects, the pure seclusion of Squam Lake, or tourism driven design of Lake Winnipesaukee, New Hampshire has so much to offer in terms of its stunning bodies of water, beautifully crafted by nature to fulfill the wilderness and humanities needs.