Torch Lake, often referred to as the "Caribbean of the North," is a popular summertime destination known for its pure turquoise waters, white sand, and boisterous gatherings. It is situated in the northwestern portion of the US State of Michigan, right off Lake Michigan. Torch Lake is considered the state's second-largest inland lake that covers about 18,770 acres. It is also Michigan's largest lake by volume, as well as its deepest inland lake that reaches a maximum depth of 94m. The Torch Lake was ranked as the third-most beautiful lake in the world by National Geographic. 
Location And Geography Of Torch Lake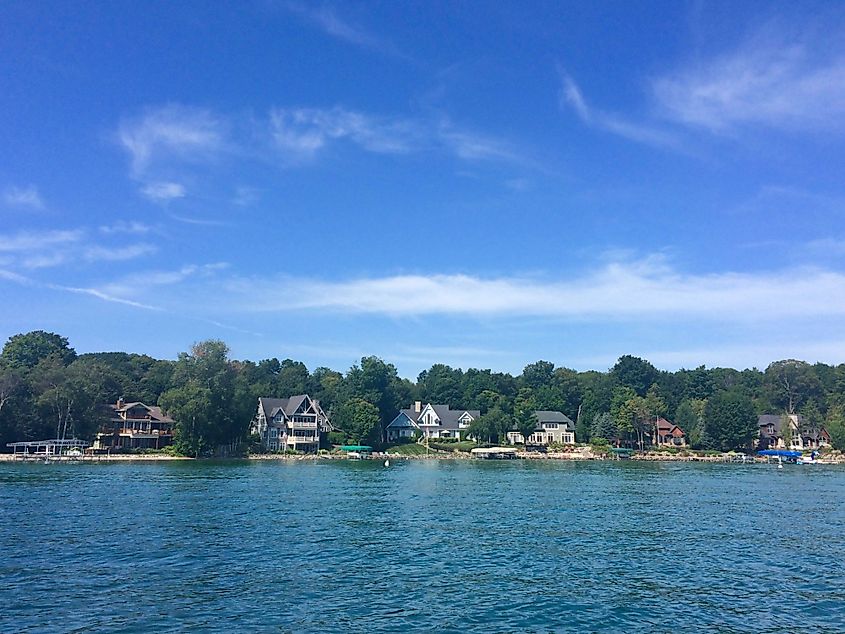 In the Antrim County township, to the northwest of Michigan's lower peninsula, is Torch Lake. The lake is not located in a single city because of its very wide surface area. Torch Lake Township, Forest Home Township, Milton Township, Helena Township, Central Lake Township, and Clearwater Township are some of the townships that surround it. From the Grand Rapids region, this treasure is only a 2- to 5-hour journey away, and Traverse City is only 45 minutes away. Torch Lake is Michigan's longest inland lake that has a length of 31km. It is also the state's second-largest inland lake having a surface area of 18,770 acres and a shoreline length of 41 miles. The lake has a width of 2 miles, making it exceptionally long and narrow, and its average depth is 34m, while it reaches 94m at its deepest. The Torch lake forms a part of the Elk River Chain of lakes. 
Climate And Water Temperature
The weather is cool and temperate in Torch Lake. Even in the driest month, Torch Lake receives significant rain. The lake gets about 38.7 inches of rain per year. The temperature typically reaches 80 degrees; however, there are occasional days when it can reach 70 or 90 degrees. Due to the lake's location in the Midwest, summertime humidity levels can be significant. Because of its enormous water volume, Torch Lake remains chilly until about the middle of July. The warmest months for Torch Lake are late July and early August, when the top layer of deep water reaches low 70°F temperatures. Water from underground springs that range in temperature from 48 to 50°F often enters the lake.
Brief History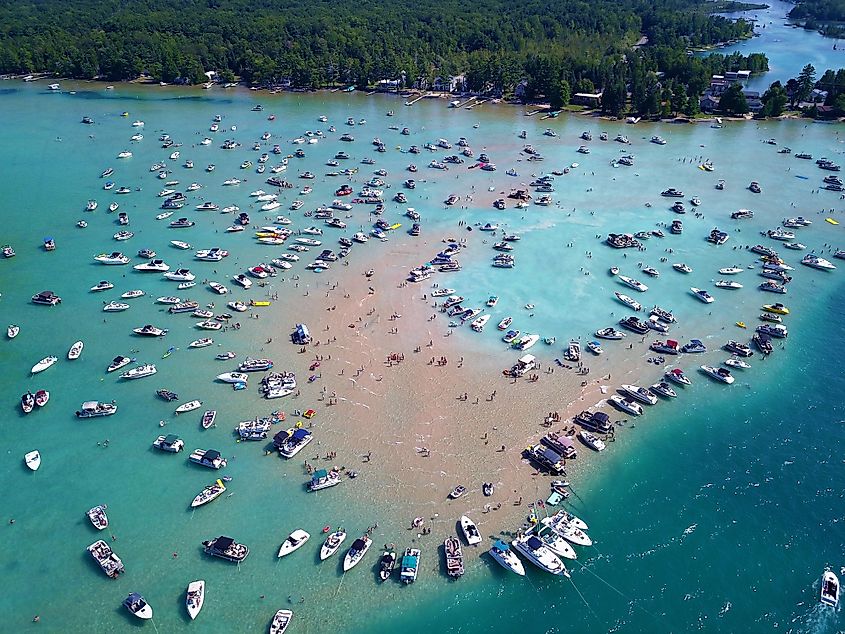 Together with its neighbor Lake Michigan, Torch Lake was initially formed towards the conclusion of the Last Glacial Period. The Great Lakes were formed when melting glaciers filled the new basins cut out by retreating glaciers on the Earth's surface. Torch Lake was formerly a bay of the developing Lake Michigan, along with other long lakes in the area. However, these lakes were cut off from Lake Michigan by sandbars that developed at their northernmost points. The Ojibwa people originally inhabited the territory where Torch Lake is located. The lake was named by the Native Americans as Waswaaganing, which means "lake of the torches." This name was inspired by a technique employed by Native Americans to capture fish. The hunters would venture out onto the water at night, luring big fish to the surface where they might be caught with nets and spears. When the first European immigrants arrived in the region and saw this custom, they gave it the name "Torch Light Lake." Later, this was shorted to Torch Lake. Torch Lake was formerly a deep, fjord-like bay of the ancient Lake Michigan, but it was transformed into an inland lake when a sand bar developed across the bay's mouth.
Things To Do In And Around Torch Lake
Boating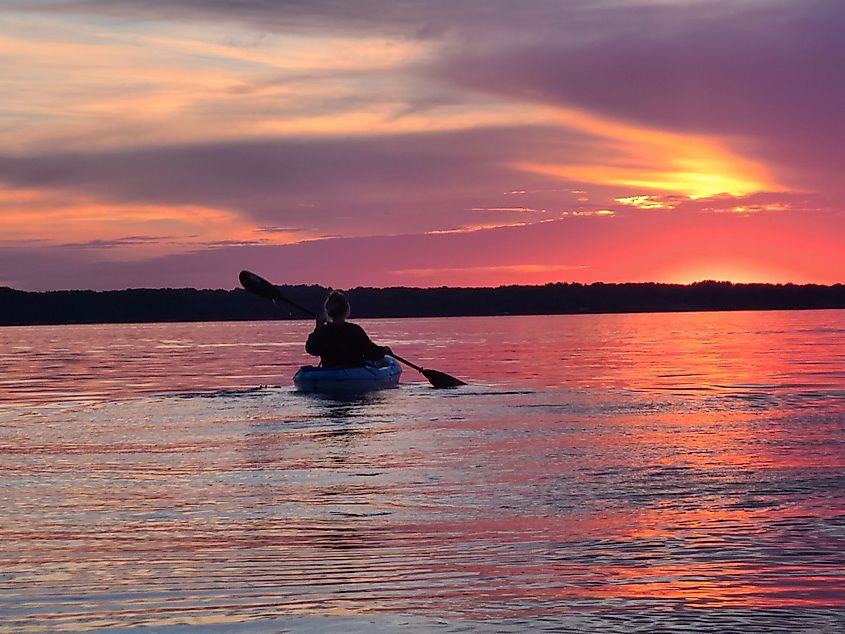 Torch Lake is best enjoyed by boat, so if you don't have one, you must consider renting one. You can broaden your boating experience by traveling along the Chain of Lakes Water Trail because Lake Torch is connected to numerous other lakes and rivers. Interconnected lakes and rivers that empty into Lake Michigan make up this path.
Fishing
The majority of the year offers fantastic fishing opportunities, including winter ice fishing. To increase your chances of catching a trophy fish or to have the experience of a lifetime, fishing guides and charters are available.
Shopping
There are many shops close to Torch Lake Bed & Breakfast, whether you're looking for priceless antiques or the newest boutiques. Be sure to visit Adams Madams, which offers a local art gallery, handcrafted goods, and a reading nook, as well as Brownwood Acres, which has a charming tea parlor and a wonderful sweets store. 
Water Activities
The breathtaking view and the serene surroundings are some of the things that make this lake so unique. Swimming and snorkeling are some fantastic water activities on Torch Lake. 
Golfing
Nearby to the Torch Lake Bed & Breakfast is a golf course. A wide selection of excellent courses can be found in Northern Michigan, which is a fantastic location for golfing. You can pick a golf course to suit your skill level, from beginners to professionals.
What Kind Of Fish Are In Torch Lake?
Coldwater fisheries in Torch Lake are renowned for producing self-sustaining populations of lake trout and whitefish. Along with trout, whitefish, and deep-water sculpins, the burbot is frequently found in deep-water communities. This lake is a favorite fishing spot for anglers. Fishes that can be caught here include rock bass, yellow perch, smallmouth bass, muskellunge, Pike, ciscoes, brown trout, steelhead, rainbow trout, Atlantic salmon, and whitefish. The amount of fishing pressure is typically thought to be low. Torch Lake does not produce a lot of fish due to its barren nature.
Torch Lake has all you need for a fantastic summer vacation in Michigan, with its renowned Caribbean-blue waters that are stunningly pure. At the southern end are the shallow sandbars, which are a favored spot for wild summer parties and where colorful boats and crowds of tourists may be seen in plenty during the summer. So, if you're in Michigan and looking for a small piece of heaven, Torch Lake is one of the state's best places to visit.