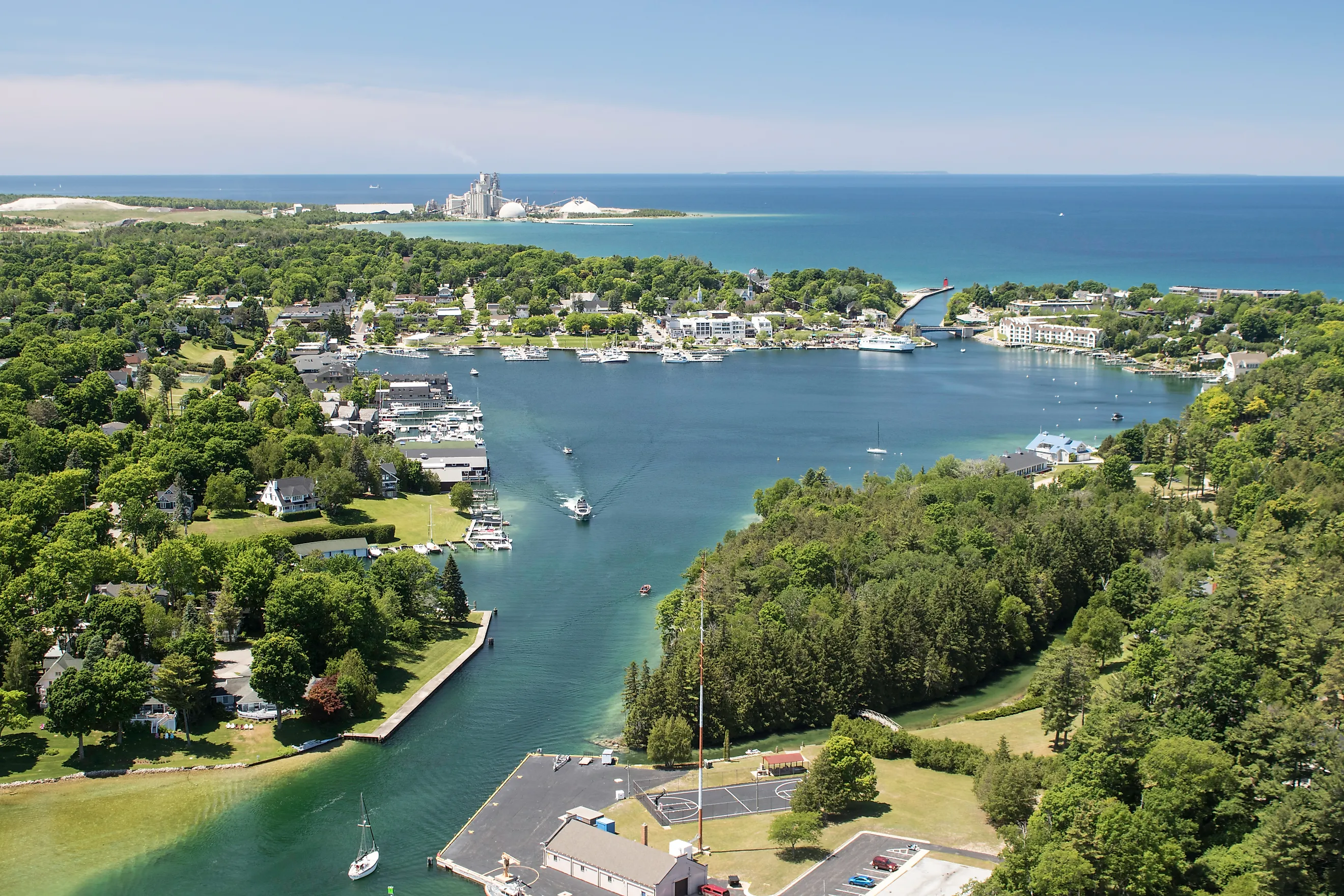 Lake Charlevoix, Michigan
Lake Charlevoix is a natural freshwater lake located in Charlevoix County within the state of Michigan, America. The lake is surrounded by various other water bodies of varying sizes, such as the smaller Walloon Lake and the larger Lake Michigan. Apart from this, Lake Charlevoix is enclosed between the cities of Charlevoix in the Northwest and Boyne City in the Southeast. It is the third largest lake in the state and has quite a unique shape that attracts people from nearby regions. The coastal and water area also provides a wide range of recreational and wildlife benefits, ranging from fishing to boating.
Climate Of Lake Charlevoix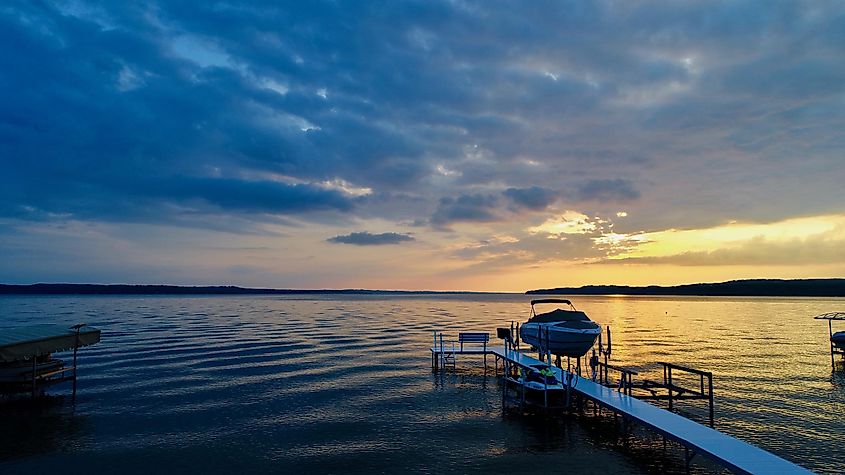 The climate of and around Lake Charlevoix is quite comfortable, although the area does tend to remain relatively cold throughout the year. When it comes to the summers, Lake Charlevoix has warm weather from around May to September, wherein temperatures range from between 12 ˚C to 26 ˚C. The area is hottest during July, and temperatures rarely ever fall below a low of 17 ˚C. That being said, as summer ends, temperatures begin to drop as early as November when the median reaches 3 ˚C. Shortly after this, in December, temperatures fall below sub-zero, and from then till March, Lake Charlevoix stays between -9 ˚C and 3 ˚C. Due to the freezing weather, the lake gets 100+ inches of snow during these four months, while the rest of the year sees approximately 30 inches of rain as precipitation. While temperatures are increasing year by year, the lake does also freeze over in some parts during the coldest months of January and February.
Geography Of Lake Charlevoix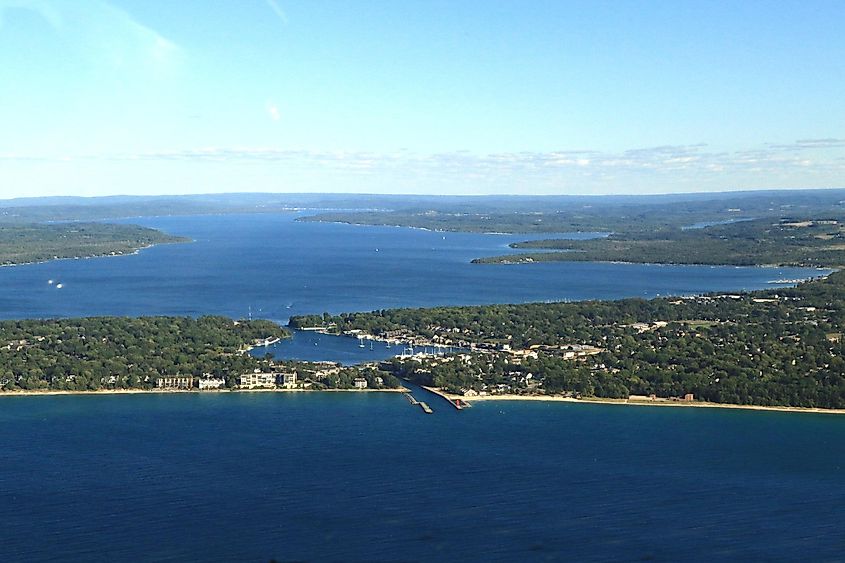 Lake Charlevoix is located between three Michigan cities, Boyne City, East Jordan, and Charlevoix, with a surface elevation of 177 meters. The lake's largest tributaries are the Boyne River and Jordan River, among many other smaller streams and rivers. Due to Lake Charlevoix being connected to Lake Michigan and Lake Huron, it is also linked to their water level, which fluctuates in accordance with these larger water bodies. Apart from this, Lake Charlevoix covers a total area of 70 sq. km with an impressively large shoreline of 90 sq. km due to its unique shape. The deepest portion of the lake reaches up to 37 meters with a maximum length of 21 km. In terms of accessibility, the lake can be accessed by Highway 31 along the northwestern shore and Highway 131, approximately 5 km off the southeastern coast.
History Of Lake Charlevoix
Being a natural freshwater lake, Lake Charlevoix has been around for centuries as it has gradually developed into the unique shape it has now. It was initially named Long Lake, followed by the name Pine Lake, until it was finally named Lake Charlevoix in 1926. During the early 1900s, the lake was a hotspot for various industries in the region, such as Boyne City tanneries and East Jordan Iron factories. This was due to the transportation benefits provided to them by running vessels across the large lake. Currently, the lake is managed and protected by the Lake Charlevoix Association.
Ecology And Recreation In Lake Charlevoix
Lake Charlevoix is home to a wide range of fish species such as the Black Crappie, Brown Trout, Walleye, and many other local species. Along with this, the area is surrounded by moderate vegetation along the coastline, which promotes the presence of many faunal animals.
As far as recreation is concerned, this lake and its vast coastal area provide tourists and locals with an endless array of things to do. Most prominently, with 3 primary beaches, Depot Beach, Ferry Beach, and Young State Park, visitors can spend their day enjoying the natural beauty while having a picnic or stroll. Further, towards the lake, there are various regions that provide boating and fishing areas that are open for most of the day. Similarly, some areas along the coast, such as the Swann Valley marina, provide tubing, wakeboarding, and other watersports that can make your day enjoyable at Lake Charlevoix.