Geography
In general terms, the Czech Republic is a hilly plateau surrounded by relatively low mountains. Bordering mountain ranges include the Carpathian, Ore, Sudetic and the Sumarva mountains of the southwest.
The highest point is Mt. Snezka in the Sudetic Mountains; it rises to 5,259 ft. (1,603 m). The lowest point in the Czech Republic is on the Elba River at 377 ft (115 m).
Bohemia, mostly occupying the western half of the country, consists of a low-lying basin drained by the Elbe and Vltava rivers. Moravia, covering the eastern part of the country, is hilly land drained mainly by the Morava River.
The Oder River, one of Europe's most significant rivers, rises in the northeast, and flows north to the Baltic Sea.
With a lack of natural lakes, reservoirs are important in the Czech Republic; most are artificial lakes formed in enclosed river valleys and there are over 125 in the country.
Geography
Czech Republic
Location:
Central Europe, southeast of Germany

Geographic coordinates:

49 45 N, 15 30 E

Map references:

Europe

Area:

total: 78,866 sq km
land: 77,276 sq km
water: 1,590 sq km

Area - comparative:

slightly smaller than South Carolina

Land boundaries:

total: 1,881 km
border countries: Austria 362 km, Germany 646 km, Poland 658 km, Slovakia 215 km

Coastline:

0 km (landlocked)

Maritime claims:

none (landlocked)

Climate:

temperate; cool summers; cold, cloudy, humid winters

Terrain:

Bohemia in the west consists of rolling plains, hills, and plateaus surrounded by low mountains; Moravia in the east consists of very hilly country

Elevation extremes:

lowest point: Elbe River 115 m
highest point: Snezka 1,602 m

Natural resources:

hard coal, soft coal, kaolin, clay, graphite, timber

Land use:

arable land: 39.8%
permanent crops: 3.05%
other: 57.15% (2001)

Irrigated land:

240 sq km (1998 est.)

Natural hazards:

flooding

Environment - current issues:

air and water pollution in areas of northwest Bohemia and in northern Moravia around Ostrava present health risks; acid rain damaging forests; efforts to bring industry up to EU code should improve domestic pollution

Environment - international agreements:

party to: Air Pollution, Air Pollution-Nitrogen Oxides, Air Pollution-Persistent Organic Pollutants, Air Pollution-Sulfur 85, Air Pollution-Sulfur 94, Air Pollution-Volatile Organic Compounds, Antarctic Treaty, Biodiversity, Climate Change, Climate Change-Kyoto Protocol, Desertification, Endangered Species, Environmental Modification, Hazardous Wastes, Law of the Sea, Ozone Layer Protection, Ship Pollution, Wetlands
signed, but not ratified: none of the selected agreements

Geography - note:

landlocked; strategically located astride some of oldest and most significant land routes in Europe; Moravian Gate is a traditional military corridor between the North European Plain and the Danube in central Europe
Note: The information tabled directly above was researched by and provided by the U.S. Central Intelligence Agency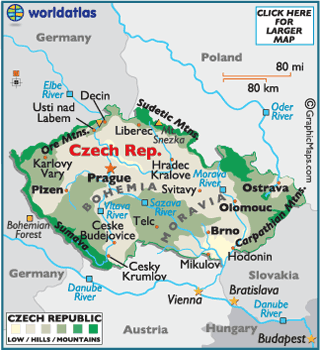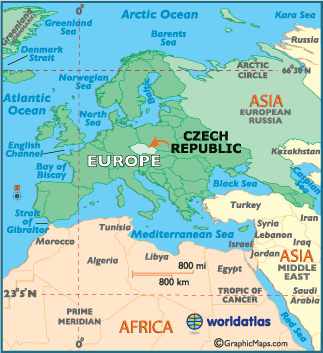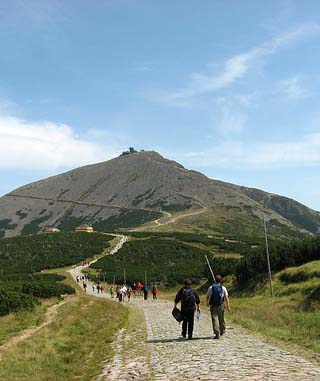 Mt. Snezka
Derbeth
at
en.wikipedia