English for "Royal Road of the Interior Land," the Camino Real de Tierra Adentro was a rugged 2,560 km long historic trade route in the Americas. This trade route linked the Spanish colonial capital of Mexico City to the colony's northern frontiers, today in the US State of New Mexico. The trail was constructed along Indigenous trading footpaths used for centuries before serving as a major transportation corridor that linked all the erstwhile Spanish Colonies in the North Americas.
In the United States, the historic trail extended from Texas' El Paso area through Socorro, Albuquerque, Las Cruces, Belen, and Santa Fe to San Juan Pueblo in New Mexico. In Mexico, the trail ran through Chihuahua, Zacatecas, San Luis Potosí, Durango, Aguascalientes, Guanajuato and Querétaro to Mexico City. The Camino Real de Tierra Adentro was actively used as a trade route for about 300 years from 1598 to 1882.
The Camino Real de Tierra Adentro trade route, therefore, functioned as a well-developed and unique communication channel that opened up the northern areas and established a multi-ethnic society leading to the exchange of cultural and religious ideas.
About 55 sites that are situated along the 1,400 km long Mexican section of the route were designated as UNESCO World Heritage Sites in 2010. The 650 km long US section of the route currently forms a part of the El Camino Real de Tierra Adentro National Historic Trail.
Brief History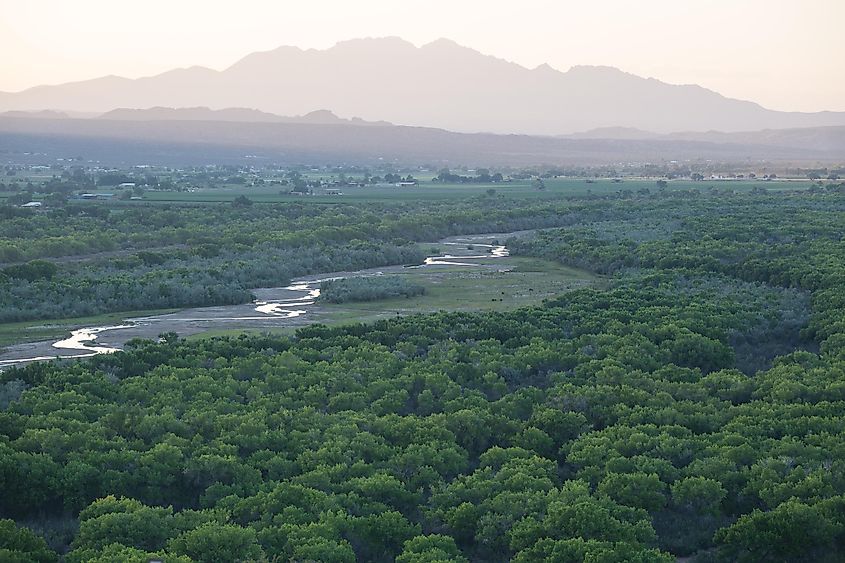 The ancient Indigenous kingdoms and tribes of north-central Mexico had established a trail that served as a trading route, connecting the inhabitants of the Valley of Mexico with the residents in the north, now US territory. In 1598, the Spanish explorer Juan de Onate, while leading a group of settlers, discovered a trail while crossing the Río del Norte River. This trail came to be known as the Camino Real de Tierra Adentro. This trail served as the northernmost of the four major "royal roads" that connected Mexico City with the other Spanish domains of Santa Fe, Audiencia, Acapulco, and Veracruz.
The Camino Real de Tierra Adentro trail greatly improved trade between the Spanish villages and helped the Spanish colonists to spread Christianity throughout their conquered areas. The trail was in use mainly for transporting silver that was extracted from the mines located in the northern areas.
From the 18th century onwards, several sites began to grow along the Camino Real de Tierra Adentro trail. These sites included villas, bridges, commercial and historical centers, temples, convents, haciendas, and a cemetery. The trail was actively used till 1881 after which railroads replaced the need for wagons. Eventually, the trails were replaced by railroads.
During the Mexican War for Independence, the trail was vital for communication between the different Mexican regions. After their independence from Spain in 1821, the Santa Fe Trail was constructed to link the city of Franklin in the US State of Missouri to Santa Fe in the US State of New Mexico.