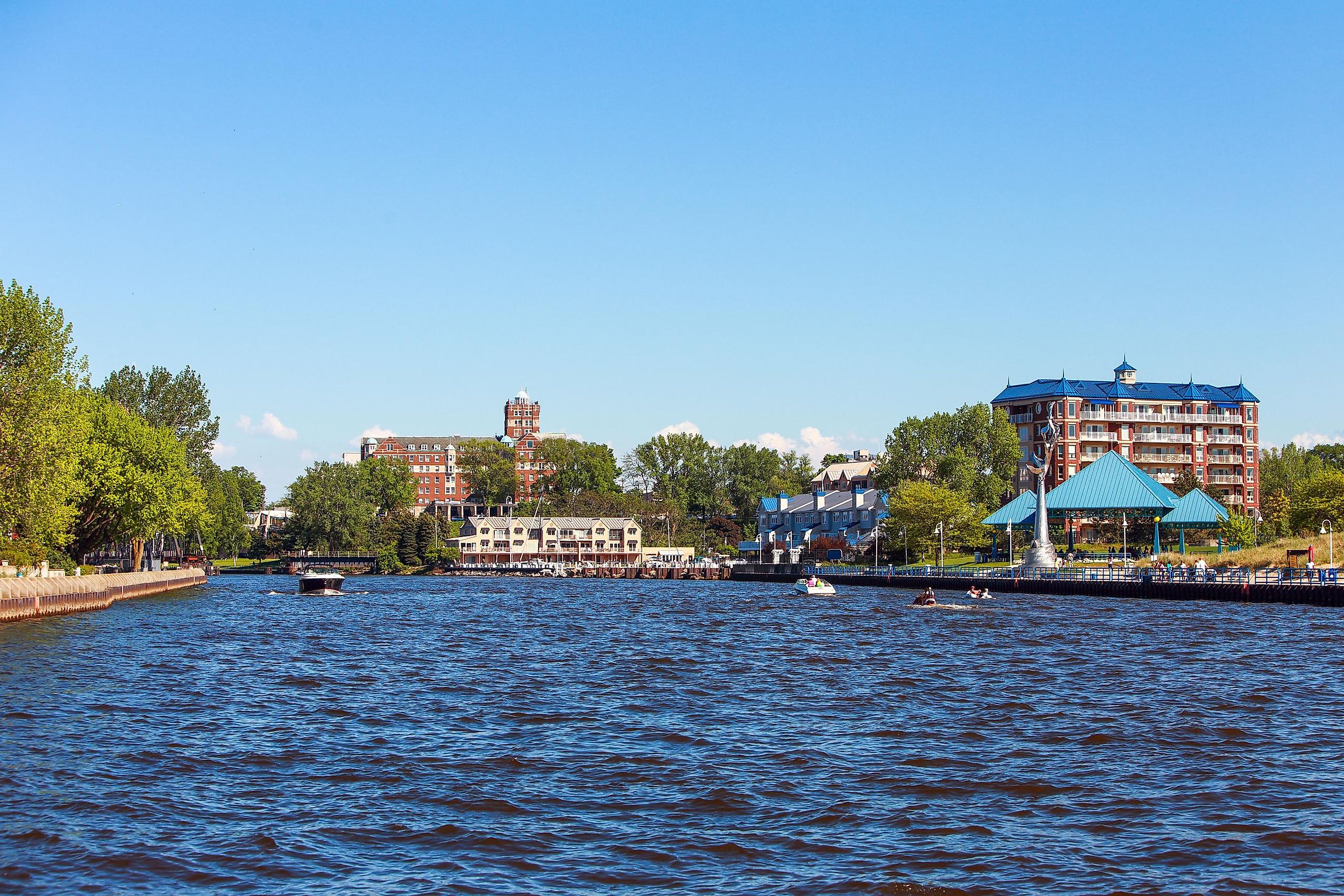 These Small Towns in Michigan Come Alive in Summer
The word "Michigan" is derived from the Ojibwa Indian "meicigama," meaning "large water," and that is quite fitting since the Wolverine State touches four of the five Great Lakes. It is hard not to near water in the state during the pleasant summer days. Enjoy easy access to Huron, Michigan, Erie, and Superior, with verdant landscapes around and calling for refreshing dips.
Chase some 150 lighthouses and stroll luscious vineyards with some of the best reasonably priced wines in the US. The Wolverine State is the only one in the country to comprise two penisulas, among many other unique characteristics. Discover what makes it so special in its small towns that come alive during the summer like no other in the United States.
Caseville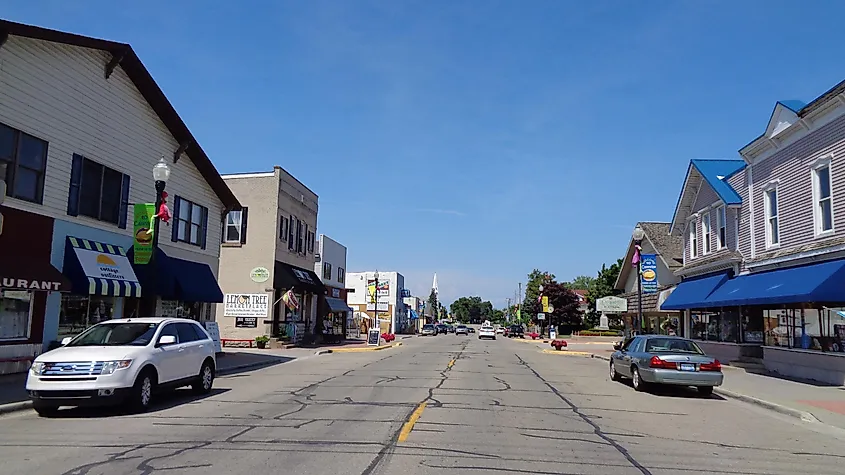 This exciting summertime getaway town is home to one of the state's most popular beaches and the one-and-only Cheeseburger in Caseville Festival. The dreamy beachscape is a boating and fishing paradise, as well as great for relaxing swims and lounges in close company. Rent a cottage for a vacation or set up camp at Caseville County Park and immerse yourself in the small-town atmosphere with memorable family experiences.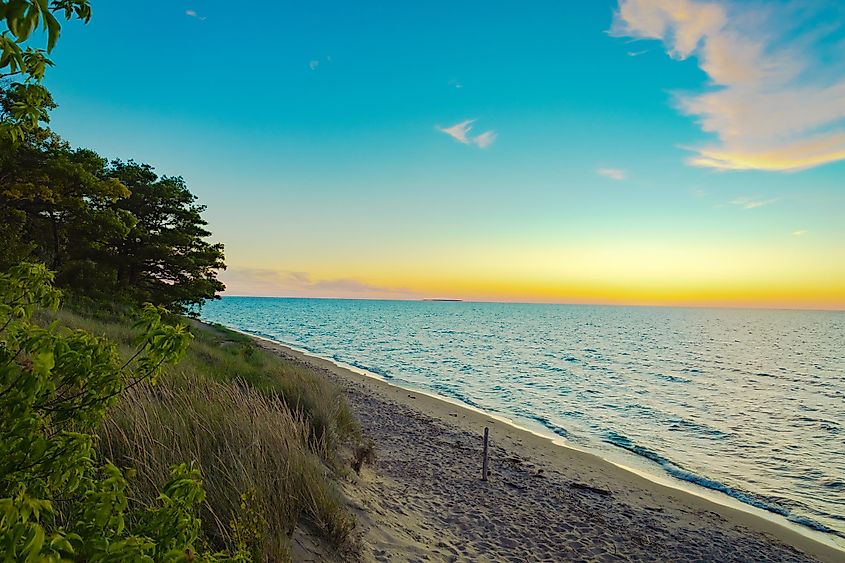 Enjoy beachfront adventures and plop down along the sands with expansive views all around. You are now primed to access Saginaw Bay or the bustling downtown area for all you culture vultures and evening wanderings. Come this summer for the annual cheeseburger event to celebrate all things Jimmy Buffett in a local setting with food and other avid foodies for the most fun time.
Clare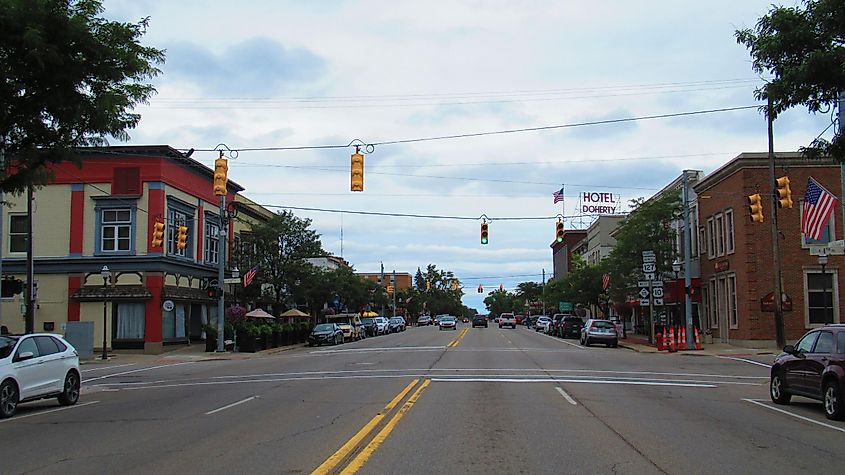 Clare, an ethereal and breathtaking town amid Michigan's heartland, is your call into the wild. Trek through the refreshing number of forests around you in their verdant summertime glory. Visit the wonderful Lake Shamrock and Pettit Park outdoor preserves with nature trails for sightseeing hikes and bike rides. The close-by Herrick Recreational Area has something fun for the whole gang to bond over and immerse themselves in for a memorable time.
Escape from the city, some 82 miles north of the capital, Lansing, to the small-town atmosphere with various recreational activities amid natural beauty and the telling nickname of the "City of Festivals." Join in the annual summer music festival with talented cross-country artists and come back for the changing foliage scenery, with new hotspots every season. The great Irish Festival on St. Patrick's Day celebration in March is a real cultural event with countless engaging experiences that bring thousands from around the region.
Copper Harbor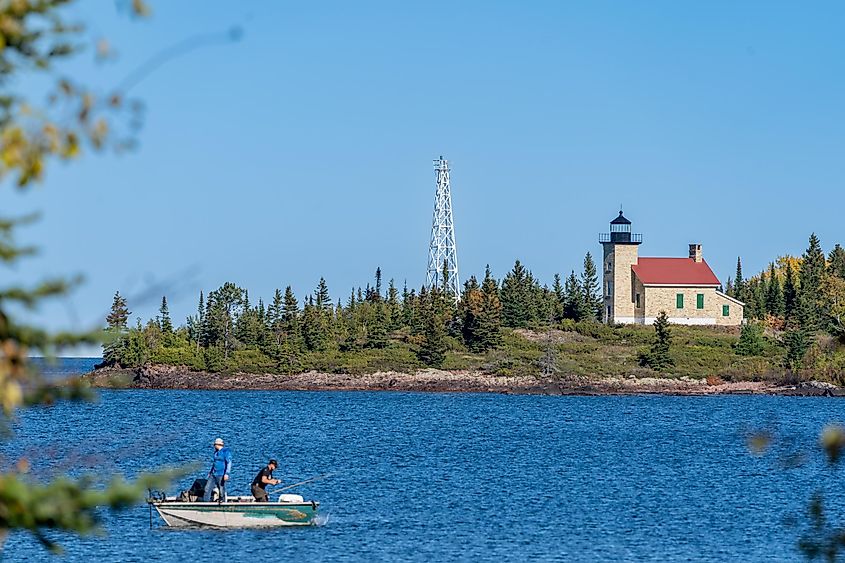 The tiny town, with around 121 residents left from its mineral rush glory, is now a summertime adrenaline junkie's paradise. Find Coppertown along the northern tip of the Upper Peninsula, with endless water views for sunset paddles and the Copper Harbor Lighthouse atop a rocky outcrop. Keweenaw Adventure Company gears you up for your favorite outdoor activities, like mountain biking to the top of Brockway Mountain, at 720 feet above Lake Superior, or racing down the IMBA-recognized Epic Rides trails.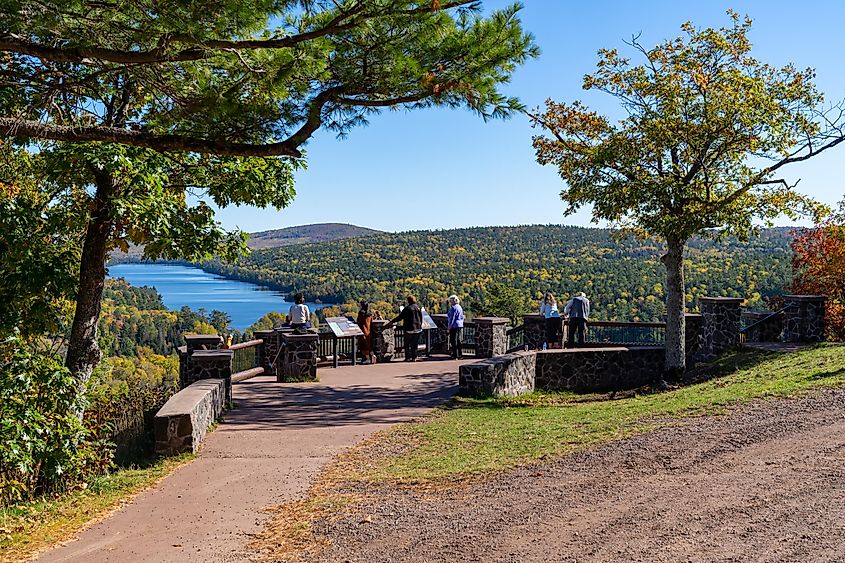 Fort Wilkins Historic State Park is great for family strolls, with sightseeing around the incredible 1844 fort and costumed characters recreating life back in the day. Enjoy picking thimbleberries around, a tradition passed down through generations, or try a puff pastry stuffed with these nutritious red berries from Jamsen's Fish Market and Bakery in town. Grab dinner at Harbor Haus and head to the waterfront on a warm summer evening to catch the sunset.
Drummond Island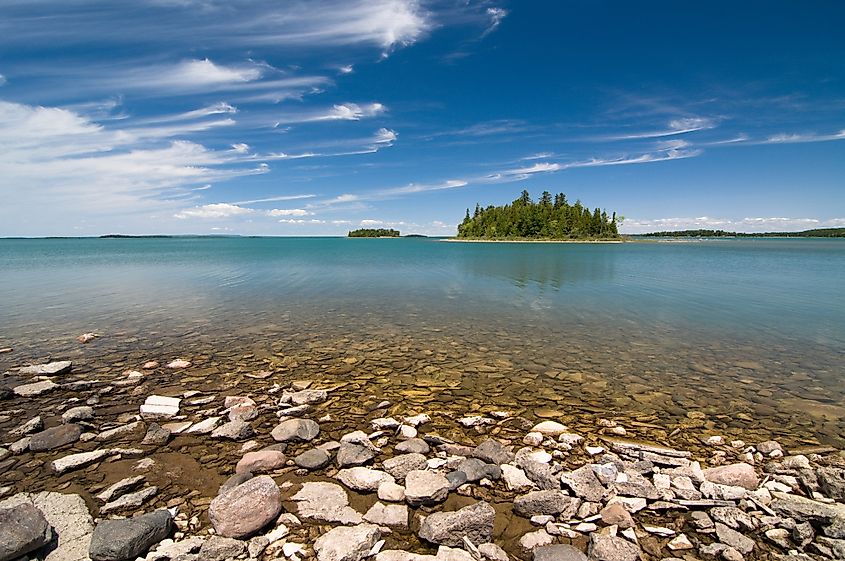 With a population of roughly 1,100, this rugged and remote island town is most lovely in the summertime. Drummond Island draws off-the-beaten-path explorers in between Michigan and Ontario, with access over a mile-long ferry ride across the St. Marys River and a kayak ride from North Haven. The island destination is well worth it for the sought-after removed feel that lends itself to pristine nature, a real dreamscape for city dwellers, and a myriad of feel-good purists in and around town.
Visit the Maxton Plains Preserve with Sandhill crane gatherings and the rare prairie smoke flowers in purple bloom through the summertime. Enjoy a relaxing paddle through limestone cliffs with Lake Huron wrecks 30 feet below, and get the adrenaline pumping via an ORV from Beaver's ATV Rentals into the furthest reaches of the island. A bed and breakfast sail on the schooner Huron Jewel will immediately loll you to sleep after a tiring day of ventures over one unforgettable night on the waters.
Frankfort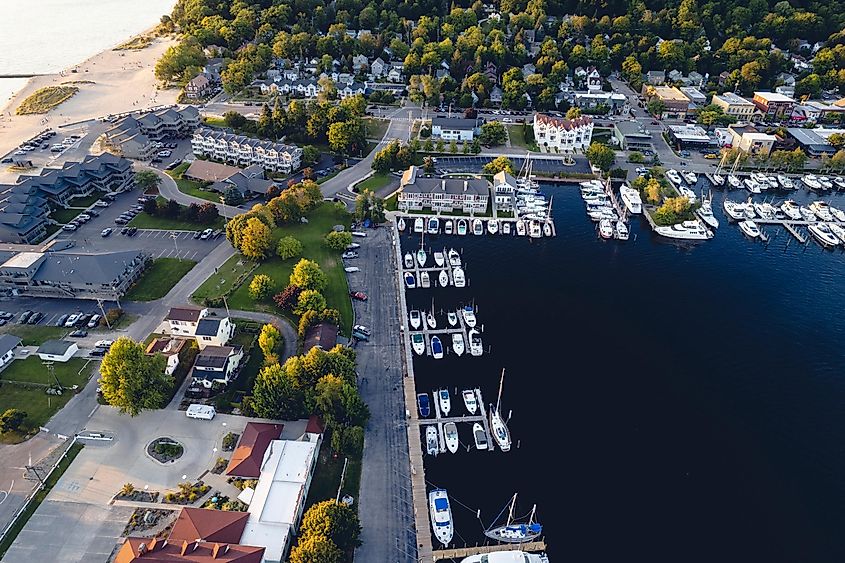 This small town along Betsie Lake's northern shore and near Lake Michigan in Benzie County is a popular summertime pitstop on M-22 for the best lake access. Come to relax on the beach with water fun and bankside recreation, and stay for the small town appeal on a getaway from the city with enough to see and do for a whole vacation. Explore the bustling downtown with a shopping district and a sprinkling of dining hotspots like Dinghy's Restaurant and Bar. Stroll on for the best view of Frankfort North Breakwater Lighthouse at the end of Main Street, with access to this 1932-built, 67-foot-tall structure via the walking pier from the beach.
Frankfort combines nature and cultural excitement for a laidback summertime getaway to the renowned Sleeping Bear Dunes National Lakeshore, just north along the highway and around Crystal Lake. From Michigan Lake beachfront to towering dune lands, there is no end to summertime ventures for outdoor lovers. Sightsee at Top Point Betsie Lighthouse, one of the state's most photographed landmarks, with local history exhibits to discover on a tour. Enjoy the best fishing on Betsie Lake in between Frankfort and Elberta, or paddle along the 22-mile Betsie Valley Trail from either town, through Beulah, to Thompsonville. The historic Garden Theatre from 1923 offers a choice of films for a cozy evening.
Ludington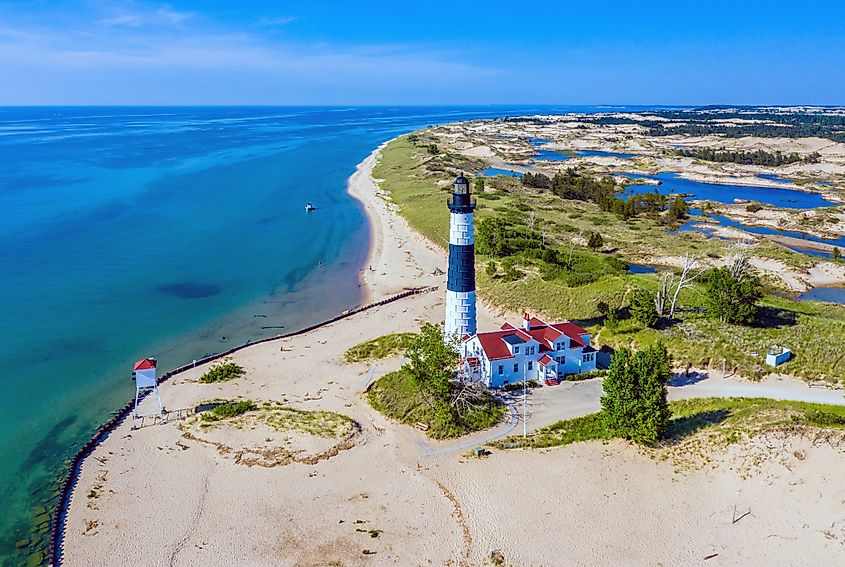 Ludington is a scenic town to visit in the summer's haze to relax with easy-going pursuits with your favorite people. Nestled on the coast of Lake Michigan, it offers the waterside vacation of your dreams, complete with a picturesquely old lighthouse and a very exciting downtown area. Stroll out and about in the sea breeze and plop down on the beach with endless views to feel the tension escape your body and worry flee from your mind.
Immerse yourself in history over a scenic drive to the unmatched Port of Ludington Maritime Museum with rich history of the area in a former coast guard station. Dive head-on into watersports with everything from kayaking, boating, and canoe rides to battling it out along the great Pere Marquette River's white waters in a rustic raft. There are plentiful hikes around for family-friendly strolls and discoveries, like the wonderful Historic White Pine Village, which recreates life from the 19th-century pioneering days through 30 historic buildings and the centerpiece of the Mason County Courthouse from 1849.
Petoskey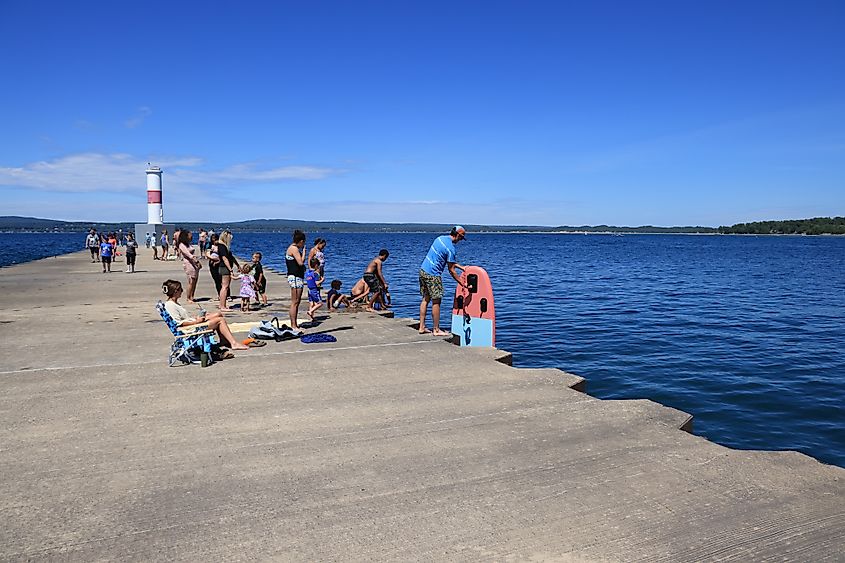 This waterfront town with its stunning historic architecture is a real Michigan gem. Discover Petoskey on a stroll or a bike ride with an array of stops for all groups, tastes, and ages, including various shopping opportunities. Stop by some top-tier breweries and wineries with cheaper price tags than the region's and grab a bottle for a sunset picnic by the scenic lighthouse view. Maple Moon Sugarbush and Winery and Petoskey Farms Vineyard & Winery call for a sunny day of exploring the grounds and a relaxing evening with a glass of your favorite wine.
The small town on the southern shore of Little Traverse Bay is a great summertime getaway, from beachcrawls to sightseeing strolls along the scenic bay, harbor, and shoreline trails. Enjoy relaxing kayaking around the bay or take on the whitewater rapids, with a 1.5-mile path alongside the Bear River for hiking and biking. The Bear River Valley Recreation Area offers refreshing solitude with hiking for all levels to viewpoints, including steep bluffs and boardwalks.
Port Austin
Port Austin is a historical village in coastal Michigan on the scenic bank of Lake Huron. The charming town comes alive during the summer and adapts to your taste in vacation pursuits or a relaxing getaway. Exchange the mundane city sights for the breathtaking Port Austin Reef Lighthouse and venture out to the geological formation of Turnip Rock.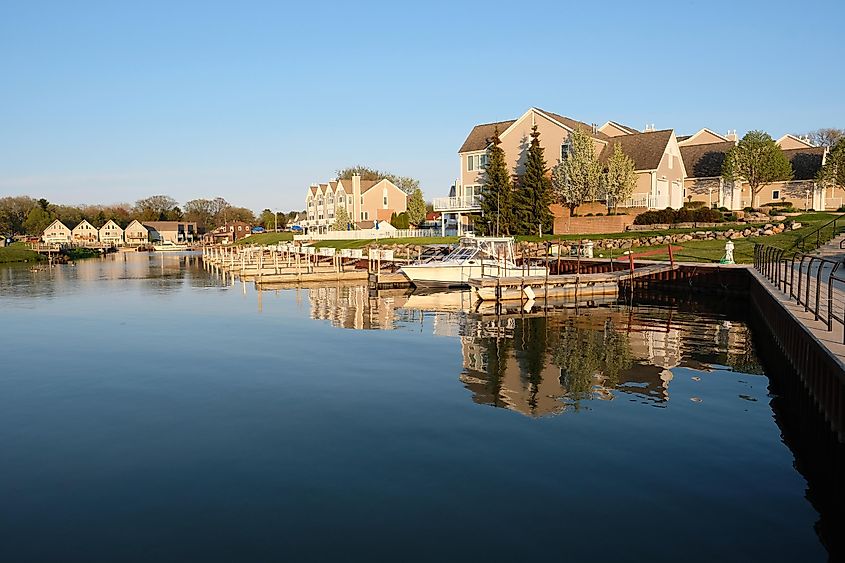 You can access the latter via a fun kayak ride for a close-up and photo session with the erect monolith out on Lake Huron, right from your boat. Visit the lighthouse via boat ride for a tour inside its statuesque structure, filled with discoveries about the relevance of the lake to the town's economy. Back on land, enjoy the notoriously vast shopping scene, from fabulous boutiques to atmospheric markets for cultural sights and fresh produce, including one of Michigan's largest farmers markets.
St. Joseph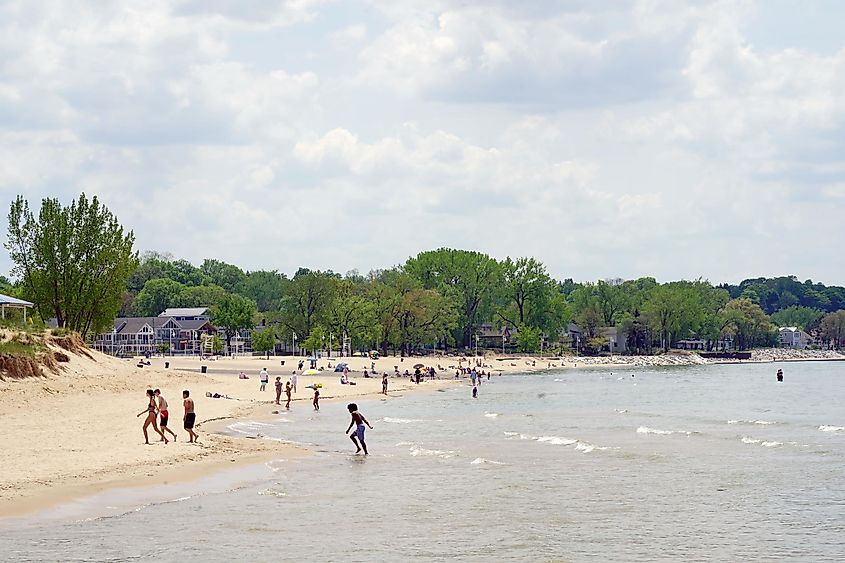 St. Joseph is a hard-to-miss town on Lake Michigan at the mouth of the St. Joseph River. It is a beautiful, historic, and vacation-friendly lakeside retreat, or a whole summertime vacation worth of sunny vibes and bonding experiences. "The Riviera of the Midwest" embraces you from the moment you arrive, with scenic views of lofty dunes and sandy beaches for every group's relaxation and recreation. Stop by the interactive children's museum, The Curious Kids' Museum and Discovery Zone, or head on a winery perusal through the area's great options.
This remote destination, holding its essential small-town charm close to its heart, adapts to your pace of vacation and choice of adventure. Check out the food and drinking scene, complete with some of Michigan's iconic dishes, breweries, and a lively nightlife. Shop til you drop downtown with countless effortlessly cute cafes to maximize your enjoyment and keep prowling. Don't forget to hit the beach along the glorious sun-kissed shoreline of "the pool of freedom" for cooling dips.
Suttons Bay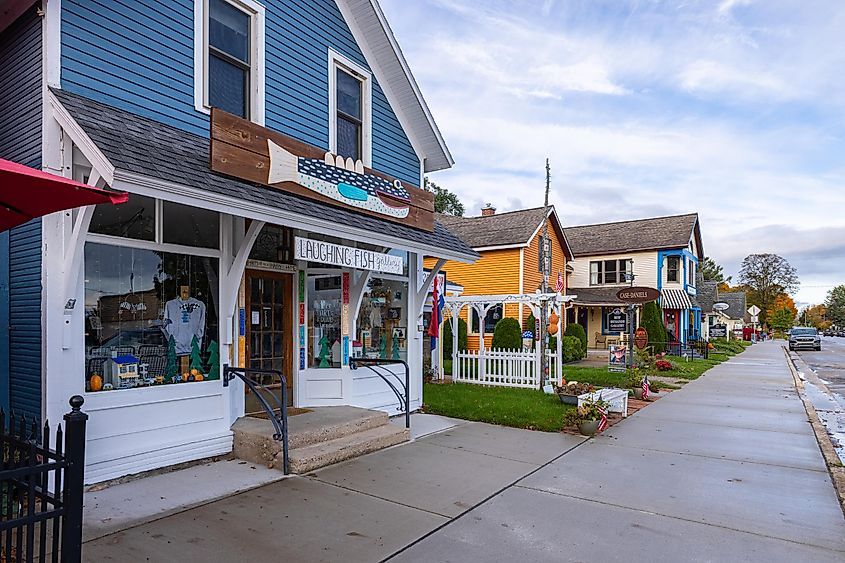 Suttons Bay is a match made in heaven getaway or summertime vacation for history fans and wine connoisseurs. Step into a time capsule vibe in this wine country heartland of Michigan, complete with a beach and coastline for relaxing, strolls, and views. The beachfront Marina Park is lined with trails for refreshing recreation or a walk along the iridescent shore with plenty of cooling dips.
The northwestern town in Michigan charms every visitor looking to escape the hustle. Peruse the marina with marvelous boats docking and departing, or take out your own schooner to splice the glittering waters under the sunset. Suttons Bay's downtown is a joy to stroll through, with marvelous storefronts and cute cafes wrapped in small-town charm. Tour a lush local vineyard and stock up on affordable bottles. The nearby verdant Huron-Manistee National Forest offers miles of hiking trails, campsites, and fun water sports for all.
From its rugged coastline to sanded beaches and rich maritime history, Michigan is also home to the world's first tunnel connecting two countries, the Detroit-Windsor Tunnel, between Detroit and Windsor in Ontario, Canada.
These special towns in the Wolverine State attain the most enchanting summertime atmospheres through their bustling downtowns and blooming nature. Stroll along the waterfront for fiery sunsets over the Great Lakes during the warm summer evenings, which embrace you in a special ambience that will forever hold a soft spot in your heart.