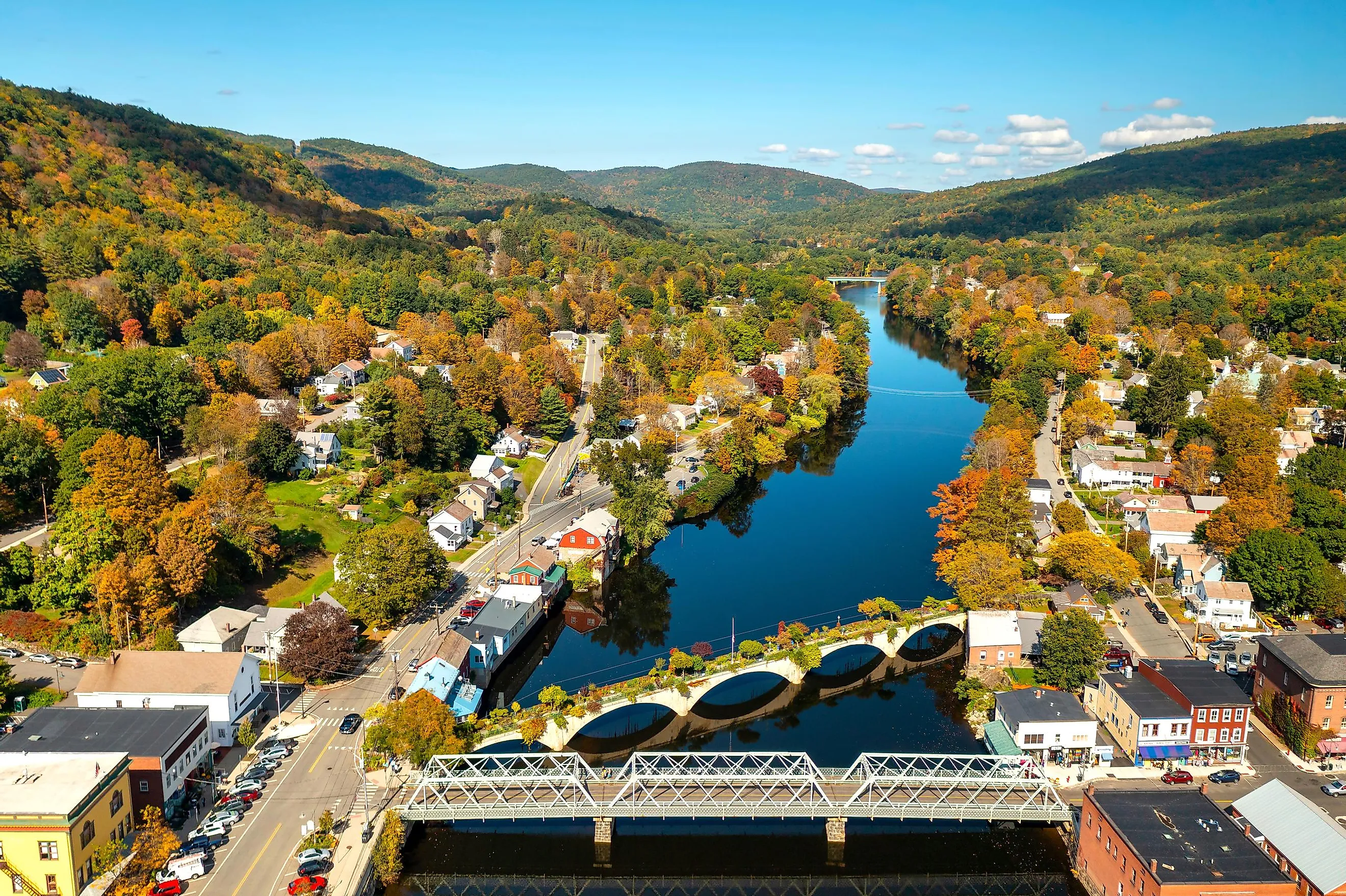 These Small Towns In Massachusetts Come Alive In Fall
New England, a region famous for its vibrant history and diverse landscapes, is by far one of the United States' most beloved fall destinations. From its majestic mountain peaks to its striking Atlantic shores, this northeast corner of the country truly has something magical for anyone to explore–much of which can be found within the borders of Massachusetts' small towns. As fall approaches and pumpkin patches brighten with new life, choose Massachusetts for your next getaway or day trip, not just for its natural splendor but for the close-knit communities in its small towns, whose autumn traditions and attractions are half the charm. Whether exploring a cranberry bog, ripe and ready for harvest, or a state park's hiking trails, enchanted with the colors of fall, these Massachusetts towns are some of the best New England offers.
Shelburne Falls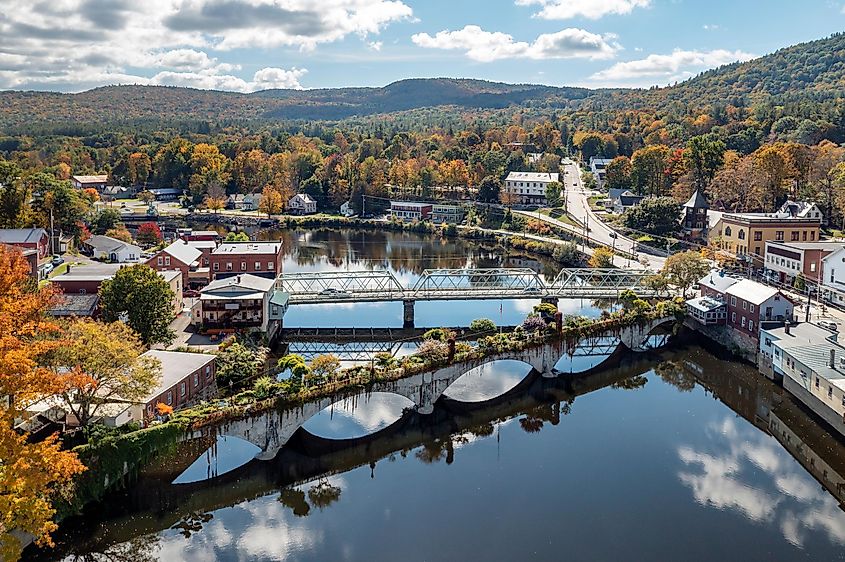 To experience the quintessential small-town charm New England is known for, visit the gracious village of Shelburne Falls. The community is a beloved Massachusetts destination year-round, favored for its views of the surrounding Berkshire Mountains and Deerfield River, but thanks to these same features, autumn is truly when the town comes alive. With the forested mountainside as your backdrop, transformed by fall's heavenly hues, stroll the riverside and take in the town's myriad of Victorian structures. Continue your walk back in time by strolling across the river on Shelburne Falls' famed feature, The Bridge of Flowers, a historic trolley bridge converted into an incredible walkable garden. It is especially worth noting that the Bridge of Flowers is set to close after October of 2023 and will not reopen until 2025 after a structural revamp is performed, so make sure to fit in a visit before then.
Great Barrington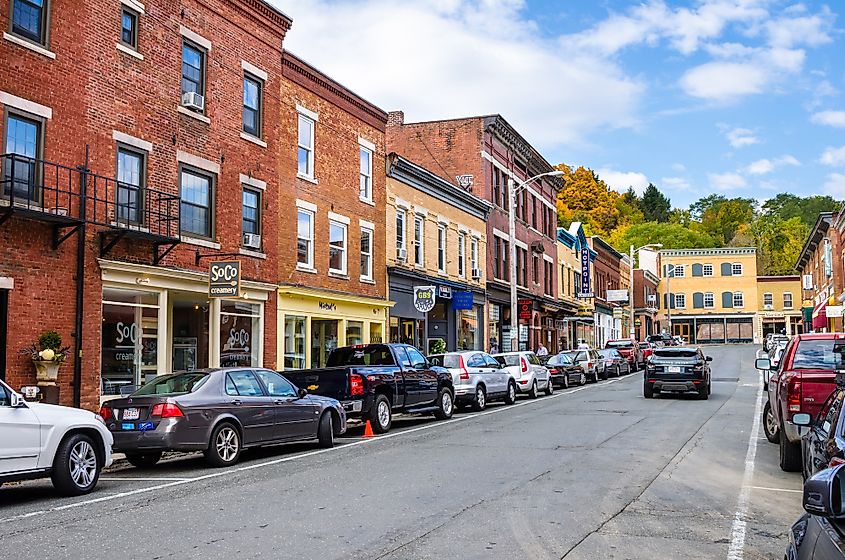 If the mountains continue to beckon you this fall, make your way to the Berkshires to experience some of Massachusetts' most sought-after peaks. Berkshire County towns like Great Barrington offer the perfect gateway to a mountain adventure, and the views are especially "great" in the autumn when the leaves change. At the town's Monument Mountain Reservation, hike the 1,642-foot Peeksakawso Peak summit to discover why famed American poet William Cullen Bryant wrote a poem titled and inspired by this very mountain in 1815 and why over 20,000 hikers adventure to its peak every year. Keep your eyes out for the bald eagles that are often reportedly seen soaring overhead, and take in the wonders of the Housatonic River Valley below.
Lenox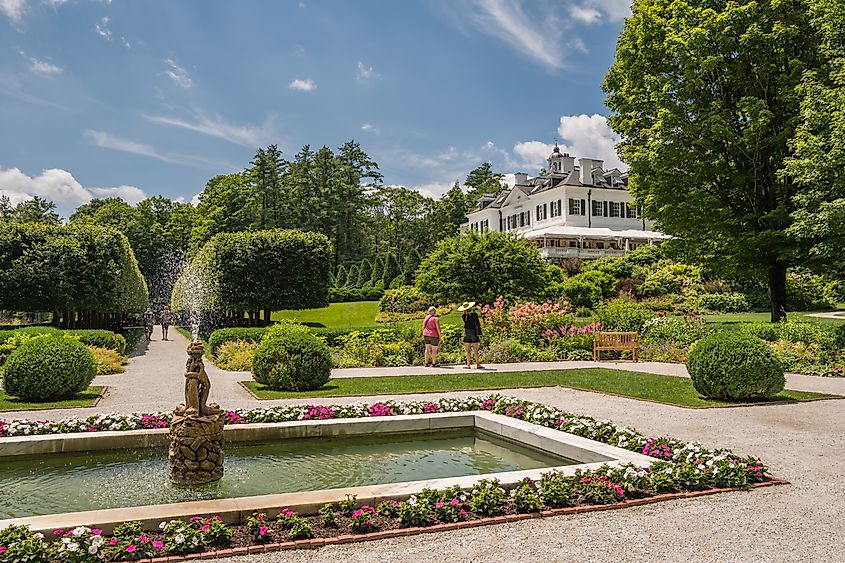 Around 20 minutes from Great Barrington, you can find the darling town of Lenox, another Berkshire County community with tons to see and do. While many think of Lenox primarily as a summer resort town, do not let this deter you from visiting in the fall; in fact, attractions like their Pleasant Valley Wildlife Sanctuary are especially vibrant in the cooler autumn months. For just $5 USD for adults and $3 USD for children and seniors, you get access to the rolling slopes of Lenox Mountain, along with more than 1,000 acres of forest, wetlands, and meadows. Hiking enthusiasts can take on the challenging 3-mile round-trip Trail of Ledges/Overbook Loop Trail, a mountain hike gaining a 2,126-foot elevation, while families and less experienced hikers will appreciate paths like the Pike's Pond Trail, a less-than-1-mile loop around the pond. Hike this trail at dusk for the chance to see the pond's beavers, and bear in mind that fall is an especially great time to witness these adorable critters in action, as they are often more active during their preparation for winter.
Middleborough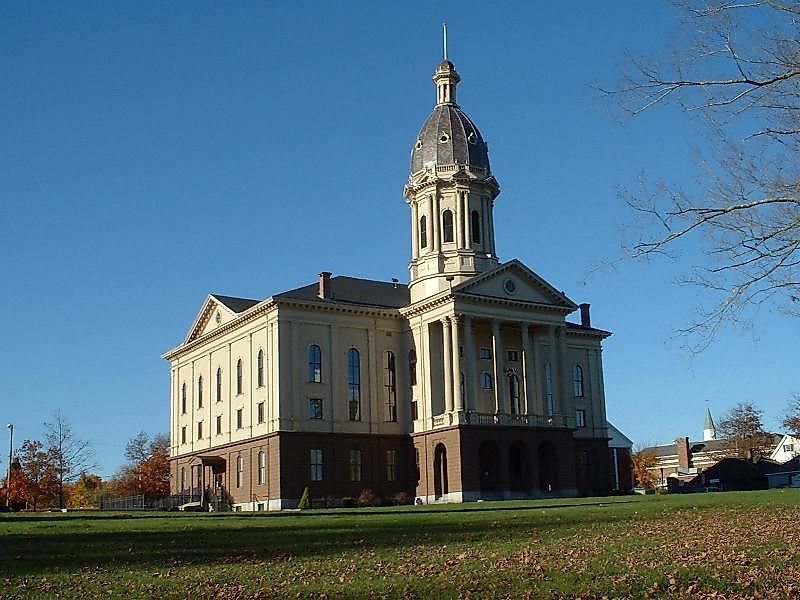 In the Massachusetts town of Middleborough, autumn is an exceptionally exciting time for residents hoping to take part in a special local custom: the cranberry harvest. As summer slips away–replaced with the cool airs of fall–Middleborough locals know the time has come to visit Benson's Pond, a family-owned cranberry farm whose 40 acres of bog make for a pretty sweet fall activity. For an amazing hands-on experience, during the window of October 6th to October 8th of 2023, you can actually participate in the farm's cranberry harvest. Reserve your spot through their website, and be prepared to wade into the bog for this 2-hour experience, followed by some scrumptious cranberry goodies. If these early October dates are a no-go for your schedule, the farm also offers scenic tours of the grounds and bogs; just make sure to call or email ahead to book an appointment.
Williamstown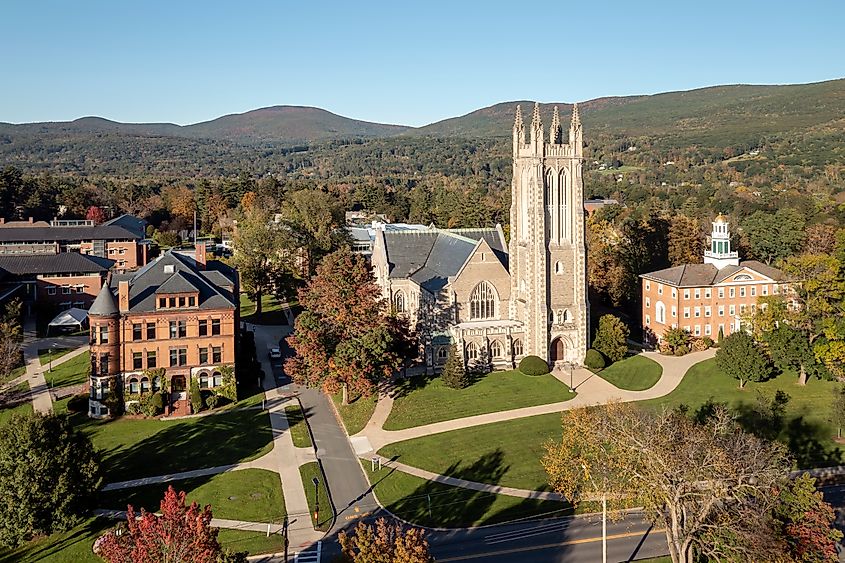 For a day of wholesome family fun, Williamstown is another Massachusetts community that savors fall's splendor in the form of a local custom: their Fall Harvest Festival. Located at the Williamstown Historical Museum, this year, the festival will take place on October 8th, and all those who attend will get the chance to mingle amongst the live music, vendors, raffles, and carnival booths in celebration of the changing seasons. If your calendar is booked this day, Williamstown is still worth a visit for its incredible pockets of nature; places like the Mountain Meadow Preserve, for instance, include a scenic mix of forest, wetland, and meadow, luring nature enthusiasts and hikers hoping to take in the golds and ambers of fall. From a tree-covered ridge along the meadow, pause to take in the sights before continuing your ascent, reaching heights over 1,100 feet tall.
Concord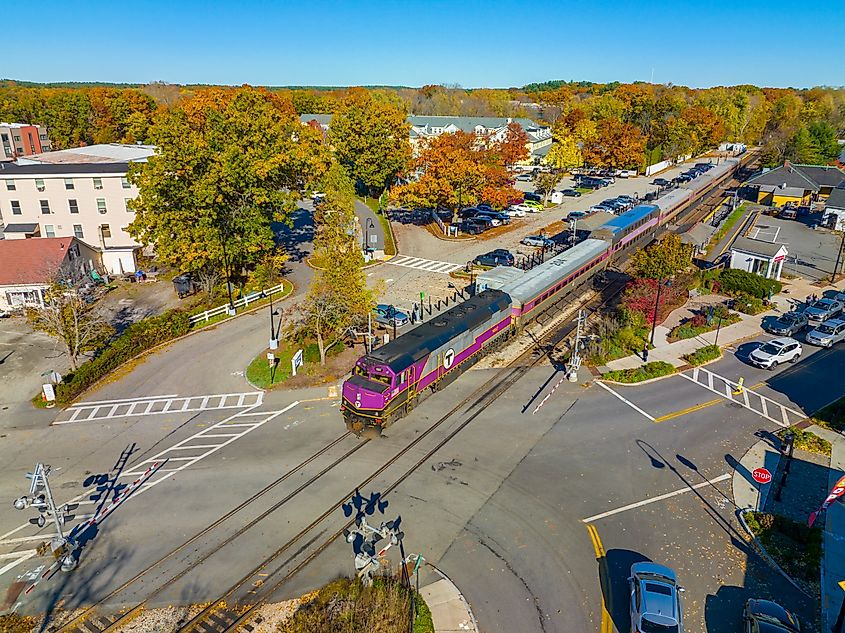 Another town with fall foliage that draws in hiking enthusiasts would be the sleepy town of Concord, whose endless natural beauty makes it a favored setting to experience the shifting seasons. The Brewster's Woods Wildlife Sanctuary is just one example of Concord's many popular nature spots, offering views of the Concord River along the 130-acre property. Hike the easy half-mile River Loop Trail for a serene riverside stroll, keeping an eye out for the beavers and muskrats on your journey. Alternatively, locals may point you to the ever-popular Walden Pond, whose tree-surrounded shores take on a certain magic in the fall, leaves scattered to the pond's clear surface for a truly enchanting effect. The Walden Pond Path is a great way to view the landscape from various angles, taking most hikers less than 40 minutes to complete.
Salem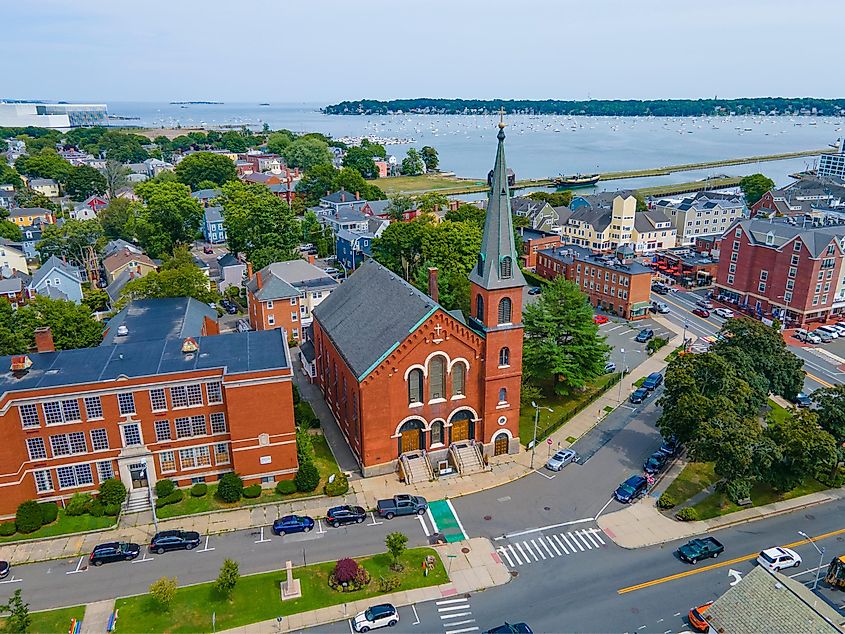 Unlike other small towns whose populations rise in the summer, Salem, Massachusetts is at its busiest and liveliest in the fall months. With just under 45,000 residents as of 2021, and hundreds of thousands of visitors in October of 2022, you may not get the same small-town feel in Salem as you would in other New England small towns, but the spirited population is to be expected, given Salem's history. The town, of course, is famous for its historic witch trials, which is by far the main draw of Salem; its nature, however, is equally bewitching and well worth exploring–especially if you would prefer to avoid the crazy seasonal crowds. In that case, make your way to Salem Woods, a 160-acre area with a diverse blend of forest, freshwater marsh, and open field. For views of the marsh and surrounding fall foliage, hike trails like the Salem Woods Loop, whose 2-mile route is described as challenging but well worth the effort.
Newburyport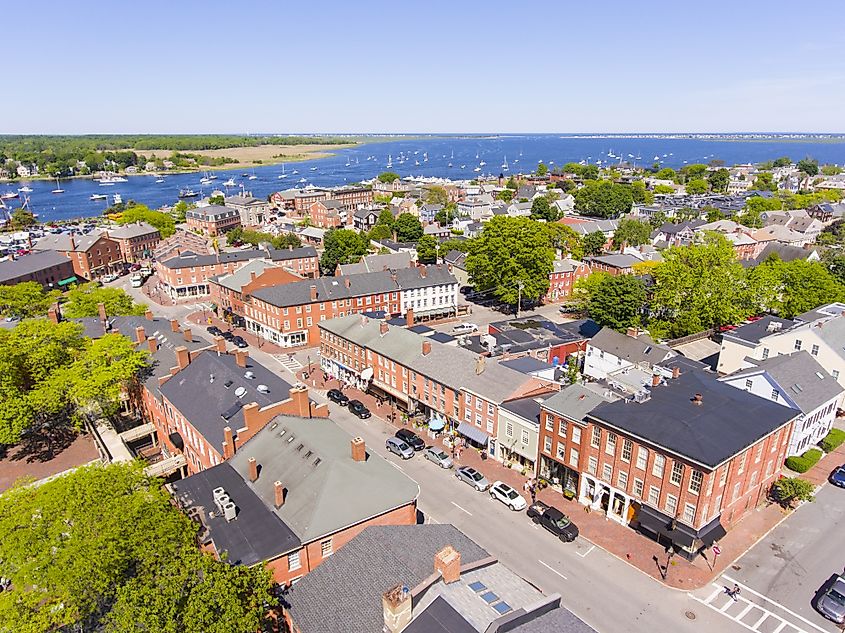 Less than an hour north of Salem, the charming coastal town of Newburyport offers a much quieter–yet all the while lively–atmosphere during the fall. And while we may not associate the Atlantic Ocean with the cool air of autumn, this is actually a fantastic time of year to stroll its shores since the beach will be far less busy. Plum Beach Island (a barrier island in Newburyport) is a great option for a scenic beach hike, as its North Point offers stunning views where the Atlantic Ocean and Merrimack River combine streams, along with views of the historic Plum Island Lighthouse. Alternatively, for a non-coastal adventure, Newburyport is also home to Maudslay State Park, whose 16 miles of trails take you through incredible 19th-century gardens, meadows, and towing pine forests.
Whether a mountainside hike in the Berkshires is your call-to-fall or a crisp beach stroll along the Atlantic, Massachusetts has it all, from its peaks to its shores. While many of these towns come alive in the summertime, their communities only continue to thrive in the fall–sometimes even more so. And although most of these towns may not attract the same shoulder–to–shoulder crowds as Salem, they are no less spirited; in fact, as the leaves change color, expect these communities to come alive in celebration of the shifting seasons. To experience a true New England autumn, visit any of these Massachusetts towns and share in the bliss of waving summer farewell.