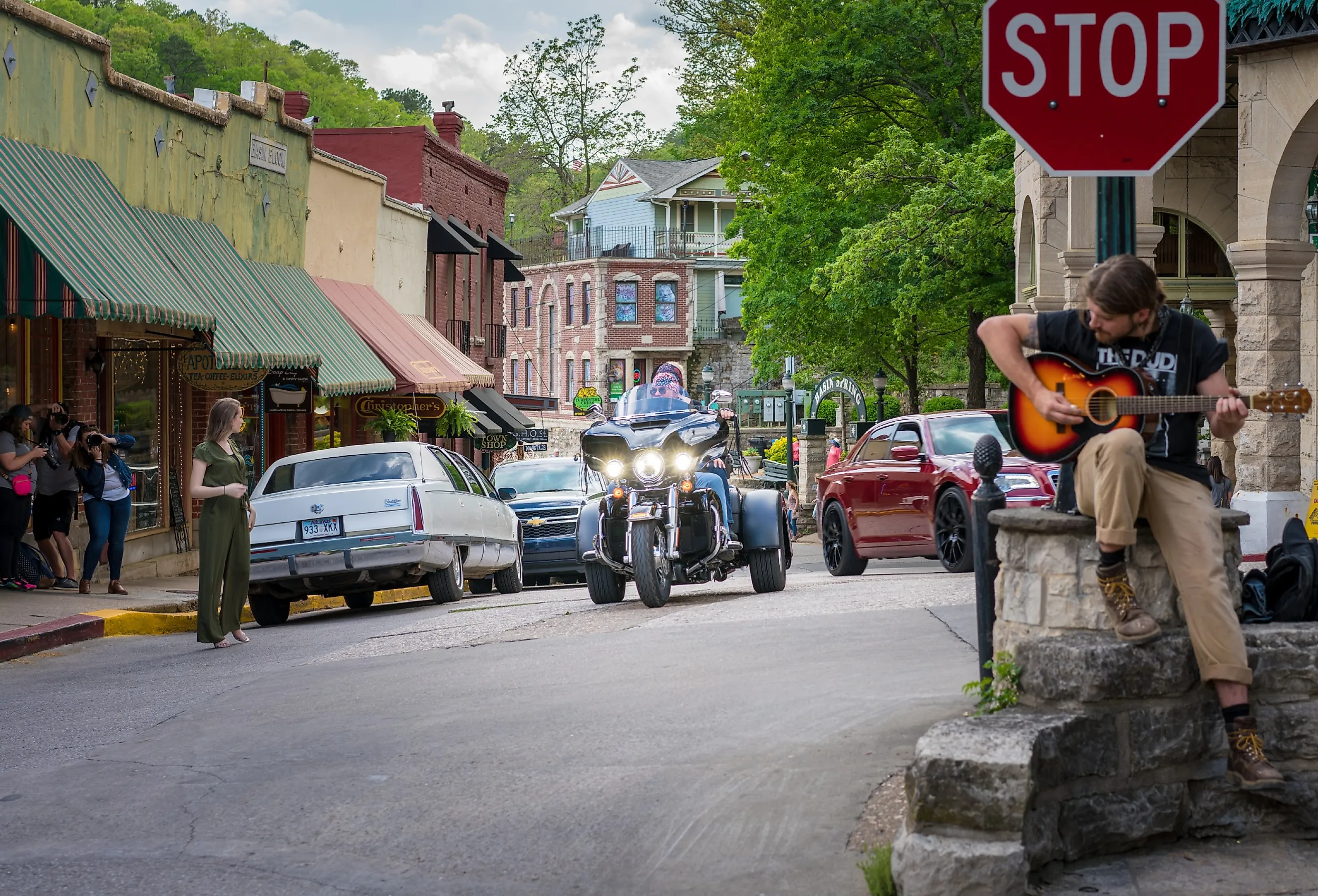 These Small Towns in Arkansas Come Alive in Summer
Arkansas, known as the Natural State, entices travelers with its plethora of charming cottage towns. As summer arrives, these picturesque destinations come alive, attracting a surge of visitors eager to immerse themselves in the region's captivating landscapes, thrilling outdoor activities, and inviting sense of community. Embark on a journey through the captivating small towns in Arkansas, where the enchantment of summer casts its magical spell, breathing life into these remarkable destinations.
Eureka Springs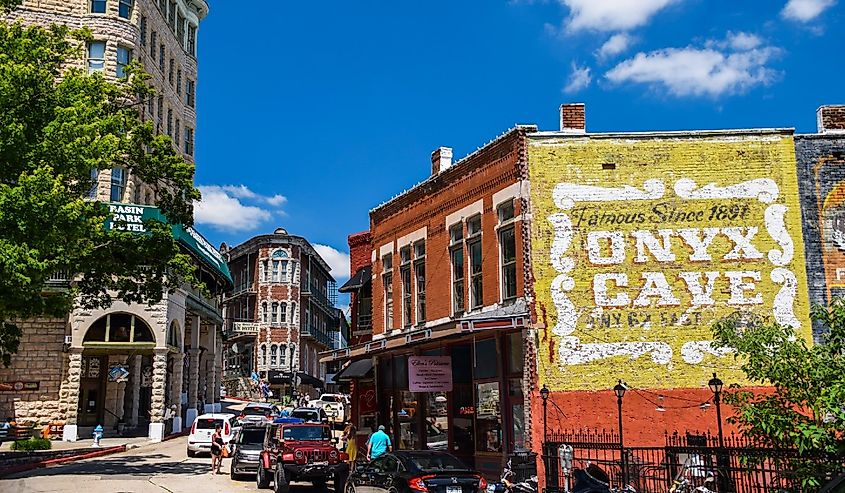 Nestled in the Ozark Mountains, Eureka Springs is renowned for its Victorian charm and whimsical architecture. The town springs to life during the summer, hosting a myriad of festivals that captivate both locals and visitors alike. From the vibrant May Festival of the Arts, where the town's streets transform into an open-air art gallery, to the Eureka Springs Blues Weekend, which fills the air with soulful melodies, there is something for every artistic taste. As you explore the town's enchanting streets, be sure to dine at one of the inviting restaurants with picturesque patio settings, such as Local Flavor Café, where you can savor mouth-watering dishes while enjoying the summer breeze.
Hot Springs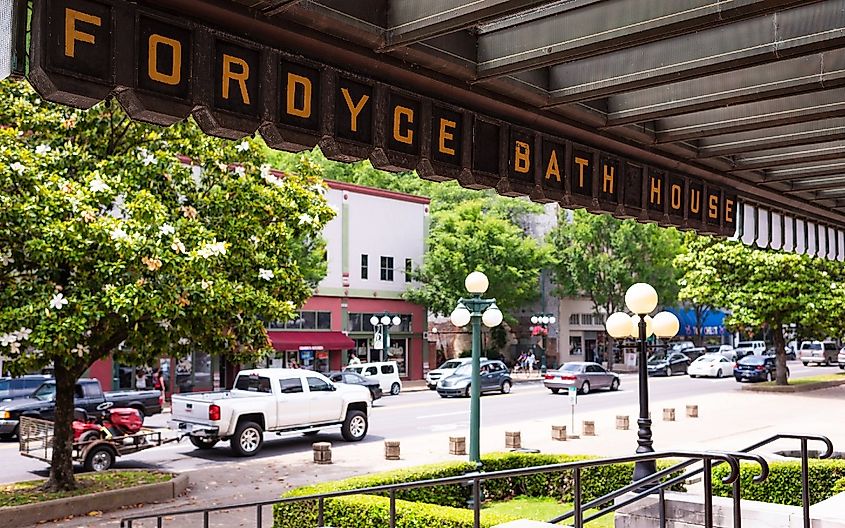 Famed for its healing thermal waters, Hot Springs invites travelers to indulge in its tranquil spas and bathhouses. During the summer months, the town pulsates with lively festivals that unite residents and visitors in celebration. The Hot Springs Music Festival enchants audiences with its classical and chamber music performances, while the Hot Springs Craft Beer Festival offers a delightful blend of craft brews, live music, and local cuisine. Beyond the festivals, tourists flock to Hot Springs to explore attractions like Garvan Woodland Gardens, a botanical paradise, and Oaklawn Racing Casino Resort, where gaming and horse racing excitement awaits.
Mountain View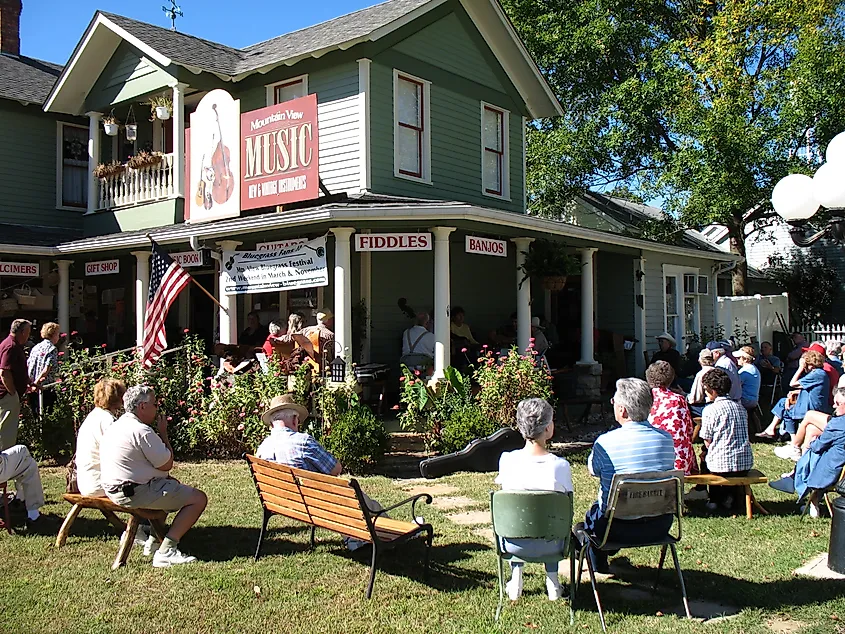 Dubbed the "Folk Music Capital of the World," Mountain View is a haven for music enthusiasts during the summer season. The Ozark Folk Center takes center stage, showcasing traditional crafts and lively performances that celebrate the region's rich heritage. The town's courthouse square becomes a gathering place for impromptu jam sessions, where talented musicians and eager listeners come together to create an unforgettable atmosphere. Aside from the music scene, visitors can explore Blanchard Springs Caverns, an awe-inspiring underground wonder, or indulge in outdoor recreational activities such as hiking along the picturesque Ozark trails or fishing in the nearby White River.
Greers Ferry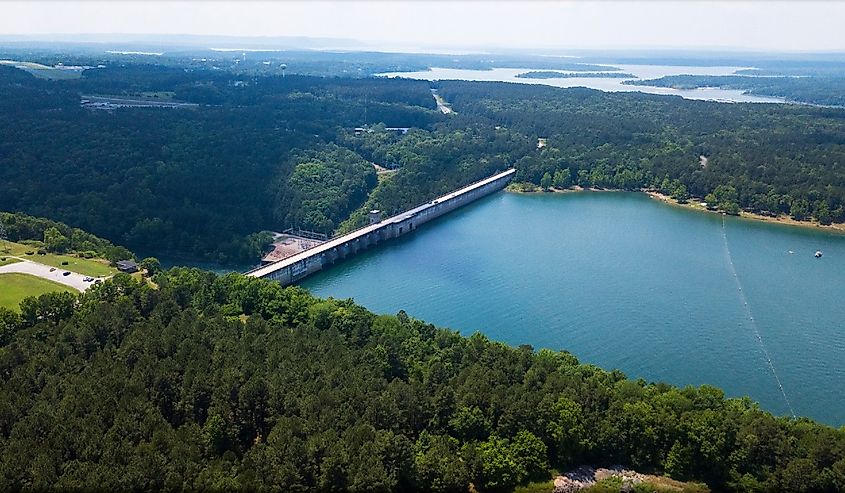 Greers Ferry features a number of exciting water-based activities around its namesake lake. Greers Ferry Lake becomes the centerpiece of fun and adventure, attracting locals and tourists alike and really coming alive in the summer. Boating enthusiasts can take their boats out on the shimmering waters, while fishing enthusiasts can try their luck at catching bass or trout. The lake also offers opportunities for swimming and jet skiing, providing endless entertainment for water lovers. Don't miss the Greers Ferry Fourth of July celebration, which showcases spectacular fireworks over the glistening lake. Aside from the lake, there are other attractions to explore in Greers Ferry, such as the National Fish Hatchery, where visitors can learn about fish conservation and even feed the fish. Nature lovers can also visit Sugar Loaf Mountain, which offers breathtaking views of the surrounding landscape. Hiking trails such as the Mossy Bluff Trail and the Bridal Veil Falls Trail provide opportunities to explore the natural beauty of the area.
Fairfield Bay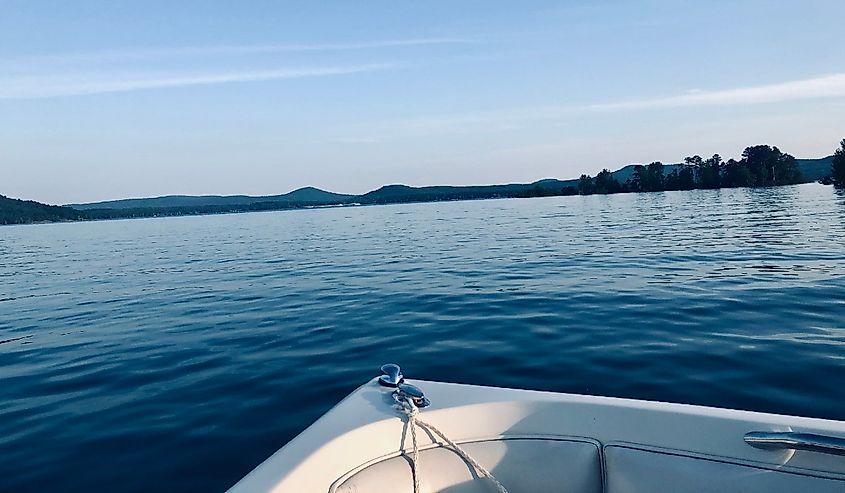 Greers Ferry Lake's shoreline is also home to Fairfield Bay, a vibrant retreat town that is a must-visit in the summer. Fairfield Bay offers a wide range of outdoor activities surrounded by the picturesque beauty of the Ozark Mountains. Golf enthusiasts can tee off at the pristine Indian Hills Golf Resort or the Mountain Ranch Golf Club, both of which provide challenging courses with stunning views. Hiking enthusiasts can explore the trails in the Bay View Trail System, including the Indian Rock Cave Trail, which leads to fascinating rock formations and cave structures. For a leisurely day by the water, visitors can enjoy the marina or unwind on the sandy beaches, taking in the scenic views of the lake.
Heber Springs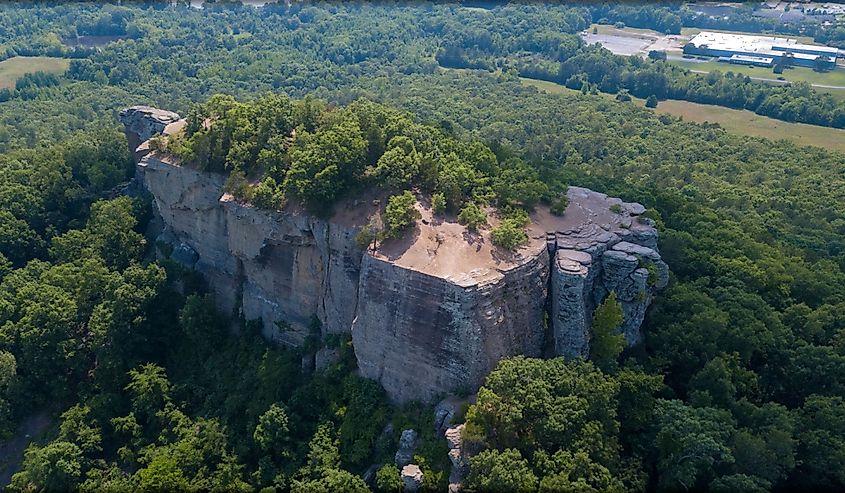 Heber Springs, nestled between the Little Red River and Greers Ferry Lake, is a paradise for fishing enthusiasts during the summer months. The town bustles with activity as summer approaches, drawing fishermen in search of prize trout and families looking to enjoy boat excursions on the beautiful lakes. After a day on the water, visitors can explore the inviting downtown area, where you will find charming boutique shops such as Makers Market and coffee shops like Jitterbug Coffeehouse. The quaint and friendly atmosphere of the downtown area adds to the overall appeal of Heber Springs, making it a great destination for a summer getaway.
Bull Shoals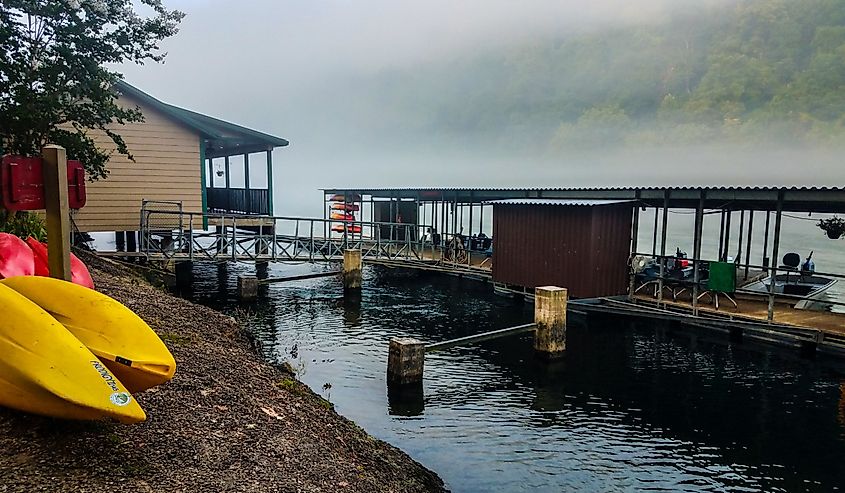 Situated on the White River, Bull Shoals becomes a bustling town during the summer, attracting tourists with its superb fishing opportunities and serene ambiance. In Bull Shoals, the stunning White River takes center stage, offering excellent spots for fishing, boating, kayaking, and nature exploration. After a day on the water, visitors can enjoy a leisurely lunch at spots like Gaston's White River Resort, which offers delicious meals with a scenic view of the river. To appreciate the engineering marvel and significance of the Bull Shoals Dam, tourists can visit the Bull Shoals-White River State Park Visitor Center, where they can learn about the dam's role in flood control and hydroelectric power generation. The town's vibrant summer atmosphere, with boaters, kayakers, and nature lovers enjoying the river, creates a lively and inviting environment for visitors.
Norfork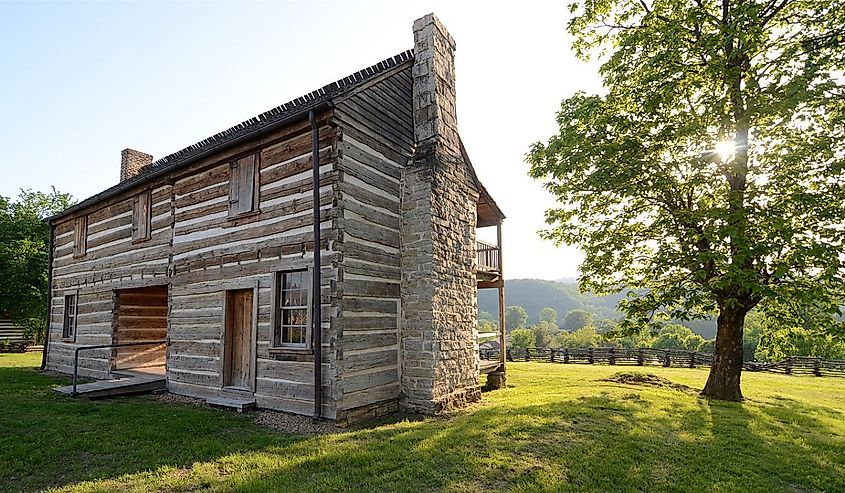 Norfork, a hidden gem for outdoor enthusiasts, is ideally located near the meeting point of the White and North Fork Rivers. The rivers are the main attraction, providing opportunities for fly fishing, kayaking, and enjoying stunning river canyons. Norfork has a welcoming atmosphere with friendly locals and a sense of community fostered by events like the Norfork Farmers Market, where visitors can browse fresh produce and artisanal goods. The combination of outdoor adventures and community events makes Norfork an excellent destination for a memorable summer vacation.
Bella Vista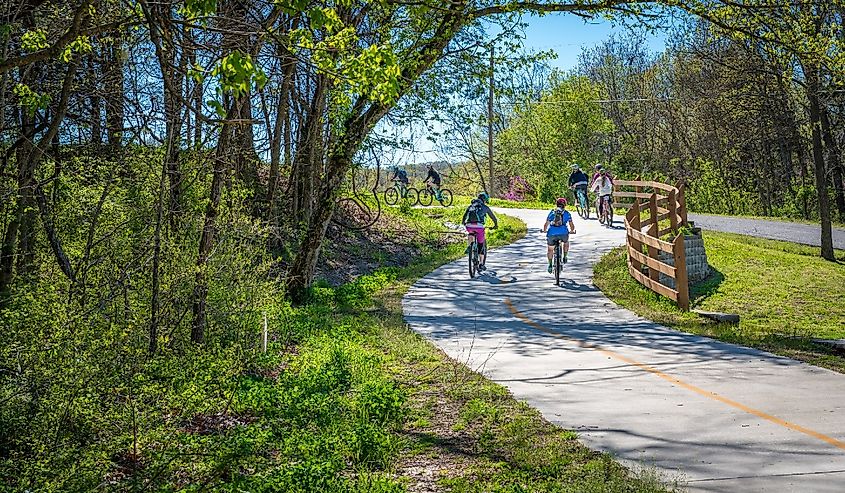 Bella Vista, nestled in the picturesque Ozark Mountains along the Missouri border, is a true paradise for golfers, cyclists, hikers, and nature enthusiasts. Bella Vista offers a variety of amenities surrounded by the breathtaking natural beauty of the region. Golf enthusiasts can enjoy top-notch golf facilities at courses like Bella Vista Country Club, Highlands Golf Course, and Scotsdale Golf Course, all of which provide challenging fairways with stunning views. Hiking trails such as the Tanyard Creek Nature Trail and the Blowing Springs Park Trail allow visitors to explore scenic landscapes and encounter wildlife. In addition to outdoor activities, visitors can immerse themselves in the local culture by attending outdoor concerts at the Mildred B. Cooper Memorial Chapel or browsing the vendors at the Bella Vista Farmers Market. The combination of outdoor adventures, cultural events, and stunning mountain scenery makes Bella Vista an ideal destination for a vibrant summer experience.
Cherokee Village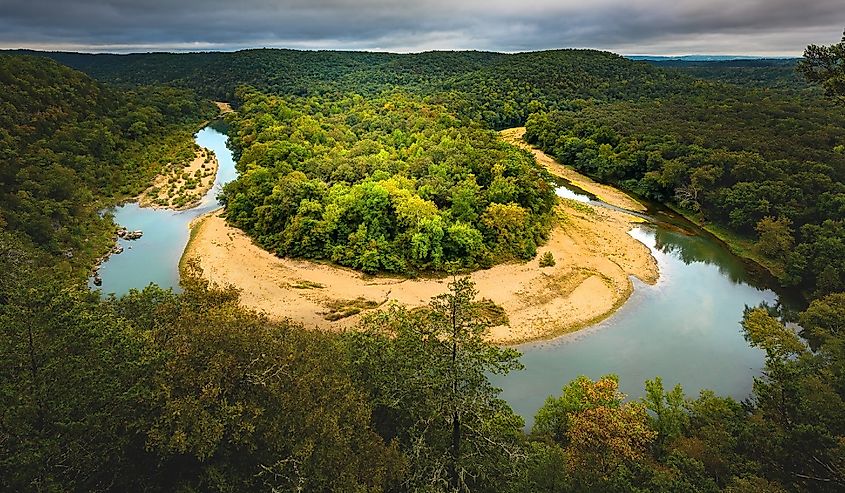 Cherokee Village, a picturesque lakeside village, thrives during the summer months with its own seven serene lakes including Lake Thunderbird, Lake Aztec, Lake Sequoyah, Lake Cherokee, Lake Omaha, Lake Navajo and Lake Chanute. The lakes of Cherokee Village provide a tranquil setting for fishing, swimming, and boating. Among the lakes, Lake Omaha is particularly popular in the summer for recreational activities, with its sandy beaches and clear waters. To delve into the town's rich Native American legacy, visitors can explore historical monuments like the Cherokee Village Historical Society, committed to preserving the area's indigenous history. Cultural activities such as powwows and storytelling events are often organized during the summer months, allowing visitors to immerse themselves in Cherokee traditions and folklore. The combination of natural beauty, historical significance, and cultural experiences makes Cherokee Village an enchanting destination for a summer escape.
Hardy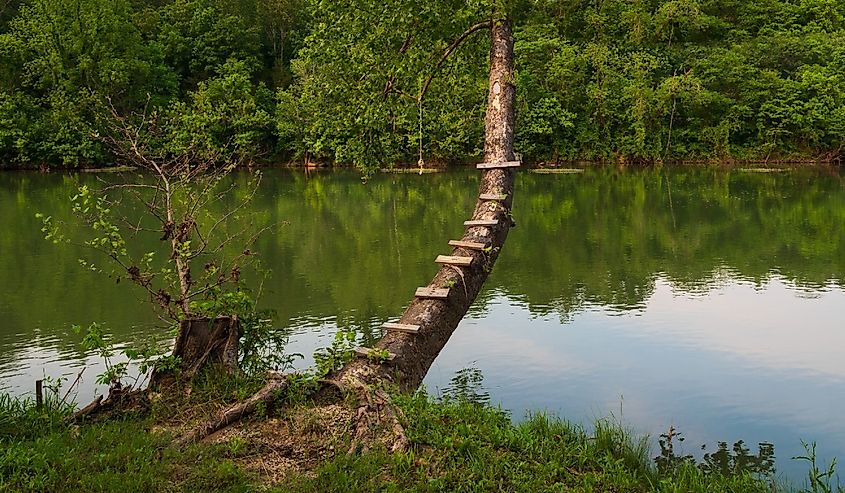 Hardy, a community adjacent to the Spring River, exudes Southern friendliness and charm, especially during the summer. Hardy's Spring River becomes the main attraction, offering a refreshing escape for tubing, canoeing, and kayaking. After enjoying water adventures, visitors can take a leisurely stroll through the historic downtown area, where they will find a plethora of antique stores at Memory Lane Mall. Art galleries like the Spring River Art Gallery showcase the works of local artists or check out the Hardy Sweet Shop. The combination of water activities, unique shopping experiences, and culinary delights makes Hardy a must-visit destination for a memorable summer getaway.
Lake Hamilton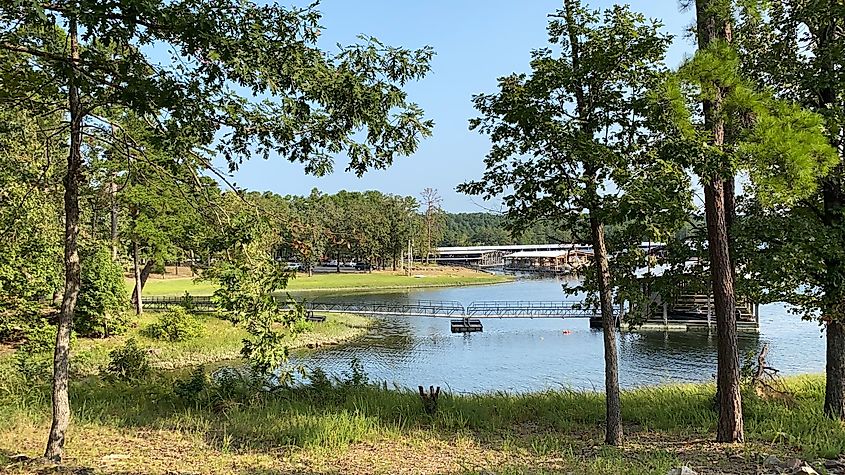 Lake Hamilton, located near Hot Springs, becomes a vibrant town in the summer, attracting visitors with its stunning lake views and a wide range of recreational activities. Lake Hamilton provides the backdrop for boating, waterskiing, and fishing adventures. The town of Lake Hamilton itself comes alive with a bustling atmosphere, thanks to its vibrant marinas, such as Salty Dog Marina and nearby Paradise Cove Marina, where visitors can rent boats or join guided tours. Along the shoreline, there are several lakeside resorts and hotels, including Emerald Isle Resort and Lookout Point Lakeside Inn, for extended stays. Additionally, Lake Hamilton hosts various summer events, such as outdoor concerts and festivals, which add to the lively ambiance and make it an exciting destination for a summer vacation.
The summer months are a time of convergence for nature, community, and adventure in these charming cottage communities in Arkansas. These small towns really come alive, offering a warm welcome and the ability to make priceless memories, whether you are looking for relaxation, outdoor excitement, or a cultural experience. Pack your luggage, enjoy the summer breeze, and explore the beauty that lies within Arkansas.