The United States is experiencing one of the fastest sea level rises in the world, with many renowned cities along the coasts also in the way of severe storms. These eight cities subject to flooding from climate change effects are most likely to disappear by 2100.
Atlantic City, New Jersey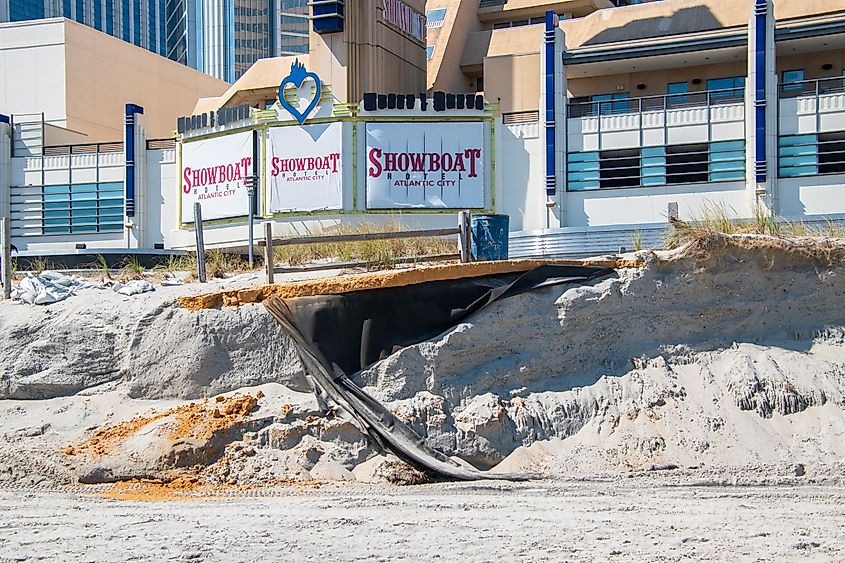 Hurricane Sandy ravaged Atlantic City into shocking disarray in 2012, flooding 70% to 80% of the city. Some areas were 8 feet drowned at the heart of the storm, while the lovely boardwalk was left a mess of wooden planks and sand. Citizens waded knee-deep in the aftermath of the "once-in-700-year storm" that was a premonition to the onset of climate change effects. It is projected that Atlantic City will see more frequent and severe storms in the near future, with a likelihood of drowning by 2100.
Half the habitable land could be underwater, and over one-third of the city's homes could face flooding, with property damage of $1.1 billion by 2060. By 2100 Atlantic City might be the Atlantic, with 93% of the habitable land submerged and over half-the homes at risk. To make matters worse, a major sea-level rise is slowly engulfing the city. 
Charleston, South Carolina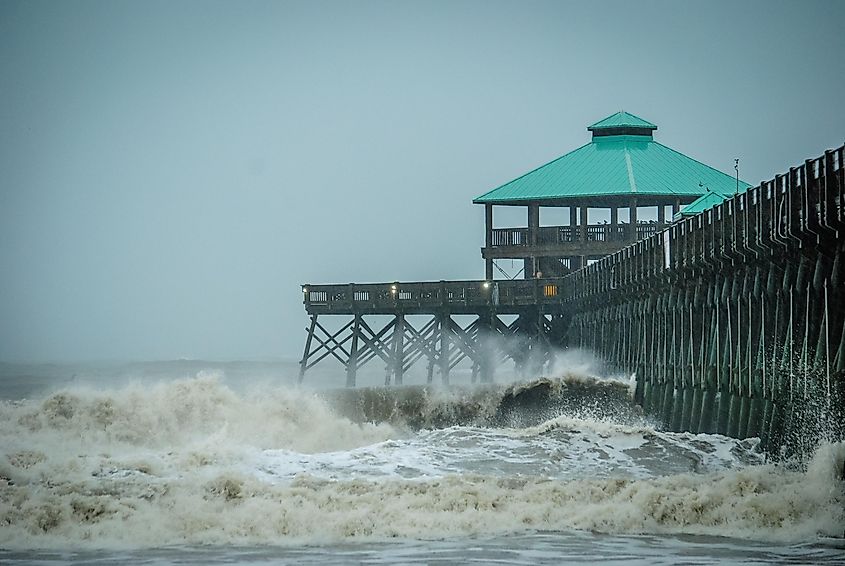 The prospering city of around 150,000 citizens today is fated to become "a half-drowned ghost town" by 2050, with 64,000 residents facing coastal flooding within a century. By 2100, nearly 60% of the habitable land could be underwater, and over a third of the population at risk. According to current trends, scientists project the best case will wipe Charleston's pristine beaches with beautiful mansions by 2060, comprising property damage of 2.1 billion dollars.
There have been multiple global warming-induced "doomsday" scenarios, including Goodell's Miami and Money.co.uk's depiction of the half-drowned Statue of Liberty. Charleston City Paper took the idea of painting the city's likely future and ran with it in a 2007 article. It mentions the beautiful St. Michael's Church cathedral's glass-toothed windows under a collapsed steeple with a boat drifting by, which would have held its last service in 2053, its 300th anniversary. With global warming effects picking up pace, dystopia is on the way to becoming a reality. 
Houston, Texas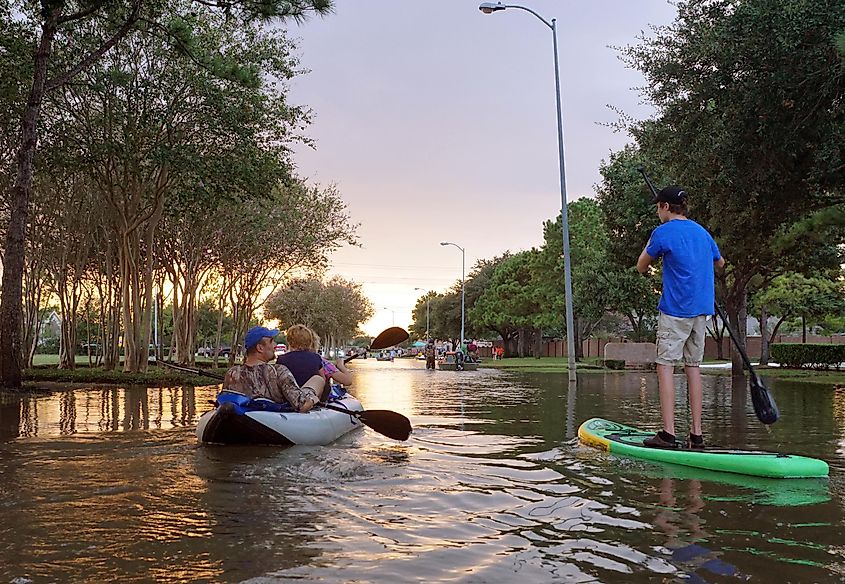 The "mega-industrial-opolis" is victimized by excessive water pumping, with many areas sinking two inches each year. The change in pressure and volume from pumping groundwater prompts land sinkage. On top of human development, Houston is subject to climate change and likely to suffer seriously from frequent storms and hurricanes. This already-sinking city would simply succumb under any more pressure. 
The low-lying inland city away from the coast is vulnerable to immense flooding from hurricanes. The enduring experience of Hurricane Harvey damaged 135,000 homes and displaced some 30,000 people. Houston's many weak spots make it very likely that parts of the city will be flooded more frequently in the future and irreversibly underwater by 2100.
Miami Beach, Florida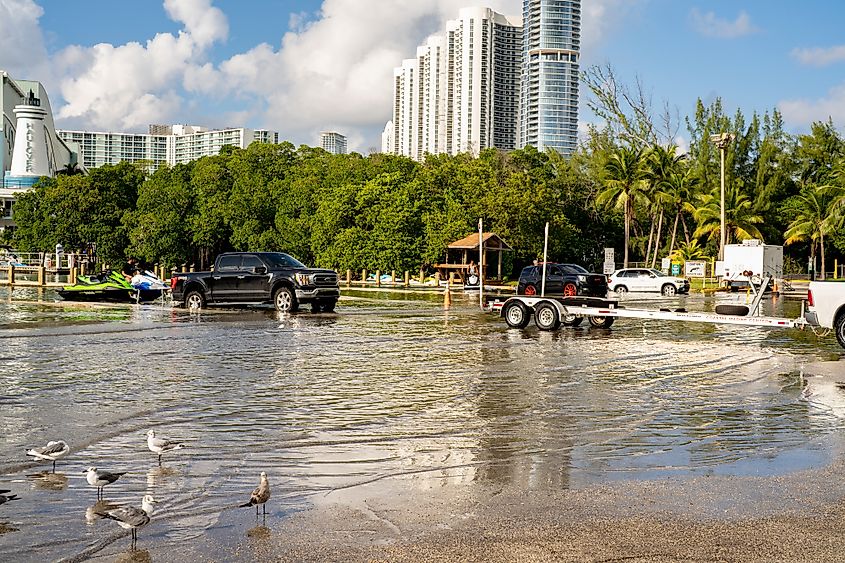 According to recent sources, Miami Beach is more at risk than any other national coastal community to disappear by the end of the century. Jeff Goodell predicts a terrifying dystopia where South Florida is left "wet, vulnerable, and bankrupt" upon a mere foot of sea level rise. Sea walls and elevated buildings would not compete with the angry sea, and with the state unable to cough up $100 million a year to replenish sand, South Florida's famous beaches, from Miami Beach to Jupiter, are fated to become a series of rugged limestone crags.
The Union of Concerned Scientists says that 12,000 homes worth 6.4 billion dollars on the island city of Miami Beach are vulnerable to chronic flooding within 30 years. By 2060, 59% of habitable land will be underwater, with $19.3 billion of current property at risk. By 2100, 94.1% will be underwater, and 75% of homes will face the risk of flooding. The sea level rise will seal the fate of the nation's favorite summer destination, South Beach, along with its historically-renowned Fountainbleu hotel. 
New Orleans, Louisiana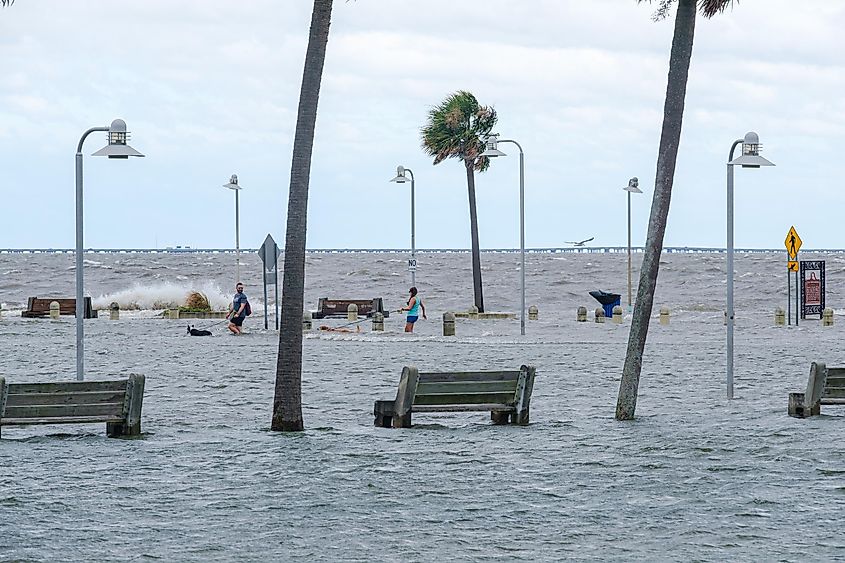 According to The Lens, a nonprofit news source, Louisiana will likely face the highest sea level rise worldwide, with New Orleans-top contender to disappear by 2100. The city incurred big damage from Hurricane Katrina in 2005. Now, the "Mardi Gras, French Quarter, and NOLA's jazz" scene is overshadowed by the advancing sea and changing weather. At current trends, "Big Easy" will easily submerge 4.3 feet by the end of the century. 
The city is set on a river delta, with some areas 15 feet below the sea and sinking at 2 inches a year, according to NASA. Scientists project that severe and frequent storms may bring doomsday even before the sea catches up with the city. New Orleans' high-advanced flood-defenses of levees would be powerless against a Katrina-like strike from the air, while the wetlands that once shielded the city are destroyed by human activity. The city, vulnerable from all sides, is thus "on track to be underwater by 2100."
Boston, Massachusetts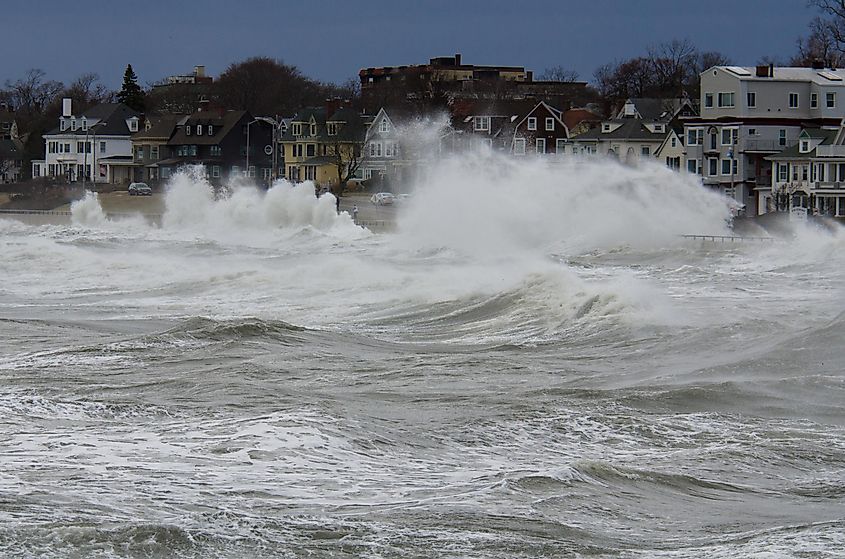 Extreme heat, rain, and snow are already affecting life in this mega city of America. According to a report, while daily changes in sea level might not be immediately noticeable, alterations in flooding patterns are already affecting Boston on the sly. Extreme flooding events are expected to plague the city in the coming years, and groundwater supplies could fall by 18% by 2050. Less snowfall and higher demand for water due to hotter weather would be the culprits responsible for this drop in water levels. To meet the upcoming challenges, the city government has set up the Climate Ready Boston plan to build a safer future for the city's residents. Only time will tell whether such plans will be able to combat a challenge as monstrous as climate change.
New York City, New York
Many cannot picture a world without New York City, but scientists are not surprised that "the largest population living inside a floodplain" is likely to disappear by 2100. The sea is engulfing Atlantic Coast four times faster than any other US shoreline, with the Big Apple facing a 4 to 8-inch sea-level rise within ten years. At current trends, a five-foot sea-level rise by the end of the century would submerge La Guardia airport, barrier islands, and much of Manhattan. 
Big Apple has long been on the sinking watch in the books of academia, and Hurricane Sandy swept through the region in 2012. It licked Ellis Island into disarray and nearly took Lady Liberty. It is predicted that in the coming years, the low-lying boroughs of Queens and Brooklyn and the statue will go first with floods. In Queens, at least 7,200 residents would face chronic flooding, with over 2,700 homes at $1.2 billion in property damages in the next few decades. 
Virginia Beach, Virginia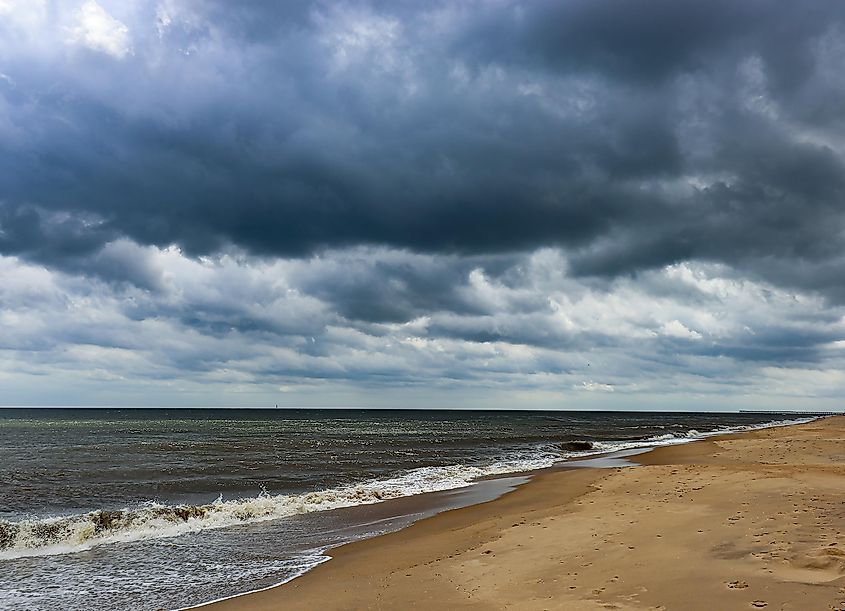 Virginia Beach is located vulnerably between the Chesapeake Bay and the Atlantic Ocean, threatening to engulf the city from both sides by the end of the century. Here, the sea is also rising at one of the fastest rates on the East Coast. According to trends, the sea level will rise 12 feet by 2100 and sweep the pristine coast in half-that time. The famous Hampton Roads, a threatened tourist destination, would be next on the to-go list. NOAA also believes that Virginia Beach is second-in-line after New Orleans to be obliterated by the sea level rise. 
These cities facing unprecedented sea level rise along with unpredictable weather, top the flood watch list of the nation. Their vibrant festivals, famous beaches, and iconic landmarks may all be underwater by the end of the century from climate change effects. Without urgent action on a global scale, the killing spree of climate change cannot be stopped. Hence, these American cities and many other coastal cities across the globe now depend on united global action to be saved from disappearing.