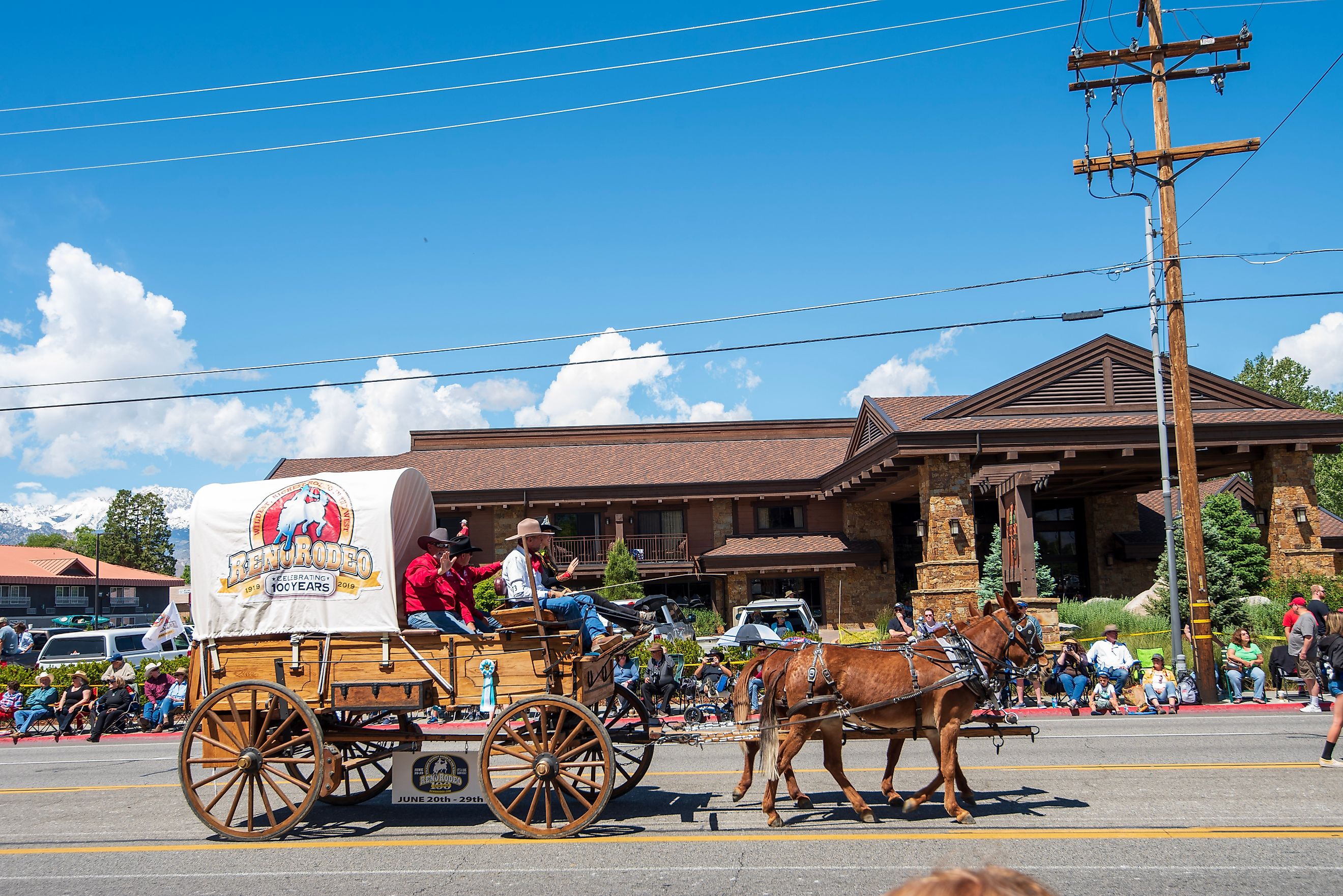 The Most Unique California Towns
Beyond the iconic skylines of Los Angeles and San Francisco, California hides a myriad of unique towns that are waiting to be discovered. These treasures, though lesser-known, are teeming with charm and offer an alternative lens to view the state's rich tapestry.
From the glistening pebbles of Glass Beach in Fort Bragg to the mouthwatering Danish pastries of Solvang, and the historic murals that tell the tales of Bishop, each of these towns offers a distinct slice of Californian culture. For those willing to veer off the well-trodden path, the Golden State promises rewarding adventures and unforgettable memories.
Solvang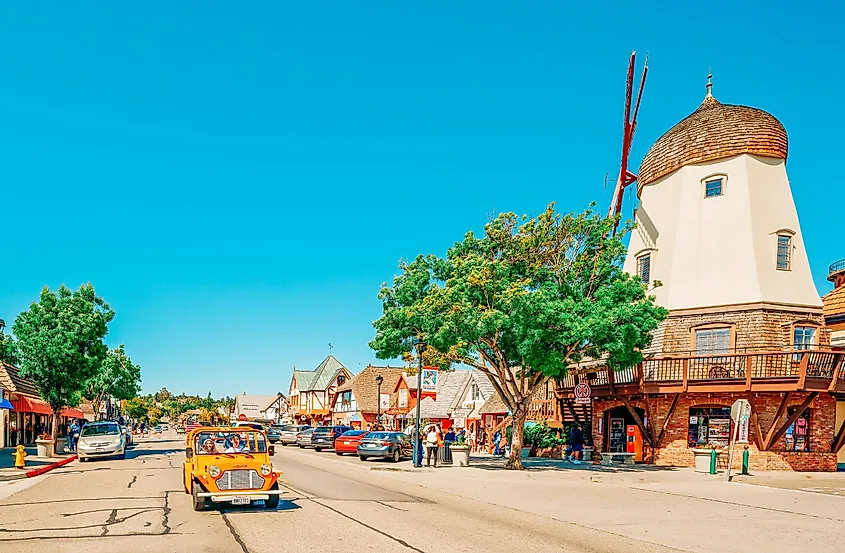 Tucked between Santa Ynez Valley, Solvang stands as a retreat with a Danish style. Strolling down Copenhagen Drive, the fragrant Danish pastries will attract you to Mortensen's Danish Bakery, a small artisan bakery providing Danish delicacies like the Aebleskivers snacks with a light and fluffy interior. Walking away from Solvang's center with its typical European red-tinted houses, Hans Christian Andersen Park grants tennis courts, restrooms, and a playground, all amid green lawns with towering oaks delineating the paths, which allow for relaxing walking trails. Founded in 1911 by Americans originally from Denmark from the Midwest, Solvang (which is Danish for "sunny fields") also boasts an outstanding theater season. The 700-seat outdoor Solvang Festival Theatre hosts performances primarily from June through October. 
Fort Bragg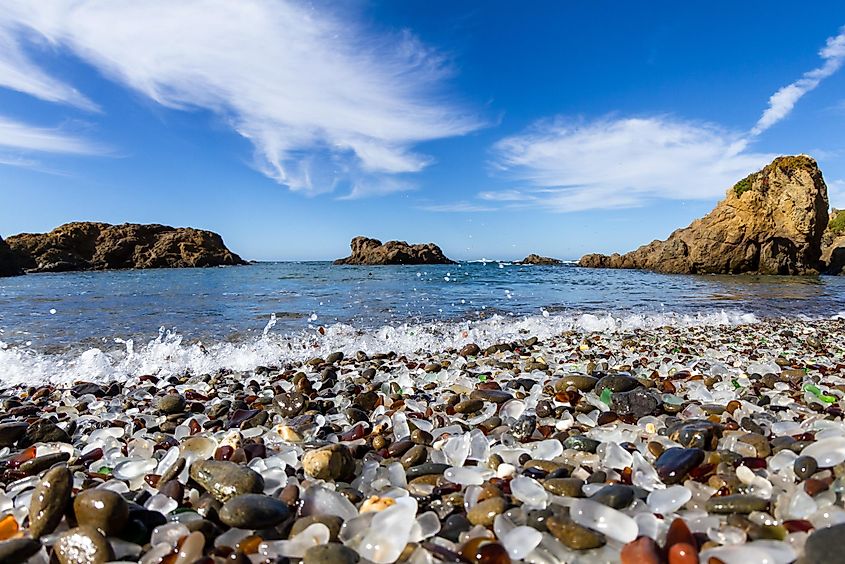 Sitting on a peninsula along the Mendocino Coast, Fort Bragg is known for the colorful glass stones from the peculiar Glass Beach. As a result of the Pacific pounding and grinding discarded bottles, headlights, and other litter, the pebbles shine under the California sun. Moreover, the nearby Mendocino Coast Botanical Gardens are among California's most beautiful gardens, providing a wide variety of flowers and jaw-dropping displays of rare plants. While observing this collection of flora, these gardens also grant a superb setting amid canyons and coastal bluffs, forests, and wetlands. Exploring the area, one can find The Skunk, officially known as the California Western Railroad, operating since 1885, ferrying people and goods through the beautiful redwoods route. Traversing the Pudding Creek Estuary in a 7-mile course, the Pudding Creek Express is a round-trip train ride that departs from Fort Bragg. It lasts 90 minutes, allowing travelers to admire the breathtaking landscapes.
Borrego Springs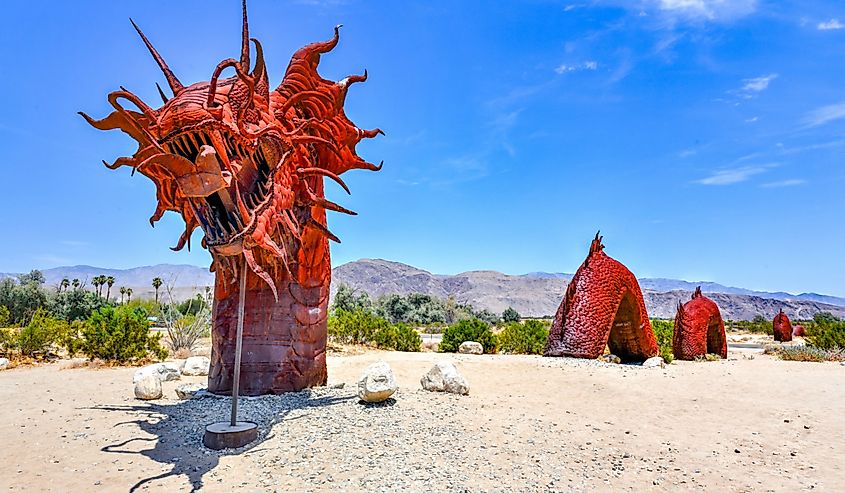 Amidst the Anza-Borrego Desert State Park lies the quiet town of Borrego Springs. With a population of around 3,500 people, Borrego Springs is the only California settlement entirely surrounded by a state park. Also, it is the first and only official International Dark Sky Community in California dedicated to protecting the night sky from light pollution. Here, one can observe some of the best natural night spectacles just by looking up with a clear view of the starry sky. Scattered around the surrounding desert, many sculptures depicting supersized prehistoric and fantastical beasts adorn the area. These very unique creations were created by artist Ricardo Breda and are sometimes seemingly dropped randomly in the middle of nowhere. A map with GPS locations of the art pieces is available by visiting the Anza-Borrego Desert Natural History Association store.
Ojai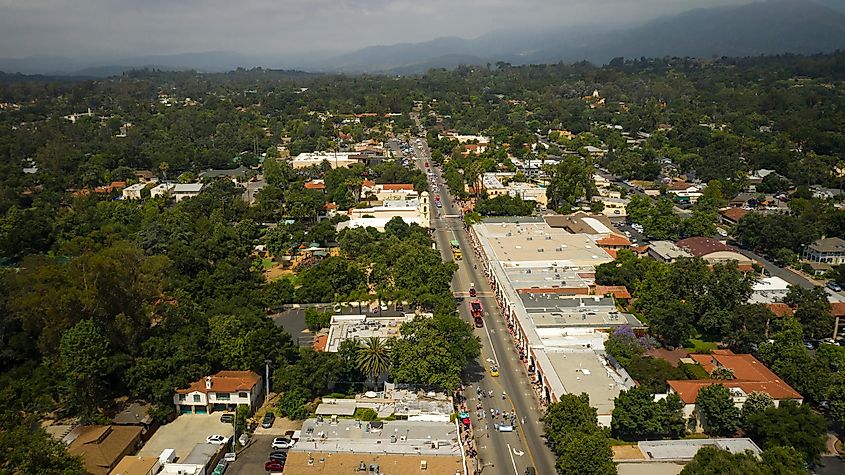 Just outside of Los Angeles, between the Topatopa Mountains, Ojai looks like a completely other world. Visiting Ojai center, one finds a charming Spanish-style village with New Age shops and its extravagant open-air library, where locals often meet. Moreover, the close Los Padres National Forest offers a peaceful retreat away from the busy city life, providing many trails and natural scenery like Reyes Peak, granting some of the most beautiful landscapes to be found anywhere in California. Furthermore, the green farmland surrounding Ojai has expansive olive groves, and one can visit the Ojai Olive Oil Company for some delightful oil tasting. After a long day exploring the uniquely beautiful nature Ojai provides, feel free to hop on Highway 33 to reach the nearby Ventura Beach for a relaxing evening on the sandy dunes.
Cayucos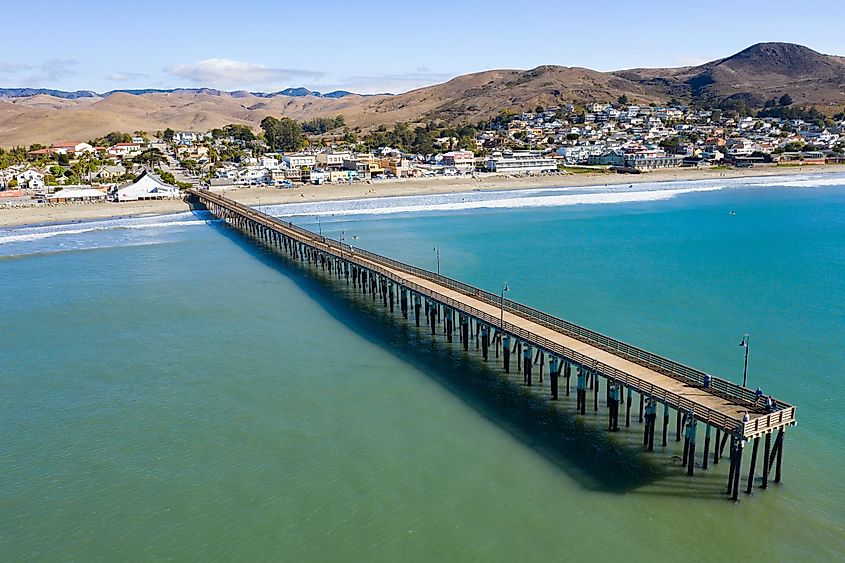 Cayucos is a tiny coastal town located on California's Central Coast, and entering is a bit like stepping back in time. Apart from the beach, Cayucos feels like you've stepped into the Old West. Often discussed as the last of the historic California beach towns, Cayucos still has many saloons and antique shops with American flags scattered around. Life moves slowly here, and if one wants to relive the past, Sweet Springs Saloon provides live music, pool tables, and a shot of Peanut Butter Whiskey amid an unforgettable Wild West location. Besides, outdoor lovers will appreciate the multiple biking, hiking, and equine trails weaving through the nearby hills or simply strolling on the old boardwalk.
Idyllwild-Pine Cove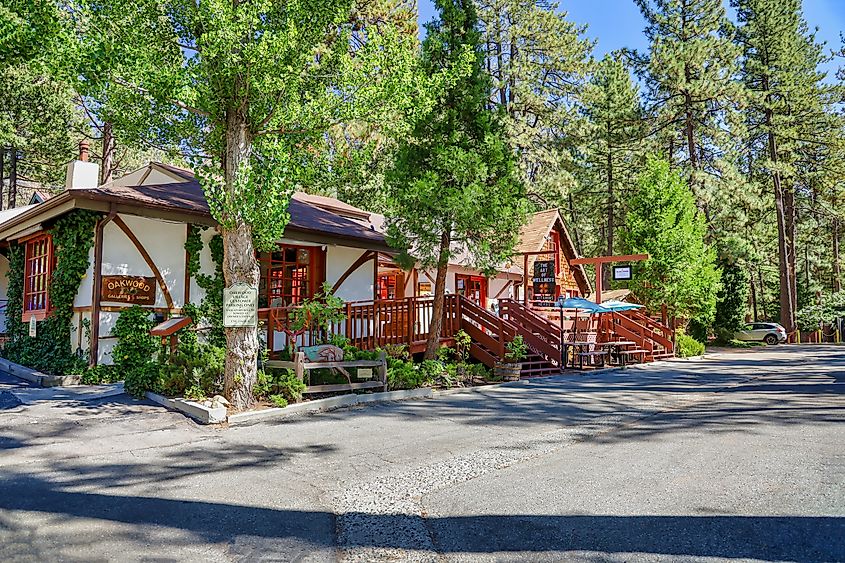 Idyllwild-Pine Cove is a small community between Fern Valley and Pine Cove. As the name suggests, Idyllwild-Pine Cove is an idyllic village amidst the pine forest of Mount San Jacinto State Park. Numerous trails wind through this park at the peak of Mount San Jacinto, which grants visitors a unique and beautiful backdrop to these hikes. Moreover, many campgrounds are present in the area and allow for an adventurous stay in this lovely retreat. Fern Valley Inn offers ample cabins with a fireplace and all the necessary appliances if one seeks a more comfortable lodging option. If hunger finds its way through the dense forest, Red Kettle will fulfill the cravings with an overflowing burrito. 
Bishop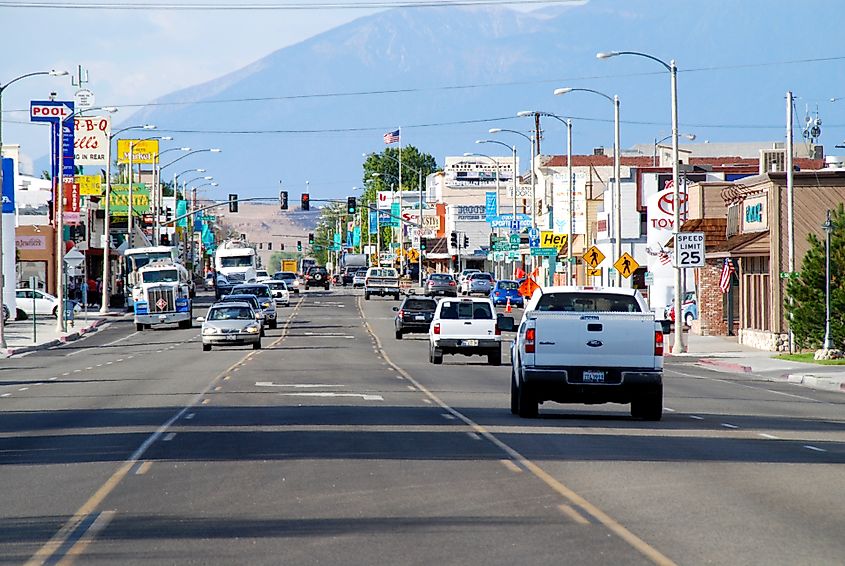 Tucked at the north end of the Owens Valley, Bishop serves as a getaway to some of the most dramatic Sierra Nevada vistas. As the winter snow recedes, Bishop becomes a perfect starting point for backpacking journeys into the John Muir and Ansel Adams wilderness areas. Moreover, the Sierra Mountain Guides grants ventures for an expert palate from rock or ice climbing to ultra-light backpacking and skiing or snowboarding in the heart of Sierra Nevada. For art lovers, the town of Bishops has more than 20 unique murals to discover, each adoring local buildings and showcasing Bishop's history, from panoramic views of the surrounding mountains to Native Americans to the old Laws railroad depot. To discover more about the train crossroads roots of Bishop, the Laws Railroad Museum and Historical Site tells the story of the village of Bishop, Inyo County, and its key role in the Southern Pacific Railroad.
Ultimately, the often inflationary state of California clearly has some unique pearls to be collected. However, no matter what your preferences are, whether you have a propensity for the Dinosaurs sculptures in the Anza-Borrego Desert State Park around Borrego Springs or Idyllwild-Pine Cove's pristine nature of its pine forest, or the old-style saloon of Cayucos, it is safe to say that these seven towns possess peculiar features that are worth discovering.