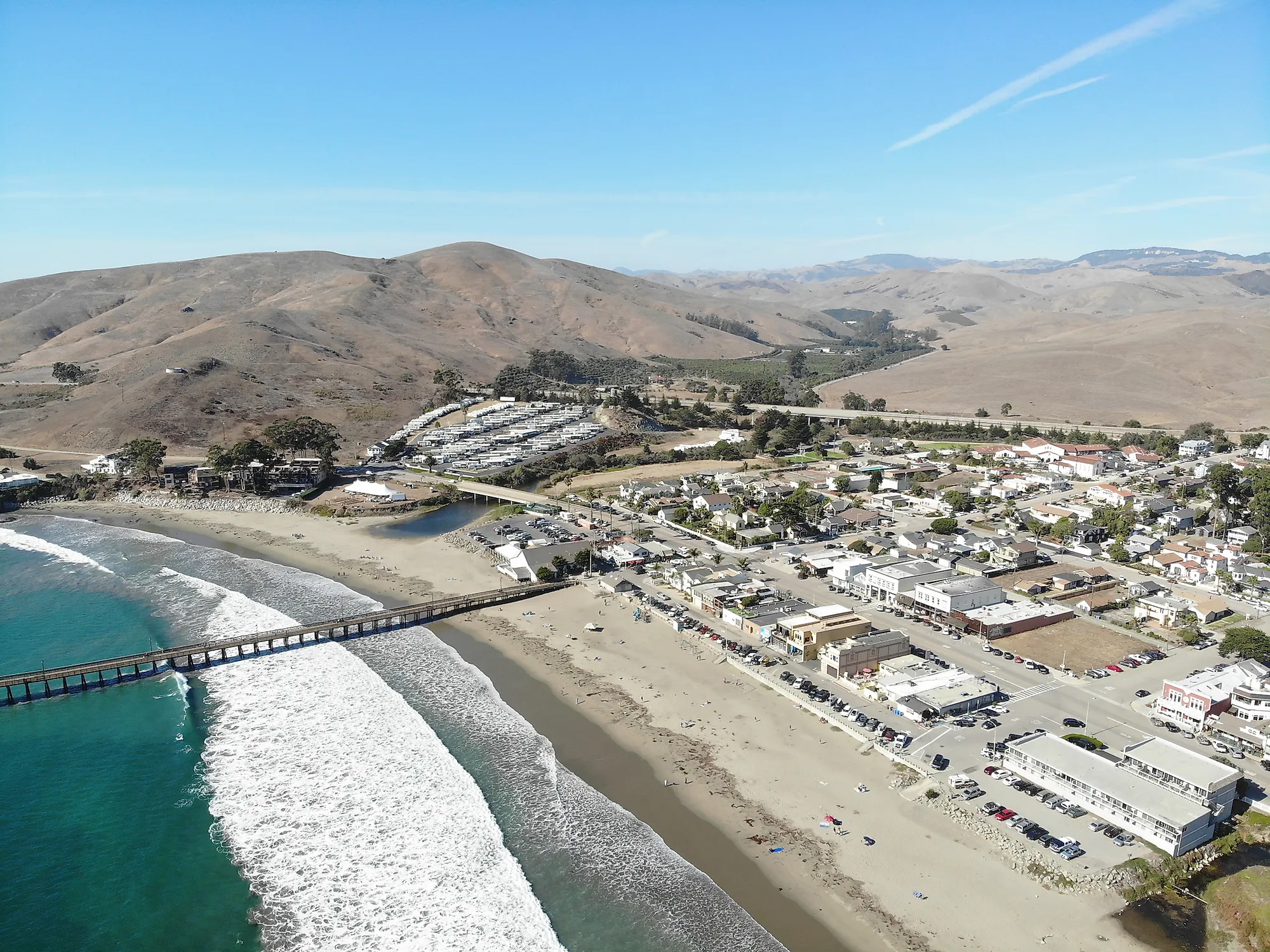 The charming coastal towns dotting California's Central Coast each have their own claim to fame, whether it is surfing, breathtaking ocean vistas or fantastic marine life watching. Cayucos, California, is a peaceful small Central Coast beach town ideal for a weekend escape. The town is a census-designated place (CDP) in the county of San Luis Obispo, California, in the United States. It has an area of 3.5 square miles (9.1 km2), of which 3.1 square miles is land and 0.4 square miles is water (10.85%).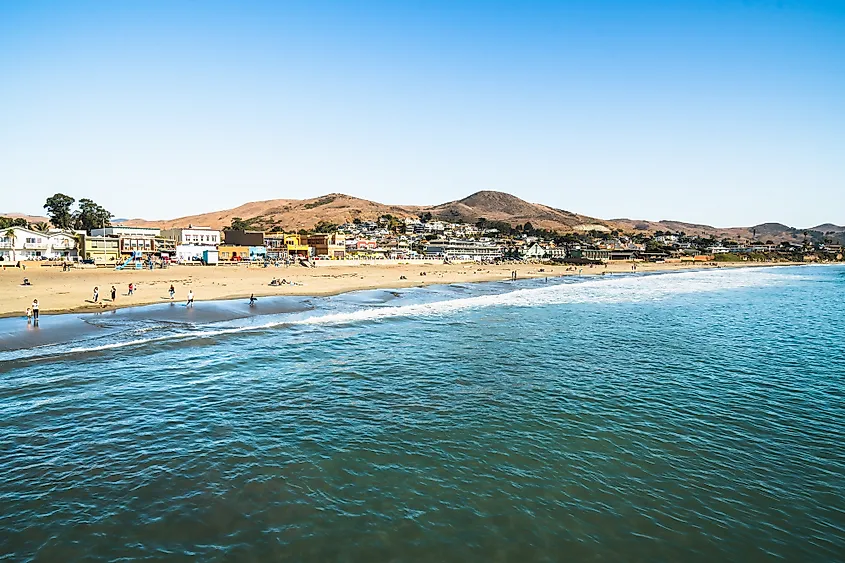 History Of Cayucos
The Chumash people occupied the region prehistorically, settling the coastal San Luis Obispo area from 11,000 to 10,000 BC, including a huge settlement to the south of Cayucos near Morro Creek. The Spanish Portolà expedition, the first European land exploration of Alta California, camped near today's Cayucos on September 9, 1769.
Cayucos is a Hispanicized version of a Chumash term for "kayak" or "canoe," which the Chumash people used to fish in the bay, notably in the rich kelp beds immediately north of the modern Cayucos pier. The town was named after Rancho Moro y Cayucos, a Mexican land grant issued in 1842 that included the current town site.
Captain James Cass established the town of Cayucos on 320 acres of this property in 1867. Cass and his business partner, Captain Ingals, began developing the region. Cass constructed a 900-foot pier as well as a warehouse to store goods heading for San Francisco or Los Angeles. Cass eventually returned to sea life, and real estate developer C.H. Phillips subdivided and sold the remaining sections of Rancho Moro y Cayucos in 1875. A hurricane blew away the old pier. However, it has since been rebuilt.
Cayucos was named one of the "Coolest Small Towns in America" by Arthur Frommer's Budget Travel Magazine in October 2009.
Climate
The average temperature of Cayucos varies substantially. Given the humidity, temperatures feel chilly for about half of the year and otherwise pleasant, with a very low possibility of rain or snow throughout the year. Compared to other tourist spots across the world, the region is rather temperate. Visitors will most likely enjoy excellent weather throughout March, April, and November, with average temperatures ranging from 20 °C to 25 °C.
Population And Economy Of Cayucos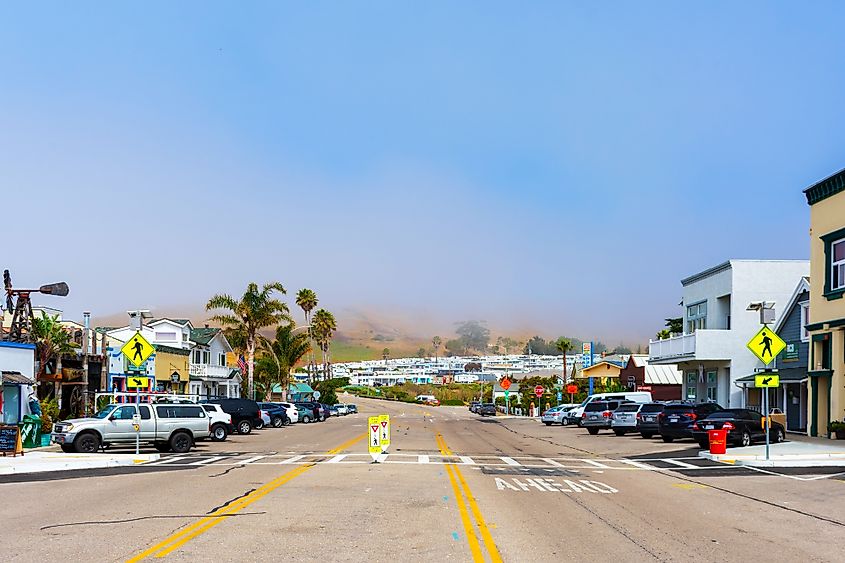 According to the most recent US Census estimates, the current population of Cayucos, California, is 2,630. Since the 2010 census, which reported a population of 2,592, the population has risen by 1.47 percent. The town has a median age of 58.7 years for men and 58.2 years for females.
Cayucos has an average household income of $80,989 and a poverty rate of 17.91 percent. The downtown Cayucos economy is mostly reliant on tourism, and Cayucos Pier is a notable surf site and one of the best in the county, drawing a large number of beachgoers.
Attractions In Cayucos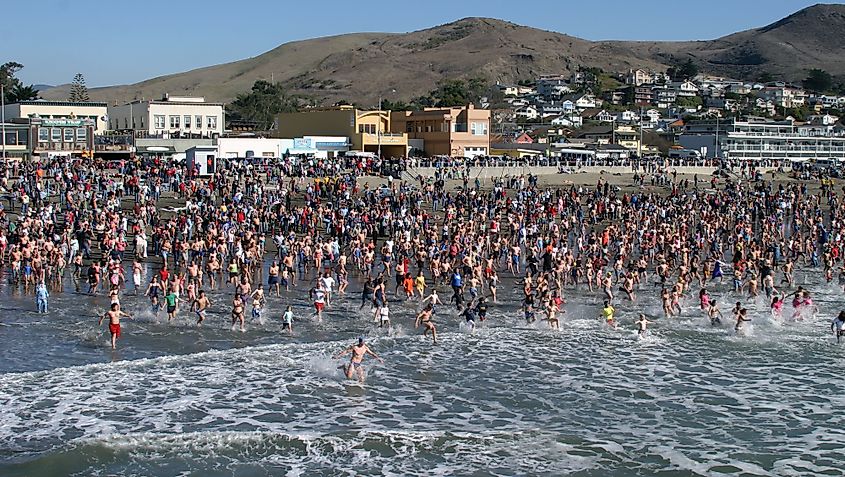 Cayucos State Beach, with six miles of white sand beach stretching to the famed Morro Rock, begins in the lovely coastal town of Cayucos and is one of the greatest in California for surfing, swimming, tide-pooling, and enjoying the sun. The beach offers local parking, picnic areas, outdoor showers and bathrooms, and easy access. Captain James Cass built the Cayucos Pier in 1872 as a reminder of the days when Cayucos was an important commercial port for ships from Los Angeles to San Francisco. The 982-foot pier, which was rebuilt in 2015, is still a popular place for fishing, seeing amazing Pacific Coast sunsets and even whale watching. Despite its small size, Cayucos offers a wide range of food options, from a chowder house to five-star dining. There are also fantastic antique shops, surf shops with handmade boards, and local small souvenir shops for visitors to enjoy. There are three separate play areas for children, each with picnic tables, barbecues, and a hired lifeguard throughout the summer. In the summer, there's also a freshwater swimming pool at Hardie Park, as well as two lighted tennis courts just a short walk from the pier. Adults seeking some "spice" can find it at The Old Cayucos Tavern, a historic bar featuring card rooms, billiard tables, dancing, and some of the greatest live music in the area.