The US State of Florida is an easy choice to retire for the pleasant weather with endless beach access. These nine small towns are true paradises, offering a perfect mix of solitude and group recreation with an easy commute to big-city amenities, as the best to retire in the state.
Naples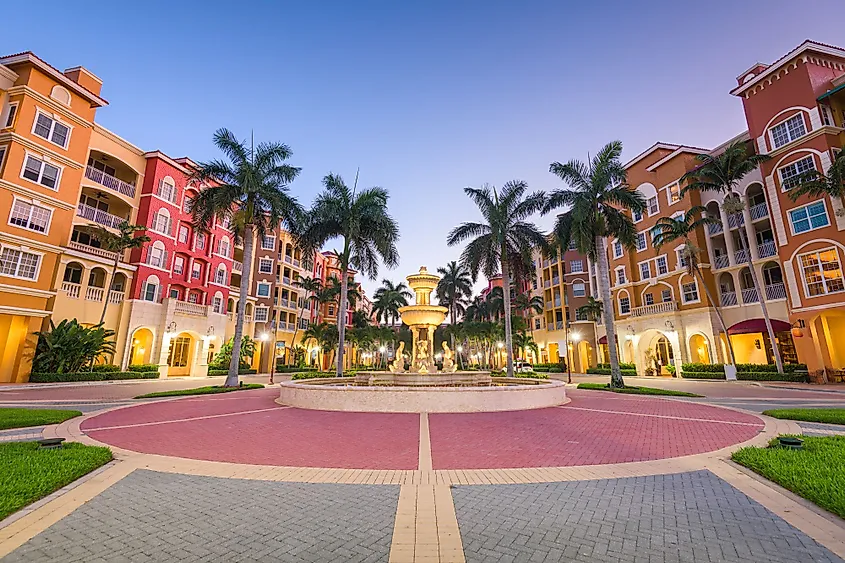 Set along the Gulf of Mexico, Naples scores high marks for desirability, with residents reporting a high sense of well-being and liking of their surroundings. The pristine, white-sand beaches appease all tastes, from old couples who get exercise through atmospheric strolls to visiting grandkids playing in the sand and paddling the shallows. "The golf capital of the world" comes with championship-level golf courses, as well as shopping centers, high-end shops, and historic downtown with famous Naples Pie for varied pastimes. Despite being more expensive than other parts of Florida, Naples claims to be the finest place to retire in the southern portion of the nation, drawing retirees with quality of life, gorgeous sunsets, and pleasant winters. With a varied choice of recreational activities, a tax burden of 14.6%, and a record number of over 28 medical centers per 1,000 residents, it is no wonder that 51% of its population are seniors.
Ocala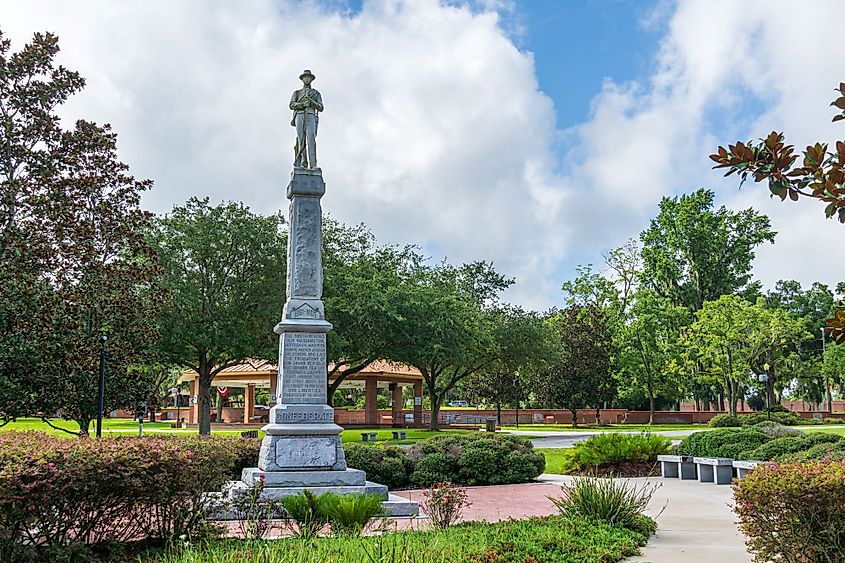 One of the top three towns in the state to retire, the unique town of Ocala attracts retirees with history, horses, and culture, all within some of the most beautiful natural surroundings anywhere. The downtown scene comprised of shops and restaurants is perfect for mingling, people-watching, as well as atmospheric strolls and dining in the evening. On Top of the World community is known for its leisure amenities, including three golf courses, many sports courts, indoor and outdoor swimming pools, a fitness center, as well as a health club and spa. There is also a private R/C flying field, restaurants, and cultural venues, with countless clubs, leagues, and hobbies to partake in. Next door, the Del Webb Stone Creek community also ranks high as a popular choice to retire for being less expensive and with many amenities, including golf courses. 
Palm Beach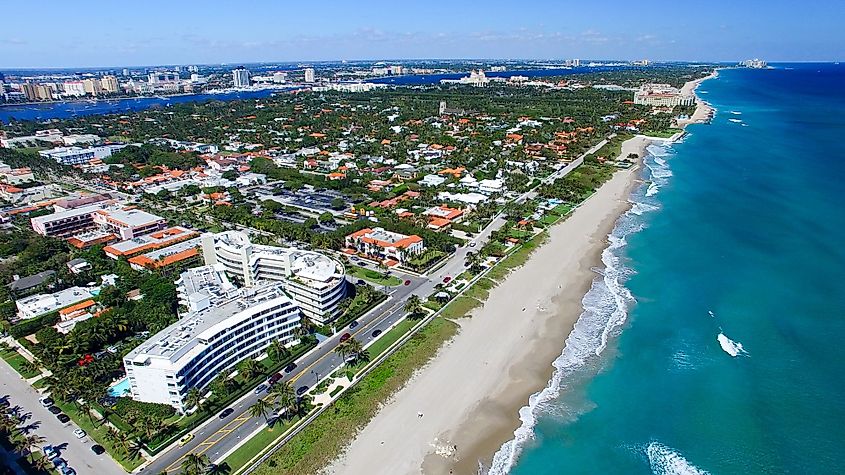 The lavish, small town of 8,800 inhabitants is set in the south of the state on the Atlantic coast, not far from Miami, offering perfect year-round weather. Originally established by Henry Flagler as a desirable luxury destination community to attract travelers for his railroad through Florida, it is now a popular choice to retire. Known for its great quality of life, its affluent residents bring home an average of $140,000 per year, while the real estate ranges from $200,000 to 1.2 million dollars. The peaceful and serene townscape with a very low crime rate also comes with adequate healthcare from four hospitals in the area. For a variety of days spent, there are beautiful beaches, an amazing restaurant scene for dining, and a marvelous Museum. For more outings and sights, the town is proximate to some sought-after cities, including Lake Worth Beach and West Palm Beach.
Port St. Lucie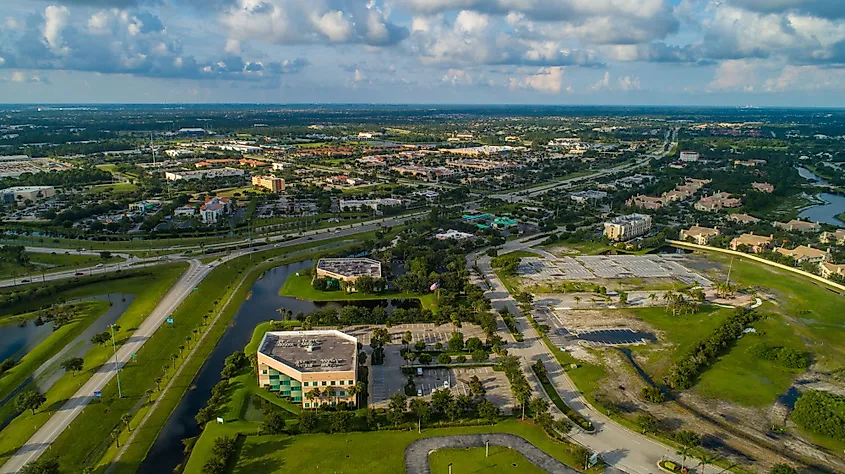 Set along the southern Atlantic coast, the friendly small town of Port St. Lucie is a known affordable place to retire near the water, with a third of the population over the age of 60. Aside from the beaches, there are wetlands at Savannas Preserve State Park, along with the native flora at the Port St. Lucie Botanical Gardens, that attract people to wander through various landscapes for sights. The First Data Field featuring the New York Mets spring training makes the town a popular retirement spot among sports fans. The hub for golf lovers and beach goers, Port St. Lucie, promotes itself as a taste of "the real Florida." The new Valencia Walk by GL Homes, built after the successful Valencia Cay and Valencia Grove retirement communities that flew off the shelves, is part of a 4,000-acre Riverland masterplan. Inclusive with incredible amenities, its next-generation new homes are proximate to Riverland's 5-acre Arts & Culture Center, along with the future City Parks and Town Center.
Safety Harbor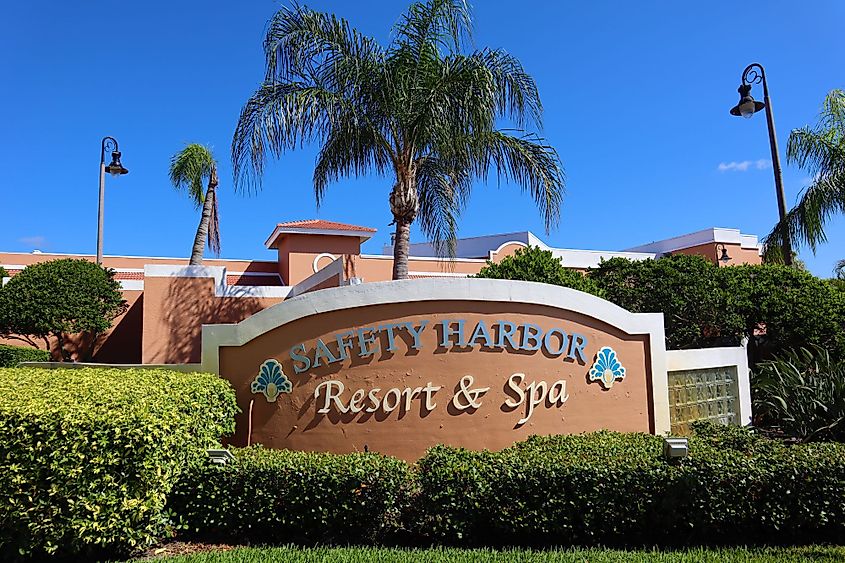 Set minutes from Gulf Beaches, the small town stands strong behind its name, featuring some of the lowest crime rates in the nation. The natural area, worthy of exploring for some daily exercise in the outdoors, along with a slightly lower cost of living, attracts many retirees. Featuring schools with a lower ratio of students to teachers rates and better high school graduation rates than the rest of Florida makes it ideal for families. It is also a great place for those who must continue working, offering an easy commute to Tampa's and St. Petersburg's job markets. Safety Harbor is beloved by residents and visitors alike for the untouched small-town atmosphere, while various outings to suit all ages and tastes are just a short drive away, including big-city amenities, the Tampa airport, and the beaches.
Sarasota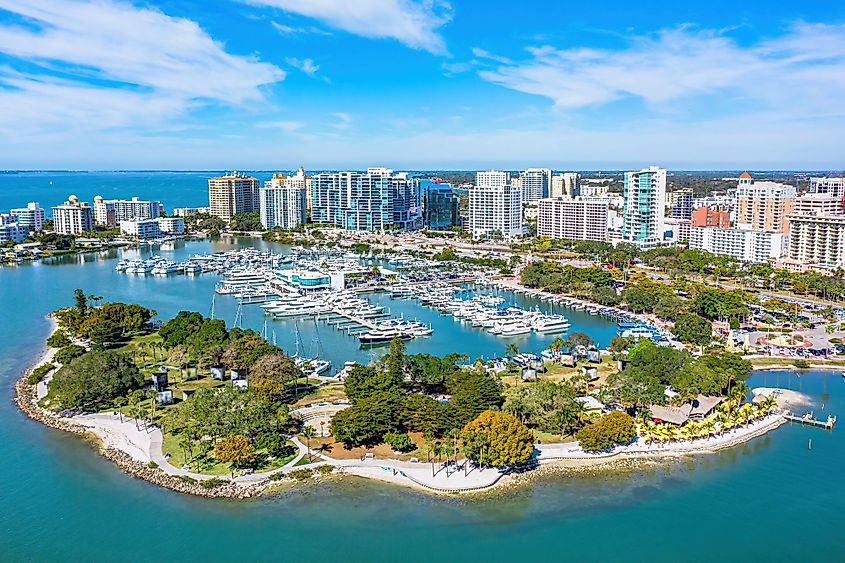 Known as the "Circus City," Sarasota is set on the Gulf Coast in Central Florida as an access point retirement spot to Siesta Key's miles of beaches. South of Tampa and north of Fort Myers, it offers an easy commute for visits or outings with endless activities. The in-town comes brimful with art museums, aquariums, and botanical gardens, as well as a lively dining and social scene. Just across Sarasota Bay on the causeway, Lido Key is known for white-sand beaches and popular sunset cruises. While the high quality of life keeps people living in the area, residents also report feeling safe from the low crime rate and a high-performing hospital system, including Sarasota Memorial Hospital. The reasonable housing costs to live on a budget near water make it a top choice to retire.
The Villages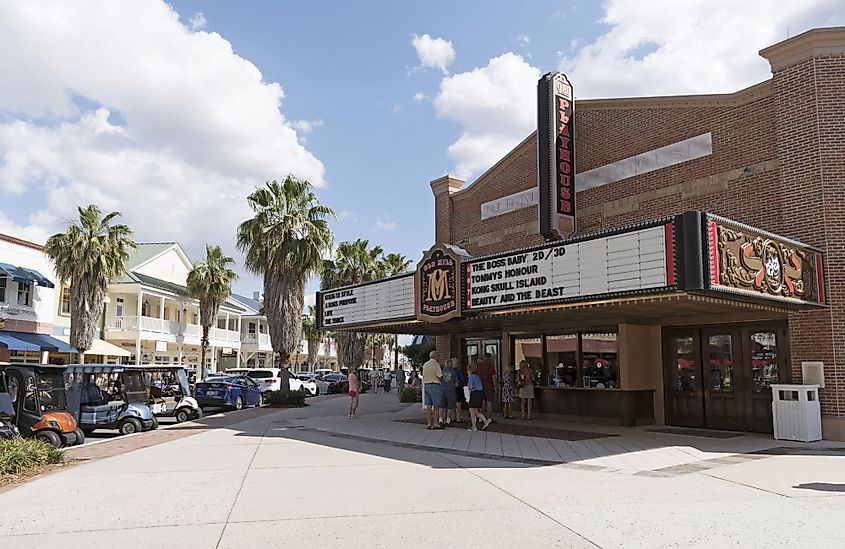 An hour north of Orlando, The Villages have seen more retirees show up in 2021 than any other place in Florida. The fastest-growing community in the entire country is justly due to the unique lifestyle and scale of suitable amenities for retirees. Unlike any other place in the state, there is easy access to a collection of fantastic golf courses, recreation centers, and town squares via a golf cart. One can also join clubs covering all topics of interest, hobbies, and budgets. A truly polarizing place, with some people finding its car-free environment off-putting, the retirees find safe mobility, freedom, and the level of independence for their age in the Villages desirable. 
Venice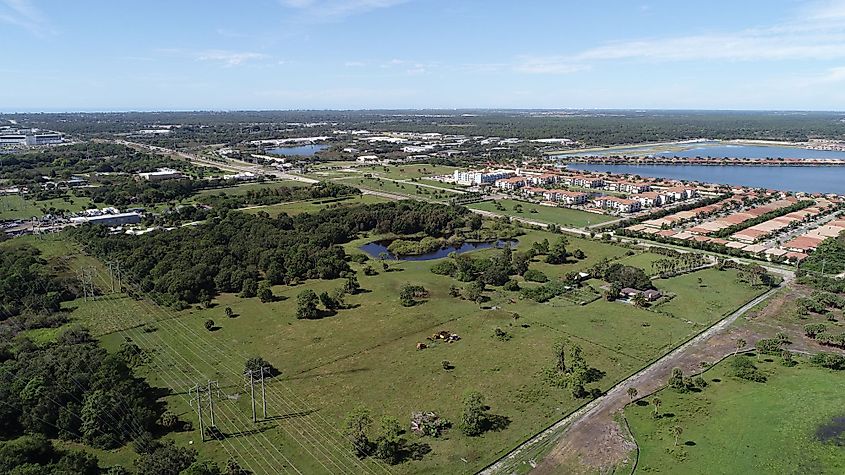 Rated the Top 10 Retirement Destinations in America by the Forbes Magazine, the vibrant town of 24,000 inhabitants is a two-in-one treat with the stunning Venice Island. The real estate ranks high in value for such a sought-after place, where one can buy a delightful house for just $250,000. Coming with several tennis clubs, golf courses, and lovely architecture reminiscent of Italy, the green townscape is also home to 31 municipal parks for endless wandering. For more entertainment, the Venice Theater is considered the nation's top, while the town has a moniker as the Shark Tooth Capital of the World. The very walkable Island of Venice features a historic downtown with miles of trails leading to public beaches. With the cost of living and housing slightly less than the state's average, specific sections of the island are especially affordable to retirees. The golf courses, boat ramps, and properties with access to the Gulf of Mexico, as well as easy commute to Sarasota, St. Petersburg, and Tampa, add to great living.
Vero Beach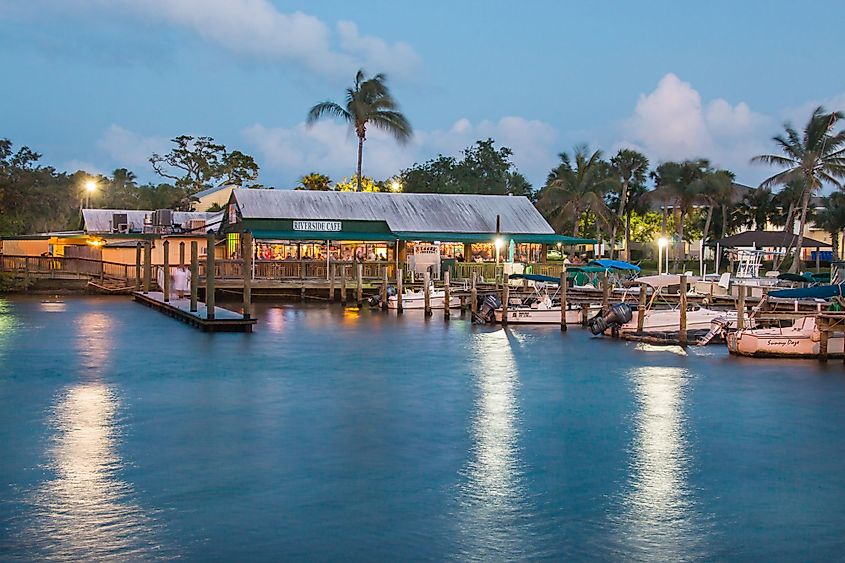 Set among other towns on a stretch of the coastline, Vero Beach boasts the best location. The serene townscape is placed ideally within a spread-out region, with less traffic and fewer beach crowds than any other place in the state. Along with solitude, one gets easy access to big-city amenities in West Palm Beach, Melbourne, Sebastian, and Orlando. With good public beaches across makes it easy to find a quiet, peaceful stretch of sand every day. It is also a watersports mecca and a popular destination among boaters and sailors, especially those seeking to cross the Gulf Stream to the Bahamas. The nutrient-rich Gulf Stream makes it a fisher's paradise, while other retiree-friendly activities in the area include golf and various recreations. Comprising a unique combination of beach retreat and a country feel, its real estate of private gated communities, single-family homes, and condos flies off the shelves.
Known for the beaches, golf, and water-bound properties, these best small towns in the state for 55+ suit all tastes. Offering great quality of life, low crime rates, and affordable housing for such thought-after locales, one can spend many unforgettable golden years basking in their sunny atmospheres.