Where grassland meets the banks of the Marmaton River, one will find a historic military town named Fort Scott. Known for its critical tactical position during the American Civil War, this, once US Military owned garrison, was the last defense on the Kansas-Missouri border and would have a pivotal part to play in history. Today, Fort Scott is a tranquil town recognized for its outdoor living, which includes fishing, golfing, hiking, playing baseball, or observing the nearby Rock Creek Waterfall. 
Geography And Climate Of Fort Scott
Fort Scott is located in the southeastern part of the US State of Kansas. It lies about 148 km south of Kansas City, 87 km north of Joplin, Missouri, and 230km east of Wichita. Fort Scott covers a total area of 14.48 sq. km, of which only 0.10 sq. km is covered by water, and 14.37 sq. km is occupied by land. Fort Scott is located in a geographical area known as the Osage Plains. Sometimes referred to as the "lower plains," these grasslands occupy an area from west-central Missouri, the southeastern third of Kansas, central portion of Oklahoma to north-central Texas. A characteristic of the Osage Plains is its savanna or mixture of woodland and grassland that is spread out without a canopy overhead.
Fort Scott experiences a humid subtropical climate, which entails long, hot summers and short, snowy yet windy winters. Fort Scott collects 44.49 inches of precipitation in a year, consisting of rain, hail, or snow. There is an average annual snowfall of 8.4 inches. January is the year's coldest month with an average temperature of -6°C, and July is the year's warmest month with an average temperature of 32°C. 
Brief History Of Fort Scott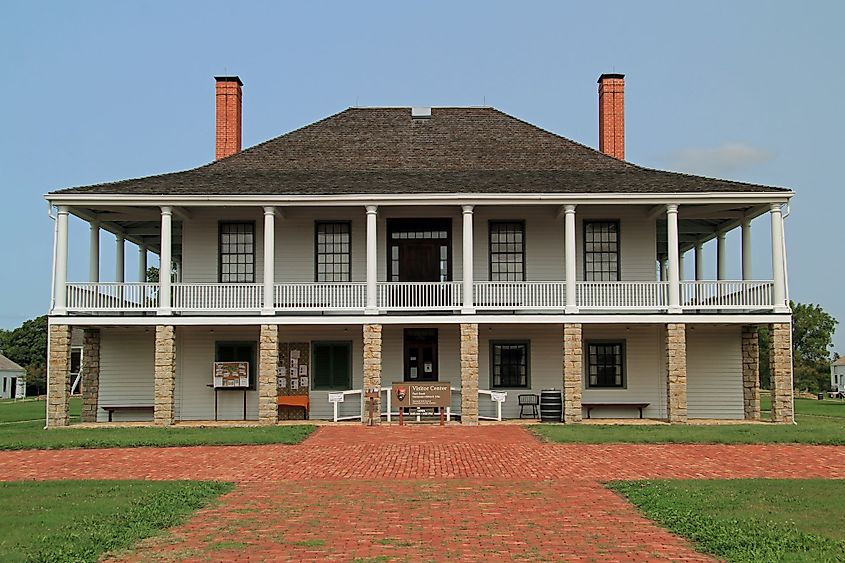 Established by the US military in 1842 as a garrison, its purpose was to serve as protection against the permanent Indian Frontier, including the Native American Tribes that occupied what is known as modern-day Oklahoma. Fort Scott got its name from Winfield Scott, an accomplished general who fought in the American-Mexican War. By 1853, the fort was abandoned, and two years later was sold to settlers at a government auction. Between 1855 and 1861, Fort Scott saw violent confrontations as part of the forefront of the American Civil War. This period is sometimes referred to as "Bleeding Kansas" for its controversial ideologies of slavery fueled by political gain, electoral fraud, raids, assaults, and murder. It was that clash of anti-slave and pro-slave guerrillas when Kansas was created as a territory. On January 29, 1861, Kansas became the 34th state, but emotions still ran high over the Civil War. In September 1861, James H. Lane set out to intercept and ambush the Missouri State Guard commanded by Sterling Price at Dry Wood, Missouri. Lane thought the wooded area could conceal a tactical surprise. However, they were outnumbered by Price's men. Therefore, the Kansas regiment was overwhelmed after 2 hours of fighting and fled back to Fort Scott, discarding supplies and mules along the way. This was known as the Battle of Dry Wood Creek or the Battle of Mules.
The Population And Economy Of Fort Scott
Being the county seat of Bourbon, Kansas, Fort Scott is home to 7,552 inhabitants. On the United States' list of most populous cities, Fort Scott comes in at 3751st and is the 46th largest city in Kansas. The average income of a Fort Scott resident is $48,499, with a gross monthly rent of $622. Alas, 18.15% of residents live below the poverty line. The median age of a Fort Scott Resident is 38.4 years old. On the cost of living index, Fort Scott comes in at 91.1, whereas the state of Kansas sits at 93. Spanning over 14.58 sq. km, Fort Scott has a population density of 520 inhabitants per sq. km. 
The overall unemployment rate in Fort Scott is 4.6%, whereas the US unemployment rate is 6.0%. Fort Scott's most significant economic sector is attributed to healthcare and social assistance, accounting for 16.4% overall. Founded in 1919, Mercury Kansas Services is a general and surgical hospital that employs 500 staff members and contributes $67.5 million to the economy annually. Other sectors include manufacturing (13.6%), education services (11.9%), and accommodation and food services (11.1%).
Attractions In Fort Scott
Fort Scott National Historic Site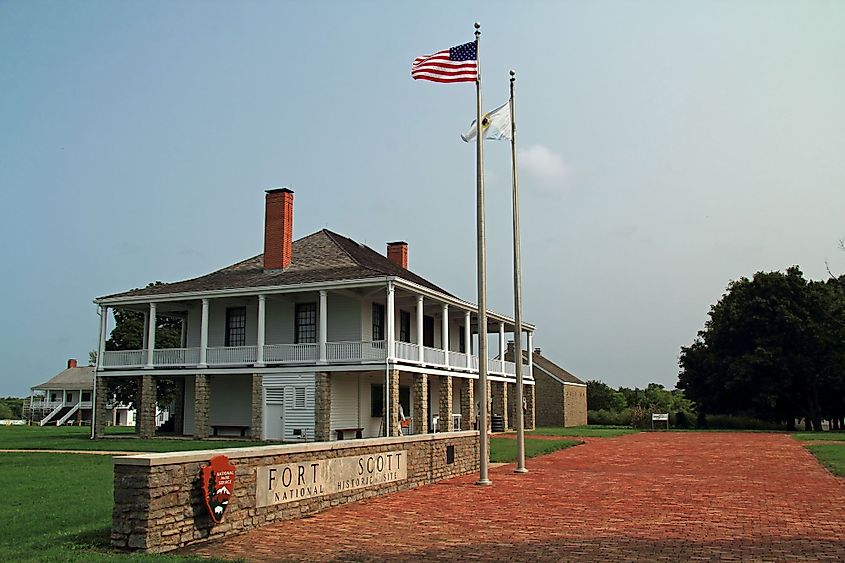 This historic fort, which saw 30 years of conflict from being established to the end of the American Civil War, is operated by the National Park Service and is now an attraction for all to come and learn about its regional and national historical significance. Today, the Fort Scott National Historic Site consists of 20 buildings restored to their original 1840s appearance, including the parade grounds and 5 acres of grassland that were revived as part of a more extensive ecology restoration. Currently, visitors can see the officer's barracks, dragoon barracks, infantry barracks, hospital, guardhouse, stables, ordnance and post headquarters, bakeshop, and flagpole.
Gunn Park
Gunn Park consists of 155 acres of woodland and small lakes found in western Fort Scott. It consists of a campground, disc golf, fishing, 10.5 km of hiking or mountain biking trails, and a playground. The area was donated by W.C. Gunn to Fort Scott in 1910 and consisted of Fern Lake and a farm at the time. Currently, seven shelters can be rented for a fee. With long summers in Kansas, this area serves the many outdoor activities that are available for nature lovers and outdoor enthusiasts.
Named after the accomplished General Winfield Scott in the mid-19th century, Fort Scott has blossomed from its early days as a garrison to a scenic nature town known for its green spaces. Once at the forefront of "Bleeding Kansas" and the Battle of Dry Creek, the tumultuous past of this idyllic little prairie town is the National Historic Site of Fort Scott, which overlooks the serene streets of today.