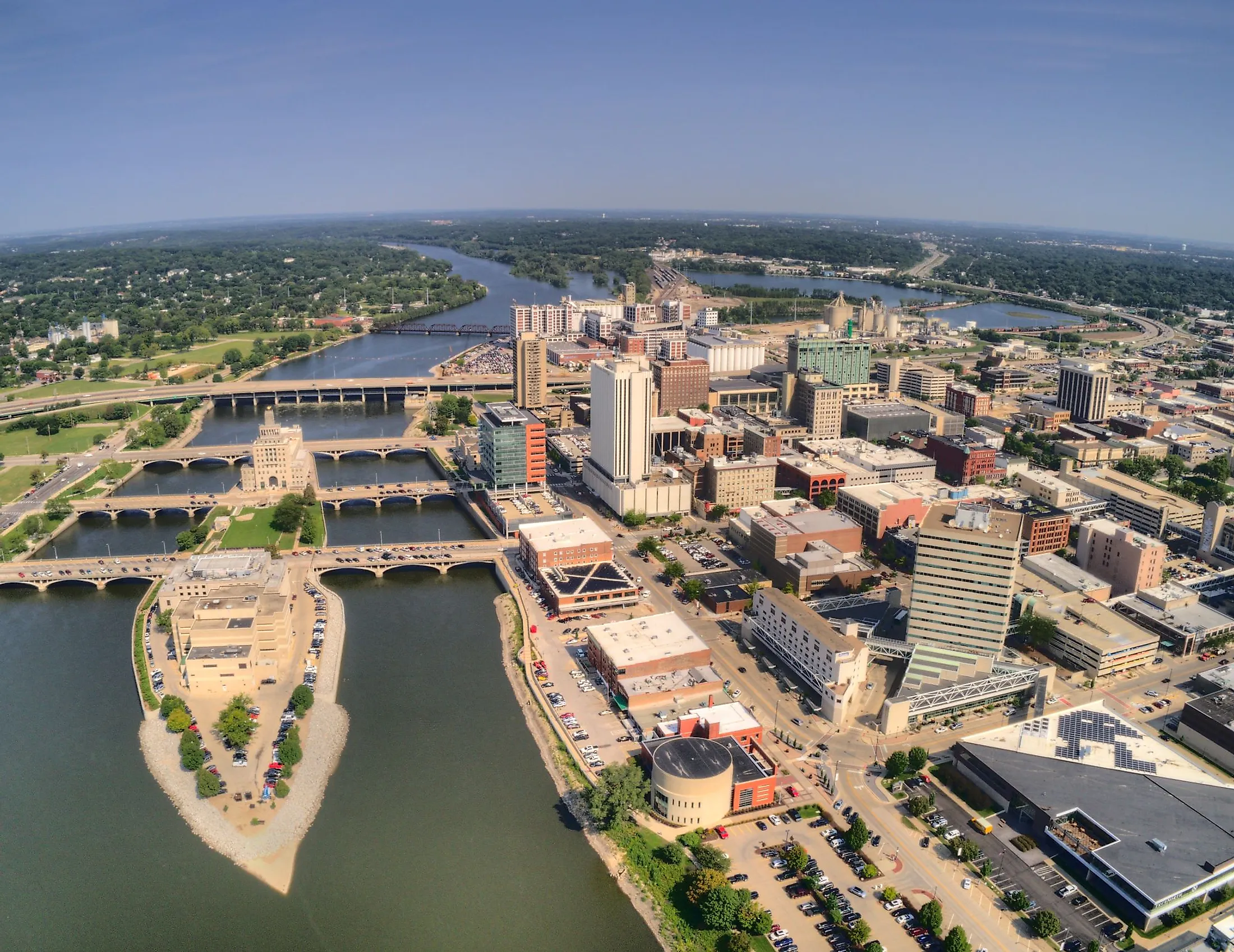 The second-largest city in Iowa, only behind Des Moines, is the world's largest corn-processing metropolis and the core of one of the biggest manufacturing hubs in the country. Cedar Rapids has a unique Czech and Slovak background. In addition to joyful ethnic celebrations of the city's heritage through music and food, Cedar Rapids features a vibrant art scene and intriguing architecture. In the list of the Top 10 Cities for Living the American Dream, Cedar Rapids is ranked eighth.
Geography And Climate Of Cedar Rapids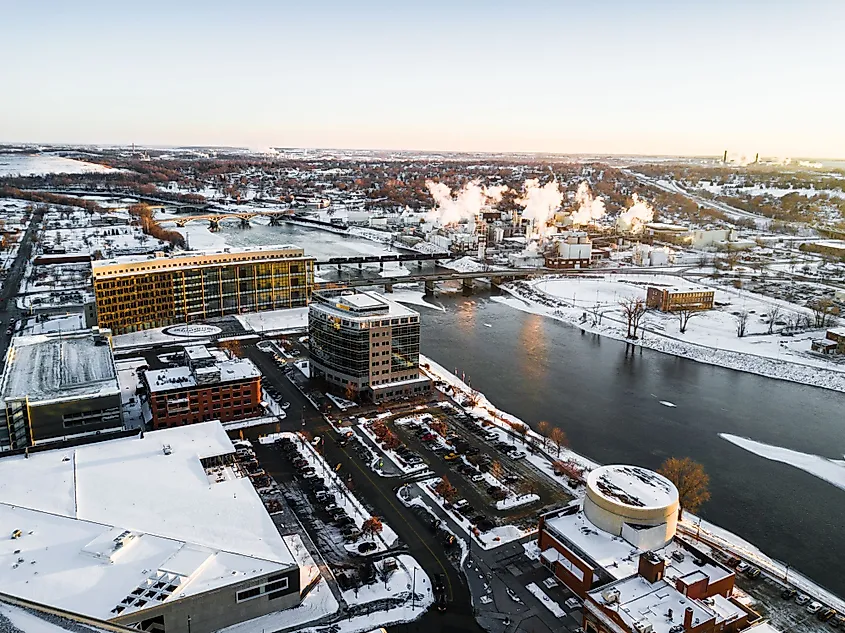 Cedar Rapids is a big city situated in Linn County in the US State of Iowa. The city is located along the Cedar River, close to the towns of Marion (to the northeast) and Hiawatha (to the north). The state's capital and largest city, Des Moines, is 160km away, while Iowa City is only 32 km away. Chicago is 230 miles away and is four hours to the west of Cedar Rapids, whereas St. Louis is about 300 miles away and 4.5 hours to the north. Cedar Rapids covers a total area of 186.66 sq. km, of which 183.37 sq. km is occupied by land, and 3.29 sq. km is covered by water. 
The climate in Cedar Rapids is humid continental, with long, cold, occasionally brutal winters with lots of snow and hot, humid summers with frequent violent thunderstorms. The average annual temperature ranges from 14°F to 84°F, rarely falling below -6°F or rising above 92°F. July is the year's hottest month having an average daily high temperature above 73°F. Having an average daily temperature of less than 40°F, January is the year's coldest month. On average, Cedar Rapids receives 36 inches of rain and 28 inches of snowfall.
Brief History Of Cedar Rapids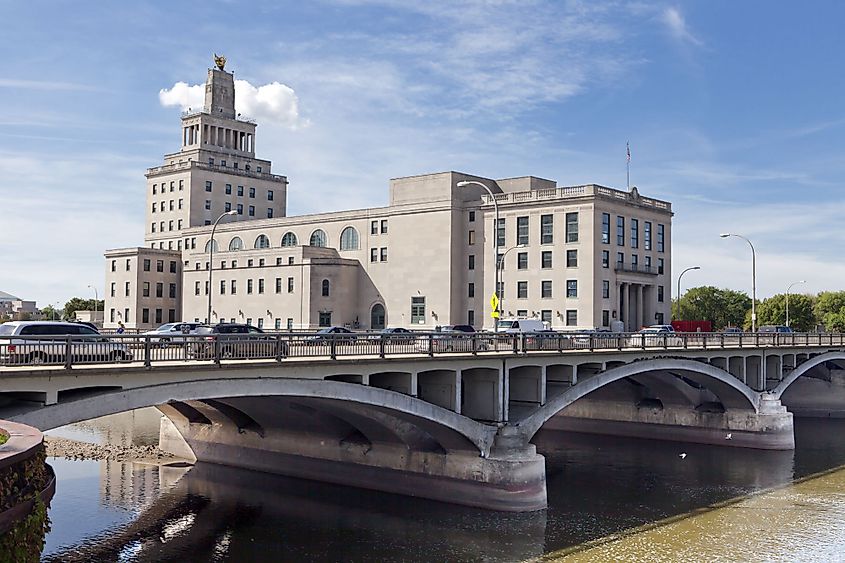 Cedar Rapids has a long history dating back to when the Sac and Fox Native American tribes inhabited the area. A survey conducted in 1841 led to the town's first naming as Rapids City. The city was renamed Cedar Rapids in 1848 to reflect the name of the Cedar River. A dam was built in the 1840s to provide the lumber and milling businesses with the power they needed to grow. Some locals built the Cedar Rapids steamer for transport to St. Louis in 1858. The construction of the railway system and an accident on the Mississippi River signaled the end of river navigation. The town of Kingston, which is situated on the western bank of the river, was annexed to Cedar Rapids in 1870 after the city of Cedar Rapids was founded in 1849. Following the entrance of T.M. Sinclair, the founder of the largest meatpacking companies in the nation, Cedar Rapids' economy expanded in 1871. The first Muslim immigrants to this city were from modern-day Lebanon and Syria in 1895. The Mother Mosque of America was established in 1934 and is significant to Muslim culture. Although it was completely reconstructed in 1972, it is still the oldest mosque in North America.
The Population And Economy Of Cedar Rapids
Out of 1,022 cities in Iowa, Cedar Rapids has the second-highest population, with 139,986 residents. The population of Cedar Rapids is currently rising at a rate of 0.82% annually. White (non-Hispanic) (80.1%), Black or African American (non-Hispanic) (7.96%), Two+ (non-Hispanic) (4.13%), White (Hispanic) (3.1%), and Asian (non-Hispanic) (2.96%) make up Cedar Rapids' top five ethnic groups. Cedar Rapids has a poverty rate of 11.22% and an average family income of $75,289. The median rental cost in the previous years has been $791 per month, while the median price of a home has been $144,500. In Cedar Rapids, the median age is 36.3 years, 35.1 years for men, and 37.5 years for women.
The production of agricultural goods, steel fabrication, tool and dye making, radios, and electronics have historically been the cornerstones of Cedar Rapids' economy. High-tech businesses and transportation have added to manufacturing, which is still a significant economic sector. One of the top locations in the nation for the defense electronics sector is the Cedar Rapids-Iowa City "Technology Corridor," where telecommunications and telemarketing are the fastest-growing sectors of the local economy. The city's municipal plan is centered on May's Island, also known as Municipal Island, which is located on the river's main channel. Nordstrom, Archer Daniels Midland, Cargill, General Mills, Toyota Financial Services, and others have working centers in Cedar Rapids.
Attractions In And Around Cedar Rapids
National Czech & Slovak Museum & Library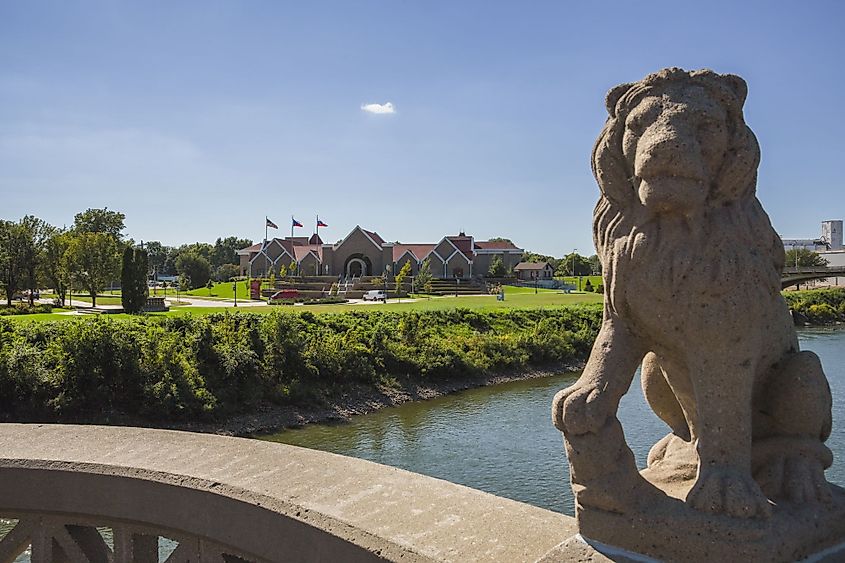 More than 230 unique items from Europe, including Prague and London, were featured in the Alphonse Mucha: Inspirations of Art Nouveau exhibition at this museum, which opened in 2012. The museum's other two sections are devoted to Czech and Slovak history and culture. A two-room house on the property has been occupied by Czech immigrants for five generations starting in the 1880s. Additionally, there are displays about both World Wars.
Cedar Rapids Museum Of Art
This Museum of Art, established in 1905, and conveniently situated in the city's center close to the Cedar Rapids Public Library, offers countless opportunities for cultural research and appreciation. The museum has both permanent collections and often changing displays, including the greatest collection of Grant Wood's creations anywhere in the world. The museum also proudly exhibits works of art from the first 600 years of Roman culture. There are 60,000 square feet of space in the museum to explore.
Brucemore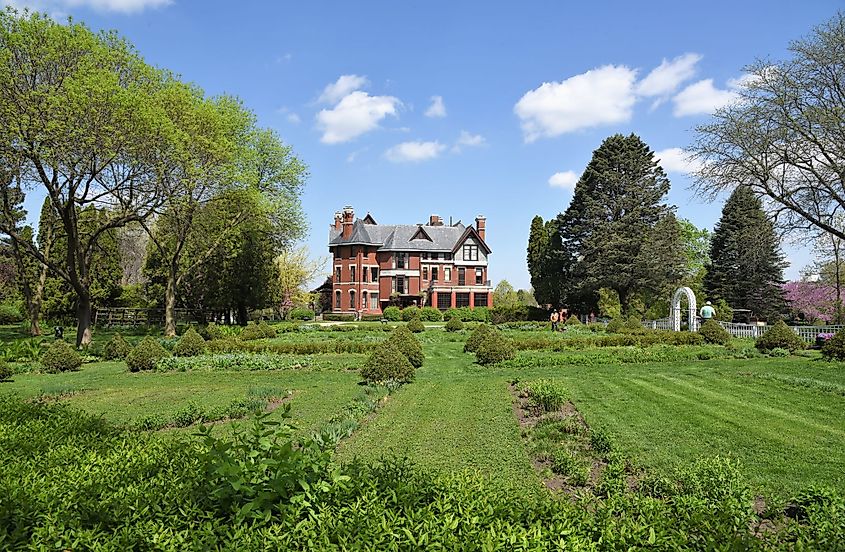 The widow of the pioneering entrepreneur T. M. Sinclair, Caroline Sinclair, had this beautiful Queen Anne-style residence constructed for her in the middle of the 1880s. In 1981, three significant local families called Brucemore, which sits on 26 acres of parkland, home. Brucemore was given to the National Trust for preservation. With a picturesque, forested trail, pond, swimming pool, garden house, carriage house, servants' cottage, and greenhouse, the grounds are a draw all on their own. The Brucemore campus hosts theatrical productions and musical performances all year long.
Paramount Theatre
The Paramount Theatre, which is listed on the National Register of Historic Places, unites the past and contemporary by presenting top-notch performances in a lavish theatrical environment. The theater, which was initially built in the 1920s as a movie palace and vaudeville venue, has undergone some updates and restorations over time, particularly following the devastation of the 2008 floods. It now hosts all kinds of live acts, including Broadway plays and community concerts, and has been restored to its former magnificence.
Indian Creek Nature Center
The state's sole private, nonprofit nature center is the Indian Creek Nature Center. Over 500 acres of woodlands, wetlands, and prairies are situated on reclaimed farmland along the banks of Indian Creek, just waiting to be explored on five miles of paths. 
Palisades-Kepler State Park 
A state park that protects breathtaking riverbank bluffs and branching ravines covered in dense hardwood forest is located a few miles down the Cedar River. Palisades-Kepler State Park's exposed limestone riverbanks, which are teeming with fossils, provide some of Iowa's few outdoor rock-climbing opportunities. Rock climbing on the exposed river bluffs, hiking, and canoeing are all popular activities at this state park in Iowa. Another well-liked pastime is fishing, with most enthusiasts going after catfish, bass, and bluegill.
Cedar Rapids will pique one's curiosity with its historical landmarks and art galleries, river trails, and nature treks. If it weren't so thrilling, it might be considered overwhelming how many things there are to do in a place like this. Try it out and discover what location you like best. You might even find yourself falling in love with the entire region.