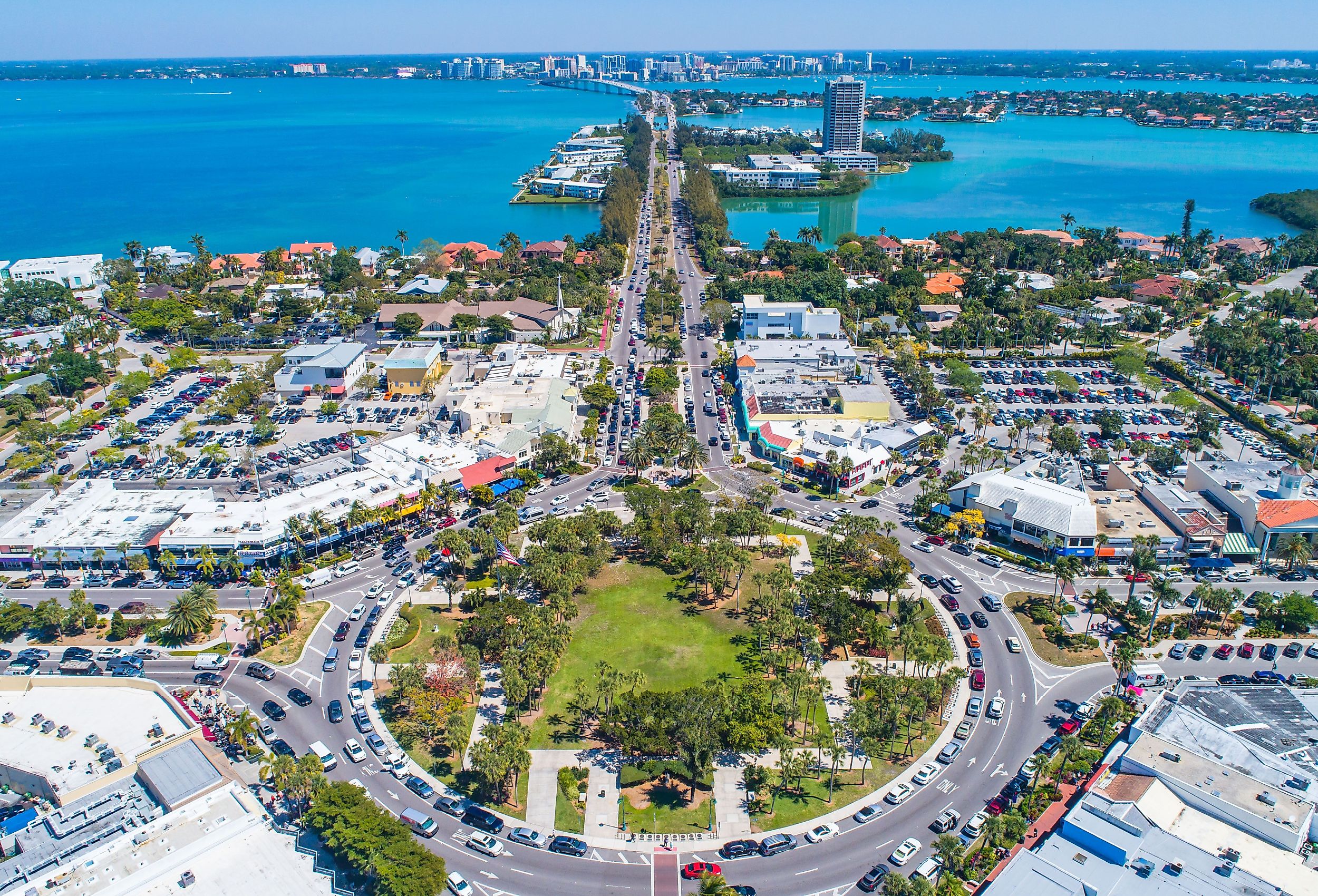 Best College Towns In Florida
While many lean towards inland states for school and tend to vacation by the coast, there are others who enjoy mixing things up when attending college in ready-made vacationland. Florida's colleges and universities boast highly regarded academic programs in many fields of study, from nursing and other healthcare services to business management and the arts.
Choose a perfect town from this list with amazing college scenes and after-class pursuits that are never lacking in the Sunshine State. Florida is real eye-candy with some of the world's best sand beaches, washed by jewel-colored waters under a radiant sun. Add in quality education and a mix of cultures lending a lively feel and attractions for every taste makes for quite possibly the best college experience!
Boca Raton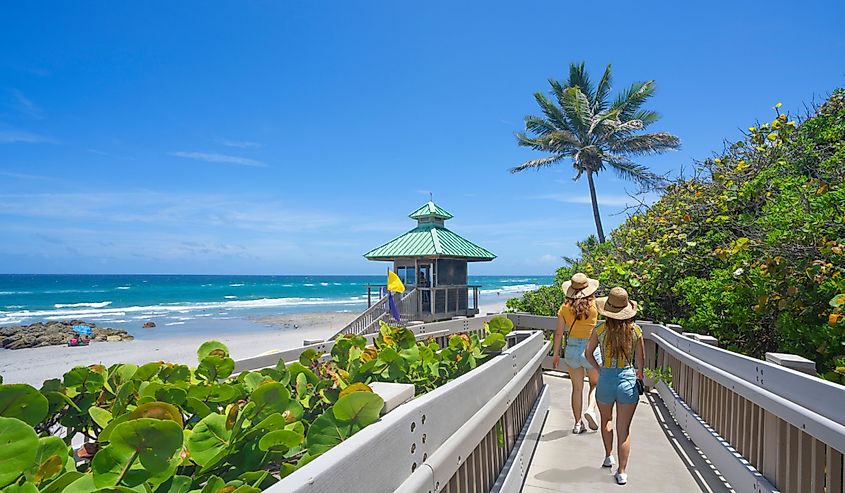 Boca Raton boasts quality education from some of the country's best universities and renowned nightlife to recharge after classes and let loose for the weekend. This vibrant town becomes home for students attending the University of Miami, Coral Gables, and Florida International University. Choose from a multitude of fresh-air activities and leisurely spend time in Boca Raton's stunning beaches and outdoor attractions featuring unwavering great weather.
Feel Boca Raton out on a stroll and mingle with the diverse student culture from all walks of life, complete with beachy college vibes throughout town. The beautiful beaches are perfect for relaxing, sunbathing and swimming, as well as surfing, snorkeling, skiing, and other water sports. Settle at Clint Moore Rd., N. Ocean Blvd., or Highland Beach Town Center with quick access to campus as well as after-school clubbing, tennis, golf, and shopping.
Clearwater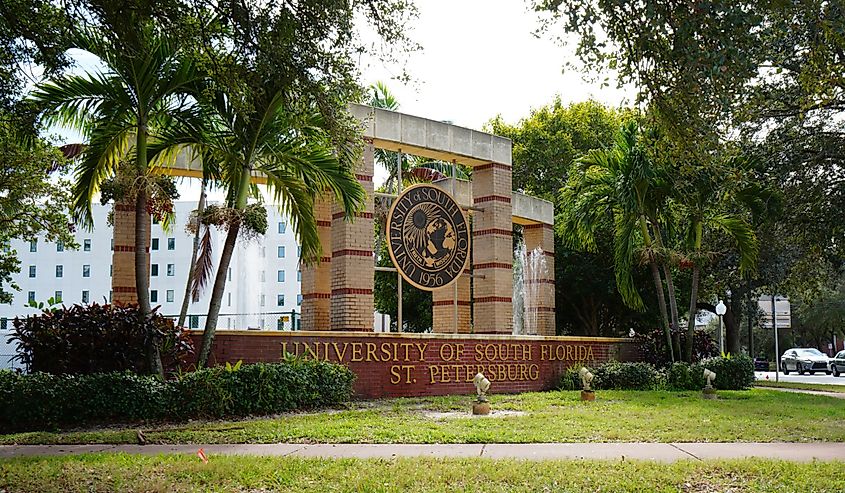 The larger town of around 116,000 with an undergrad population of 17.2% is a great place to call home near the coast, with beautiful weather and an urban feel. Choose from some highly rated colleges, like St. Petersburg College or the University of South Florida, just a short ride away from downtown attractions. Settle in Dunedin, Dellwood, or Greenbriar, with safe streets and a median rent of $1,167 a month.
Take advantage of the urban feel with the best shopping and entertainment around, employment opportunities, and the nearby famous Clearwater Beach. It is one of America's prettiest beach towns, just a few minutes drive from campus in the morning, after class, and on weekends. Explore the small beachy town and enjoy plentiful water-based pursuits and relaxation opportunities between studying, from sunbathing and swimming to surfing and volleyball for the active.
Coral Gables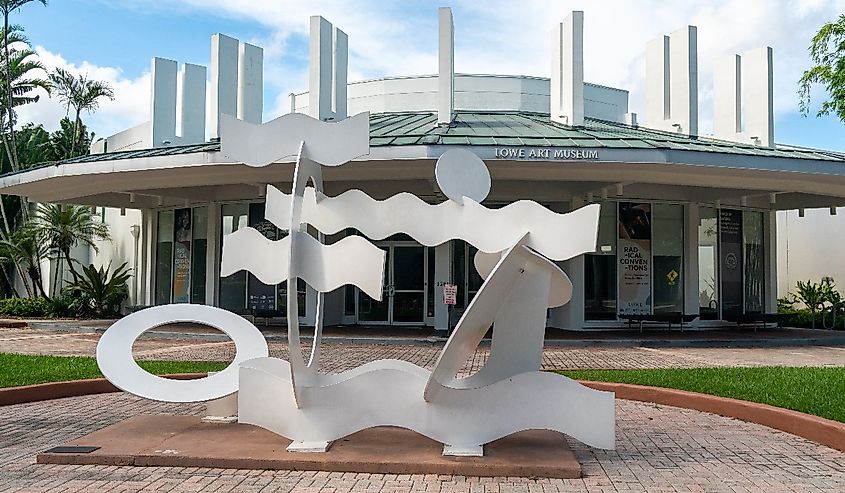 Coral Gables, boasting the prestigious University of Miami, is a charming city and a revered college destination with a lively student culture. Embrace its distinctive Mediterranean flair along the tree-lined streets with elegant architecture and settle in Gables by the Sea, Hammock Oaks, or King's Bay. The idyllic city boasts upscale dining and shopping, with a variety of unique boutiques, galleries, and restaurants, including dining and entertainment venues for some fun nightlife.
Visit the Lowe Art Museum and Coral Gables Art Cinema for events, exhibitions, and exclusive film screenings, or go watch the Miami Gators' football game. Get a nature fix through the Fairchild Tropical Botanic Garden or more action at the nearby Biscayne Bay, with trails for walking, biking, and water sports. There is the University of Miami and Florida International University, with quick access to the Miami scene for everything else. Coral Gables is not called "The Beautiful City" for nothing but its magnificent natural surroundings, such as the Old Cutler Trail with 10 scenic miles of landscapes.
Fort Myers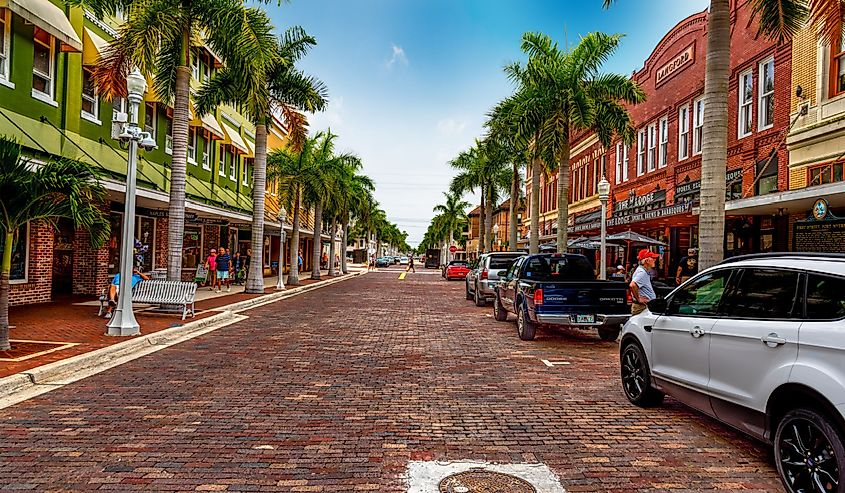 This larger beach town, Fort Myers, with 83,505 residents is a great place to attend college for the variety of schooling options and the beach scene at every doorstep. Students can immerse themselves in college life, with 15.4% of the population being undergraduates, and enjoy safe streets as well as vast employment opportunities for part-time work. Settle at the Pelican Preserve, Botanica Lakes, or Arborwood and enjoy a low rent rate of $1,096.
There is a vast choice of programs through Hodges University, Florida Gulf Coast University, and Kaiser University, with after-class access to some of the world's top beaches. Enjoy off-the-hook nightlife in a safe environment with many clubs complete with beach weather year-round. If clubbing is not on the radar, there is golf, surfing, and soft sands under the sun for basking until sunset—a haven after studying or after the dreaded exam season!
Gainesville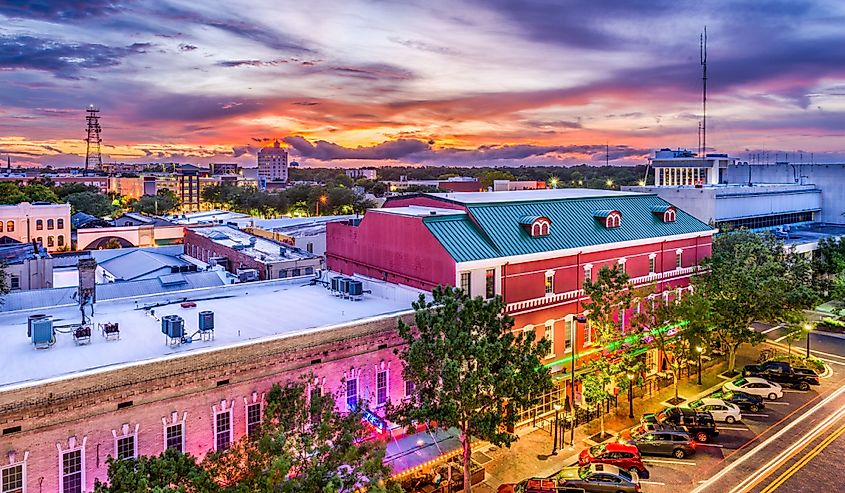 Many choose Gainesville to attend some of the state's major schools, including the University of Florida and Sante Fe College. The city of 133,000 residents often appears on lists of the best cities in Florida, with wonderful attractions for every taste, featuring a diverse culture, and a tremendous beach scene. It is a terrific place to live, visit, and spend the college years, as well as perhaps making a more permanent move, with a lower cost of living than most big cities.
The 34.0% student population enjoys paying the median rent of only $965 a month while living in Hazel Heights, Highland Court Manor, or the Duckpond neighborhoods along some of the state's safest streets and one of the best nightlifes around. Find a part-time job for after class or head into the beautiful nature surrounding the area. There are even opportunities to watch alligators on Lake Alice over a relaxing picnic or on a serene stroll through the spectacular Kanapaha Botanical Gardens.
Pensacola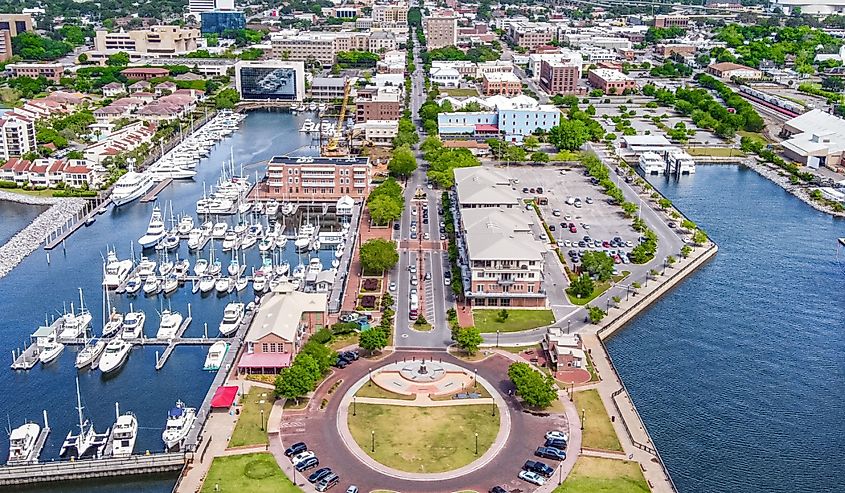 Pensacola is not only the state's major beach city but also a revered college destination with Pensacola State College and the University of West Florida. Settle down in East Hill, Cordova Park, or even downtown, and students will be living amid natural wonders with the outstanding outdoors at every turn. If that is not enough, Pensacola features a lower cost of living than similar-sized places and boasts free pursuits like relaxing on the beach, visiting the Pensacola Lighthouse and its museum, and more along the whole Gulf Islands National seashore on both sides.
Find a cheap place and make it your go-to and be immersed in the highly sought-after small-town atmosphere that lends itself to a studious environment and crowdless attractions galore. Likewise for the beach scene, Pensacola offers ample stretches of soft sand to plop down on in complete privacy, in a small gathering, a study group, or for all the water fun imaginable
Sarasota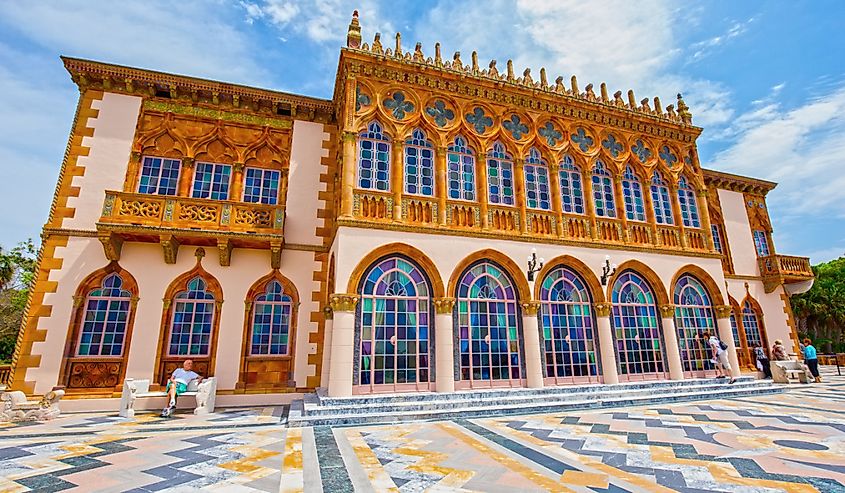 It is not a surprise that the best place to live in the country, according to US News and World Report, is a highly sought-after destination for college students. Sarasota offers many opportunities for academics  and the creatives alike, with the University of South Florida, Manatee Campus, and Ringling College of Art and Design.
Add in an exciting beach scene, nightlife, and unreal shopping spots, Sarasota might just be the perfect home away from home while pursuing college.  Relax along some of the state's best beaches or enjoy any water sports one may crave after long hours of sitting at a desk or at the library. Settle down in this ready-made vacationland right downtown, in the Southside Village, or Bird Key, all with great access to shopping areas for the day and clubs into the night.
St. Petersburg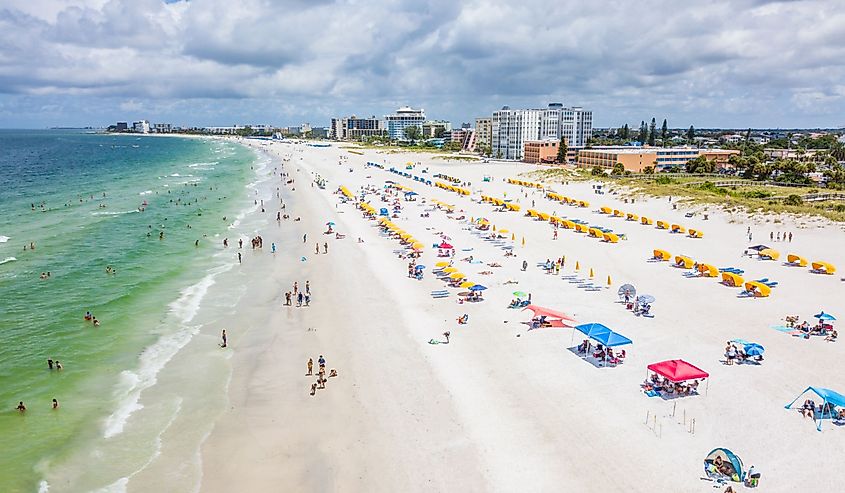 From enticing nightlife to part-time work after school, St. Petersburg, with 264,001 residents and a median rent of $1,168, is an ideal place to settle in for college. The vibrantly diverse town offers the energy and stimulation one may need to get the work done. St. Petersburg is not all hustle and bustle however, and offers many places to relax and recharge. St. Petersburg features an average cost of living in the US for students choosing to live downtown, in the historic Kenwood, or in the Grand Central District with tons of shopping.
Whether one decides on the Main Campus of the University of South Florida or the St. Petersburg College/Gibbs Campus, students will have quick access to modern amenities, fun attractions, and historical architecture, all just a hop away from some of the world's top beaches. Take up kiteboarding, windsurfing, parasailing, stand-up paddleboarding, or just plain ol' relaxing along the sands that transitions to an exciting scene at night.
Tallahassee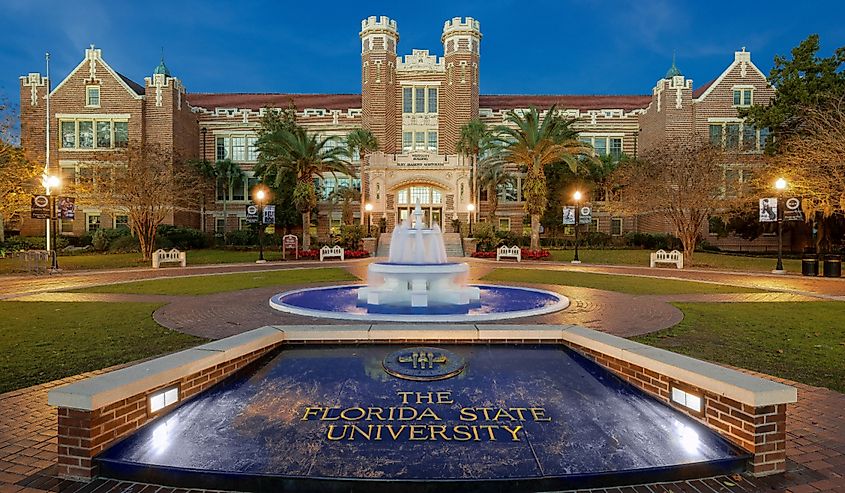 The capital of the Sunshine State is a great place to pursue higher education as Florida State University and Florida A&M University are here. Tallahassee is the perfect mix of urban life with bustling downtown and boasts a strong sense of community within its diverse culture. Students looking for big city life will find everything in downtown Tallahassee, with its lively attractions, attractive restaurants, booming bars, and array of shops and amenities. Choose from endless beautiful beaches, most just a short drive away along Florida's Panhandle.
Foodies will love the range of cuisine and dining styles, from casual to sophisticated, for in-between classes, going on a date, or going clubbing. Check out the casual Madison Social or enjoy an upscale dinner at 347 Grille by Coach Shula. Join the locals at regular year-round events like the Winter Festival or the Tallahassee Downtown Market for strolls, tastings, and fresh offerings. The outdoors from the doorstep are great for fresh-air recreation and relaxation in nature, like at Cascades Park and Alfred B. Maclay Gardens State Park.
Tampa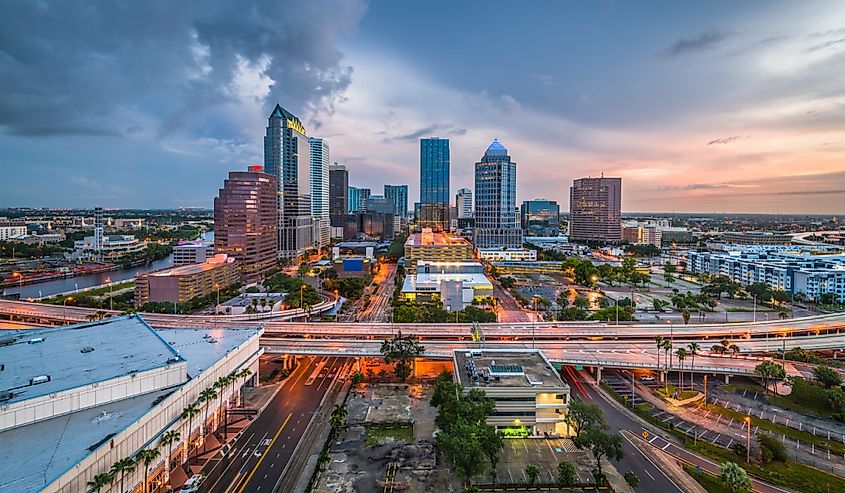 Tampa is a great big city to spend the college years in, with optimal access to its fantastic surrounding nature. Boost that 8.9% of the college crowd, making Tampa's population 396,000, and take up part-time work while attending the University of South Florida, the University of Tampa, or Hillsborough Community College. Students can opt to settle in South Tampa, Hyde Park, or Ybor City, attend nearby St. Pete College or Stetson University College of Law, and enjoy the same array of outdoor pursuits in perfect weather!
Tampa offers a unique bayside college experience with attractions throughout the bustling downtown, rich historical vestiges, and stunning waterfront. Many students come particularly to join or cheer for college and national sports like the NFL, where one can catch Tom Brady winning another Superbowl live. The restaurant scene offers a variety of cuisines and dining styles, such as a dinner cruise to take a date on. There is also the Tampa Theatre and the Tampa Riverwalk. Join in on events like the Gasparilla Pirate Festival and the Tampa Bay Margarita Festival that fill up the streets from downtown to the waterfront with music, food, fun, and costumes.
Conclusion
Florida is one of the best states in the US to attain higher education, with high-achieving institutions offering a variety of degrees and programs. The Sunshine State was recently ranked best for higher education by US News & World Report, including graduate programs and world-class MBA programs. The same source noted Florida as having the second-lowest tuition and fees, the 11th-lowest amount of student debt, as well as a growing employment market.
Study in Tampa, the fourth fastest-growing job market in the nation, and utilize the state's 23-county High Tech Corridor to your advantage post-studies in high-tech like aviation and aerospace, IT, medical, sustainable energy, and more. These ten beautiful beachfront towns, surrounded by the most diverse environments, offer on-and off-water activities to enjoy the outdoors throughout the school and endlessly in the summer months.