10 Largest Cities In Florida
The "Sunshine State" of Florida is undoubtedly one of America's most beautiful and popular destinations. From its cultural diversity to its stunning beaches, Everglade swamps, theme parks, historical attractions, and of course, hot weather, the 21 million plus residents who call Florida home do indeed have a treasure upon them. A favorite among tourists and retirees, America's third most populous State has something for everyone. This article looks at Florida's biggest population centers.
1. Jacksonville - 975,177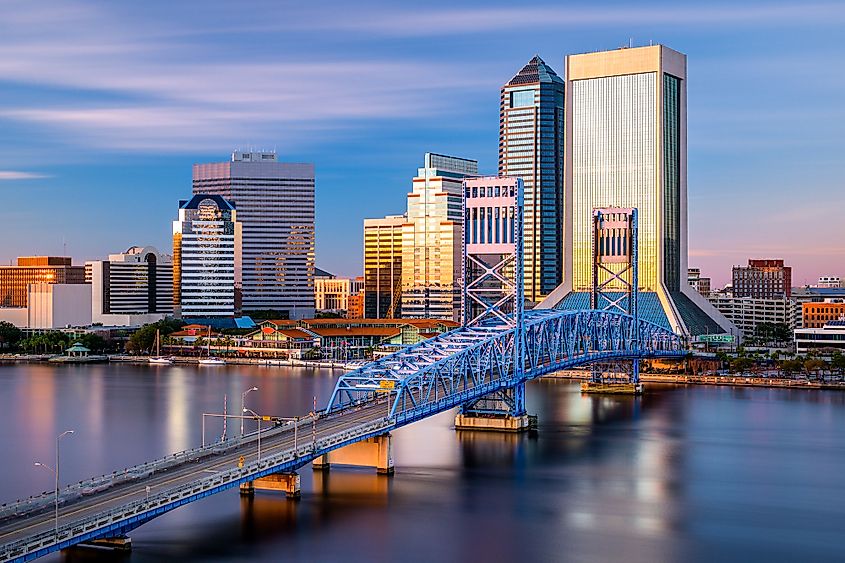 Jacksonville is the largest city in Florida and the southeastern United States. Frequently rated highly for its low cost of living, stable housing market, access to high-quality amenities, and a warm and sunny climate, the city is also the site of the State's third largest seaport, the Port of Jacksonville. A hot spot for tourism, premier golfing can be found here, and retirees have many options when it comes to affordable housing. Families will also find a number of highly rated schools for their children, while visitors at large can enjoy several cultural attractions. These include galleries, museums, theatres, and beautiful state parks. 
2. Miami - 450,797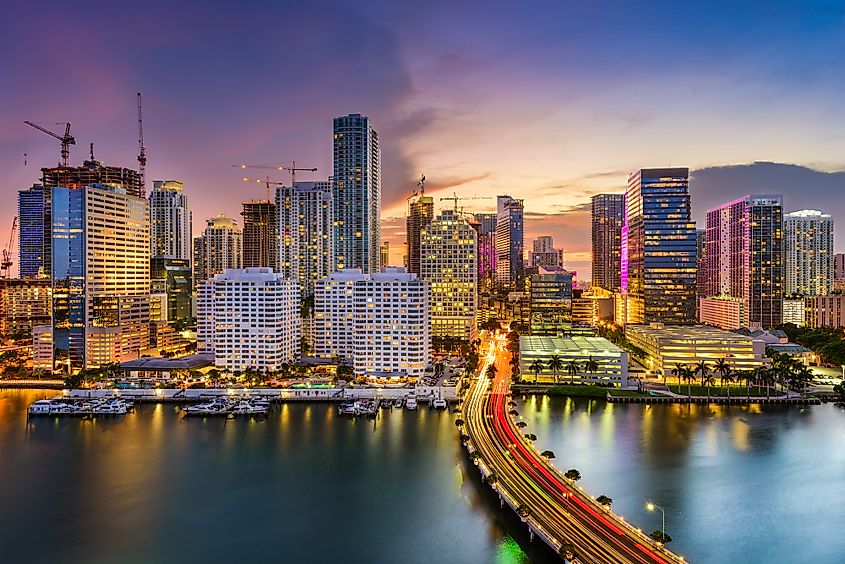 Miami is one of Florida's most exciting cities and amongst America's most diverse places. With a bustling social scene, a vibrant arts community, a culturally diverse population, and of course, some of Florida's best beaches, Miami is indeed a global hub city. Popular with youth, seniors, and professional workers alike, Miami is a one-stop destination for high-quality amenities of modern life, where culture and nature meet in a most spectacular locale. 
3. Tampa - 394,809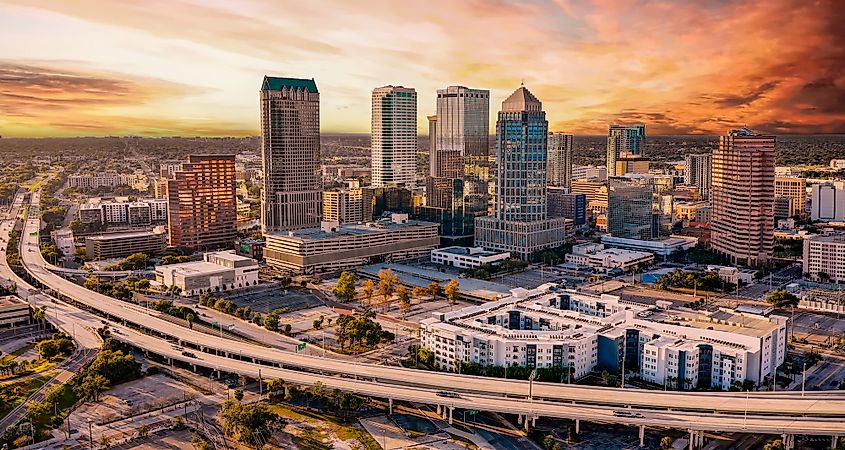 Known for its sunny climate and bustling local economy, Tampa is a beautiful city in the Tampa Bay metropolitan area. A popular tourist destination with attractions like the Florida Aquarium and the Tampa Bay History Center, the city also attracts working professionals, as well as seniors and youth. With a healthy job market and an exciting downtown, residents and visitors alike can enjoy all the cultural and natural beauty that Tampa offers. Among the city's most popular destinations is the Tampa Riverwalk, a stunning 4-kilometre pedestrian walkway along the charming Hillsborough River. 
4. Orlando - 321,427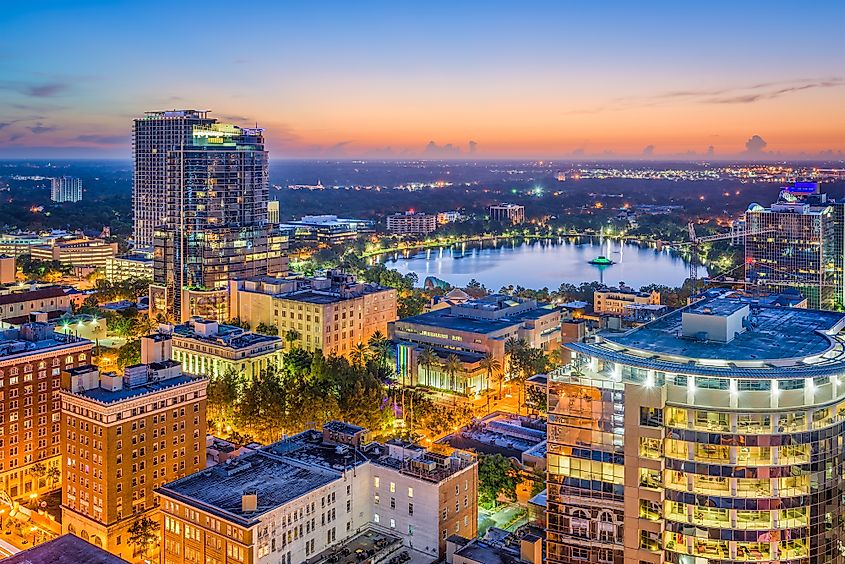 Orlando is a tourist's paradise and is the home of the renowned theme parks Universal Studios and Walt Disney World, amongst many galleries, theatres, parks, shopping malls, and of course, the hot Florida sun. With a thriving local economy, and many job opportunities available (particularly within the theme parks), Orlando attracts young families, retirees, and research professionals from across the nation. A center of Florida's citrus industry, the city is also the site of the University of Central Florida, with some 70,000 enrolled students. 
5. St. Petersburg - 261,016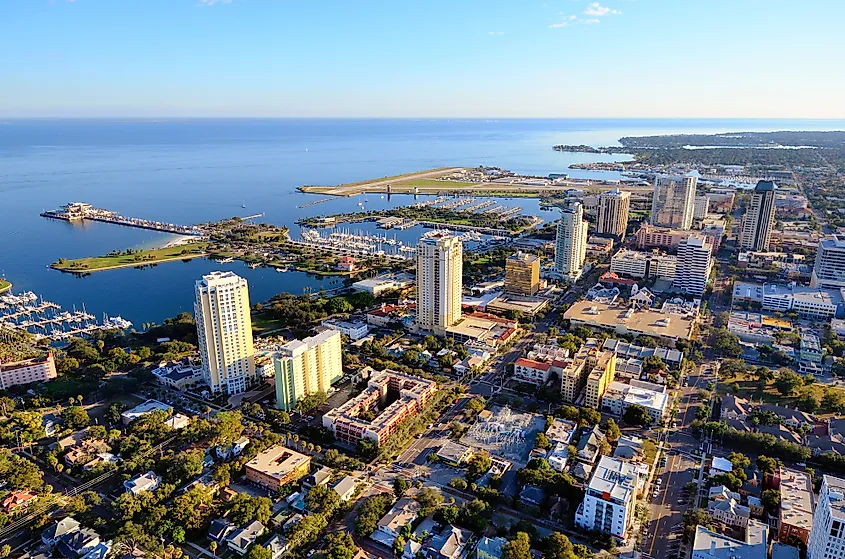 Nicknamed the "Sunshine City," St. Petersburg averages an amazing 361 days of sunshine every year! Coupled with a pleasant and warm climate, its short distance to the ocean and its relatively low cost of living have made the city an attractive destination for young and old. Visitors and residents can both enjoy a vibrant local cultural scene, high-quality amenities of modern life, and a healthy economy conducive to investment. Amongst St. Petersburg's largest industries are healthcare and retail, creating a vast job market. 
6. Hialeah - 222,797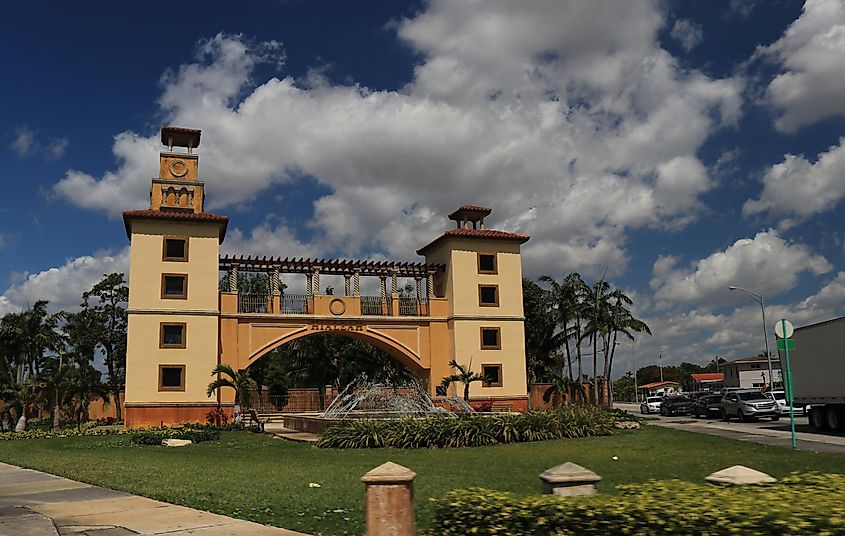 A suburb of Miami (just a 28-minute drive from its downtown core), Hialeah has the highest percentage of Cuban-Americans in all of the United States. An attractive destination for those who want to directly avoid some of Miami's congestion while still enjoying its vicinity, Hialeah is an ideal place. With affordable housing, a relatively low cost of living, and a low crime rate, this town is indeed a pleasant locale for all. And of course, its Latin history is very much alive! Visitors and residents alike can enjoy some of the best Cuban restaurants in the country and many important Hispanic cultural institutions and museums. 
7. Port St. Lucie - 212,901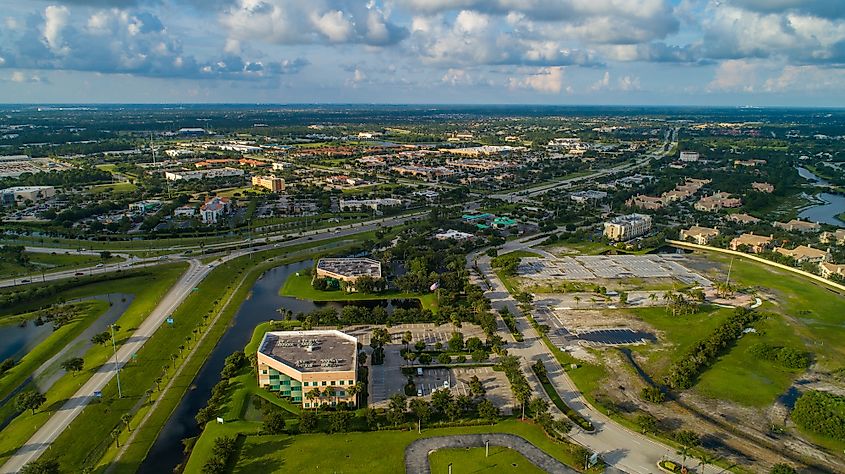 Some 182 kilometers north of Miami, Port St. Lucie is amongst the most popular spots to visit and live in Florida's famed eastern Treasure Coast. An affordable place to live, home buyers can find many budget-friendly properties in attractive and safe neighborhood communities. Port St. Lucie is a favorite destination for retirees, which also offers an abundance of well-maintained golf courses and special 55-plus gated communities. Add with a low crime rate, a rather stable housing market, warm weather, and stunning sandy beaches, Port St. Lucie is a great place to explore and settle. 
8. Cape Coral - 201,958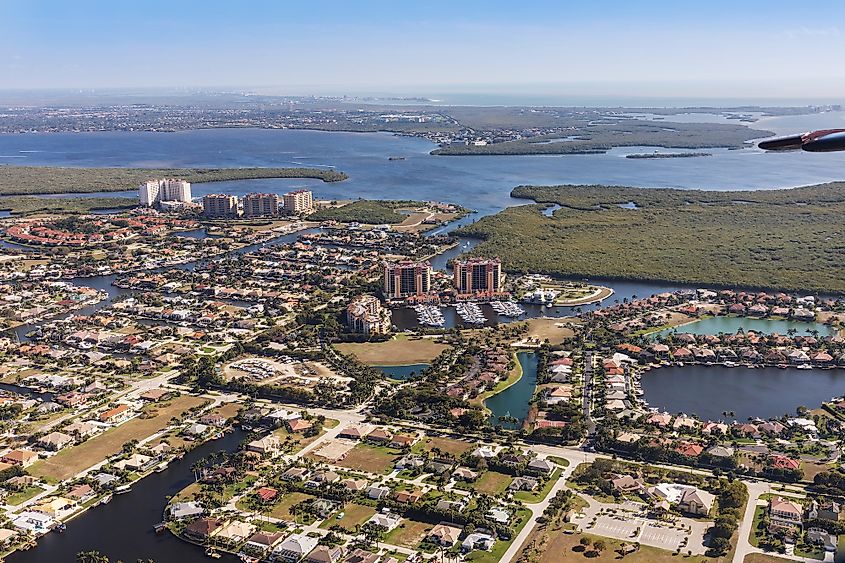 Cape Coral is located on the Gulf of Mexico and is ideal for enjoying a beautiful beach lifestyle and a nature-filled atmosphere. Here residents and visitors can marvel at many Gulf Coast beach areas, an eclectic range of wildlife, charming canals, nature parks, and relaxing recreation centers. Attractive for its low crime rates, highly rated local school system, and naturally sunny climate, Cape Coral has seen steady growth. Today seniors, young families, and working professionals all call this mid-size city home. 
9. Tallahassee - 199,127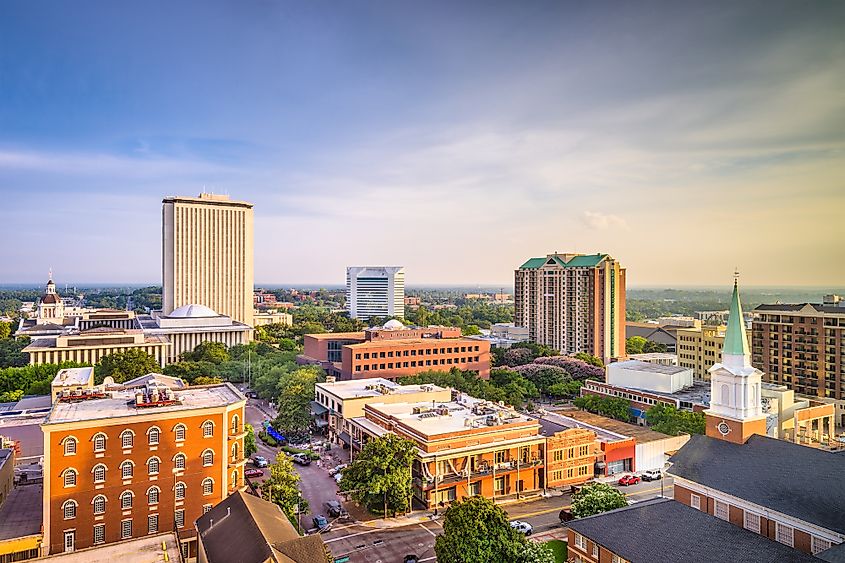 Florida's State Capital, Tallahassee, is a bustling government and college town, home to the campuses of Florida State University and Florida A&M University. As the state capital, Tallahassee is an important hub for legal and government agencies and attracts working professionals from across the State. With its mix of young students, growing families, and highly trained workers, the city is a comfortable place to settle down. In addition to its relatively low cost of living for a capital city and its naturally warm and sunny weather, Tallahassee should not be overlooked in assessments of Florida's metropolises. 
10. Fort Lauderdale - 186,208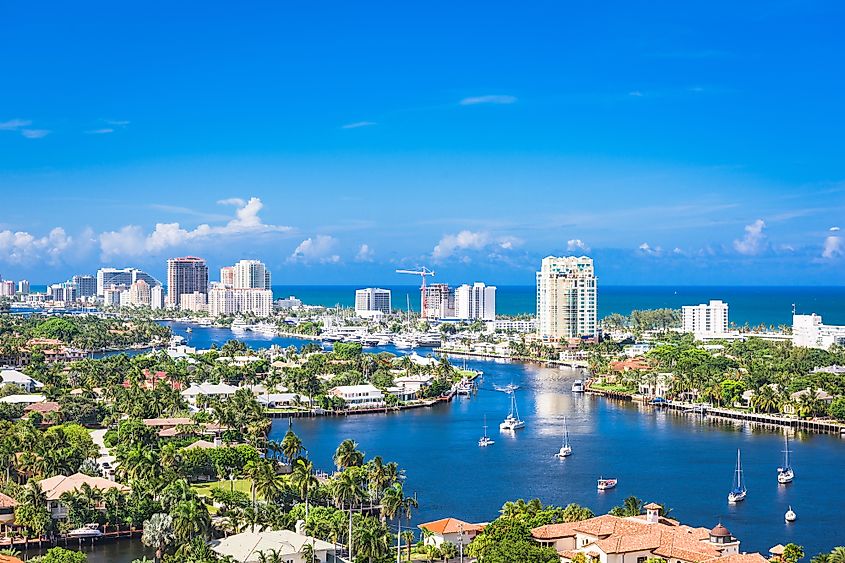 Situated in the Miami metropolitan area, the city of Fort Lauderdale is a beautiful destination for the young and old. Home to some of Florida's most highly esteemed beach areas, the State's 10th largest city also has a bustling nightlife, a wide variety of fine and casual dining options, and many shops, theatres, and museums. Popular with retirees, many of whom are called "snowbirds," Fort Lauderdale is also a prime destination for Spring Break partygoers. Both groups can enjoy the city's warm sun and pleasant atmosphere. Fort Lauderdale is an excellent example of a smaller city with all the comforts and amenities of some of the world's bigger urban centers. It is also a major center of boat and yacht manufacturing.
Florida has long been and continues to be amongst the United States' most popular destinations. With its diverse geographic features, hot weather, and fascinating cultural history, it is not hard to see why. Its ten largest cities offer a snapshot of some of the "Sunshine State's" very best offerings, proving that whether one is looking to retire, start their career, or spend a vacation, there may be no better place than Florida. 
50 Biggest Cities In Florida
| Rank | Name | Population  |
| --- | --- | --- |
| 1 | Jacksonville | 975,177 |
| 2 | Miami | 450,797 |
| 3 | Tampa | 394,809 |
| 4 | Orlando | 321,427 |
| 5 | St. Petersburg | 261,016 |
| 6 | Hialeah | 222,797 |
| 7 | Port St. Lucie | 212,901 |
| 8 | Cape Coral | 201,958 |
| 9 | Tallahassee | 199,127 |
| 10 | Fort Lauderdale | 186,208 |
| 11 | Pembroke Pines | 174,464 |
| 12 | Hollywood | 155,527 |
| 13 | Gainesville | 144,431 |
| 14 | Miramar | 137,257 |
| 15 | Coral Springs | 137,054 |
| 16 | Palm Bay | 123,074 |
| 17 | West Palm Beach | 120,915 |
| 18 | Lehigh Acres | 119,787 |
| 19 | Clearwater | 119,214 |
| 20 | Brandon | 116,854 |
| 21 | Spring Hill | 116,558 |
| 22 | Lakeland | 115,685 |
| 23 | Riverview | 114,666 |
| 24 | Pompano Beach | 114,486 |
| 25 | Miami Gardens | 112,534 |
| 26 | Davie | 108,431 |
| 27 | Boca Raton | 100,028 |
| 28 | Sunrise | 99,915 |
| 29 | Deltona | 95,394 |
| 30 | Alafaya | 95,320 |
| 31 | Plantation | 93,110 |
| 32 | Palm Coast | 92,074 |
| 33 | Fort Myers | 91,215 |
| 34 | Deerfield Beach | 89,227 |
| 35 | Town 'n' Country | 87,453 |
| 36 | Melbourne | 86,400 |
| 37 | Homestead | 84,781 |
| 38 | The Villages | 84,605 |
| 39 | Largo | 83,453 |
| 40 | Kissimmee | 83,134 |
| 41 | Boynton Beach | 82,812 |
| 42 | Miami Beach | 81,912 |
| 43 | Doral | 81,908 |
| 44 | Kendall | 81,215 |
| 45 | North Port | 78,281 |
| 46 | Lauderhill | 76,002 |
| 47 | Daytona Beach | 74,975 |
| 48 | Tamarac | 74,191 |
| 49 | Poinciana | 72,533 |
| 50 | Wesley Chapel | 69,020 |