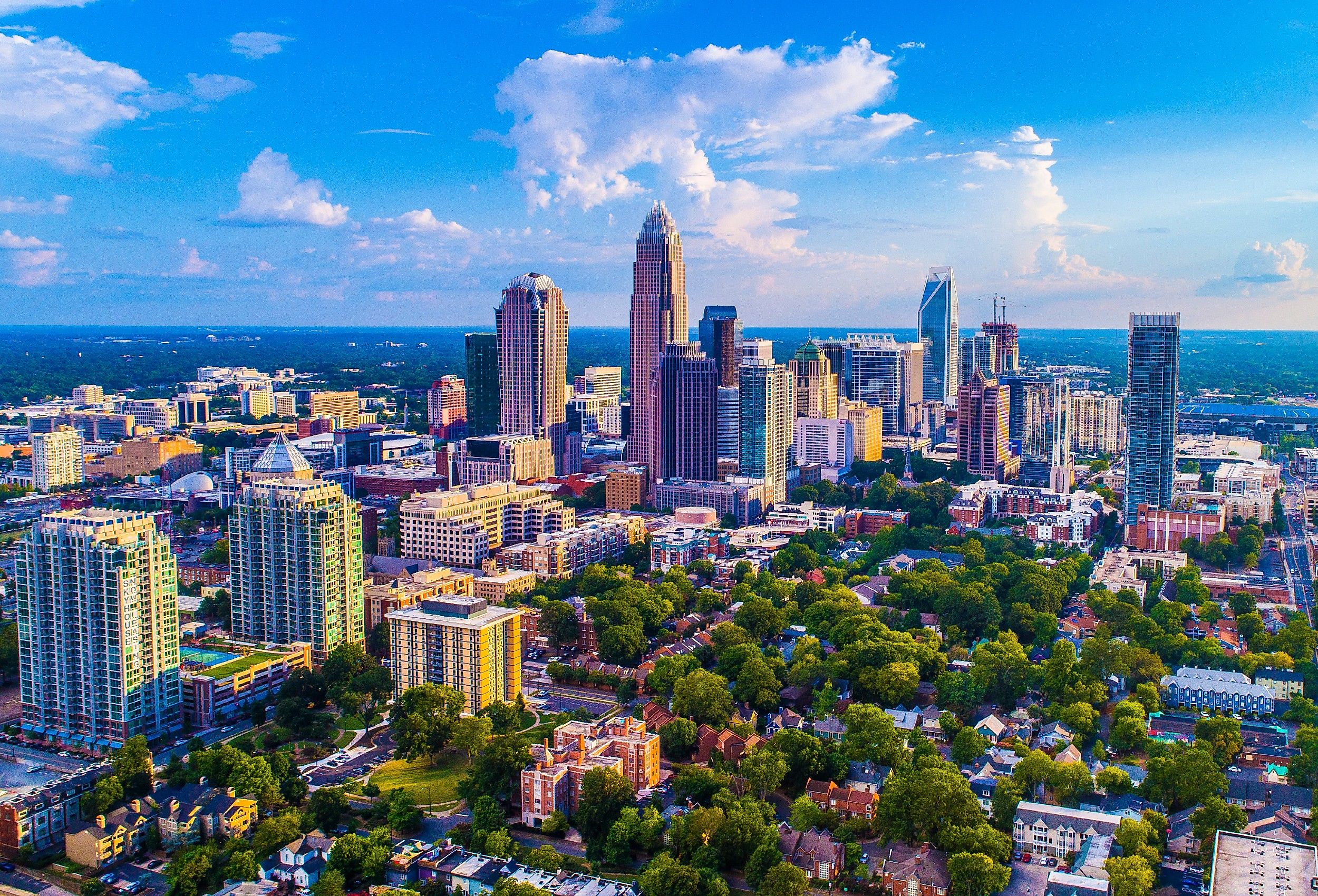 9 Most Charming Cities in North Carolina
North Carolina, United States, sits on the shores of the Atlantic Ocean, with its neighbors South Carolina to the south and Virginia to the north. Aside from the expansive oceanic views and beaches, North Carolina boasts over 40 mountains, with peaks reaching elevations of 6,000 feet. Moreover, the cities within North Carolina bustle with energy and a variety of businesses, and they have low costs of living. These most charming cities in North Carolina, from Asheville to Rocky Mount, each offer special sights and attractions.
Asheville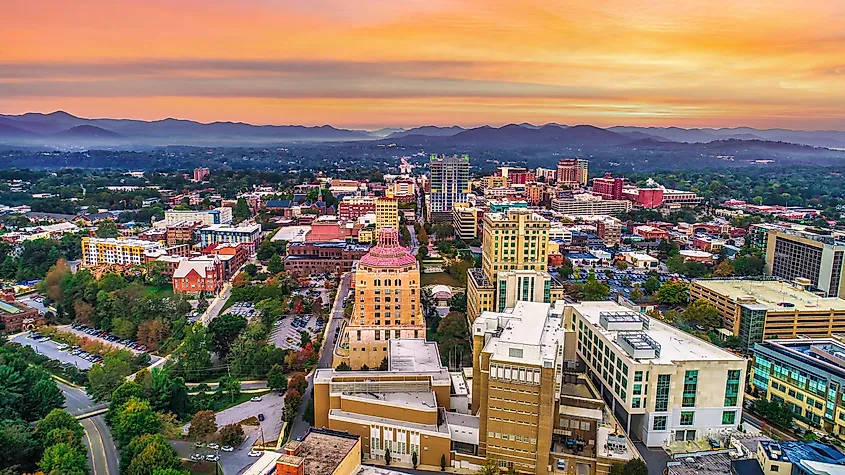 Asheville, North Carolina, has a population of about 94,000 people. From nature centers to unique gift shops to mouth-watering cuisine, there is something to charm everyone in this city. Hugging the city is the Blue Ridge Mountains. Travel 30 miles out of the city core and explore the peaks at Mount Mitchell State Park. It houses the highest peak east of the Mississippi River. To capture picture-perfect terrain and get a challenging hike in, visit Richmond Hill Park. It contains a maze of dirt and stone paths and offers views of hilly areas covered in trees.
For shopping, visit the Farmers Market. Farm-fresh produce and freshly-picked wildflowers are available. Also, indulge in unique foods from restaurants like Tupelo Honey Café and Sovereign Remedies. Asheville also has a thriving art scene. At the Asheville Art Museum, admire 21st-century pieces that depict American culture. The town also takes wellness seriously and has a handful of spas. The Salt Spa of Asheville and Himalayan Salt Cave Sanctuary is a must-try. They use dry salt halotherapy to promote relaxation and stress reduction.
Raleigh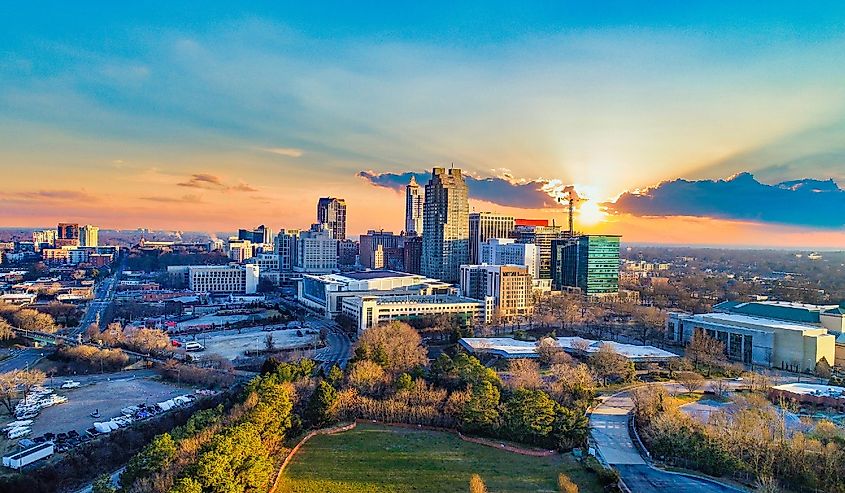 Explore the charming town of Raleigh, North Carolina, home to the not-so-typical park, Juniper Level Botanical Garden. It is a non-profit association that has 28 acres of various plants. Most exhibits are for research and learning. Some plant species to see include agave, Hosta, and iris. Tours are open all year long, with the main hours of operation being 8:00 am to 5:00 pm during the week.
For an outdoor escapade only 10 minutes away from the city, visit William B. Umstead State Park. It spans almost 6,000 acres and includes hiking and biking trails, fishing and camping areas, and paddle boating. Local fauna to spot include raccoons, deer, and the great blue heron. Additionally, take a brewery tour down Raleigh Beer Trail. It spans from Wake Forest to Holly Springs and surrounding areas. Many breweries on the path offer free tastings and tours to learn about the difference between beer blends.
Wilmington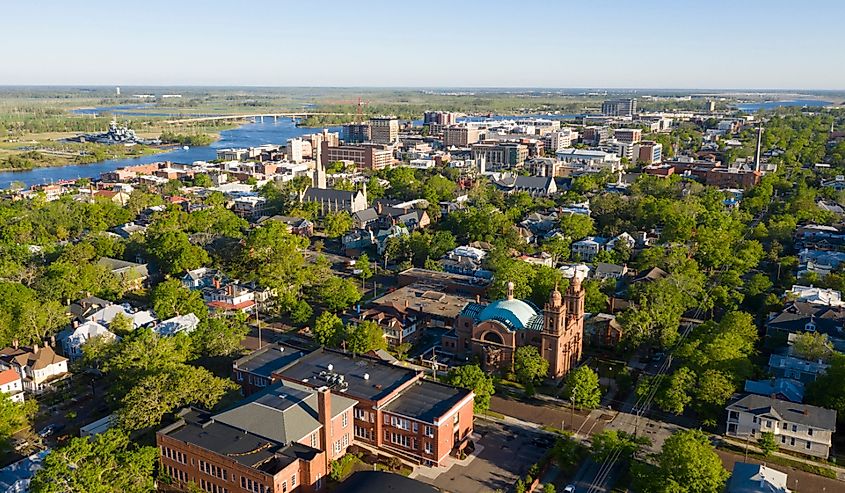 Wilmington, North Carolina, is right beside the Atlantic Ocean and boasts a collection of parks for outdoor exploring: Greenfield Park, Empie Park, and Halyburton Park. Along the surf, the city's main streets overflow with boardwalks, history, restaurants, and galleries. If the beach is your vibe, head to Carolina Beach and explore foodie delicacies along the strip, like Britt's Donuts or Salt Fish Restaurant and Tiki Bar, to enjoy the fresh catches from the day. Near Carolina Beach is Carolina Beach State Park, which offers sandy hiking trails that overlook Cape Fear River. After exploring, check out specialty shops you will not find at your local mall, like Jeanne's Jewels & Fashions Etc. or Seaside Shenanigans Boutique. No matter where you go in this city, you are sure to find charm within its seaside vibes.
Durham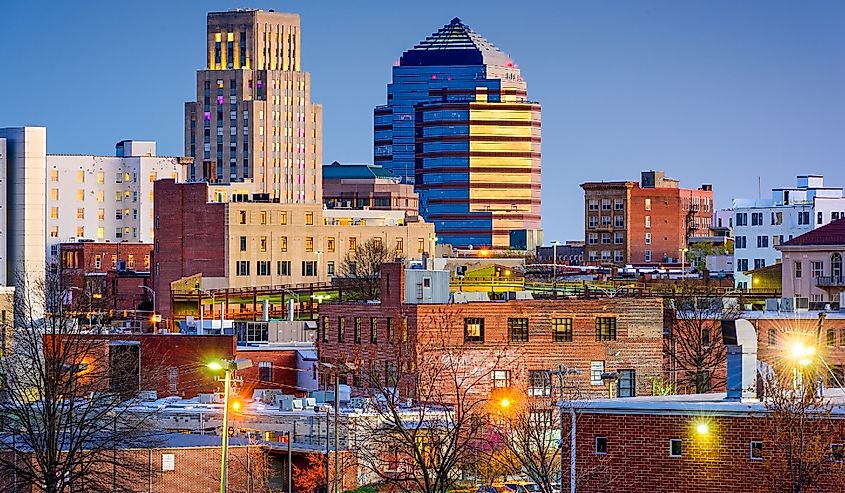 The streets of downtown Durham house big tech businesses and museums, but this does not mean it is devoid of green areas. Piney Wood Park has a basketball court, a playground, and a picnic area, and Hallow Rock Nature Park boasts luscious meadows and hiking trails. The city streets are walking friendly, with pedestrians and dogs milling about. Featuring Broadway performances, like Hamilton, stop by Durham Performing Arts Center to see if they have any shows taking place. Its theatre sits 2,700 people and hosts more than 200 shows every year.
To dive into 1865 Civil War history, visit Bennett Place Historical Site. The museum is a weathered lodge made of real logs and has exhibits inside showcasing civil war artifacts and the history of the Bennett family.
Charlotte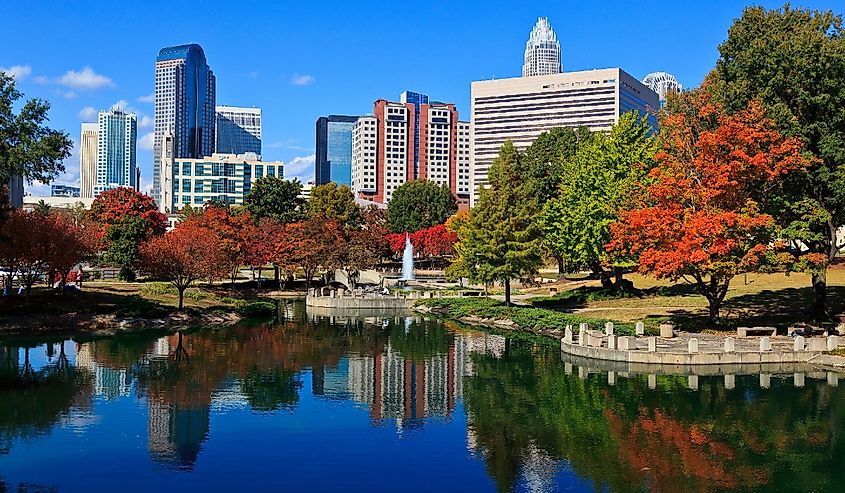 While Charlotte has busy city streets with trendy restaurants, bars, and live music, it also boasts nature adventures. Nearby, the Uwharrie National Forest offers opportunities to hike, mountain bike, and horseback ride. Additionally, check out McDowell Nature Preserve's expansive view of Lake Wylie and hike or bike down its paved paths. Native animals you may spot include tree frogs, turtles, and woodpeckers.
Another attraction that will charm you in this city is the NASCAR Hall of Fame. The museum consists of two stories of historical NASCAR artifacts and exhibits, and you get a look behind the scenes at what goes into racing. Another charming and interactive activity you can partake in throughout the city is taking iconic photos against beautiful, painted, and patterned walls, otherwise known as Instagram Photography Tour. The confetti hearts wall is a favorite.
Concord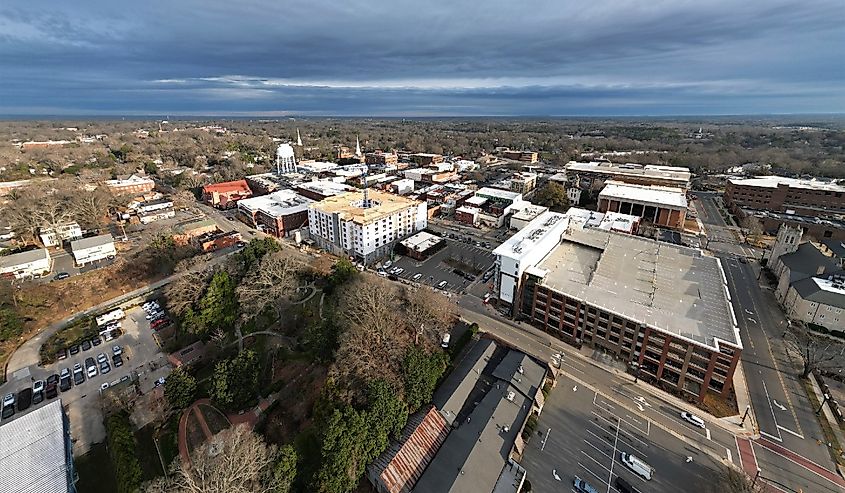 Northeast of Charlotte sits the city of Concord, a vast expanse of lush greenery, thanks to Camp TN Spencer Park. It even contains its own mountain, Mount Pleasant, which makes for an ideal hiking area. While this area is outside the city's borders, it is still accessible. Aside from this, Concord has fun and charming things to do and see right within the city core.
One top attraction is Concord Mills Mall. You may think that going to a mall while on vacation is basic, but this mall is far from it. With over 200 stores and hot brands, it also consists of an aquarium, go-kart racing, mini golf, and even monster truck rides. The mall is also right by the new Krispy Kreme store, where people indulge in the best donuts in the nation. If you want to try skydiving without falling in the air from an airplane, then visit IFLY. Using a state-of-the-art wind tunnel, safely experience all the sensations of skydiving without the risk. Wear a flight suit and helmet and enjoy the ride.
Jacksonville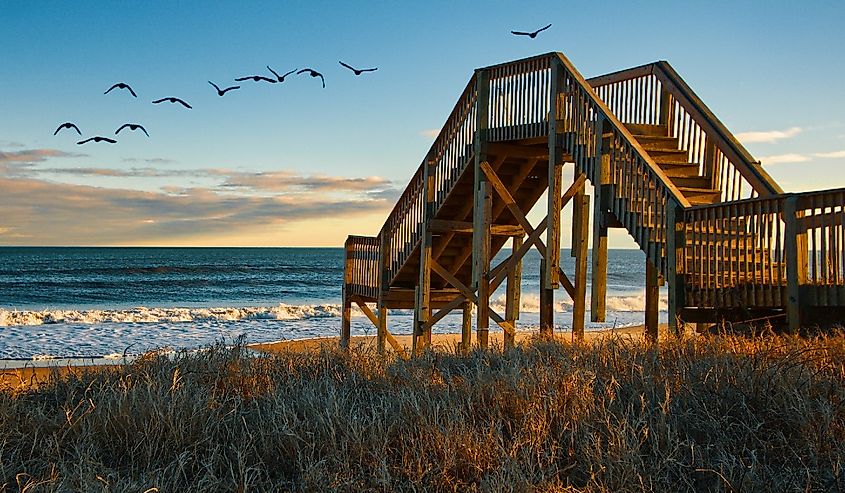 Jacksonville, North Carolina, has various beautiful water views nestled alongside the New River. It cuts paths through the community and swells into ponds. To enjoy this scenery, there are a couple of parks to visit: Wilson Bay Park and Northeast Creek Park. New River spans 320 miles, all the way into Canada.
Aside from this, Jacksonville has some of the best eateries for seafood, hearty breakfasts, and American cuisine. Kettle Diner has an extensive breakfast menu with farm-fresh ingredients. Duck's Grille & Bar contains a lively atmosphere, as well as succulent seafood. Or take a more exotic route and visit Marrakesh to taste the flavors of the Mediterranean. Next, dive into some history at the Old Train Depot. It resides in the city's park, Riverwalk Crossing Park. Back in the day, the train transported marines. This area also contains cobblestone streets, benches, and lush flowers, making it a perfect place to take a stroll or ride a bike.
Burlington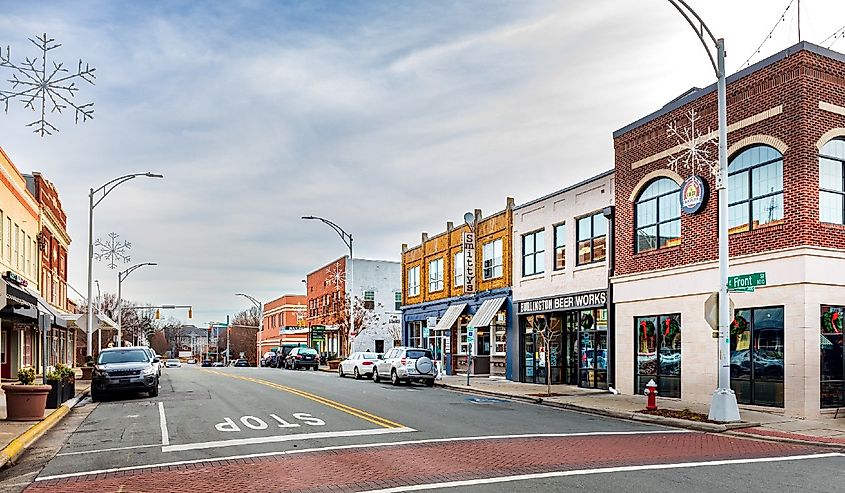 Stretching out at the southern edge of the city of Burlington lies Lake Macintosh, and right in the center is Burlington City Park Amusement Area. It boasts a collection of rides like a carousel, mini trains, and boats. While this alone is sure to charm families, there are other areas to explore. There is a playground and Sister Cities Fountain. Additionally, the park also has picnic areas and gazebos. The park also contains trails near Little Alamance Creek, where people explore the local flora and fauna.
The downtown streets of the city are a site to see. Sculptures and murals enhance the scenery with unique colors and patterns. After touring the streets, stop for a bite to eat at Zack's Hot Dogs. They cook a perfect classic hot dog, boasting the best-tasting dog around. They also have cheese dogs and even cheese dogs with bacon.
Rocky Mount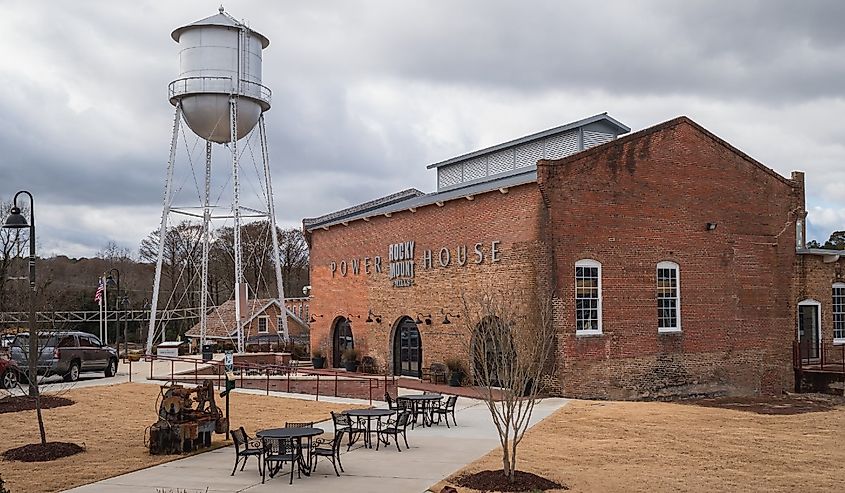 The name of the city comes from the rocky mounds that form falls in the Tar River. While it is a geological beauty, it also contains history, as this spot used to be one of the first cotton mills back in 1818, the Rocky Mount Mills. This city boasts one of the most unique lodging experiences made of a collection of tiny homes. River & Twine is a tiny home hotel where people can choose from 20 different tiny homes to stay in. Hammocks and bonfires are available. The scenery will make you want to move in. River & Twine is also close to restaurants and breweries.
If you are an outdoor adventurer, take to the Tar River Paddle Trail and launch a kayak or paddle boat in the river. Enjoy the calm waters and sounds of nature. For art lovers, stop by Imperial Center for the Arts & Sciences. It contains a community theater as well as a planetarium.
Who knew cities in North Carolina have so much charm? Each of these cities has its own unique nature landscapes with historical, artistic, or hipster flare. Will you travel to a city that has an amusement park in its core, or will you opt for one that plays Broadway musicals? No matter which one you visit, charm awaits you.