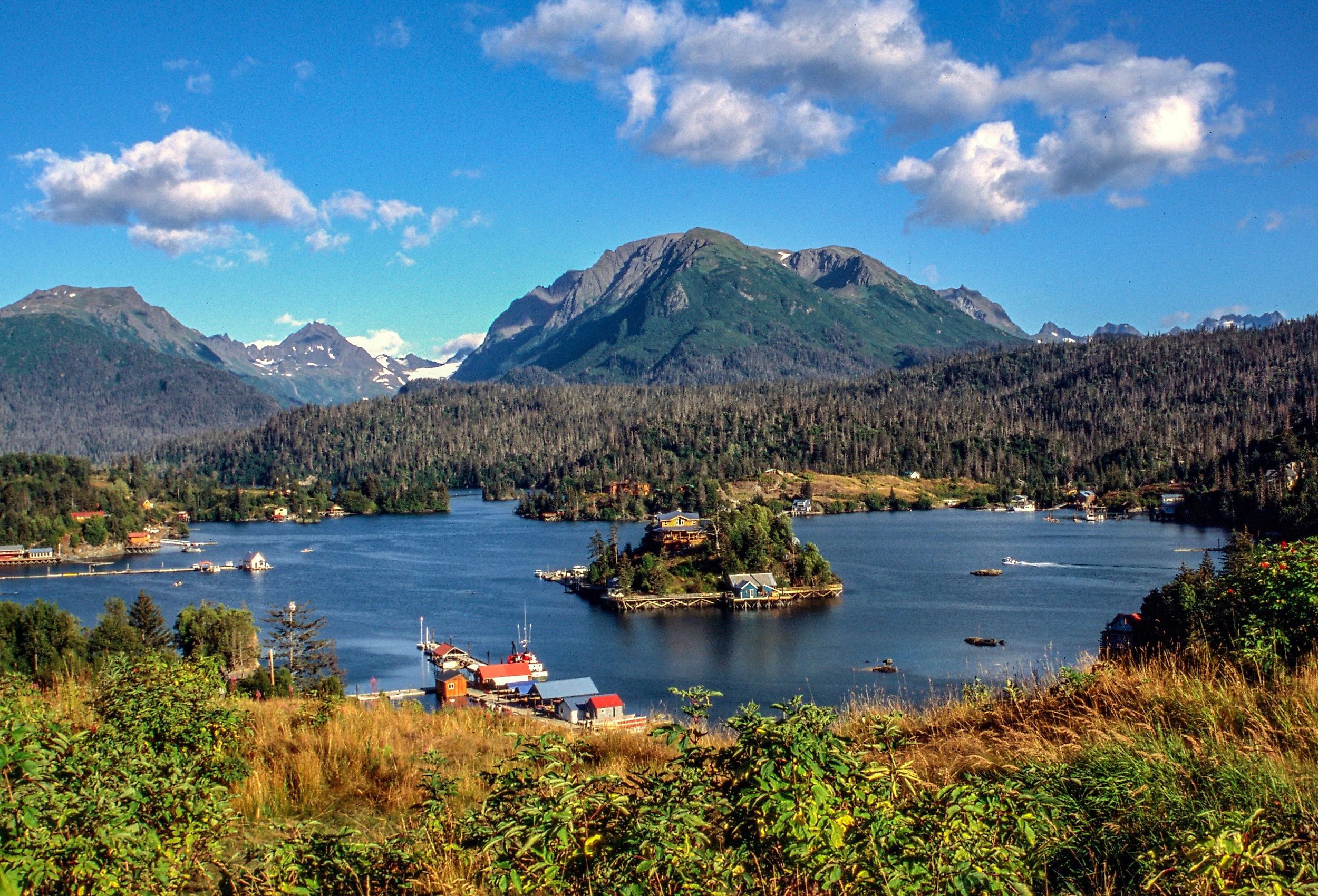 9 Cutest Small Towns in Alaska
Welcome to the Last Frontier, Alaska! With its vast, unspoiled wilderness, towering mountains, and breathtaking glaciers, Alaska is a true paradise for nature lovers and adventure seekers alike. The cutest small towns in Alaska boast enchanting rivers, serene lakes, and picturesque parks. Get ready to dive into captivating landscapes, unique wildlife, and warm-hearted communities that make these quaint Alaskan towns stand out from the rest. So, check your closest airline for flights and prepare to explore these hidden gems nestled within America's largest and most awe-inspiring state!
Talkeetna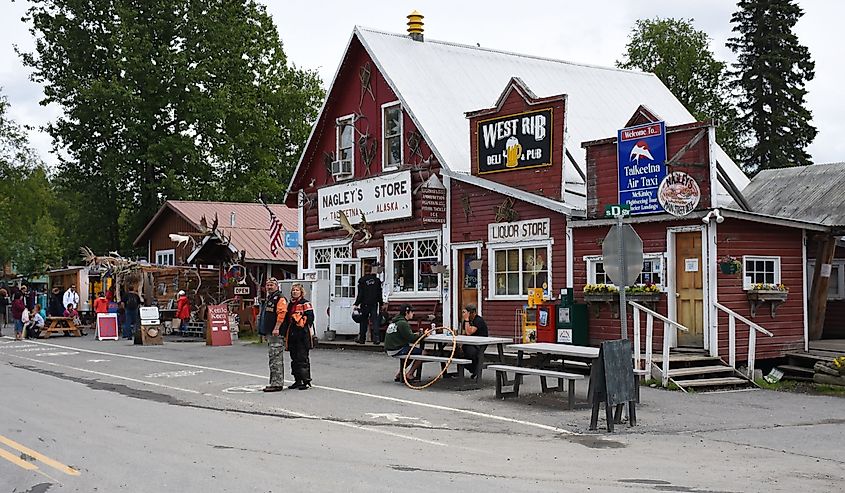 Tucked away at the confluence of three majestic rivers, Talkeetna is a picturesque town boasting a stunning backdrop featuring Denali, North America's tallest peak. This enchanting community captivates visitors with its quirky vibe, historic buildings, and vibrant arts scene. Guests can indulge in a scenic stroll along the tranquil Susitna River, embark on an adrenaline-pumping river rafting adventure, or explore the breathtaking Denali State Park. Beyond its awe-inspiring surroundings, Talkeetna serves as the perfect launchpad for unforgettable flightseeing tours to Denali National Park, providing a unique and mesmerizing Alaskan experience. Discover the charm and allure of Talkeetna, where nature's grandeur and a warm-hearted community create a magical destination.
Seward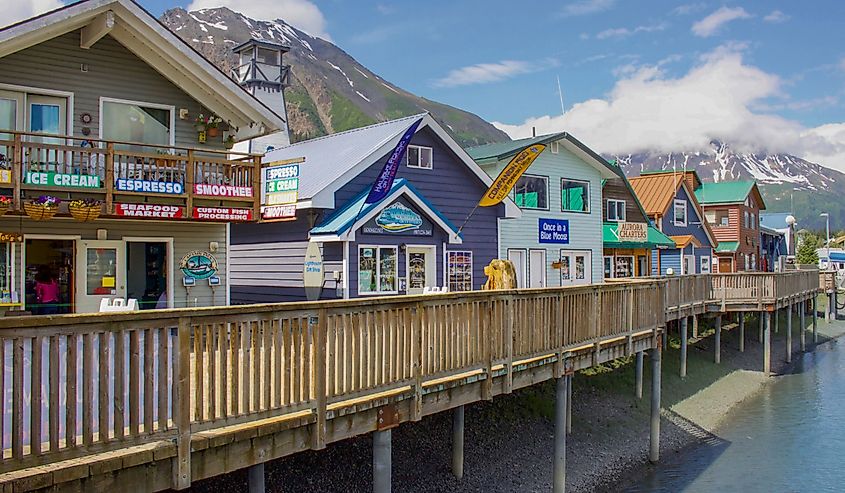 Situated along the stunning Resurrection Bay, Seward is the epitome of a picturesque Alaskan coastal town, boasting a breathtaking harbor and an intriguing maritime history. As the gateway to the awe-inspiring Kenai Fjords National Park, visitors can embark on thrilling wildlife cruises, navigate glacier-carved fjords by kayak, hike the magnificent Harding Icefield Trail, or explore numerous other outdoor activities. Seward is also home to the Alaska SeaLife Center, a cutting-edge research facility and public aquarium that offers an immersive glimpse into Alaska's diverse marine ecosystem. With its remarkable natural beauty, rich history, and abundance of marine adventures, Seward is an unmissable destination for those exploring the wonders of Alaska.
Skagway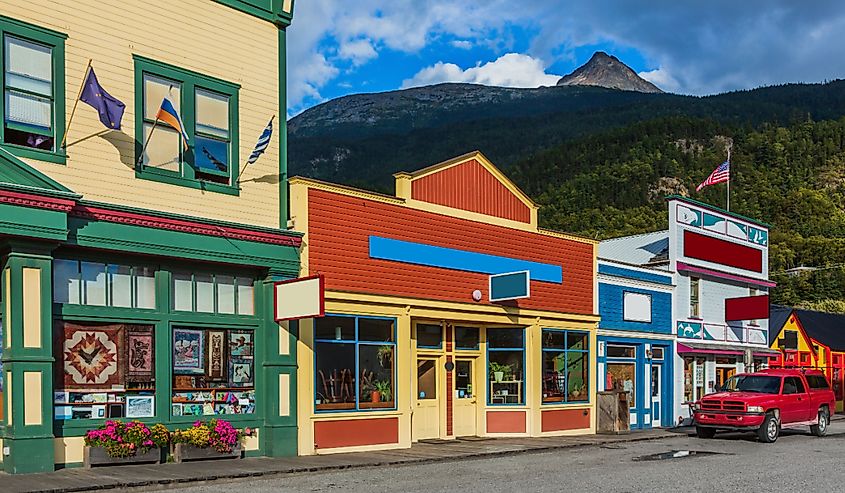 Steeped in Gold Rush history, Skagway is a captivating and alluring town that transports visitors back in time with its well-preserved historic buildings and lively atmosphere. Nestled at the head of the Lynn Canal, Skagway boasts stunning mountain views and access to the Chilkoot Trail, a legendary route once traversed by gold-seekers. Adventure awaits as you embark on a scenic ride aboard the White Pass & Yukon Route Railroad, which winds its way through awe-inspiring landscapes, showcasing cascading waterfalls, majestic glaciers, and picturesque alpine valleys. With its rich heritage and mesmerizing surroundings, Skagway is a must-visit destination for those seeking an authentic Alaskan experience steeped in history and natural beauty.
Sitka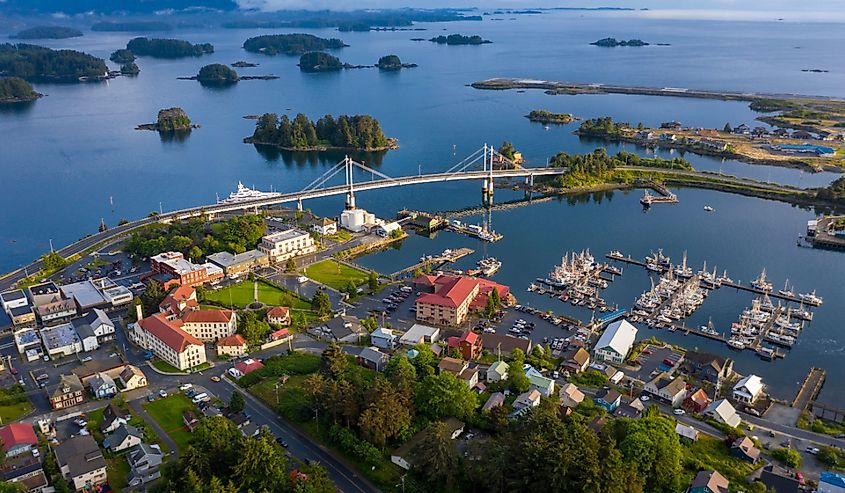 Situated on Baranof Island, Sitka is a beautifully picturesque coastal town that boasts a unique blend of Tlingit, Russian, and American history. Surrounded by the pristine waters of the Pacific Ocean and the lush temperate rainforest of the Tongass National Forest, Sitka offers a variety of outdoor recreation opportunities for adventure-seeking visitors. Immerse yourself in the area's rich cultural heritage by visiting the Sitka National Historical Park, or embark on a hike through the scenic trails of Harbor Mountain, revealing breathtaking vistas. In addition, the town's vibrant community and diverse wildlife make Sitka a special Alaskan destination that captures the hearts of all who visit this enchanting town.
Homer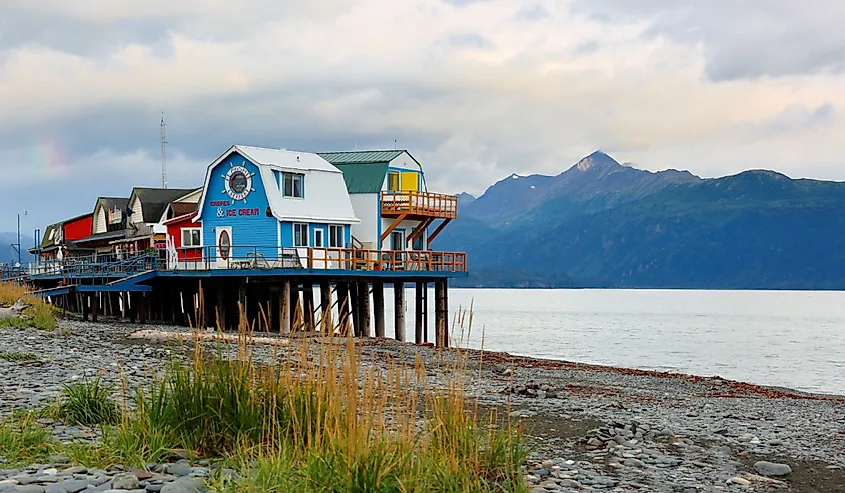 Set on the picturesque shores of Kachemak Bay, Homer is a dynamic fishing town famed for its remarkable 4.5-mile-long Homer Spit, a slim stretch of land extending into the bay. This energetic town captivates artists, fishermen, and nature enthusiasts alike. Delve into the stunning beauty of Kachemak Bay State Park, featuring idyllic hiking trails and numerous opportunities to encounter wildlife, or meander along the animated boardwalks lining the Homer Spit. Enjoy the town's thriving arts scene and savor the local cuisine in its diverse eateries. With its exceptional blend of awe-inspiring landscapes, lively atmosphere, and welcoming community, Homer delivers an unparalleled Alaskan experience that is unforgettable.
Valdez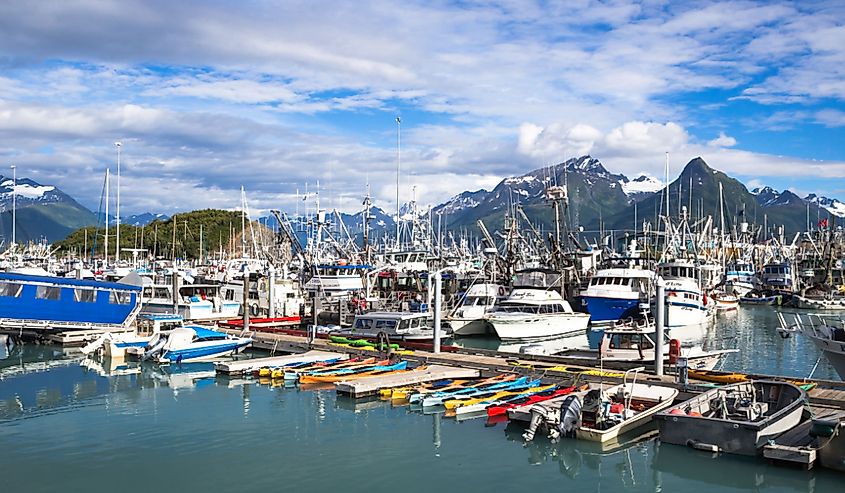 Tucked away at the foot of the majestic Chugach Mountains, Valdez is a stunning harbor town renowned for its awe-inspiring glaciers, breathtaking waterfalls, and bountiful wildlife. Serving as the gateway to the unspoiled beauty of Prince William Sound, this pristine marine sanctuary brims with diverse marine life, glistening glaciers, and verdant rainforests. Venture on a thrilling wildlife or glacier cruise, paddle through the tranquil waters on a kayak or explore the myriad trails that encircle the town, immersing yourself in the unparalleled Alaskan wilderness. With its extraordinary fusion of natural splendor and exhilarating outdoor escapades, Valdez stands out as a remarkable Alaskan treasure that beckons adventure seekers and nature lovers alike.
Haines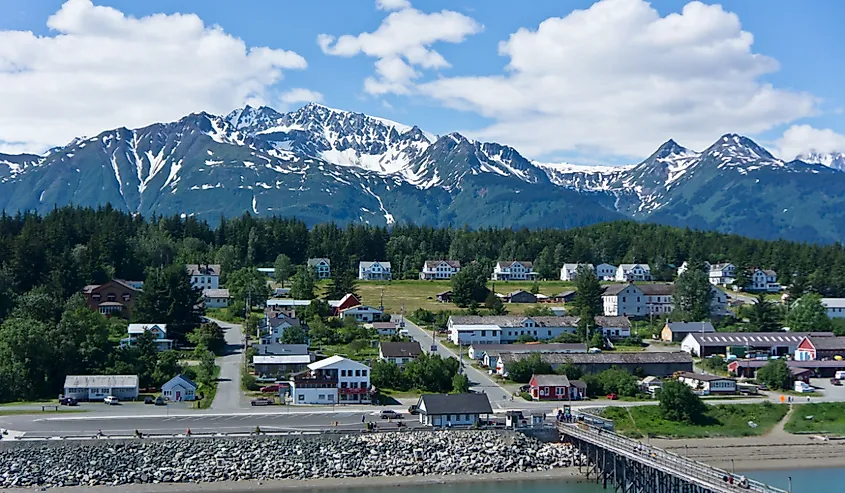 Nestled along the awe-inspiring Lynn Canal, Haines is an enchanting town that harmoniously fuses pristine wilderness with a flourishing arts scene. The Chilkat Bald Eagle Preserve, which houses the world's largest concentration of bald eagles, is an unmissable destination for wildlife enthusiasts. Meanwhile, hiking aficionados will relish the opportunity to explore the nearby Chilkoot Lake State Recreation Site, which boasts captivating trails and abundant opportunities for wildlife encounters. With its awe-inspiring natural beauty, vibrant community spirit, and diverse attractions, Haines stands out as an idyllic Alaskan sanctuary. Embark on a journey to this charming town, and enjoy an unforgettable experience that will leave you longing for more.
Cordova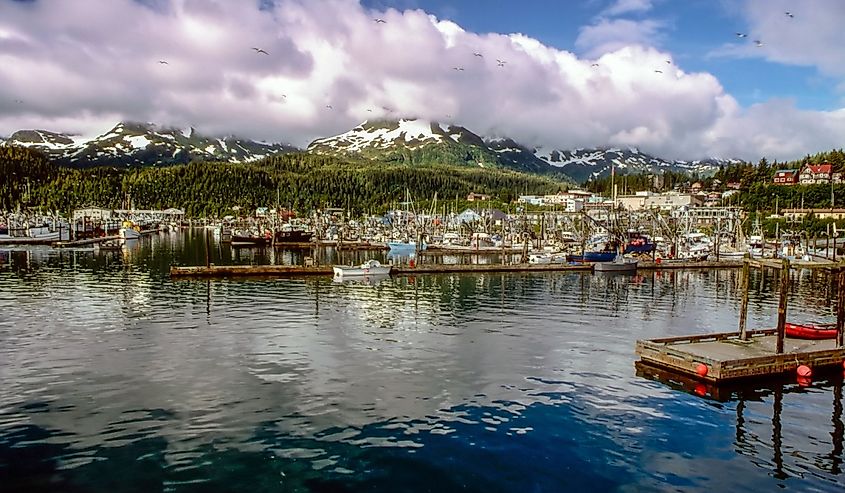 Tucked away and accessible solely by air or sea, Cordova is a remote fishing town nestled between the majestic Chugach National Forest and the stunning Prince William Sound. This hidden gem presents a treasure trove of outdoor adventures for intrepid explorers, ranging from hiking in the breathtaking Copper River Delta to delving into the pristine waters of the Orca Inlet. With its rich fishing heritage, untouched natural beauty, and an air of seclusion, Cordova delivers a genuinely unique and authentic Alaskan experience. Venture into this captivating haven, and bring home memories of awe-inspiring landscapes and adventures that will stay with you long after your journey has ended.
Girdwood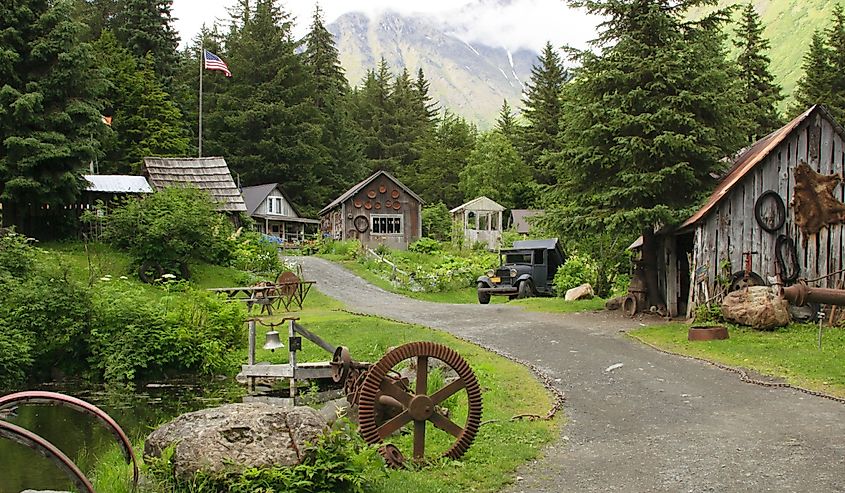 Nestled in a verdant valley and encircled by majestic mountains, Girdwood is a charming mountain resort town located just south of Anchorage. As the home of the renowned Alyeska Resort, Girdwood serves as a hub for year-round outdoor pursuits, including skiing, snowboarding, and hiking. Immerse yourself in the beauty of the landscape by exploring the enchanting Winner Creek Trail. Or embark on a mesmerizing journey aboard the Alyeska Aerial Tram, offering awe-inspiring panoramic vistas of the surrounding Chugach Mountains and the shimmering Turnagain Arm. With its breathtaking alpine backdrop and a myriad of outdoor adventures at your fingertips, Girdwood emerges as an irresistible Alaskan retreat, perfect for creating unforgettable memories.
Each of these cute small towns features a distinct allure and awe-inspiring landscapes. From the crystal-clear waters of Seward's Resurrection Bay to the unspoiled wilderness that embraces Cordova, each town presents unforgettable memories for those who venture there. So, if you are ready to immerse yourself in the Alaskan essence, grab your bags and embark on a journey to uncover these captivating towns. In doing so, you will uncover the genuine soul of the Last Frontier and create memories that will last a lifetime.