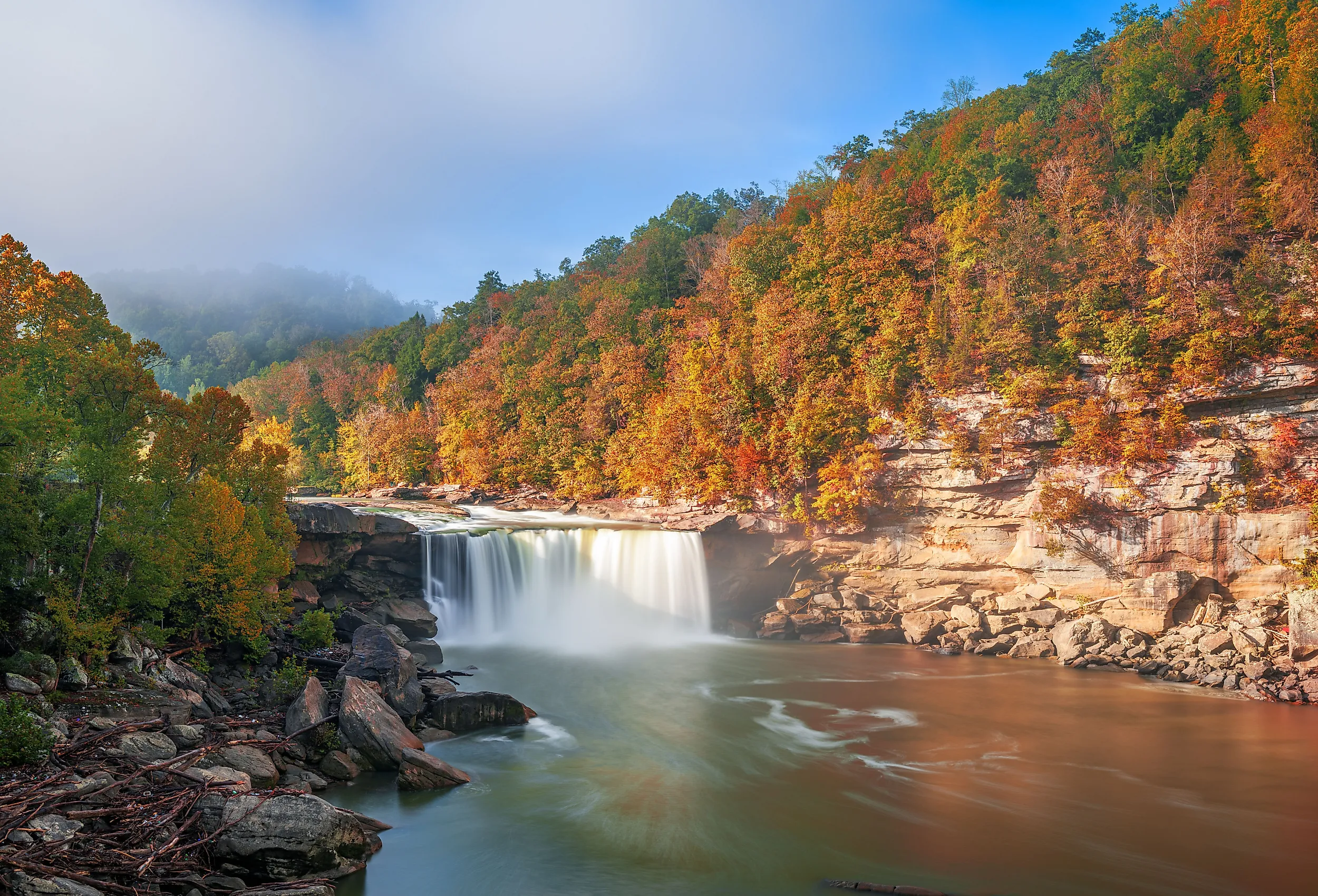 8 Unforgettable Small Towns to Visit in Kentucky
From the rolling bluegrass pastures and historic distilleries of bourbon country to pioneering settlements and quaint main streets, Kentucky is brimming with unique small towns that capture the heart and soul of the state. Each region has its own distinctive flair and local traditions, but visitors will find Southern hospitality and pride in Kentucky heritage everywhere they wind up. Take a stroll through charming villages or drive down country roads to experience heritage crafts, presidential birthplaces, battlefields, lunar rainbows, and more. Discover the rich history, arts, culture, and natural beauty tucked away in these memorable Kentucky towns.
Bardstown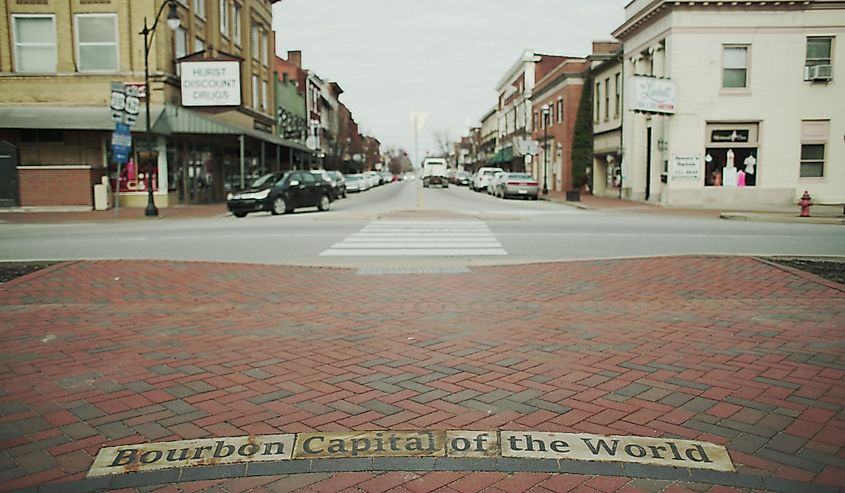 Situated in the heart of Kentucky's famous bourbon country, Bardstown earned its nickname as the Bourbon Capital of the World. With its gentle rolling hills and proximity to limestone-filtered springs, the geography and climate here create the perfect conditions for producing bourbon. Visit iconic distilleries like Maker's Mark, Heaven Hill, and Willett for tastings and tours. The annual Kentucky Bourbon Festival every September celebrates with live music, food, and the World Championship Bourbon Barrel Relay. Also, do not miss out on visiting My Old Kentucky Home State Park, where the elegant Federal Hill mansion inspired Kentucky's state song. Stroll the historic downtown's shops, restaurants, and museums. Grab lunch at the Old Talbott Tavern which was built in 1779 and is amazingly still in business today. Then visit the Oscar Getz Museum of Whiskey History to view rare historic artifacts such as from Colonial times and the Prohibition era. 
Harrodsburg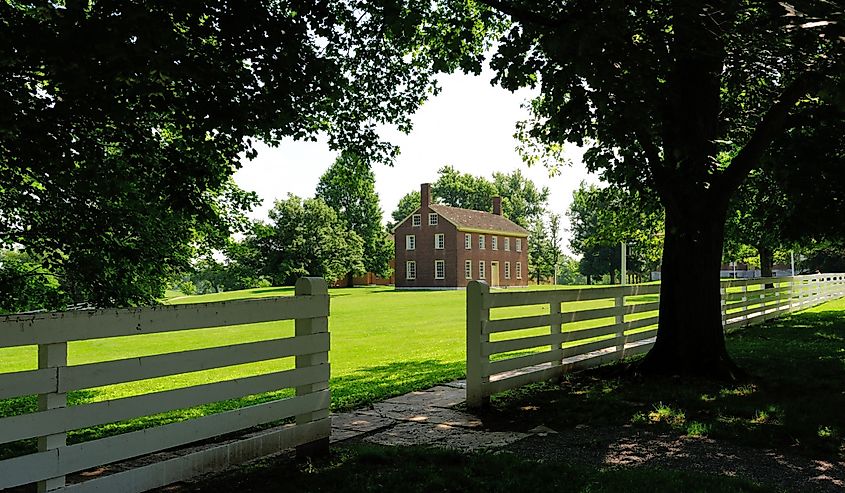 Founded in 1774 as Kentucky's first permanent settlement, Harrodsburg has centuries of pioneer history within its quaint downtown. Old Fort Harrod State Park lets visitors check out the past with costumed reenactors at the fort where legendary frontiersman Daniel Boone and Captain James Harrod first established this gateway settlement to the western frontier. Walk the grounds of this fort, the original site of Harrodsburg, and experience what life was like on the edge of civilization in the late 18th century. Pop into historic taverns like The Beaumont Inn, which opened in 1845 and where Abraham Lincoln once stayed as he traveled the frontier as a young lawyer. Or enjoy the family-style southern cooking featuring recipes passed down six generations at the famous Weisenberger Mill. The mill is conveniently located near the town's historic district lined with amazing Greek Revival and Victorian architecture.
Berea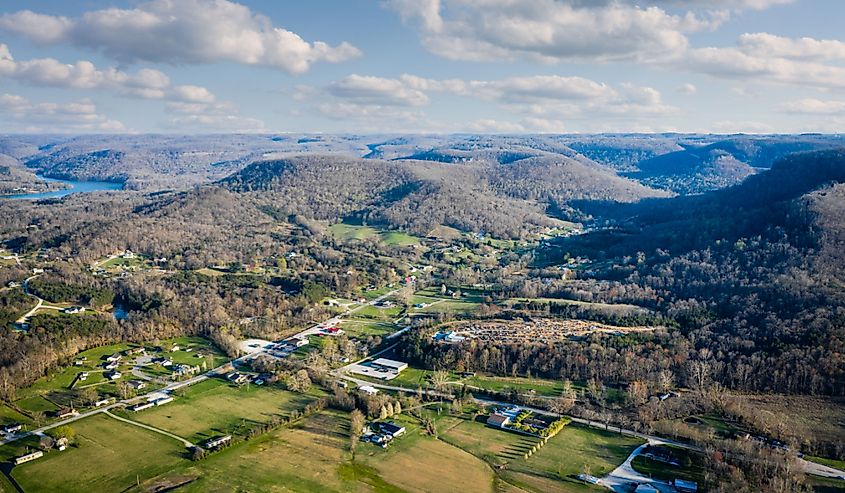 Berea has been a haven for local artisans since the 1850s, home to Berea College which was the first interracial and coeducational college in the South. Students and faculty create the many crafts sold in town galleries, from weaving and glassblowing to woodworking and metalsmithing. With the awe-inspiring Pinnacles rock formations nearby, Berea's location provides a perfect blend of natural beauty and artistic talent. The historic Boone Tavern Hotel has welcomed famous figures like Eleanor Roosevelt and Muhammad Ali over its century-old history. Berea also hosts annual folk festivals focused on traditional Appalachian arts like storytelling, spoon carving, weaving, and dulcimer music that highlight the local culture. Explore the town's artisan history at the Kentucky Artisan Center, a museum honoring centuries of craftsmanship and tradition. Here you can support hundreds of talented Kentucky artists and local businesses by directly purchasing works from them. The gallery is also home to the popular The Artisan Café offering regional favorites and handmade ice cream.  
Shaker Village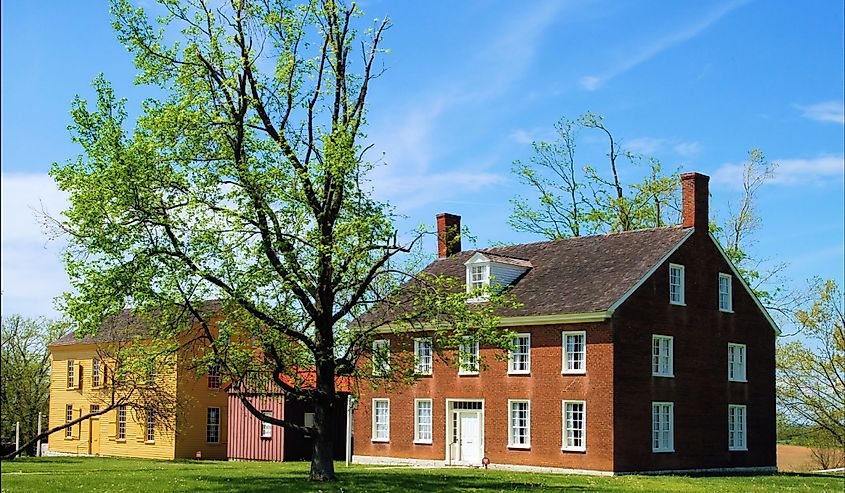 Established at Pleasant Hill, near Harrodsburg, this was the first Shaker settlement founded in Kentucky. Step back in time at this remarkably preserved 19th-century Shaker community, home to a religious sect with a legacy of ingenious design and craftsmanship. With 3,000 acres of bucolic farmland and 34 historic buildings, Shaker Village at Pleasant Hill offers visitors a peek into their industrious past through tours, meals, and lodging in original Shaker dwellings. Learn how the Shakers empowered women and pioneered innovations in agriculture, medicine, architecture, and design. See heritage breed animals grazing the hills, and shop handcrafted items like baskets and furniture at the village store. On certain weekends, the village holds Music on the Lawn events with live music around the fire pits as well as appetizers, marshmallow roasting, and kids' games. The informative demonstrations (which are included with admission) on painting, weaving, blacksmithing, and stained glass making are a big draw for visitors. Visitors here can also enjoy nature walks, carriage rides, and craft workshops during your peaceful retreat at one of the country's most complete Shaker preserves. 
Cumberland Falls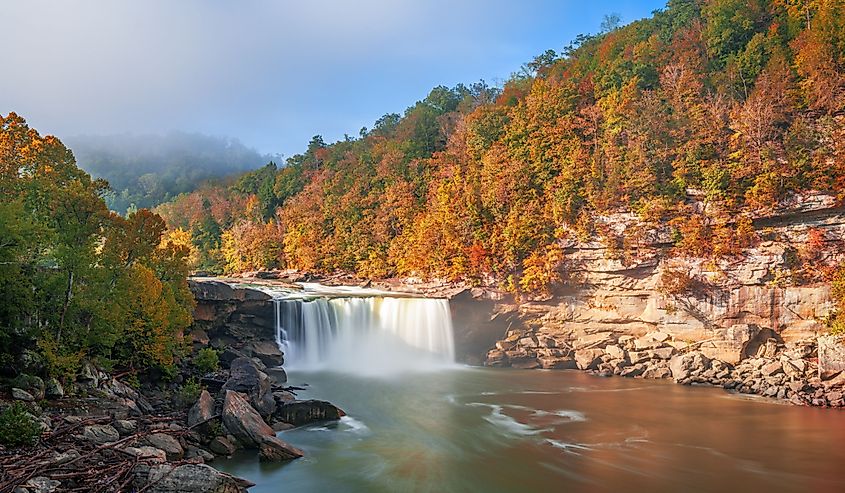 Cumberland Falls State Resort Park is one of just a handful of places worldwide where  can see a moonbow, a nighttime rainbow created by the waterfall's mist. The Cumberland River cascade is the largest waterfall (as measured by water volume) in the eastern United States. This majestic natural wonder provides great opportunities for canoeing and rafting as it flows through the Daniel Boone National Forest. The family-friendly resort offers scenic hiking trails, fishing, swimming, camping, and a lodge overlooking the falls. Cumberland Falls State Park is considered to be a hiker's paradise with 17 miles of wooded hiking trails that lead to breathtaking overlooks and serene natural areas. On nights with a bright moon, make sure to hit the Moonbow Trail to see the beautiful, ethereal lunar rainbows. Formed by the light reflecting off the waterfall's mist, these elusive moonbows are sure to fascinate visitors of all ages as they materialize under the glow of the moon.
Newport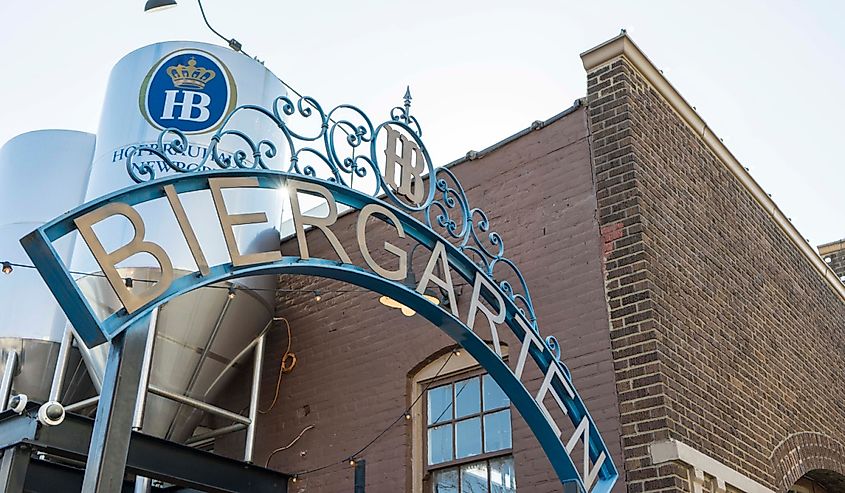 Located in Northern Kentucky, along the Ohio River adjacent to Cincinnati, Newport offers big-city entertainment with small-town charm. With a past as a frontier river town, Newport was once known for gambling, bootlegging, and vice. Explore America's original Sin City with the popular Newport Gangster Tour, where guides lead you through the streets that infamous mobsters once walked. Today, the scenic community along the Ohio River has transformed into a lively yet family-friendly destination. This trendy river town dazzles visitors with its bustling entertainment district. Annual cultural festivals like Italianfest, Oktoberfest, and Riverfest celebrate Newport's diversity and vibrant arts scene. The historic architecture mixes with modern amenities in Newport's walkable downtown. With scenic views of downtown Cincinnati across the river, Newport provides accessible urban amenities alongside quirky Kentucky character.
Perryville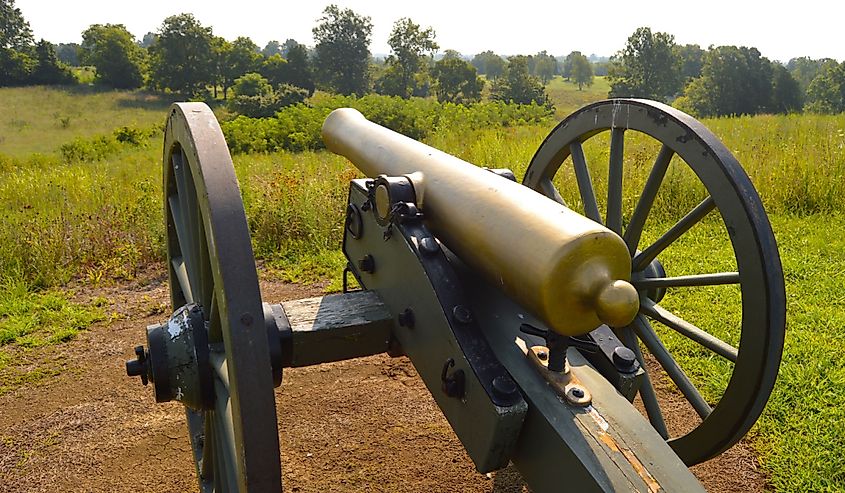 Located at the site of the bloodiest Civil War battle fought in Kentucky, Perryville Battlefield State Historic Site preserves the historic landscape and tells the stories of those who fought here in 1862. Visitors can walk the same trails where over 7,500 soldiers lost their lives during the Battle of Perryville. See impressive reconstructions of period buildings that will engage visitors in Civil War history. Hear cannon fire echo through the Perryville battlefield during reenactments that bring the past to life. The museum's artifacts and exhibits will intrigue you as you learn about the soldiers' experiences. The quaint town of Perryville also offers antique shops in old yet beautiful historic buildings. At Chaplin River Antiques, travelers here can find rare Civil War relics and ancient Native American artifacts.
Paducah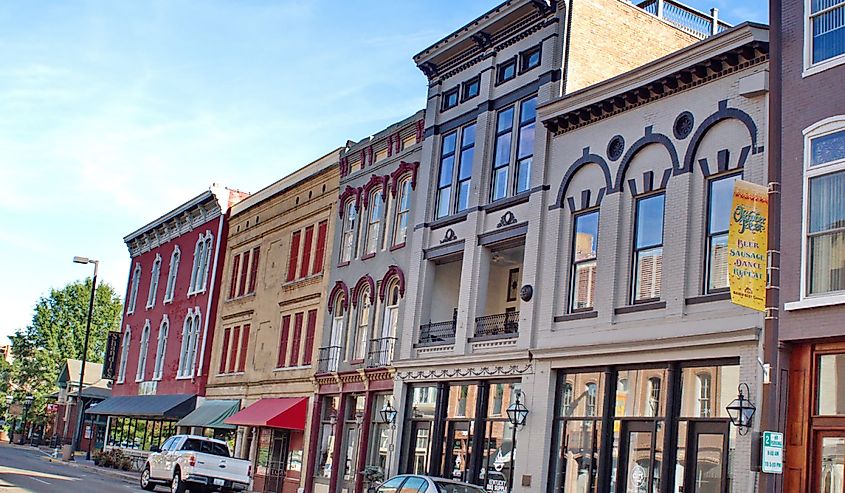 Located at the junction of the Tennessee River and the Ohio River, Paducah embraces its creative spirit with over 50 murals splashed across its downtown buildings. Paducah was named UNESCO's Creative City of Crafts and Folk Art because it is considered a cultural hub for fiber artists and quilters. Paducah is also home to the National Quilt Museum and the Paducah School of Art & Design. Visitors can enjoy a riverboat cruise along the surrounding waterways or take in a show at the historic Carson Center For The Performing Arts which hosts plays and concerts. The Lower Town Arts District is full of galleries, shops, restaurants, and awe-inspiring public art that will pique your interest around every corner. You can find artisan-crafted goods such as artwork and jewelry at the Bricolage Art Collective gallery or the Raven & Moth boutique. With its thriving arts scene rooted in history, Paducah is sure to spark imagination and bring out your inner artist!
Kentucky's small towns have plenty to offer travelers looking for unique experiences. In Bardstown, learn the bourbon-making process and sip a few samples from local distilleries. Step back into pioneer days at Harrodsburg, where visitors can walk the grounds of Kentucky's first settlement. Cumberland Falls amazes with its magical moonbows on clear nights. Paducah's vibrant arts scene with colorful murals and galleries will spark creativity. Come explore the many interesting places throughout the Bluegrass State, each brimming with its own culture, heritage, and unforgettable experiences waiting to be discovered.