Aside from fairy tale princes, the term charming evokes images of scenic beauty and chirping birds, which is just what New Hampshire has to offer. While there are no British royal families here, there is an abundance of peaceful bodies of water, playful tidal pools, and rolling hills. Come visit the lovely tourist cities of Portsmouth, Manchester, Concord, (among others), and then take a drive through tree-lined back roads to these eight delightful towns. Enjoy some New Hampshire hospitality like a local. Offering everything from woodland hikes to classic country stores, you may wish you never had to leave!
Jackson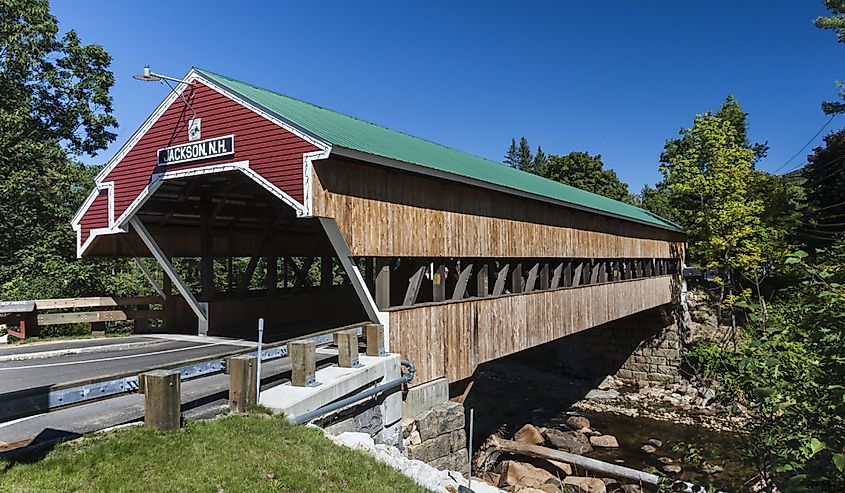 Often the choice location for wedding venues due to the breathtaking views, this town is right by the White Mountains. New Hampshire is famous for its Autumn foliage. With the views from Mount Kearsarge or Mount Shaw available from a variety of trails around the Kancamangus Highway, this is one of the best locales for leaf-peeping. Then there is the trip to visit Jackson Falls with hiking and waterfalls. There are options for short trails for families or steep trails for avid hikers. The proximity of the White Mountains offers ample opportunities for winter sports. For the less athletic tourist, Jackson has an art gallery, carriage rides through farm properties, and the nearby Tin Mountain Conservation Center, where you will learn about stewardship of natural resources.
New London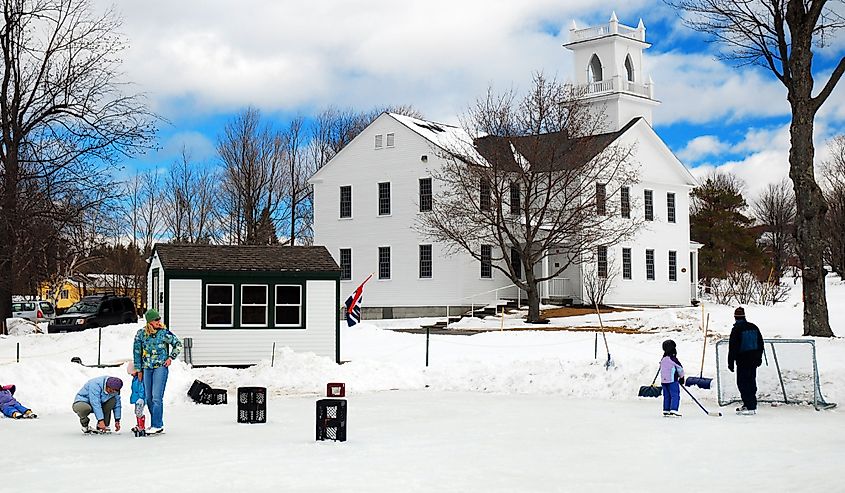 On the western side of Mount Kearsarge, close to Mount Sunapee, New London is home to one of New Hampshire's most well-known liberal arts schools: Colby-Sawyer College, which has the most gorgeous library decorated like a cozy log cabin. Check out the woodsy campus while you are in town! Stop in for a show at New London Barn Playhouse. All true New Hampshirites know how barns make some of the best theatrical and event spaces. Are you a vehicle enthusiast or love to go antiquing? You will love The Ice House Museum, which houses a myriad of displays including antique cars, toys, machinery, and tools. Charm abounds in this sweet college town.
Newfields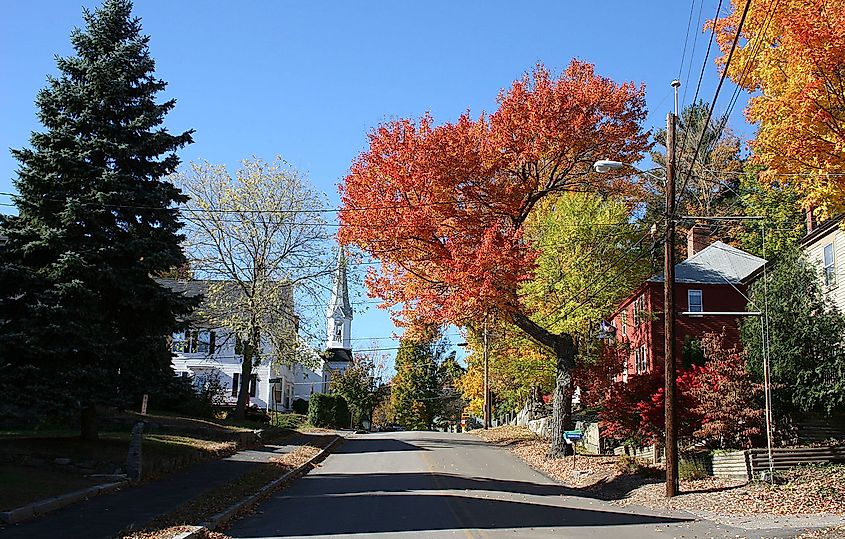 The charm in Newfields comes complete with a family-owned country store that serves sandwiches made hot and tables for enjoying your meal in the simple and sweet ambiance there, as well as a full convenience store selection. Take the brief and child-friendly trek through the Great Bay National Estuarine Research Reserve and Discovery Center, resplendent natural waterway sites for your perusal. Stop by the Windroc and Squamscott Vineyards for a delicious taste of what this town has to offer. This town is also close to slightly larger, but still charming and historic, towns like Stratham (an agricultural town with a fantastic historical society and the wonderful Wiggin Memorial Library) and Kensington (full of historic cemeteries, small theaters, and a beautiful public library), as well as underrated cities like Exeter (where a few former presidents have made an appearance) and Portsmouth.
Waterville Valley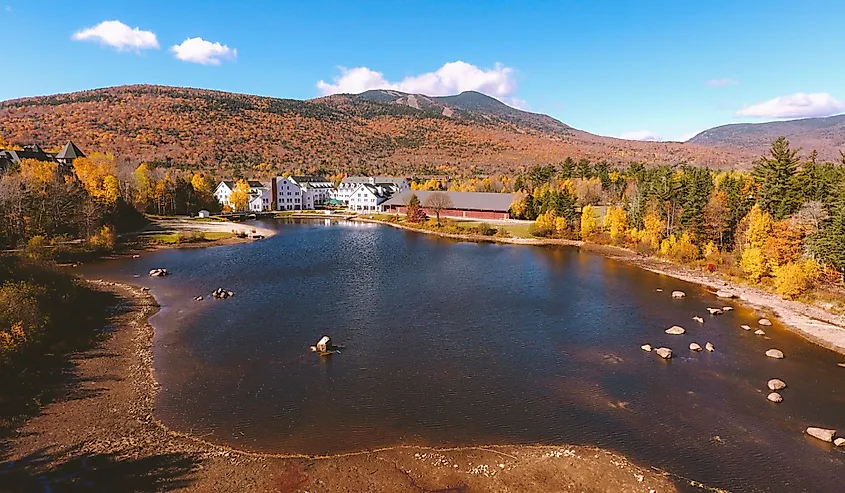 Made popular in the winter by the surrounding mountains for skiing and snowboarding, this small town in Grafton County is home to only 500 people. Lovingly delineated "The Town at the End of the Road," this locale known for its skiing and tennis resorts, has other hidden delights, including family-owned food establishments and a small swimming hole with a beach. For your children, check out tubing at the Waterville Valley Clubhouse and art or science experiences at The Rey Cultural Center (the former summer home of the adventurous authors of the Curious George books). Few things are more charming than a tight-knit community!
New Castle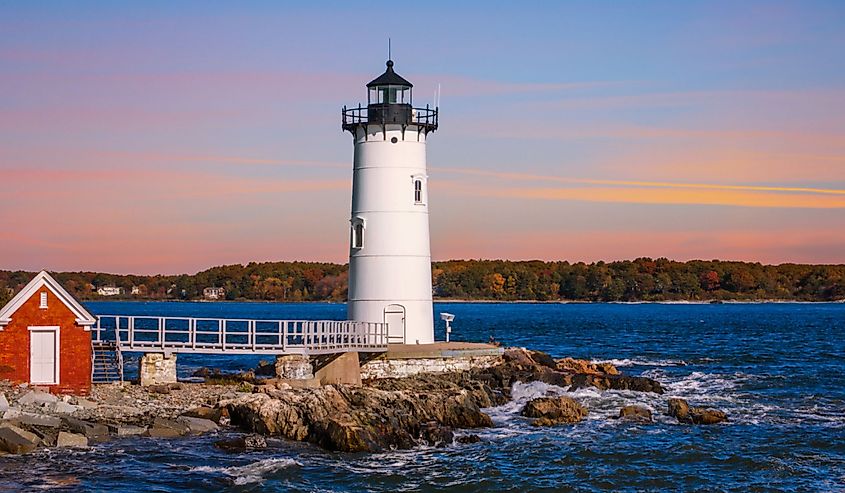 Hug the coast when you come to see this town situated entirely on islands! Partake in peaceful sandy beach walks along Great Island Common or explore the historic Fort Constitution built in the 1700s, part of Paul Revere's first ride, and one of New Hampshire's many landmarks related to the foundation of the United States of America. You can also picnic or explore the historic landmark of Portsmouth Harbor Lighthouse, which is open for tours in the summer. While you are at it, visit the New Castle Historical Society for more information about the part this region played in the founding of our nation. For those with other interests, you can stay for a spa treatment at the Wentworth By The Sea Opal Spa or take a ferry to (or cruise around) lush and lovely Appledore Island.
Newmarket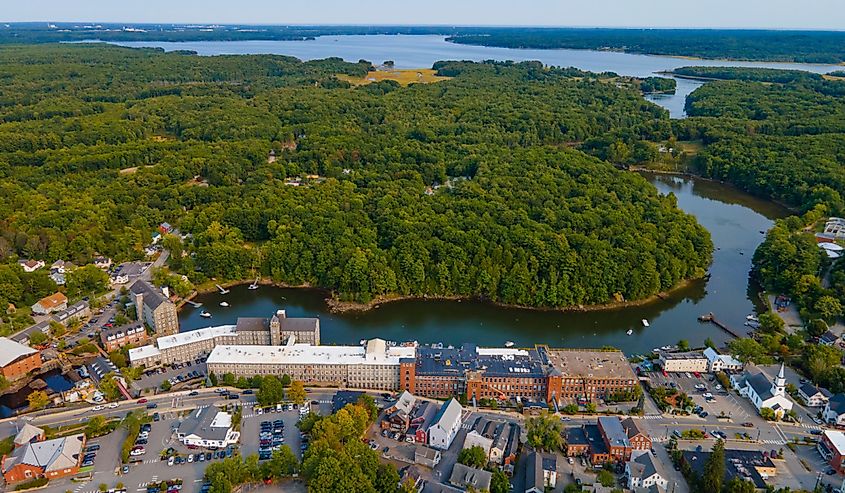 Whether you are looking into the historic mills now replete with local businesses or you are traveling the walking trails all the way to Durham, New Hampshire (home of The University of New Hampshire), you will never run out of breathtaking and thrilling activities in this riverside town. It has a charming library and a small shopping district, which holds many community events. Some local favorites are the bookstore, Crackskull's Coffee and Books, and green eatery The Big Bean Cafe, not to mention the theater at The Mill Space and exciting live music at The Stone Church. Newmarket is an excellent stop on your tour of enchanting New Hampshire hidden gems!
Candia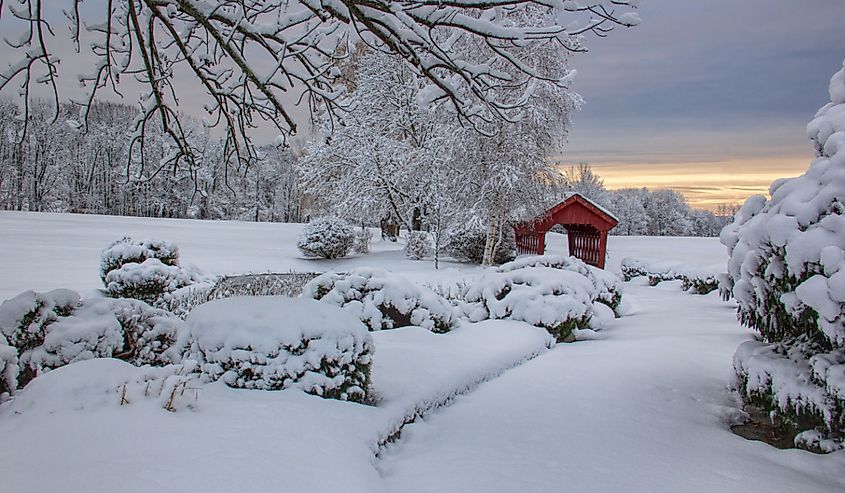 Bring your golf clubs to putt on the green at Candia Woods Golf Links or take a high ropes challenge course at Candia Springs Adventure Park. There is fun for the whole family at every turn! Learn how far back the history of Candia truly goes at the Fitts Museum, a historic home preserved to slake your curiosity. Hike local trails developed by Candia Eagle Scouts at the Flint Road and Deerfield Road Town Forests or wind your way carefully around the peat bog, Kinnicum Pond to see New Hampshire's natural wetlands at work! Catch a glimpse of a baby Great Blue Heron in the nearby preserved area of the Heron Rookery.
Surry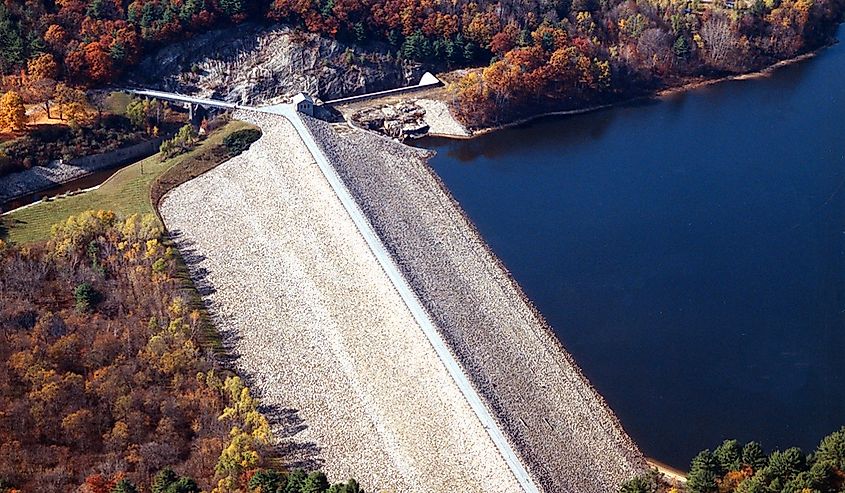 If you are looking for family and dog-friendly, well-marked hiking trails, and potential wildlife sightings, head over to Horatio Colony Nature Preserve! Historic landmarks dot the landscape. The Cheshire Rail Trail is just outside the limits of Surry, starting in nearby Keene, and it is definitely worth a visit if you are in the vicinity! There are classic and scenic sites along every leg of this hiking trail that extends for 42 miles. Picnic, swim, hike, or just spin through the fields singing songs from your favorite musical at Otter Brook Lake. Spectacular views await you in any season! Go rainbow trout and chain pickerel fishing at the man-made Surry Mountain Lake, created when the Surry Mountain Dam was built in 1941 to protect downstream communities from flooding by the Ashuelot River. The beautiful views and delicious concoctions at Summit Winery give an elegant edge to New Hampshire's rustic charm.
Whether you are coming for some lovely lakeside views or planning to experience a historic train ride, you cannot go wrong with a visit to any of these charming New Hampshire towns, or all of them. Do not forget to stop in at a few of the busy and historic cities on your way. There is plenty of shopping and theater to be had from Manchester to North Conway and down to the seacoast of Portsmouth. There are so many fun activities waiting for your participation and gorgeous views to take your breath away. Schedule your trip to New Hampshire today!