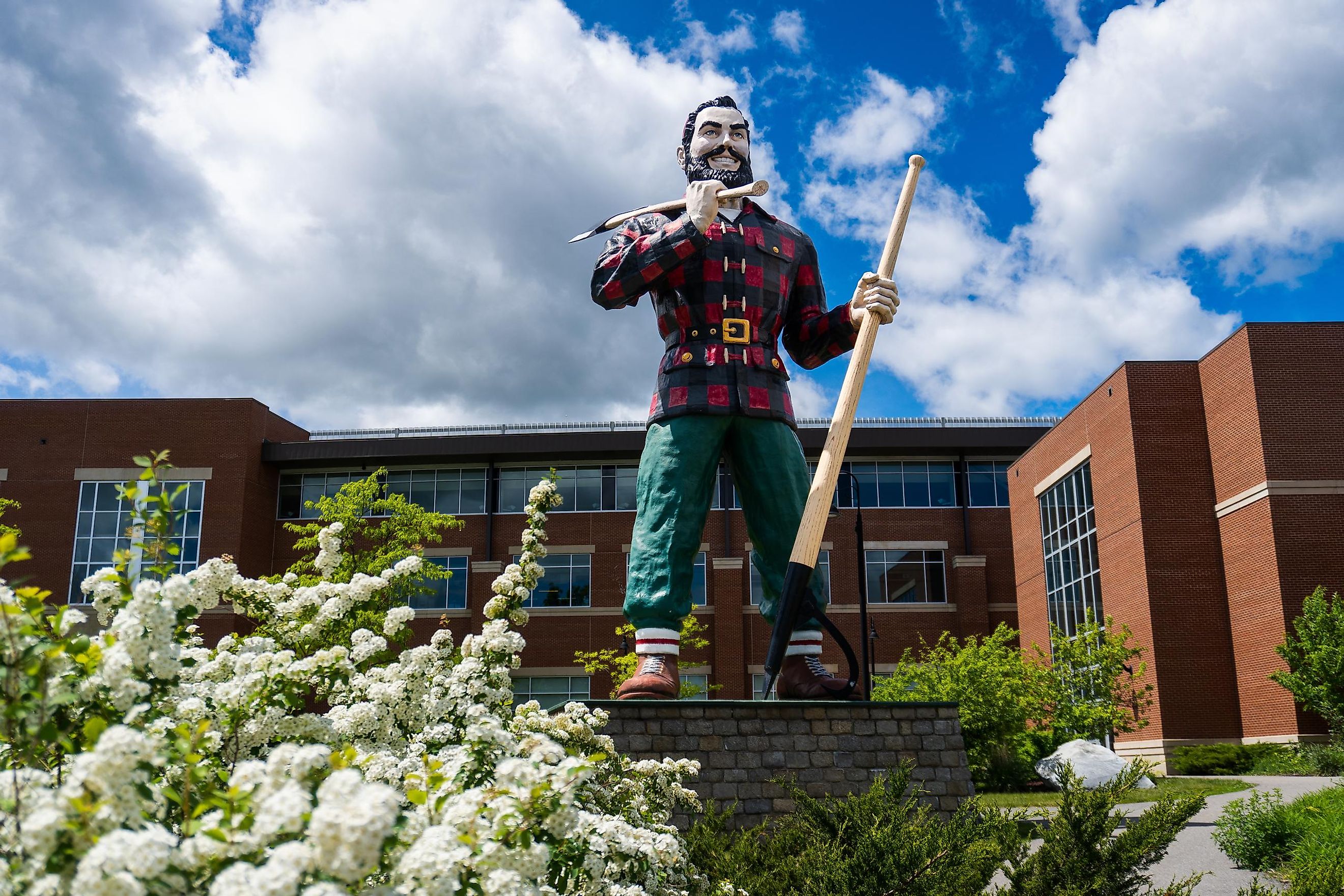 7 Most Unique Maine Towns
The New England state of Maine is known for the rugged beauty of its coastline, forests, and mountains, as well as for having many charming and picturesque small towns. While you are sure to receive a hearty welcome and have a good time at any Maine town you visit, some towns have a special quirk or "only here" attraction that makes them stand out from the others. These seven small towns in the "Pine Tree State" have something truly unique to offer. So, if you like quirky charm, get your travel plans ready!
Columbia Falls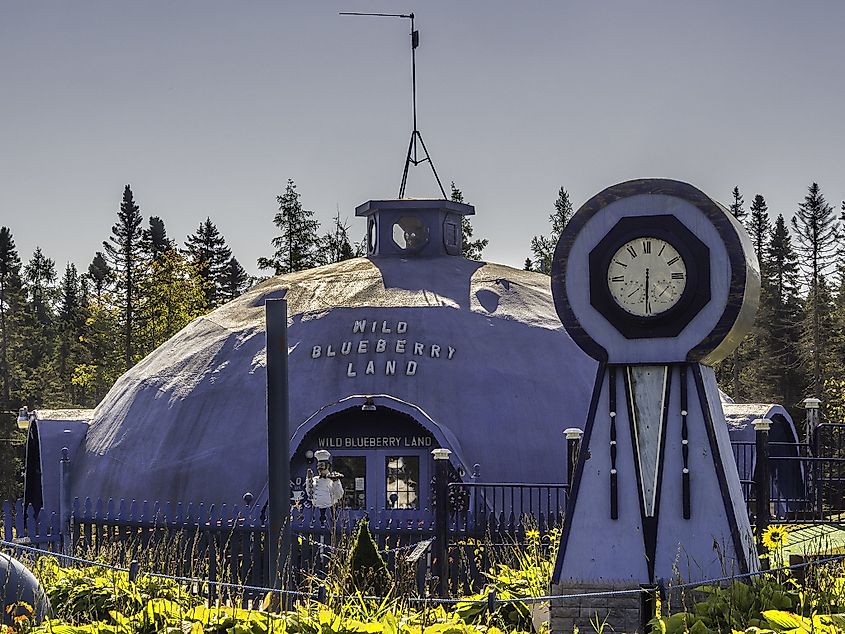 Maine is well known for its wild blueberries, so maybe it should not be that big of a surprise when you spot a giant blueberry (or at least the top half of one) alongside Highway 1 in Columbia Falls. The big blue dome is part of Wild Blueberry Land, a 7-acre complex that celebrates the state's official fruit in quirky ways, including a themed mini golf course. After stocking up on wild blueberry pies, head into Columbia Falls to enjoy the view of town along the aptly named Pleasant River. Keep an eye out for several fine examples of early nineteenth-century architecture, including the Ruggles House (1820) and Union Church (1849).
Ellsworth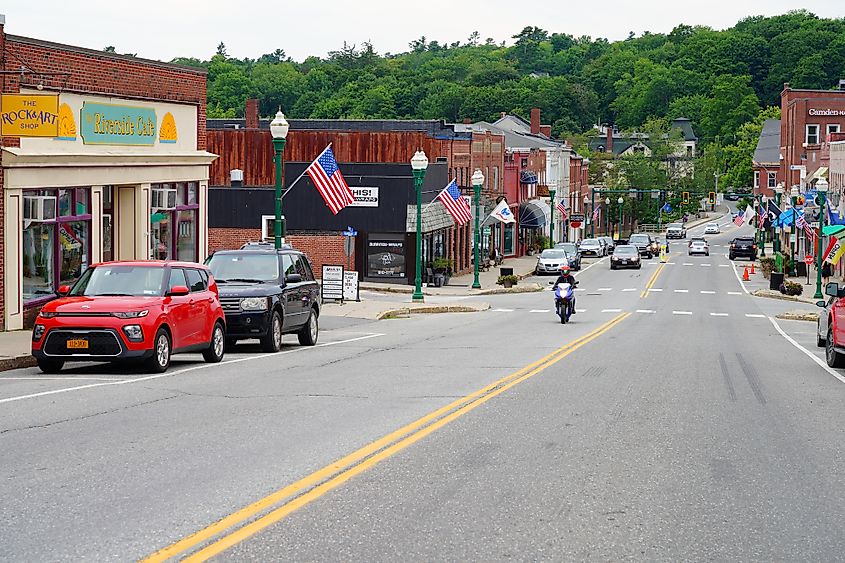 If you sometimes catch yourself longing for the days before cell phones, book yourself a trip—using your cell phone, most likely—to Ellsworth, Maine. There, in a nondescript warehouse, you can step back in time at the Telephone Museum, full of switchboards, hand crank phones, and other pieces of phone memorabilia, much of which still works. After making a few nostalgic calls from a rotary dial phone, explore the rest of Ellsworth as well. The town's High Street business district is the busiest downtown in the area, and the Union River waterfront is great for an afternoon stroll. Additionally, Ellsworth offers easy access to Acadia National Park, one of New England's natural gems.
Bangor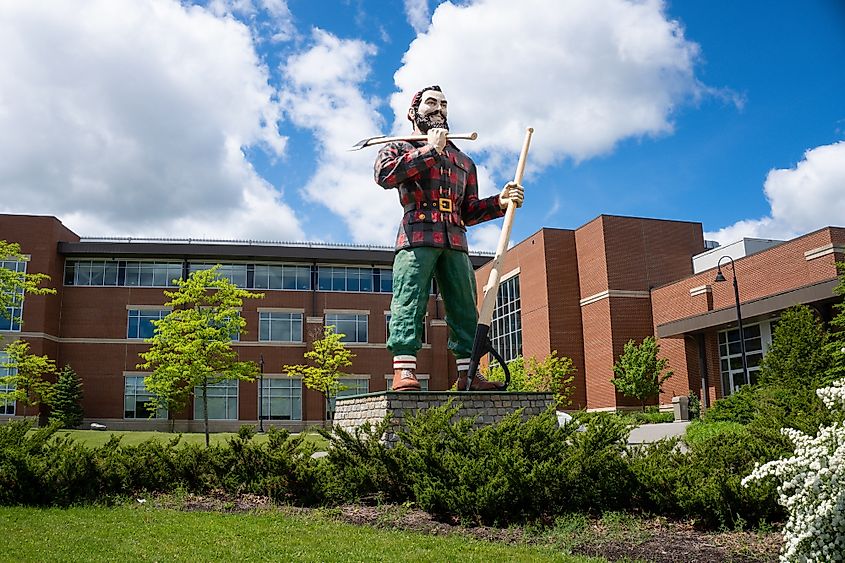 If you are a history buff of American vice presidents or enjoy slightly macabre historical curios, head to the second floor of the Bangor Public Library to view the "Hannibal Hamlin Death Couch," upon which Abraham Lincoln's first vice president took his final breath. For something more lighthearted, check out the 31-foot-tall statue of Paul Bunyan (who was purportedly born in Bangor) that stands along Main Street. As for the rest of Bangor, its population of 32,000 would fit in as a midsize town in many places but ranks in Maine as the third largest municipality in the state. Mr. Bunyan overlooks a lively downtown area that includes a casino and several outdoor goods retailers.
Freeport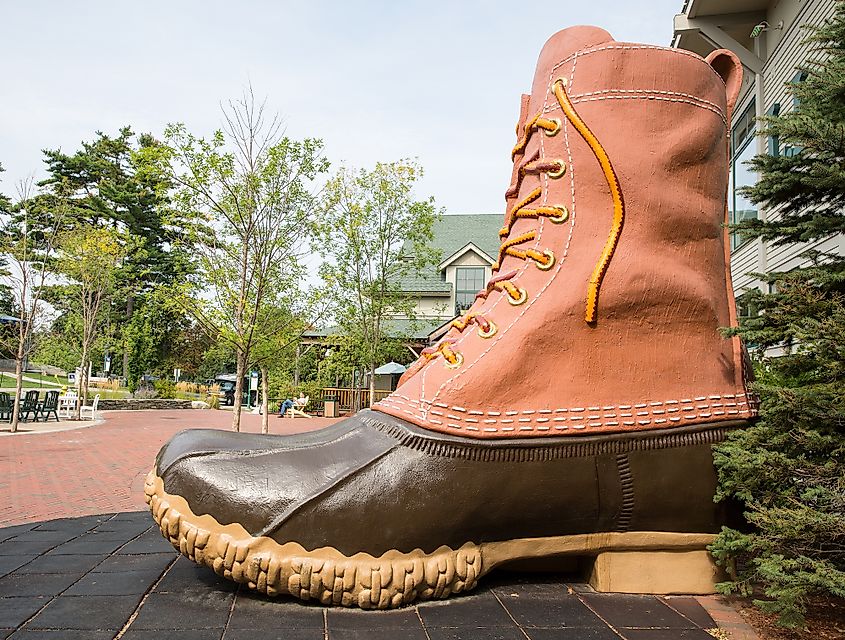 Nothing is unique about finding a McDonald's fast food restaurant in a small town in Maine or anywhere else in America. But you have to travel to Freeport if you want to order and enjoy your Big Mac, french fries, and Coca-Cola inside an 1850 Greek Revival/Italianate style home. Freeport, in fact, has several modern businesses tucked into historic (or historic-looking) structures, as the downtown area has been transformed into an outlet shopping destination. This unique shopping setup is largely an outgrowth of the presence of Freeport's most famous tenant, L.L. Bean, which has its retail headquarters and massive flagship store right in the heart of town.
Kennebunk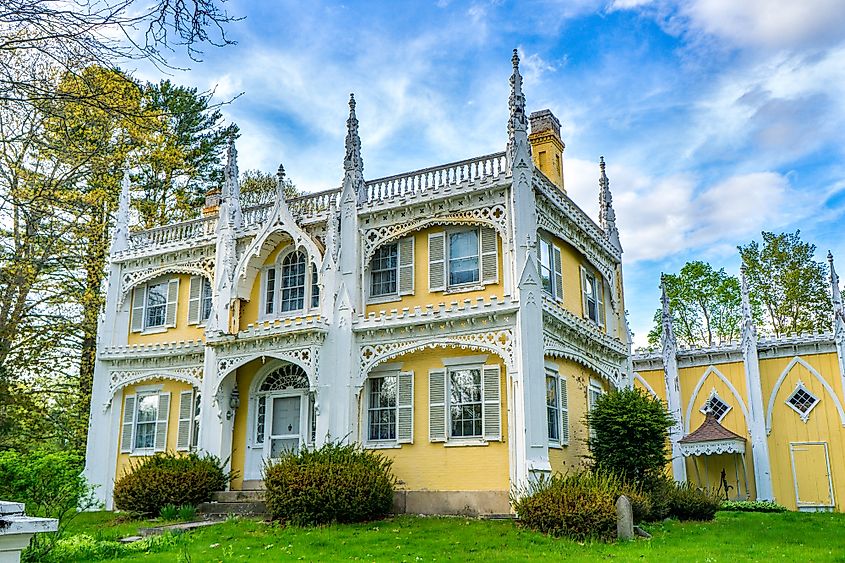 While it is impossible to quantify such a thing, the cute town of Kennebunk claims to have the most photographed home in Maine. But be warned before you hit the road with your camera: you may have the urge to buy a cake afterward! The 1825 Bourne House, better known as the Wedding Cake House, is covered in Gothic-inspired design elements that do indeed make it look lovely enough to eat. After getting your photos (and satisfying your sweet tooth at the nearby Boulangerie bakery), explore the rest of this lovely seaside community. While not as famous as the adjacent resort town of Kennebunkport, Kennebunk oozes history, charm, and natural beauty.
Mount Desert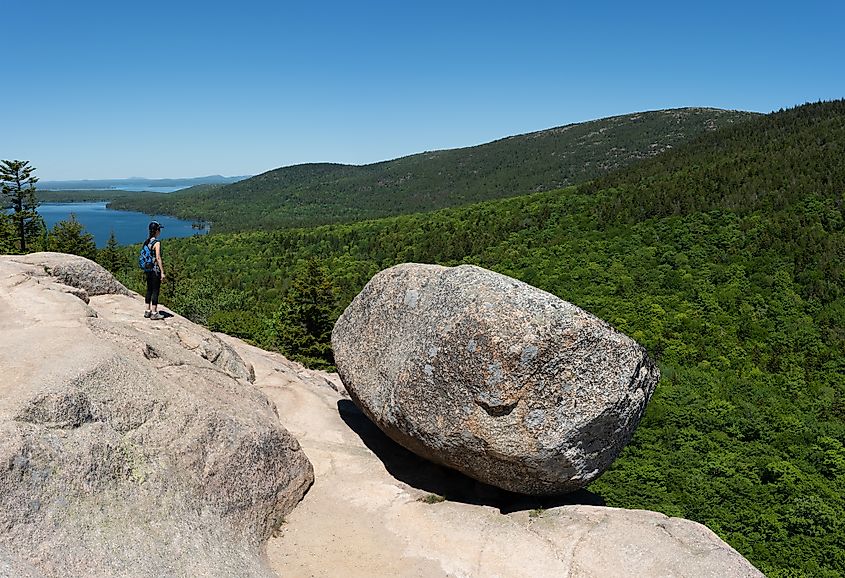 The town of Mount Desert occupies part of Acadia National Park and is home to a unique quirk of geology that is thousands of years in the making. Bubble Rock, a spherical granite boulder, sits perilously on the edge of a cliff deposited there by glaciers. You can reach Bubble Rock via a moderate-difficulty trail about a mile in length, but resist the urge to push the rock over the edge (the 14-ton boulder won't budge anyway)! If you prefer random kitschiness to giant, well-balanced boulders, head to the Mount Desert Spring Water bottling plant in nearby Southwest Harbor to see an inexplicable (but impressive) statue of the Blues Brothers.
York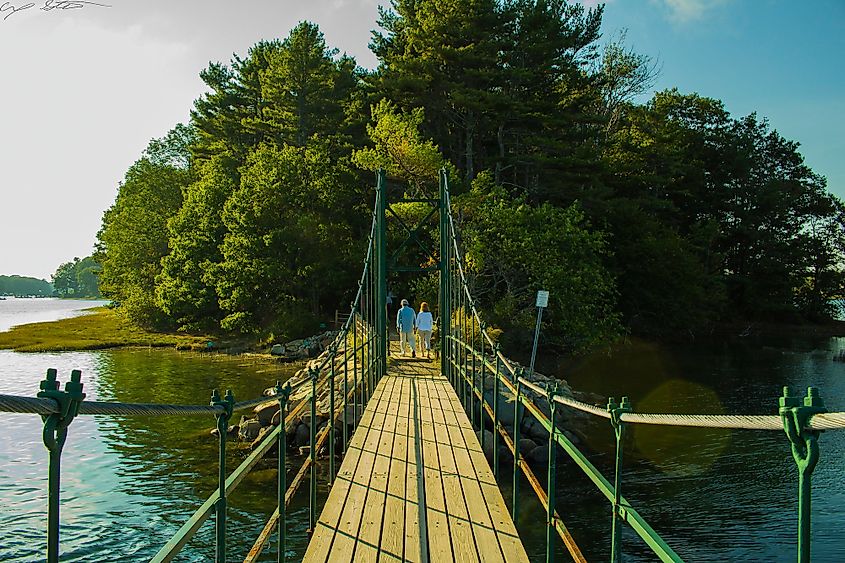 You probably tend to think of suspension bridges as being long and impressive (like the Golden Gate Bridge or Brooklyn Bridge), not short and "wiggly." But the narrow, 75-foot-long Wiggly Bridge in the southern Maine town of York is worth a visit. Take a walk across its wooden deck and feel the bridge bounce, shimmy, and (yes) wiggle underfoot. Cross over the bridge into the Steedman Woods nature preserve to enjoy a walk among the trees and overcome any lingering motion sickness. After that, enjoy the many other offerings of this classic seaside resort town. Highlights include the zoo and arcades along York Beach and shopping in the historic York Village.
From natural quirks like a gravity-defying boulder to manmade curiosities like a giant blueberry dome, Maine has more than its fair share of unique attractions in its already-attractive small towns. But, despite these distinctive touches, Maine's towns share a beautiful natural setting and friendly locals ready to welcome visitors. So, to get your fill of "death couches," "McDonald's mansions," and much more, head to the great state of Maine and explore its small towns today!