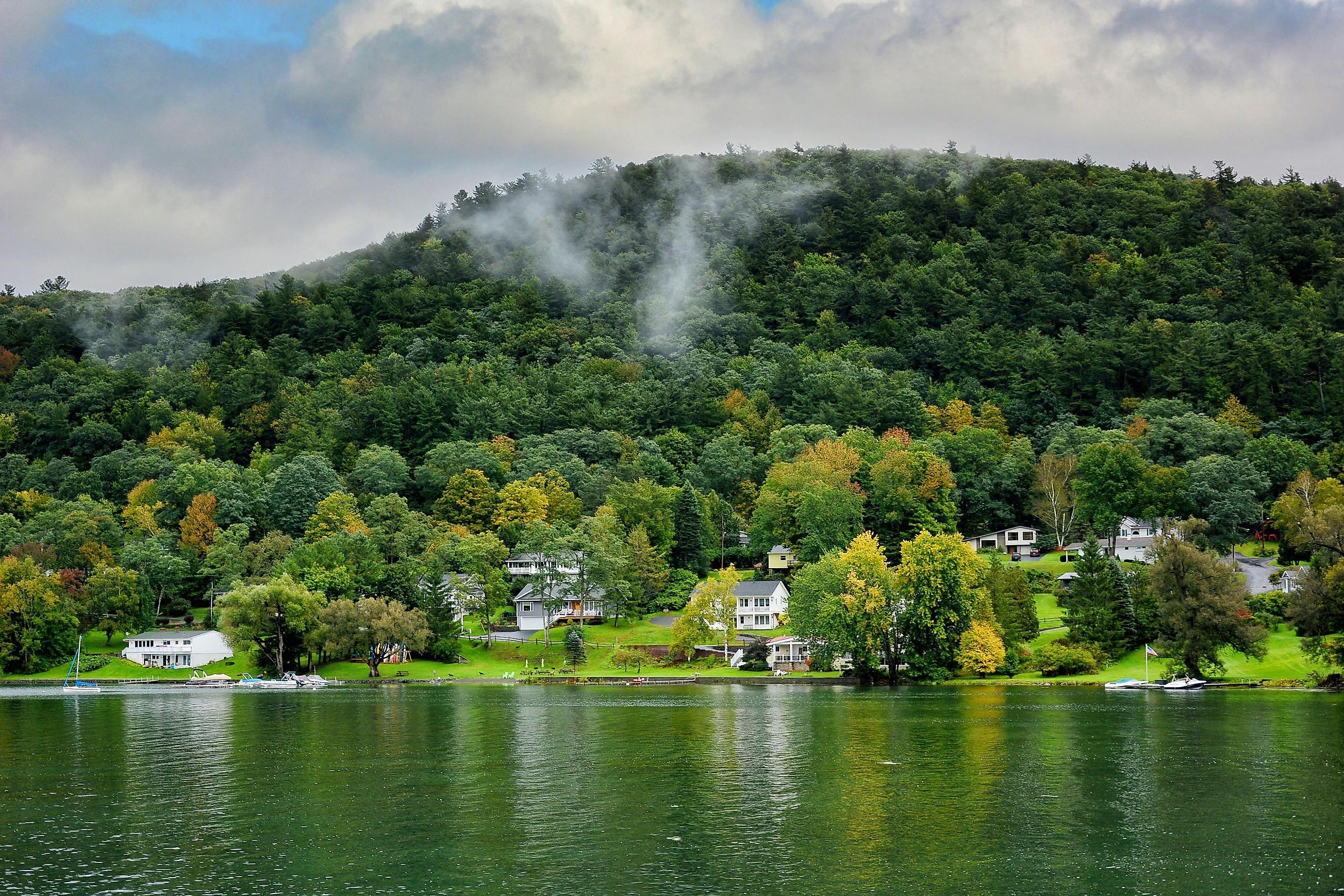 7 Best Towns for a Winter Vacation in New York State
Many people wrongly associate vacations with the summer months only, and often forget the charming scenery and fun that winter getaways hide. With beautiful snowfall and winter activities such as skiing, ice skating, and more, taking a winter vacation becomes a no-brainer! Also, when it comes to winters, there is no better place to spend some time in than New York state with its mild winter weather and beautiful scenery. So, to help you plan your next winter vacation in New York State, let's go through our list of the top 7 best towns for a trip!
Cooperstown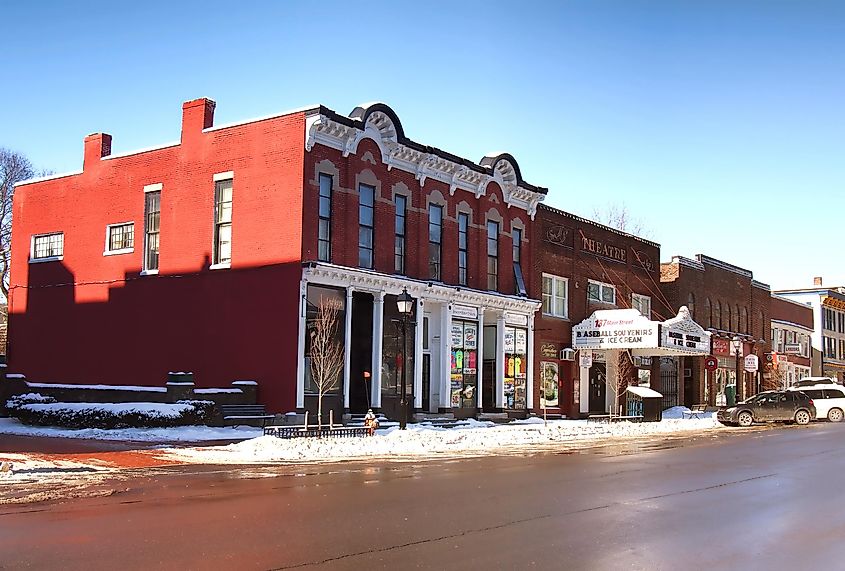 The county seat of Otsego County, Cooperstown is a town that had to be part of this list. Nestled within central New York, this town is full of rich history and the perfect place for a comfortable vacation, whether it be winter or summer! Looking at its history, this small 5 sq. km. town is known as the home to the renowned National Baseball Hall of Fame and Museum. This establishment is the centre of attention and having been built in 1936, is filled with artifacts and exhibits from Baseball history. Thankfully, with tourists coming in to visit the museum, this town of fewer than 2,000 individuals has developed to have many enjoyable activities.
Coming in during winter, you can see the beautiful Otsego Lake when it is iced over completely. This unique view is made scenic with the endless expanse of ice surrounded by beautiful pine trees along the banks. Along with this, locals are known to turn the lake into an ice skating rink during the coldest months. Moreover, with a beautiful farmer's market, Cooperstown is a great town to visit for your winter vacation.
Skaneateles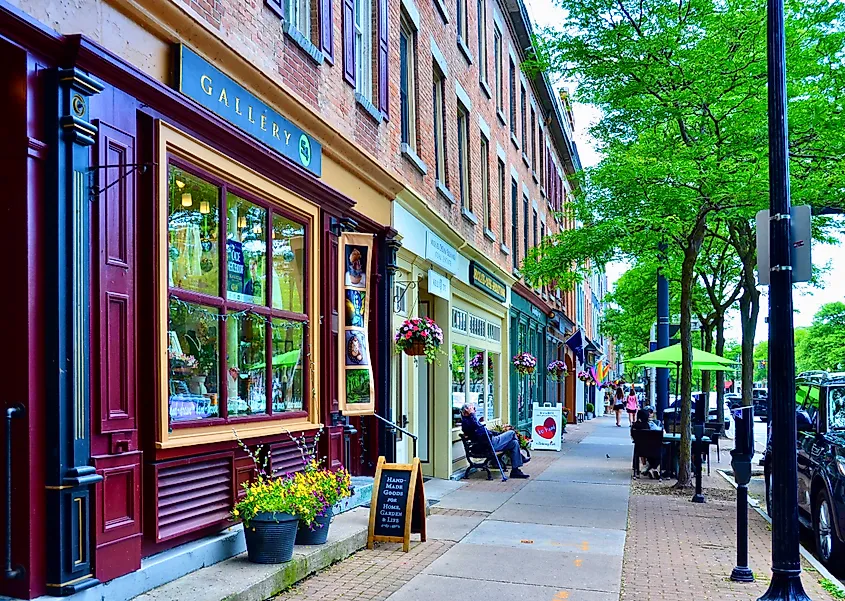 Sharing its name with the 26km long lake just south of the town, Skaneateles is a town in Onondaga County that is a perfect natural winter gateway. As the town's name literally means "long lake," it's quite evident what the main attraction of this place is. This beautiful body of water is one of the famous Finger Lakes and also one of the cleanest lakes in the United States. While it rarely freezes over completely, when this does happen, the thin layer of glistening white ice caused by the clear water is a true sight to behold. That being said, with more than 100 sq. km. of land, this town has much more natural beauty to offer.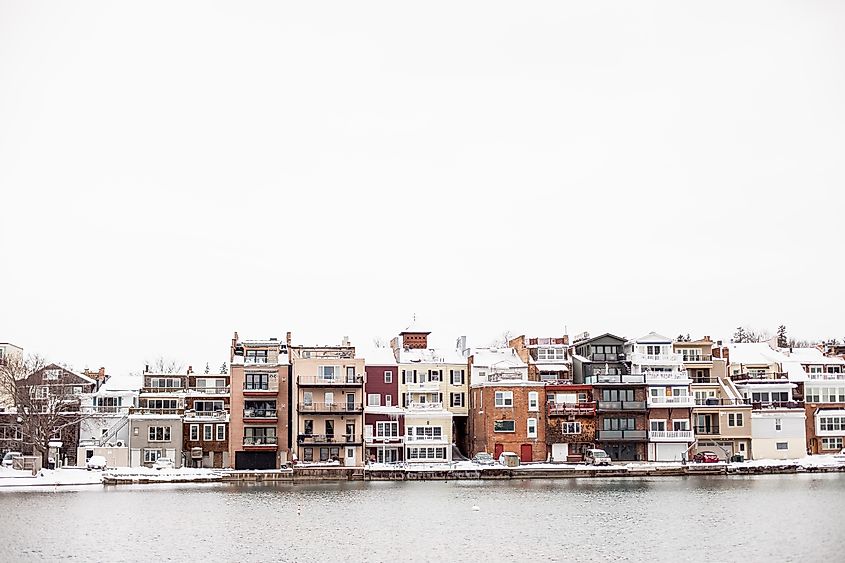 Specifically, after a visit to the lake, you can enjoy the Charlie Major Nature Trail which is imbued with history. Running along an abandoned rail line from the 1800s, this trail has a long past and was essential for the town's economy for more than a hundred years. As of now, it is more of a scenic route, with waterfalls, picnic spots, and other things tourists can enjoy. With so much to offer and just a 30-minute drive from the central city, Syracuse, Skaneateles sees tens of thousands of tourists annually.
Hunter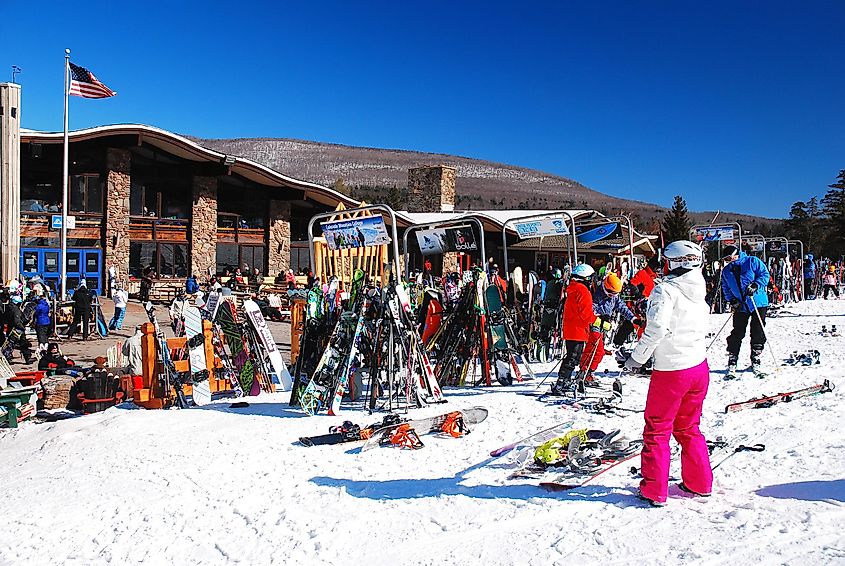 With the Catskills being the premier location for Winter activities in New York, Hunter was bound to be on this list. Located in Greene County, this town of approximately 2,600 people is present within the Catskill Mountains and is home to the beautiful Hunter Mountain. The mountain is an immense 1,231 metres in height and the highest of its kind within the county. Thus, making the most of this scenic peak, the town offers an endless load of things to do during the winter season. Whether you want to enjoy a hike along the mountain or ski from the top, there is something for everyone. To top it off, take a trip to the Hunter Mountain Brewery for a warming beer after your tiring winter fun on the mountain!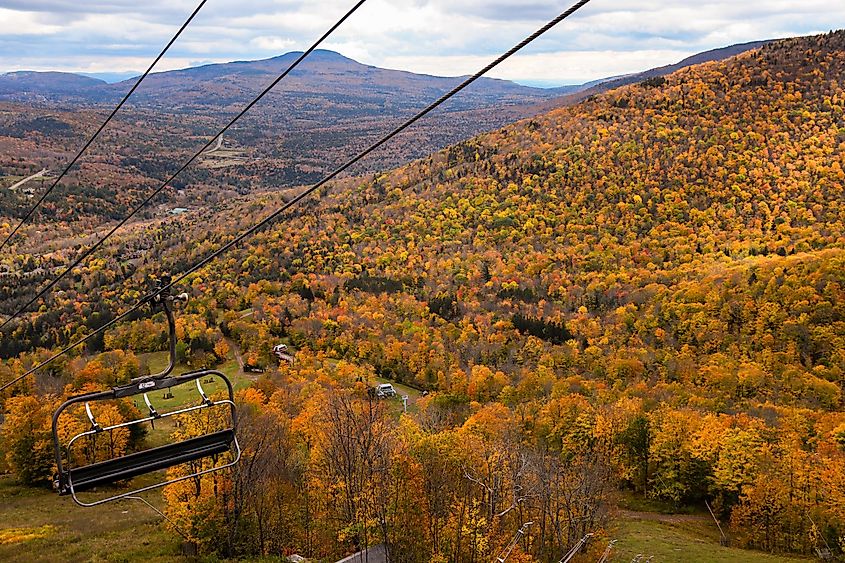 Slightly below this peak and the town is full of enjoyable things to do and a rich sense of peace. For example, if you are planning a relaxing trip, why not check out the Catskill Mountain Foundation Gallery and Bookstore for their wide range of historical literature? With so much to do, Hunter is a prime tourist spot during the winter and is perfect for your next winter vacation. If you do end up going, be sure to check out Ma-Ma's Pizza Parlour for the most delicious pizza in the area!
Mount Pleasant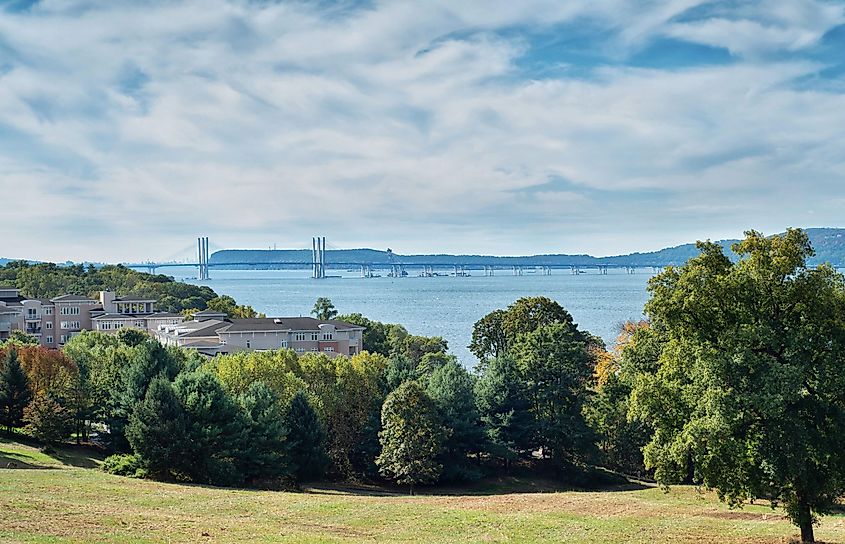 One of the more populous towns on this list, Mount Pleasant is a large town home to more than 44,000 residents. It consists of various hamlets and villages which are tourist destinations in themselves such as the spooky town of Sleepy Hollow. Thus, located in Westchester County, Mount Pleasant is home to all sorts of fun things to do, especially in October. This is because the village of Sleepy Hollow is full of scary attractions such as the Headless Horseman Bridge, Headless Horseman Sculpture, etc. making it the ideal Halloween trip destination. Moreover, with such a link to horror, the townspeople are known to have some of the best Halloween celebrations in the region.
In addition to this, Mount Pleasant is situated along the coast of the Hudson River thanks to which the winters are full of enjoyable activities. For example, the beautiful Mount Pleasant Pier and Pitt Street Bridge are perfect places for sightseeing during winter months to truly take in all of nature's beauty. Parallelly you can also enjoy the town itself with a bustling Farmers Market and brewing establishments perfect for every vacation!
Gardiner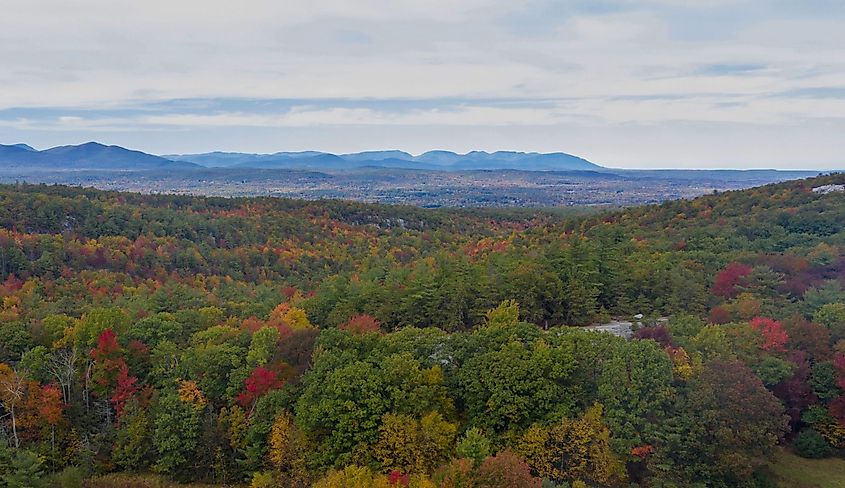 Situated within south-central Ulster County, Gardiner is a peaceful town home to approximately 5,700 people. The entire town gives off a rural and relaxing vibe which is a testament to its beauty during winter months. Home to the calming Wallkill Valley Rail Trail for some scenic views as well as many establishments such as the Town Hall being on the National Registrar of Historic Places, you can truly unwind in Gardiner.
That being said, don't let the relaxed environment convince you that this town has nothing exciting to offer! With winter, the town takes advantage of its 110 sq. km. area with some adrenaline-filled activities to enjoy. This includes taking a hike along the nearby Shawangunk Mountains or skating in Majestic Park which is located near the Farmer's Turnpike in Gardiner. So, whether you are looking for a calm winter vacation or an exciting one, this is a town you can add to your list!
Andes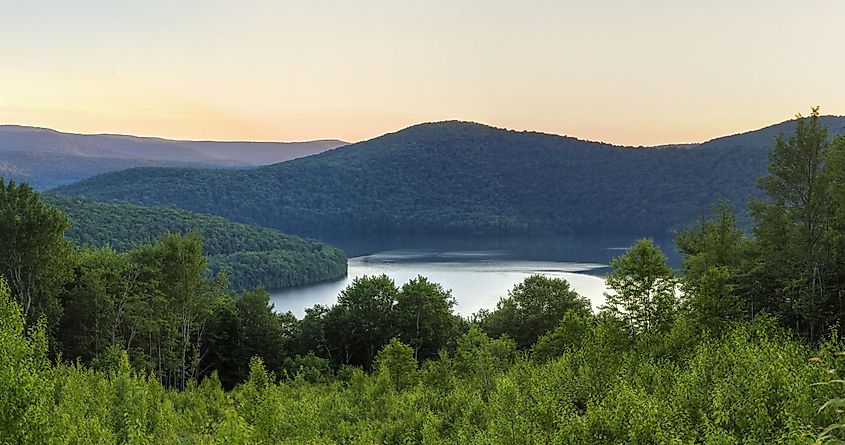 When you think of a peaceful countryside town, Andes is the perfect representation of that image. Spanning nearly 300 sq. km. with less than 1,500 people, the town has a population density of 4 individuals per sq. km. Thus, it is truly the perfect town for a relaxing winter break from urban life. However, don't let this image fool you because Andes still has a lot to offer when it comes to enjoyment. Located in the southeast corner of Delaware County, this town is known for its beautiful rolling hills and farmland with a lovely town of close-knit people. Here, you'll find a range of breweries, restaurants, and artistic shops that are truly hidden gems in the state.
Moreover, Andes sits at the western edge of the Catskill Mountains making it within a short drive from the endless ski resorts and hiking trails you can find there. It is also partly within the famous Catskill Park making for some of the best views the state has to offer.
Woodstock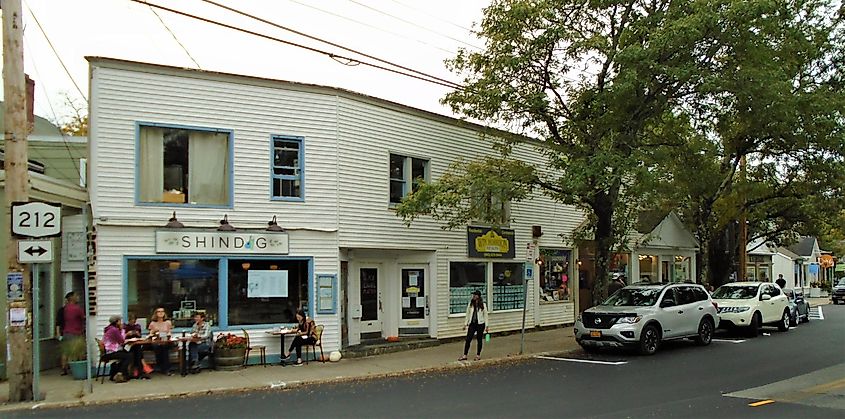 Located in the northern part of Ulster County, New York. Woodstock is a small town perfect for winter adventures. Sitting at the foot of the Catskill Mountains known for its hiking trails, ski resorts, and other winter-related activities, Woodstock provides a complete experience. On one hand, you can spend your day taking a scenic hike or scaling the nearby Shawangunk Mountains while on the other, you can relax in this quaint and peaceful town. Home to less than 6,000 people according to the recent Census estimate, this place is sure to give you the best of both worlds.
Apart from winter activities, many other parts of this town make it great for a vacation. Most prominently, the area is known for having a rich cultural and artistic influence which can be seen throughout the art galleries spread throughout Tinker Street. Here, you can spend your day browsing the many shops and buying unique souvenirs such as tie-dye fabrics to make your vacation memorable.