California may be the most populous state in America, with 39.2 million residents, but this magnificent state's large number of residents does not negate The Golden State's natural beauty and the cute small towns which occupy the picturesque landscape. With the big and beautiful Pacific Ocean on its shores, California is home to a plethora of mini beach towns, all with their own unique qualities. Not into beach towns? No worry, California is home to a number of graceful valleys where people from indigenous to the Americas as well as all over the world have built up beautiful picturesque communities which capture the hearts and attention of each visitor to set foot upon their lovely streets. 
Solvang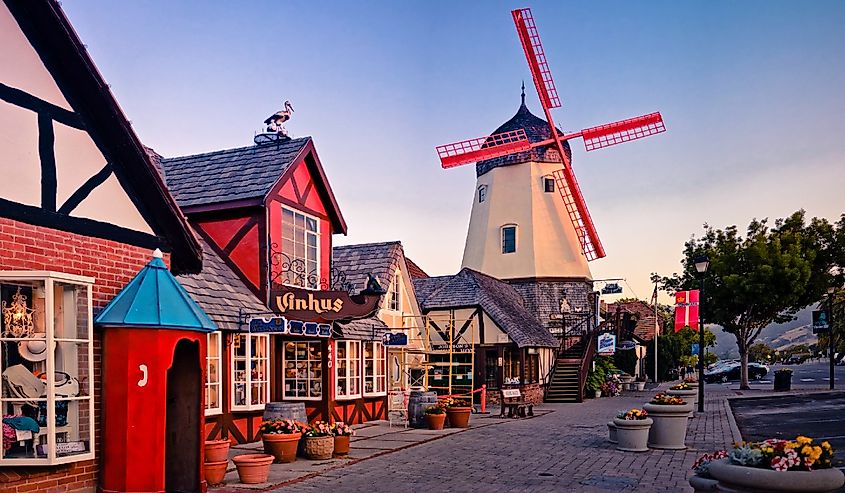 Dubbed "The Danish Capital of America," Solvang is a beautiful and unique town of 6,000 residents and is a mini Copenhagen in southern California's Santa Ynez Valley. Stroll along Solvang's stunning cobblestone streets while admiring the gorgeous Danish-style architecture of the lovely town's businesses and residences. Tourists will swiftly fall in love with Slovang after visiting wine cellars while having a delicious traditional Danish pastry such as wienerbrød or able-skiver. If you want to experience Danish culture under the warm California sun in the gorgeous Santa Barbara wine country, Solvang will be your dream destination! For wine lovers, there are over 120 wineries and picturesque vineyards in this intriguing town, built and loved through Danish culture. To learn about the exciting origins of this one-of-a-kind community, visit The Elverhøj Museum of History & Art to learn about the Danish origins of Solvang through art, photographs, and personal stories.
Carmel-By-The-Sea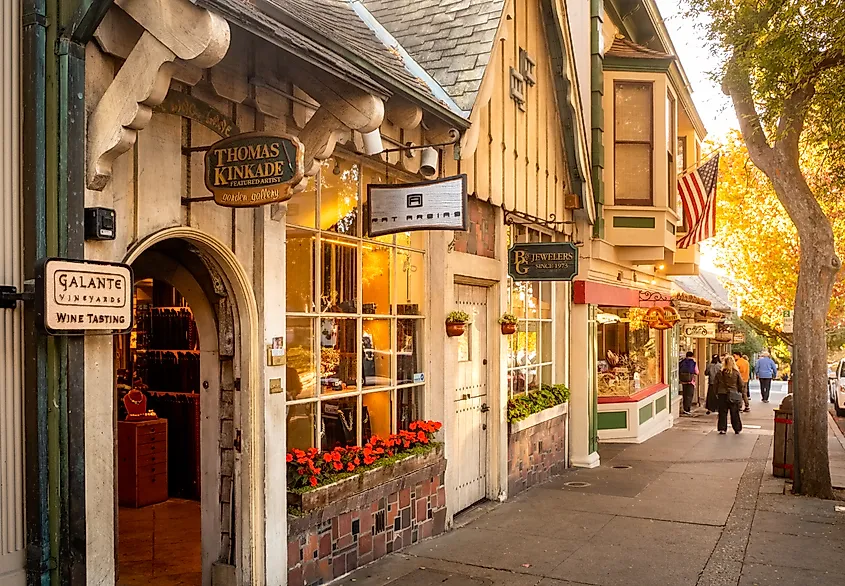 With a stunning coastline decorated with cliffs that end with blue waters at their base and a skyline adorned with houses, all individually designed by the many artists who relocated to Carmel after the 1906 San Francisco earthquake. If that is not intriguing enough, one of this eclectic town's former mayors is the actor; Clint Eastwood. This eccentric town is a natural paradise, home to stunning shorelines and beaches such as Point Lobos, a marine habitat rich in biodiversity, blue waters, seals, and magnificent cypress trees. A refreshing stroll along the sparkling turquoise waters that adorn awe-inspiring cliffs decorated with green trees and vegetation is a dream come true for travelers of age ages. Beauty is not all Point Lobos has to offer, as this area offers activities such as kayaking and even scuba diving for those visitors who crave adventure!
Ojai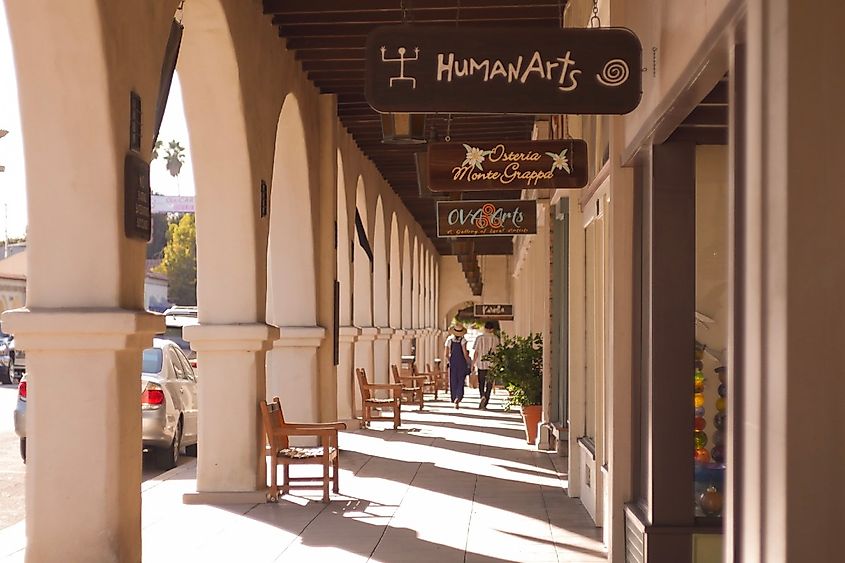 Settled in a tranquil valley just a mere 75 miles northwest of the big and bustling Los Angeles, Ojai is a natural escape. When exploring this one-of-a-kind town, one may assume it was built by artists, the way everywhere you look in this town, every view could be a painting. Even within the town of Ojai itself, down to the homes and businesses, each Spanish colonial style building is aesthetically pleasing to the eye and perfectly compliments the warm and green California landscape which paints the background of this picturesque town. Photographers will have a field day at the local Ojai Olive Oil, easily considered one of the most beautiful natural features in America. The hills so green and abundant with olive trees, accompanied by hills in the distance coated in local plant species and bountiful trees, are becoming seldom due to drought, forest fires, and climate change. Yet thankfully, the natural beauty of this area is well preserved to enjoy for years to come, loved and cared for by four generations of families which tend to the land and produce high-quality olive oil. Ojai Olive Oil is open seven days a week from 10:00 am to 4:00 pm, as well as most holidays for tastings for ten dollars (USD), including fresh bread, shopping, and admiring the majesty of this 200-year-old olive grove.
Sausalito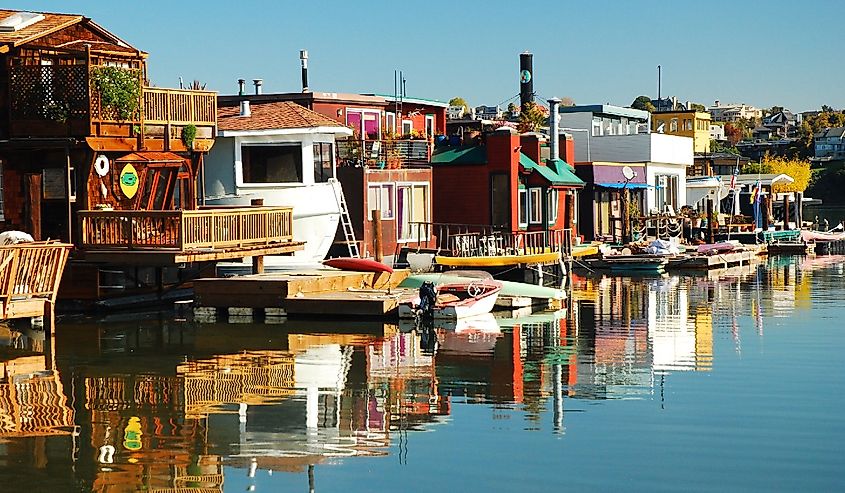 For those wishing to enjoy a refreshing ferry ride across San Francisco Bay over to the quaint yet beautiful coastal town of Sausalito, then this cute beach town is the perfect option for travelers seeking a unique and jaw-dropping community to escape to. This small yet thriving community of Sausalito rests along the breathtaking shores of the calm blue waters of Richardson Bay, an arm of the San Fransico Bay. The town draws in visitors from all over to experience the tranquillity of such a special locale of 7,000 residents who live in colorful pastel homes, some salmon, some yellow, and some blue or traditional brown; it seems as if every home speaks a voice of its own through design. When visiting the alluring town of Sausalito, some must visits attractions include Sausalito Boardwalk, which is a relaxing centrally located boardwalk near plenty of unique shops and decorating the wavy blue shores of the iconic bay. Another one-of-a-kind attraction is the Marine Mammal Center which researches, rehabilitates sea mammals, and educates the public on these enchanting species, such as the locally beloved seal.
Avalon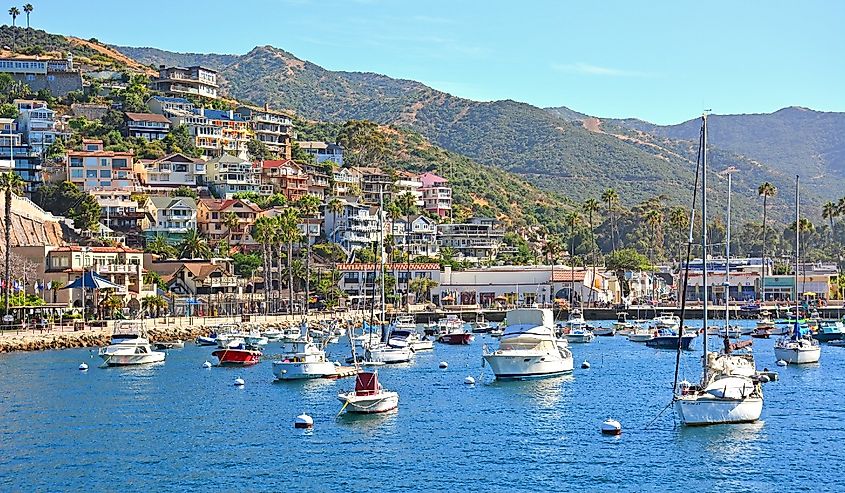 Imagine, after a quick yet relaxing ferry ride to Catalina Island, waking up to a stunning oceanfront view, clear turquoise waters dancing along the horizon of your oceanside villa, as the California sun casts warm light upon golden flowers and viridescent plants. This fairytale-like scenario is one offered by the beautiful town of Avalon, the only incorporated town on Catalina Island. Avalon has been a popular tourist destination for well over a century, attracting not only large numbers of working-class people but celebrities, film stars, and presidents. While examining the various attractions and natural features of Avalon and Catalina as a whole, it comes as no surprise as to why this magnificent slice of paradise is so alluring. Some famous destinations in Avalon include Catalina Island Casino, Catalina Island Conservancy, Avalon Theatre, and Wrigley Memorial and Botanical Garden. All of these attractions are charmingly paired with some of the most heavenly views one will ever encounter. 
St. Helena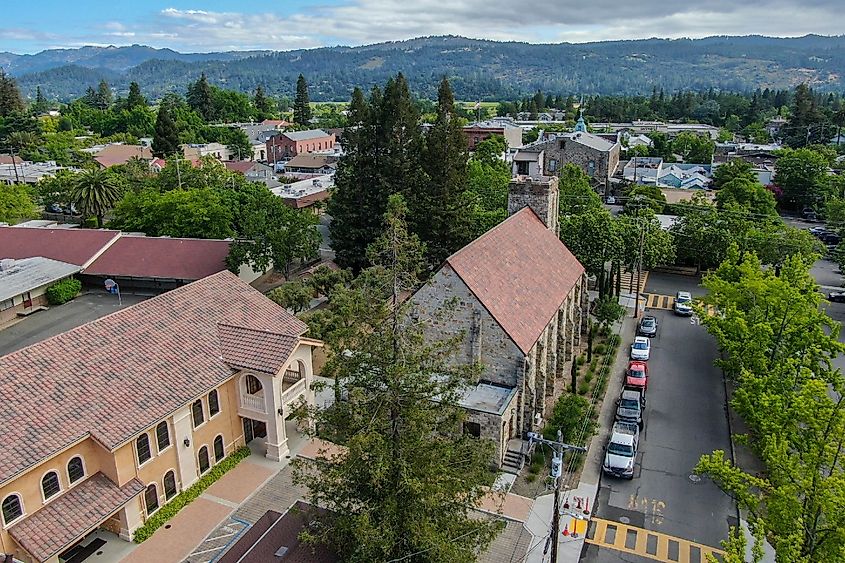 Being the birthplace of Napa Valley wine-making, St. Helena is in the picturesque North Bay region of the scenic state of California. Although Italy is famous for its stunning vineyards, California is a close competitor in Napa Valley, and St. Helena is the shining star of this region. Envision green valleys, scenic views of rolling hills and vineyards placed upon warm, ethereal feeling sunsets, and St. Helena will deliver, as the natural beauty of this region is one of Napa Valley's key features, being home to many rare and protected plant species such as the Tiburon Indian paintbrush and Contra Costa goldfields. When visiting the lovely town of St. Helena, visit some of the 400 or so wineries and vineyards in the St. Helena Viticultural Area (AVA), such as V Sautti Winery, Merryvale Vineyards, and Pride Mountain Vineyards. After touring and wine tasting at a charming winery, head over to the aesthetically pleasing and vibrant main street of St. Helena to enjoy delicious local restaurants, unique local shops, and downtown bars. After a relaxing and eventful day in this stunning down, settle down in an Airbnb or hotel and enjoy the impressive scenery of Napa Valley.
Nevada City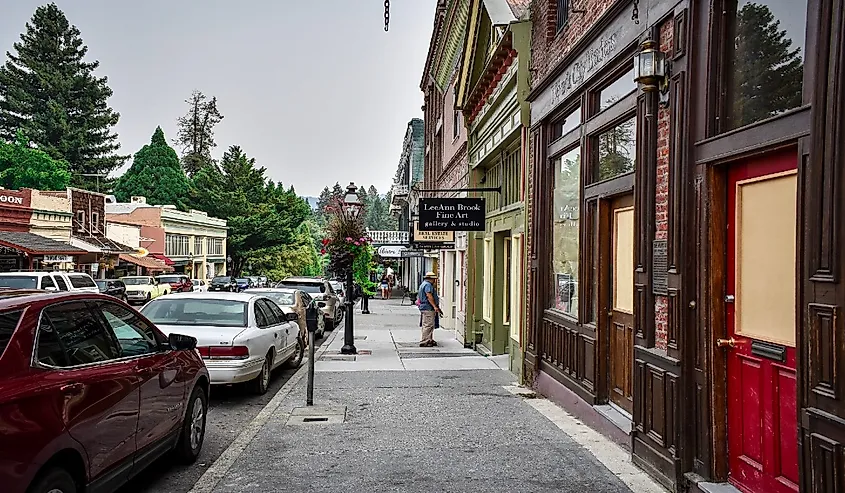 Only 60 miles northeast of Sacramento lies an underrated town just waiting to leave visitors in awe of the aesthetics and natural beauty of this quaint, picturesque California town. Located near Hirschman's Pond, the home of stunning nature trails with a cute and relaxing downtown, Nevada City is the perfect destination for a tranquil getaway for those looking to explore a quaint town with lovely architecture and lots of nature. Start off by checking into one of Nevada City's 5-star Inns, such as the Broad Street Inn, The Madison House, or Emma Nevada House. Once settled in, the Deer Creek Tribute Trail is often described as peaceful, serene, and a generally easy walk, suitable for visitors of all ages! Walk along the well-kept trail, which carries hikers through the natural paradise, full of mature trees decorated with vibrant green leaves, trickling brooks, and majestic wildlife. No day on the trail is complete without a bite to eat. After, visit one of the scrumptious restaurants which grace Nevada City with delicious eats, such as Treats, Three Forks Bakery & Brewing Co, and Friar Trucks Restaurant & Bar.
Sonoma
In the prime wine-producing country, Sonoma, located in Sonoma Valley, boasts cobblestone architecture, climbing vines, wine, and culture. A town of 10,000 residents, it is a hidden gem, perfect for a relaxing getaway. Get your camera ready because Sonoma is a delight to the eye. Every building in Sonoma could be photographed and hung on a wall. Many buildings and homes in the area are built in architectural styles such as Greek Revival, The Modern Barn, Italianate, American Colonial Revival, and Craftsman styles. The peak of beauty in Sonoma is in the vineyards and wineries. Some examples include Cline Cellars, Jacuzzi Family Vineyards, Buena Vista Winery, and Gundlach Bundschu Winery. These stunning locations comprise fresh air, pretty architecture, and tasty wine! Other great food, drink, and attractions include Sonoma Springs Brewing, Sonoma Plaza, General M.G. Vallejo Home, Torilleria Jalisco, Mama Tanino's Ristorante, and Sweet Pea Bake Shop!
Laguna Beach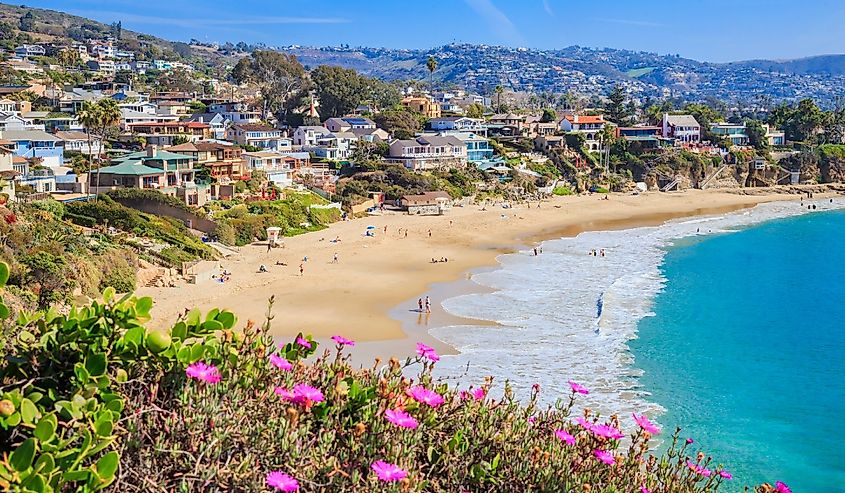 Turquoise waters, white sand beaches, and Spanish Mission Revival and Craftsman-style homes built along the coastline embody the town of Laguna Beach. Although considered a tourist or resort town, Laguna Beach has a charming sense of authenticity to it, particularly due to the town's strong community of artists, reflected through the town's popular art galleries like the Laguna Art Museum, Richard Macdonald Fine Art, purelagunabeach and Peter Blake Gallery. The town holds many festivals celebrating art, such as the Sawdust Art Festival, Festival of Arts/Pageant of the Masters, Art-A-Fair, and Plein Air Painting Invitational. For visitors who love to swim, Victoria Beach and Crescent Bay Point Park are must-visit destinations on every tourist's bucket list. The crystal-clear aquamarine waters of these beaches are beyond enchanting and provide the perfect way to cool off. Laguna Beach is also a great place to go scuba diving, body-surfing, and snorkeling.
Julian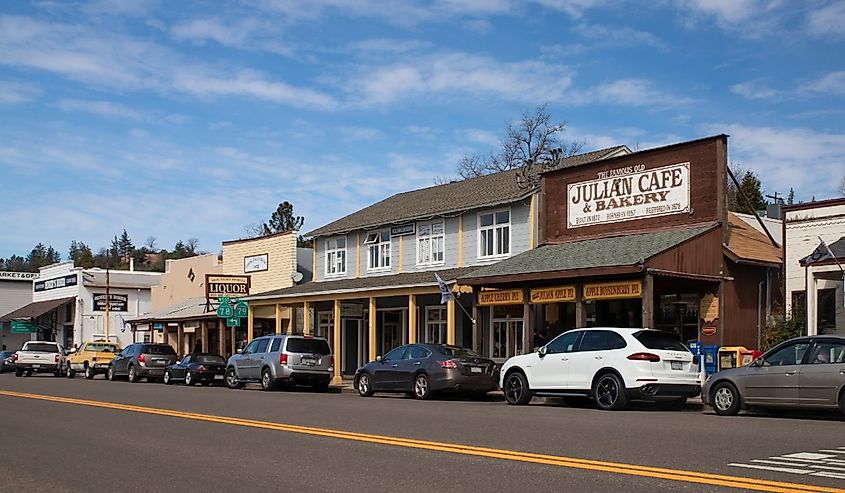 Enchanting waterfalls, wildlife tours, and wineries await in Julian. The town is not quite as famous as, Laguna Beach, but that makes it all the more special. For nature lovers who want to escape for a weekend and experience all mother nature has to offer, Julian is a no-brainer. For one of a kind experience, Eagle and High Peak Mine offers tourists history and adventure by touring an old gold mine and learning about the minerals and the history they hold. On top of learning about the history and layout of the mine, tourists get to learn how to pan gold! Perfect for curious kids and adventurous adults, a definite must-see for families.
Julian also has plenty of opportunities in nature. Visit the California Wolf Center, where tourists can encounter mesmerizing Mexican Wolves through the safety of a secure fence! While watching these magnificent wolves, there is information and videos to help educate visitors on this beautiful species. On top of all these amazing attractions, Julian is home to charming wineries, such as Blue Door Winery, perfect for tastings and photos. Other nearby scenic views include Volcan Mountain Wilderness Preserve and William Heise County Park, which showcase the picturesque flora, fauna, and landscape of San Diego County, home to hills, mesas, and small canyons that visitors will never forget.
Three Rivers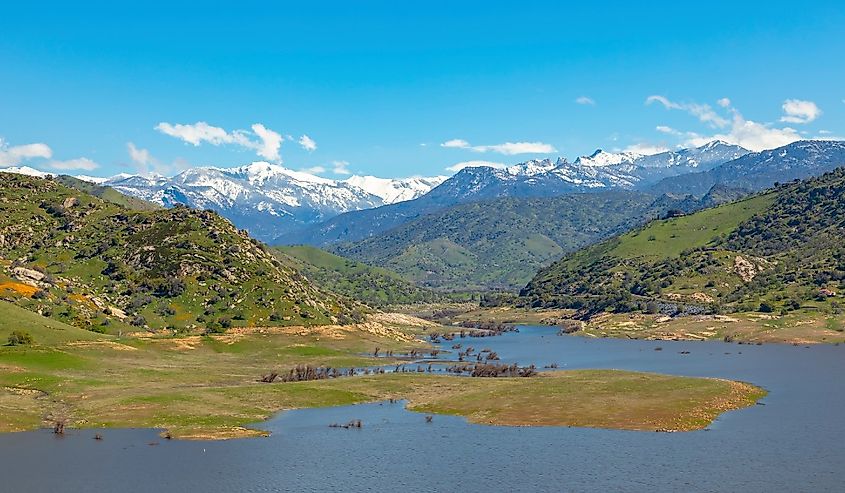 Towering Sequoia trees grace the forest floor and reach the sky in the stunning town of Three Rivers. At first glance, this outrageously beautiful region could seem like a dream; the natural beauty of this town is out of this world. Whether hiking through the breathtaking Tapokah Falls in Sequoia National Park or grabbing a beer at Three Rivers Brewing, this small town of 2,700 residents offers a seemingly magical experience thanks to the environment which encompasses it.
One of the number one attractions in this exciting Tulare County town are the great Sequoia trees in Sequoia and Kings Canyon National Park which make even the tallest and widest of people look like mere sewing needles in comparison to these monstrous trees that have been growing towards the heavens for more than 2000 years. So much history has transpired, and yet these trees remain despite it all, and each sound produced by the sway of its leaves through the wind and each ridge in its bark tells visitors their story. After a tranquil day of hiking, visiting sequoia trees, canyons, and magical waterfalls, travelers may check in to one of Three River's high-quality local inns and cabins and grab some tasty meals from local spots such as Sierra Subs and Salads and Ol Buckaroo, to mark the end of a day of sunshine and sightseeing in the great community of Three Rivers.
Capitola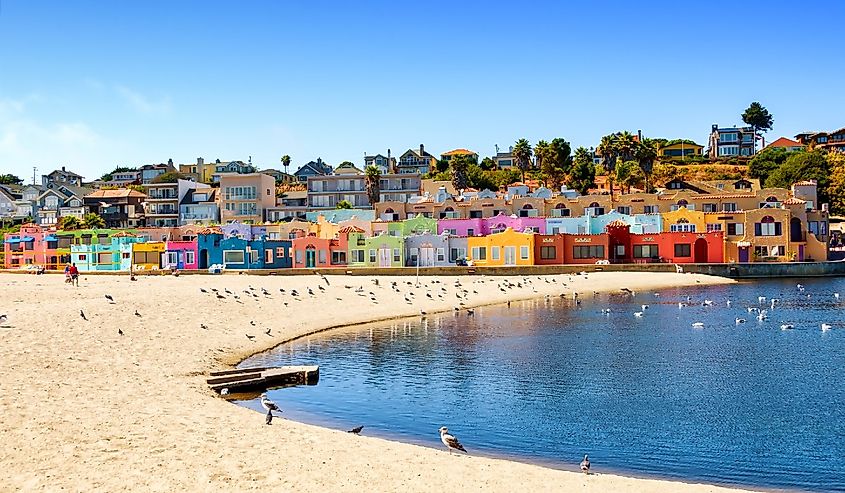 If a word could describe Capitola, that word would be "rainbow." Certainly, one of the prettiest in California, Capitola is the home of hot pink, royal blue, and deep violet painted houses, like a rainbow on the coastline on soft blue waters which dance upon light sandy beaches. If high-quality lodgings, picture-perfect coastline, exquisite local baked goods, and dine-in restaurants sound like a dream, then Capitola has everything visitors will need and more! There is a reason why almost 10,000 residents have called Capitola home.
This seaside town is a slice of paradise just south of San Jose. To learn about the interesting history of this eccentric town, the Capitola Historical Museum has everything a traveler will need to immerse themselves in the heritage of this coastal community full of bright colors and smiling faces. After a walk on the famous Capitola Beach, enjoy a bite to eat at Paradise Beach Grille, take a tranquil stroll along New Brighton State Beach, then grab a delicious dessert from Gayle's Bakery and Rosticceria. After indulging in mouth-watering food and scenic coastlines, check in to Capitola Hotel for a relaxing night's sleep.
Cambria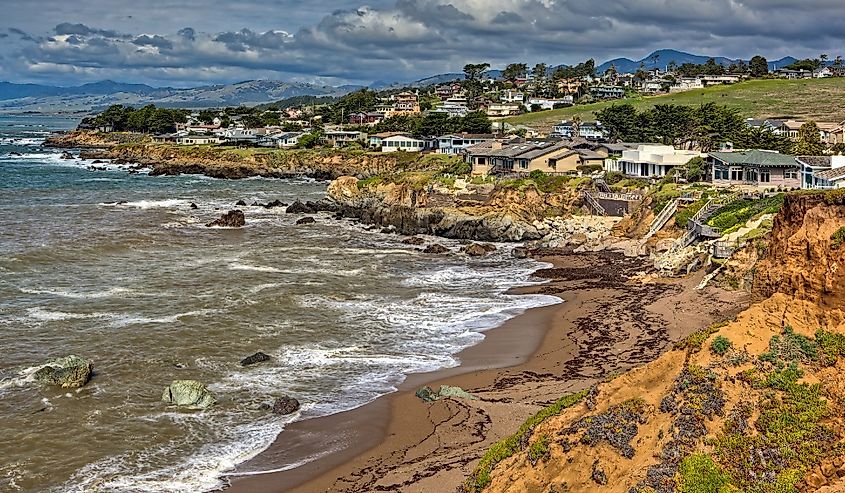 Cambria is a small, beachside community of 5,500 residents, much more quaint and laid back than other towns in California. Cambria is perfect for a day trip or for retirees searching for a new home or vacation spot! For beach lovers, Cambria is love at first sight, being the home of over five different beaches, all with their own lovely qualities and scenic views. Cambria rests in the charming San Luis Obispo County in the marvelous state of California. Cambria is midway between San Francisco and Los Angeles along California State Route 1, perfect for visitors looking to escape the big city for the day! Thanks to the town of Cambria's historic architecture, boutique shops, and downtown art galleries, the vibrant aura of this relaxing town is contagious. When in Cambria, Moonstone Beach is a must-visit destination, extremely popular all over the state of California. Moonstone Cellars is home to excellent wine and a tranquil atmosphere. As for the food, Madeline's Restaurant and Wine Cellar is a go-to spot to grab a scrumptious bite to eat, as well as the popular Robin's Restaurant.
Although known for Hollywood, mansions, and lamborghinis, California offers much more than that. Every small town carries its own eccentric qualities. Whether a resort town on the ocean, a laid-back community full of natural parks and wildlife, small artistic towns with unique architecture, or a small coastal village with houses that make up the colors of the rainbow, California has it all and never falls short in leaving all visitors in definite awe.