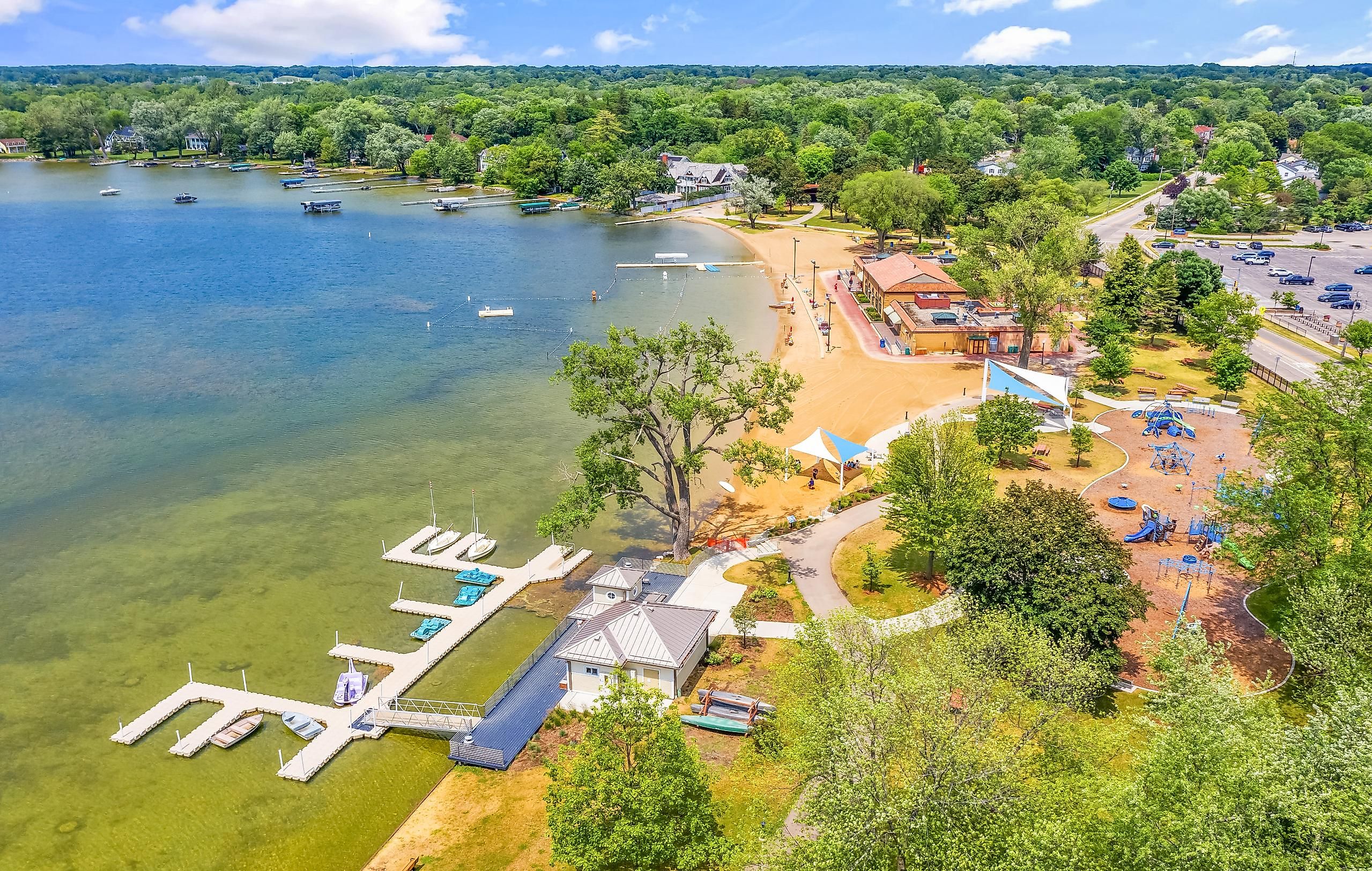 10 Most Beautiful Small Towns in Illinois
Spring is the perfect season to try new things like venturing into unexplored territories. Nature wakes up from under the snow cover and reveals its fresh-faced glory to the world. Illinois is full of beautiful tons throughout picturesque countryside, along river banks, hilly grasslands, and bounded by scenic woodlands. Springtime Prairie State is really something special to behold.
These towns offer a perfect getaway from the city with amenities at hand in the surrounding beautiful landscapes, innate to countryside scape. It is the perfect time to travel to one of these homegrown town for a real spring fling with beautiful Illinois.
Crystal Lake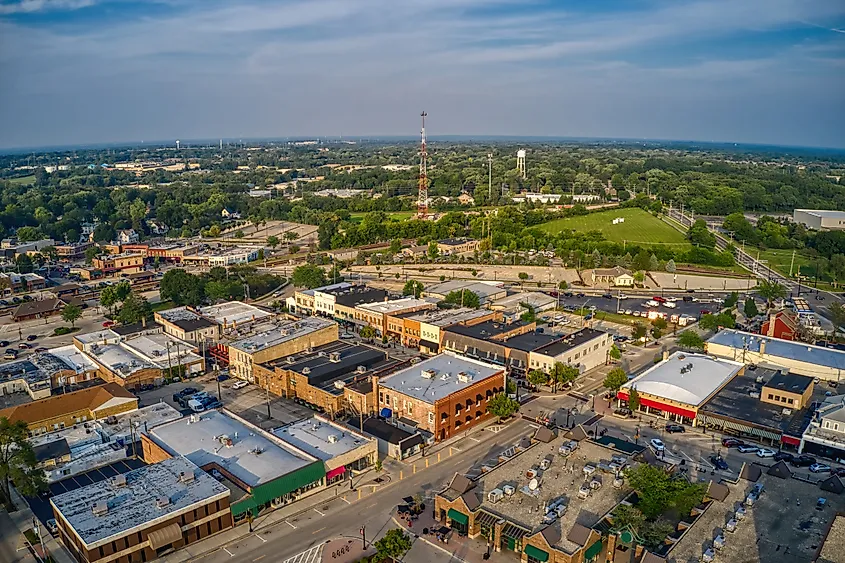 It is hard to find a town more beautiful or exciting during the warmer seasons than one with claim to fame right in its name. Crystal Lake is an unexpected oasis in southeastern McHenry County calling your name to relax without breaking the bank. The crystal blue waters beckon to linger along peacefully in a rented boat with bellies to the sun, or splice the surface with a kayak, canoe, or paddleboat. Don't forget a fishing rod, and take-up the opportunity to learn scuba diving.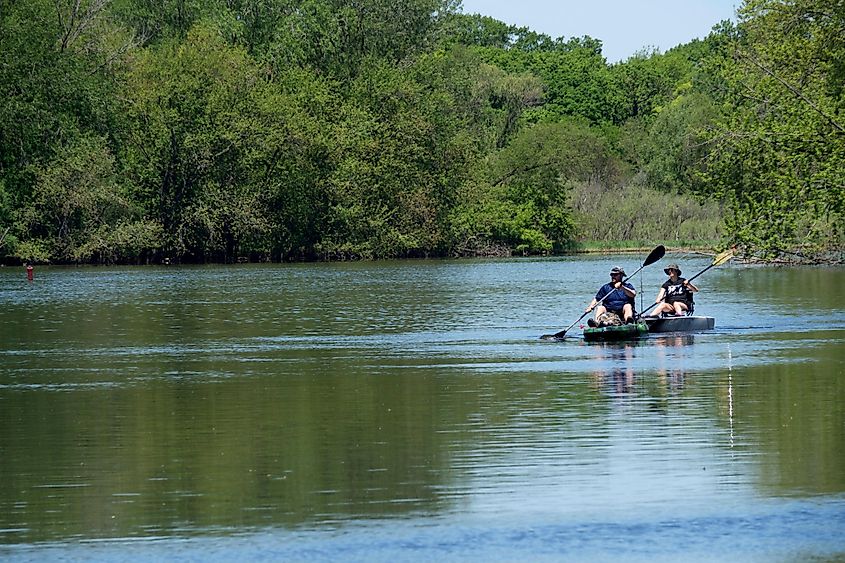 The town is a popular getaway for quick access to some of the state's best nature under the all-encompassing small-town vibe. Enjoy springtime strolls and recreation along the banks like picnics and playing in the sand. Spread along the sunlit banks with a bottle of wine or find a shaded shelter and let the worries seep away at the incredible water views. The friendly lakeside community with special resort atmosphere was recently voted one of the state's best towns with a wealth of buildings adorned in locally produced terra cotta. 
Geneva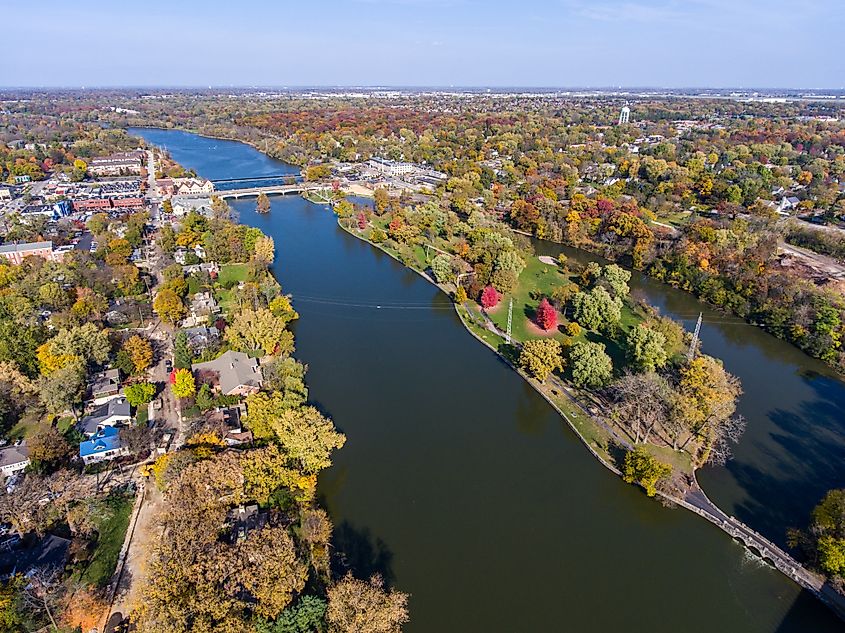 Geneva is a quaint, pretty enclave in northern Illinois with beautiful Victorian buildings deserving of its grand name. Sight-see historic architecture on a stroll-along 150 small local businesses amidst nature parks for fresh-air leisurely strolls and outdoor recreation. The appealing scape houses many great eateries and art galleries, along with a lovely Fox River riverwalk. Enjoy strolling along art displays with water views to one side, and townscape with vibrantly-decorated sidewalks and buildings, to the other.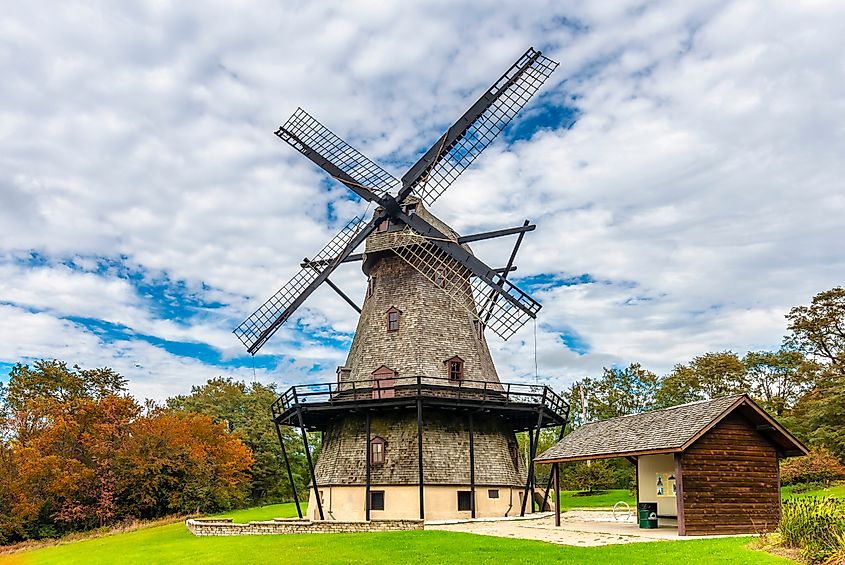 Geneva's scenic history is laid-out along the historic district replete with well-preserved original buildings from the 1800s. The Fabyan Forest Preserve is great for nature ventures, while the glorious Japanese Garden is crowned with an iconic Dutch windmill. Take s blind pick from the glut of local boutique hotels for a feel of affordable luxury, or choose a real-budget stay that wouldn't matter when you are in one of Illinois' prettiest towns. The Herrington Inn and Spa is favored even by the locals for impeccable services that make everyday feel like a vacation. 
Lebanon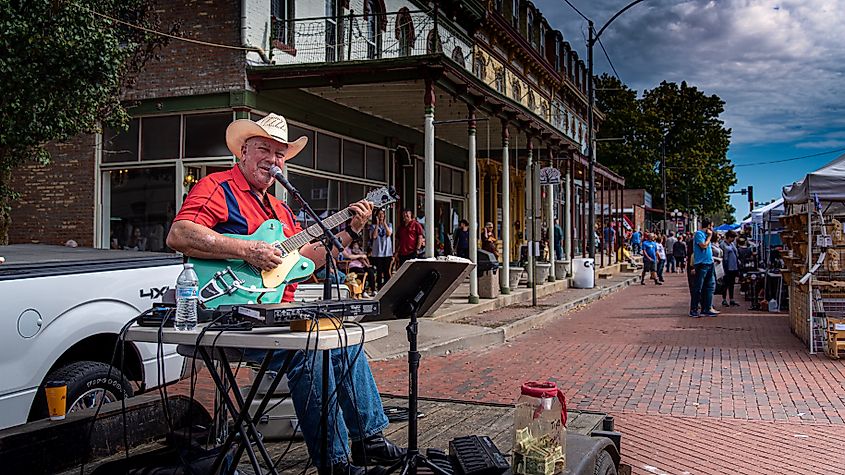 The former Native American village in "Little Egypt" region of southern Illinois offers unique attractions in effigy mounds, and spooky legends. The nearby Lebanon Road is referred to as the "seven gates of Hell" for seven railroad bridges that driving under all at midnight would open a Hell portal. So far no one has fallen victim to this hauntingly-scenic landmark. Despite its most-haunted claim in the state, Lebanon is a light-hearted towns with rich nature through Homer Park's 58 beautiful acres for ventures.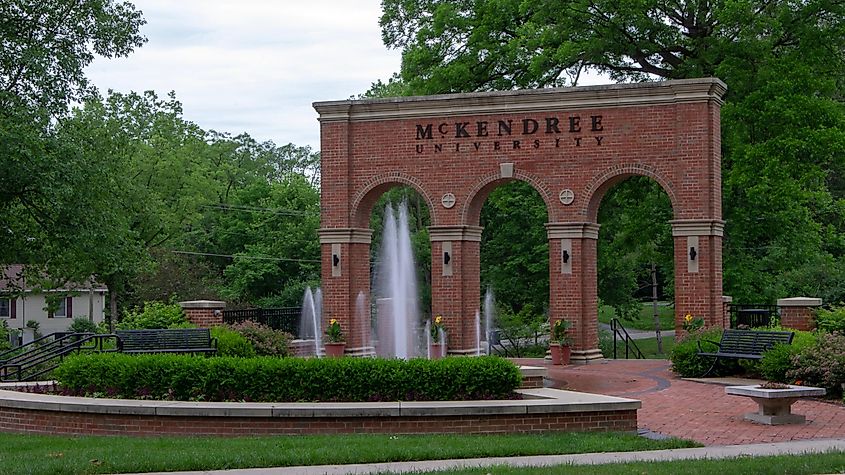 The small townscape encompasses the state's oldest, McKendree University, along with a cute downtown area aligned by architecture including Southern Colonial, Greek Revival, and Gothic. Check-out the preserved Emerald Mound, and visit the Mermaid House noted in Charles Dickens American Notes who stayed there himself. Peruse the wealth of great restaurants, theaters, quaint shops, and bars to hear a tragic story about the Acid Bridge in town with a shallow creek beneath. Today, the bridge merely connects to East Kirsch Road in Troy, but people continue to report creepy feels like sudden chill and strange noises.
Long Grove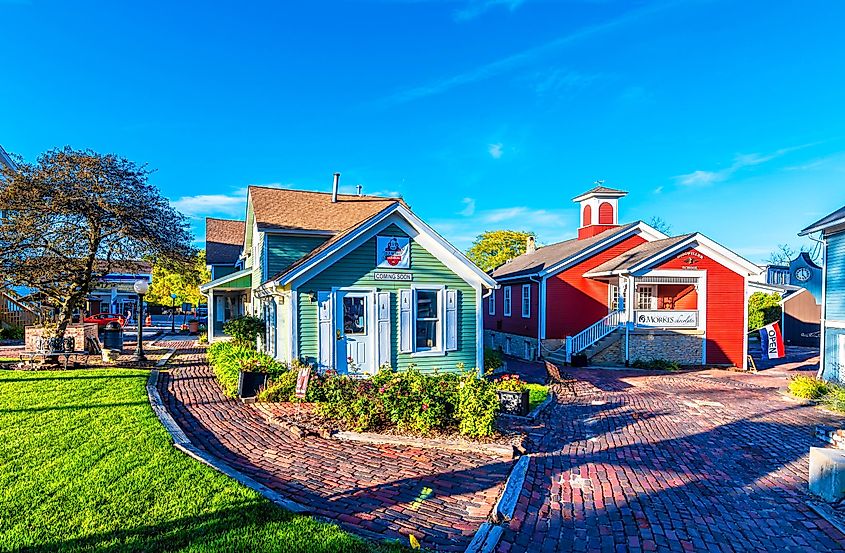 If this list of beautiful Illinois towns was a chocolate box, then Long Grove would be the tastiest of them all. The scrumptious piece, only 40 miles north of Chicago, is an extremely popular getaway into a fun, festival-ridden small town scape. Celebrate year-round with Chocolate Fest in May, Strawberry Fest in June, Apple Fest in September, Vintage Holidays in November and December, and Craft Beer Festival in April. The historic district downtown is replete with year-round attractions and activities like great restaurants, breweries, and wineries to enjoy year-round.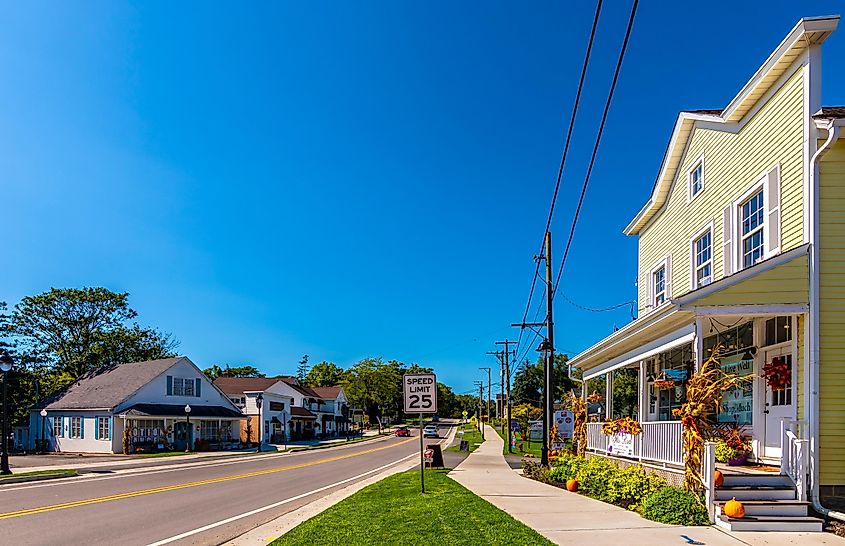 Stroll along the charming townscape, protected by building ordinances with height regulations on a respite from the city and seek-out spectacular sights like the iconic covered bridge adorned with nature. Visit the Gerri's Tea Room for some girly time among British-aspired high tea delicacies and complementing atmosphere, also perfect for couples on a romantic getaway. Take-up a unique dining experience in an RV at Chatterbox.
Marion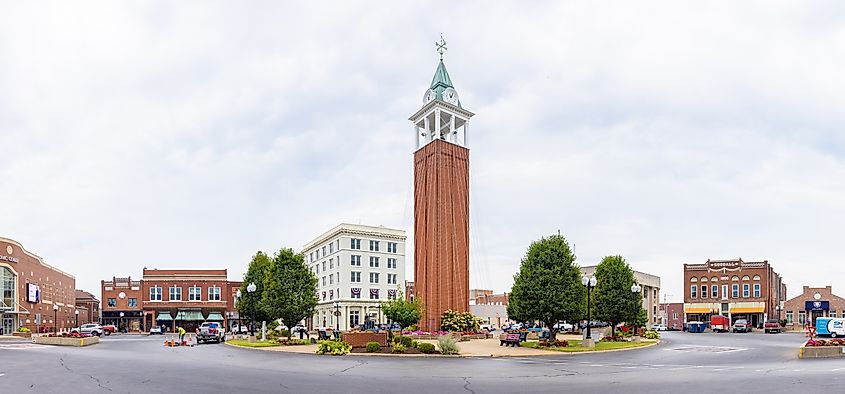 Marion is the famous "Southern Illinois Main Street," set peacefully in the Carbondale area of the state. It is a perfect anytime getaway with a wide range of pursuits for everyone, like golf, wineries, theater, and nature trails. The peaceful and quiet scape is the state's favorite getaway into natural ventures at the Shawnee National Forest just to the south. 
Marion's sole mayor for over 50 years lovingly calls the town "The Hub of the Universe," inspired by a plethora of surrounding highways. Enjoy easy access for a weekend respite to this lovable town with tons of shopping, dining, and other attractions. Explore Williamson Couny's countless woods and creeks, chill by the waters, or with a drink at hand at a local bar. 
Mount Caroll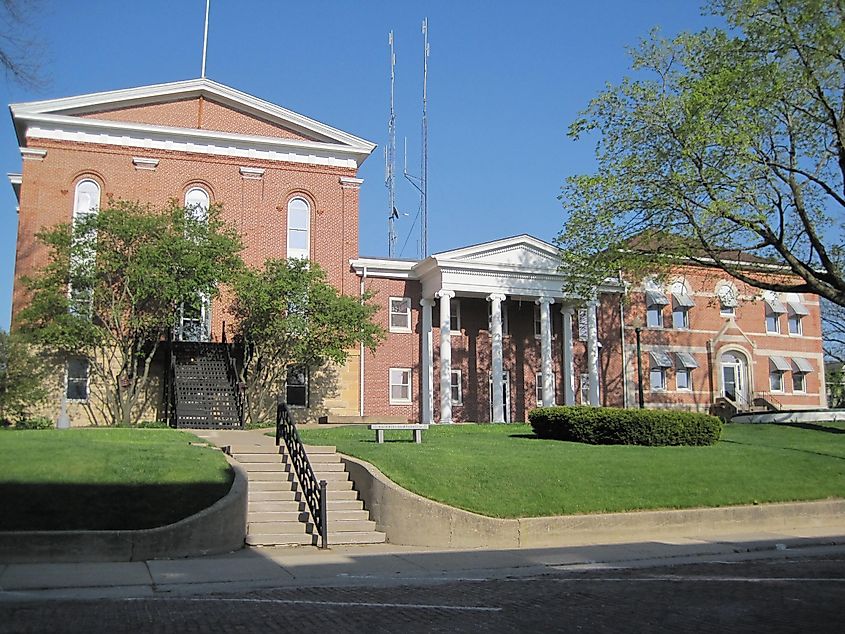 The scenic town of Mount Carroll is "the New England of the Midwest," replete with architecture under a tasteful countryside charm. Enjoy endless wonders among 30-some unique historic sites, and quickly access nature along the Mississippi River only 10 miles away. The secret Illinois gem takes local and quaint beauty seriously and proudly guards its buildings in original state, for the same-looking scape from 50 years ago.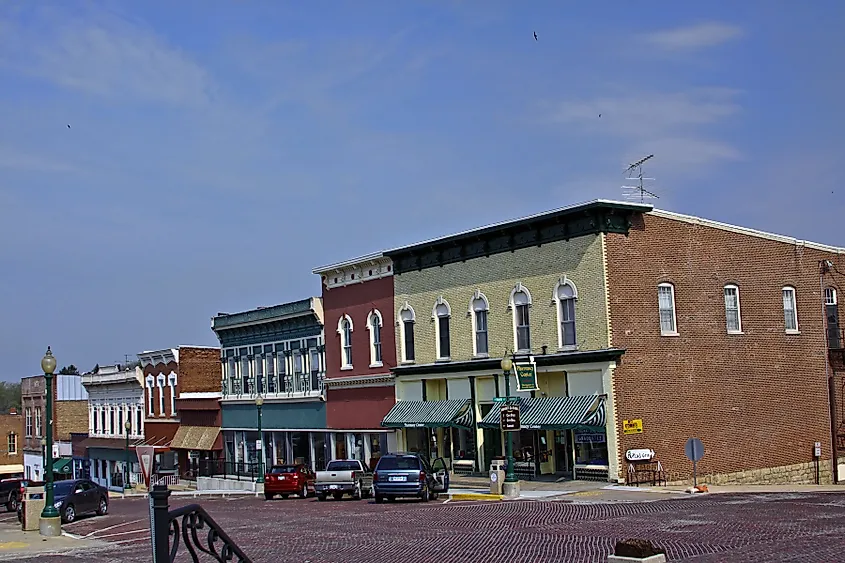 Find a glut of modern amenities veiled behind scenic facades and livelier streets with many seeking to live in a remotely-charming scape since then. There's also better connection to the nearest large city, 2 hours away, while Galena is the next-proximate charming townscape with more amenities. Stop-by the Raven's Grin Inn, an intriguing 5-story Victorian-style property with an eerie vibe. The mansion of physically juxtaposing objects from the 80s, encompasses a Halloween-themed haunted home with a spooky story-telling tour around. 
Ottawa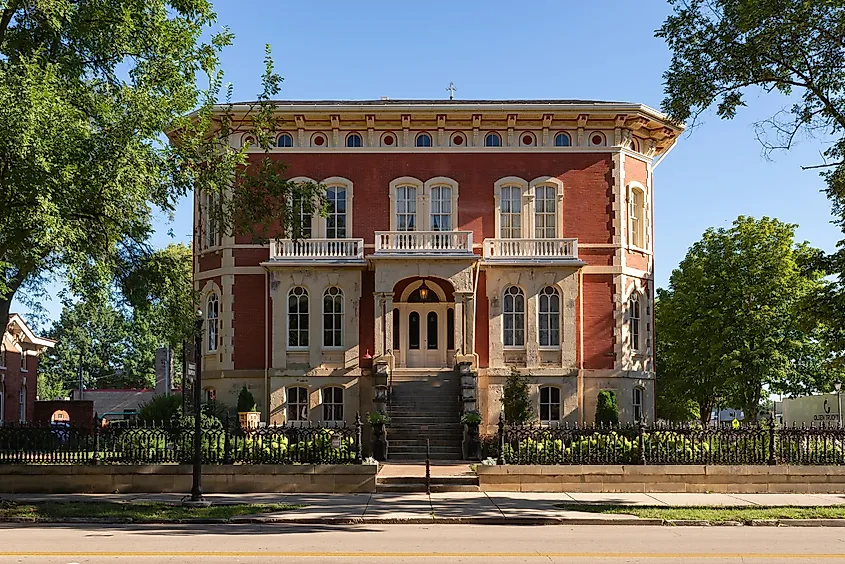 The charming small town of Ottawa is idyllic stop-over on the way to the nearby Starved Rock State Park. It is a popular place to linger amidst sights and amenities in the morning with downtown cafes and attractions. Return from a hike for rest and check-out one of the local favorites for an evening drink to share over impressions.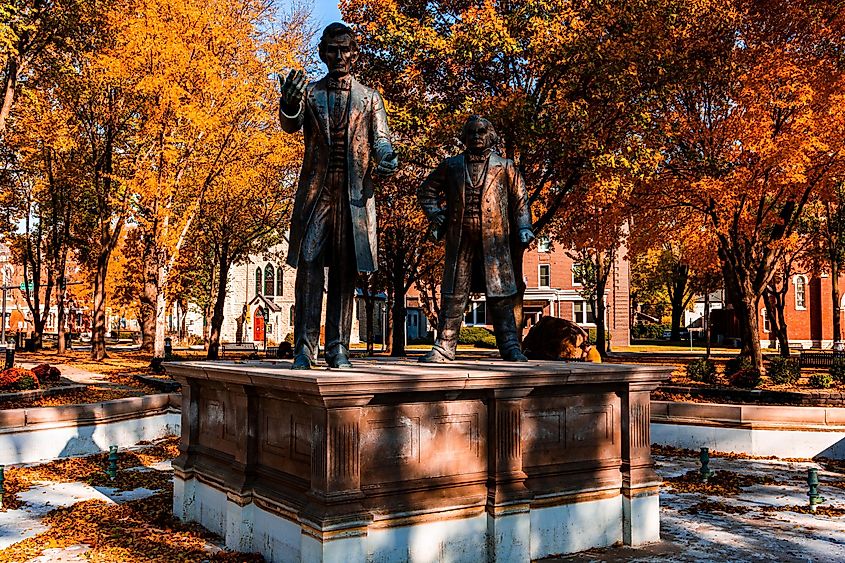 Ottawa boasts a unique twist of masterfully combing the old with the new through sights like an abundance of modern murals that decorate old architecture. Spend a day strolling the streets studded with preserved Victorian houses while munching on fresh, salty kernels from the long-beloved Popcorn Wagon. The relic from the 1890s is just one of many treasures sites from Lincoln to Douglas eras to power through. 
Rockton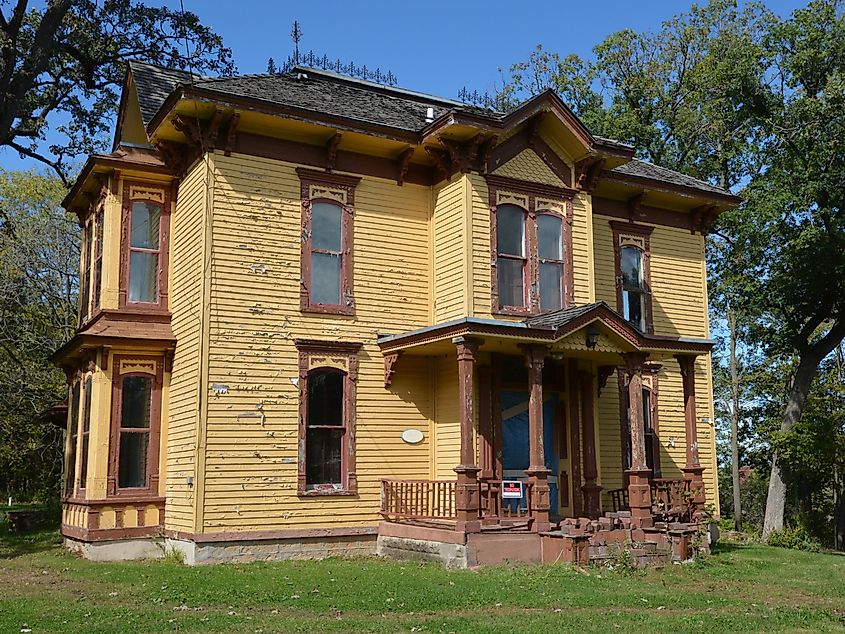 The scenic little village of Rockton in Illinois at the border with Wisconsin is a popular getaway from both states for sightings from the past. The ambient townscape boasts a glut of buildings from way back in the 1800s, with modern amenities hiding behind distinctive limestone facades. The small town atmosphere includes attractions like the Dairy Haus ice cream shop with flavors like bourbon praline and wedding cake that have devoted followers from area well-beyond the village scope.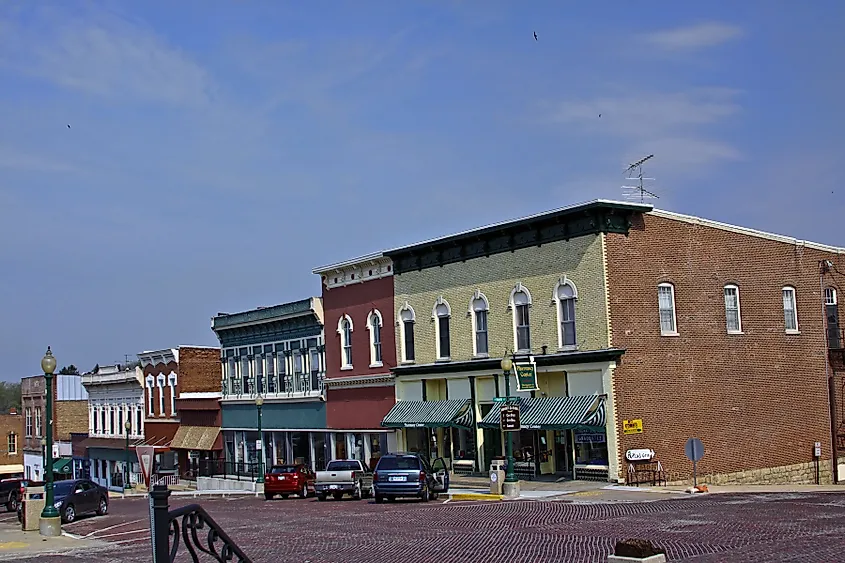 Hop a few miles over to the Badger State for New Glarus beer, sold only there and with its cult os country-wide followers. Visit the next-door town of South Beloit for some fast-paced acton along the Blackhawk Farms Raceway. Aside from popular car and motorcycle races, the venue has a driving school to take-up the art of racing yourself. 
St. Charles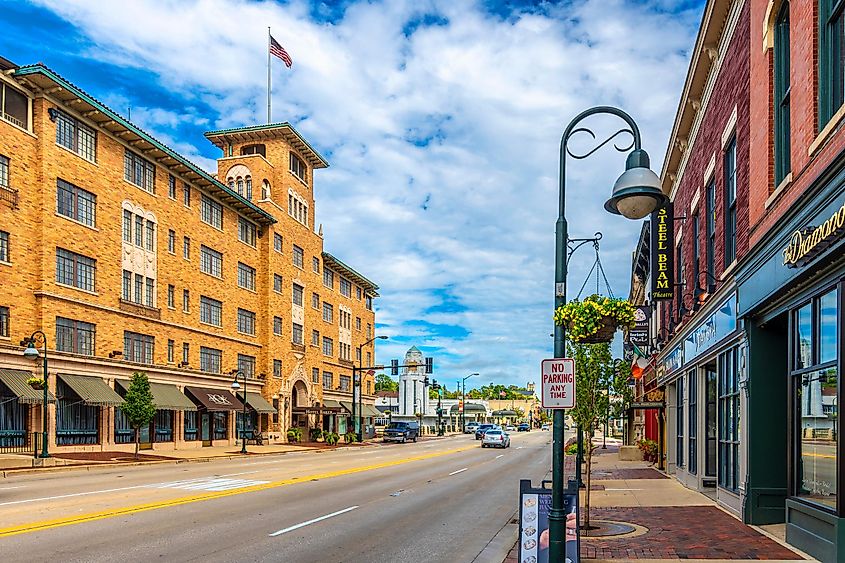 Just an hour from the Windy City, St. Charles is a small town with one big natural quality, the Fox River. The splicing river offers outdoors from the doorstep, with scenic parks and trails trough the woods and riverside. Enjoy the riverwalk on a stroll with pretty water views to one side and St. Charles Downtown to the other. After anchoring at one of the local boutique hotels, dive into the wondrous downtown with a glut of main street attractions.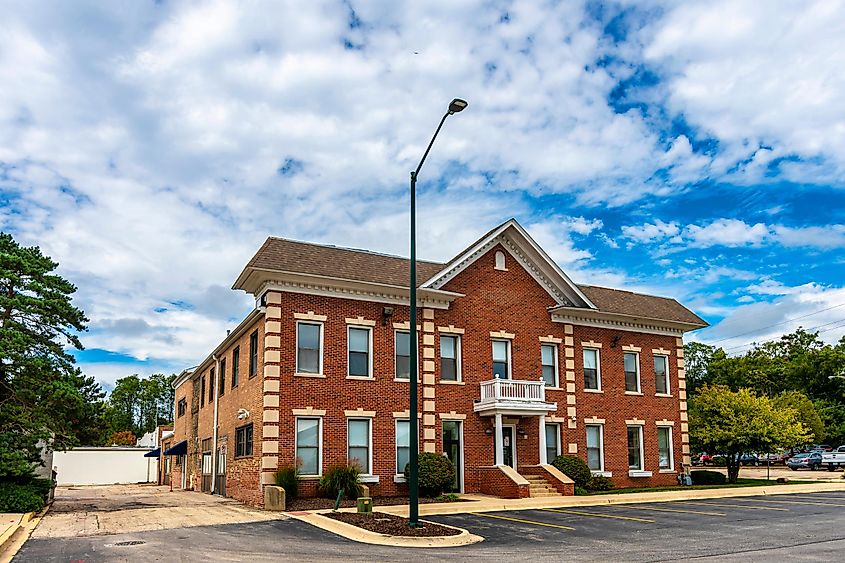 Stroll amidst historic facades while perusing through shops and top-tier restaurants, and enjoy a summer band live music alongside the locals. Catch a live vaudeville act or a silent movie at the Arcada Theater from 1926, for an experience dripping with nostalgia. You can also grab a picnic and head for a day hike of relaxing recreational activities along the river's banks. Stay right along river's edge at the Hotel Baker, which happens to be dead-center in town with amazing window views.
Batavia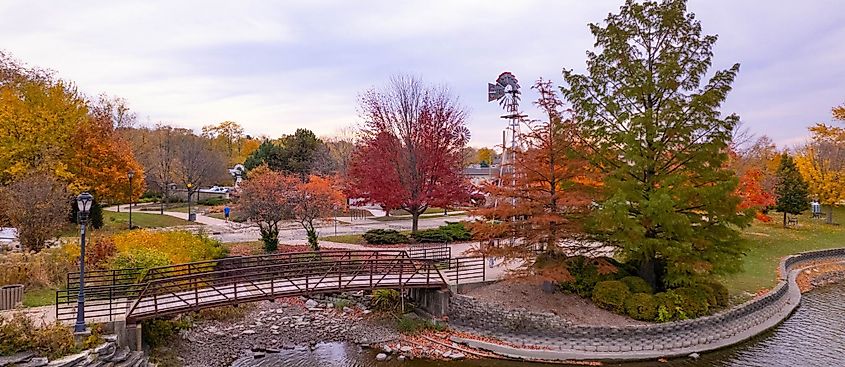 One of the state's most-charming towns just-off the Fox River, is just a short drive from the Windy City. It is a popular weekend escape from the city's blur into natural beauty that extends year-round in and around Batavia, with beautiful gazebos adorned in greenery. Batavia is a designated Bike Friendly community for feel-good explorations with a lot to see like the FermiLab and its beautiful Robert Rathbun Wilson Hall.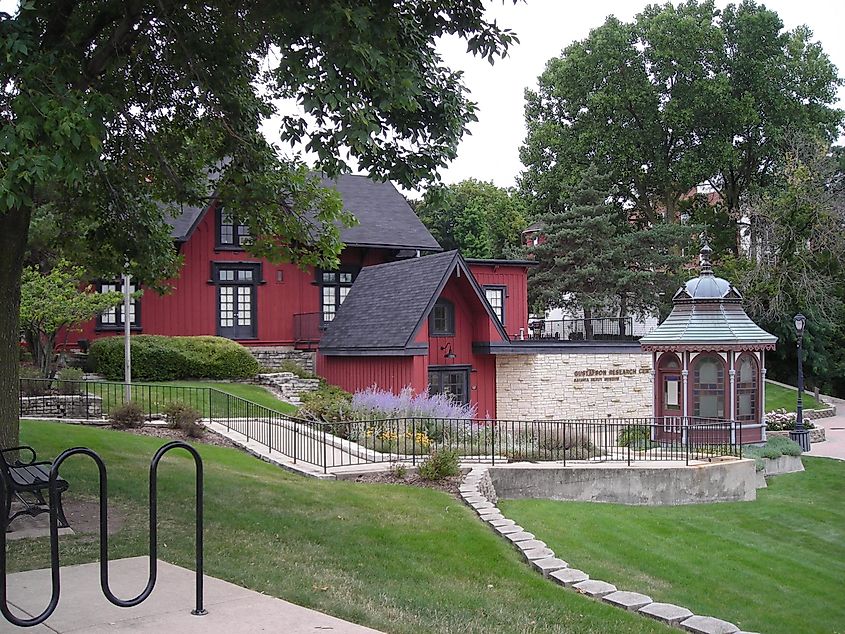 The most atmospheric River Street reminisces of the Dutch with a glut of historic windmills and revitalized amenities. Come for the small town scape but stay for the beautiful Fox River that captivates with magnetic sights on a stroll or a picnic. Hike to the Challenge Dam with roaring waters before making your way back downtown to scout-out the Peg Bond Center. The riverside setting is perfect for sunset views and chilly evening gatherings around the fireplace, to share impressions of the beautifully-spent day. 
Illinois is akin to many things like charming small towns, friendly locals, as well as some haunting stories. These towns sit blessed with natural beauty and replete in downtown sights for the best weekend getaway from the city.
The small scape will pull you in with a ton of attractions and hospitable amenities to relax and recharge in any preferred style. Don't wait any longer than you have to and visit a town on this list before summer crowds start seeping in, hogging the best natural vistas around.