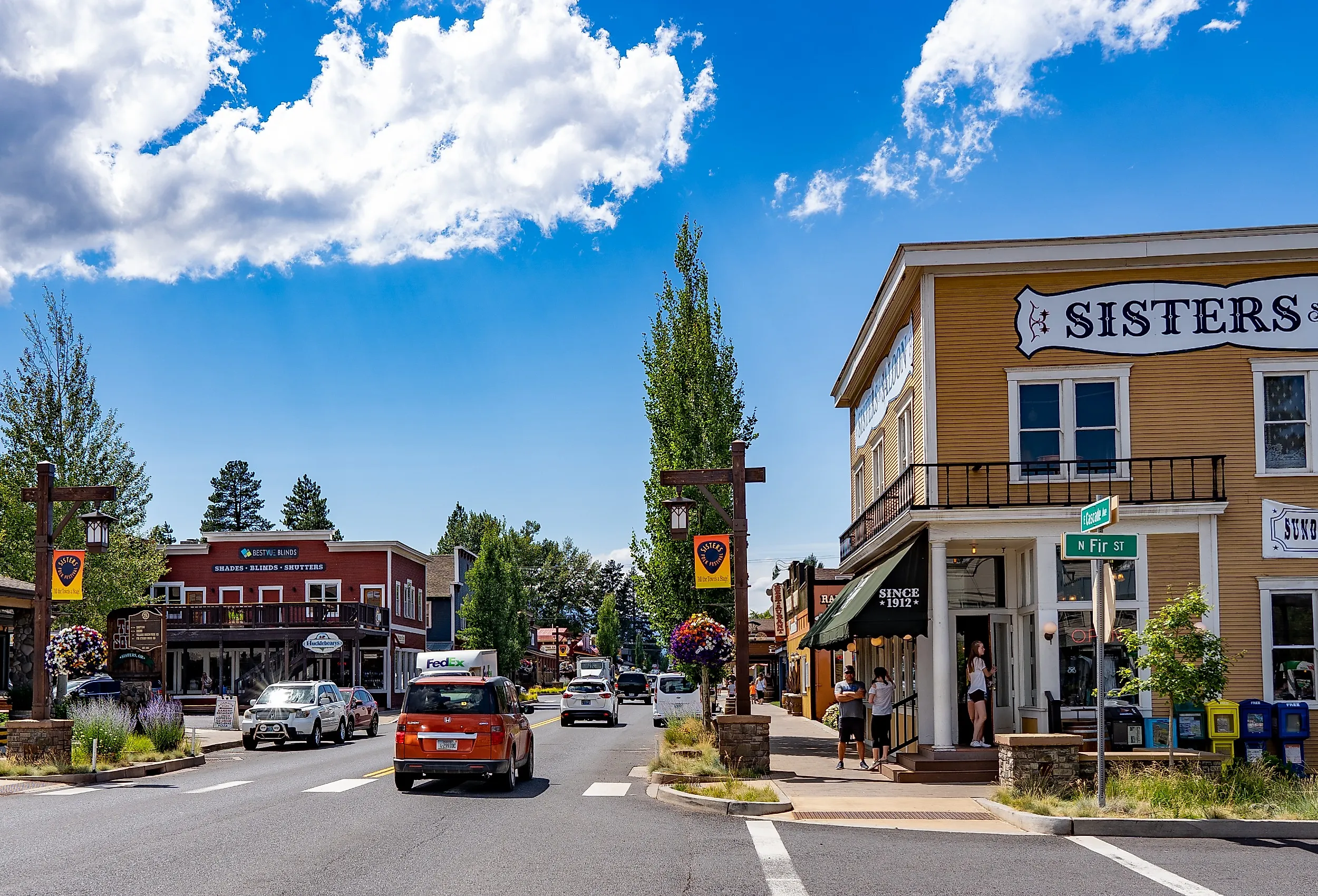 12 Adorable Small Towns In Oregon
From the Pacific Coast on the west to the desert plains in the east, Oregon is full of amazing, beautiful natural sights, exciting cities, and adorable small towns. While the larger cities of Portland, Salem, and Bend often draw their fair share of tourists, it is the quirky neighborhoods, towering mountains, and quaint coffee shops that locals frequent that truly show the spirit of Oregon. Exploring Oregon's adorable small towns is a great way to dive into the heart of the Pacific Northwest and really get a feel for the places and people that make this state so special.
Cannon Beach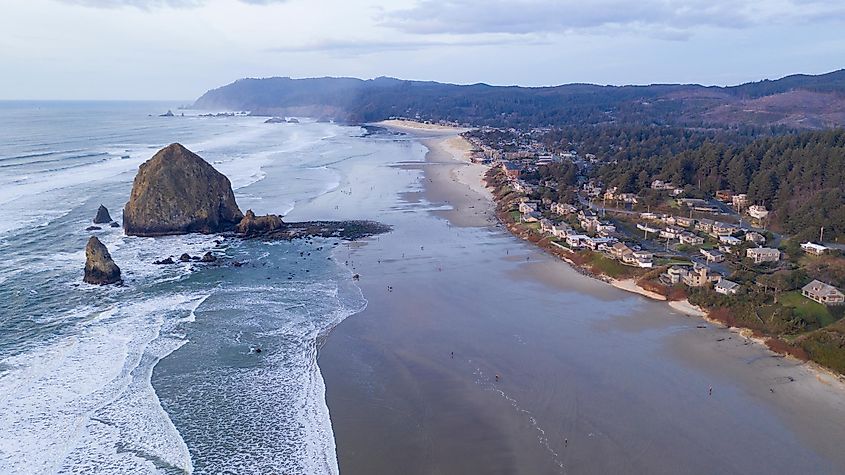 Cannon Beach is a coastal town that sits on the Pacific Ocean about 90 minutes outside Portland. This seaside destination was listed as one of the 100 most beautiful places in the world, according to National Geographic's 2013 list. A popular destination for travelers, it is most well known for the historical landmark Haystack Rock, a natural rock formation on the shoreline. The rock, and the gorgeous long sandy beach, are the biggest draws to the area, and make for an impressive photo of Oregon's coast. Other scenic attractions include cascading waterfalls at Hug Point, where you can explore sea caves, and Ecola State Park for panoramic views of the ocean, lighthouse, and coves.
Arcadia Beach is also close, and is ideal for families with its many tide pools and picnic areas. Those wishing to venture out on the water can enjoy whale watching and puffin viewing tours, paddle boarding, or boating. The area is also known for its arts. In town, check out art galleries such as the Cannon Beach Arts Association, Archimedes Gallery, Dragonfire Gallery, and many more. Festivals in Cannon Beach also include the Stormy Weather Arts Festival, Spring Unveiling Arts Festival, and Earth and Ocean Arts Festival. The Coaster Theatre Playhouse is the place to be for performing arts. History and culture lovers can learn more about the history of the area at the Cannon Beach History Center and Museum.
Yachats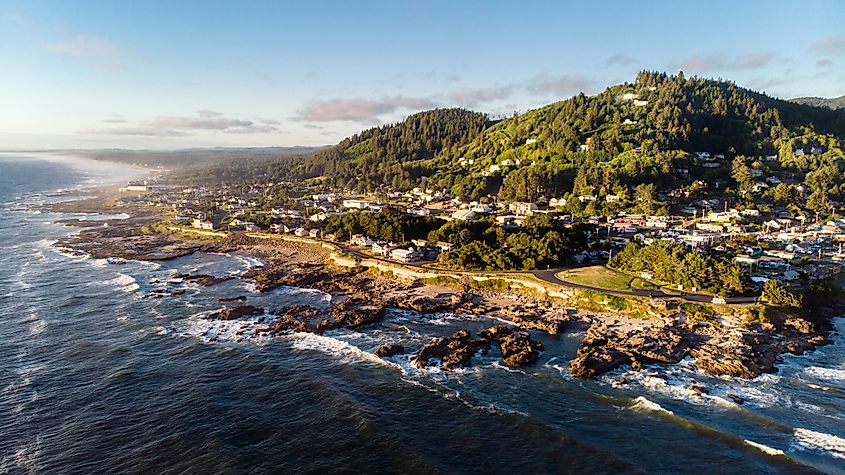 Another coastal town worth visiting is Yachats, located northwest of Eugene. Like Cannon Beach, this seaside town is popular with nature lovers and hikers due to its scenic views, beaches, and trails. Visitors can enjoy hiking a number of hiking trails, including the 804, Amanda, Prospect Gardens, and Ya'Xaik trails. Visit Smelt Sands Recreation Site and Yachats State Park to explore tide pools, scenic views, salmon fishing, and whale watching. The downtown area has charming eateries, boutiques, and breweries to enjoy, including Green Salmon cafe, Yachats Brewing, LeRoy's Blue Whale restaurant, and Luna Sea Fish House. Don't forget to check out the local farmer's market on Sundays for local fairs and fresh produce.
Florence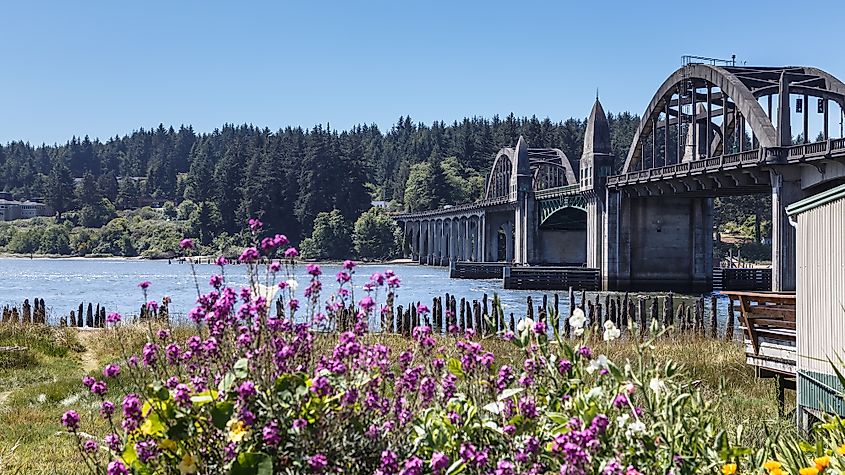 Like Yachats, Florence is a great place to check out the Oregon wildlife. The town sits on the Siuslaw River, where it meets the ocean. Explore the Sea Lion Caves along the coast, or spot seabirds and whales near the 19th-century Heceta Head Lighthouse. Visitors can even explore sand dunes in the nearby Oregon Dunes National Recreation Area. The area is home to North America's largest coastal sand dunes, and there are many ways to enjoy them, from dune buggies to sand boarding.
Visit Darlingtonia State Natural Site, an 18-acre botanical park featuring carnivorous flowers, or hit the Florence Golf Links. There are also plenty of places to eat and drink in town, including the famous Dutch Bros Coffee, Nosh Eatery, or LoveJoy's Restaurant & Tea Room for its world-famous clam chowder.
Hood River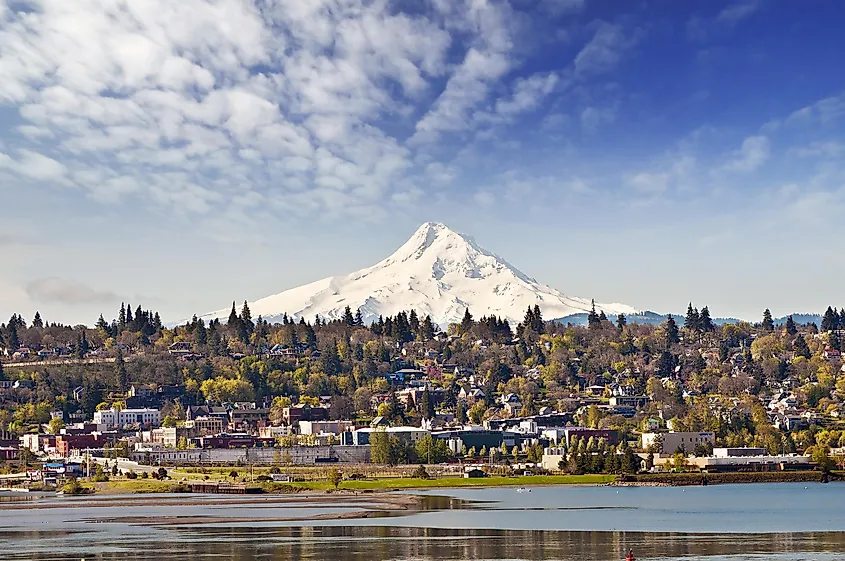 Hood River is in northern Oregon, where Hood River meets the Columbia River and Washington border. Hood River is one of the best small towns for anyone who loves outdoor adventures. The area offers a wide range of activities to enjoy year-round, from biking along the Mount Hood Railroad or Cascade Locks to kayaking or whitewater rafting through the Columbia River Gorge, or windsurfing in Viento State Park. Mount Hood is also close by and a great place for a day trip.
Soak up the history and culture at the Hutson Museum, History Museum or Western Antique Aeroplane & Automobile Museum, or explore the art in the region on the Gorge Artists Open Studios Tour. There are a number of excellent food and drink options in the area, including wineries like Evoke Winery, Phelps Creek Vineyards Tasting Room, Stave & Stone Winery, and Cathedral Ridge Winery, or enjoy a beer at Full Sail Brew Pub or the famous pFriem Family Brewers.
Joseph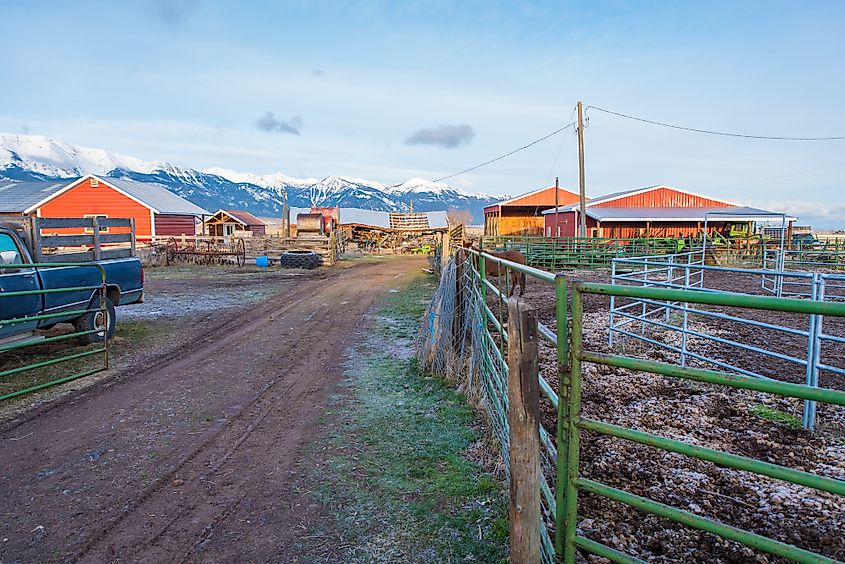 Joseph is a city in Wallowa County originally named Silver Lake but officially called Joseph in 1880 after Chief Joseph of the Nez Perce people. The area is overlooked by the impressive Wallowa mountain range, making for an impressive sight. Joseph is also known as the "Little Switzerland of America," in large part because of its Switzerland-like vistas and natural beauty. This beautiful landscape draws many visitors who come to hike the range and the Eagle Cap Wilderness, scale the Matterhorn, explore the Tenderfoot Pass or Hurricane Creek Trail, or enjoy views of Wallowa Lake, and Aneroid Lake.
Opportunities for adventure and outdoor recreation are nearly endless, and there are many trailheads and campsites to enjoy. The area also has a lot of history, culture, and art. Enjoy an art walk through town or visit the Discovery Center. To go along with the Switzerland theme, Joseph also hosts the four-day Oregon Alpenfest that brings together the culture and landscape of the region.
Enterprise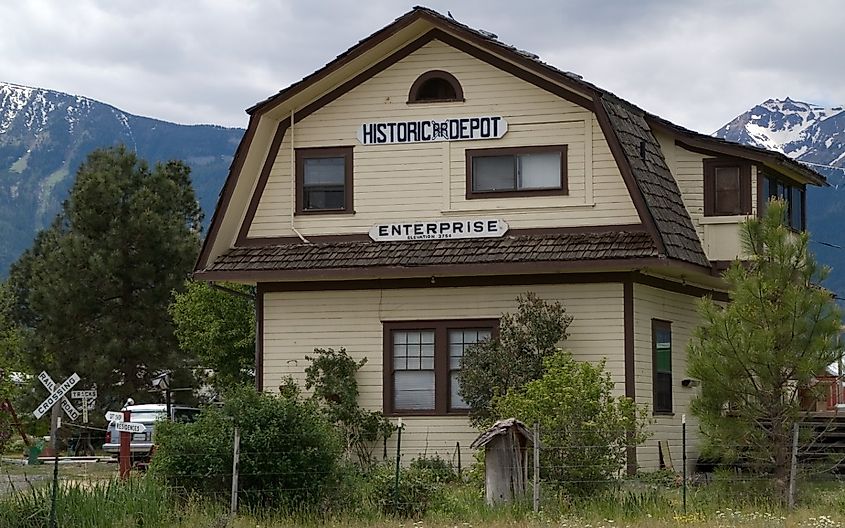 The town of Enterprise, only 6 miles away from Joseph, is also in Wallowa County and is another great option for anyone looking to explore the beauty of the area. Enterprise also has a downtown area rich in enterprising history. Many of the buildings in the area date back more than 100 years, and others are made of a unique volcanic rock known as Bowlby Stone. Check out the Carnegie Library and OK Theater, as well as the William P. Warnock House, which dates back to 1910. Like Joseph, Enterprise offers great options for outdoor exploration with easy access to both the Hells Canyon National Recreation Area and the Wallowa-Whitman National Forest.
Jacksonville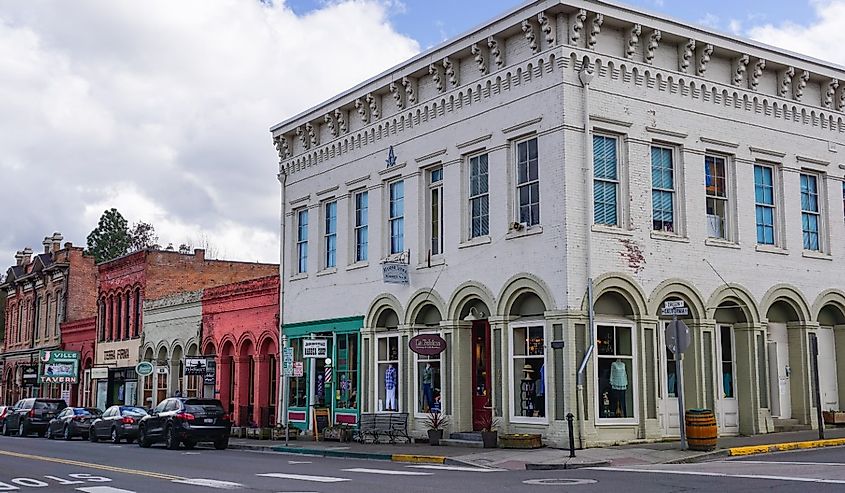 Jacksonville is a historic gold rush town in Jackson County, Southern Oregon. Jackson Creek, which runs through the town, was known for having some of the first placer gold claims within the area. Now, it is known for its great food and drink, and is sometimes called the gateway to the Apple Valley Wine Trail. Visitors can enjoy a variety of restaurants and drink locations, including the Valley View Winery and Longsword Vineyard. The region also hosts the summer-long Britt Music and Arts Festival, which is a big draw for many tourists. Explore the historical Beekman House, take a Trolley tour, or walk the Lavender Trail in spring and summer. Winter travelers can enjoy nearby Rogue Valley and skiing in Mt. Ashland.
Carlton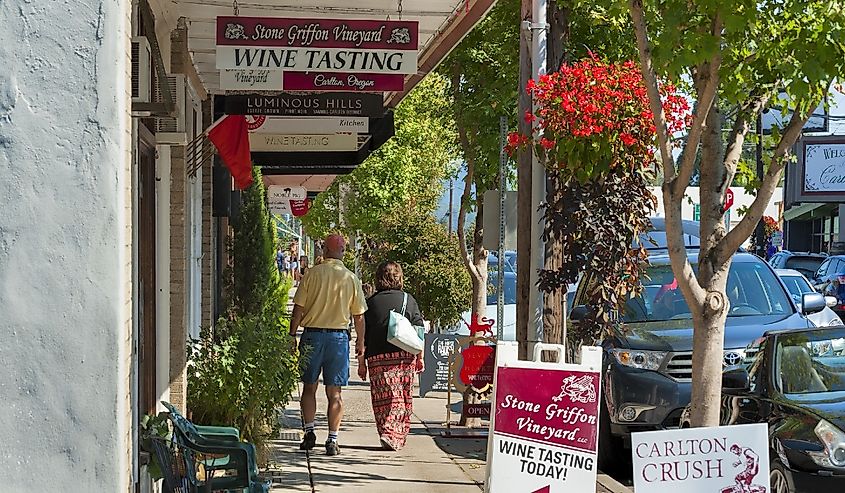 Another great place to indulge in Oregon's food and drink scene is Carlton. Carlton is Oregon's Wine Country capital, and features a large number of local wineries and vineyards, and is the home base for the Yamhill-Carlton American Viticultural Area. Enjoy one of the many picturesque wine tasting rooms, such as Cathedral Ridge or Tendril Wines. Not only will you enjoy excellent wine, but many offer views of the North Willamette Valley's vineyards and farms.
The rich farmlands also mean great restaurant options are always close by. From Barrel 47 to Cuvee or the Carlton Bakery, good food is never far away. Learn more about the history of logging and agriculture on a History Tour through town, which stops at places like the John B. Wennerberg Barn, The Carlton Grain Elevator, First Baptist Church from 1915, Smith/Meadowlake Road Bridge, and Carlton Lake, among others.
Silverton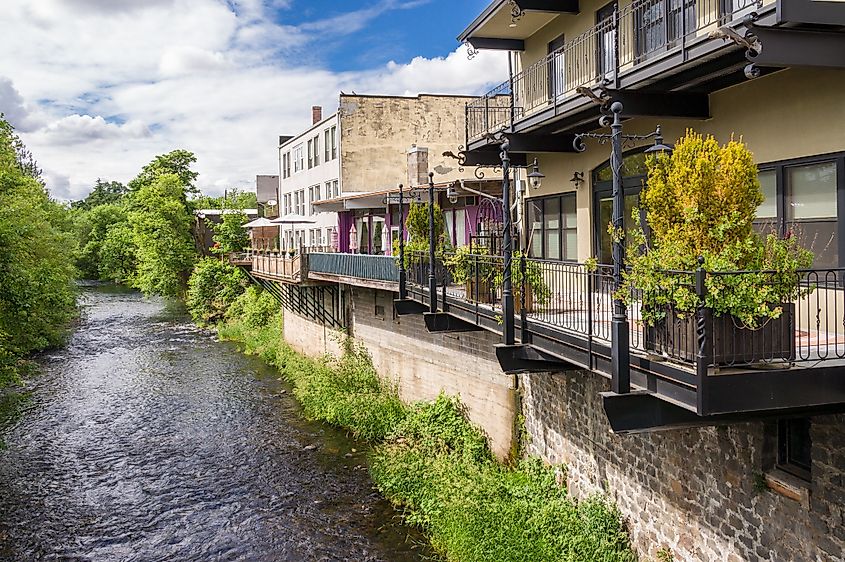 Silverton is also located near the Willamette Valley, about an hour southeast of Carlton. The city is named after Silver Creek, which runs through the center of town. The area is scenic, and aside from the valley, visitors can enjoy a number of beautiful natural attractions. The Silver Falls State Park, Oregon's largest state park, is home to 10 waterfalls as well as trails, bike paths, and horse riding paths. Closer to town, the Oregon Garden offers an 80-acre botanical park and is a stunning example of Silverton's beauty. Other points of interest include Town Square Park, Frank Lloyd Wright's Gordon House, and a mural of Norman Rockwell's The Four Freedoms.
Baker City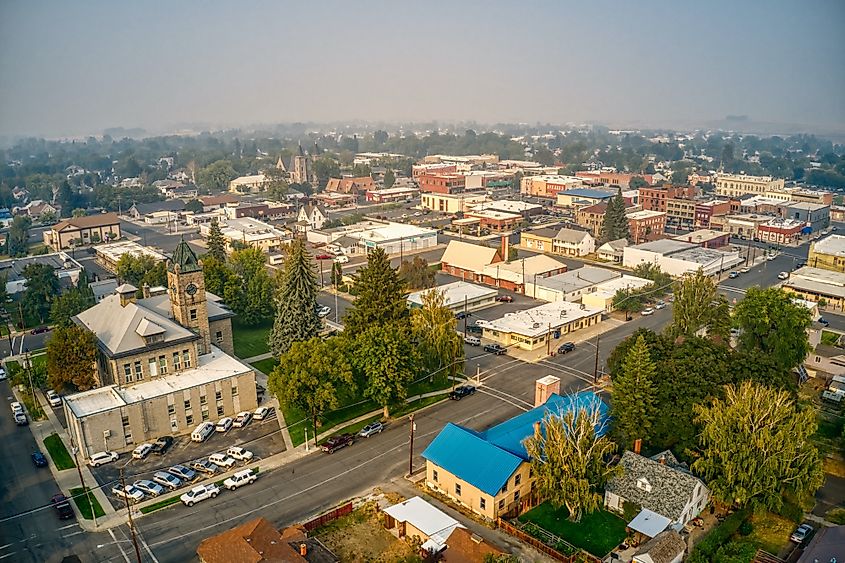 Baker City is often referred to as the base camp of Eastern Oregon, and is home to some of the most well-known attractions in the state, including the famous Oregon Trail. Outdoor recreation options are plentiful, and there are opportunities here to try just about anything, from biking and hiking to hunting, fishing, boating, stargazing, and camping. Take in views of the nearby Elkhorn Mountains as well. The area also has a number of historic landmarks, such as the 1889 Geiser Grand Hotel, Baker Heritage Museum, and over 100 other historic buildings in town.
For food and drink options, the Barley Brown's Brew Pub is not to be missed, along with Sweet Wife Baking, which supplies baked goods throughout the area but is only open on Wednesdays to the public. Glacier 45 distillery has also grown in popularity and is a great place to enjoy a drink. Events and festivals are also common here and include the Hells Canyon Motorcycle Rally, Miner's Jubilee, Salt Lick Art Auction, and short-film festival We Like 'Em Short.
Cottage Grove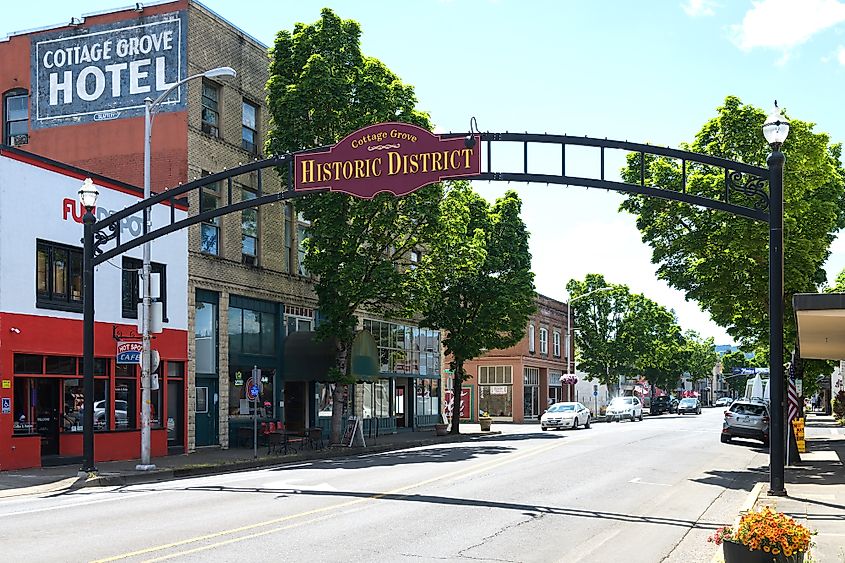 On the western side of the state sits Cottage Grove, known as the "Covered Bridge Capital of Oregon." Oregon's first official scenic bikeway runs for 36 miles and passes the six covered bridges: Chambers Bridge, Mosby Creek Bridge, Stewart Bridge, Dorena Bridge, and Currin Bridge. The bridge bikeway attracts many visitors, but Cottage Grove is also popular for its friendly and quaint atmosphere while being an easy drive from the larger cities of Eugene, Salem, and Portland. It is also hugged by the Siuslaw National Forest, on its western side and the Umpqua National Forest and Willamette National Forest to the east, meaning Cottage Grove offers a great jumping-off point.
Sisters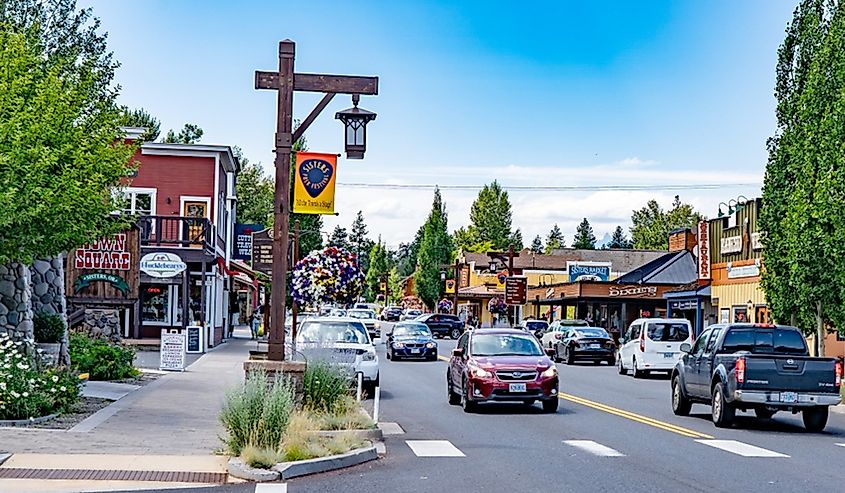 Sisters is a city in Deschutes County, in Central Oregon, about 25 miles outside Bend. The town sits at the base of the Cascade Mountains and gets its name from the three peaks that overlook the area. Visitors can enjoy the beautiful countryside, including Willamette and Deschutes National Forest. Enjoy horseback riding, white water rafting, backpacking, and camping in the nearby wilderness. The town comes alive in the summer, and the downtown area often hosts festivals and events, including the Annual Sisters Rodeo, which was founded in 1956, and the Sister Folk Festival, which features workshops, songwriting sessions, and musical performances.
From its stunning natural beauty to its small town hidden gems, Oregon has much to offer visitors and tourists. Whether you're exploring famous natural landscapes like the Cascade Mountains, Oregon Coast, or Crater Lake; or you're looking for small-town charm in places like Cannon Beach or Cottage Grove, Oregon has something for everyone. Pack your hiking shoes, and get ready for an adventure. Whether it's a quiet escape in one town or a road trip across the state, or enjoying the many eateries, breweries, or vineyards along the way, these small towns are full of warmth, charm, and beauty that's not to be missed.