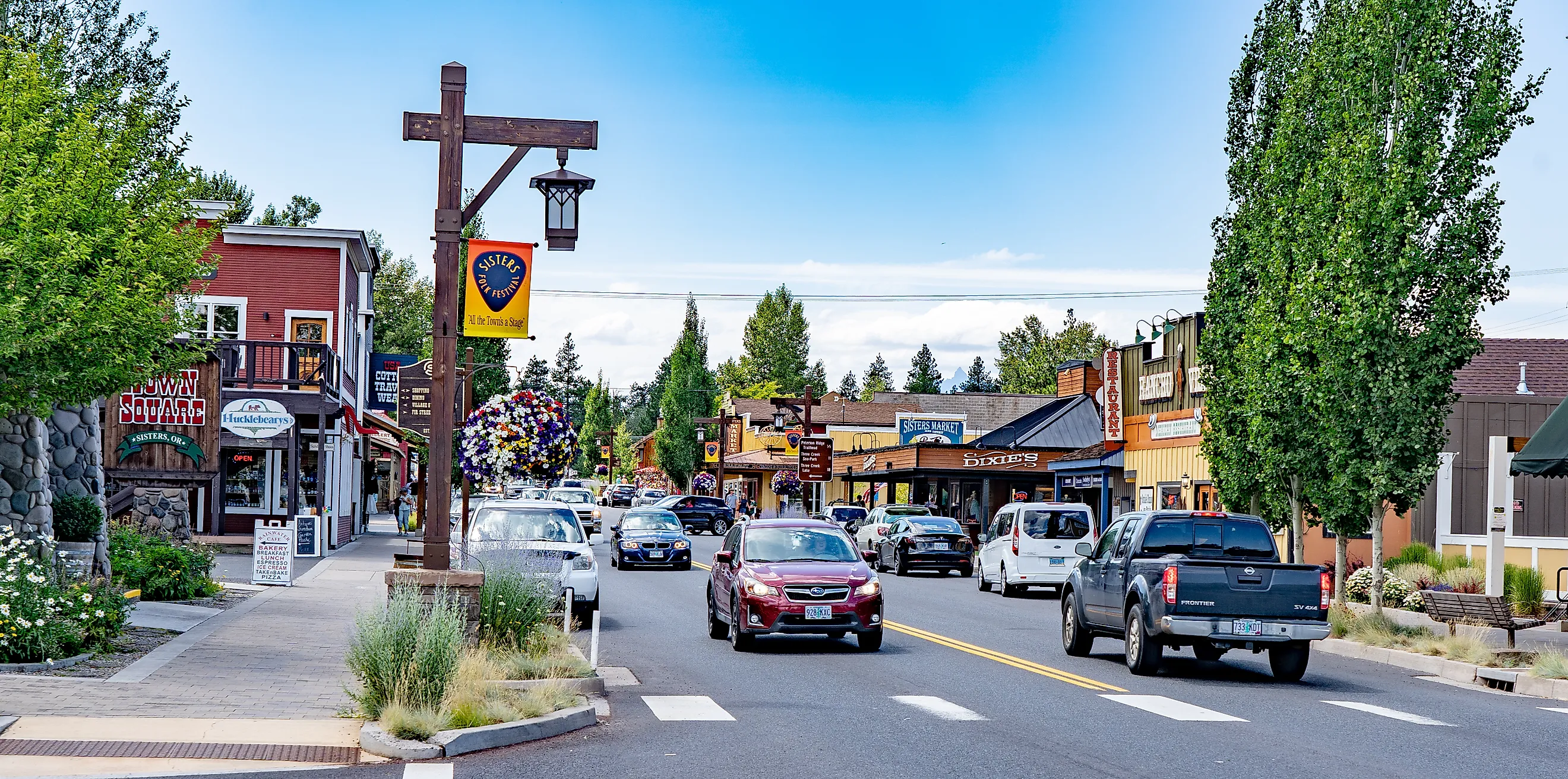 13 Prettiest Towns In Oregon
Oregon's prettiest towns embrace the ever-changing seasons, inviting visitors to explore nature's wonders, from blooming wildflowers in spring to vibrant fall foliage. From the windswept shores of the Pacific to the rugged beauty of the Cascade Mountains, nature is abundant wherever you go. As you journey through these prettiest towns, you will find coastal gems that offer tranquil moments against the backdrop of iconic sea stacks. Venture further inland, where historic architecture stands as a testament to the past, complemented by lively cultural festivals that celebrate the present. In the 13 prettiest towns of Oregon, beauty is an euphemism for the vivacious experiences you will have on your vacation. 
Hood River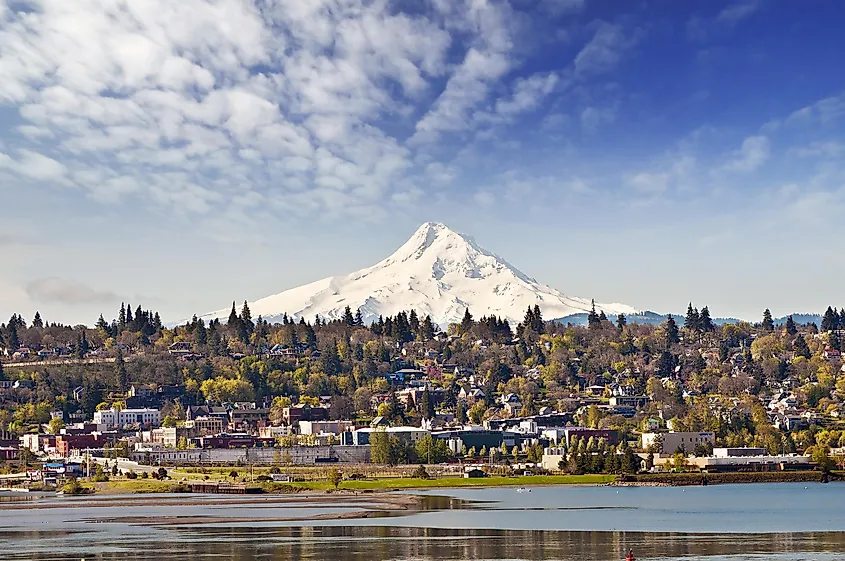 Hood River, a gem of the Columbia River Gorge, is a magnet for adventure seekers and food enthusiasts. There are many awesome things to do in Hood River like feeling the exhilaration of windsurfing and kitesurfing on the Columbia River's currents while surrounded by breathtaking landscapes. Explore majestic trails like the iconic Multnomah Falls and savor the Hood River Fruit Loop's fresh produce from farm stands.
Downtown Hood River invites you to dive into its vibrant culture with art galleries like Columbia Center For The Arts or 301 Gallery, boutiques of LaureL & EddiE, Dream Street, and Plenty, and farm-to-table restaurants including Farm Stand in the Gorge, Celilo Restaurant & Bar, and Romuls. You can have a taste of the region's craft beverages, from beers to ciders, and join the lively atmosphere of the Hood River Hops Fest.
Ashland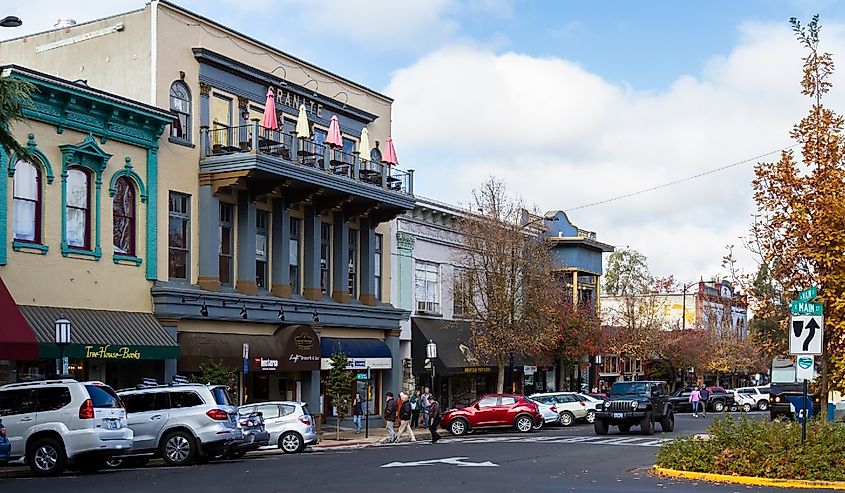 The enchanting Rogue Valley is home to one of the most charming cities in Oregon, Ashland, a cultural gem famed for the Oregon Shakespeare Festival. The Oregon Shakespeare Festival stages classics, contemporary plays, and an Annual green show in open-air theaters capturing the essence of the Bard. 
Lithia Park forms the heart of Ashland with its nature trails, Japanese gardens, bubbling mineral springs, Sycamore groves, and rose garden. Downtown Ashland is the best place for wine walks and sipping craft brews, microbrews, ales, and wines in the beautiful Weisinger Family Winery, Irvine & Roberts Vineyards, and Dana Campbell Vineyards. The Ashland Independent Film Festival brings cinematic joy with its narrative features, documentaries, shorts, and short films during the warmer months.
Astoria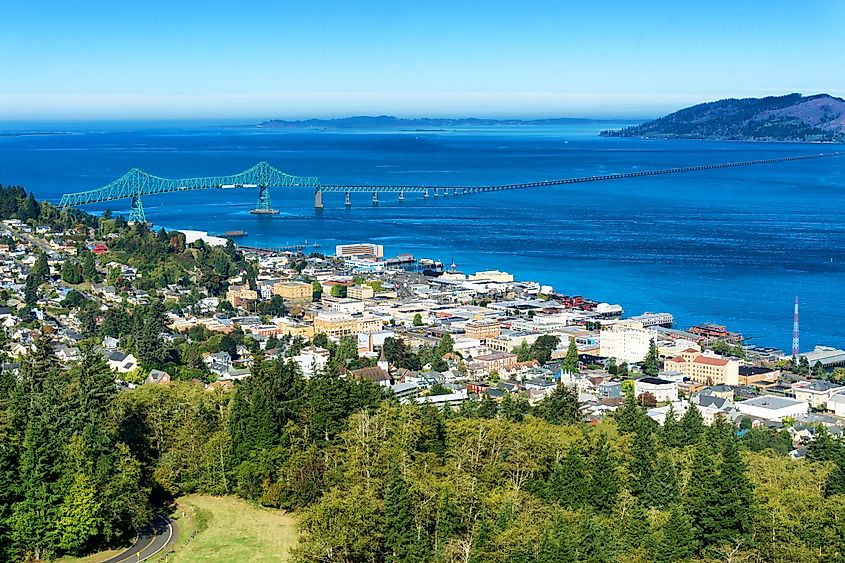 Astoria, where the Columbia River meets the Pacific, tells maritime tales through its captivating museums in a cozy allure. Ascend the Astoria Column for sweeping views, and explore the Columbia River Maritime Museum to uncover shipwreck stories and coastal life tales. 
The Flavel House Museum promises a 19th-century delight with Queen Anne architectural grandeur, late Victorian furnishings, a winding hardwood staircase, a butler's kitchen, and classic wooden flooring. Head to Astoria-Megler Bridge for breathtaking sunsets and picture opportunities, and Fort George Brewery is your unwinding downtown place offering cider, wine, beer, salads, and pizzas. You can also join in the merriment of events like the Scandinavian Midsummer Festival and FisherPoets Gathering, celebrating cultural heritage and artistic flair.
Sisters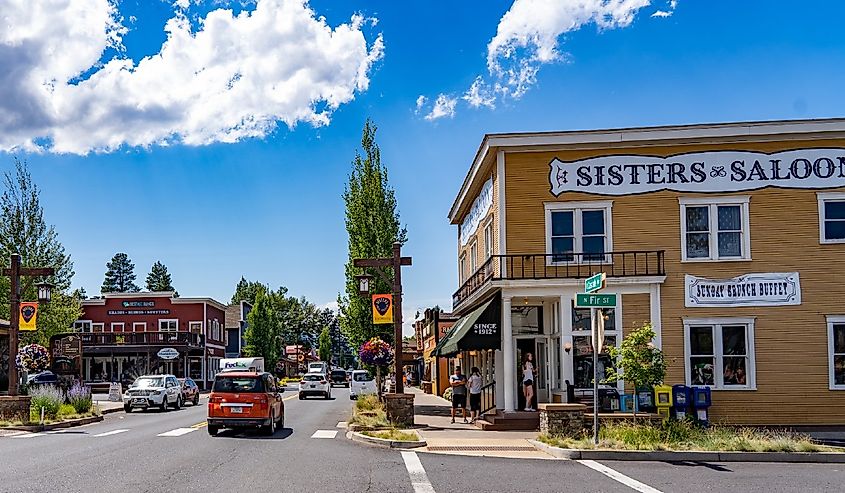 A charming Wild West-inspired town in the Cascade Mountains, Sisters, radiates authentic Western charm and outdoor adventure. You cannot stop yourself from immersing in cowboy culture at the lively Sisters Rodeo, with broncs, bulls, and boots frolicking in the dirt. The Three Sisters Wilderness beckons with alpine grandeur, waterfalls, rainbow trout and brook fishing, and day/night hiking trails.
Galleries like Hood Avenue Art and Raven Makes Gallery blend Western and contemporary art with Native American artisans presenting eclectic artworks and handcrafted jewelry. The Sisters Outdoor Quilt Show and Stitchin' Post Quilt Shop adorn the town with vibrant tapestries of fiber arts, quilting stitching workshops, and crochet crafts against the stunning Cascade backdrop.
Baker City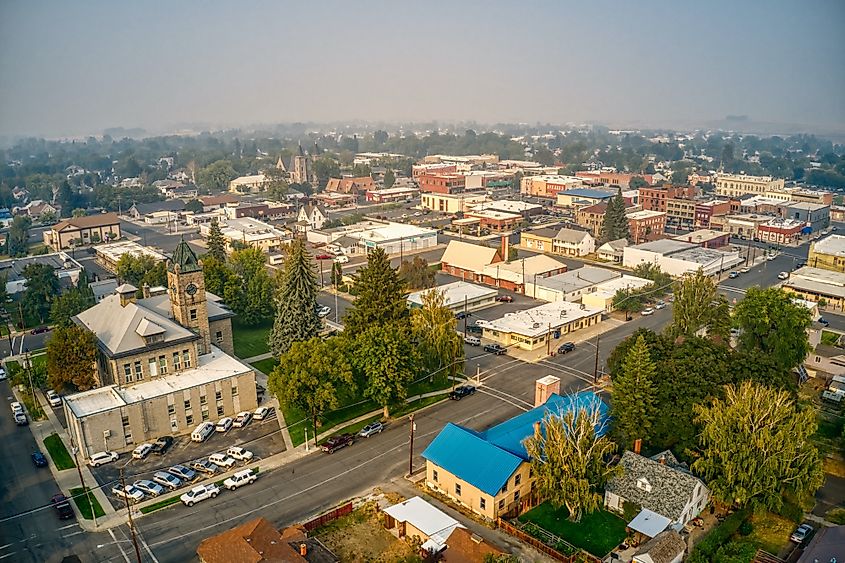 Baker City, one of the friendliest towns in Oregon, is a window into Oregon's past, with its well-preserved historic district and the Oregon Trail Interpretive Center (closed at the moment for renovations). If you are a cycling enthusiast, the Baker City Cycling Classic is a thrilling challenge. The 106-mile Elkhorn Scenic Byway loop would start with Elkhorn's gold boom towns along the Powder River, scaling the Blue Springs Summit and taking you all the way to Haines. 
The Anthony Lakes Ski Resort provides mountain biking, summer yurt, and camping during summer and skiing and cat trips in winter. Get in touch with Go Wild: American Adventures LLC for pack rafting, mule camping, camping, and backpacking adventures when in town.
Cottage Grove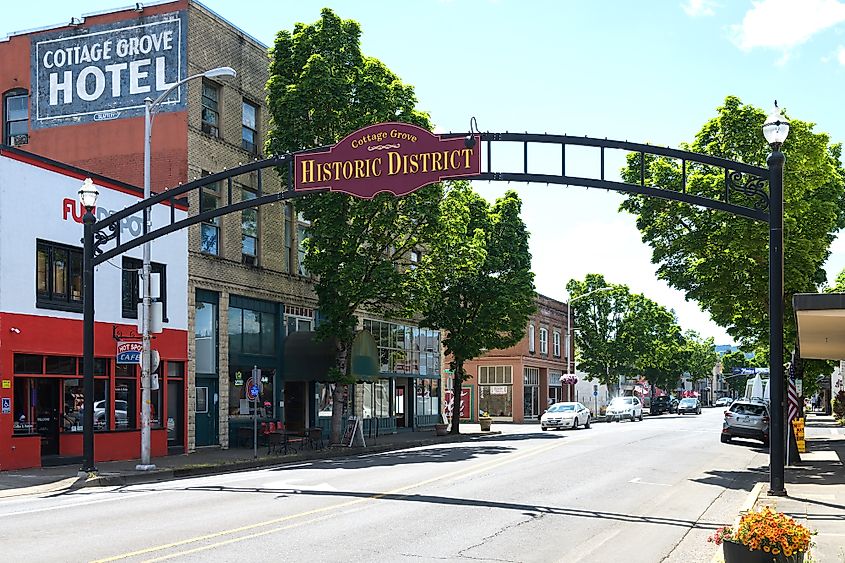 Cottage Grove's charm lies in its historic covered bridges, like the iconic "Chambers Railroad Bridge," which offers a slice of nostalgia. The past is not better than the Cottage Grove Museum boasting Italian stained glass windows, a Titanic tragedy survivor's story, and the 1920 women's spring collection. The gorgeous 14-mile Row River Trail is perfect for biking and hiking.
Cottage Grove's culture is in full bloom at the Cottage Theatre's performances like Rhythm & Blues, annual productions, and Roaring Twenties. Outdoor enthusiasts will relish Dorena Lake's boating and fishing options and regional drinks at Covered Bridge Brewery and Saginaw Vineyard. The Bohemia Mining Days festival celebrates the town's Gold Rush history through murals, ore cart races, movie nights, and parades.
McMinnville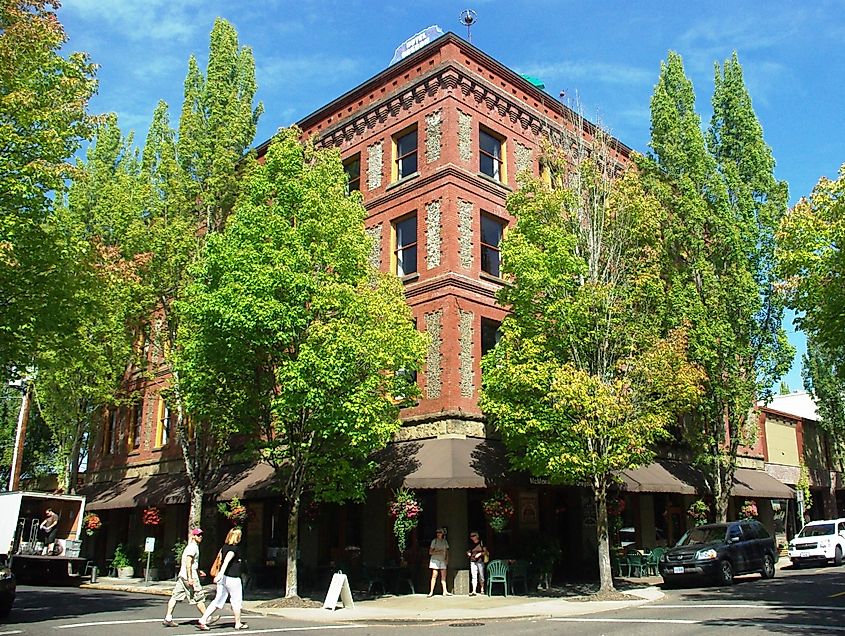 McMinnville is synonymous with Oregon's wine scene, boasting numerous wineries and tasting rooms. The Evergreen Aviation & Space Museum is a highlight, showcasing the iconic Spruce Goose and other aviation marvels. Linfield University campus holds the International Pinot Noir Celebration, a must for wine lovers, featuring winery tours, walkaround tastings, and top-notch dishes. 
Tice Woods offers the ideal summer afternoon experience amid an upland forest, two ponds, Baker Creek views, and a wetland. You should not overlook the fun wave pool and ten waterslides at Wings & Waves Waterpark. And there seems to be no end when it comes to wineries and vineyards. Hop on a tour to discover the best of places like Coeur De Terre Vineyard, Willamette Valley Vineyards, The Eyrie Vineyards, and R. Stuart & Co. Tasting Room.
Jacksonville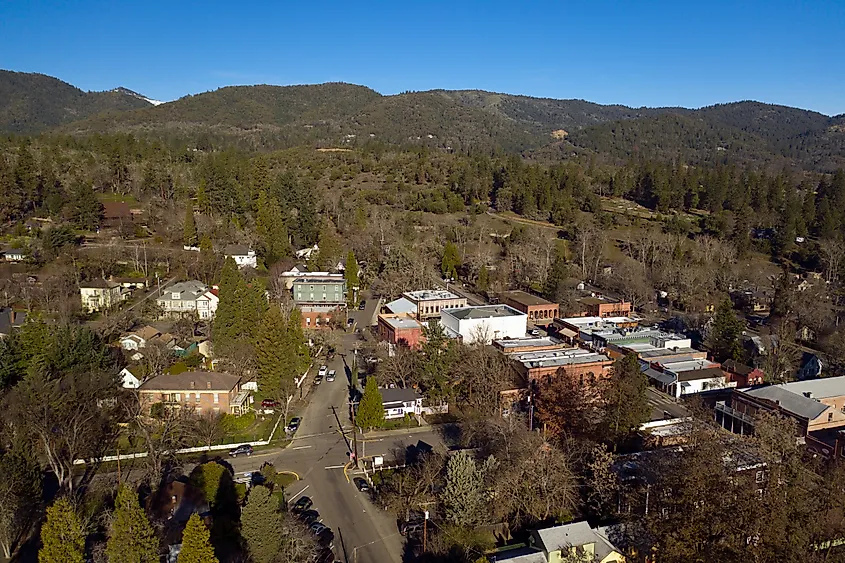 Jacksonville's impeccably preserved Gold Rush-era architecture is a living testament to history. The Greek Revival design Beekman House Museum makes a great first stop showcasing the lifestyle of the Beekman family lifestyle during the early 1900s. The Britt Music & Arts Festival celebrates music and art all summer with performances of symphony, orchestra, classical music, and country music in a natural amphitheater. You may also tour the Art Presence Art Center for regional artist art exhibitions and creative classes.
The Applegate Wine Trail beckons with 18 renowned wineries, including Cascadia Vineyards & Winery, John Michael Champagne Cellars, and Schmidt Family Vineyards, spread over a 50-mile route. The Victorian Christmas celebration enchants with the yuletide magic of carols, Christmas tales, and costume tours. 
Silverton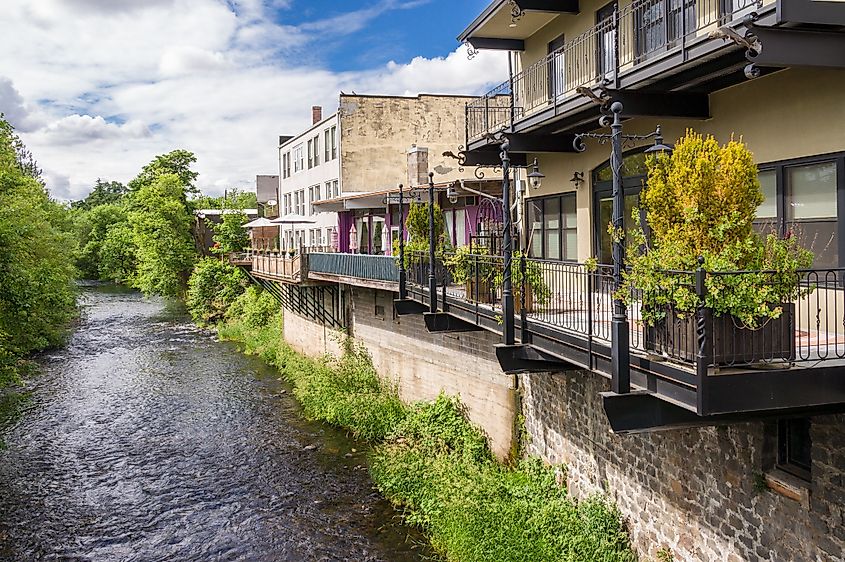 Horticultural heritage takes a proud stage at Silverton, boasting the enchanting Oregon Garden, an 80-acre botanical paradise. Here, you can walk amid the diverse flora, including daphnes, Japanese maples, and heathers, and themed gardens like Bosque, Conifer Garden, Axis Garden, and A-Mazing Water Garden. The town is also the gateway to Silver Falls State Park, home to the mesmerizing Trail of Ten Falls, Howard Creek Horse Camp, and Smith Creek Village.
The 12 bowling lanes of the Silver Creek Lanes offer the ultimate day out with friends and family. The Oregon Garden Brewfest blends local brews and natural beauty, providing regional meads, ales, ciders, and beers. The Homer Davenport Community Festival celebrates the town's renowned cartoonist through fun races, parades, cartoon contests, and car shows.
Yachats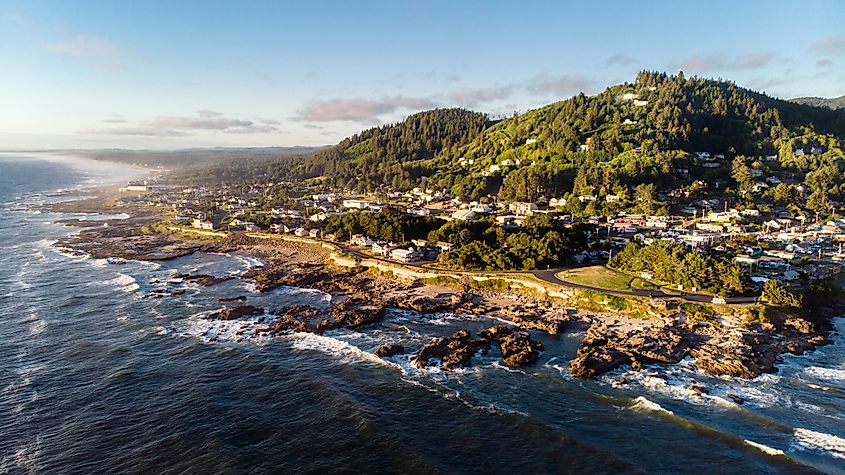 Your dream of having a beautiful coastal vacation will be a hit on the rugged Oregon coast, where Yachats, one of the small towns to visit in Oregon, captivates with its stunning shore beauty. You have ample things to discover from the Pacific coastline, tide pools, and the captivating Cape Perpetua Scenic Area, showcasing the eye-catching Spouting Horn and Devil's Churn. The Amanda Trail commemorates Native American history on the interpretive boards along the way. Yachats is not just famous for its seaside elegance but also its Mushrooms, which you look up at Yachats Village Mushroom Fest. You can learn everything about Mushrooms and partake in cooking demonstrations, culinary markets, forest mushroom cuisine, wine and beer tasting, and wild mushroom exhibits.
Florence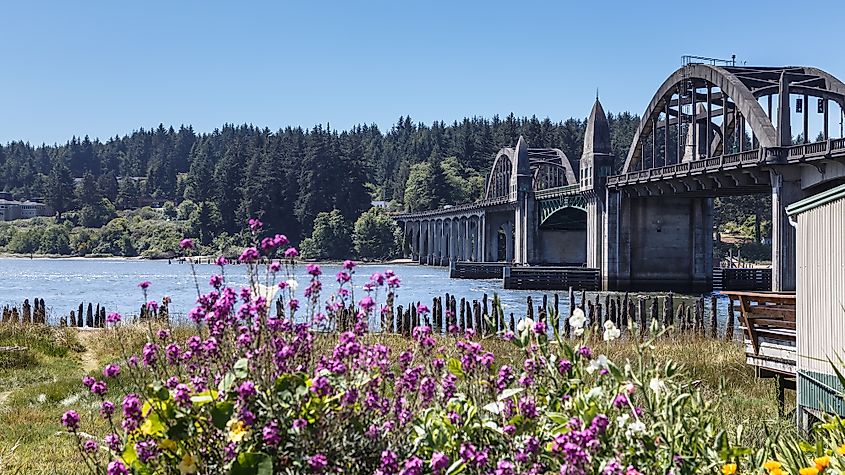 Florence is a coastal gem adorned with sand dunes and vibrant marine life. A visit to Sea Lion Caves, the country's largest sea cave, would be the highlight of your trip, where you can take in a sea lion statue, whales, sea birds, and bones. You may also embark on dune buggy adventures along the Pacific Ocean beach.
Heceta Head Lighthouse stands proudly atop dramatic cliffs where you can head on the Heceta Lighthouse Trail, spot whales, and enjoy camping on the Washburne campground. Darlingtonia State Natural Site allows you to admire the rare cobra lily or Darlingtonia Californica. The annual Rhododendron Festival showcases colorful blooms and local culture in its Davis Shows carnival, the Coast Radio Classic Car Cruise, and grand floral parade. 
Cannon Beach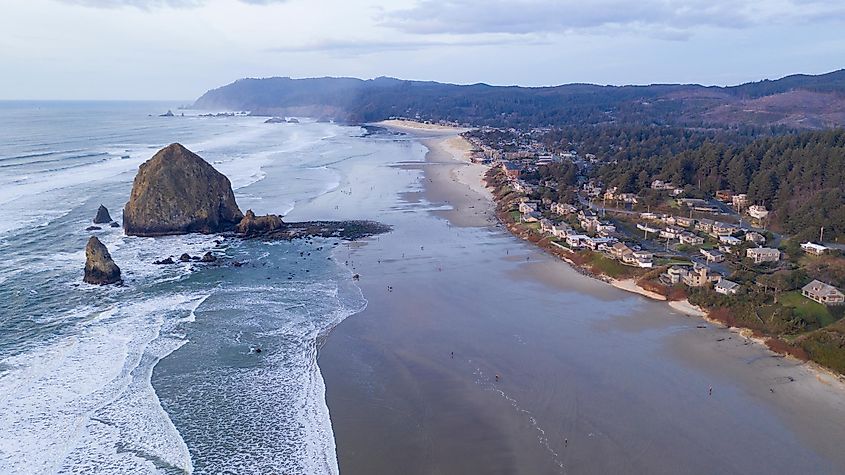 One of Oregon's most charming beach towns, Cannon Beach is famed for Haystack Rock, an iconic sea stack that boasts vivid sea stars. The location is also prominent for its accessibility to gaze at Tufted Puffins. The nearby Hug Point State Recreation Site lets you get intimate with the beach, walk the stagecoach trail, and snap the beautiful sitka spruce, ferns, and salal.
You will have a blast while engaging in the annual Sandcastle Contest, an awe-inspiring display of sandy sculptures. The Cannon Beach Gallery hosts local art exhibitions, summer art camps, and Oregon Art Day. Any Cannon Beach getaway would not be complete without visiting the local favorite Bruce's Candy Kitchen, which makes delicious treats like Caramel Corn, Caramel Corn, and Salt Water Taffy.
The Dalles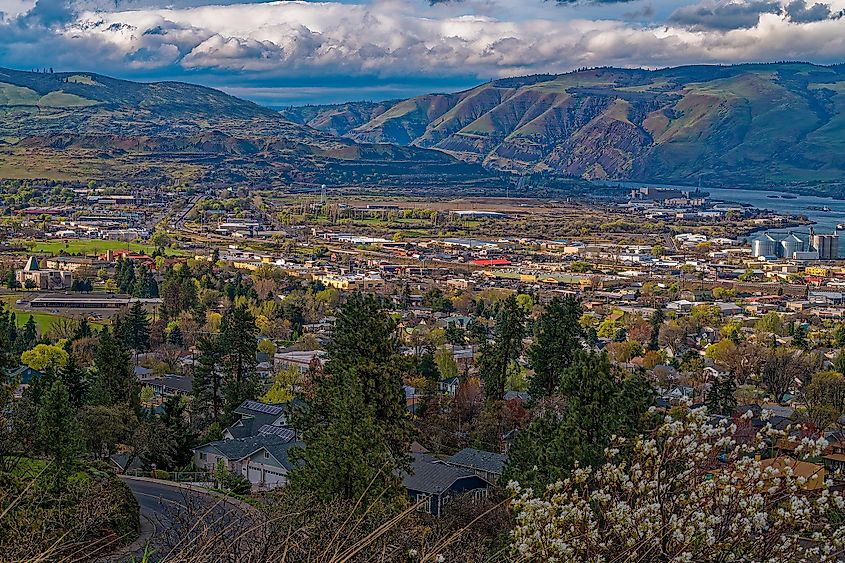 The Dalles, hugging the Columbia River, is steeped in history where you get to experience pioneer life at the Fort Dalles Museum and admire petroglyphs at Columbia Hills State Park. Outdoor enthusiasts will find solace in the Deschutes River Trail, passing amid lava flows and pine forests, and nearby wineries like Tierra De Lobos Winery, Sunshine Mill, and 15 Mile Winery.
Outdoor enthusiasts find paradise in the diverse offerings of Rock Fort Campsite, from hiking on the Lewis & Clark National Historic Trail to boating in the Columbia River. The annual Northwest Cherry Festival celebrates agricultural heritage. You can also check out the Columbia Gorge Discovery Center, hike to Rowena Crest for panoramic views, and learn about Lewis and Clark's journey.
Whether savoring local wines, partaking in vibrant festivals, or immersing in the richness of nature, Oregon's prettiest towns offer a kaleidoscope of experiences that reflect the state's captivating spirit. From the windswept allure of Hood River, where windsurfing and gourmet delights intertwine, to The Dalles, at the crossroads of history, which invites outdoor exploration, you will find the state's diverse landscapes and vibrant culture, each inviting you to step into a world of beauty, history, and ongoing charm.