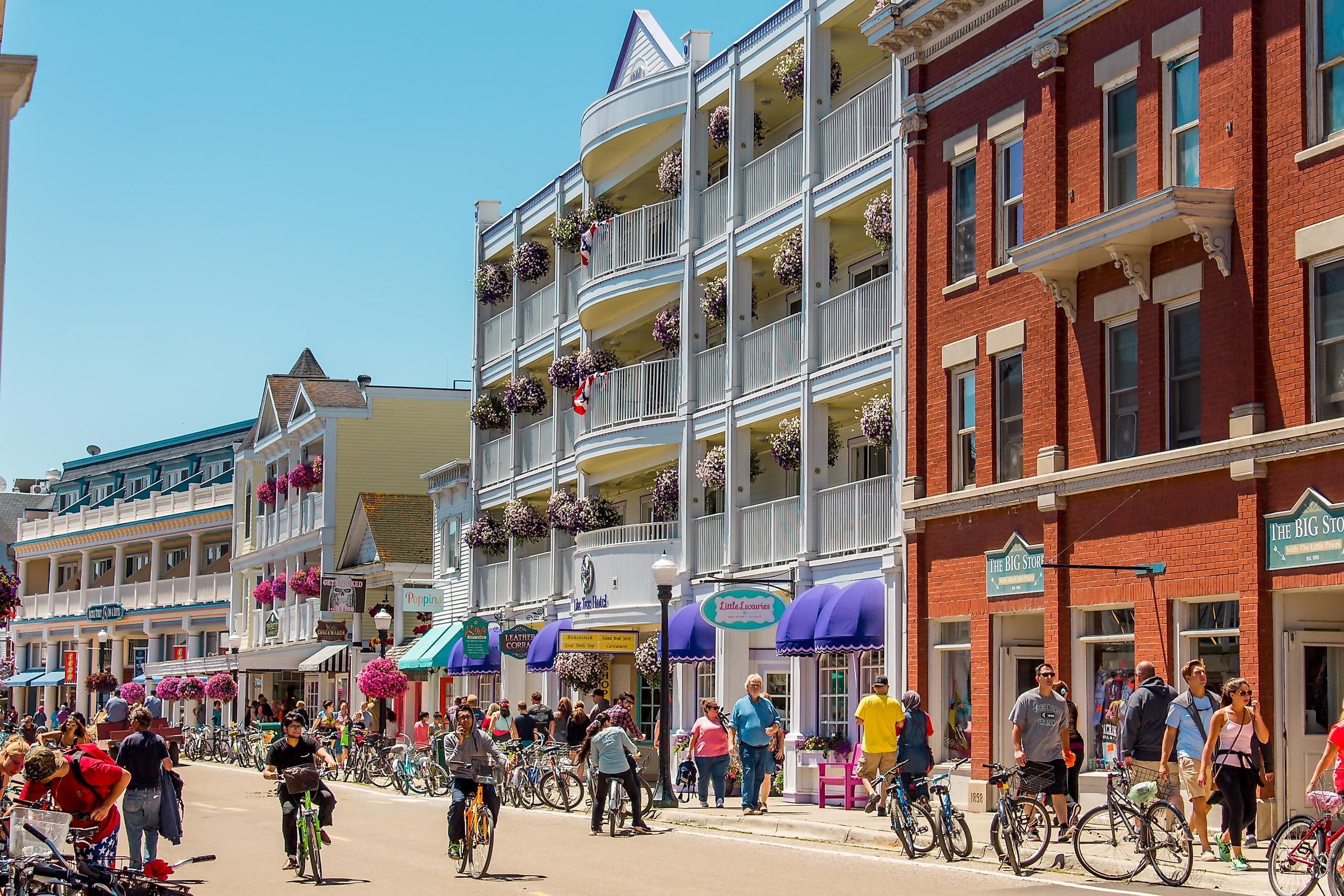 11 Top-Rated Small Towns In Michigan
The majestic state of Michigan, known by the locals as the mitten and the upper peninsula, consists of just under nine hundred towns, from the town of Ada near Grand Rapids to Zilwaukee, a suburb of Bay City. Some of these towns are known best for their close proximity to natural parks, while others are known best for the events and festivals they hold each year. Here are eleven of the top-rated small towns in Michigan, from Saugatuck in the mitten to Munising in the upper peninsula, that are well worth the time to visit the next time you find yourself visiting the majestic state of Michigan.
Saugatuck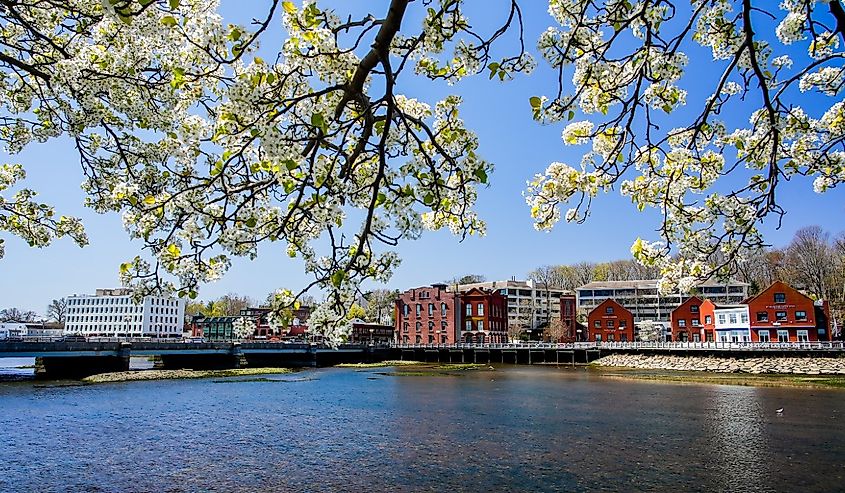 The town of Saugatuck, in Allegan County, along the eastern coast of Lake Michigan, is best known for Mount Baldhead Park on one side of the Kalamazoo River and Wick's Park on the other. Mount Baldhead Park has some spectacular views of the foliage, especially in early autumn, while Wick's Park is home to the Saugatuck Chain Ferry, a hand-operated ferry that crosses back and forth over the Kalamazoo River. There are also several places to grab a bite to eat with friends or family in Saugatuck. Pumpernickels and Phil's Bar & Grille are both located on iconic Butler Street, while  Serendipity Bed & Breakfast on nearby Griffith Street is a great place to stay for the evening.
Traverse City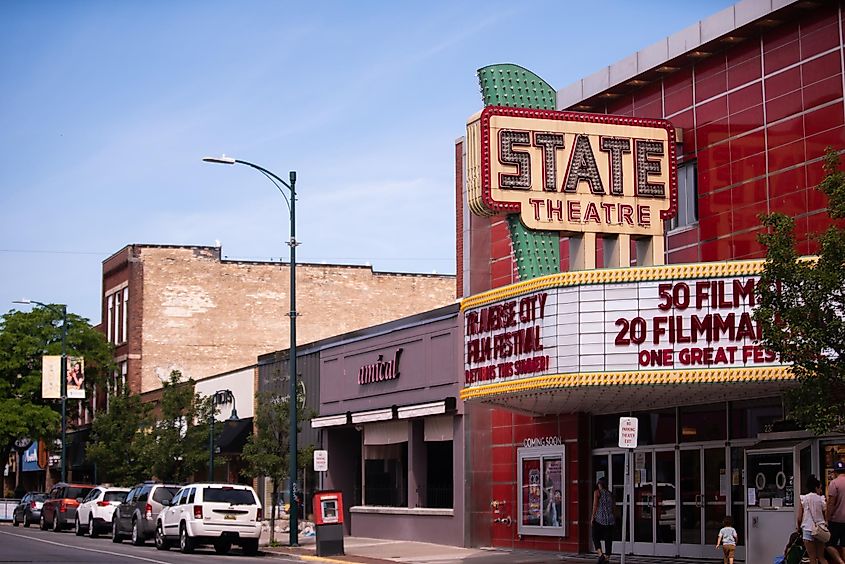 At almost the tip of the mitten, along the west arm of Grand Traverse Bay, Traverse City holds a special place in the hearts of those who love the experience of staying along the coast of Lake Michigan. Along with the watersports available out on Lake Michigan, Traverse City is also home to the Sleeping Bear Dunes National Lakeshore, which is visited by over a million people each year, and Clinch Park, which is Traverse City's most popular beach, as it is located in the center of town. Several dining and lodging options are also available in Traverse City, including Red Ginger, Blue Tractor, and Slabtown Burgers in the line of food and Bayshore Resort and Grand Beach Resort for the evening.
Frankenmuth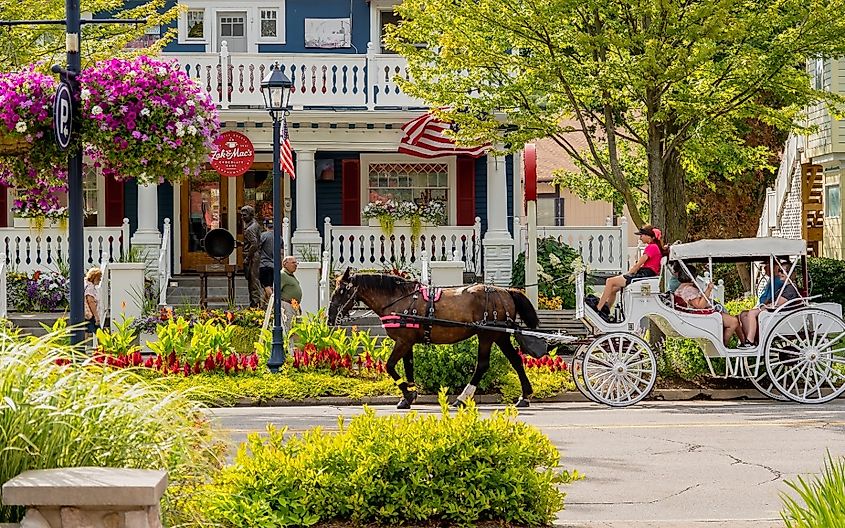 The town of Frankenmuth, known and named for its Bavarian-style architecture and its Bavarian and German heritage, just a few miles away from the city of Saginaw in Saginaw County, is a town that represents a stroll into the past while holding onto modern times. Several quaint, cozy bed & breakfasts are located in Frankenmuth, including but not limited to the Montague Inn B&B, Himelhoch B&B, and the Tuscola Street B&B. Frankenmuth also has several choices for dining, from fine dining at Bavarian Inn Restaurant and Zehnders of Frankenmuth, to pubs and taverns like Tiffany's Food & Spirits and Frankenmuth Brewery, to casual eateries, including da Vinci's and La Crepe du Jour.
Mackinac Island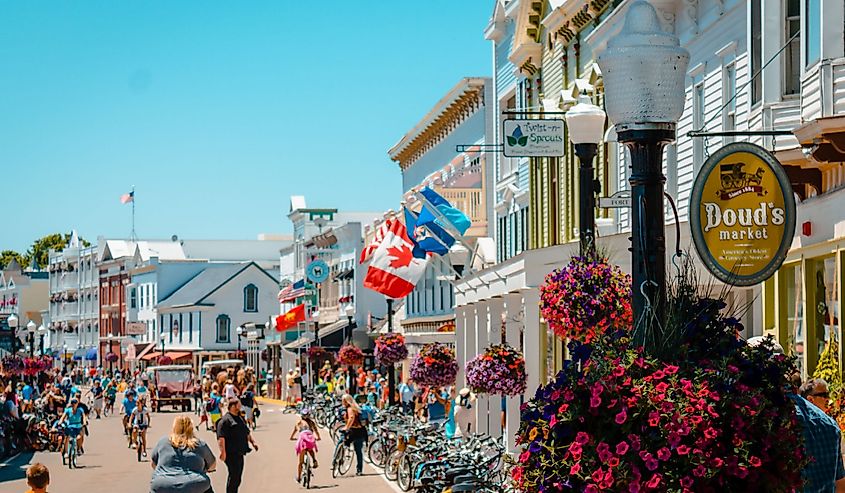 Mackinac Island floats on the waters of Lake Huron in Mackinac Strait, between the mitten and the upper peninsula. Along with the quaint town of less than seven hundred people, also called Mackinac Island, this island supports Mackinac Island State Park, previously called Mackinac National Park, offering camping, hiking, and boating options to visitors for over a hundred and fifty years. Other amenities of Mackinac Island include a visit to Arch Rock, which spans fifty feet at its widest point, a trip to Sugar Loaf, which climbs 675 feet into the air, or stopping by one of the many fine restaurants, including Yankee Rebel Tavern, the Gate House, and Pink Pony Mackinac.
Petoskey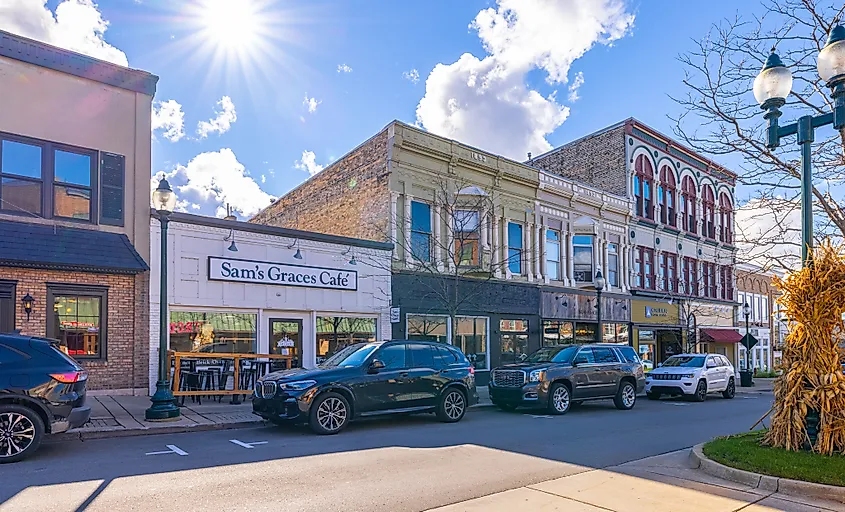 Deeper into the mitten, along Little Traverse Bay, the town of Petoskey has a plethora of activities that make it one of the top-rated towns in the state of Michigan, especially in autumn when the leaves change from green to red, yellow, and orange. Along with Bayfront Park and Petoskey State Park, the latter offering camping, as well as hiking, swimming, and boating options, Petoskey has several other opportunities, including strolling along the Historic Gaslight District, checking out one of many wineries and vineyards, and grabbing a bite to eat at City Park Grill, Chandler's, or Duffy's Garage and Grille. There are even a few bed and breakfast establishments worth a stay, including the Bay View Inn and the Grace Grange Lodge and Stable.
Crystal Falls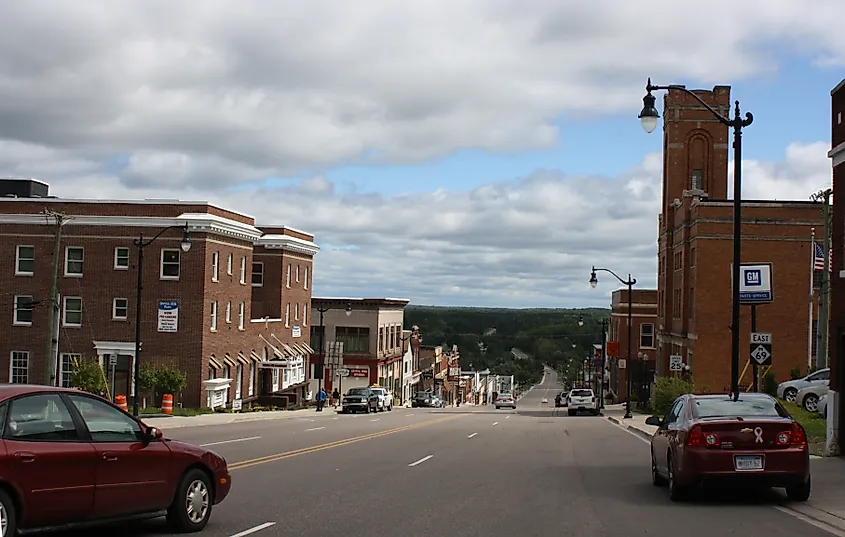 Crystal Falls, located in the western portion of the upper peninsula of Michigan, in Iron County, is home to Bewabic State Park, which consists of over three hundred acres of land running along the shores of Fortune Lake. Included within are several trails, from half a mile to two miles in length, depending on your preference. Along with Bewabic State Park, the town of Crystal Falls is also home to the Paint River Hills Campground and Cabins, with options in tent, cabin, or RV sites, and several other lodging choices, like the Listening Inn, which offers guests several different amenities, including free parking, free Wi-Fi, and free breakfast the next morning.
Tecumseh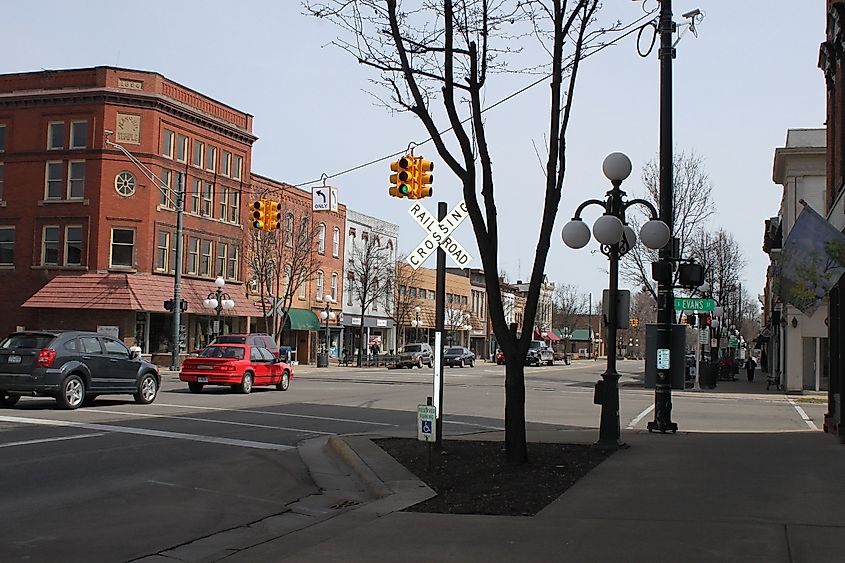 At the opposite end of Michigan, at almost the lowest point of the mitten, in Lenawee County, the town of Tecumseh is best known for its close proximity to Ann Arbor, home of U of M and Michigan Stadium. Aside from that Tecumseh brings its own unique values to the state of Michigan. Several restaurants are available in town, from fine dining establishments like the Station and Sal's Italian Restaurant to more laid-back places like JR's Hometown Grill & Pub and City Limits Diner. There is also a variety of lodging choices available in Tecumseh, including Indian Creek Camp and Flying Boats Bed and Breakfast, which is only a couple miles down the road from JR's Hometown Grill & Pub.
Ludington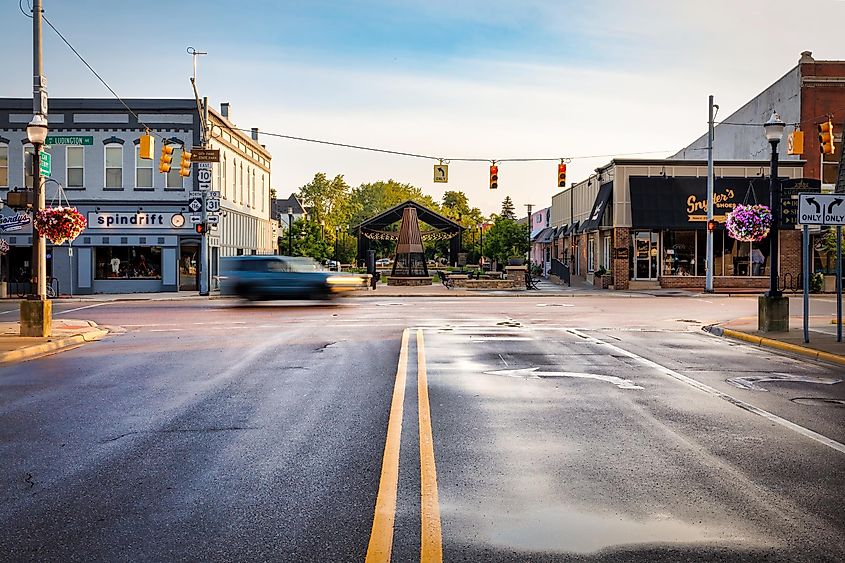 The town of Ludington, situated on the banks of Lake Michigan, is a haven for fun and exciting outdoor activities for the whole family, whether it is spring, summer, winter, or fall. From Ludington State Park, offering camping options like Cedar West Loop and Jackpine, and Historic White Pine Village, a remembrance of typical Michigan life in the late eighteen hundreds and early nineteen hundreds, to the variety of other parks in town, like Waterfront Park, Stearns Park, and Buttersville Park, Ludington has the importance of nature as a number one priority. There are even a couple lighthouses in the area, the Ludington North Breakwater Light and the Big Sable Point Lighthouse.
Manistee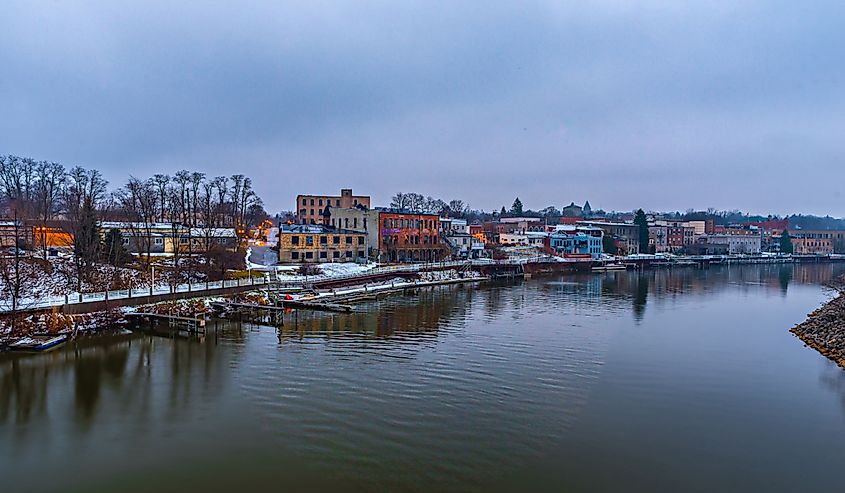 Just a few miles up the coast from Ludington, the town of Manistee has its own claim to fame, in a natural way of course. Along with Orchard Beach State Park and Manistee Lake, which offer opportunities in fishing, swimming, hiking, camping, boating, and kayaking, Manistee and the area around Manistee is home to First Street Beach and Fifth Avenue Beach. There are also several great restaurant and lodging choices in the town of Manistee, including the Bluefish Kitchen and the Painted Lady Saloon in the way of tasting a bit of the local fare and Little River Casino Resort and the Dempsey Manor Bed and Breakfast, which offers free wi-fi and free parking.
Charlevoix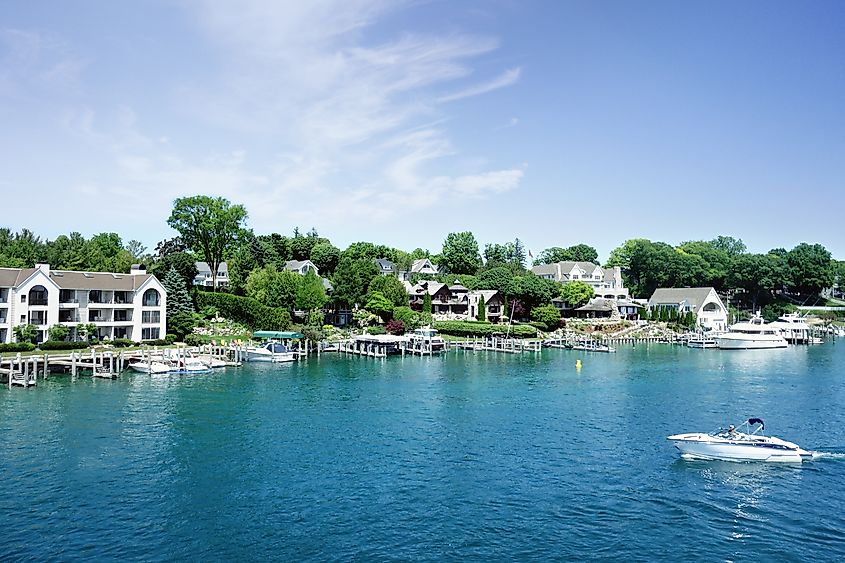 Though it is quite close to Petoskey, the town of Charlevoix, in Charlevoix County, is unique in and of its own. From Fisherman's Island State Park and Michigan Beach Park, both on the shores of Lake Michigan, to Castle Farms and Hungry Duck Farms, to the Charlevoix South Pier Light Station and Boulder Manor, the town of Charlevoix carries its own. There are even several fine dining and comfortable lodging choices to be had in Charlevoix. The Weathervane and Smoke on the Water are great for food, while lodging options include Horton Creek Inn and the Charlevoix House, both of which are bed and breakfast establishments with free wi-fi and free parking.
Munising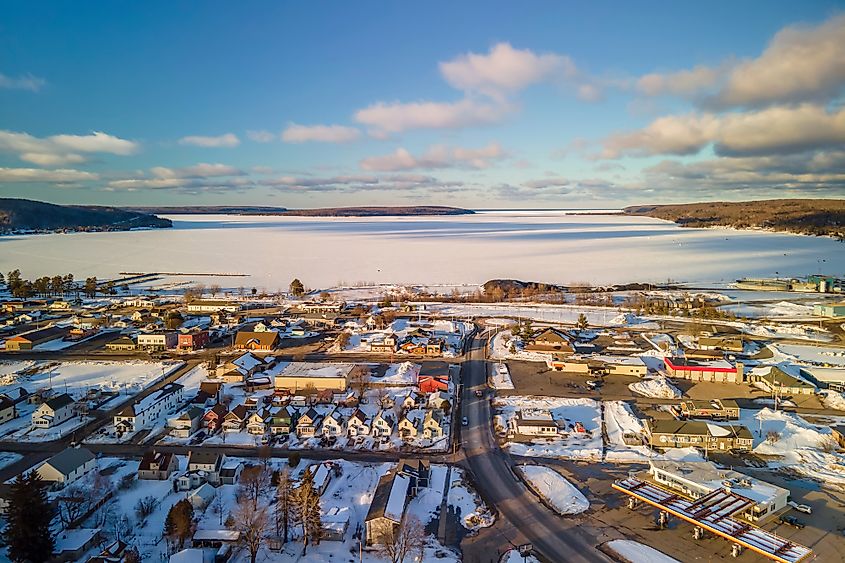 Along the upper edge of the northern peninsula in Alger County, the quaint town of Munising is a gem hidden in the depths of the rough. From Pictured Rocks National Lakeshore, which features Miners Castle Rock, to a multitude of spectacular falls in the area, including Laughing Whitefish Falls, Wagner Falls, and Munising Falls, the town of Munising has that "home away from home" feeling while not losing the yearning for the creature comforts. Several restaurants, including Eh! Burger, the Dogpatch Restaurant, and Border Grill, call Munising their home. There are even some nice bed & breakfasts in the town of Munising, like the Pictured Rocks Bed & Breakfast on Washington Street.
In Conclusion
Whether you find yourself traveling through the mitten, or along any part of the Upper Peninsula, the great state of Michigan possesses some of the best small towns in all of America. They are quaint and pastoral without demeaning what it means to be alive. From Saugatuck, and the Saugatuck Chain Ferry, to Munising, and its many waterfalls, the state of Michigan is filled with a naturalistic adventurous demeanor that calls to the avid adventurer.