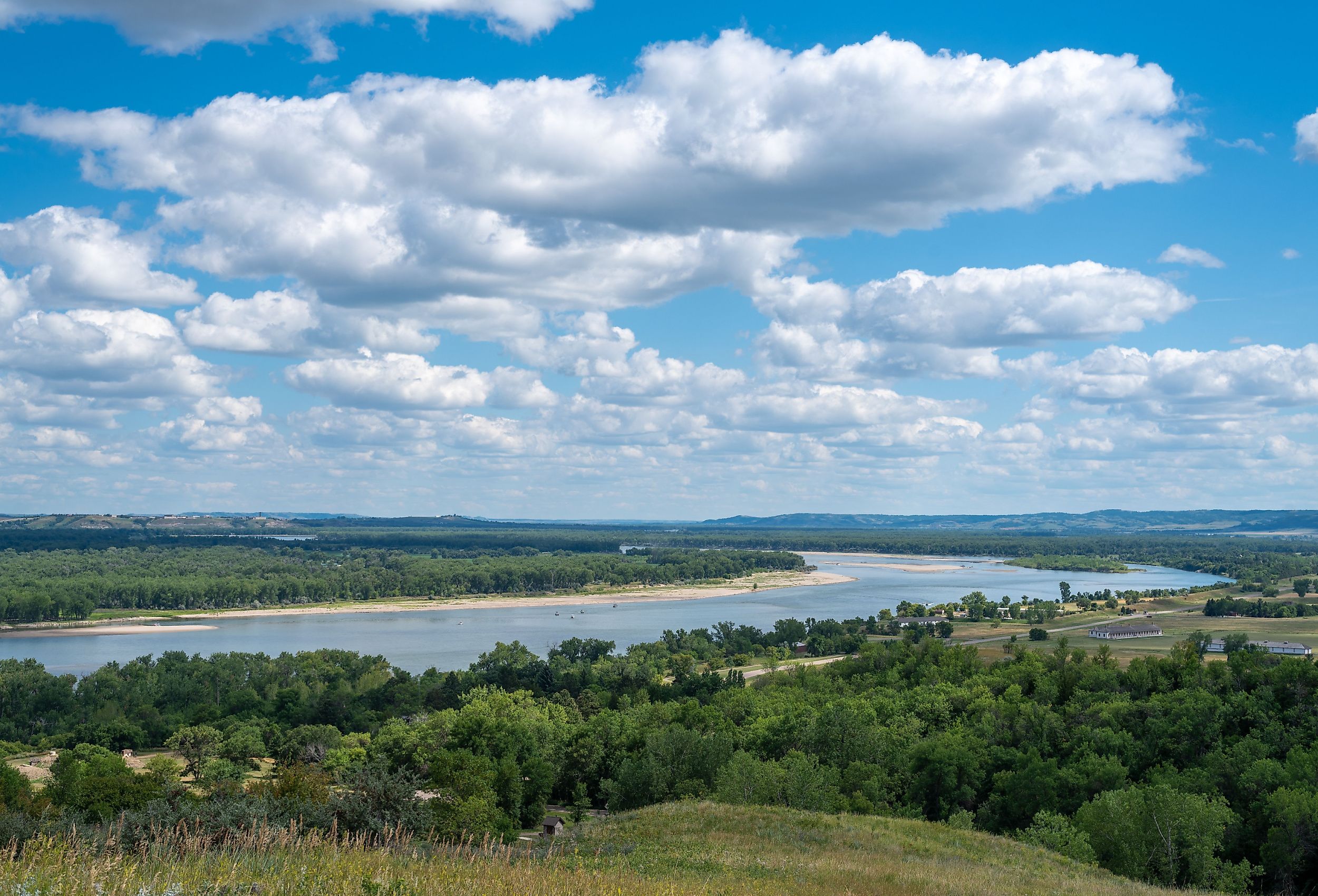 11 Gorgeous North Dakota Towns To Visit In 2023
North Dakota is one of the least-visited states in the US, however, that status is changing rapidly. This historic and beautiful state is experiencing a boom in its tourism sector, with some of its small towns courting global attention. These towns are not only beautiful but have something unique about them. Whether it is the world's largest buffalo statue or the world's largest cow sculpture, there is a peculiar draw to North Dakota's scenic towns. It gets better with fewer crowds as visitors can engage in nature and tour off-the-beaten paths with ease. The following gorgeous North Dakota towns make for a beautiful visit any time of the year. 
Jamestown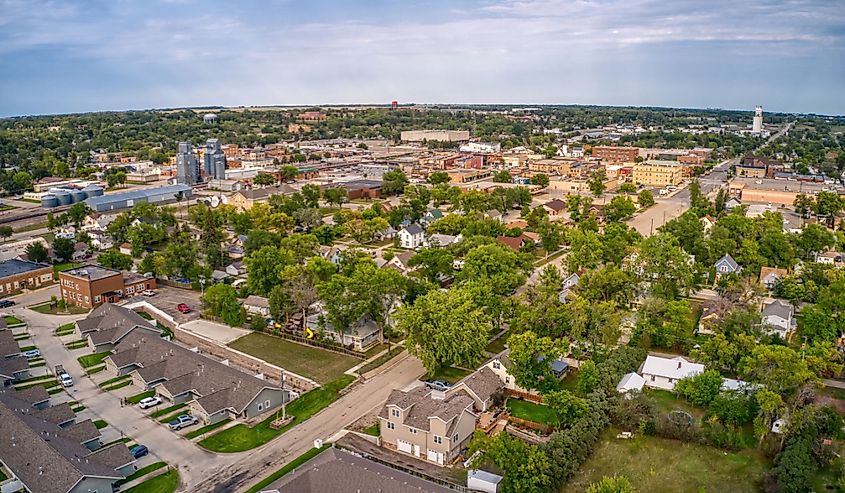 Jamestown is positioned between Fargo and Bismarck where history, culture, and incredible natural scenery converge. The town is home to a 19th-century North Pacific Railway building, a tribute to the town's remarkable history as a railway layby town. And for its global reputation, the town is a proud owner of the world's largest buffalo statue, which is 26 feet tall. In addition, there's a National Buffalo Museum in Jamestown, with a live bison herd and historical exhibitions. The Jamestown Reservoir, a convergence of three man-made lakes created by the Jamestown Dam, is a central fishing and watersports destination also worth visiting. Art lovers will feel at home in the town's arts center, where the gorgeous garden of the Art Park, an exhibition gallery, and a ceramic studio make the scene epic. 
Jud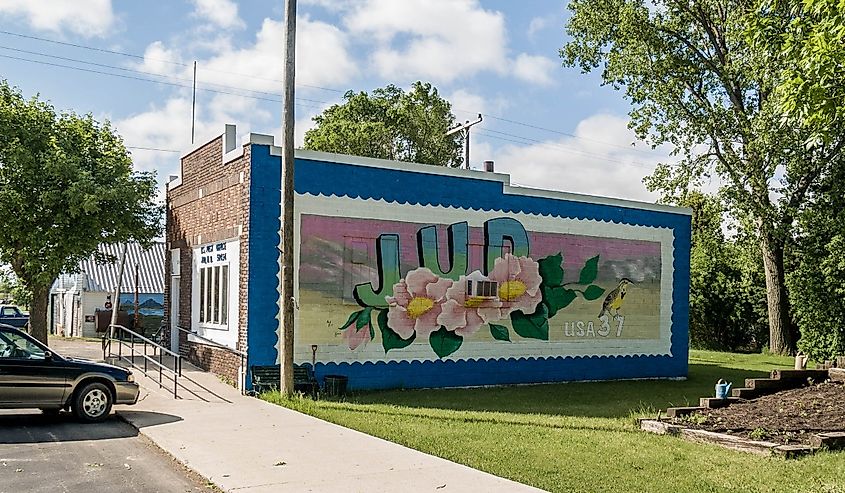 Jud is a picturesque town in LaMore County renowned for its impressive display of murals on nearly all of the town's buildings. While the town is naturally idyllic, it takes it up a notch by being so artsy with decorative murals painted by residents. The beauty in these paintings is seen in their diverse depictions. Some portray flowers and landscapes, while others show stamps and various characters, turning the town into a massive art gallery. Strolling around Jud is pleasurable because the town's sights are jaw-dropping, and a camera will do justice to capture its beauty. Thanks to its few residents of below 100, exploring this quaint, laid-back town will be fun and less crowded. 
Bottineau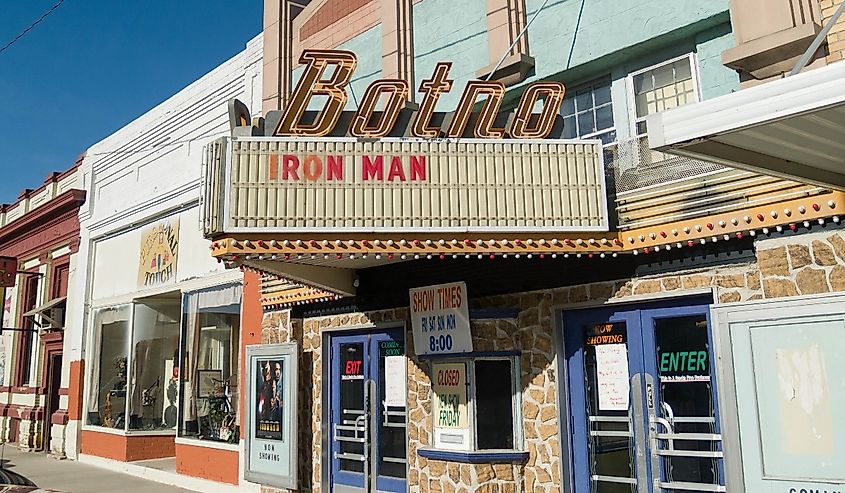 Bottineau town is undoubtedly, one of the most beautiful North Dakota Towns to visit as it serves as the gateway to the Turtle Mountains. The town's location on the sloping hills near Lake Metigoshe makes it an idyllic natural gem. It is beautiful across all seasons and presents plenty of exciting activities for visitors. Boating, fishing, and waterskiing at Lake Metigoshe are fascinating experiences for water sports lovers. Visitors who love wildlife can also step into one of the two wildlife refuges that surround the town to spot deer, moose, ducks, and geese. However, a visit here is incomplete without taking photographs with Tommy the Turtle - a 26-foot tall Mascot, which is the world's biggest Turtle.  
Fort Ransom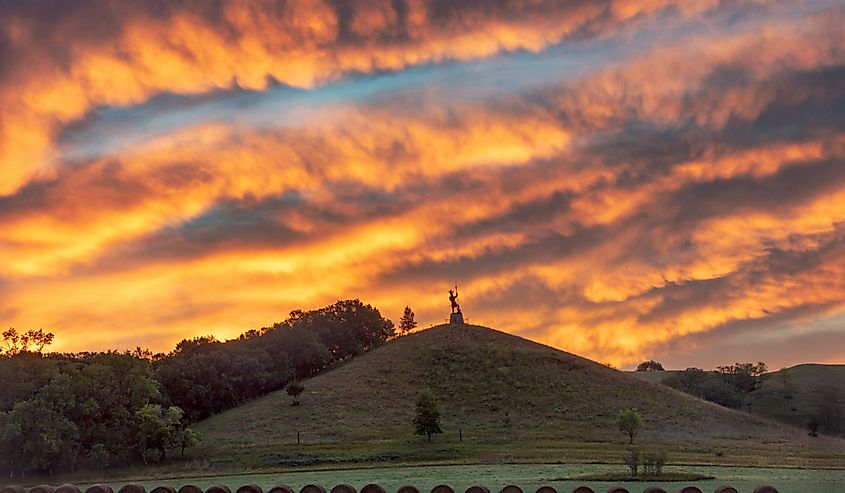 Fort Ransom may be home to around 100 people but compensates for this negligible population with history and natural allure. The town was built in the late 1880s as a military fort for settlers by the blue banks of the Sheyenne River. However, it has risen beyond that history to a bustling historic and cultural scene, even with its small population. The highlight attraction here is the Fort Ransom State Park; a massive park of wooded farmland and small rivers. In this park that pays tribute to the homestead days of the natives, one can actively engage in outdoor pursuits. Camping, boating, snowmobiling, and touring the historic homesteads are top activities here. In addition, the Sheyenne River is available for kayaking and canoeing, while some of its hiking trails offer wildlife sightings. 
Garrison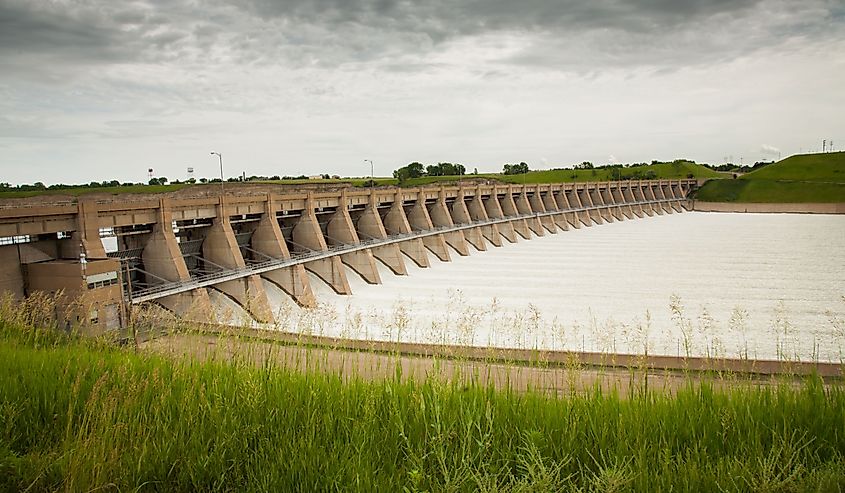 The beautiful town of Garrison is small but big on natural beauty, scenic attractions, and fishing. The town is near Sakakawea Lake, one of the largest artificial lakes in the US which adds to its natural appeal. More beauty is seen at the Fort Stevenson State Park, a scenic park that hosts many outdoor recreational amenities that set the stage for fun activities. Visitors can fish, fly a kite, camp, tour a guardhouse museum, and explore Garrison Bay from the park. For history lovers, the Heritage Park and Museum is a fascinating place to be. This open-air museum reflects the 20th-century way of life in Garrison with many artifacts and exhibits. 
Lisbon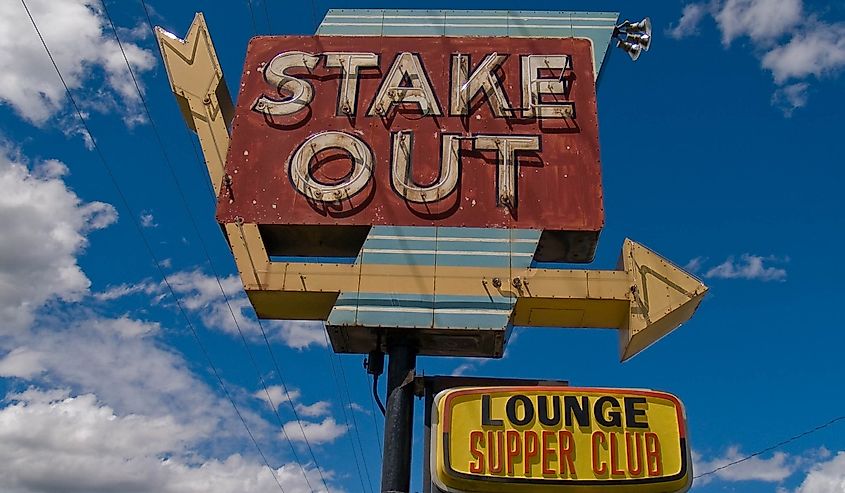 Lisbon is a picturesque town between Valley City and Fort Ransom, with so much history and beauty.  The town was a central hub for the North Pacific Railroad and houses many historic buildings to reflect its significant role in that era. Notable of these buildings is the Lisbon Opera House, built in 1889 and still serves as the town's cultural and entertainment center. The Pembina County Courthouse is another prominent reflection of history here. But beyond its glorious past, Lisbon is home to scenic nature and wildlife. Visitors can head to Sandager Park opposite the Sheyenne River for sightseeing opportunities. Alternatively, outdoor sports like swimming and hiking are thrilling experiences in the park. 
New Salem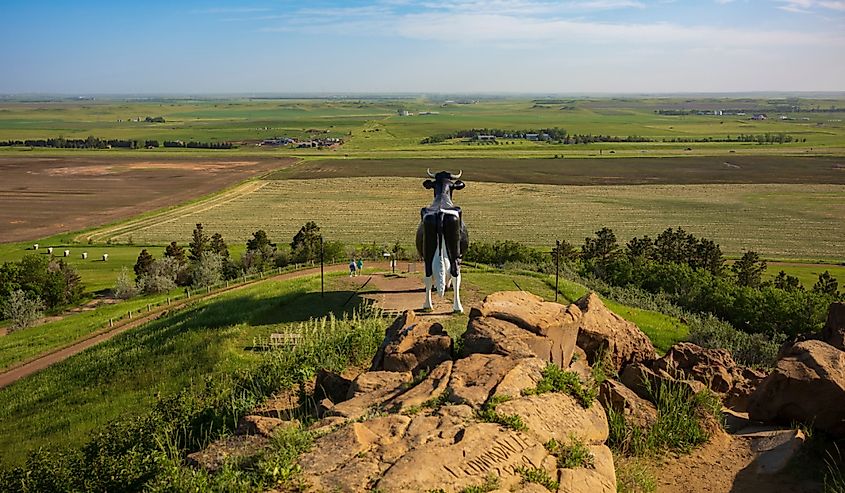 New Salem is a remarkable destination in Morton County, North Dakota, owing to its reputation as a region of dairy farmers. As a result, the town has the world's largest fiberglass sculpture of a Holstein cow known as Salem the Sue, which is a captivating sight to behold. However, the town is beyond this world record as it also features abundant natural beauty. There are many sunflower fields, farmlands, and scenic pastoral settlements within the town for nature lovers and photographers to enjoy. The town also features two parks - North City and North Park for recreational activities. For some history, head to the Custer Trail Museum to see the town's many artifacts and historic elements which have been preserved for several years. 
Valley City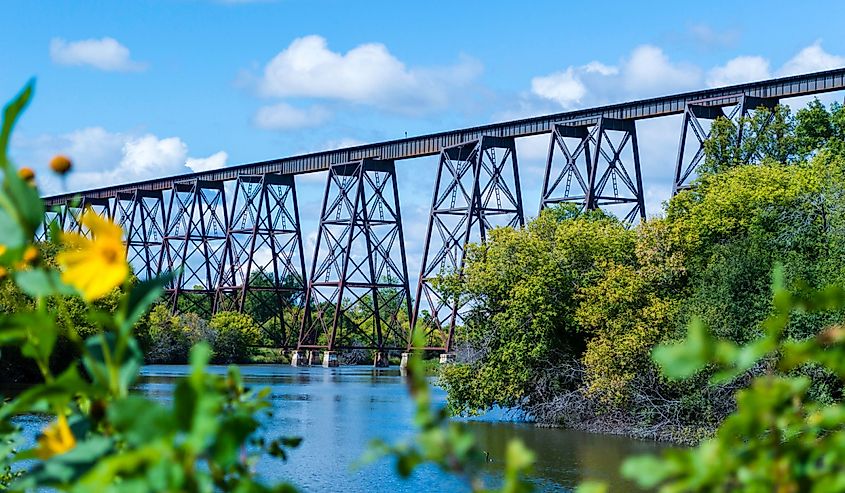 Valley City is one of the most beautiful towns in North Dakota that stands out due to its number of bridges. The town boasts 11 iconic bridges, earning the title of "city of bridges". One of the bridges known as the Highline Bridge is a National Engineering Landmark and the highest single-track rail in the US. Beyond its many bridges, Valley City is on the banks of the Sheyenne River, making its position scenic by default. Visitors can soak the town's natural beauty by driving on the Sheyenne River Valley National Byway, which is 65 miles long. This gorgeous route stretches from Baldhill Dam to Lisbon, and spots one of the best foliage views in autumn. The Medicine Wheel Park - a burial ground for native Americans and Indians is another point of interest to visit. 
Medora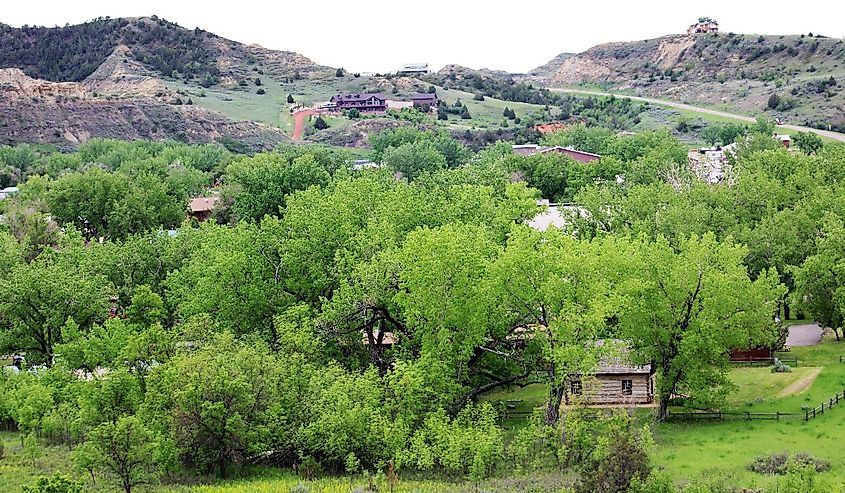 Medora is a small, gorgeous town in a scenic location within the Theodore Roosevelt National Park. Thanks to its small population of less than 200 people, the town reigns in unspoiled natural beauty. Yet, it is also historic. The Chateau de Mores is a historic site and summer home of the town's founder, worth visiting. Visitors can also explore the National Park from this town or delve into more history at the Maltese Cross Cabins, a museum that mirrors the life of Theodore Roosevelt. The Burning Hills Amphitheater is another interesting place to visit as it overlooks the Missouri River Valley. If lucky, visitors can meet the Medora musical, a Western-style annual musical concert held in honor of Theodore Roosevelt. 
Walhalla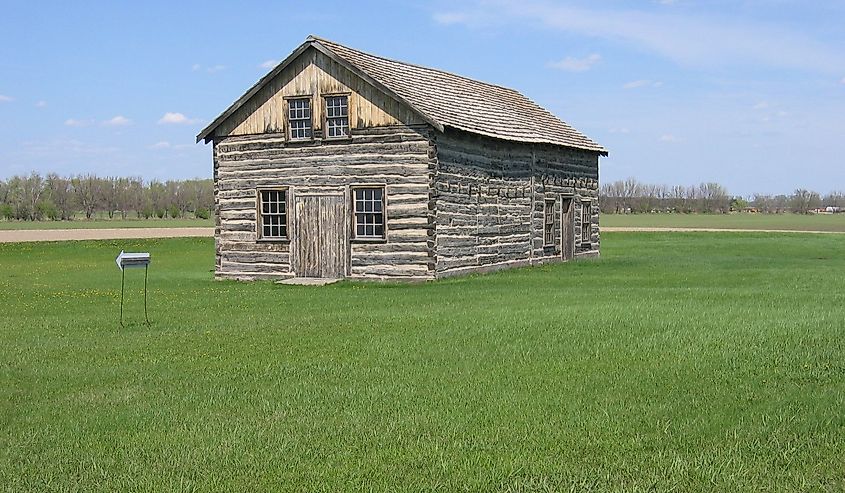 Walhalla town is located near the Canadian border and on the banks of the Pembina River, where it shines in pristine glory. The town adds history to its unspoiled natural beauty with a few historic sites, such as the Kittson and Gringras Trading Post. These trading posts are some of the state's oldest buildings, and one visit is enough to go back in time. The Kittson Trading Post is also North Dakota's tallest building and holds so much history inside. Visitors can head to the Pembina Gorge Recreation Area to explore its trails and embark on several outdoor activities. These include camping, biking, horseback riding, birdwatching, and tubing on the Pembina River. Alternatively, the town's photogenic main street is ideal for leisure walks and sightseeing. 
Bismarck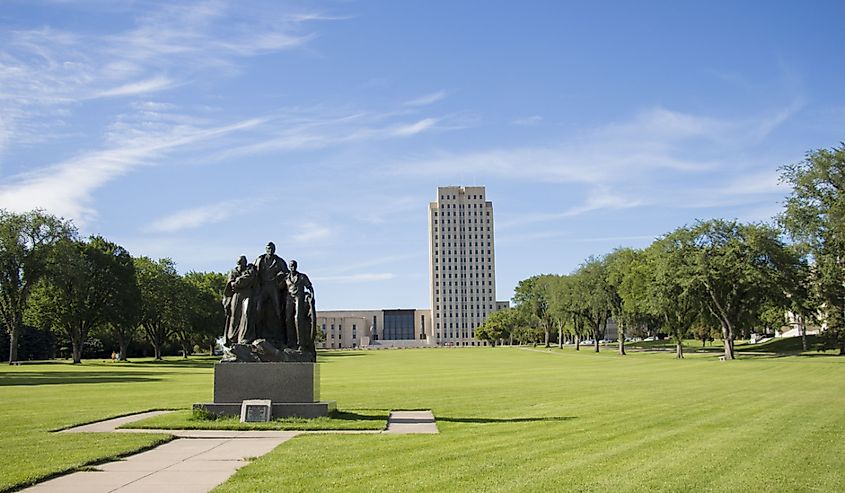 Bismarck is the state's capital and doesn't fall short in natural beauty and attractions. The city boasts many picturesque lakes, historical museums, landmarks, rivers, and fascinating wildlife. At the Dakota Zoo, visitors can feast their eyes on its rich diversity of animal species while receiving lectures from guides on their uniqueness. On the side of history, the North Dakota Heritage Center and State Museum features many exhibits that reflect the state's history, cultures, and geology. Visitors can soak in the city's vibrant street scene at Downtown Bismarck, where many shops, boutiques, malls, and restaurants dot the landscape. Do not miss the North Dakota Capitol Building - a massive landmark in the city's center, and one of the city's river cruises for unforgettable experiences. 
Conclusion
North Dakota may be lesser-known or has little footfall, but it is a captivating destination in the US. The state combines history, natural beauty, and world records to stun visitors and increase its tourism potential. It is also filled with small, historic, and beautiful towns, which makes it a perfect escape from city life. Whether one is traveling alone or with family and friends, the state's numerous small towns have so much natural beauty and adventures to offer.