The North Dakota city of Fargo is situated in the flat Red River Valley on the western shores of the Red River of the North in Cass County. Fargo is America's 219th most populous and the state's largest and most populous city. Besides being home to North Dakota State University, the city has a bustling downtown with a wide variety of hotels, restaurants, and entertainment options. Fargo serves as southeastern North Dakota's and northwestern Minnesota's cultural, educational, healthcare, retail and industrial center. 
Geography And Climate Of Fargo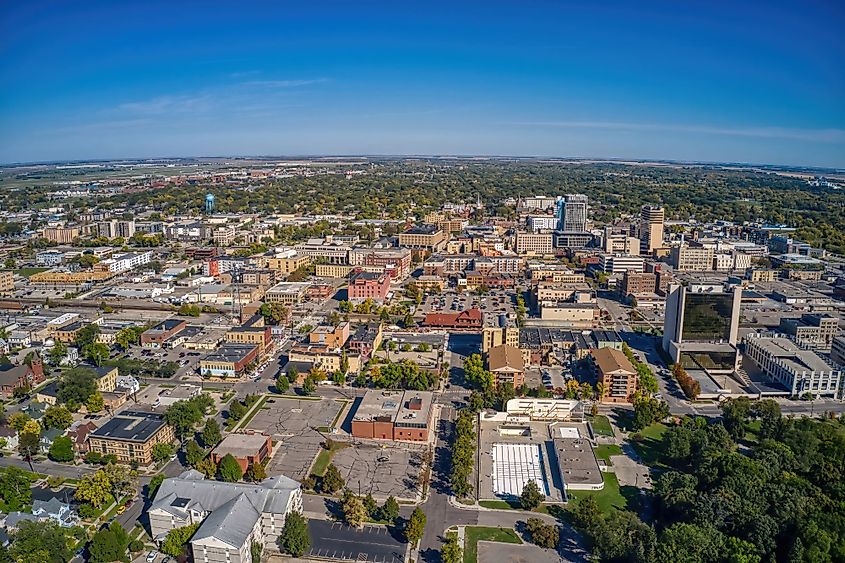 Fargo is the principal city of the Fargo-Moorhead Metropolitan Statistical Area, which also includes its twin city Moorhead as well as the neighboring cities of West Fargo and Dilworth. With its location in the floodplains of the Red River of the North, the city is prone to seasonal flooding when it receives above-average precipitation. Fargo covers a total area of 131.49 sq. km, all of which is occupied by land. 
According to the Köppen Climate Classification, Fargo experiences an extremely humid continental climate. Due to its faraway distance from both mountains and seas, Fargo has long, warm summers and icy, snowy, windy winters. The average annual temperature ranges from 2°F to 83°F; it is infrequently below -18°F or above 90°F. Having an average temperature of more than 70°F, July is the year's hottest month. January is the coldest month, with an average daily temperature of less than 31°F. On average, Fargo receives 24 inches of rain and 49 inches of snow yearly.
Brief History Of Fargo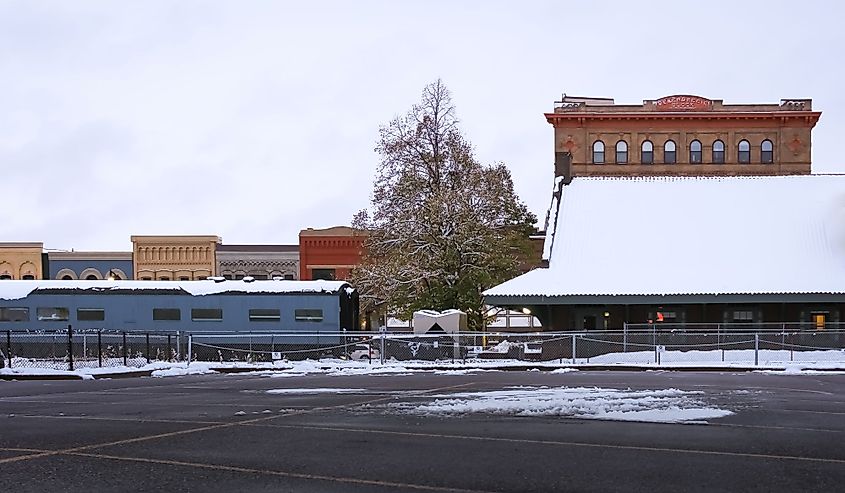 During the 1870s and 1880s, the city served as an early rest station for steamboats traveling down the Red River. With its rail and riverboat facilities, Fargo was established in 1871 by the Northern Pacific Railway at its river crossing point and operated as an outfitting center for immigrants. The settlement was given the name Centralia and a post office was created there on October 6, 1871. In honor of William George Fargo, a partner in Wells Fargo & Company and a forerunner in the express delivery of commodities, the city's name was changed to Fargo on February 14, 1872. After the Northern Pacific Railroad arrived, the region began to prosper, and the city earned the title "Gateway to the West."
The Population And Economy Of Fargo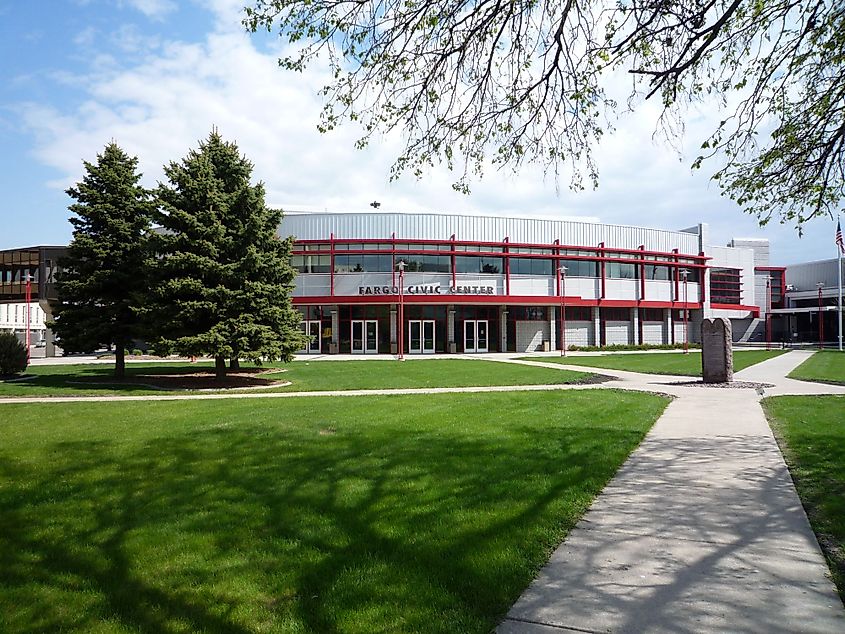 As per the latest US Census, Fargo has a population of 125,990 residents. Fargo's population has grown by 3.24% from the previous census and is now rising at a pace of 1.60% annually. White (Non-Hispanic) (81.3%), Black or African American (Non-Hispanic) (7.83%), Asian (Non-Hispanic) (4.12%), Two+ (Non-Hispanic) (2.31%), and White (Hispanic) (1.87%) are the five largest ethnic groups in Fargo. The city has a 13.21% poverty rate and a $78,237 average household income. The median monthly rental cost in the last few years has been $821, and the market value of a home is $225,500. In Fargo, the median age is 31, with 30.4 years for men and 31.9 years for women.
The manufacturing of agricultural equipment, the medical sector, retail sales, the service sector, and the education sector all underpin the Fargo economy. The city serves as a transportation center for the northern Midwest region due to its strategic location. Since the Red River Valley region is home to some of the richest farmland in the world, agriculture has traditionally been of the utmost significance to Fargo. Related businesses include agribusiness and agricultural research.
Attractions In And Around Fargo
Plains Art Museum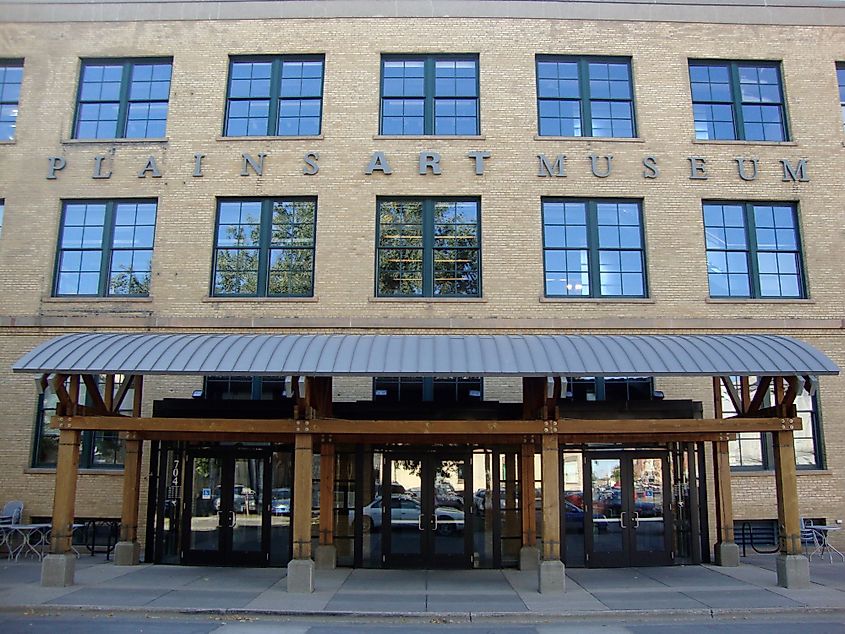 The Plains Art Museum is situated in the renovated International Harvester Warehouse in Fargo's downtown. There are both temporary and permanent exhibits at the museum. It features a permanent collection of 3,000 pieces of regional and national artwork, including folk art, modern art, and traditional Native American artwork.
Roger Maris Museum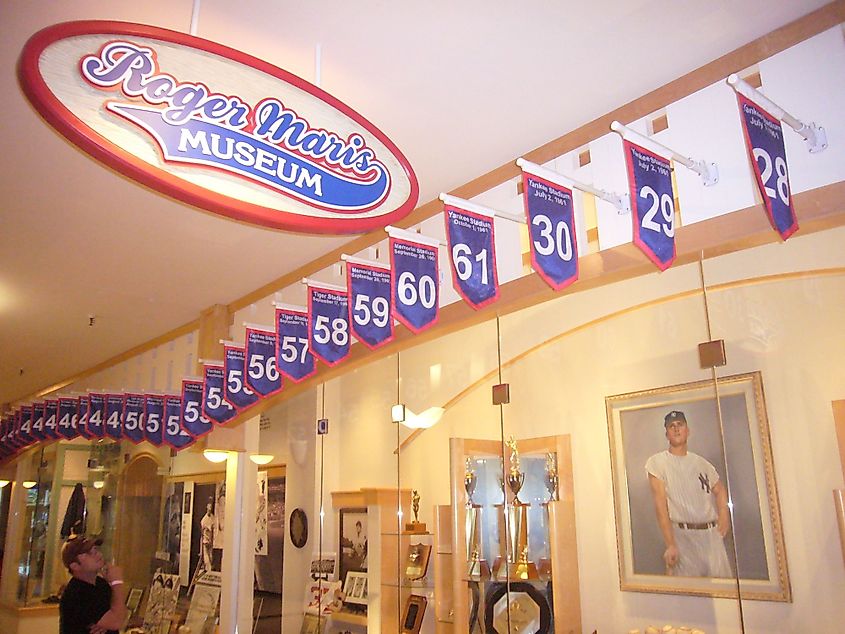 This 21m long display case museum is located inside Fargo's West Acres Shopping Center and is dedicated to Roger Maris - a former well-known American professional baseball player. To break Ruth's 34-year-old home run record, Roger Maris and Mickey Mantle faced off against each other throughout the legendary 1961 New York Yankees season. Maris ultimately prevailed in the fight and made history with a record 61 runs. At the Roger Maris Museum, one can learn more about Maris's illustrious career and his numerous accomplishments.
Fargo Historic Theatre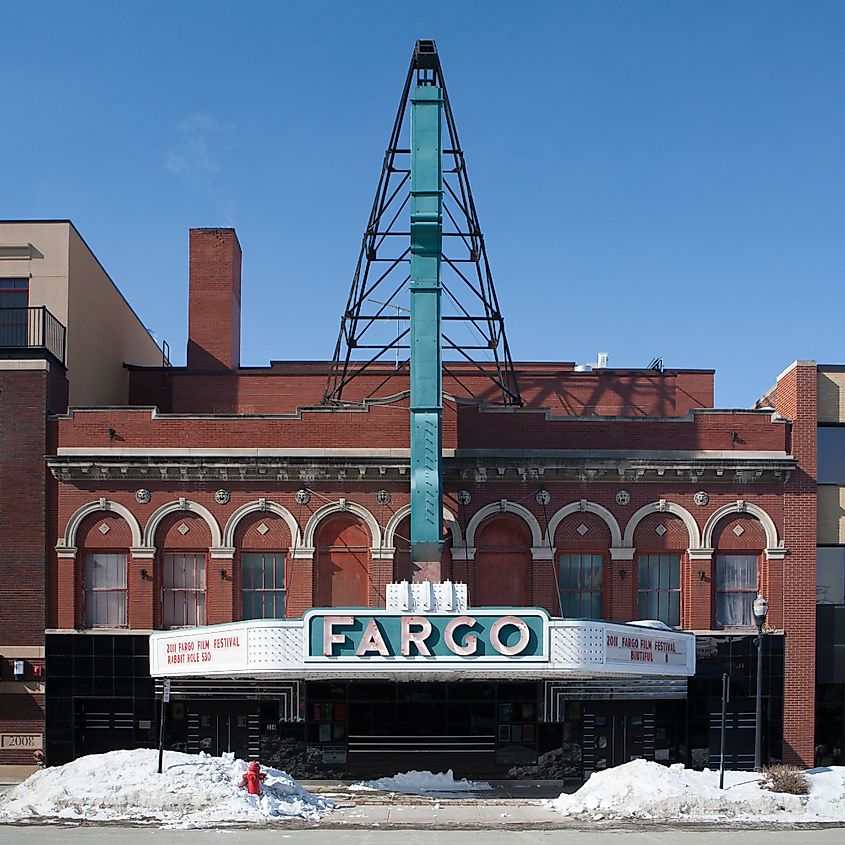 This well-known theater was built for the first time in 1926. The Fargo Theatre's original art-deco appearance, which had been eroded over time, was restored in 1999. In this Art Deco theater, independent and foreign movies are shown, along with plays and other live performances. 
Lindenwood Park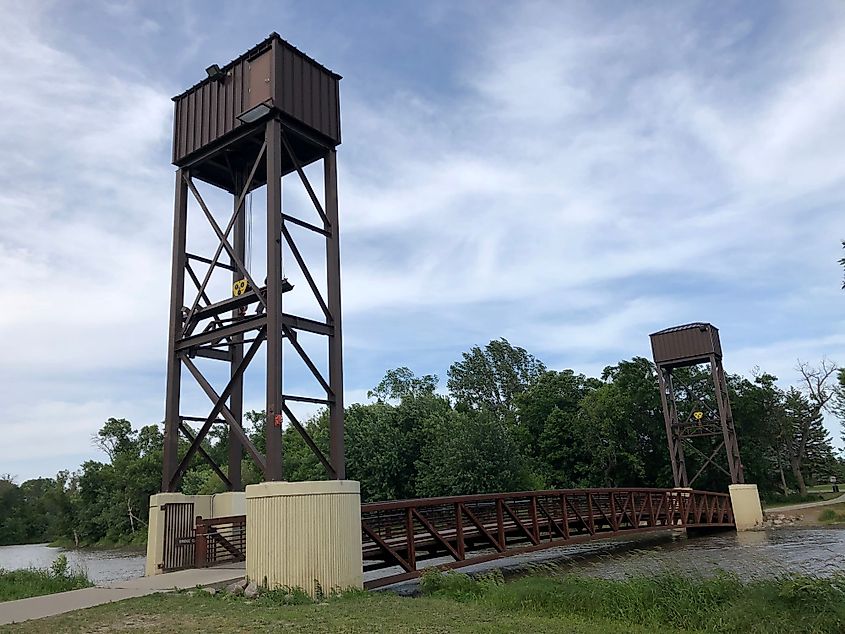 The largest multi-use park in Fargo is Lindenwood Park, which is situated alongside the Red River on Roger Maris Drive. There are seven fields for baseball, some of which are utilized by young leagues. The expansive playground known as the Universal Playground is open to all children. Several picnic and meeting shelters are available at the park; the largest shelter, which can hold up to 200 people, also has a charcoal grill, electricity, and facilities. The park has many pathways, including skating trails, and bicycles can be rented during the hot summer months.
Red River Zoo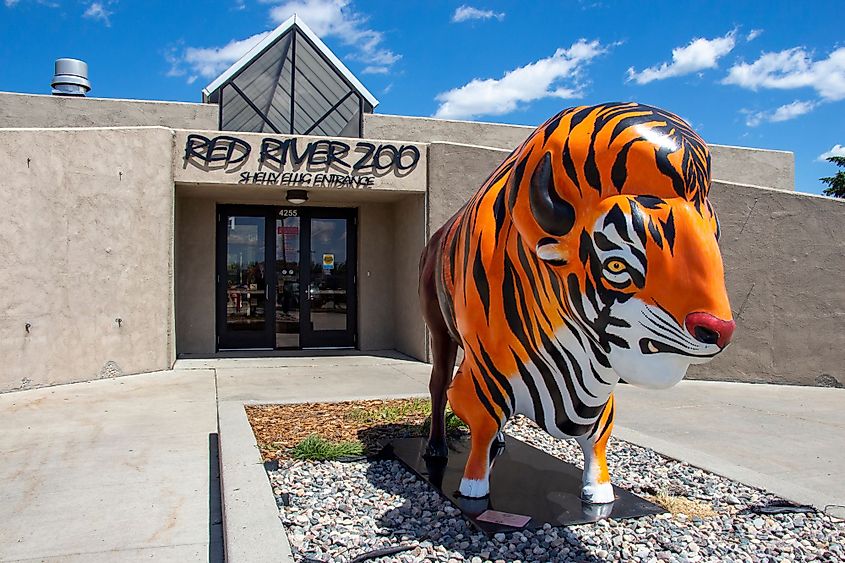 The Red River Zoo, which was established in 1999, is situated on 33 acres of picturesque rolling hills, ponds, and well-planted plant exhibits. In the midst of the metropolitan landscape, the park's more than 500 trees and shrubs provide a wilderness haven. Three hundred animals dwell in the Red River Zoo enclosure that closely imitates their natural environments. In addition to several native and exotic animals from different nations with climates similar to the Red River Valley, the zoo also houses several endangered species.
Fargodome Indoor Sports Stadium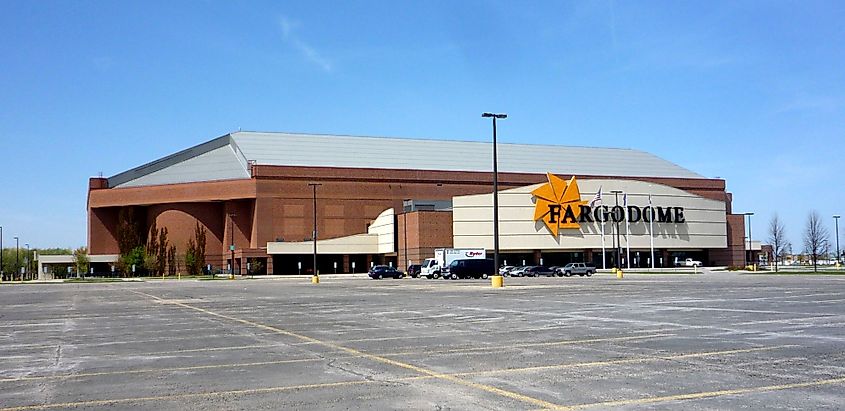 This indoor athletic stadium is situated on North Dakota State University campus in Fargo. Since its opening in 1992, the stadium has hosted many outstanding sporting events. Being an indoor sports arena, various sporting events are held year-round, even during winter. When there is bad weather outdoors, the dome-shaped stadium also holds trade exhibits and music concerts in addition to sporting events. It is well known for hosting some of the most well-known musicians on Earth, including Paul McCartney and Katy Perry.