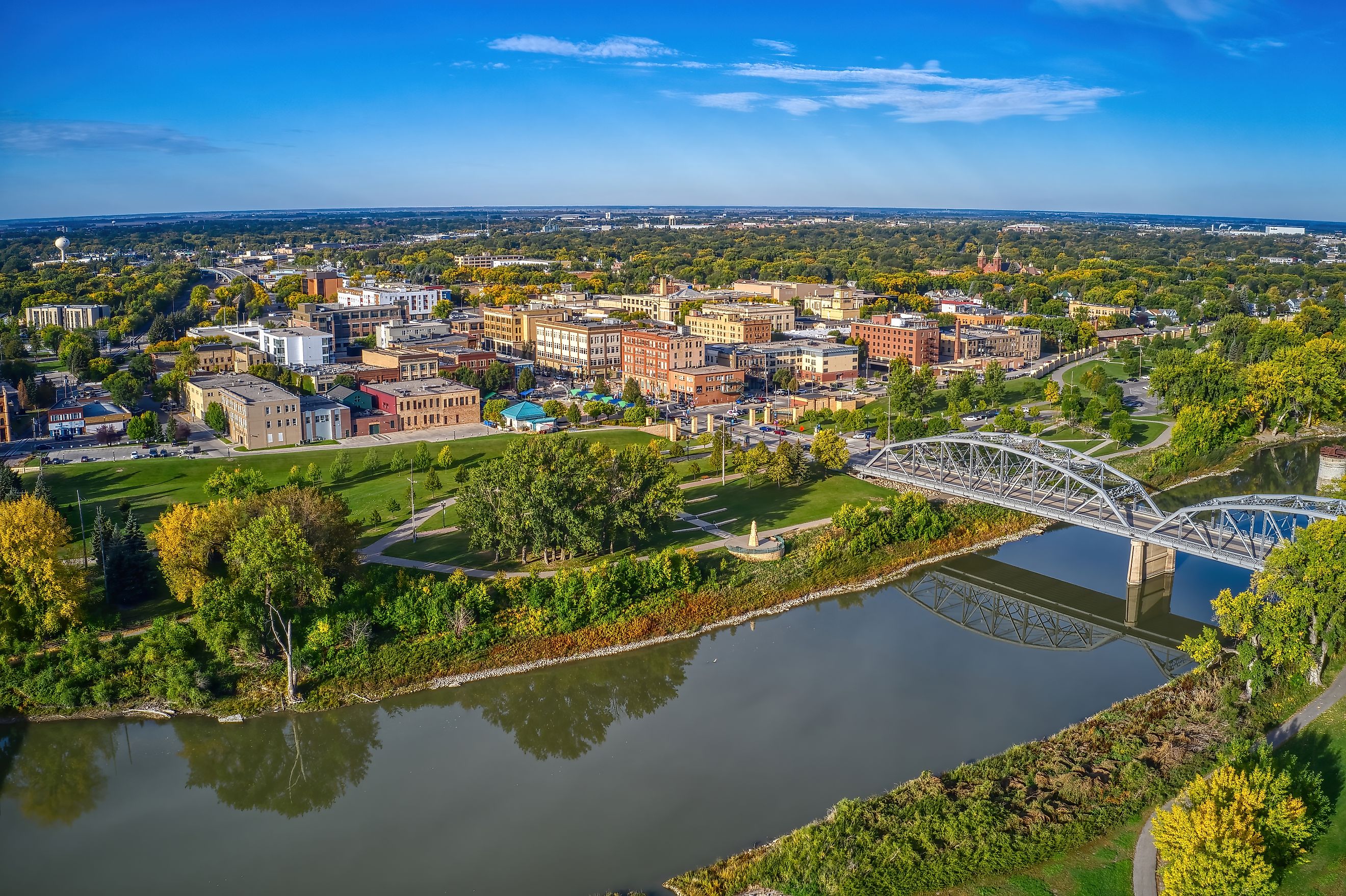 12 Prettiest Towns In North Dakota
While North Dakota is one of the least states recorded to ever have a high touristic ratio in the US, it still is a vast land welcoming its curious visitors to showcase its charming towns boasting a unique beauty all their own. From historic streets lined with quaint storefronts to breath-taking natural wonders that will leave you in awe, the "Peace Garden State" promises to reveal unexpected treasures for all those desiring to keep a gem or two stored in our phone galleries and/or visual memory. Let us reveal the tip of the iceberg of what you'll miss out on, in case you were still reluctant about going on an "uncommon" trip to North Dakota.
Medora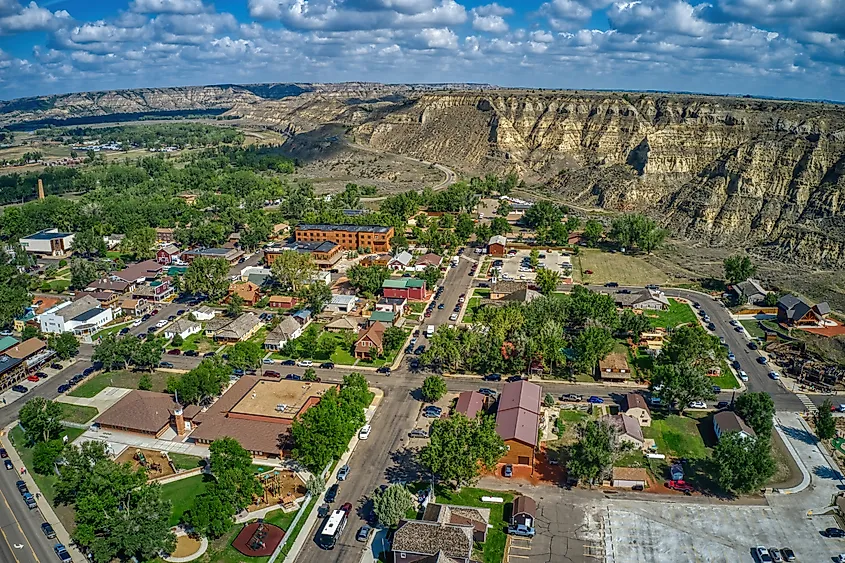 Hidden within the sweeping and awe-inspiring landscapes of Theodore Roosevelt National Park, the town of Medora is a gem that beckons travelers to discover its unique charm. Though Medora may be small in terms of population (averaging at ~150 inhabitants), its list of attractions and activities is anything but diminutive.
One of Medora's standout attractions is the illustrious Chateau de Mores, a historical site that holds a special place in the heart of the town. This elegant chateau was once the summer home of the town's founding father and is steeped in captivating history. Visitors can explore its halls and rooms, gaining a deeper understanding of the past and the individuals who shaped the town's destiny. Also, remember that whenever hunger strikes, the Pitchfork Steak Fondue, a Western-style steak cooked to perfection against the backdrop of the breathtaking Tjaden Terrace bluff, will be the place to keep in mind.
Walhalla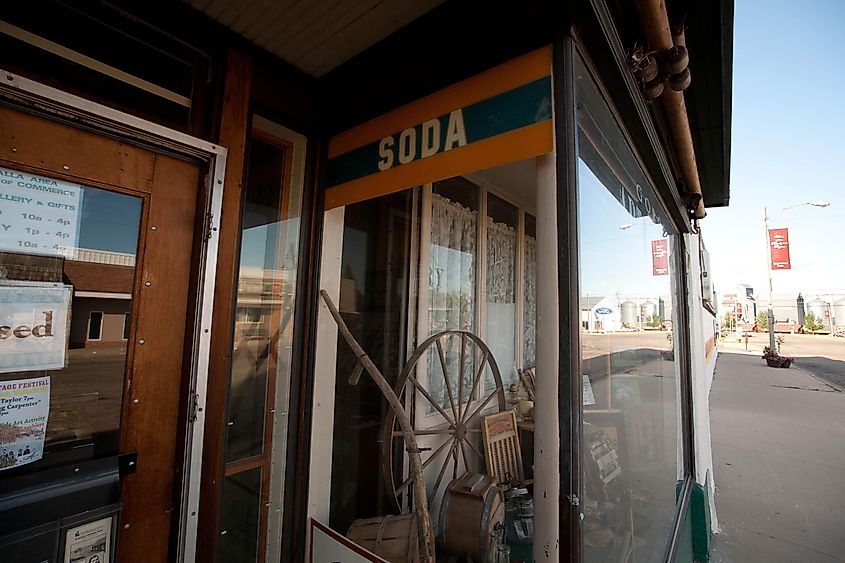 Just underneath the Canadian borders, Walhalla is the state's second-oldest community. It was founded in 1845 amid the bustling fur trade era of the late 19th century and is a treasure trove of heritage. The town is home to the Kittson Trading Post, the state's oldest building, and the Gingras Trading Post State Historic Site, boasting some of North Dakota's oldest standing Euro-American structures from the 1840s.
Alongside its historical traits, Walhalla offers miles of picturesque trails ideal for hiking, biking, and even horseback riding at the Pembina Gorge State Recreation Area, a short distance from town. For our fellow nature lovers, the Tetrault Woods State Forest awaits, providing a pristine setting for exploration with activities including but not limited to primitive camping, birdwatching, and even geocaching.
Devil's Lake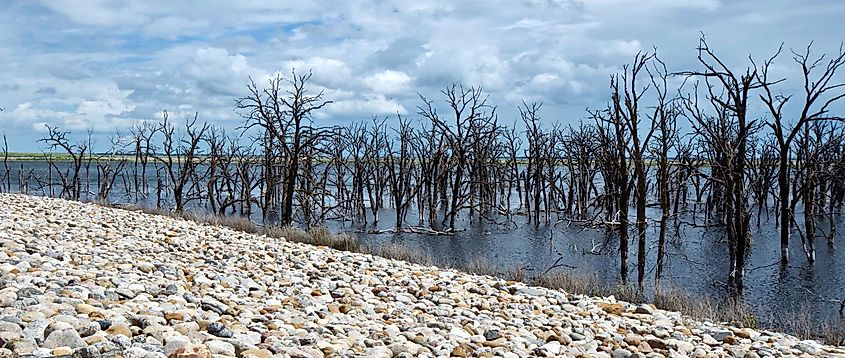 While the name may raise an eyebrow or two, trust in your heart that Devil's Lake is a haven for outdoor enthusiasts. Most noticeably, the town is North Dakota's largest natural body of water. Try a 160,000-acre vast lake after which the town is named and renowned for its record-breaking fish catches, making it a top destination for anglers.
While fishing remains a popular pastime, there's also golfing, skiing, hiking, and bird watching for those seeking diverse outdoor adventures. For water sports aficionados, there's an array of activities, including water boating, kayaking, and swimming. And for our history-hungry fanatics,   you'll find the Lake Region Heritage Center, the cultural spot that delves into the area's pioneering history, offering insights into the lives and culture of early settlers.
The bottom line is that whether you're chasing record-breaking catches, reveling in water-based activities, or immersing yourself in the region's history and natural beauty, Devils Lake has something to offer every traveler.
Jamestown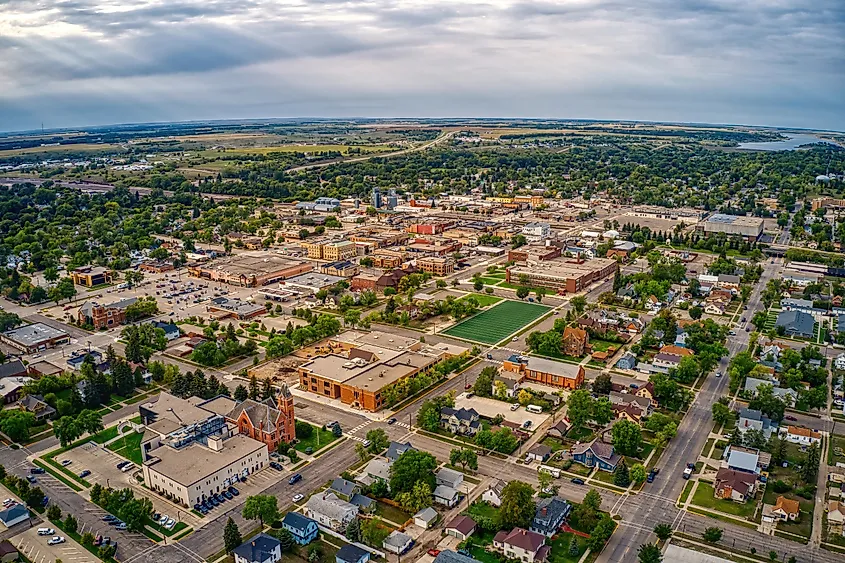 Jamestown, often referred to as the "Pride of the Prairie," has a rich history that dates back to its establishment in 1872. You can find it midway between Fargo and Bismarck; this charming town maintains a warm and welcoming small-town ambiance despite its population of approximately 16,000 residents.
A stroll through Jamestown reveals numerous historic structures and attractions that pay homage to its past. The town was a significant stop on the Northern Pacific Railway during the late 19th century, a heritage that comes to life at the Jamestown Frontier Village. Here, visitors can step back in time to experience life in a recreated prairie town, complete with the Louis L'Amour Writer's Shack, the former residence of the renowned novelist born in Jamestown in 1908.
Let's not forget the iconic 26-foot-tall Buffalo Monument in Frontier Village, a testament to the buffalo's profound historical significance in the region. For a deeper dive into the world of these iconic creatures, the National Buffalo Museum is a must-visit. Here, you can witness a live bison herd and encounter the world's only certified albino bison, along with a wealth of buffalo-related history.
Fort Ransom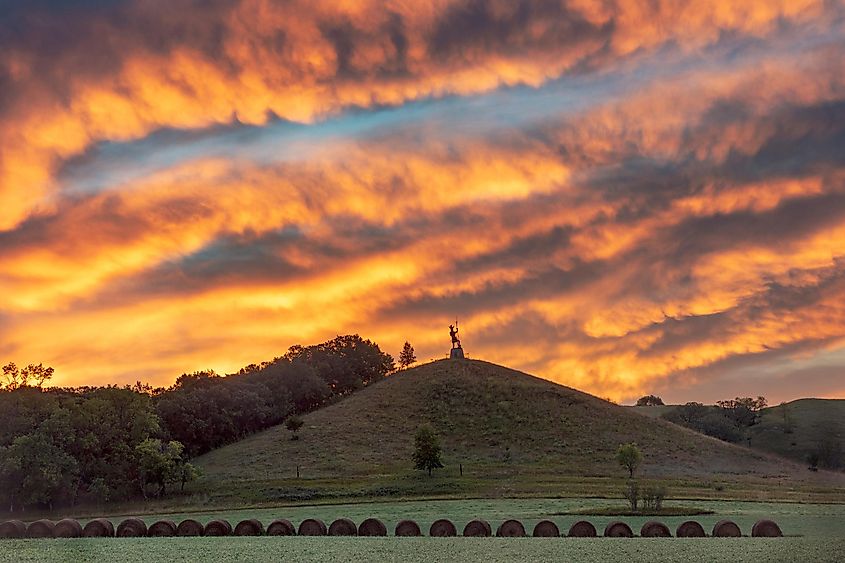 Perched atop the Sheyenne River, Fort Ransom, a town of no more than 100 residents, amasses a ton of historical abundance for all tourists to witness. Dating back to the late 1860s, the town's origins as a military post to support settlers are still visible in the original homesteads preserved within Fort Ransom State Park.
Despite its small size, Fort Ransom is a place where history, culture, and outdoor recreation converge to create a unique and enriching experience. Honorable mentions of historical/touristic sites include the Ransom County Historical Museum, the Viking Statue Monument, the charming swinging bridge, Old Flour Mills, and the National Scenic Byway.
Keep in mind that throughout the year, the park offers a range of activities, from cross-country skiing and hiking to snowmobiling, ensuring there's something to enjoy in every season. Also note that twice annually, Fort Ransom comes alive with Sodbuster Days, a two-week living history festival celebrating the pioneering spirit of its forefathers.
Lisbon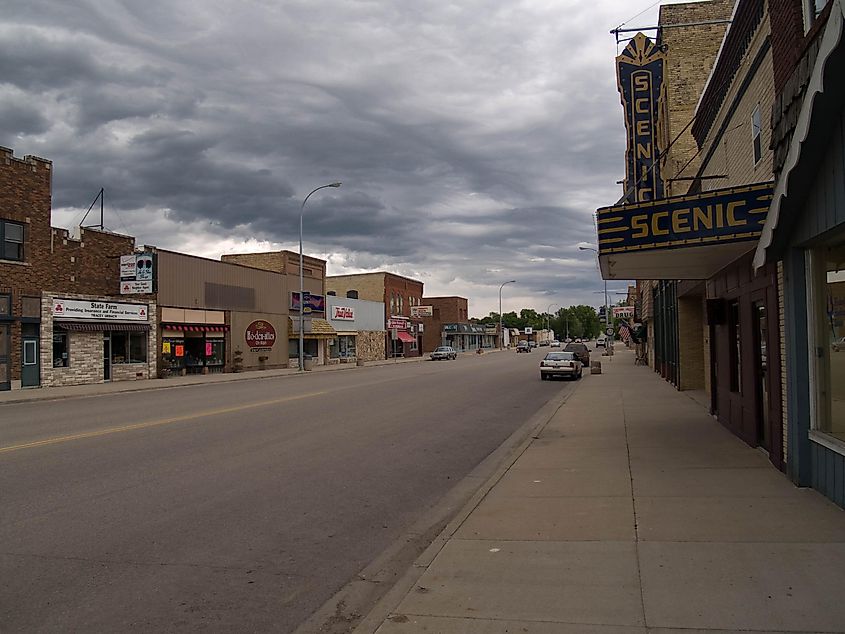 Although the name shares that of Portugal's capital, Lisbon is a captivating town that pays homage to its rich history. Founded in 1880 by Joseph Lynn Colton, a New York native, Lisbon thrived as a vital port city for the Northern Pacific Railroad in the late 19th century. The town is home to historic treasures like the Lisbon Opera House, constructed in 1889, and other buildings paying tribute to that bygone era.
The pristine surroundings beckon with opportunities for wildlife spotting and a general love for the outdoors over at the National Grasslands Recreation Area, which spans over 70,000 acres. Wine enthusiasts can also savor the experience at Prairiewood Winery, one of only six wineries in the state, which welcomes visitors for tours and tastings.
Whether you're drawn to its historical sites, outdoor adventures, or the delights of wine tasting, Lisbon has something special in store for every traveler.
Jud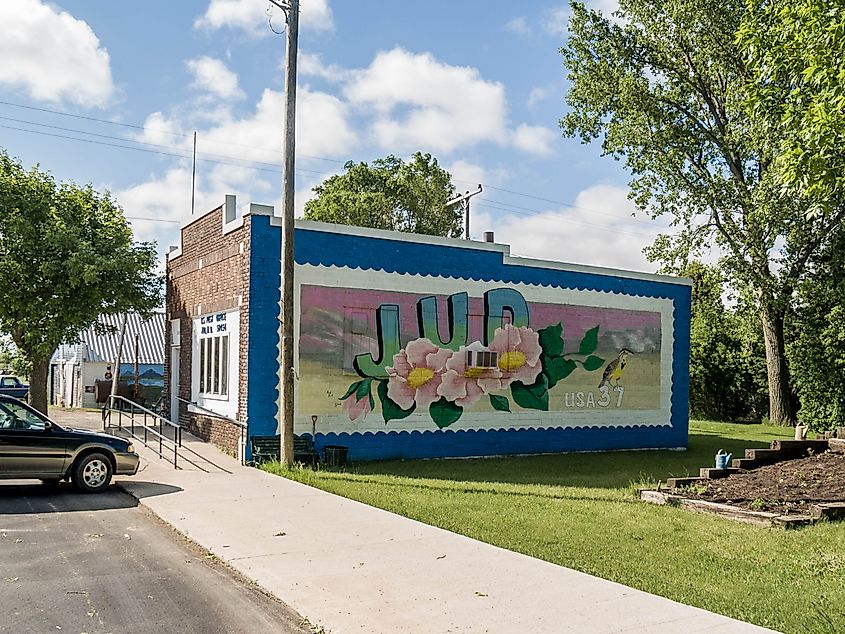 With a population of just under 100 residents, Jud may be small in size, but it boasts a big personality that creates a truly one-of-a-kind sense of community and uniqueness. Named after Judson LaMoure, one of the state's early legislators, the town has earned the well-deserved nickname "The Town of Murals."
Every building is adorned with breathtaking murals, hand-painted by talented residents. These murals transform the town into a picturesque canvas, showcasing scenes of cozy cottages, stunning landscapes, beloved cartoon characters, and patriotic moments. It almost feels like walking through an open-air art gallery, an experience that cannot be captured in photographs.
Garrison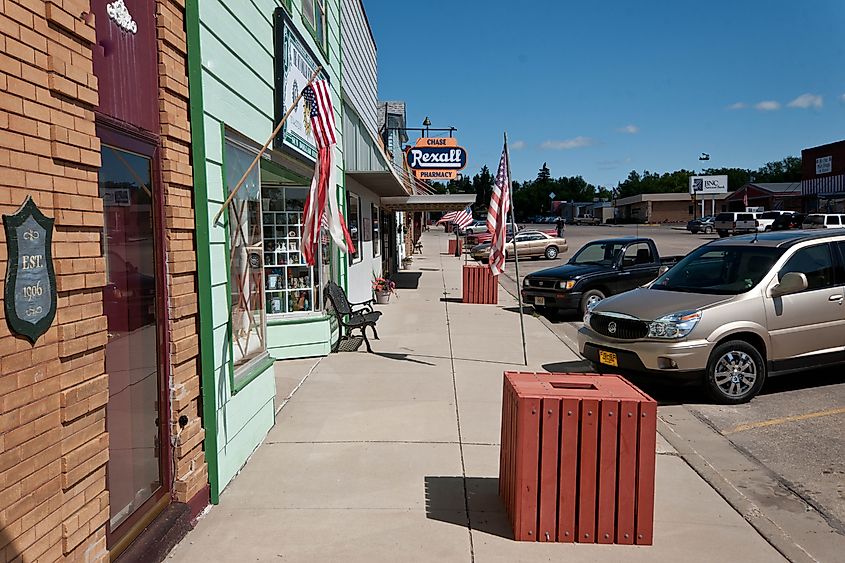 Nestled on the shores of Lake Sakakawea and known for its abundant pike, man-made lake, walleye, and smallmouth bass, Garrison earned the title of the "Walleye Capital of the World." Anglers from far and wide flock here in pursuit of record-breaking catches.
But Garrison is not just about fishing. Its historically charming downtown, with an open-air Heritage Park and Museum, offers a glimpse into life in the early 20th century. Visitors can explore a replica of a 1905 train depot, an old county school, a country church, and even the town's first telephone office.
For those seeking a step back in time, the Dickens Village Festival, held during the holiday season, transforms Garrison into a Victorian village. Festive streets come alive with parades featuring horse-drawn carriages and costumed characters, providing a nostalgic experience of Christmas in the Victorian era.
Bottineau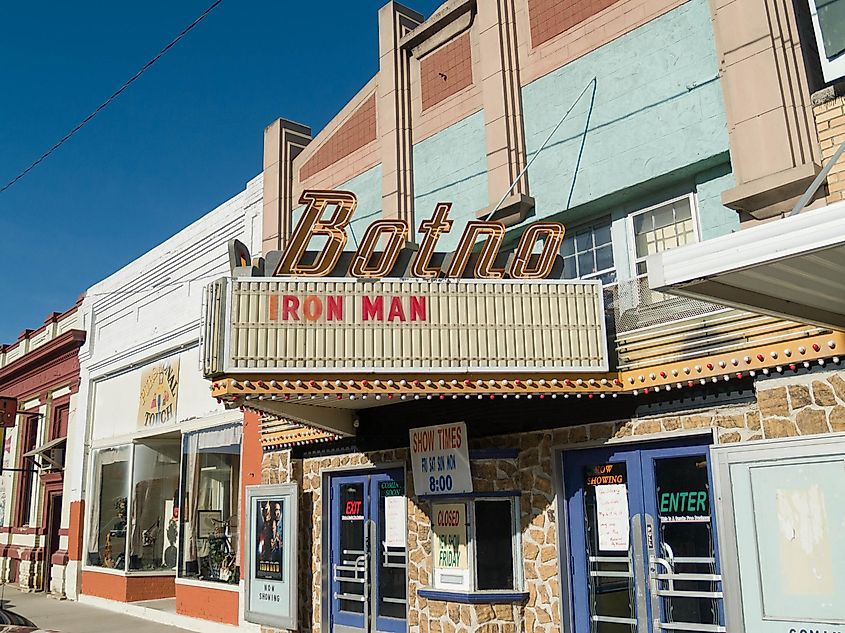 Located amidst sloping hills near the breathtaking Lake Metigoshe, Bottineau is the northernmost part of North Dakota, reputable for holding the title of "the Four Seasons Playground", surrounded by abundant wildlife, including geese, ducks, deer, and moose, thanks to its proximity to two federal wildlife refuges.
The Four Seasons Playground offers something for everyone: boating, fishing, and water skiing in the summer or snowboarding in the winter. Also serves as the gateway to the Turtle Mountains, attracting thrill-seekers and adventurers.
One iconic feature of this town is the towering 26-foot-tall statue of Tommy the Turtle, the town's mascot and the world's largest turtle monument. This colossal turtle embraces visitors and has become a must-visit spot for photos, so you better save up some space on your smartphone to capture the several angles you wouldn't want to miss out on. 
New Salem

Founded in the late 19th century, the town's origin story dates back to 1882 when John Christiansen arrived by freight train, laying the foundation for what would become New Salem. Situated in Morton County with just under 1,000 residents, this town is surrounded by scenic farmland, sunflower fields, and rocky bluffs. Its star attraction is Salem Sue, a 38-foot-tall fiberglass Holstein cow erected by the local Lion's Club in the 1970s, paying homage to the diligent dairy farmers of the region. Tourists swarm here to marvel at this colossal bovine statue.
New Salem is a tourist destination and a great place to live, particularly for retirees, thanks to its relaxed pace and stunning natural surroundings. The town boasts six lovely local parks where you can spend leisurely mornings, and it hosts entertaining shows like the Cow Town Hoe Down in its beautiful old auditorium. Moreover, history buffs will find plenty to explore in the town's multiple museums.
Valley City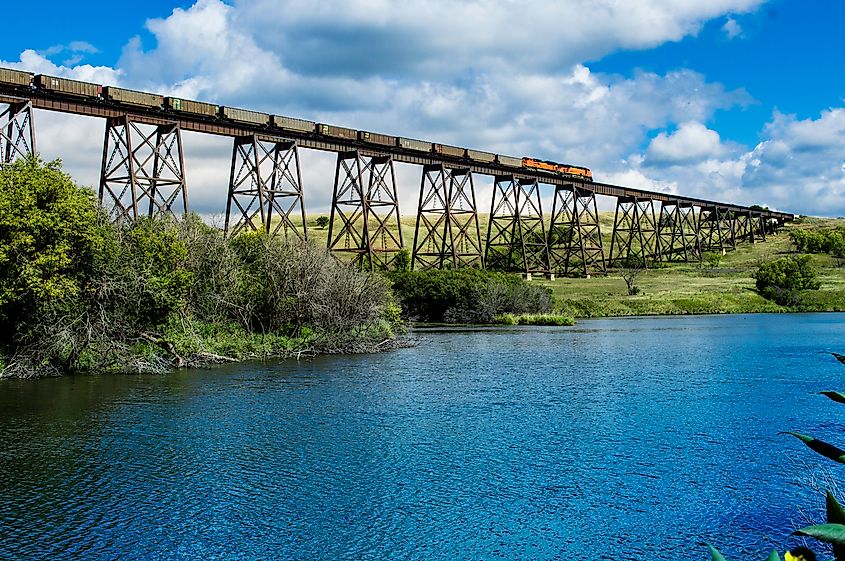 Often called the "City of Bridges," Valley City boasts 11 historic bridges that draw enthusiasts of old-world architecture. The most renowned among them is the Wooden Valley City State University footbridge, while the Hi-line Bridge, one of the USA's highest single-track rail bridges, stands as a National Civil Engineering Landmark. 
Visitors can also explore the sacred Native American burial grounds and two ancient solar calendars at Medicine Wheel Park, just outside the town. For a scenic journey, the Sheyenne River Valley National Scenic Byway, spanning 63 miles from Baldhill Dam to Lisbon, offers unique vistas, particularly striking during the vibrant fall season. 
In addition to the bridge attractions, Valley City provides opportunities for snowmobiling, skiing, birding, biking, hiking, and canoeing, making it a year-round destination for outdoor admirers.
Hillsboro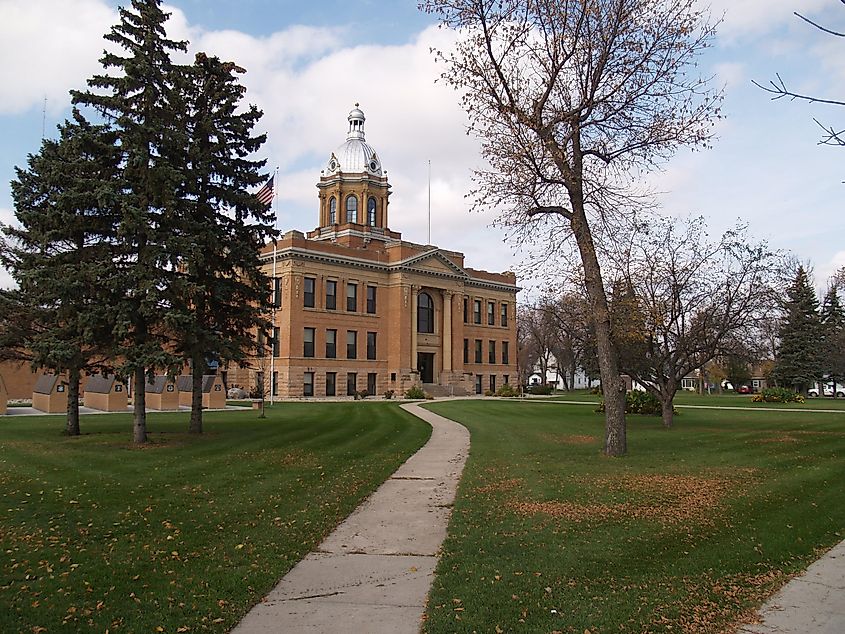 Hillsboro, a quintessential small town in North Dakota, has its roots dating back to the 1860s when it was founded on a strong sense of hospitality, thriving to exude its welcoming spirit. It is within driving distance of two of North Dakota's major cities, Fargo and Grand Forks.
Travelers often go here for weekend getaways, finding solace in cozy B&Bs. The town offers a leisurely pace of life that's easy to adapt to. Hillsboro is not just a historical gem; it's also known for its Woodland Park and memorable historic buildings, making it an ideal destination for those seeking the perfect small-town experience.
Embrace the Uncharted: North Dakota Awaits
While North Dakota is a state that might not hit the top spot on the commonly picked touristic choices, it does, in return, offer extensive options for those willing to think outside the box and ready themselves to embark on an adventure, gathering stories to tell in the future. From Medora's rich history, Walhalla's heritage, and Devil's Lake's outdoor adventures to Jamestown's buffalo legacy and Lisbon's blend of wildlife, one can embrace North Dakota's hidden gems, each offering a special experience for every traveler.