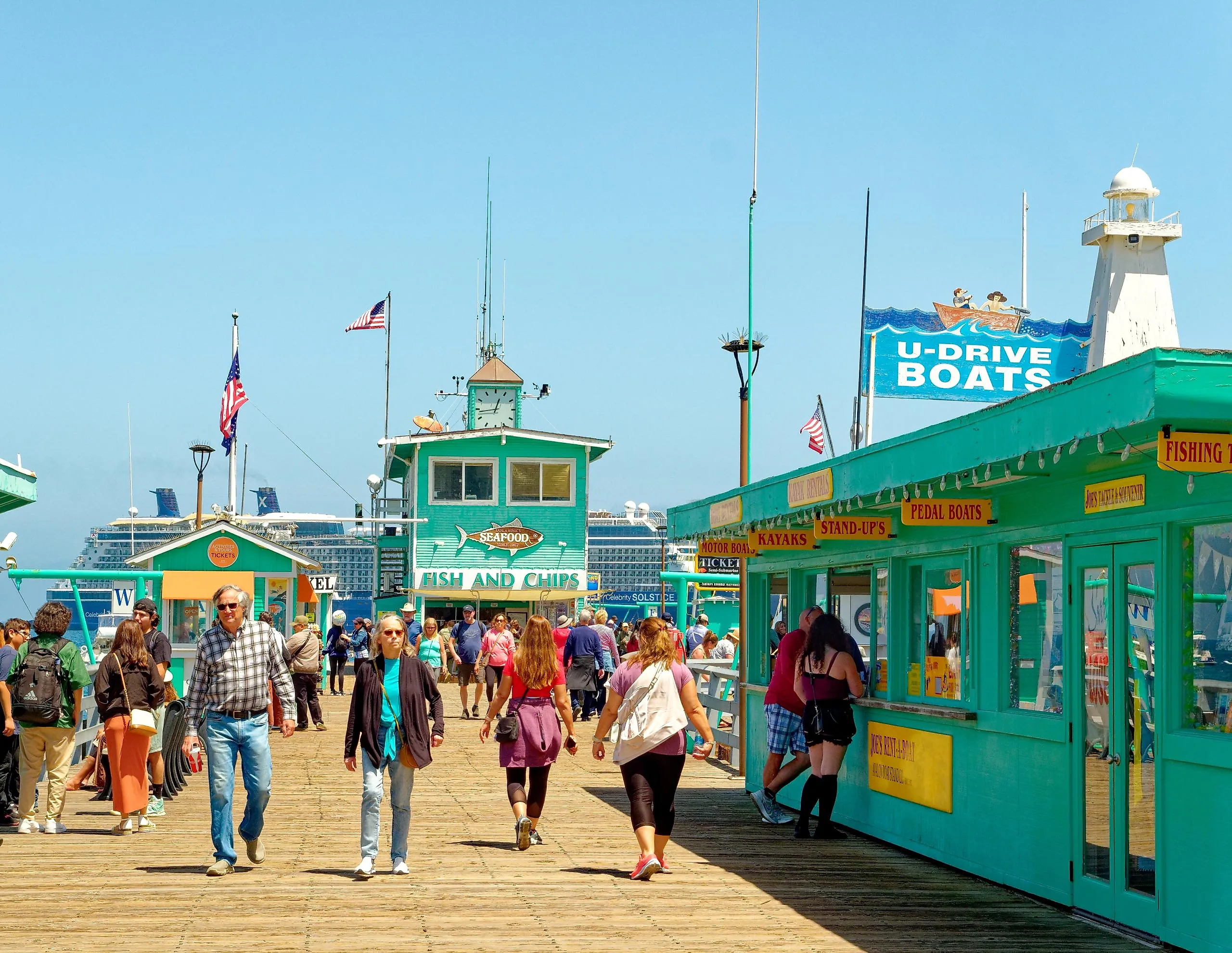 11 Best Small Towns To Visit In Southern California
Sunny California is a vast state. The land of sand, surfing, and bustling cities, California is a tourist attraction with hidden treasures. Scattered across the state are enchanting small towns inviting visitors to unplug from everyday life. Whether for a weekend getaway, a historical adventure, or a tour of California's exceptional wineries, small towns in Southern California welcome you to explore. Grab a glass of bubbly as we visit small towns in Southern California for your next getaway.
Ojai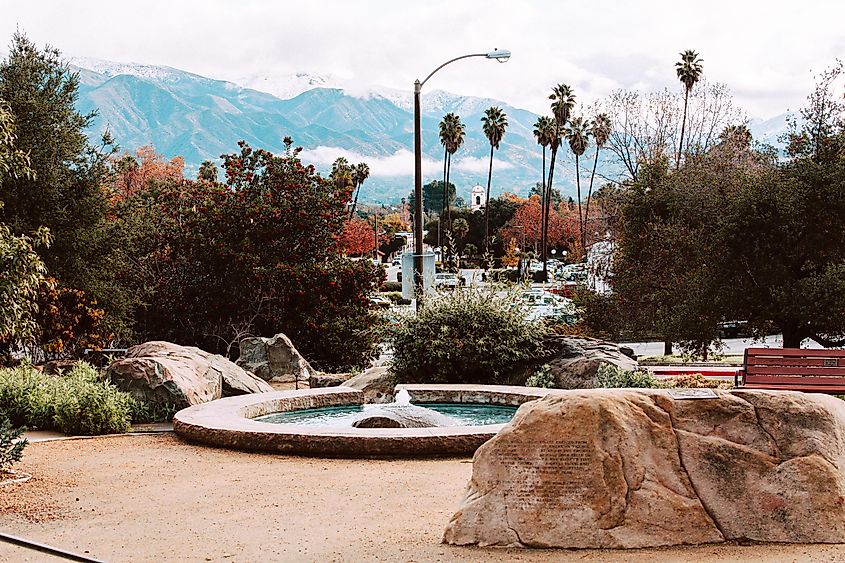 In the heart of Ventura County is the quiet small town of Ojai. The town is surrounded by a lush landscape welcoming visitors to take a deep breath and relax. Outdoor enthusiasts will find plenty of activities, such as hiking, biking, horseback riding, and even golfing. Tennis lovers will be thrilled as the town was named one of the best tennis towns in the United States! Athletes can watch a match or engage in a game at the Libbey Park Tennis Courts.For flower lovers, the month of June is the best time to visit Ojai.
The town is fragrant with the smell of lavender. The elegant flower can be seen and smelled throughout the town.Book lovers will rejoice with a visit to Bart's Books, the largest outdoor bookstore. The store retains a massive and rare collection. The store uses the honor system allowing patrons to buy any book at any time by paying through a slot. Visitors looking for a relaxing getaway can visit the spa! The Day Spa of Ojai offers a variety of treatments to relax the body and quiet the mind. Ojai offers a unique getaway to engage the body outdoors, enrich the mind with a good book, and unwind at the spa.
Avalon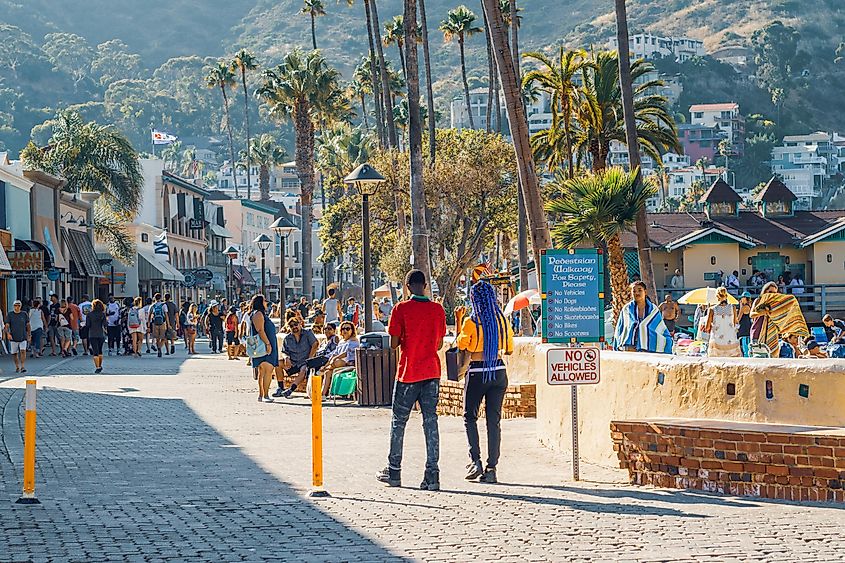 Avalon has a population of fewer than 4,000 residents and is the only incorporated city on Santa Catalina Island in the California Channel Islands. Large cars are prohibited on the island, and many residents get around by golf carts. The lack of vehicles allows the town to be truly walkable. This small town features colorful houses and curious shops. Avalon is home to many points of interest. The Descanso Beach Club is Catalina's only beachside restaurant and bar. The Catalina Island Museum has preserved the cultural heritage of the island for over 60 years. Visitors can attend a lecture or participate in a workshop to learn about the island's history. 
Nature lovers can visit the Wrigley Memorial Botanical Garden to view unique plants native to the island. For marine enthusiasts, a scenic glass bottom boat tour is a must to see dolphins and other aquatic life. For the adventurous, the Journey to the Sky Tour takes patrons on an exciting journey through Catalina's rugged backroads for stunning photo opportunities. Local wildlife, including bald eagles, bison, and deer, can be spotted along the way. Although a small town, Avalon welcomes visitors to enjoy the outdoors, put their toes in the sand, and stretch their legs as they explore.
Julian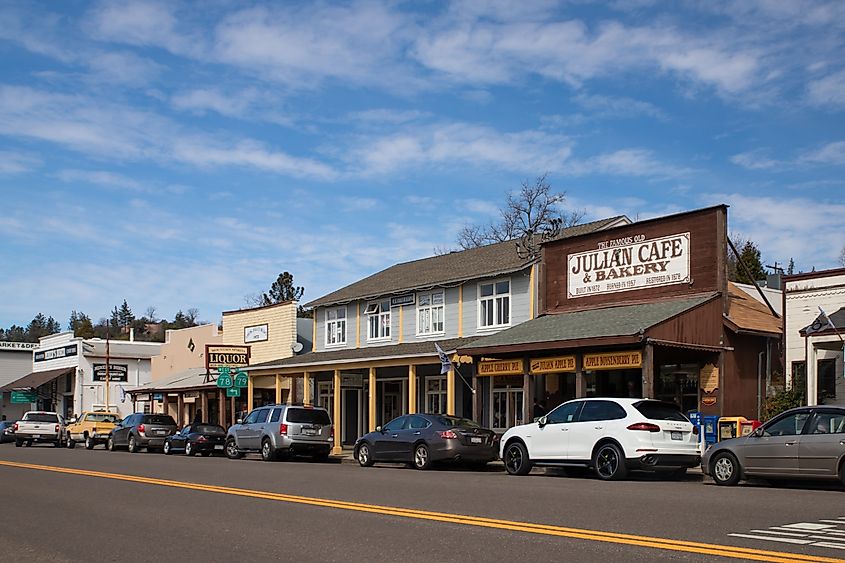 Set in the Cuyamaca mountains, an hour east of San Diego, lies the town of Julian. The town offers visitors a charming rustic experience with a mountain backdrop. The town's history with gold mining welcomes visitors to explore the tunnels of a former gold mine or try gold panning to discover gold and minerals. 
For a quiet day, visitors can stroll through apple and pear trees to pick fresh fruit. The season begins mid-August and welcomes visitors to learn the art of making apple cider or picnic among large oak trees. Julian Farm and Orchard include flowers for picking, strawberries, raspberries, blackberries, and a number of fun farm-themed activities in summer. 
Julian is surrounded by nature with an abundance of outdoor activities. Outdoor adventures such as hiking the trails range from easy to moderately strenuous. If hiking is not appealing, visitors can take a scenic drive through the mountains. For camping or a swim, visitors to Lake Cuyamaca are ideal. Boaters can explore the lake in kayaks, pontoons, rowboats, motorboats, or peddle boats. The town of Julian is a quiet mountain town encouraging visitors to engage in all nature has to offer.
Wrightwood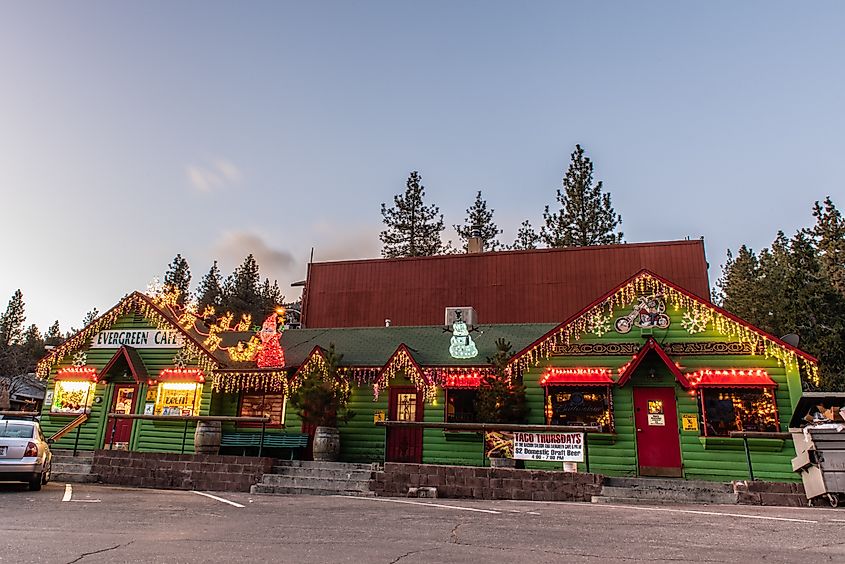 Sunny California is famous for its sunny weather and sandy beaches. An hour away from Los Angeles, in the San Gabriel Mountains, the town of Wrightwood is a ski resort. Resting in Swarthout Valley, Wrightwood offers many options for accommodations for travelers.
The mountainous climate creates cold weather in winter, creating a winter wonderland for skiers and snowboarders. The warmer climate welcomes all types of campers with hookups for RVs and places to set up tents. For those who enjoy hiking, trails are abundant, offering views of the mountains, valleys, and forests. Trail difficulty ranges from an easy stroll to a rigorous climb.
Looking for a healthy snack? The Wrightwood Farmers Market offers jams, fruit, eggs, and flowers from local farms. Homemade soaps and lotions are also available from a local company, Whole Life Soaps. In Wrightwood, the smell of pine trees will refresh your senses as the outdoors calls to you to stop and recharge.
Los Alamos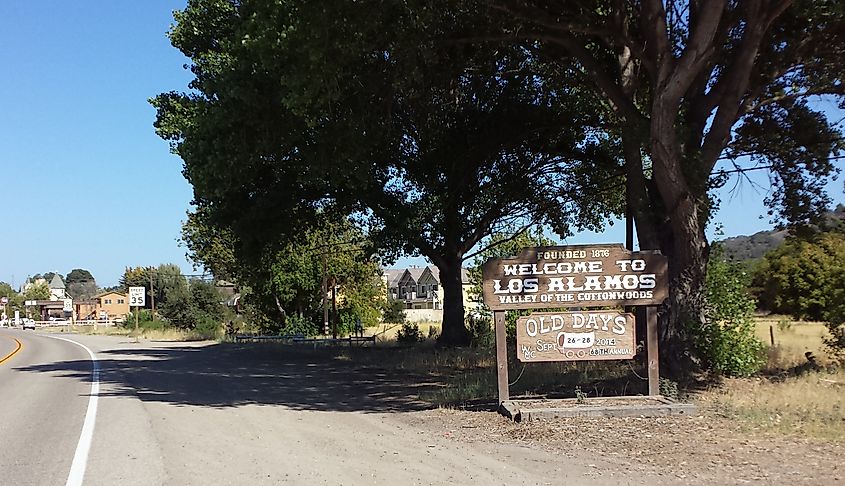 Surrounded by ranches, farms, and vineyards, Los Alamos is a small town with old charm. The town's downtown area features shops, restaurants, and art galleries offering a glance into California's Old West history.Over the last weekend of September, the town celebrates Los Alamos Old Days. The celebration hosts arts & crafts, barbeque, a car show, and a parade to honor the town's Western heritage. Atop a hill overlooking Los Alamos is the Skyview Los Alamos. This historic midcentury roadside motel will transport patrons back in time with retro decor. Modern amenities provide a luxurious atmosphere.
To explore the town, a leisurely bike ride is the best way to sightsee. While biking, visit Bell Street, a street with antique shops, delectable dining facilities, and local wine-tasting rooms, each offering patrons a unique experience.For an immersive Old Western experience, visit the historic Union Hotel. Once a former stagecoach stop, the building was redesigned into a hotel and saloon. The dark wooden interior makes visitors feel like they are in a proper Western movie and welcomes patrons to enjoy a beverage. The Old Western heritage of Los Alamos delivers a quirky place to spend a lazy few days.
Coronado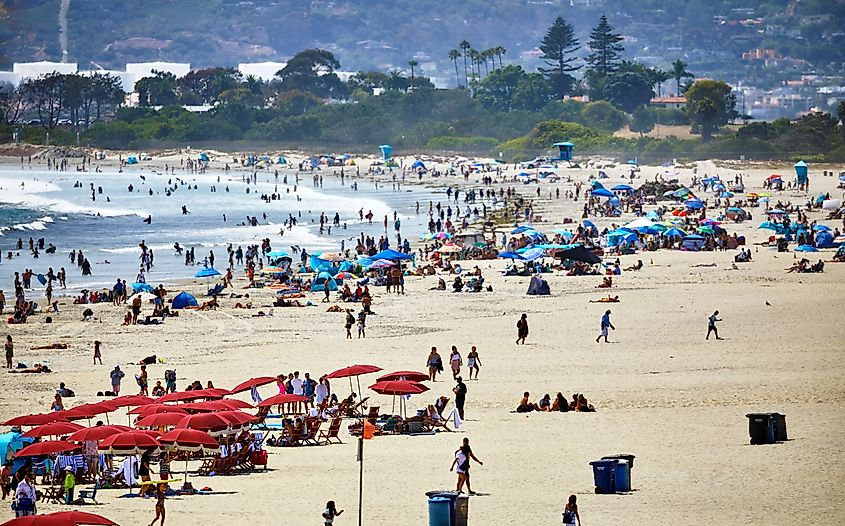 Across the bay, just 5 minutes from San Diego, the small town of Coronado welcomes visitors to put their toes in the sand. The town's clearwater beaches are perfect for swimming and surfing. Sprawling Tideland's Park welcomes families to play at recreational fields, explore a children's play area, utilize the skate park, enjoy a snack at picnic benches, and build castles on a small sandy beach. 
For those looking for a lazy day at the beach, Coronado Beach is the place to go. This picture-ready beach has sparkling sand and welcomes visitors to enjoy water activities such as swimming, body surfing, and paddleboarding.
After a day in the sun, Coronado's charismatic main street is ready to welcome visitors with trendy boutiques, gourmet restaurants, and art galleries. At the Coronado Island Marriott Resort & Spa, guests can enjoy the amenities of a relaxing spa, pickleball court, pool, and wellness center. Coronado is a small town with a relaxing beach charm.
Solvang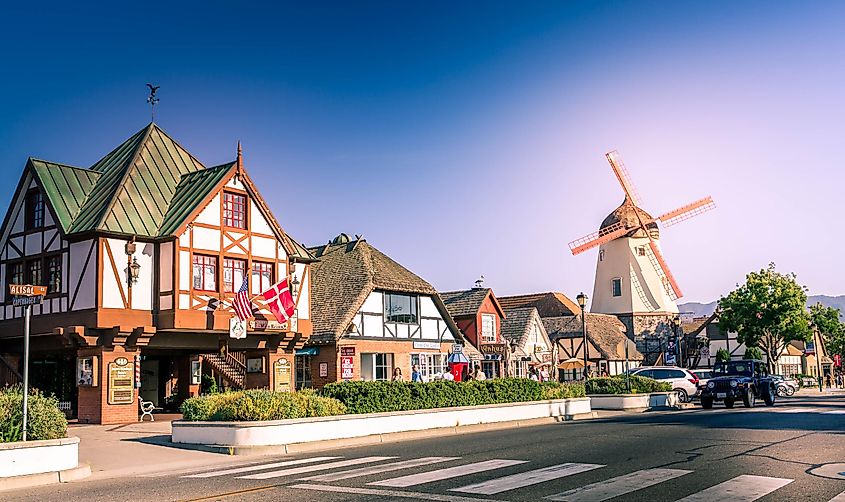 In the heart of Southern California is Solvang, a Danish-style town with small-town charm. Solvang's half-timber architecture, windmills, and colorful façades transport visitors to the Danish countryside. The town's quaint shops and authentic Danish bakeries add to the old-world European ambiance. For families, a ride on the Solvang trolley is a unique experience. The historic, wooden, horse-drawn streetcar provides a narrated tour of the town.
For wine connoisseurs, Solvang is centrally located near local Santa Ynez Valley vineyards. Tasting rooms offer patrons samples of the region's famous wines. Motorcycle enthusiasts can visit the Solvang Vintage Motorcycle Museum to see rare and vintage motorcycles.
Celebrations in Solvang are not to be missed! The town's Solvang Danish Days in September is a three-day event celebrating the town's Danish heritage. Solvang Julefest is held from November to January during the holiday season. Solvang decks the trees with lights inviting visitors to enjoy festive activities, food, and of course, wine! Solvang is a charming small town picture-perfect for any getaway.
Pismo Beach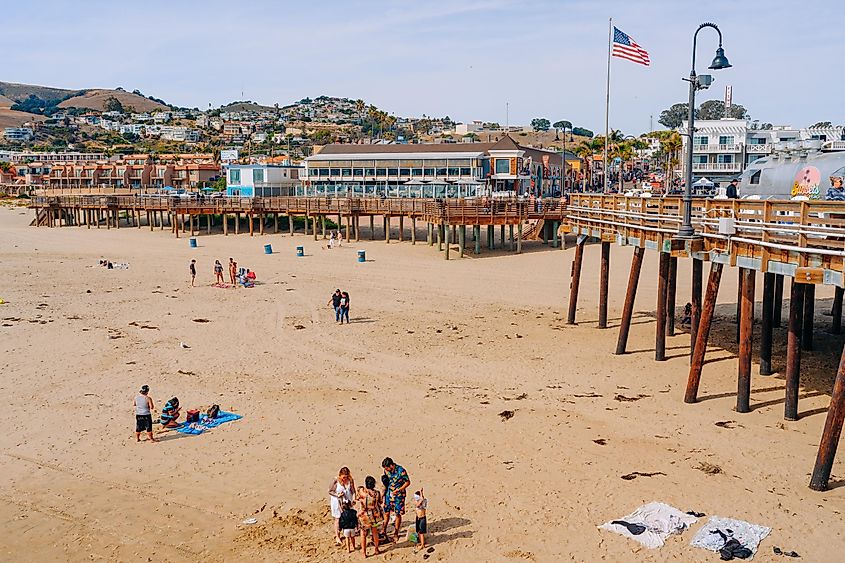 Pismo Beach is a coastal town with a stunning coastline that extends for miles. There is something to do for everyone in Pismo Beach. Home to many restaurants, this small town has a plethora of options for sunset dining. From seafood, grills, and Mexican flavors, visitors will find a venue to quench their thirst and hunger. 
For a unique experience, Pismo Beach Pier's walkable and easy access creates a family-friendly environment to watch the sunset. Seven-foot tall, illuminated, colorful letters spell out Pismo Beach and connect to a playground with a slide leading to the beach below. Whale Surfing Playground was inspired by marine life and features climbing structures in the form of a Humpback Whale, clam, and surfboards.
From October to late February, a visit to Pismo Beach Butterfly Grove is imperative. Seeking shelter from the cold, Monarch Butterflies flock to Pismo Beach, one of five stops along their migratory route. Visitors will delight in the vibrant colors of the butterflies as they rest among lofty eucalyptus trees. Other activities at Pismo Beach include horseback riding and renting an ATV on the beach. Pismo Beach is a small town welcoming visitors to enjoy beach life with a breathtaking view of the ocean.
Carpinteria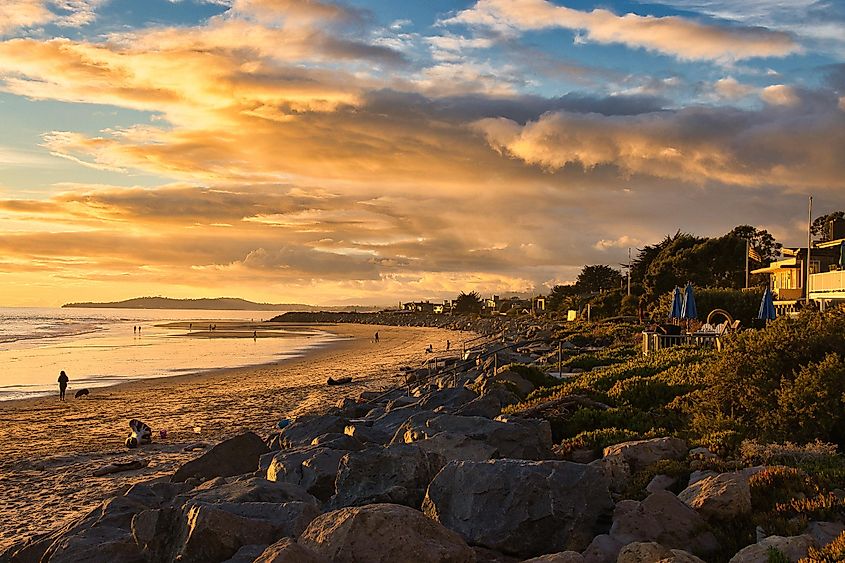 South of Santa Barbara is the quiet town of Carpinteria. The town combines unique beaches with stunning coastal views for a laid-back getaway. For a quiet day at the beach, Carpinteria State Beach welcomes visitors to surf, swim, and soak in vitamin D. The beach hosts a campground with showers, hookups, and summer programs. Rincon Point State Beach is the perfect place for a stroll. Beachcombing for shells or driftwood and wildlife watching are popular activities. The water at Rincon Point State Beach offers thrilling waves perfect for surfing.
The first weekend in October, Carpinteria hosts AVOFEST, a festival celebrating avocados! Live music is featured on four stages. Avocado-themed food and children's activities are also available. For environmental history, Tar Pits Park oozes tar from the ground and along the bluff. The park has a bike path, some picnic tables, outstanding views, a harbor seal sanctuary, and a beach. Carpinteria offers unique beaches and water activity fun for all ages. 
Idyllwild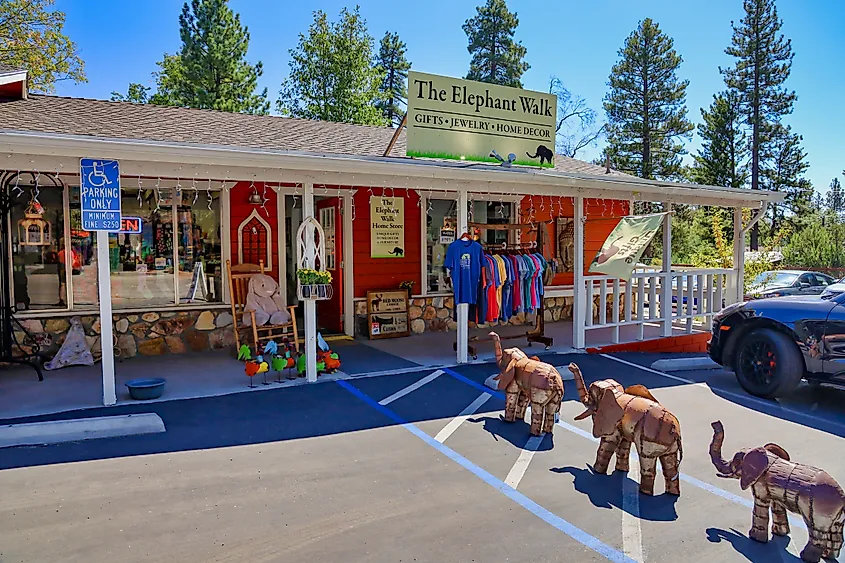 Deep in the forest in the San Jacinto Mountains is the small town of Idyllwild. Towering pine trees and mountain views welcome visitors year around. Idyllwild is full of outdoor adventures and activities, so pack your gear! Visitors can mountain bike and hike along mountain trails surrounded by the smell of pine trees. Rock climbers can feel the thrill of climbing on Tahquitz Rock and Suicide Rock. For music aficionados, July is the best time to visit the town. Idyllwild Arts Academy hosts Idyllwild Jazz in the Pines, a music festival showcasing performances from students, faculty, and featured artists.
Patrons can also participate in book readings and panel discussions.Idyllwild is home to many vacation rentals, inns, and camping sites with amenities such as water, toilets, and fire rings. For dining, locally-owned restaurants are scattered among winding roads providing scenic drives along the way. Experiencing all four seasons, Idyllwild is a beautiful town to visit year around to reconnect with nature.
Joshua Tree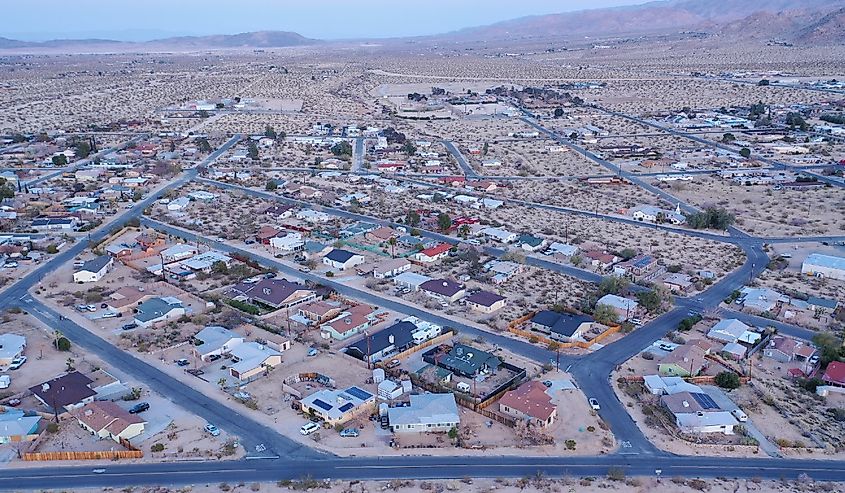 Near the Mojave Desert, the small town of Joshua Tree is an outdoor enthusiast's dream. The town is less than 30 minutes from Joshua Tree National Park. The park is home to spectacular rock formations, desert wildlife, and plant species, including the famous Joshua Tree. The park has many entrances and offers 9 hiking trails, each with a unique view and challenge. Keys View is the best viewpoint in the park with a panoramic view of Santa Rosa Mountain, San Jacinto Mountain, Coachella Valley, and Palm Springs. Looking down, the San Andreas Fault runs through the valley below.
Joshua Tree offers amazing glamping areas, perfect for stargazing. Every fall, the Dark Sky Festival is held at Sky's Limit Center and Observatory, located just outside of the park entrance at Twentynine Palms. For a look into life in the desert, Keys Ranch invites visitors on a guided walking tour to learn about Native American History, mining, and ranching. Joshua Tree welcomes visitors with many opportunities to explore the desert's distinctive ecosystem. 
In Conclusion
Visitors to small towns in Southern California have a plethora of options for physical, intellectual, and visual adventure. Visitors can spend a day on the beach, visit a vineyard or tasting room, camp in the woods, or hike through a national park. Adventurous travelers can participate in the thrill of various water activities and scale the cliffs rock climbing. Historical fanatics can visit museums or participate in guided tours. Festivals welcome visitors to enjoy music, art, wine, and food. Local spas invite patrons to unwind after a day of exploration. Southern California captivates visitors year-round with stunning scenery making lasting memories.