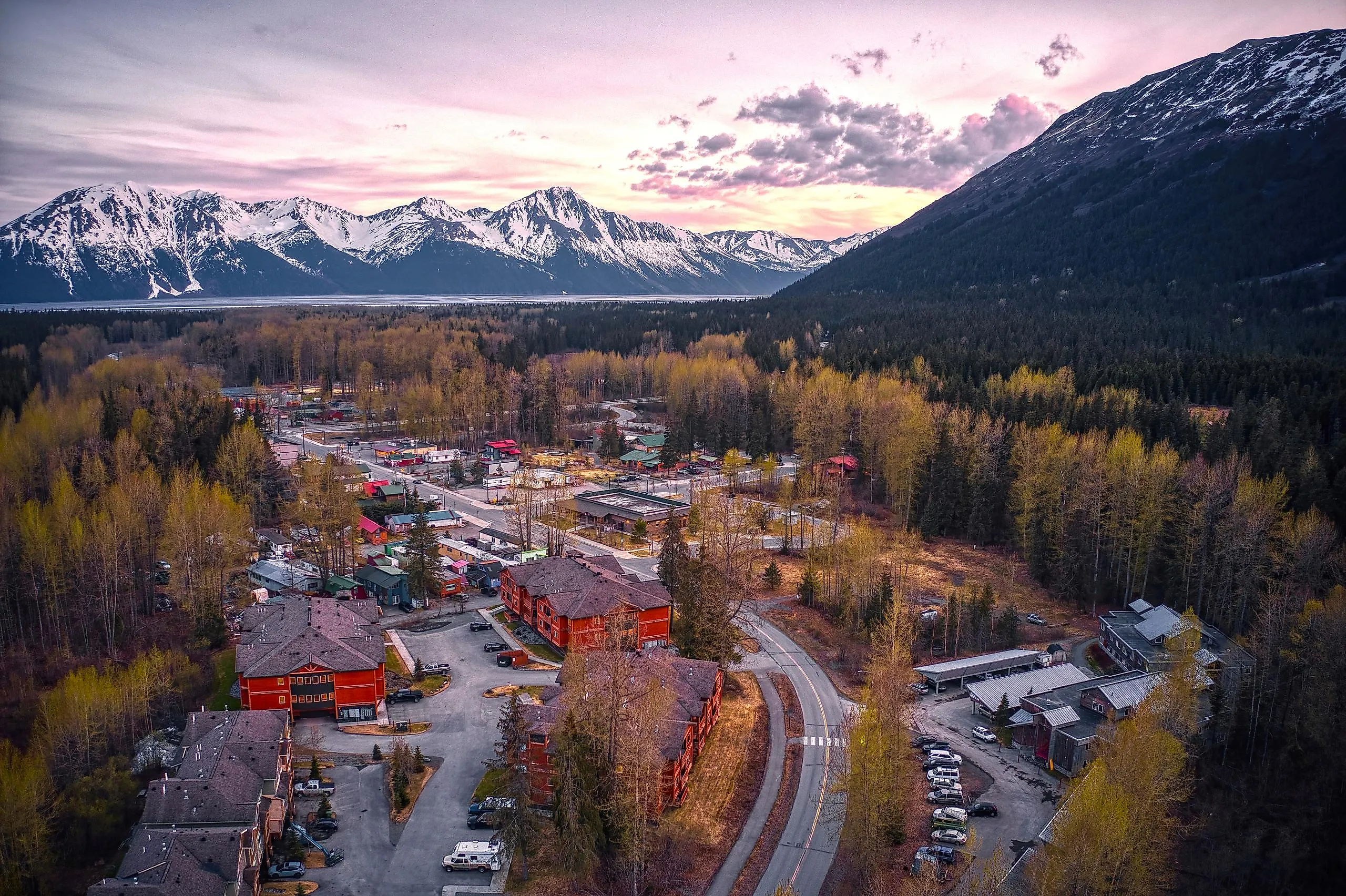 10 Most Scenic Alaska Towns
Alaska is so much more than just the largest state in the US. It is the ultimate destination for untouched, pristine landscapes that range from awe-inspiring mountains to incredible glaciers. You'll find some of the densest forests in the world in Alaska and vast stretches of tranquil lakes. Gaze upward at night, and the majestic northern lights will beckon you to find an adventure in the skies. Go for a hike in the woods and hear grizzlies grunt in the distance while bald eagles soar above the tree canopy. Alaska is also home to humpback whales and orcas that frolic and dance in the three seas surrounding this state. And then there are the towns that frame the beautiful picture of Alaska. From large to minute, Alaska towns embrace the wild spirit of nature, and each offers a different perspective on life in America's largest state. To get up close to nature and meet friendly Alaskan communities, book a stay in one or more of the following scenic towns for your next vacation:  
Homer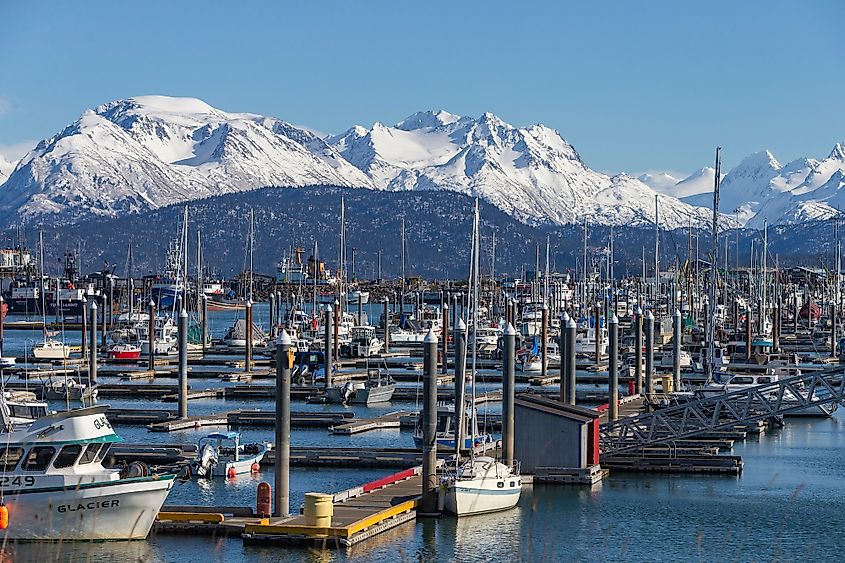 Taking up very little of Alaska's 586,000 square miles is the gorgeous small town of Homer. If you've never seen a cerulean bay before, be prepared for your jaw to drop as you drive along Homer's coastline. This happy little place is famous for its sky-blue sea, halibut fishing, and bear-viewing spots. It is also where the "end of the road" is continuously shaped by strong ocean currents. The 'road' is the Spit, a 4.5-mile narrow stretch of land left over from a glacial moraine.  
Homer also doubles as a pretty gateway to Katmai National Park and Preserve and Lake Clark National Park and Preserve, which lie across Cook Inlet. In the summer, you'll find bears holding court on sedge flats and streams or chasing after upstream-swimming salmon. The stunning nature scenes carry through to the various art galleries, where you can peruse paintings, Alaska Native art, and glass art. Grab a locally roasted bakery coffee while you explore the galleries to get a caffeine boost for an evening of star gazing and northern lights spotting.   
Gustavus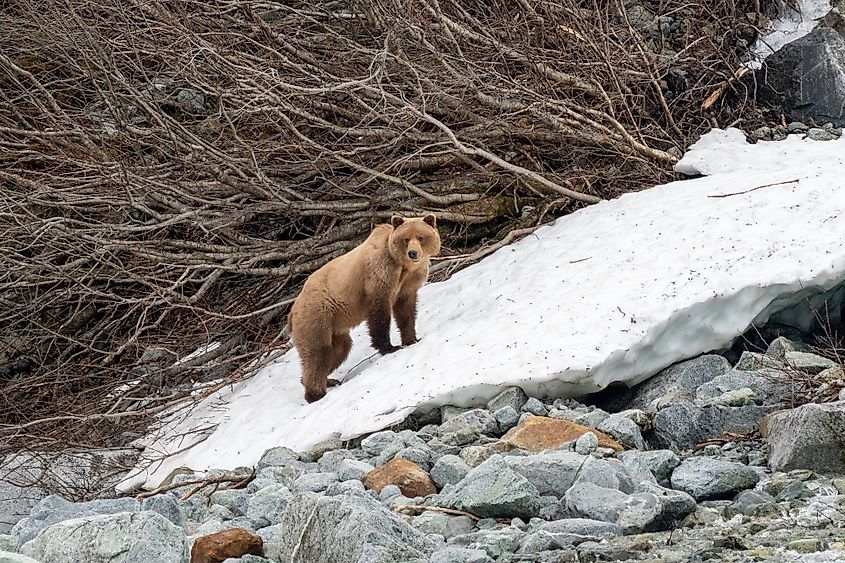 Gustavus is another gateway town in Alaska, paving the way to the breathtaking Glacier Bay National Park. The town spans a large, flat area created by receding glaciers and is surrounded by mountains, ice fields, and the ocean. Gustavus was once known as Strawberry Point, and its tidal zone has all but dried up, exposing the land below. In the past, the Tlingit people would smoke salmon here before the first settlers arrived in 1917.  
The town lies within a temperate rainforest with trails for hiking and biking. You can also do a bit of birdwatching in this lush environment. Gustavus is one of the few towns with a sandy beach, so head down there for a gorgeous day in the sun while enjoying the uniqueness of the Alaskan coast. There are only around 450 permanent residents in Gustavus, which means you can take a load off and have a serene break in this beautiful town.  
Valdez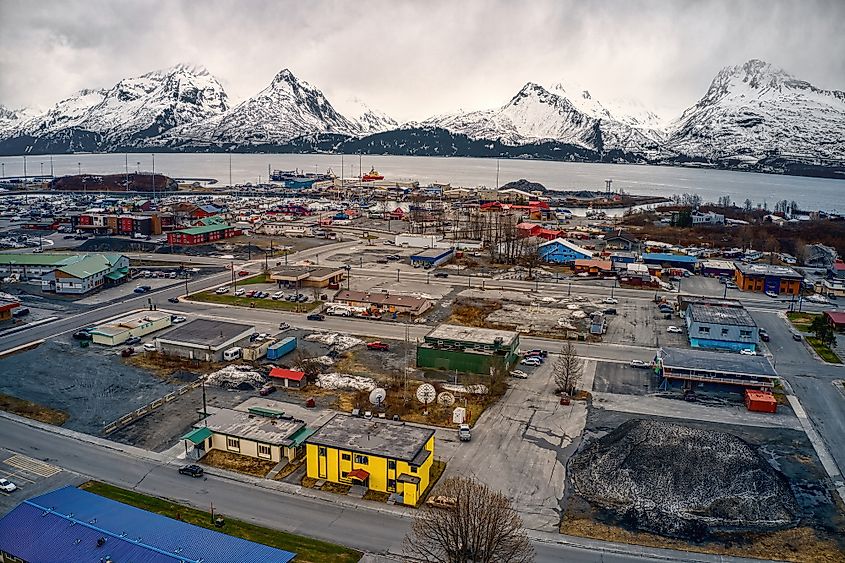 You'd be forgiven for mistaking the dramatic Valdez landscape for Iceland. This scenic Alaskan town sits near the head of a Prince William Sound fjord and is chockful of glaciers, rainforests, mountains, and abundant animal life on land and in the deep sea. The sound is the perfect vantage point for watching orcas and humpback whales navigate the icy waters. You may even spot a sea lion or two. 
Valdez also offers incredible aerial adventures; you can take a helicopter trip to view the town from the air and even request to land on a glacier. If you're afraid of heights, you can go kayaking and explore the several ice caves and gushing waterfalls. You can even go snowmobiling and ice climbing before settling in with a cup of hot cocoa to watch the aurora.  
Girdwood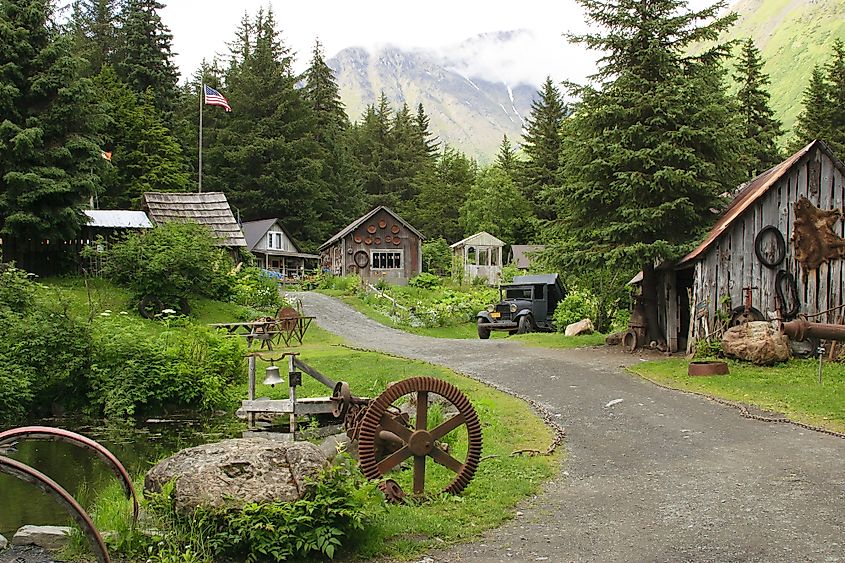 You can see the northern lights from just about anywhere in the town of Girdwood. This resort town is home to the Alyeska Resort where there is less light pollution and ample opportunity to see the aurora. If you book accommodation at this luxury resort, you can even request a wake-up call when the northern lights start dancing across the sky. If you want to be out in nature, take the Moose Meadow winter trail system for a clear view.  
During the day, there are plenty of sights and activities to keep you in town for more than a few days. These include taking the Alyeska tram from the resort to the top of Mount Alyeska. Two thousand three hundred feet above sea level, you'll have an incredible view of the Turnagain Arm and the seven glaciers within the mountain peaks. You can also see the glaciers up close by paddling around icebergs and then lazy-floating down a river as part of a guided tour.  
Cordova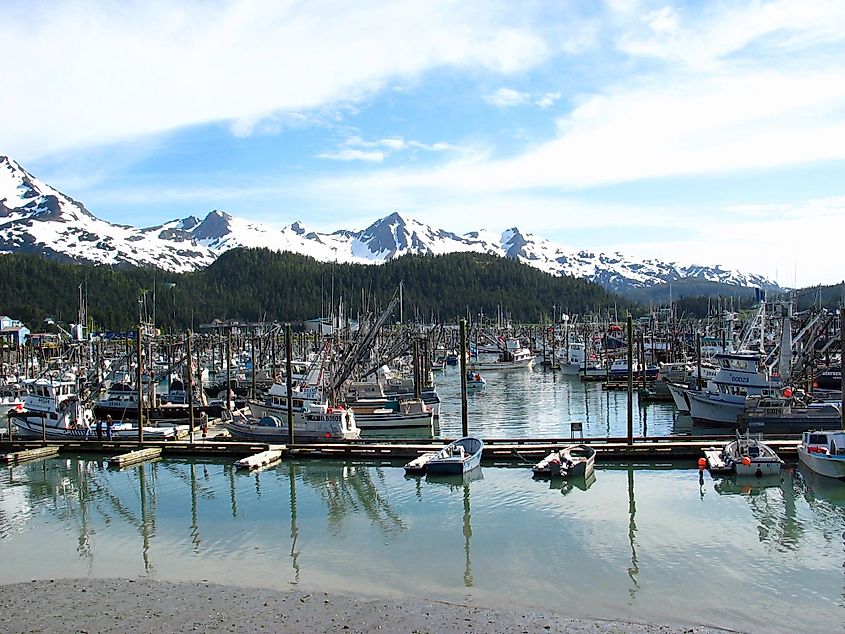 The coastal town of Cordova offers an equally dramatic view of its surroundings. This remote town is a must-visit for hiking trails that lead to glaciers and exceptional wildlife viewing. Hire a charter in Orca Bay for fishing and sightseeing, or try a challenging hiking trail that pays off in gorgeous views. The Orca Inlet is a great place to go paddling and kayaking, while the Copper River is perfect for heart-pounding rafting activities.  
If you're an avid skier, you'll be pleased to know that an 800-foot drop of 118-inch thick snow awaits you not far from the center of Cordova. And, if you visit during February, don't miss out on the quirky Iceworm Festival, which includes a survival suit race and a colorful parade.  
Seldovia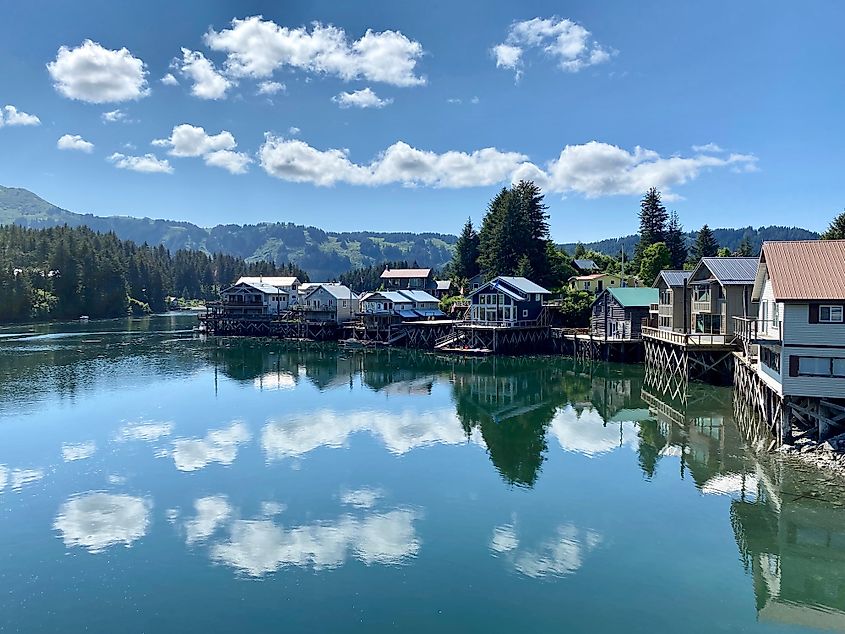 All Alaskan towns are beautiful, but visitors often crown Seldovia as the most alluring place they've ever seen. Seldovia is devoid of shopping centers, large movie theatres, and nightclubs. You won't even find a traffic light here. What you will find, however, is a charming Alaskan retreat that you won't want to leave.  
Fishing is the glue that binds the community here, so much so that they hold a special ceremony every year to bless fishermen and their boats. The Historic Boardwalk near the water is a wonderful starting point to explore Seldovia's history and unique culture. It is also a reminder of what life was like before the Good Friday earthquake. Seldovia offers nature tours, fishing, and kayak adventures in waters that reflect historic homes, greenery, and snow-capped mountains. You can also go blueberry picking and admire the picture of Mount Redoubt and Mount Iliamna towering across the water.   
Moose Pass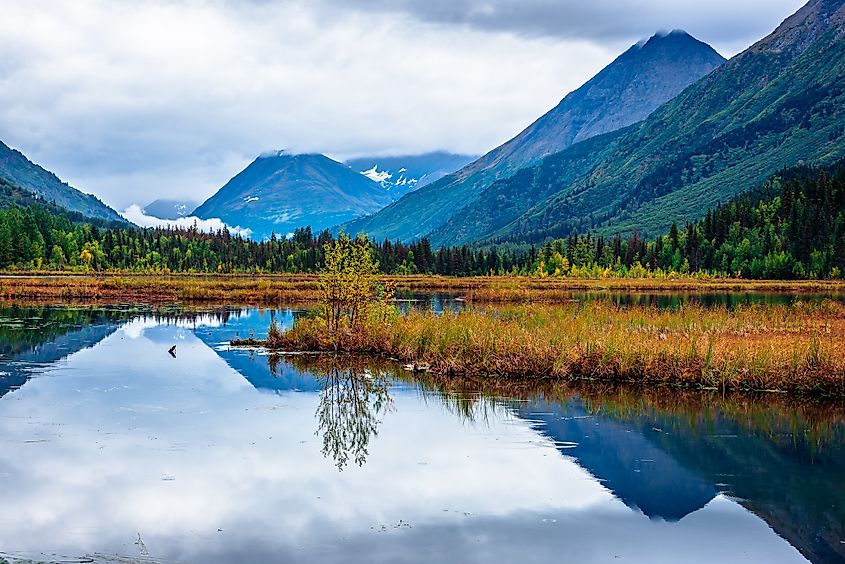 If you're up for Alaskan backpacking, Moose Pass is the place to be. Surrounded by the Chugach National Forest, this tiny town draws both hikers and backpackers with the promise of outdoor adventures. Moose Pass apparently got its name from an actual moose that inadvertently landed in the way of a dog team handled by a mail carrier in 1903. And there are still a lot of moose roaming around town.  
Moose Pass' sparkling, aquamarine lakes lie in the center of picture-perfect spruce forests and mountains. The town's ski trails are some of the best in Alaska for cross-country skiing. If you can't get enough of the massive Alaskan glaciers, you can drive to Exit Glacier, a few minutes away from Moose Pass, to get a closer look. You can even go dog sledding to experience a traditional Alaskan activity.  
Eagle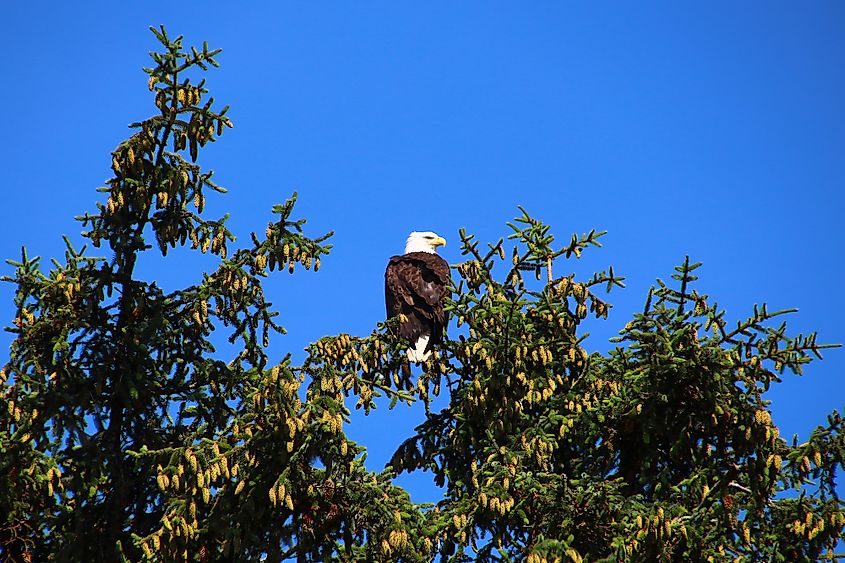 Eagle is more of a mini village than a town, with a mere 86 residents counted during the last census. It also gets into the fun of dog sledding by hosting a checkpoint for the Yukon Quest every February. Eagle was once a boomtown during the time that mining was big in Alaska. The log cabins and clapboard houses still stand as a reminder of the state's mining era. You can learn more about Eagle's history at the largest museum in Alaska, the Eagle Historical Society.  
The village lies along the south bank of the Yukon River, offering panoramic views of the water and surrounding untainted wilderness. There is a dense presence of bald eagles contributing to the small town's appeal. They often spread their wings high above the forests, leaving visitors in awe. In addition to the sheer beauty of Eagle, the town has a strong cultural significance with Tlingit and Native American communities living in the area. It is a very close-knit village with a unique atmosphere that will make you feel instantly at home.  
North Pole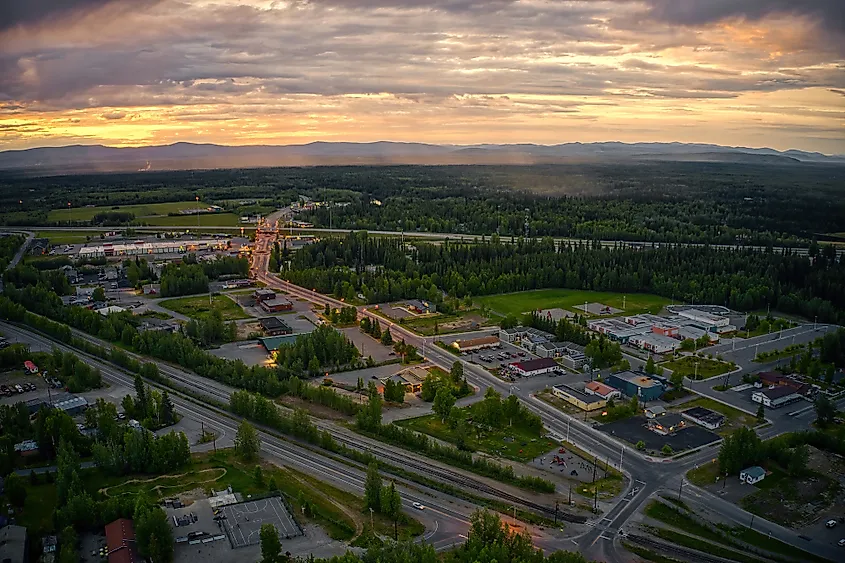 If you always long for Christmas, the North Pole should be on your bucket list. This 2,700-strong community celebrates Christmas every day, even during the warmer summer months. Here, you'll find Mistletoe Lane and a Santa Suite at Hotel North Pole. And, if that isn't enough to convince you, how about a trip to Santa Claus House, which happens to be the most famous attraction in the North Pole? Here, you can stroll through a winter wonderland, find toys and gifts for your own state's December festivities, and sample delicious cookies and fudge.  
You can take a few selfies with the 50-foot Santa sculpture and Santa's sleigh and visit Rudolph and friends at the next-door Antler Academy. This beautiful, snowy town also offers North Pole Park and Terry Miller Memorial Park, which features a Christmassy picnic area and playground. In the unlikely event that you want a break from the festive spirit of the North Pole, you can pitch a tent at the Chena Lakes Recreation Area and watch the northern lights flicker over the town.  
Utqiaġvik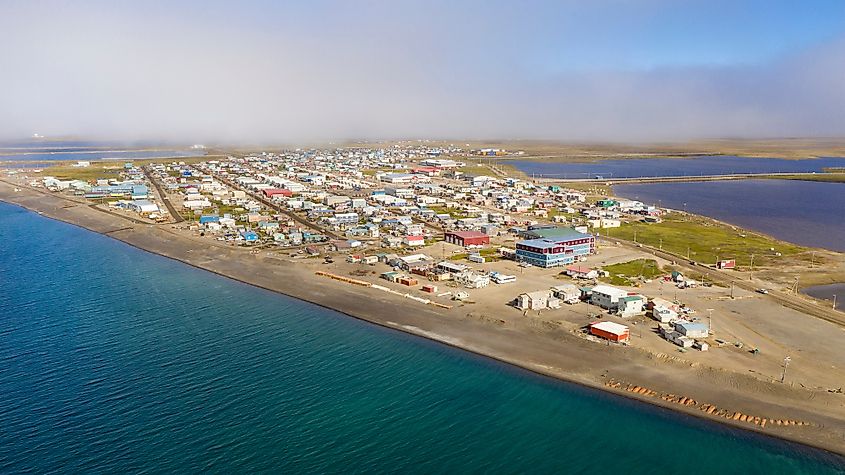 On to a town with a different vibe altogether, and a new (old) name to boot. Utqiaġvik, formerly called Barrow, is most famous for having 24-hour daylight between May and August and 24-hour darkness between November and January. Utqiaġvik is exceptionally cold but also extremely beautiful. In the all-day, everyday sunshine, you can watch polar bears in their natural habitat, take pictures of snowy owls, and immerse yourself in this unusual place. Utqiaġvik is on the Arctic Ocean coastline, which is one of the most spectacular sights on Earth. You can catch the best sea view at the Whale Bone Arch, also known as the gateway to the Arctic. The arch is made from the jawbone of a bowhead whale and provides perspective on just how big these animals are.  
If you love whales, you should observe the Nalukataq whaling festive held by the Inupiaq people each June. It includes the tradition of tossing a person into the air using a skin made of walrus hides. The person throws small gifts into the gathered crowd, and if they lose their balance, it is the next person's turn. When polar night and polar twilight arrive in Utqiaġvik, it makes the place even more beautiful as a moody purple glow descends over the landscape. It is a once-in-a-lifetime sight you cannot miss out on.  
Alaska is unlike any other place on Earth. It offers unparalleled natural beauty and mesmerizing wildlife and instills a sense of adventure that no other state can match. It doesn't matter whether you prefer the wilderness over the sea or the wild waves over the forests; Alaska has something for every soul. Don't miss out on the chance to experience this icy wonderland and create memories you'll cherish forever.