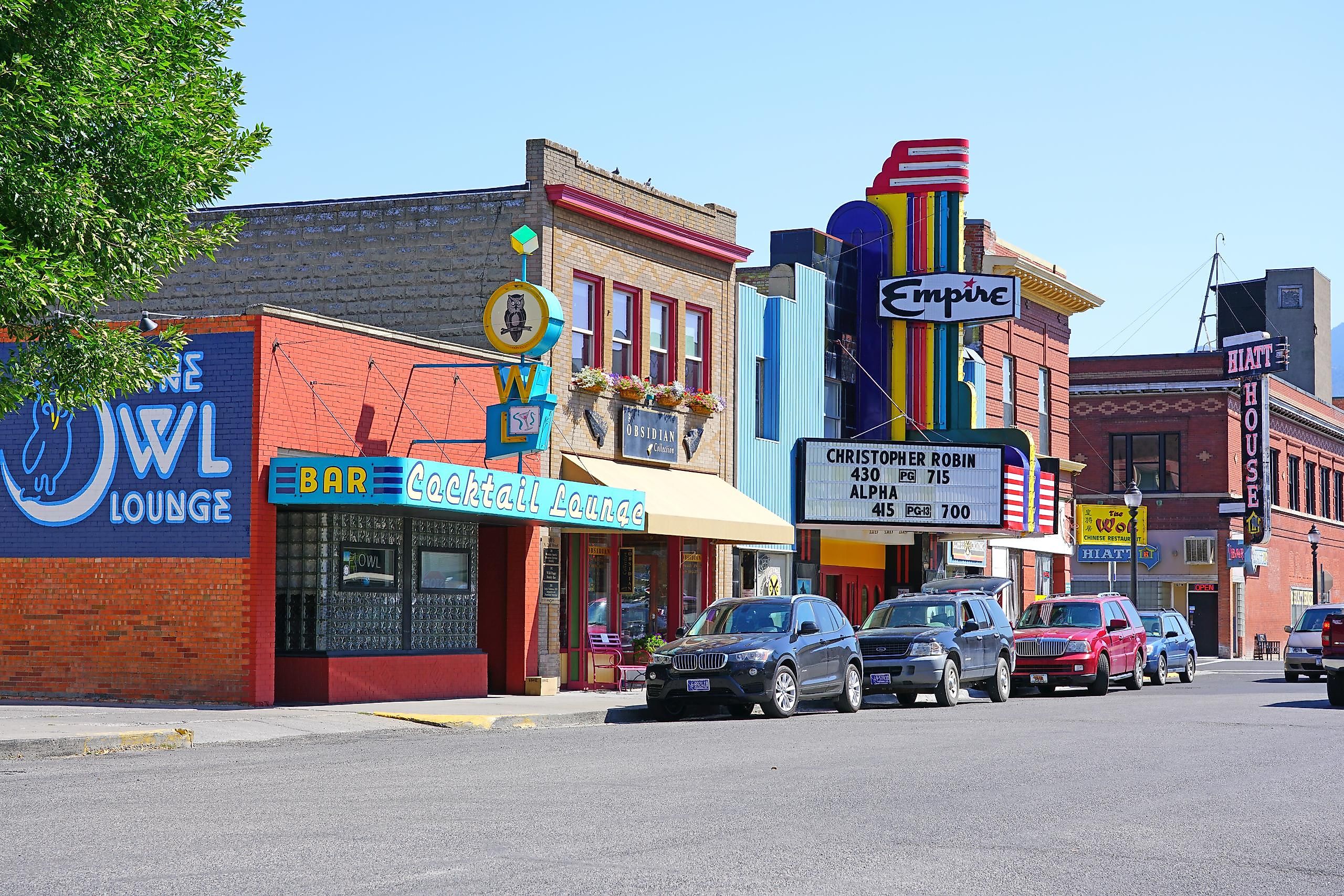 10 Most Beautiful Small Towns In Montana You Should Visit
Montana is a rugged northwestern state that touches Canada to the north. Its position to the far north makes it an excellent place for skiing, snowboarding, and winter sports. However, Montana is also home to many State and National Parks that are a perfect summer or fall trip. 
It's rich in wildlife, including grizzly bears, western meadowlarks, and abundant trout. Flyfishing and hiking are some of the favorite pastimes in most of the small towns, so be sure to bring your fishing and hiking gear! 
Whitefish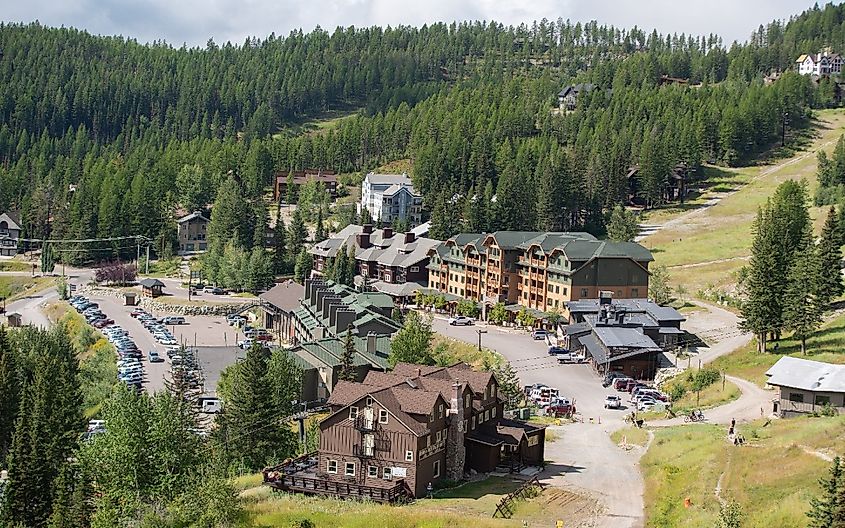 Whitefish is just South of Glacier National Park and the border of Canada in northern Montana. This stunning resort town rests right along Whitefish Lake and several top-rated ski vacation locations. If you enjoy the great outdoors and don't mind the chilly weather, visiting Whitefish in winter might be up your alley. 
However, this city is ideal if you enjoy hiking along a vibrant lake, shopping downtown, and enjoying delicious food. Are you looking for a secluded getaway in a cabin near the mountains with luxurious accommodations? Consider booking your stay at Hidden Moose Lodge and take advantage of their comfortable lodging, complete with a deck and private bathrooms, all decked out with alpine design. 
Just north of Hidden Moose Lodge is Les Mason State Park, within a few miles of the town's border. The perfect place for a picnic, fishing, and boating, this lovely state park affords one of the best views of Whitefish Lake.
Choteau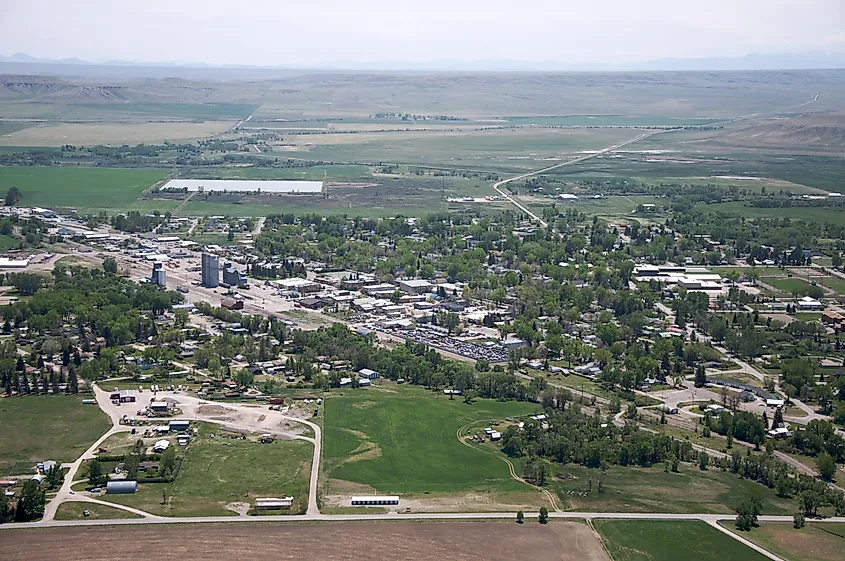 Choteau Township is approximately two to three hours east of Whitefish. An excellent little city nestled south of the Blackfeet Indian Reservation, it's best known for its intersection with Montana's Dinosaur Trail. This welcoming city has a lot of history and natural splendor, so if you enjoy trekking hills and exploring Earth's distant past, Choteau should be on your bucket list. 
Visitors can enjoy a show at the American Legion Rodeo Grounds in this lovely northwestern town. Or, drop by the Old Trail Museum for Jurrasic fun with dinosaurs. You can even book a dig with a local expert at the nearby Montana Dinosaur Center just a few miles outside town. 
After a long day hiking around, stop by Copper Creek Coffee or Log Cabin Cafe. Consider booking a few days stay at Choteau Mountain View RV Campground to take in all the beauty of the town.
Red Lodge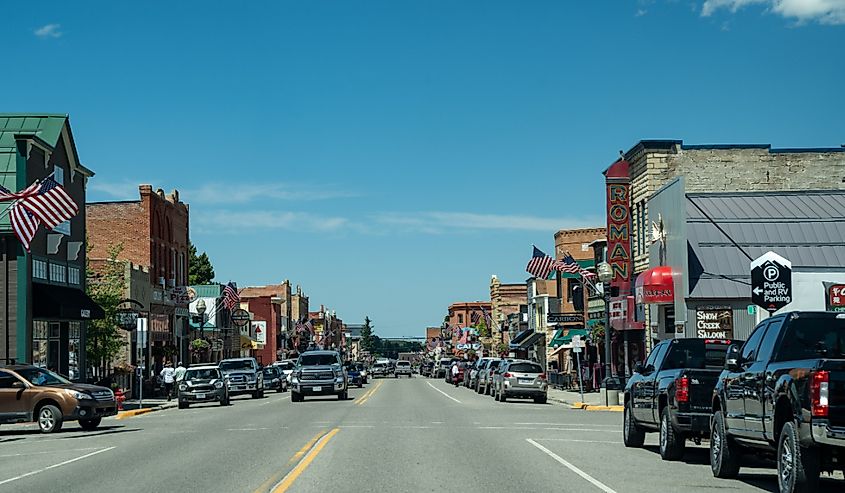 Red Lodge rests just a few miles from several prime nature locations, including Grizzly Peak and Wapiti Mountain. Bearcreek Cemetary is an essential historical marker approximately nine miles east of town. This site commemorates the deaths of 75 miners in the 1940s who died in one of the worst mining disasters in the U.S. 
Although, there's also plenty to do in town. Visit Red Lodge Rodeo for a fun afternoon or evening watching championship bull riding. After a fun time at the rodeo, visit Cafe Regis on Word Avenue. This lovely cafe combines indoor and outdoor dining, meaning it's a great day date in the rain or shine. 
Check in at Gallagher's Irish Rose Bed and Breakfast for a rustic, charming stay centrally located in town. You'll be close to all the shops, cafes, and dining areas while enjoying a quiet and elegant experience.
Stevensville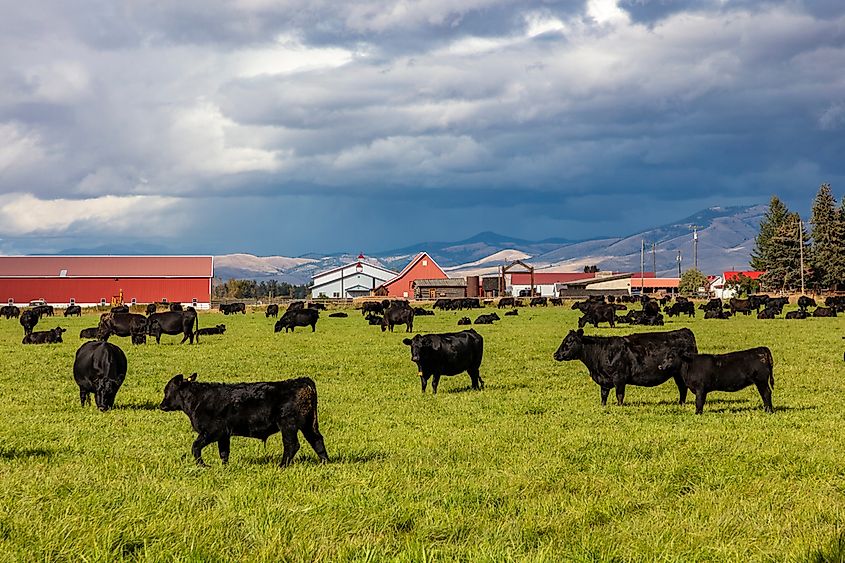 Five and a half hours northwest of Red Lodge is Stevensville, a town best known as one of the earliest mission settlements in Montana. Saint Mary's Mission began in 1841 and marked one of Montana's first permanent European settlements. Tourists should visit the Stevensville Historical Museum to learn more about one of the oldest towns in the state. 
However, if you really feel like seeing the city's founding, check out the Historic St. Mary's Mission and Museum. A well-preserved log cabin church, this site strives to present an accurate pioneer experience to all who visit. It's also very close to the town's border, so you won't have to travel far to see this beautiful historical gem. 
Consider spending a few hours at Troutzoola. This fantastic place offers fly fishing tours throughout the surrounding area and is the greatest experience for someone who enjoys a unique fishing adventure.
Livingston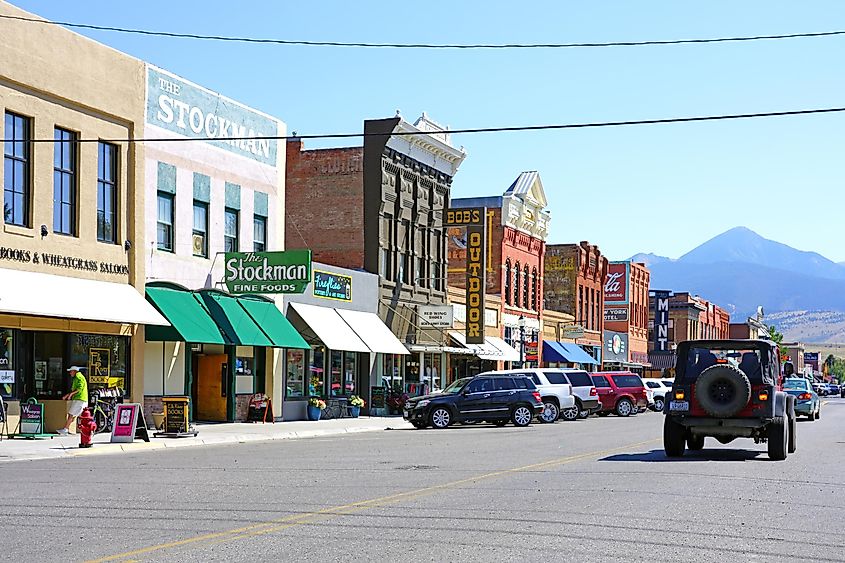 About three and a half hours east of Stevensville is the historic train town of Livingston. Livingston brings together the perfect combination of rustic community and refined living. It rests along the Yellowstone River and is often known as the gateway to Yellowstone National Park. 
To learn more about the park and the local neighborhood, stop by the Park County Yellowstone Gateway Community. While the website offers several incredible virtual tours, including an art exhibit, nothing compares to walking the halls in person. 
One of the finest hotels in town is the Murray Block, a fantastic place to stay downtown. It's a charming and beautiful building dating back to 1904 when it had its grand opening. Famous historical figures like Buffalo Bill stayed here back in the day, so you will surely have a unique and fantastic stay.
Philipsburg
Philipsburg is just about two and a half hours south of Chotuea in Granite County. Home to under 1,000 permanent residents, Philipsburg is the ideal location for anyone hoping to escape the noise and chaos of the city. It's a welcoming community full of history and natural splendor, including a historic museum and several local parks. 
Stop by the Philipsburg Brewing Company for an insider's look into the craft beer culture of Montana. Not only is it a great place to get a top-notch drink, but it also offers tours. The Drink It In Montana tour is a must-see for anyone who loves Montana and beer. 
Get something delicious and satisfying from Sherry's Homestyle Bakery near the brewing company. Or get yourself some nostalgic-themed candies from The Sweet Palace. You will find something to satisfy your sweet tooth, from saltwater taffy to caramels. 
Anaconda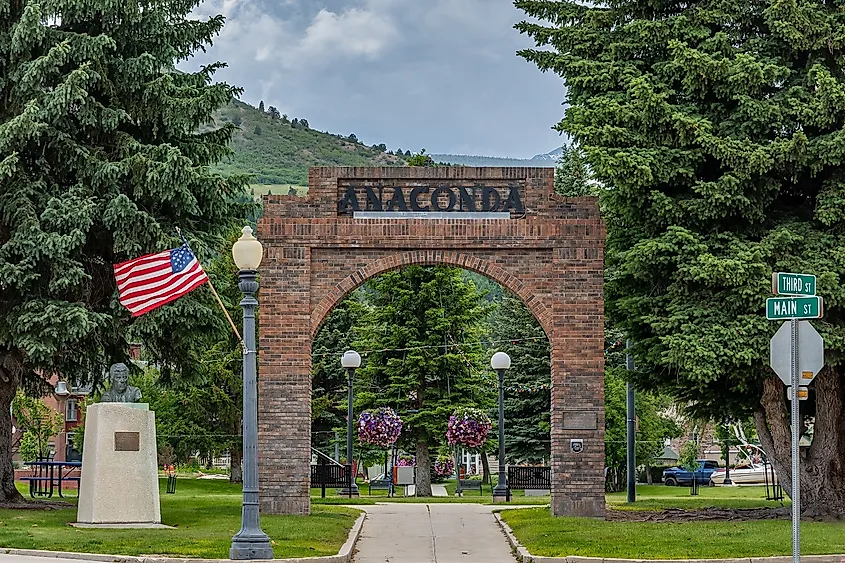 Anaconda is a stunning rural township in southwestern Montana. It rests near the vast Anaconda Pintler Wilderness and houses several vibrant mountain peaks, including West Goat Peak and Mount Haggin. This city is an outdoor adventurer's paradise, with plenty to explore and many pristine wilderness scenes to photograph. 
Stay a few days to get the whole experience of this wilderness center. Montana Sky Lodge is a beautiful, rustic place to stay that's also not far from most of the town's mountain peaks. Or, you can stay at the Sugar Loaf Lodge, not far from Mount Evans. 
Although, wilderness isn't the only thing to experience in Anaconda. They have an adorable downtown region with a community market near Kennedy Commons and some delicious places to get food and drink.
Butte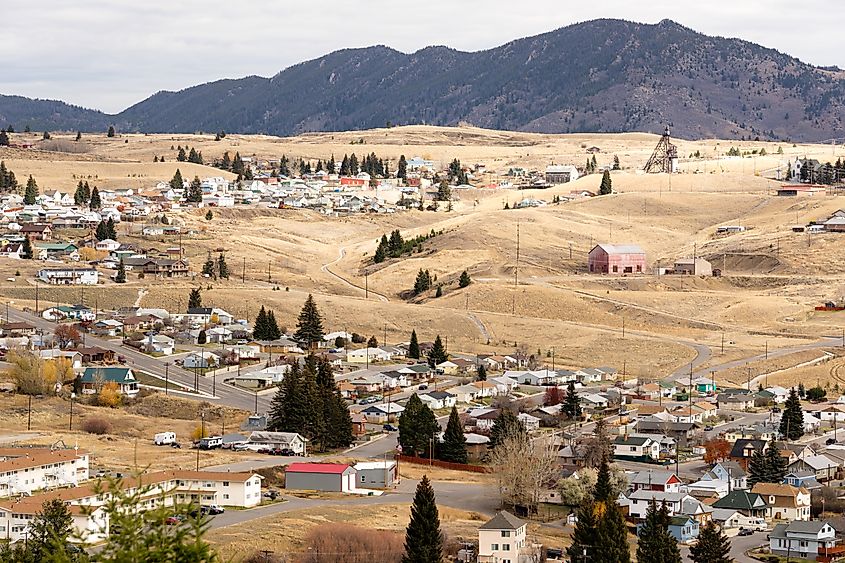 Butte is the next-door neighbor of Anaconda, situated right beside this rural community. Butte has a much larger population than Anaconda, with over 30,000 permanent residents calling this town their home. However, Like Anaconda, Butte is home to many natural beauties, including Table Mountain and Mount Fleecer. 
This city began as a mining community during the gold rush and quickly gained the nickname "the Richest Hills on Earth." The Butte Columbia Gardens started in 1899 and regularly hosted a vast fair with roller coasters and games. While this fair ended in the 1970s, visitors can still enjoy several old relics, including the Columbia Gardens Arch. 
Check out the World Museum of Mining to learn more about the foundation of this fantastic town. Join the tour for as little as $25.00 and get a front-row view of the underground mining system known as Orphan Girl Mine.
Libby
Just under an hour west of Butte, not too far from the border of Utah, is the charming little town of Libby. Best known for its alluring forest and the mighty Kootenay River, Libby perfectly blends nature and small-town vibes. 
Several gorgeous sites are worth visiting and photographing just outside the town. Libby Dam is a beautiful feat of engineering situated just a few miles upstream from the city's main center. Kootenai Falls is only 12 miles west of the town and offers pristine views of the magnificent surrounding wilderness. Although, don't worry, you won't have to set foot outside of town for an amazing experience. 
There's fishing in the rich river and hikes through the local parks. Visit one of the many diners, cafes, and bars to mingle with locals and get fresh food and drink. Smoking Gun BBQ is a favorite place for tourists and locals alike and offers homecooked, southern-styled food and beverages. 
Havre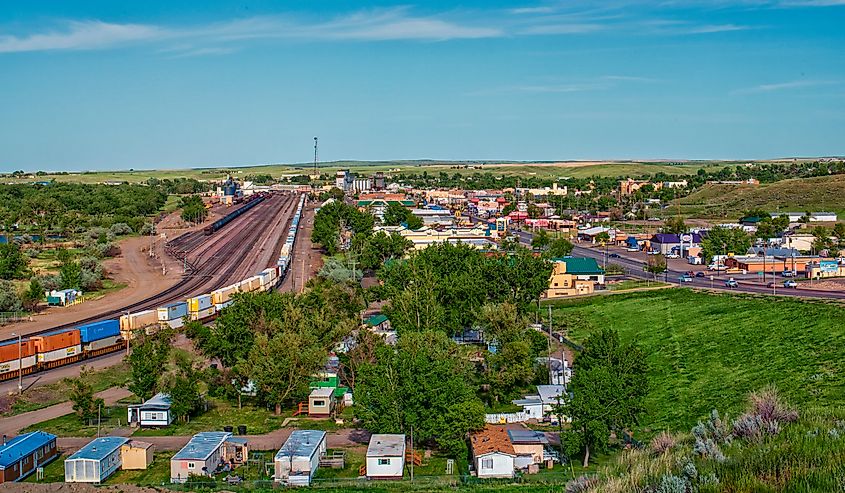 Journey east for about six hours from Libby, and you'll arrive at the warm and welcoming town of Havre. Havre offers a more rural, suburban environment, with many hotels, restaurants, shops, and more for tourists to explore and enjoy. A largely agrarian township, there are some beautiful scenes of the sprawling farmland to take in and photograph. 
It's a great idea to stay in town for a few days to visit the many shops downtown. There's no shortage of affordable and luxurious hotels to choose from and rest peacefully. The Siesta Motel is one of the best-rated stays in town and is quiet, clean, and comfortable. 
Stop by Henny Penny Cupcakes and Lunch for a meal and dessert. Get a scrumptious dinner at Marrow and Bow Modern Steakhouse. The calming and welcoming environment will make you feel right at home in their first-rate restaurant.
Conclusion
Montana is a welcoming state blending southern hospitality and western ruggedness. If you enjoy seeing the great outdoors and meeting new, friendly people, plan a trip to this stunning state. The vast mountain ranges hold a rich history, pre-dating humans and displaying the magnificent beauty of the natural world. 
However, Montana's small towns also offer amazing food and drink served in calming and hospitable sites. The foods range from traditional European cuisine to rich American dishes and diverse cultural foods from Mexico, Asia, and more.