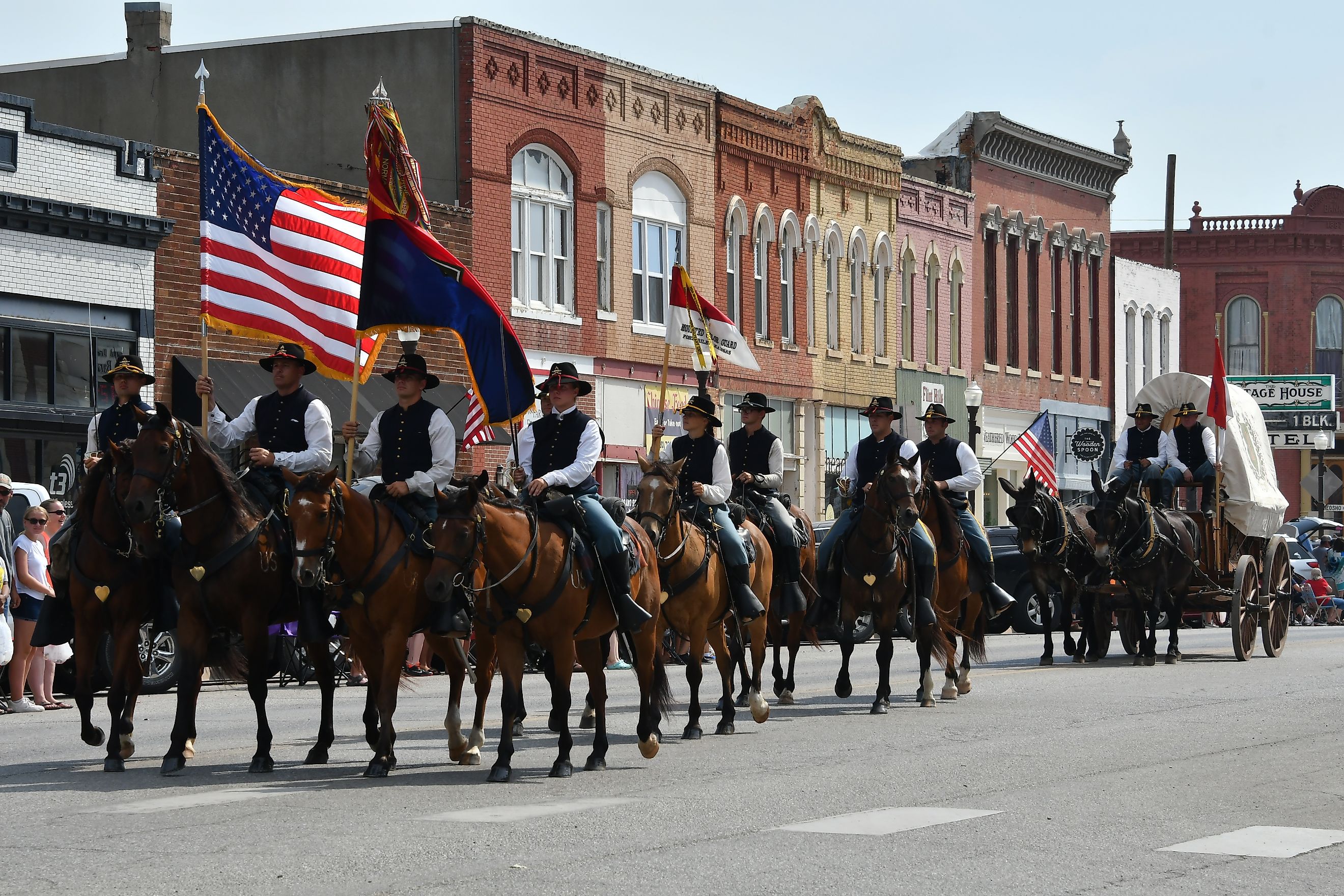 10 Most Beautiful Small Towns In Kansas You Should Visit
Located dead-smack in the middle of America, the state of Kansas has played a pivotal role in the country's rich history. Nicknamed the "Sunflower State" for its abundance of this native wildflower – a species that was adopted as the state's official flower in 1903 – its central location and topography made Kansas a target for some of the country's first settlers.
The great wagon trains of the 1800s moved through here carrying settlers from the East Coast and even beyond America's shores, many of them establishing small towns like Lindsborg which to this day bears evidence of Swedish traditions and customs. Other charming small towns, like the aptly named Council Grove, have also retained many of their historic old buildings, which today house everything from museums to boutique shops and restaurants.
Abilene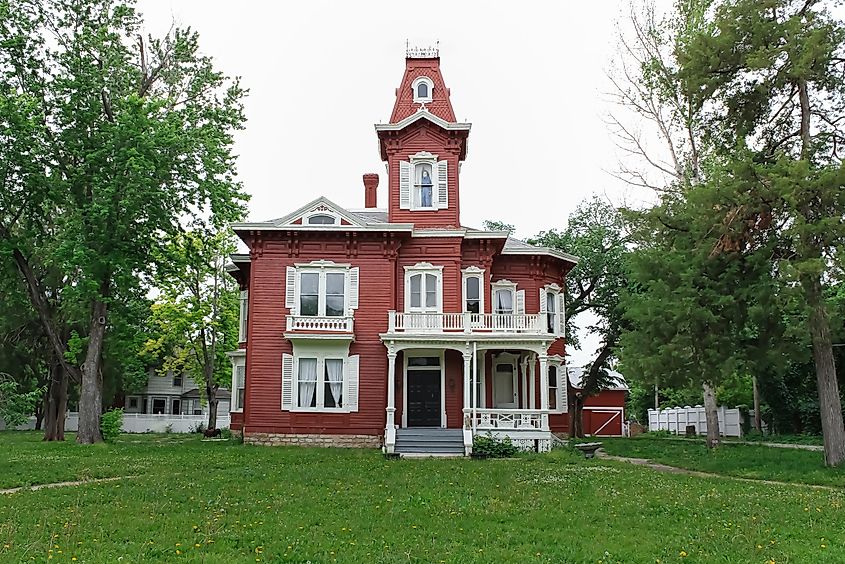 Abilene isn't just one of the most attractive small towns in Kansas, it's also one of the most historically significant. Founded in 1860, this former cattle town of 6,400 people is famous as the hometown of President Dwight D. Eisenhower, who lived here from 1898 to 1911 along with his five brothers. This connection is celebrated today at the Dwight D. Eisenhower Presidential Library, Museum, and Boyhood Home.
Other important landmarks of this picturesque, well-preserved town include the Edwardian-era Seelye Mansion. Built in 1905, this large old home can be toured and offers an insight into the innovations in home design and construction at the turn of the 20th century. Downtown Abilene is also fun to explore, as is Old Abilene Town with its Wild West re-enactments and architecture.
Lindsborg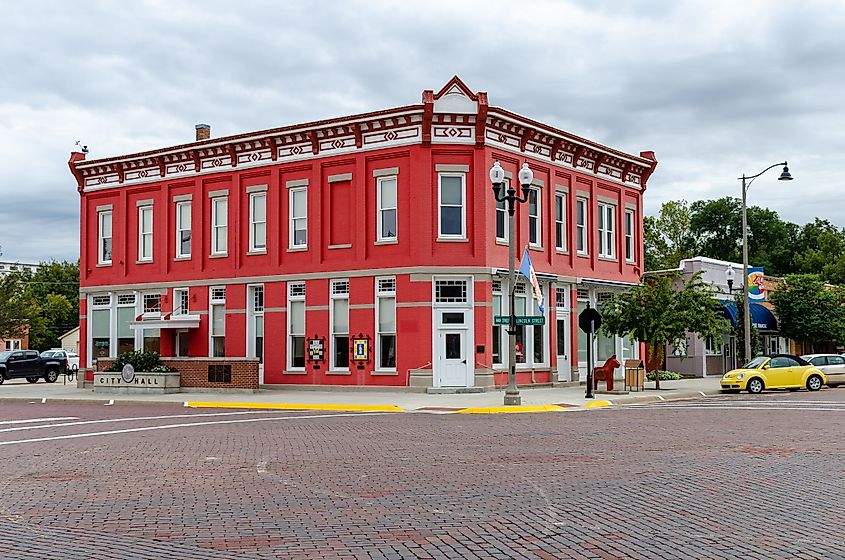 Affectionately known as "Little Sweden," Lindsborg wears its Swedish heritage proudly. The influence of the town's first settlers is evident everywhere, from the colorful Dala horse statues dotted around the town to its traditional Swedish-inspired architecture in its picturesque downtown area.
The town's biennial Svensk Hyllningsfest, held in October on odd-numbered years, offers the chance for an additional taste of Swedish culture. Many of the artists who set up stalls also run galleries and studios in Lindsborg, many of them focussing on traditional Swedish arts and crafts.
Council Grove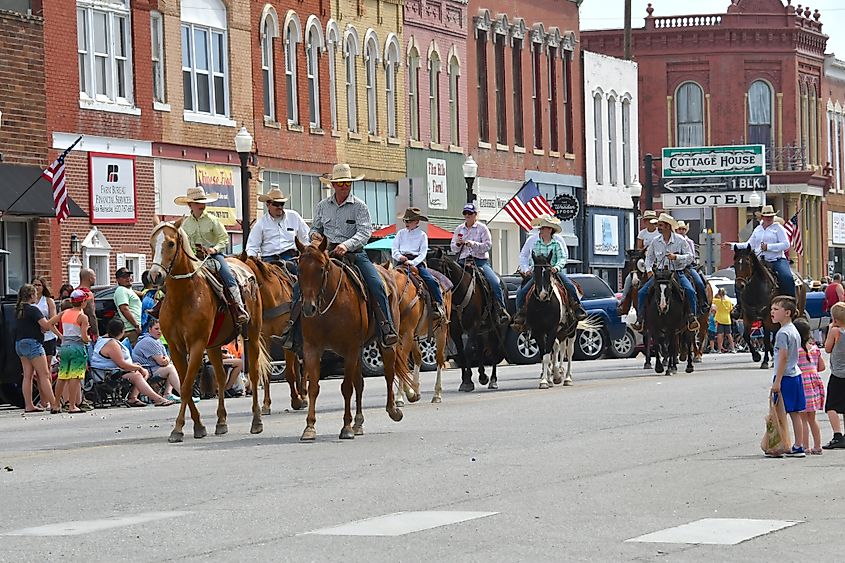 Its location on the historic Santa Fe Trail makes Council Grove a living testament to the state's frontier history. Dotting the town are no less than 24 nationally registered historic sites, including numerous examples of attractive old architecture in the downtown core. One of the best-known is Hays House Restaurant, believed to be the oldest continuously operating restaurant west of the Mississippi.
Another lovely part of town is the picturesque Neosho River. The town maintains a lovely riverwalk area adjacent to the river, with easy-to-follow trails and paths. Here you'll also find the Kanza Monument, a 35-foot-tall limestone tower built in 1925 to commemorate the town's native heritage.
Baldwin City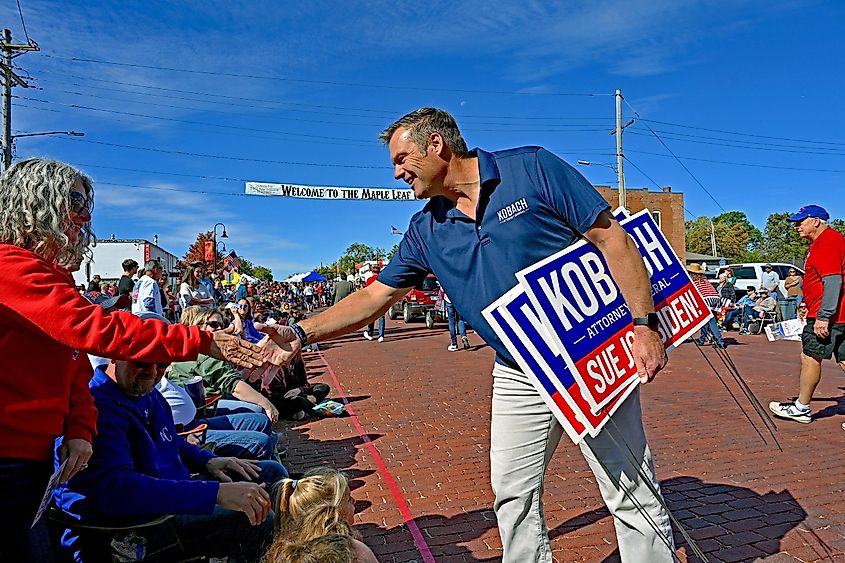 Baldwin City shines brightest in the autumn months during its Maple Leaf Festival, an event held every year to celebrate the changing color of the foliage. Fall is also a great time to hop aboard the town's heritage train line, the Midland Railway. These scenic tours run from the railway's downtown station south to Norwood Station.
Regardless of when you visit, you'll appreciate this charming town's picturesque setting adjacent to Douglas Lake, a state park known for its excellent fishing. As the home of Baker University, the town carries a fun student vibe, too.   
Cottonwood Falls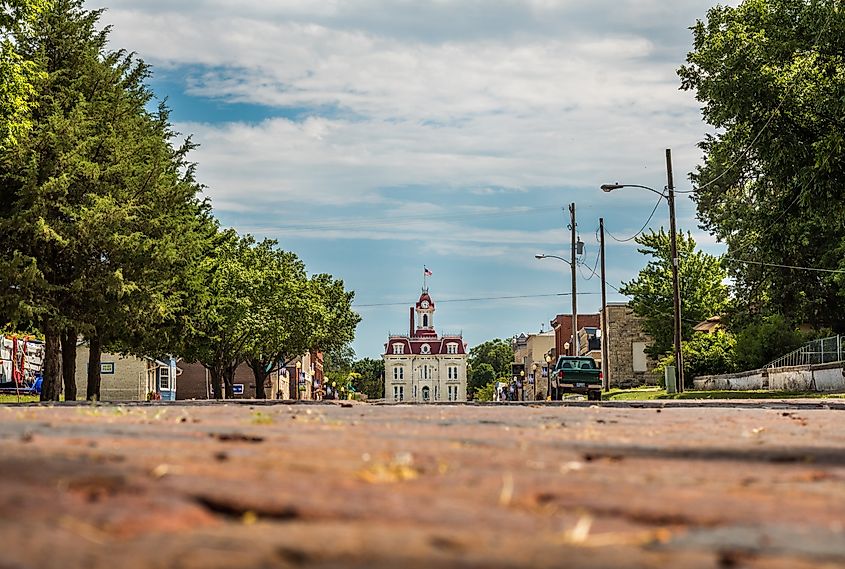 Cottonwood Falls is another enchanting place to visit in Kansas thanks to its picturesque old architecture. Notable landmarks include the French Renaissance-styled Chase County Courthouse, the state's oldest operational courthouse. From here, you're only a short stroll from the town's picturesque Main Street with its mix of red brick and limestone buildings.
Nearby, the Tallgrass Prairie National Preserve offers outdoor enthusiasts acres of unspoiled nature to explore. Have your camera ready as the park is home to a large herd of bison that aren't shy.
Fort Scott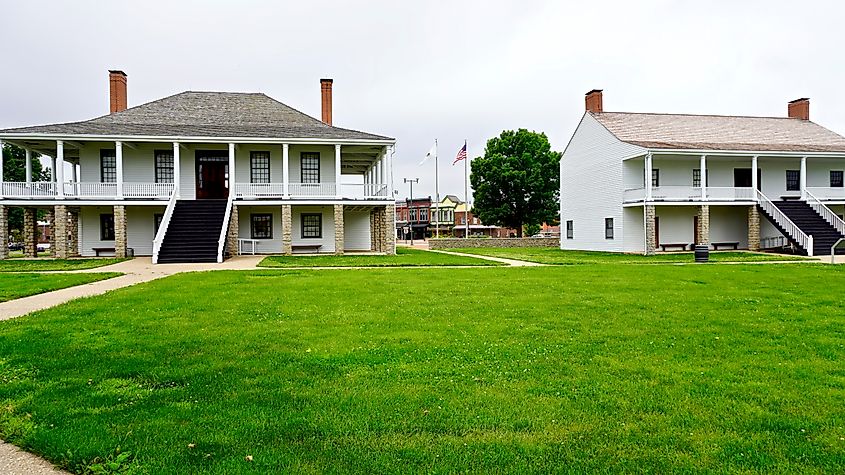 Historic Fort Scott is steeped in Civil War history. A major base for Union troops throughout the conflict, countless men from across the northern states passed through here at one time or another. This important role has been preserved in the Fort Scott National Historic Site, a collection of some 20 historic structures that paint a fascinating picture of life during this transformative time in history.
A great way to see the sights is to hop aboard a fun trolley tour. Along the way, you'll get a glimpse of the town's well-preserved architecture, including the picture-perfect along National Avenue.
Atchison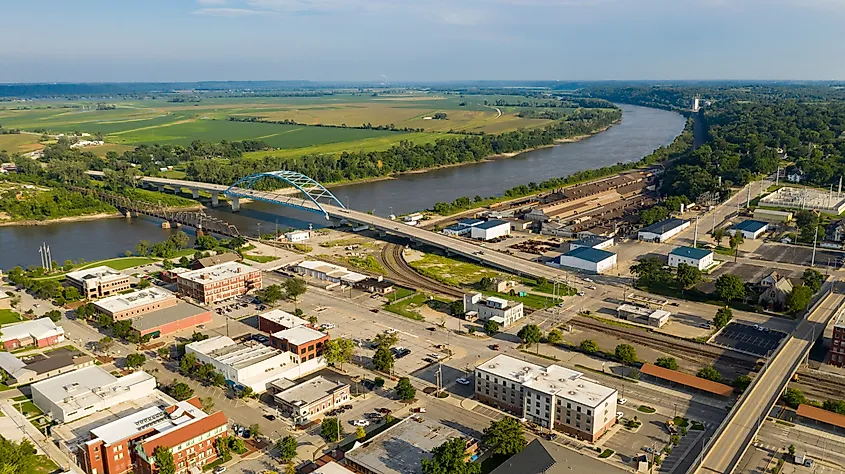 As any aviation fan will tell you, Atchison is famous as the birthplace of famed aviator Amelia Earhart. Located on the left bank of the Missouri River on the border with Missouri, Atchison also just so happens to be one of the most scenic towns in Kansas. Some of the best river views can be enjoyed along the Atchison Riverwalk, a level pathway that offers places to relax and grab some photos.
In-town highlights include the Amelia Earhart Birthplace Museum. This picturesque building is even more striking for the red brick paved roadway that leads you there.
Wamego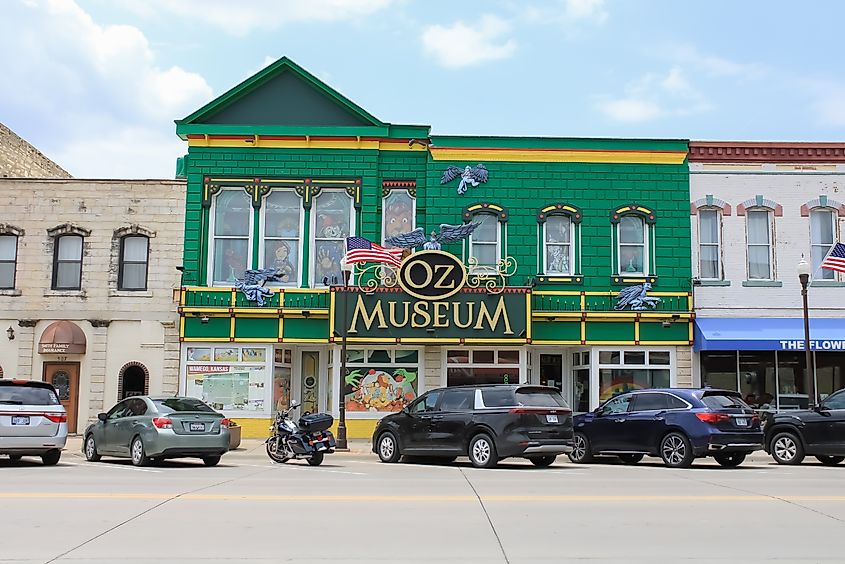 Not only is Wamego one of the most attractive places to visit in Kansas, but it also has connections to one of the most important movies ever made: The Wizard of Oz. This 1939 classic was set in rural Kansas and is celebrated in the Oz Museum. This fun museum boasts an impressive collection of memorabilia from the iconic film, as well as from the original book by L. Frank Baum.
You'll want to also explore Wamego's historic downtown area. This picturesque place features a variety of well-preserved architecture including the Wamego Dutch Windmill, a 100-year-old structure that pays homage to the towns' original Dutch settlers. Other important landmarks include the Columbian Theatre, which houses 1893 World's Fair artifacts; and Wamego City Park with its beautiful gardens, pond, and vintage train display.
McPherson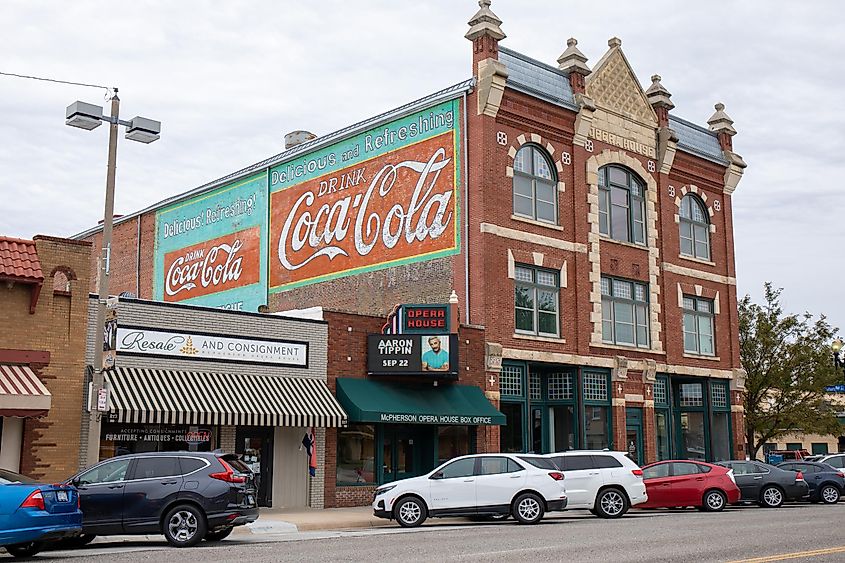 Named after Civil War General James B. McPherson, McPherson embraces its past with beautifully preserved buildings. Among the prettiest is the McPherson Opera House, a hub for arts and culture that hosts numerous events and festivals year-round.
Interested in old cars and other vintage vehicles? McPherson College specializes in the restoration of antique and classic automobiles and offers a number of events and workshops for enthusiasts. The nearby Maxwell Wildlife Refuge is also fun to visit and provides opportunities for bison and elk sightings.
Baxter Springs

A gem along iconic Route 66, Baxter Springs stands as a testament to America's great westward expansion. Highlights include the Baxter Springs Heritage Center and Museum, which chronicles the region's history from its Native American heritage up to the Civil War period.
Just a few miles north of the downtown core is the famous Rainbow Curve Bridge. This important historic landmark along Route 66 is the country's last remaining Marsh Arch Bridge and makes for a great selfie backdrop.
The Takeaway
From the great wagon trains that crossed the prairies in the 1800s to its acting as a setting for classic American movies, Kansas boasts no end of great reasons for armchair travelers to want to learn about it before visiting. Take a read through this list of the most beautiful small towns in Kansas you should visit to build your perfect Sunflower State travel itinerary.